Looking for a handmade gift that won't break the bank? Bracelets are simple and elegant and can be made with just about anything. They're also super easy to give away, so you can have a small stack ready to go in no time! Whether you're looking for a simple project with your friends or want to make something for yourself, bracelets are a great place to start. They're extremely easy to make and have very few supplies involved. Many different kinds of bracelets are available, each with its style, feel and look. These 23 DIY bracelet projects will give you plenty of ideas to create your unique bracelets.
Cute & Creative DIY Bracelet Projects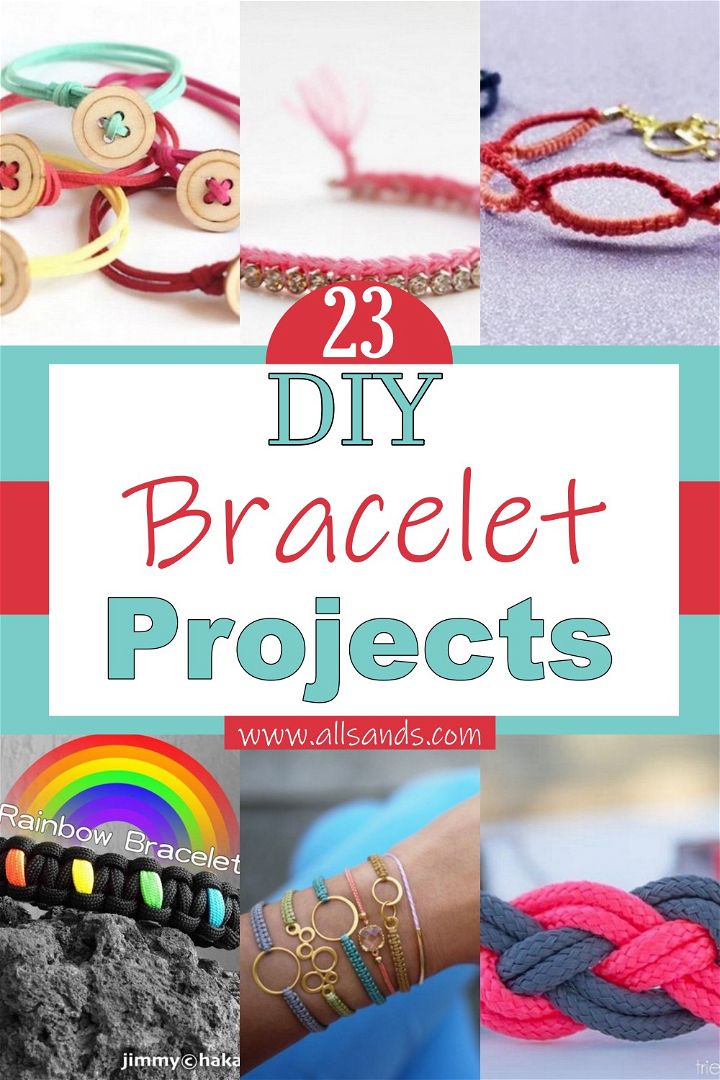 Bracelets are a winning accessory for many different occasions. They can be casual or dressy and look good with any outfit. And best of all, DIY bracelets are easy to make. You only need tools, scissors, tape, and stringing material (such as leather or twine). And with so many options, there's a bracelet for everyone! They're also one of the easiest items to DIY. If you're a fashionista on a budget or someone with a lot of free time, it's time to get creative and make your bracelets. Here are 23 great DIY bracelet projects that feature everything from leather and chain to yarn and thread.
Benefits Of DIY Bracelet Projects
DIY bracelets have been around for years. They are a great way to make something beautiful and unique. The benefits of DIY bracelets are endless. Here are just some of the reasons why you should take up this hobby:
You can make bracelets for any occasion: If you have a special event coming up, then you can create an original and unique bracelet that will match the theme perfectly. You can also make bracelets for birthdays, anniversaries, and other special occasions.
It's fun to create your designs: Creating them is a very rewarding experience. It gives you a sense of achievement when you see what you have created with your hands from scratch. You will be proud to wear it in public, knowing that no one else has made something like it before!
You get to express yourself through jewelry design: One of the main benefits of creating your jewelry design is expressing yourself through what you wear. You can show off your personality through the colors or patterns used on your bracelets and unique necklaces. This makes them a great way to express yourself without having to say anything!
Make A Mad Max Style Bracelet
Dress your wrist in this Mad Max Bracelet, the perfect accent to any glove or arm cuff. The easiest DIY bracelet ever. You only need a little creativity, some leather, and this tutorial. It can be made in any color or with many leather styles to suit your mood. You can make it in a few minutes with a black elastic cord and a single button.
One Strand Braided Paracord Bracelet
This one-strand braided paracord bracelet is an easy, do-it-yourself project that makes a great gift. It requires only a few minutes of your time, and the finished product fits everyone from children to adults. Make a one-strand bracelet with paracord in easy steps. Thread the paracord through a high-quality clasp, available at craft and hardware stores. Make a DIY bracelet with one strand of paracord and a cord lock. This is an easy braided bracelet worn by men or women.
DIY Macrame Bracelet Plan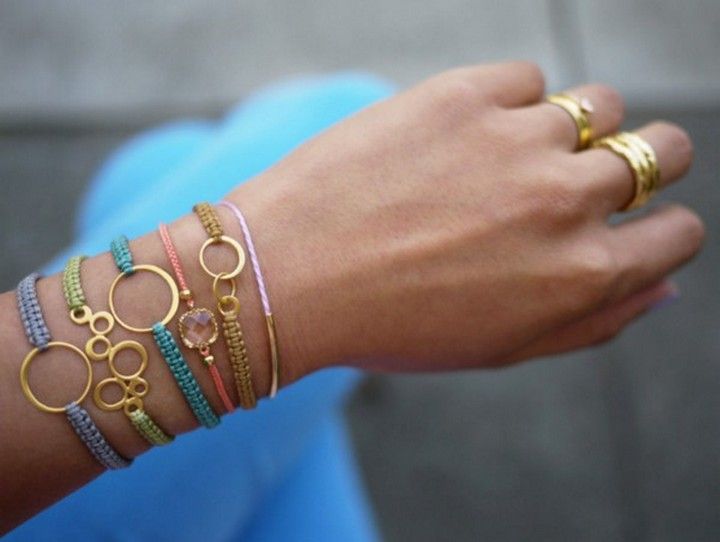 DIY Macrame Bracelet Plan is a simple, adjustable, and beautiful bracelet that can be made in just a few hours. It's perfect for customizing the length to fit any wrist and make it fit your style. Whether you're a beginner or an expert macrame crafter, here's the perfect opportunity to create your own DIY macrame bracelet plan! Using two simple knots, you can make this stylish design. An easy-to-follow tutorial and glossy photo instructions will get you started.
Braided Thread And Rhinestone Bracelet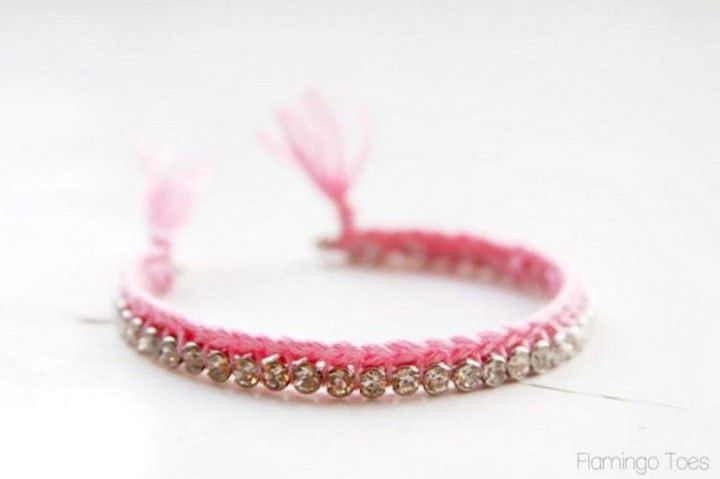 T-Shirt Yarn Bracelet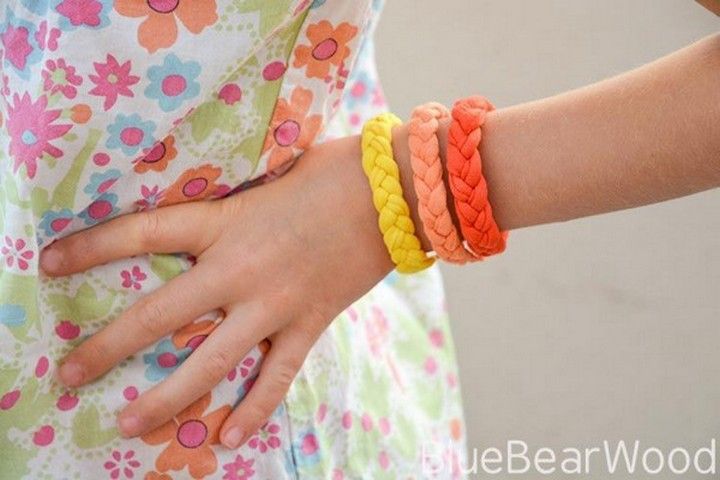 If you're looking for a fun, easy, and creative bracelet project that you can make with materials from around your home, look no further than this t-shirt yarn bracelet tutorial. In less than 30 minutes, you'll have an adorable accessory to show off on your next day out. This is a fun, easy project that uses up our old t-shirts in our closets. Punch a hole at each end of the shirt, thread yarn through both holes, and then braid! Once fully braided, use a jump ring to attach a clasp to one end and close it up.
DIY Easy Friendship Bracelet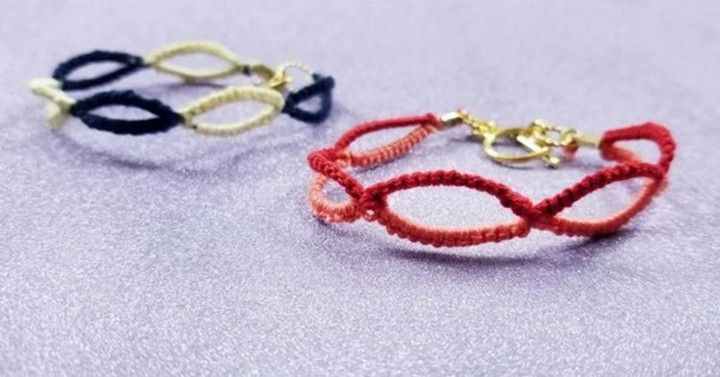 If you still need to make a friendship bracelet, now is the time to try. This easy DIY bracelet is cute and simple to make with embroidery floss and thread snippers. You can also use your favorite colors to match the theme of your party or event. The perfect instant friendship bracelet material is embroidery floss, but you can also use cotton and silk thread or even string if you're in a pinch.
You can also see: DIY Barefoot Sandal Ideas
Felt Friendship Bracelet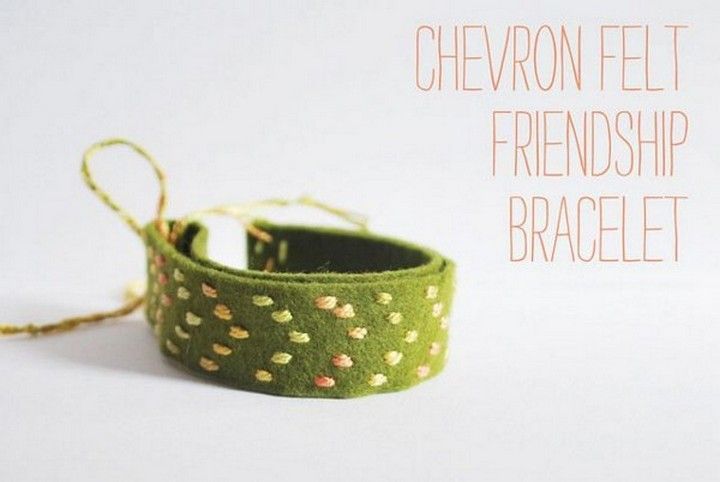 Create a gorgeous friendship bracelet with this easy DIY tutorial. Make everyone in your group happy by making them each their bracelet. This technique is ideal for beginners, so don't be afraid to try it out! These friendship bracelets bring back childhood memories. With a few simple steps, you can create felt bracelets that make great gifts. Try adding different color schemes and materials to create your unique look.
DIY Adjustable Paracord Bracelet
This DIY adjustable paracord bracelet is a great project, especially if you love the outdoors and like to take hikes or go camping. It's an easy project that would allow it to fit comfortably on any wrist. This bracelet is perfect if you're into paracord projects. It's adjustable and can fit comfortably on any wrist. You'll need to fold some parts of the paracord, but otherwise, it's pretty easy.
How To Make A Macrame Bracelet
This is a macrame bracelet that can be adjusted. It is recommended to use a needle and thread to embroider the bracelet with beads, sequins, or metallic threads to add variety. This macrame bracelet is fun to make, and you can mix and match the colors. It's easy to create; it features an adjustable slider that makes it easy to fit. The best part is that this DIY Macrame Bracelet is made up of readily available materials at home, and you don't have to spend much.
How To Make A Shamballa-Style Bracelet
A Shamballa bracelet is crafted from a single strand of beaded jewelry wire that looks like it has been folded into a coil. Making these bracelets is relatively easy if you have prior knowledge of tying knots and crimps. It's also quite fun to watch the bracelet come to life when it comes down to weaving the beads into the fabric. This bracelet uses square chains linked together in different ways to produce an intricate handmade design. This makes the bracelet quite durable because it doesn't break easily.
You can also see: DIY Jewelry Box Ideas 
How To Make A Single-Strand Bracelet
One of the best and easiest DIY projects to make is a bracelet. Bracelets are versatile, customized, and worn for special occasions, weddings, or to spice up an outfit. Making a single-strand bracelet is a simple DIY craft. If you have some time and a few items from your home, this can be done in under 15 minutes or less. It would help if you had a long piece of string, tape, or any other material that can hold the string, scissors, a wire needle, or another tool to tighten the bracelet.
DIY Sailor's Knot Bracelet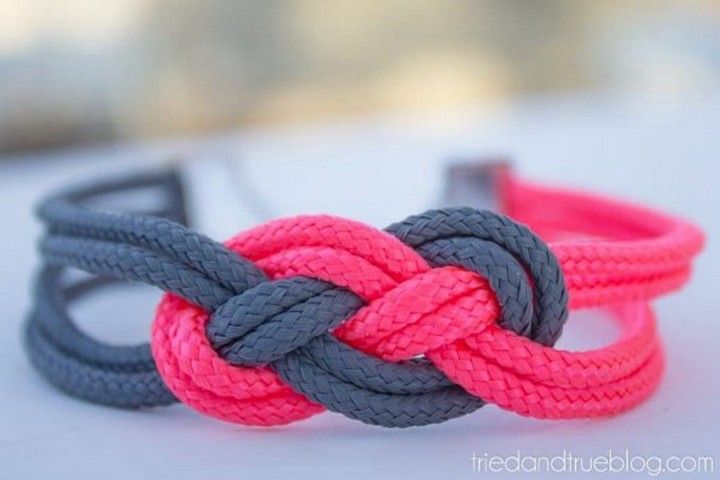 Why not learn how to make this sailor's knot bracelet yourself? They are great gifts for friends, family, or even yourself! The sailor's Knot Bracelet is perfect for your friends and family. The making process is easy to follow with just a few knots, but it symbolizes safety and good fortune. It also signifies a bond between friends and family, making it the perfect friendship bracelet! Be sure to share this with your friends! Make these beautiful bracelets together, and enjoy being in each other's company!
Knotted Chain Friendship Bracelet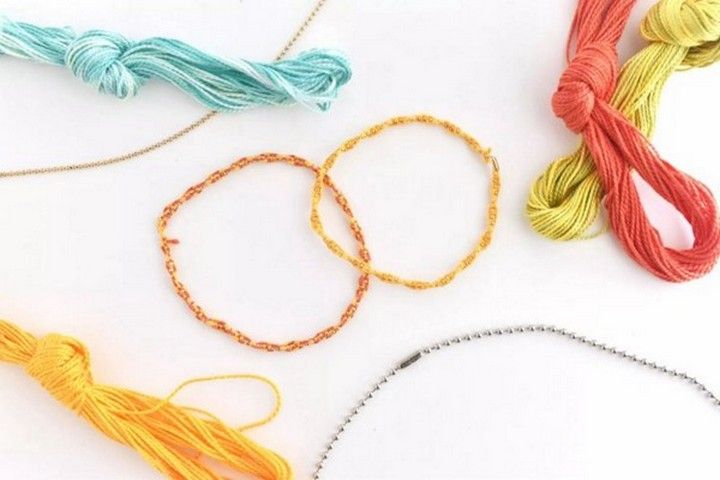 Knotted chain bracelets are a staple in the jewelry world. The design is simple yet striking and can be made in many different variations. Create your style with this knotted friendship bracelet. The simple design starts with a keychain-style chain but becomes more complicated when you reach the end of the chain. Pause to take a break and review how to best align the threads for each new knot. Or, if you're impatient to finish, skip ahead to the last few rows, and you've got an armful of stylish knots!
DIY Button Bracelet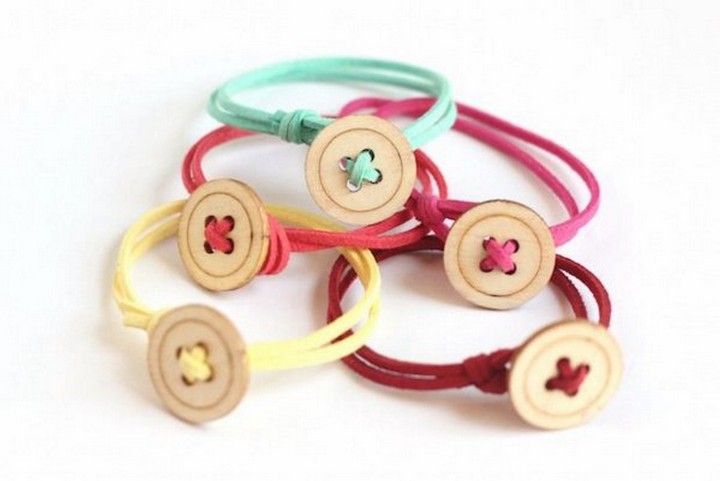 Making your own button bracelet is surprisingly easy! You will need cute buttons, a faux suede cord, and embroidery floss. This is a fun craft project you can do with your child or partner and would also be a wonderful gift. There are certain items you have in your home that can easily be made into a bracelet. You will need some faux suede cord and a button to look for in a thrift or craft store. You can also make these cute bracelets for your friends or family; who would not want one from you?
Stamped Initial Bracelet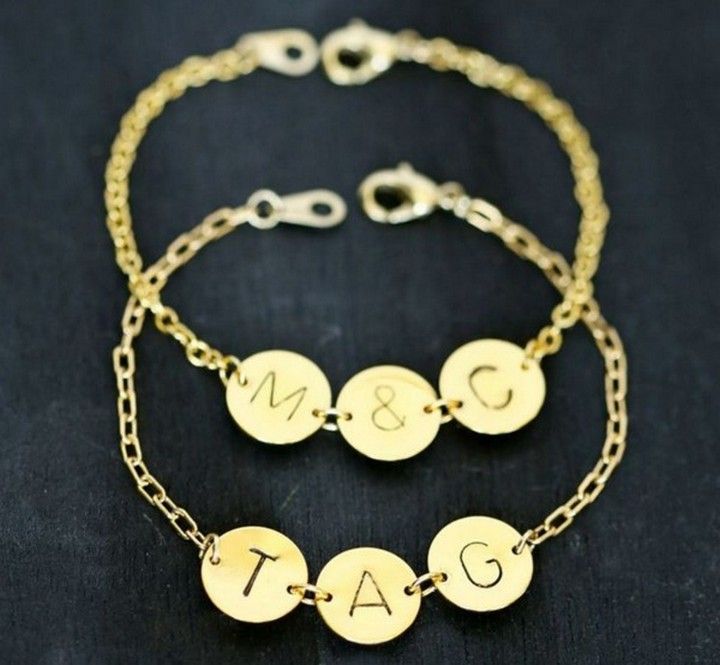 This is a fun and easy wire-free bracelet. You'll need gold coin discs, jump rings, a chain, and lobster claw closure. With this DIY Bracelet's help, you can make a personalized piece of jewelry. The bracelet comprises gold coin discs, jump rings, and a lobster claw closure. It's also packed in an elegant box that makes it look like a high-end gift when you give it to your loved one!
Beaded Square Knot Bracelet
You can have both when it comes to taking joy in fashion and creating handmade jewelry. With our Beaded Square Knot Bracelet kit, you'll make a beautiful bracelet that everyone will envy. It's the ideal choice for those with a sense of adventure who want to create something unique and more fashionable than anything they could buy. The square knot bracelet is a simple and easy way to make your style statement. This beautiful bracelet is made with a series of beads knotted with a waxed polyester cord, which makes it waterproof.
How To Make A Multi-Layered Bracelet Without Cutting
Make your multi-layered bracelet with this easy DIY jewelry tutorial. All you need are some different colored pieces of fabric, a cord and needle, and some thread. It's a great project for beginners. This versatile technique has endless uses, including making your wide ribbon and creating a wrap necklace. It is a perfect idea for jewelry makers who want something special with which to play.
DIY Rastaclat Style Bracelet
This DIY Rastaclat Style Bracelet is so easy to make, and it's a great way to create a fun bracelet for yourself or your loved ones. With no soldering required, you can pull off this project in minutes, resulting in a fun and stylish look that will get you all kinds of compliments! This DIY project only requires a couple of knots to finish the process and make a beautiful bracelet you can wear anywhere. Choose your colors and adjust the length for proper fitting.
DIY Conquistador Paracord Bracelet
Do you love making bracelets? If so, you are going to love this Conquistador Paracord Bracelet. This bracelet is wide, bold, and will grab attention wherever you go!! You can carry it around your wrist or hook it onto your bag or backpack. It looks great, which makes it very popular among women. If you love wearing colorful bracelets, you should try this one! This is the perfect bracelet for those who love paracord and braided jewelry. The conquistador paracord bracelet is a bold, wide, and stylish bracelet that will get noticed.
DIY Rainbow Bracelet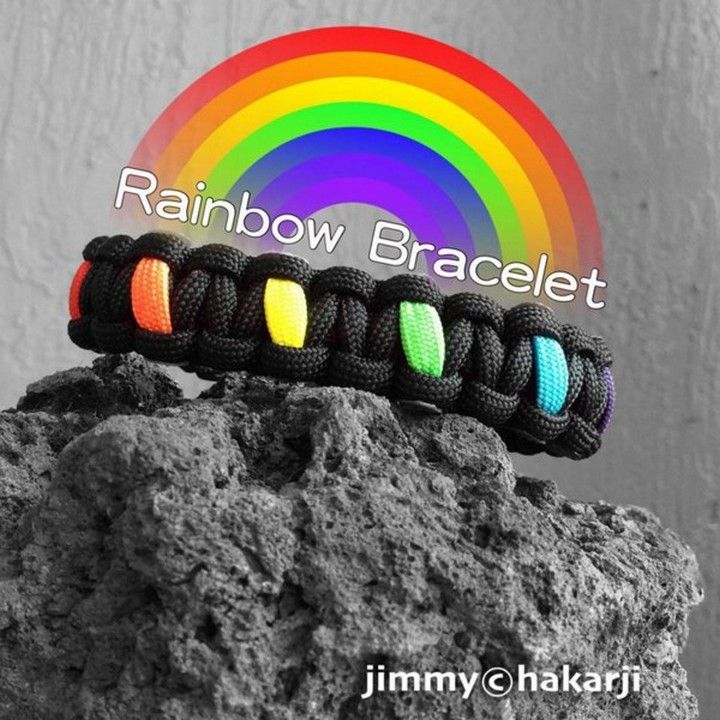 Do it yourself with this beautiful rainbow bracelet; use several paracord colors and create your pattern. A perfect gift for those who like to make their accessories and personalize the look of their jacket or bag. The rainbow bracelet is a perfect gift for your girlfriend or best friend. You can use it to express your love and appreciation to other people. In addition, if you want to paint meaningful characters on it, you can do that.
DIY Level Bracelet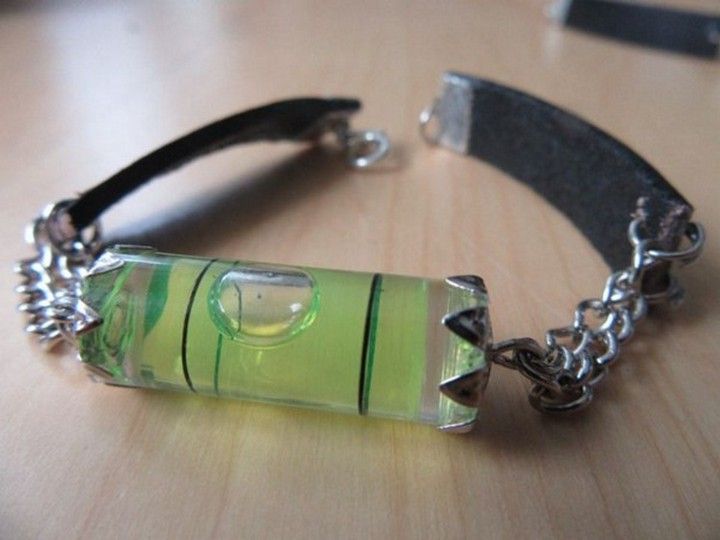 Handmade jewelry is always something to have. This DIY Bracelet is of high quality, with wood and leather materials. Do you have a friend or family member that likes to be creative or is a handy person? This bracelet would make an awesome gift! It's lightweight and easy to put on, plus it is made of all-natural products, so you won't have to worry about chemicals.
DIY Easy Bracelet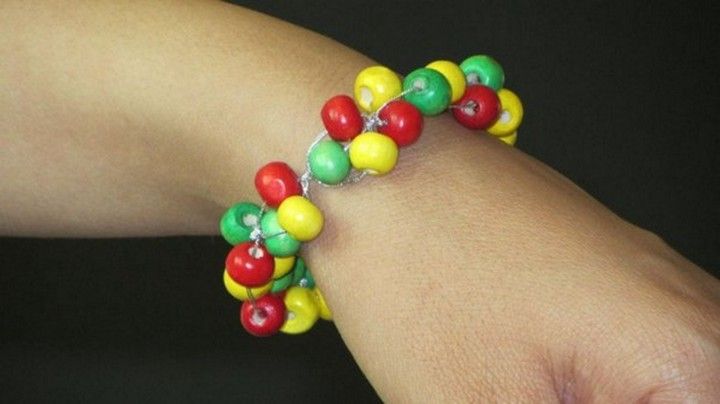 Bracelets truly signify style and beauty. Be bold with a colorful paisley pattern or classic with a delicate mix of gold beads. If you're looking for an easy yet chic jewelry idea, try making beaded bracelets yourself. Make a DIY bracelet that's even easier than our other jewelry projects. You'll only need some wood beads and a string or twine. Fill in the beads and thread them here and there; any teen will love this simple yet fashionable bracelet.
DIY Leather Bracelet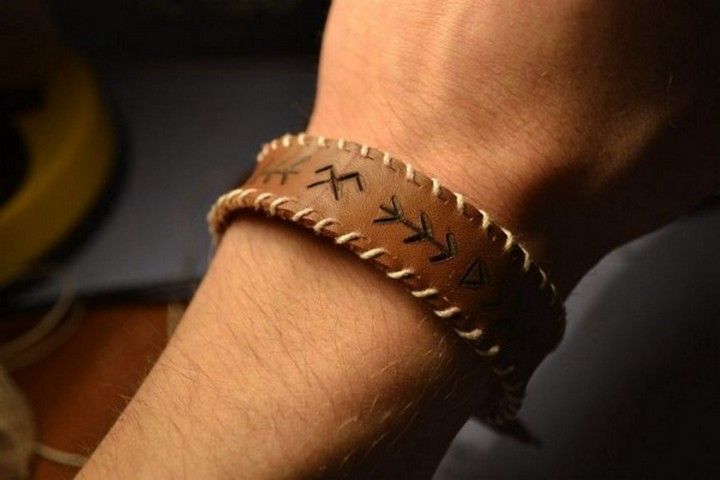 Leather bracelets are more adult and classy than beads, but they're still easy to make. With a little practice, you can create your own perfect bracelet with this tutorial. Creating a bracelet out of leather is a great way to use scrap pieces of leather. The materials for this project are simple and inexpensive, making it the perfect first leatherworking project for beginners!