Necklaces are an easy, fast gift idea—but don't let the simplicity of this trend fool you. There's plenty of room for personalized flair and creative presentation. These DIYs are perfect for those looking to embrace their inner fashionista and make something unique to help them stand out. As long as you have the right tools, making your jewelry is fun and a great way to make personalized gifts. Here are 15 DIY necklace ideas to get you started. You'll need basic materials like jump rings, clasps, and chains or cords. Then, add beads or other adornments that fit your style!
Easy Top DIY Necklace Ideas

If you want to make a necklace but need more cash to invest in expensive materials, try making one out of things you have around the house. If you can find an old necklace with some beads, then all that's left is to add whatever finishing touches will fit your style. These DIY necklaces easily add personality to your everyday look—shake it on and go! Find your next project with these DIYs that will take your imagination to new heights, or try one of these simple tutorials for a quick, easy result.
Tips For Making DIY Necklaces
The easiest way to make a necklace is with string, but you can also use yarn or dental floss.
Use different string colors and tie them together to create an intricate design or pattern.
Use beads or small trinkets with holes as part of your design, or add decoration to a plain string necklace.
You can add charms or other pieces onto the ends of your string to make it more interesting!
You can also see: DIY Clay Ring Ideas For Everyone To Try
DIY Mini Faux Terrarium Necklace Tutorial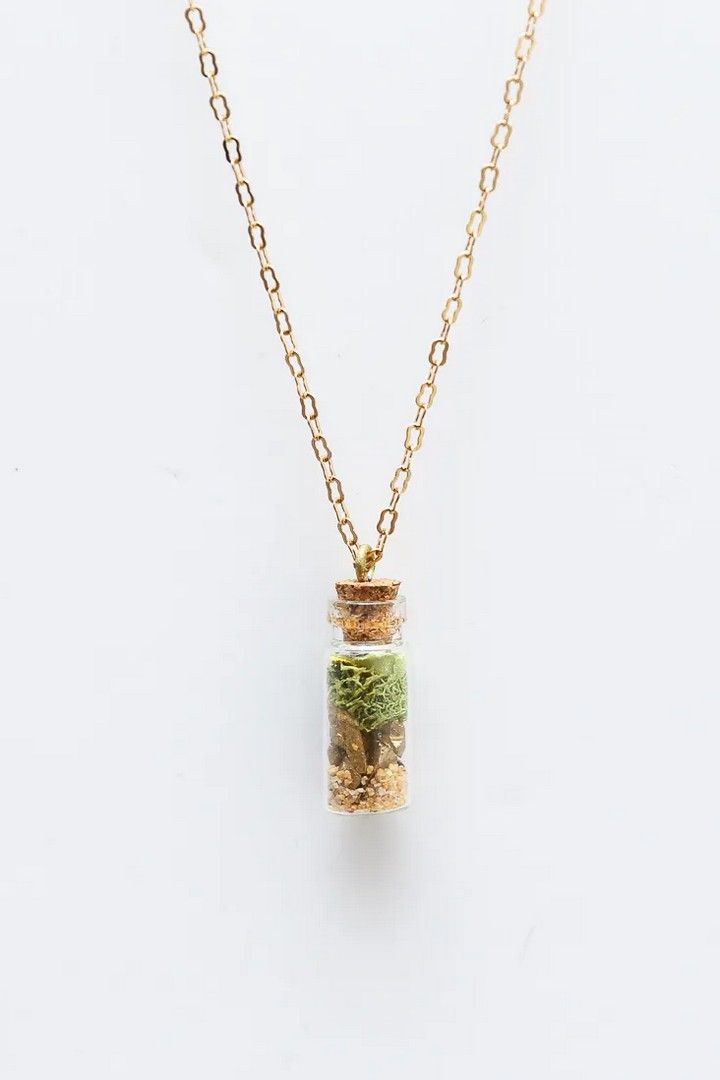 A beautiful and straightforward mini terrarium necklace that is perfect for everyday wear. With this DIY terrarium kit, you can make a mini faux terrarium necklace. This is a fun craft that anyone can do! This necklace tutorial is perfect for the natural DIYer in you. You can make a gorgeous terrarium pendant worn as a necklace with a few materials. These mini terrariums are easy to make, and anyone can do it!
How To Make A Homemade Necklace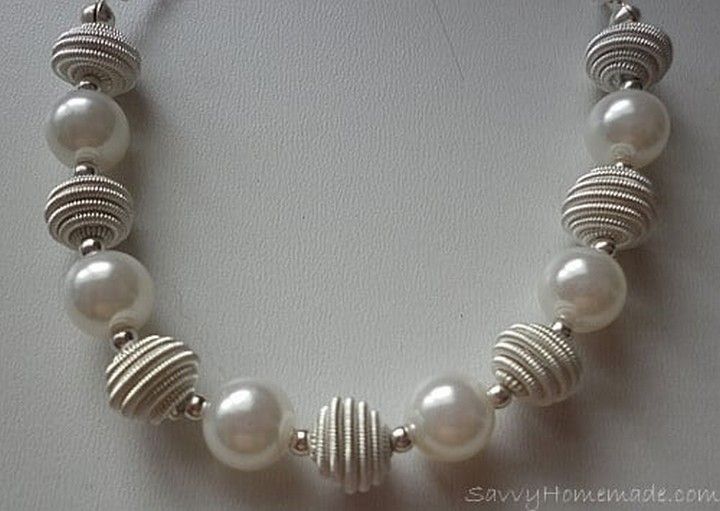 Want to make a necklace but need help figuring out where to start? While you can buy various materials for making necklaces, making your style can be more fun and cost-effective. Transform your old Necklace into a brand-new one! With this easy tutorial, you can save money and make a wonderful handmade gift for yourself or someone special. Make your own beaded jewelry with this introductory tutorial. This simple design is perfect for beginners, but more experienced crafters can play around with more complex patterns and shapes.
DIY Adjustable Charm Necklace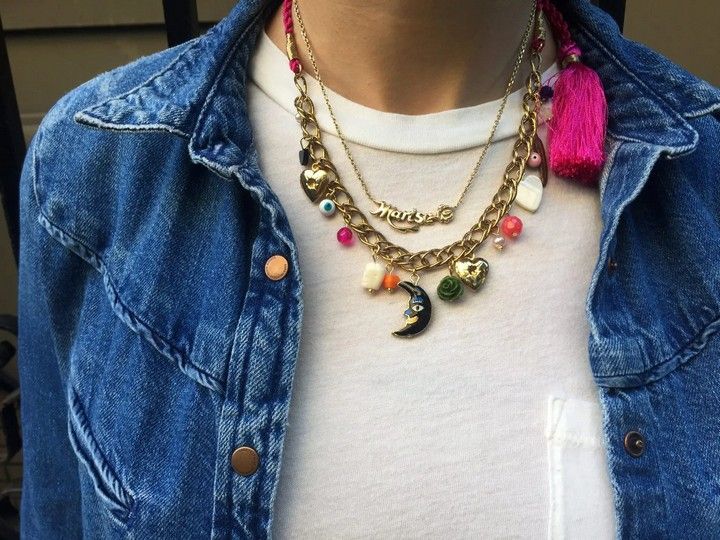 Pair this adjustable, colorful Necklace with your favorite outfits for all seasons! This DIY Adjustable Charm Necklace is perfect for the girl who loves to create. Use a variety of charms to tell your story and make it unique. Experiment with different styles, such as adding a simple silver heart on the chain or creating an oversized rose charm at the end of the chain. Perfect for every day, this versatile Necklace can be worn long or doubled! Add any charm or bead you like.
Easy Marbled Clay Pendant Necklace
This DIY Easy Marbled Clay Pendant Necklace is perfect if you love marbled effects and have a creative side! Make your marbled clay piece in any color desired and string it onto a chain or cord. You'll love the results; it's that easy! This DIY easy marbled clay pendant necklace creates a fun, trendy look. It only takes a few minutes to create; then, you're ready to treat yourself or gift it to others.
Also see, Creative Mushroom Hat Ideas 
Make This Woven Bead Statement Necklace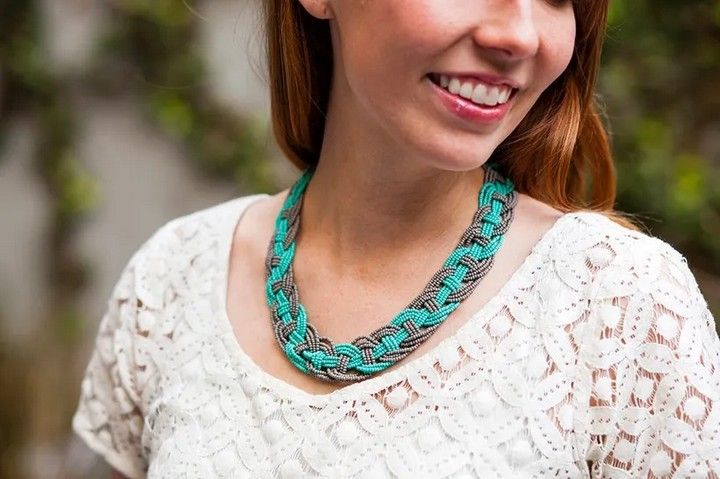 Beading has always been challenging! This super-simple wire beaded necklace takes mere minutes to make, and with the wide variety of bead colors and shapes available, you're guaranteed to have a one-of-a-kind piece. The possibilities are endless. Make this beautiful woven bead statement necklace and make a simple, on-trend statement with your accessories. It's a quick, easy, fun project that allows you to create beautifully unique pieces.
DIY Beaded Tassel Necklaces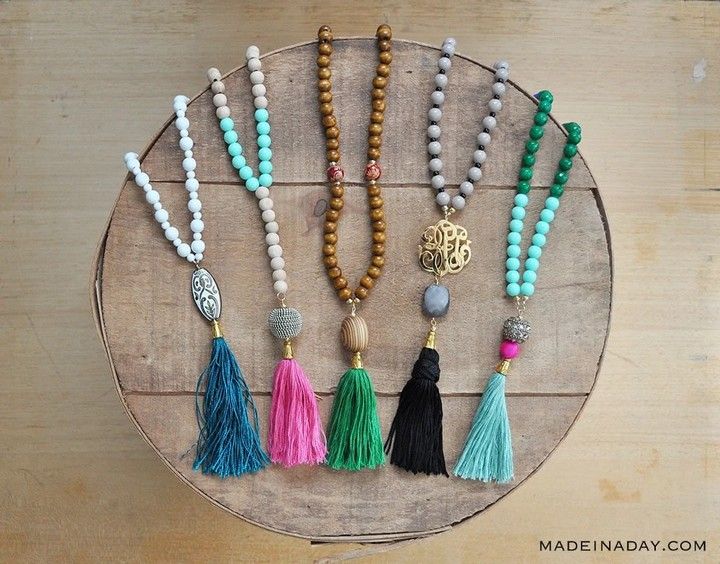 Tassel necklaces are all the rage, and these DIY tassel necklaces are easy to make for any occasion. You need basic craft supplies (like beading wire and beads), a glue gun, and imagination! These DIY Beaded Tassel Necklaces are a great way to spruce up your wardrobe! These tassel necklaces have endless style possibilities and make excellent gifts. Create your own unique look with one of our fun designs, or create your design from scratch easily with this DIY Necklace Kit!
DIY Utility Rope Necklace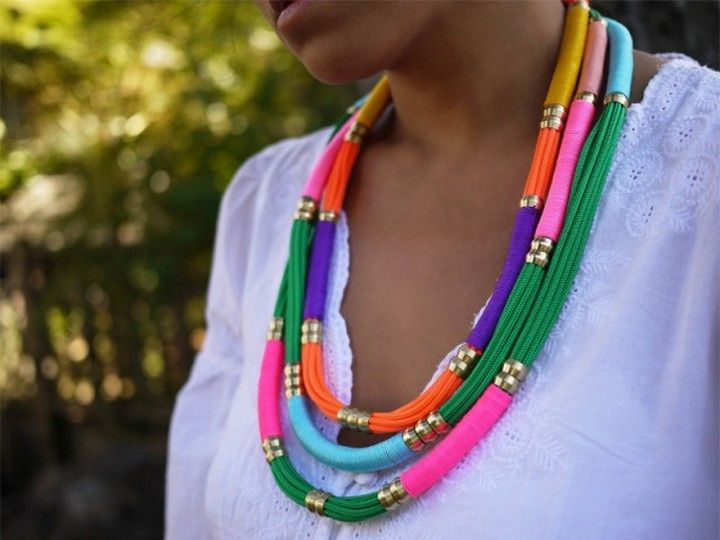 Keep your neck nice and warm during the colder days of the year. This DIY utility rope necklace gives you a cozy feeling while looking fabulous with any outfit. This Necklace is not only stylish but also incredibly durable. Featuring a gemstone pendant, it's perfect for casual wear and would work great with jeans or a tee. This simple DIY project will have you wearing your new favorite Necklace in no time. This simple design makes it easy to get creative while experimenting with different color options.
DIY Rope Necklace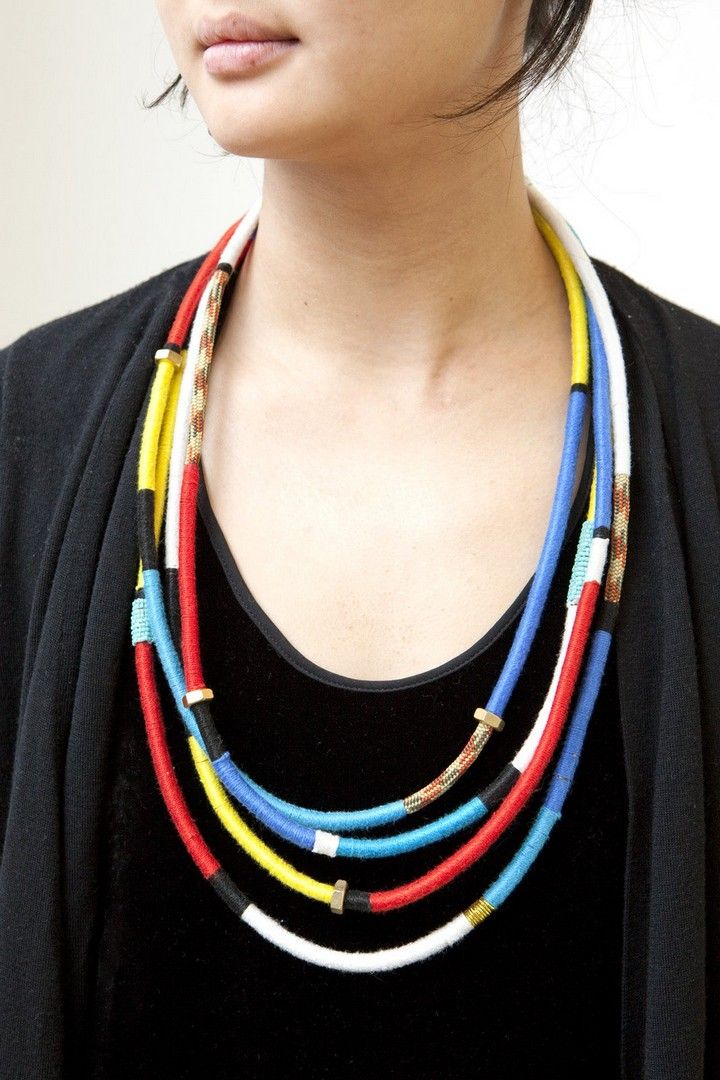 If you love the look of natural materials and have a few minutes to spare, this is right up your alley. Create your own rope necklace and have fun with your friends. Find the perfect length of rope at the hardware store, then pick out some colors to make your Necklace stand out from the rest. This DIY project is great for groups because it's easy to break up into teams or pairs. The best part about this Necklace is that you can customize it for yourself or give it as a gift to someone special in your life!
Braided Rope Necklace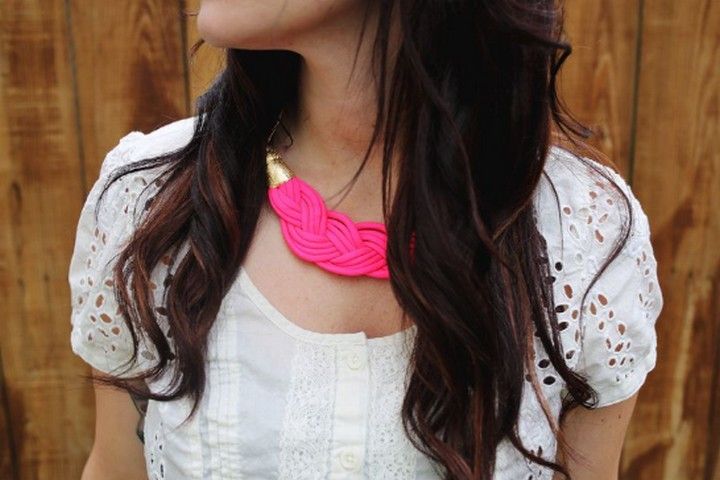 A great way to keep your neck warm during the cooler months and a beautiful piece of jewelry to add to your collection, this DIY Braided Rope Necklace will become a favorite in no time. All you need are some scraps of fabric and some paracord. The resulting Necklace is beautiful and unique, making it an excellent gift for all your loved ones! This beautiful Necklace takes less than 20 minutes to create using an inexpensive rope and some essential hand tools. Once you have completed it, you'll be ready to wear your creation with pride.
DIY Chevron Chain Necklace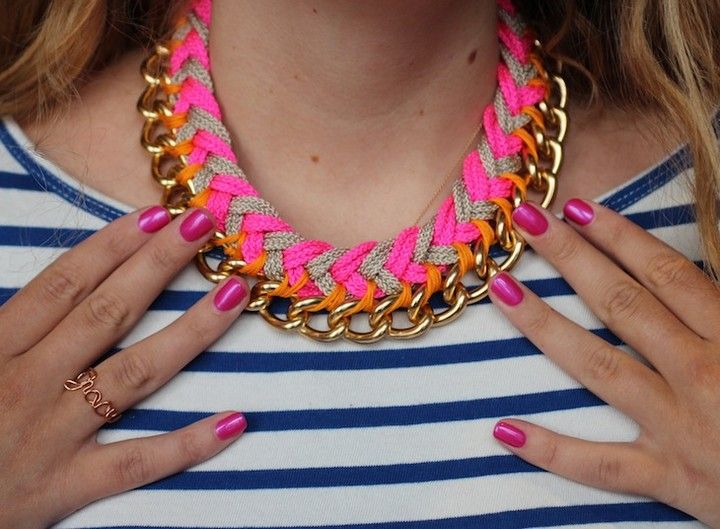 This DIY chevron chain necklace is the perfect addition to your existing wardrobe. With a simple design, this piece is excellent for any occasion. And you need some supplies, a few steps and an hour of your time to make it! This DIY chain necklace is the perfect way to add a trendy, everyday look to any outfit. Shape it into a bold cabling chain, or wrap it around twice and tuck in a couple of knots in the open sections.
DIY Beaded Seashell Necklaces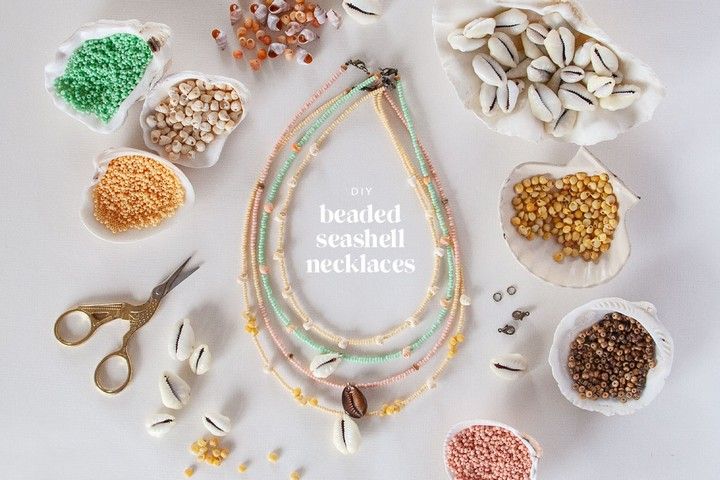 Decorate your neck with a trendy seashell necklace! Make your own beaded seashells quickly and easily. These DIY Necklaces are a fun and easy way to make personalized seashell necklaces for you and your friends. Perfect for the beach or your next girls' getaway! Add a touch of island style to your wardrobe with these DIY Beaded Sea Shell Necklaces! Use these beads to make a unique, beautiful, and simple Necklace. The tutorial includes pictures for easy step-by-step instructions.
Simple DIY Macrame Necklace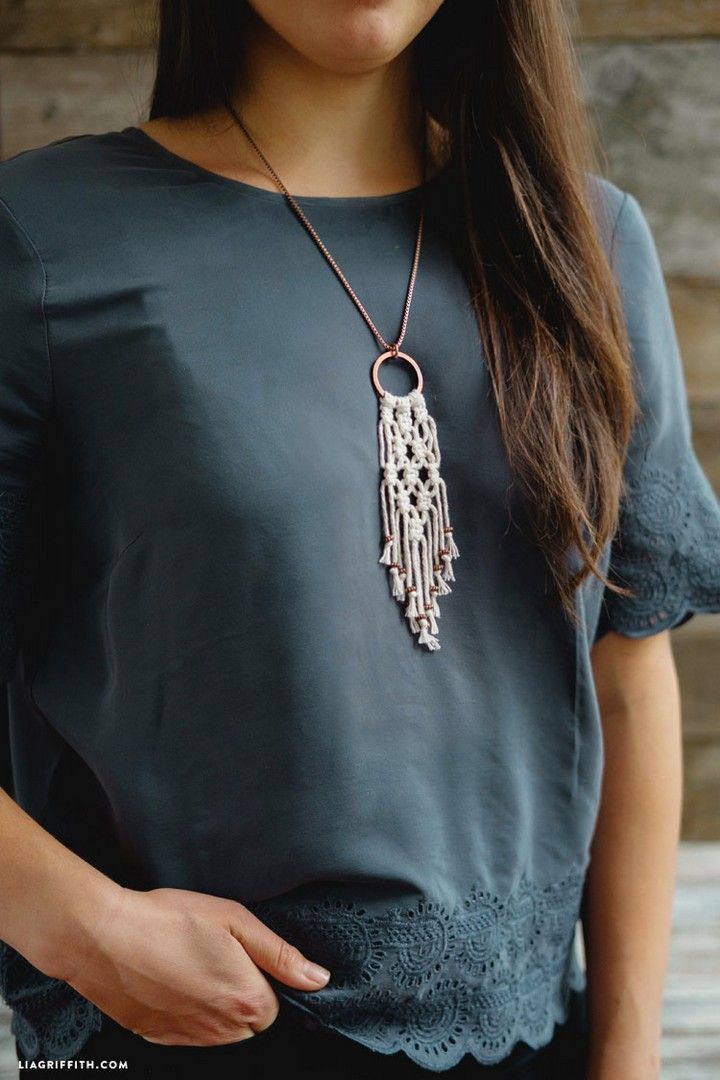 This tutorial shows you how to make a simple DIY Macrame Necklace. It's a great design for beginners and requires only a few materials. The length of the Necklace can be adjusted as needed by cutting off or adding more cords (12-16 inches) when you are done braiding. Make a simple necklace from scratch in just a few minutes. You can make the design as detailed or simple as possible, but every step is easily explained.
DIY Wood Copper Necklaces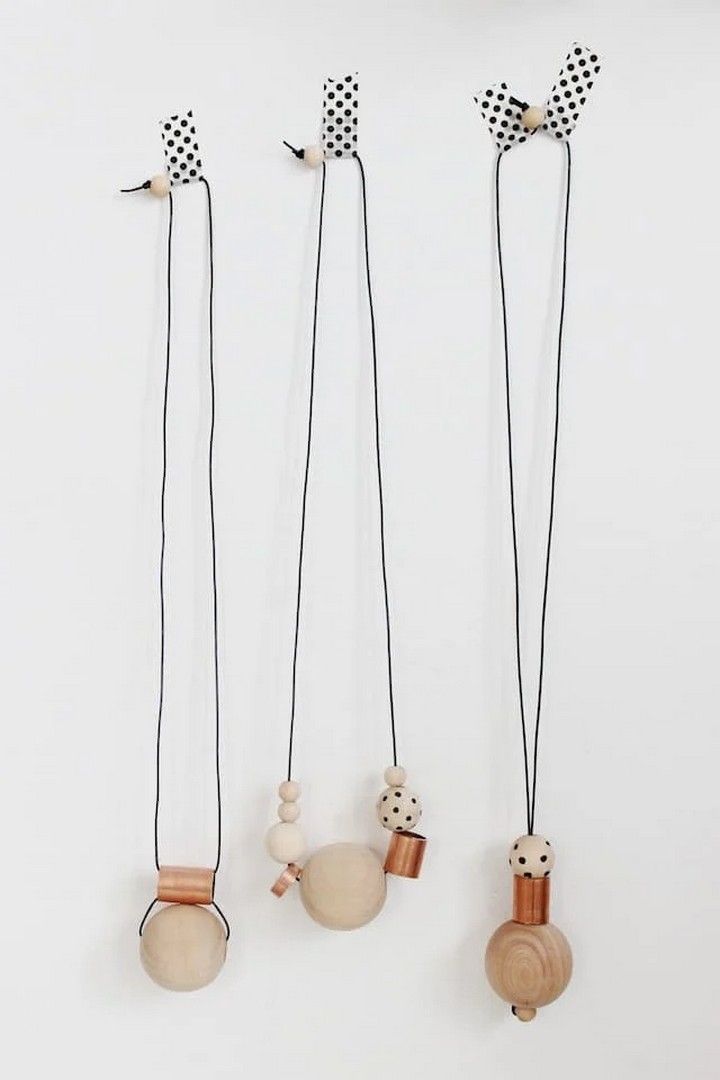 Looking for a subtle but stylish necklace? Try this DIY wood copper necklace! It's perfect for summer, and you can use it as an everyday piece. This DIY Wood Copper Necklace is a great piece to add to your jewelry collection! With its beautiful wood tone and copper accent, this Necklace will be an excellent addition to any outfit. The length of the Necklace makes it the perfect layering piece for all seasons, and with the adjustable chain, it can quickly be lengthened or shortened in size.
DIY Wire-Wrapped Stone Necklace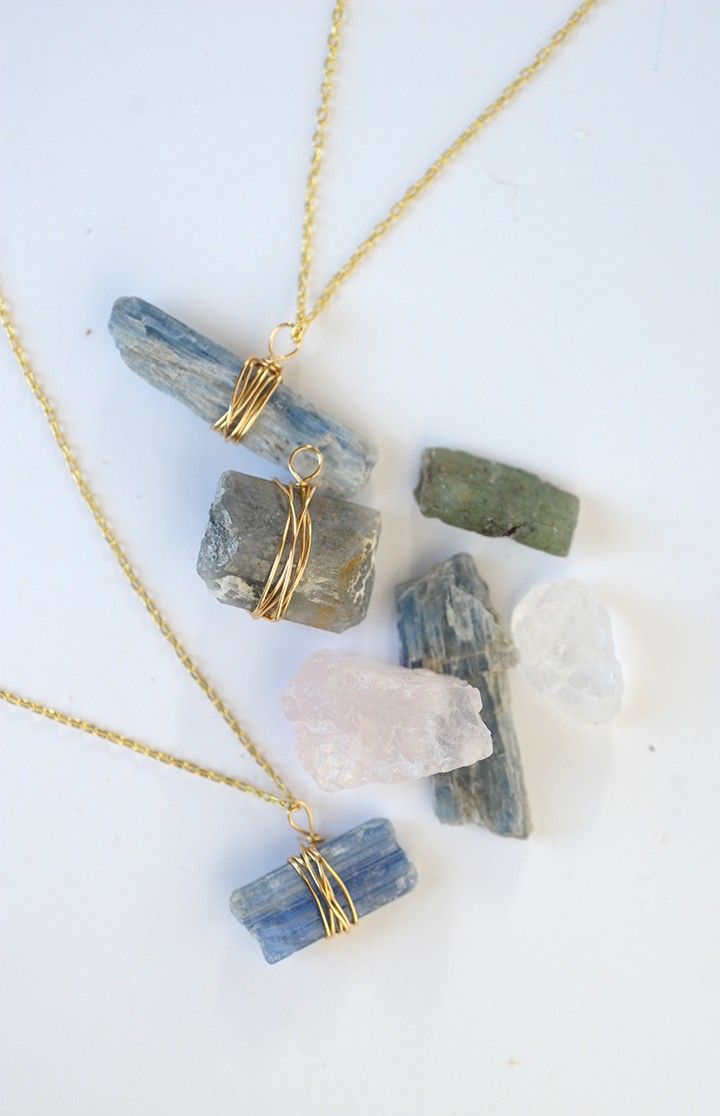 This DIY Necklace is a great project for beginners. Using only thick wire, a few beads and a bit of string, you can create this beautiful Necklace with a stone charm that makes it unique and special. It's an easy craft and the perfect gift for someone special! This is such a simple project, but the result is fantastic! This DIY wire-wrapped stone necklace is a great DIY project for the whole family. Make it into any size you like!
Tassel Necklace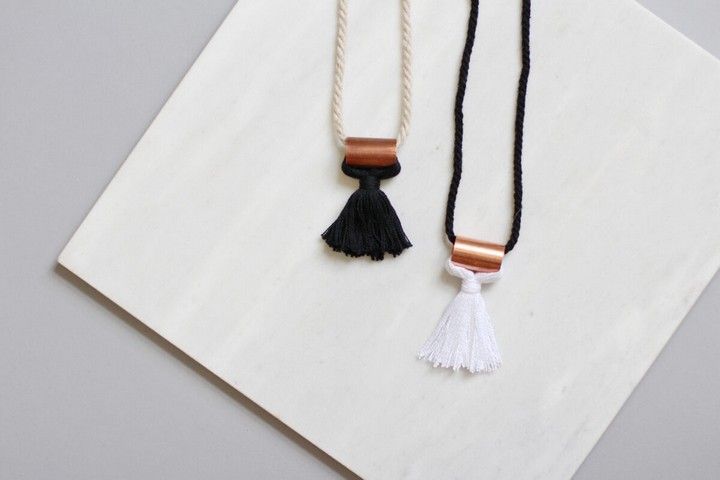 DIY Tassel Necklace is a fun and easy way to show off your style. You can create a colorful tassel perfect for spring and summer with a single cord. Add a trendy, boho chic style to any outfit with this DIY Tassel Necklace. It's quick and easy to make and only needs three materials: Natural Dye, Tassels and Hemp Cord. This DIY Tassel Necklace is a great gift or conversation starter! This beginner jewelry project is easy to make and perfect for any occasion.