When you're looking for a fun summer activity to keep the kids occupied, it's hard to beat a lemonade stand. The best part about lemonade stands is that they're not only fun for the kids—they're fun for the whole family! You can make some great memories this summer by choosing one of these unique DIY lemonade stand ideas and making them with your children. Whether you want to get creative and make something out of wood or create something functional, like a permanent base, there are many options here.
DIY Lemonade Stand Plans

This summer, you can keep your kids entertained while they're on their summer break by having them run a lemonade stand. These stands are a great way to spend time outdoors with your children and encourage them to be entrepreneurial and inventive. Whether they're getting into the entrepreneurial spirit or doing it for a good cause, lemonade stands are a great way to get out there and socialize with other kids—and maybe even make some money! With that in mind, we've rounded up some DIY lemonade stand ideas to help you do that. Get inspired by these clever designs before you send your little entrepreneur out on the streets this summer. Plus, it's a great way to get them away from the television and video games!
Benefits Of DIY Lemonade Stand Ideas
The benefits of DIY lemonade stands are endless, and if you're looking for a new way to entertain your kids, this is a great way to do it.
It's fun!
It's educational!
You can make some extra money!
You can teach your kids how to manage money (and how to keep their profits).
You can teach them about entrepreneurship and how hard work pays off.
You'll have something memorable to look back on when they grow up!
DIY Lemonade Stand
This is the perfect project for you if you're hosting a summer party and need a lemonade stand. This easy-to-build lemonade stand is an excellent way to inspire budding young entrepreneurs and help kids develop business skills. Gather some milk crates, staple them with velcro, and decorate them with paint. Simple, yet so charming! This DIY lemonade stand is a great way to store any supplies you might need for your lemonade stand, including cups, sugar, stirrers, and more.
How To Build A Lemonade Stand
This lemonade stand is a great activity to keep the kids busy while you picnic and relax. This stand is easy to build and only uses a few materials you already have around your house. You'll be ready to sell fresh lemonade this summer with some work and time! Follow these steps in the video to build a lemonade stand. The project will be much easier with the help of an adult and some white paint. The perfect size for young kids, it will fit snuggly into any space while they serve up some delicious lemonade.
DIY Lemonade Stand
This DIY Lemonade Stand is perfect for letting your kids run their own business! You'll need a few crates, wood screws, glue, paint, and a paintbrush. Plus, any other supplies (like a banner or lemonade box stand) that you want to add. This lemonade stand is easy to build and can be customized to suit your needs. This product can be whatever you want, from classic stands with a simple pole to elaborate structures with roofs. It's perfect for kids or adults who enjoy building things from scratch.
DIY Lemonade Stand Under $15
This DIY Lemonade Stand Under $15 is an ideal project for kids who can make their lemonade stand in their favorite colors with supervision! It makes an excellent centerpiece for your patio or lawn. It's large enough to store big ice blocks and lemonade jugs. Forget the expense of buying premade kits when you can get precisely what you need from that materials in your garage and available in home stores inexpensively. This easy diy lemonade stand will make you feel nostalgic while planning and designing it.
DIY Lemonade Stand With Wheels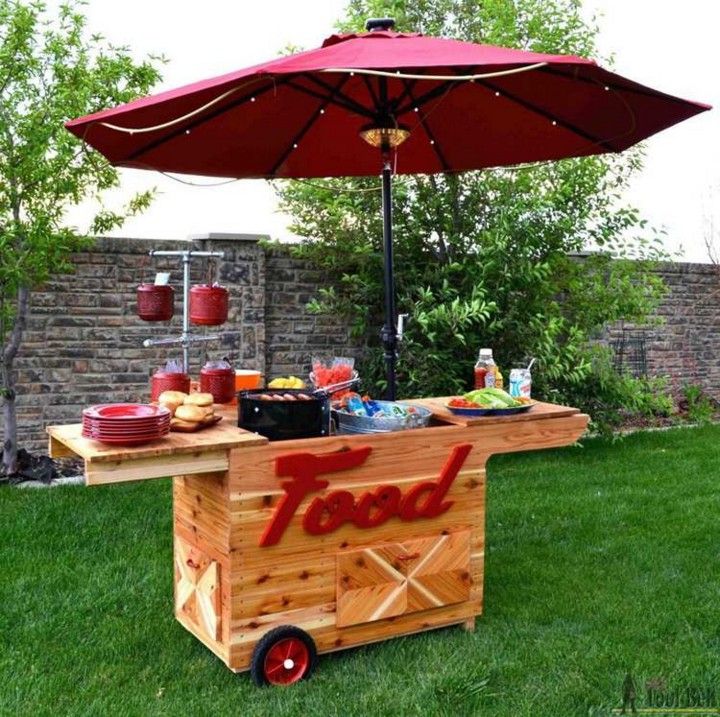 Make this homemade lemonade stand with wheels for your backyard, kid's birthday party, or open house. This excellent lemonade stand is built from cedar fence pickets, boards, and more, with a sanded and painted finish. A pair of casters that lock allow this stand to move around when needed quickly. It features an attractive yet functional board and batten design, with a shiplap back and wide storage drawers underneath. The base is easy to assemble and can be made even easier if you use the optional pre-cut plywood panels. Use this simple step-by-step guide to build this fun project in no time at all.
DIY Rolling Lemonade Stand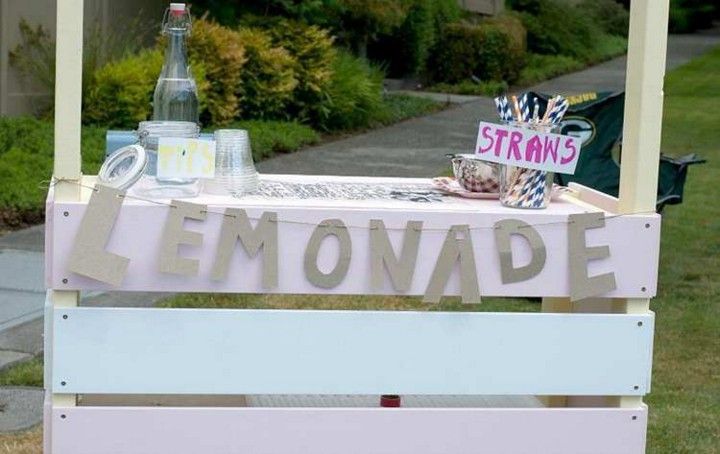 Customize your lemonade stand to enjoy the summer weather with your family. This DIY Rolling Lemonade Stand is excellent for picnics, parties, or any time you need a delicious beverage. All you need are a few pieces of wood, some screws, and paint, plus the right tools (drill press!) to make it all come together. The base is built from wood pieces and sheet plywood, and it has four caster wheels that allow you to roll the stand wherever you need it. It's easy to assemble, so you can stand up in no time.
DIY Lemonade Stand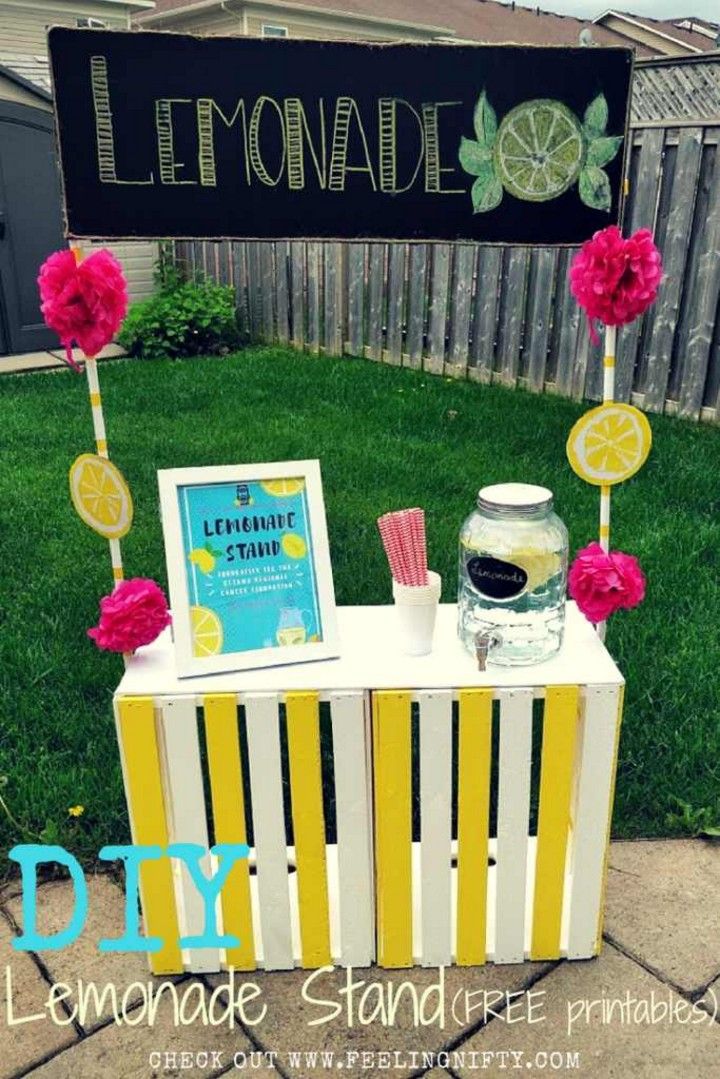 This DIY lemonade stand is the perfect combination of practical and fun. Not only can you help your kids learn about business, but they can also have their very own lemonade stand to help them become little entrepreneurs while they practice math skills! The cutting and gluing are simple enough for a child to do, but it looks adorable when complete, and it's sure to impress your friends. You can make a lemonade stand out of wood crates in less than 30 minutes. It's beautiful and perfect for a kitchen garden or as an accessory to your backyard. With these DIY instructions, you'll be able to create this fun lemonade stand with your kids, and they will be delighted with the results.
DIY Lemonade Stand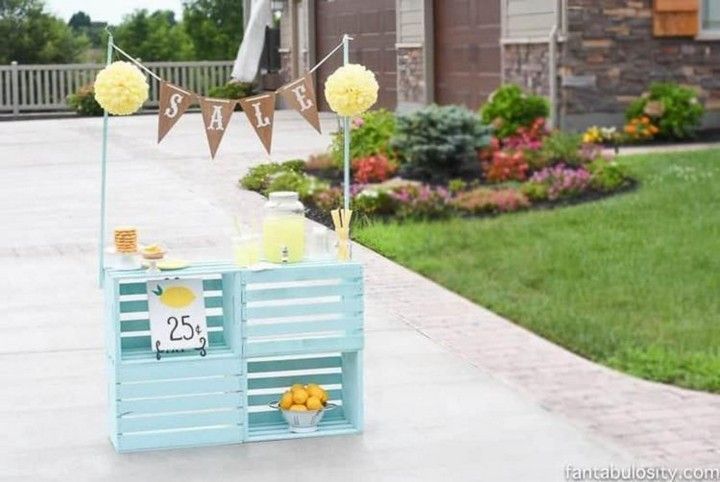 Kids can have the most fun when things are in miniature sizes. With a few basic supplies and a quick assembly, this DIY Lemonade Stand project can be done in less than an hour. Your little entrepreneur will be bringing in the big bucks in no time at all! It's created with four milk crates, wooden dowels, and a little spray paint. Attach the dowels to the sides of the crates with brackets, and voila! Your mini lemonade stand is ready to go.
How To Build A Lemonade Stand
Are you looking for an easy project to do with your kids this weekend? Why not build a lemonade stand? It's a simple project, and it's so much fun! Children will work together on this simple design as they gain essential skills like measuring, reading diagrams, and cutting. They'll learn to use tools like saws to make cuts, drill bits to make holes, and hammers to pound nails. Use these instructions in the video to build one at home with materials you already have lying around your garage or basement.
DIY Rustic Reclaimed Wood Lemonade Stand
This DIY Rustic Reclaimed Wood Lemonade Stand is a great project you can build with your family! Build this rustic-style lemonade stand for your kids and their friends to enjoy! Crafted from reclaimed wood and project panel, This old-fashioned lemonade stand is as fun to make as it is to use. This reclaimed wood lemonade stand makes a rustic addition to any backyard barbecue or birthday party. The simple frame is made from 2x4s and a project panel that serves as its top. You'll love the simple design, and it's easy to paint or stain it however you want for your style.
How To Make A Lemonade Stand
This lemonade stand is simple to make and can be completed within a few hours by just one person. This video shows you how to make a lemonade stand and the supplies you need. The only piece of special equipment required for this project is a miter saw, which can rent at your local home improvement store. Once you have found the perfect spot on your property to set up your stand, you will begin by building a base assembly from 2x4s. This base has two sides that are secured with nails and two braces that will attach the same way on each end of the bottom board.
DIY Lemonade Stand
Build a lemonade stand with your kids and encourage them to create their businesses. Create the lemonade stand from plywood, then decorate it to look authentic. You can paint it any color you want and add colorful paper straws, or even make a chalkboard sign for people to order their drinks by writing on it. This project is perfect for any young aspiring businessperson or a fun summer activity that the whole family can enjoy.
Lemonade Stand To DIY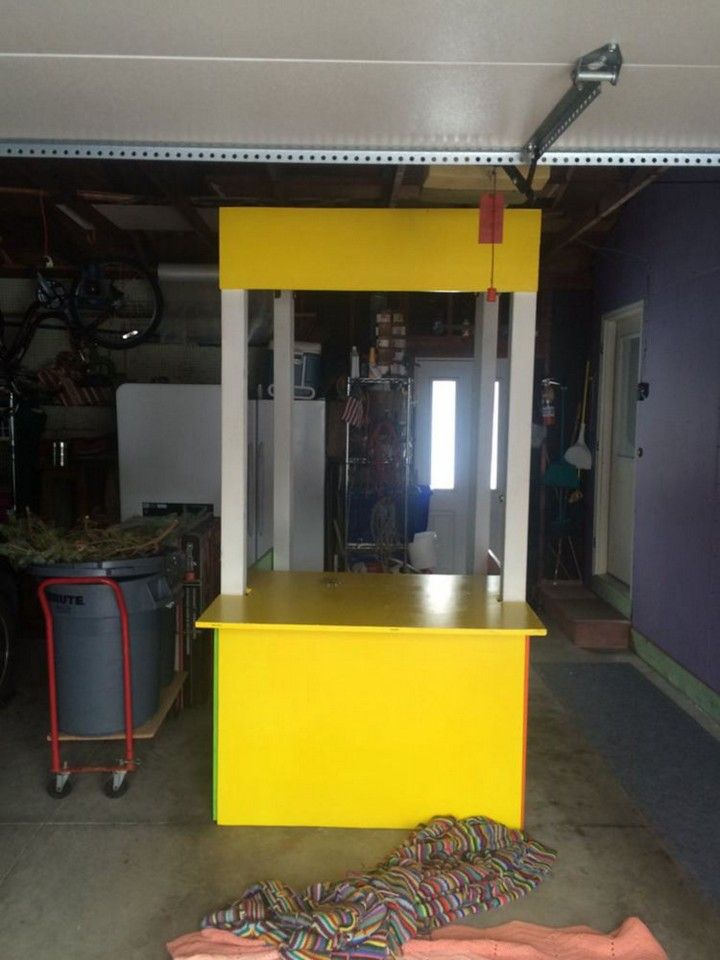 This DIY lemonade stand is a great way to spend time with your kids and teach them about entrepreneurship! It's made from plywood, paint, and other supplies sure to please any kid. Kids will love having their lemonade stand, and you'll be happy knowing that all the materials used to make it are safe for young children. This project is fun, easy, and sure to make kids feel like they've run their own business right in your backyard.
DIY Lemonade Stand On Cart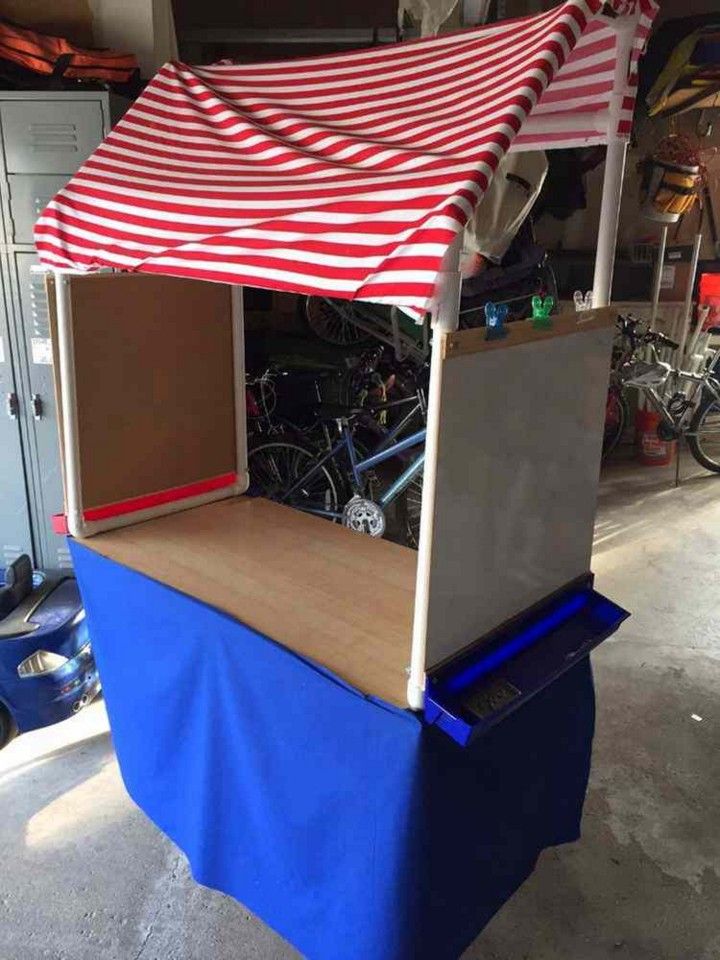 Bring the fun flavors of summer to your front porch with this easy-to-assemble Lemonade Stand on Cart. With this project, you can use your creativity and imagination to create a lemonade stand that your kids will love! Made from PVC pipes, wood, and fabric with a touch of bright and imaginative paint, this cart will provide hours of enjoyment for kids and adults alike. You can choose different colors of fabrics, and you can also change the designs to suit your taste.
DIY Pallet Lemonade Stand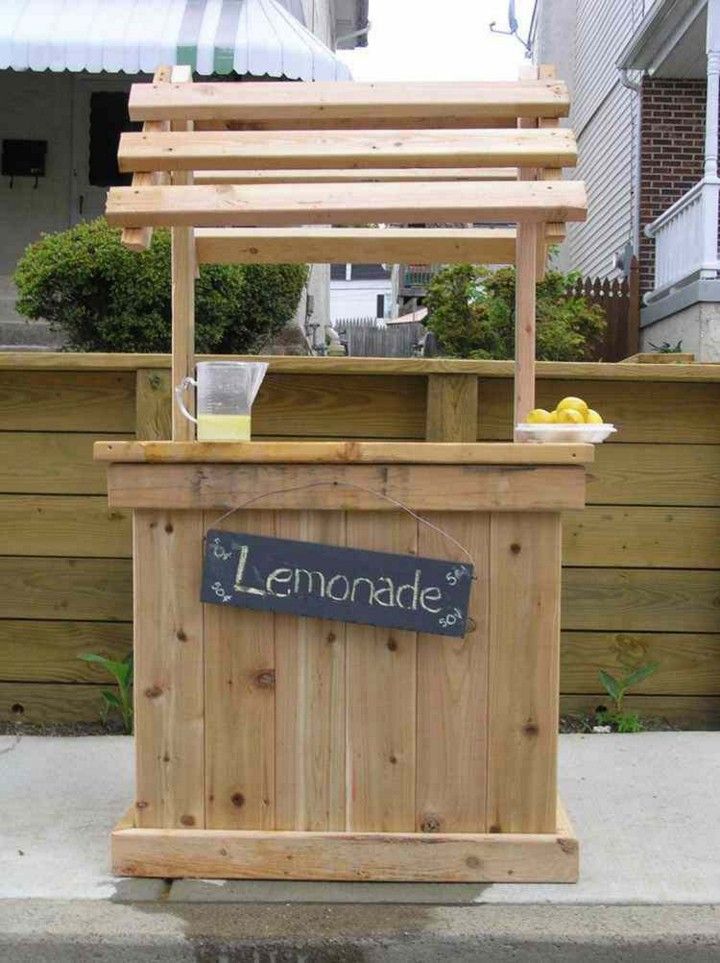 Lemonade stands are a classic summer activity for kids. They're also a welcome addition to your next picnic so that you can make one into a beautiful keepsake. This lemonade stand is made from wooden pallets and quality materials, providing a robust and long-lasting structure for your child to enjoy. Relieve the summer heat with this functional, rustic-looking lemonade stand. Check out this tutorial to see how easy this DIY lemonade stand is to make!
You can also see: DIY Speaker Stand Ideas 
DIY Vintage Country Chic Lemonade Stand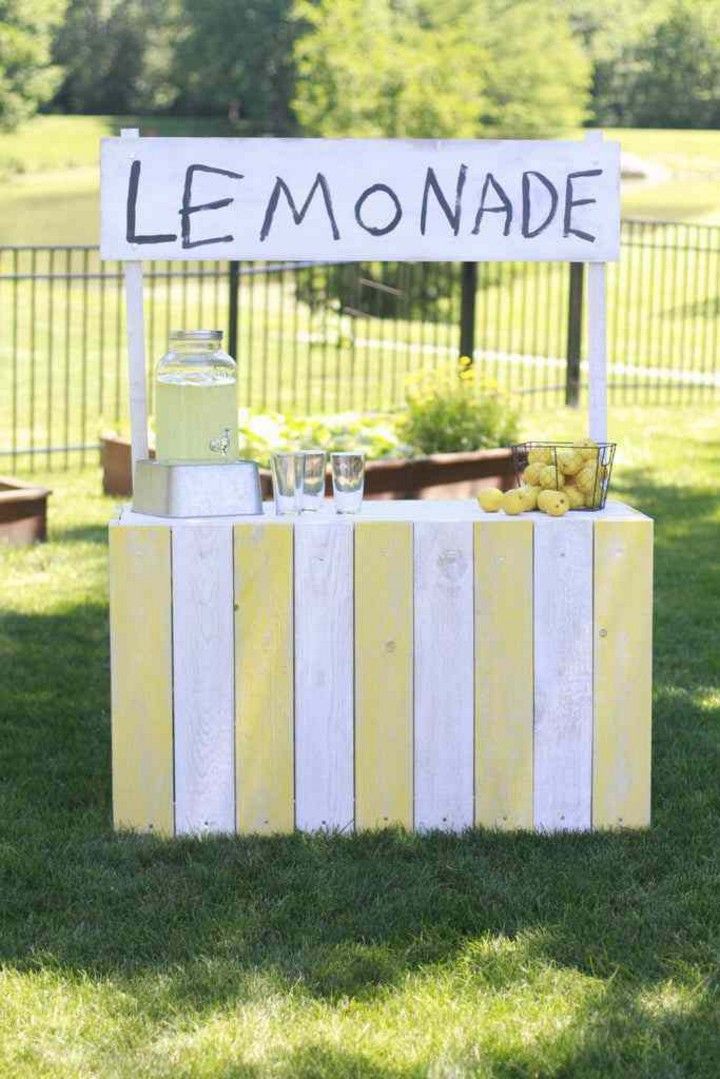 This DIY vintage country chic lemonade stand features a rustic design that is great for picnics and other outdoor gatherings. Not only is it affordable, but it's also fun and easy to build. Make your lemonade stand the talk of the neighborhood with this easy-to-assemble DIY Vintage Country Chic Lemonade Stand. You can create this super easy lemonade stand with a few essential tools and materials! Assemble the pieces of your lemonade stand and then paint it to make it exactly how you want. With these instructions, you'll have your homemade lemonade stand up and running in no time!
DIY Lemonade Stand
Get ready for summer with this easy DIY lemonade stand. It's pretty, lightweight, and easy to assemble.DIY-LemonadeStand is a simple project you can make in an hour or so. You'll need some essential hand tools, one sheet of plywood, and a length of PVC pipe (the exact length will depend on how high your treehouse structure is). This inviting lemonade stand will make you the talk of the town! It's quick and easy to build, sturdy enough to last through many summers, and an adorable addition to your lawn. This video project shows you how to build a simple structure that will keep the stands at their best for years.
How To Make A Lemonade Stand
Building a lemonade stand is a fun way to help kids learn how to use tools and materials. If you have all the necessary materials, it should take no longer than an hour to build this cute little stand. All materials used are cheap and easy to find at your local hardware store, making this project a snap. You must use a tape measure, glue, and a wooden board to put your lemonade stand together. Choose a place to set up your stand and wait for customers!
How To Make A Lemonade Stand Using PVC
Create a fun, whimsical lemonade stand out of PVC pipe that is as easy as pie to assemble. Simple and cute, this PVC lemonade stand is perfect for kids. With a few materials found at a hardware store, you can transform this weekend project into an afternoon selling lemonade! This DIY video tutorial will show you how to make a lemonade stand using PVC and elbow fittings, which means it's super sturdy, durable, and compact enough for the whole family's use.
DIY Fence Picket Lemonade Stand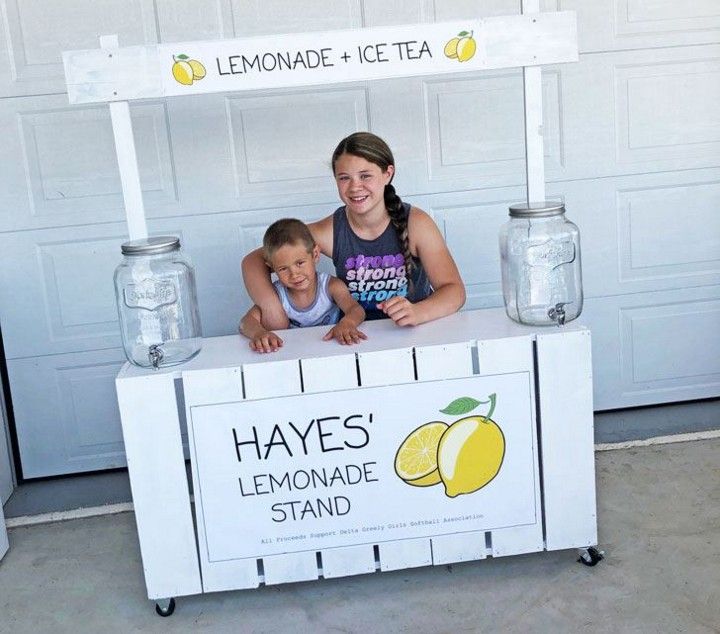 Have you ever wanted to run a lemonade stand but didn't have one? Now you can make one yourself with a twist of your own. This lemonade stand is also perfect for your kids to set up outside while selling lemonade or even at home when they want to sell their homemade ginger ale. It's made of pickets and 1x12 boards, so it's cheap, easy, and portable. Paint it in your favorite color, and it's ready to go! Kids will love helping out with lemonade stands like these!
DIY Cardboard Lemonade Stand For Kids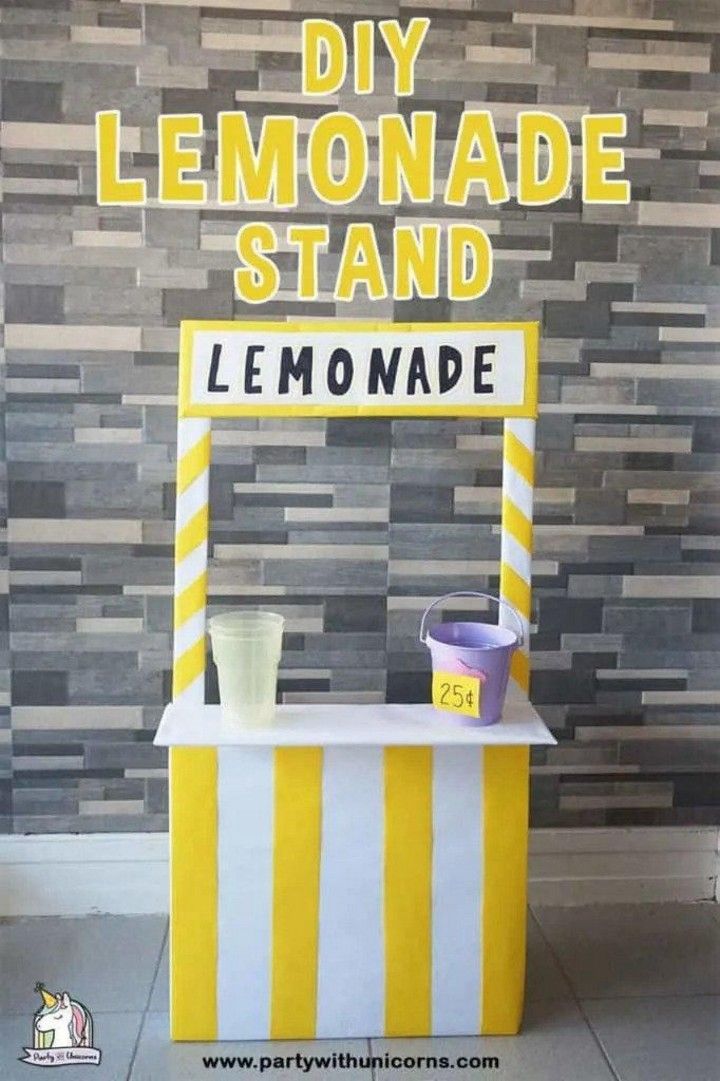 This simple DIY Cardboard Lemonade Stand For Kids project is easy to assemble and perfect for summertime fun. It also teaches kids the value of hard work and getting there early enough to do it themselves. Let your children learn to make their lemonade stand and develop entrepreneurial skills as they enhance their creativity. This is a fun activity for them, as it involves cutting, pasting, and gluing. Ensure they get an old cardboard box large enough to hold their drinks and other necessary items such as cups, spoons, and sugar cubes.
Lemonade Stand Idea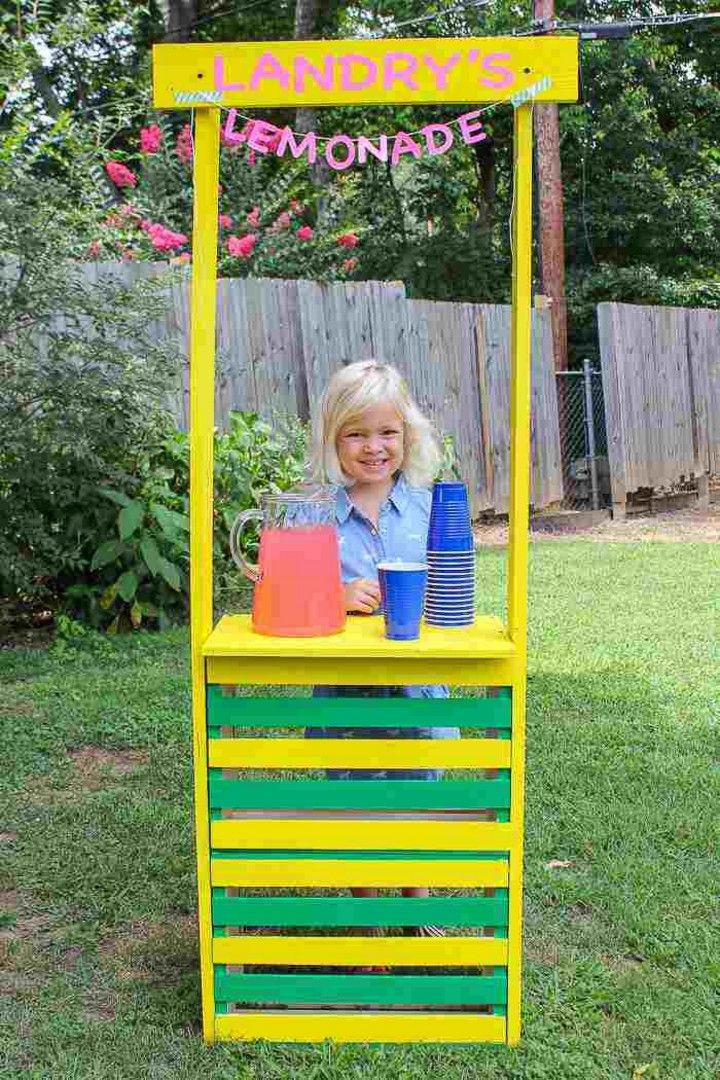 Looking for a fun way to kick off the summer? Here's a DIY lemonade stand idea that your kids will love! They can create their own business and have fun with this easy-to-assemble, using only a few materials. All you need are two big wooden crates, plywood, wood screws, paint, and other craft supplies listed in the guide. Cut the panel and crates in halves, then paint everything and assemble them by the sides of the crates and plywood board as the tabletop.
Lemonade Stand DIY Plan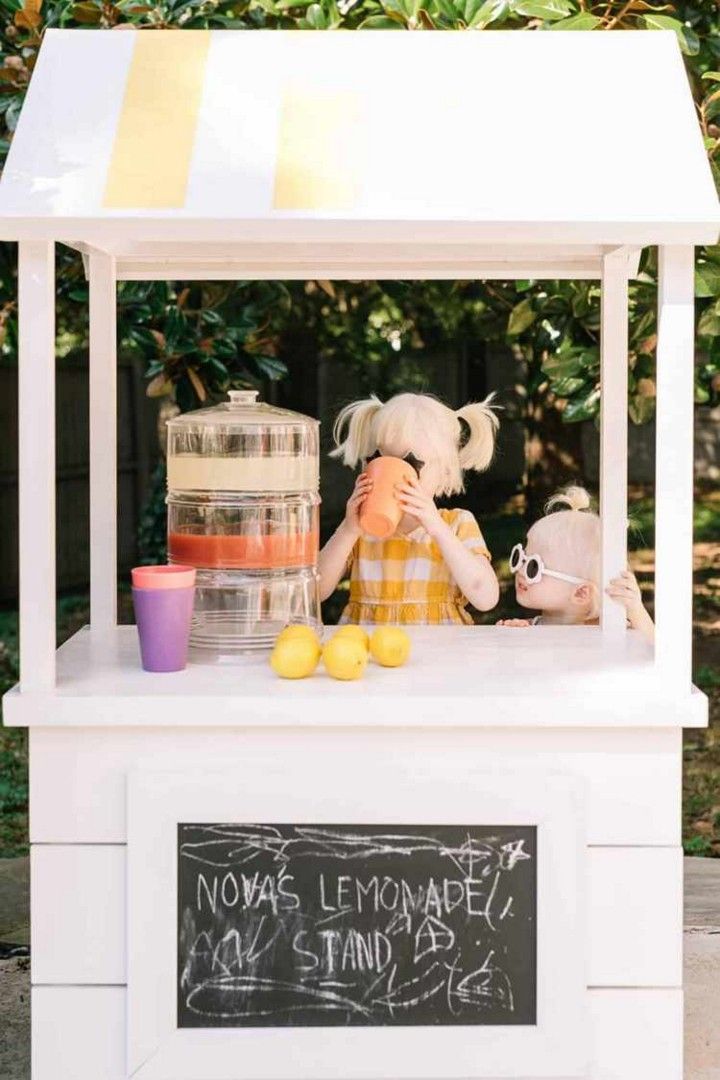 Do you have kids that require a summer job? Then this Lemonade Stand DIY Plan is perfect; they will love to tackle it! The stand can be used as a lemonade and sweet tea stand and as a kiosk for selling sandwiches or seasonal items at flea markets. This is an inexpensive and quick project; ensure you have some helpers for assembly. It's fun, easy, and sure to be a hit at their next neighborhood lemonade stand!
How To Build A Lemonade Stand
A lemonade stand is a great way to make some extra money on the weekends while having fun at the same time. But building your own can be tricky if you need to know precisely what you need and how to put it together. Watch this video and get an overview of how to build a lemonade stand with the help of a few simple guidelines. The materials needed include plywood, a miter saw, glue, and others. Once built, you and your kids can set up a shop to sell their homemade lemonade and make some money or other treats to friends and family members.