It's time to upgrade your speakers. You've got a new favorite song, album, or artist you can't get enough of, so you need a speaker stand to support your listening habits. If you're looking for some DIY speaker stand projects to make, look no further! We found some unique DIY speaker stand Ideas that are easy to follow and well-suited for your home or office. The designs are simple and all the materials used are readily available. Most of them are made of wood, easily found in any hardware store. Whether you're building it for yourself or as a gift for someone else, a DIY speaker stand is something everyone can appreciate.
DIY Speaker Stand Designs

Speaker stands can be an essential part of your speaker system. They allow you to place the speakers at the optimum listening height and position. The problem is they are often costly and have a lot of unnecessary parts. This article will show you how to build your DIY speaker stand for your home theater. You can build them yourself and save a lot of money. There are dozens of designs available; some are easy to make yourself if you have basic carpentry skills. They don't even require any special skills or advanced tools! You can build most of these stands out of simple materials you probably already have around your house; many use everyday household items like screws and glue.
Benefits Of DIY Speaker Stand Plans
You can make them exactly the way you want them.
They are not expensive because no special tools are required to make them.
You can design them according to your needs to fit perfectly with your home décor or office setup.
There is no need to spend money on shipping costs and time if you have a DIY speaker stand project in mind since all that is required is creativity and hard work!
My Custom M Audio AV 40 Speaker Stands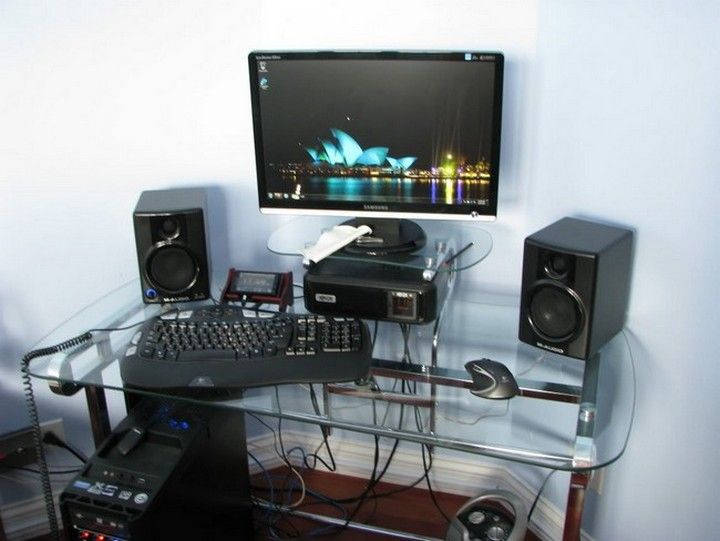 If you want to spend the money on something other than speaker stands but want your speakers to be raised off the desk a few inches and look good while doing it, then this project is for you! It's one of those projects you can't wait to start, so you build them yourself from scratch. This do-it-yourself speaker stand is made of beautiful cherry wood and designed to complement any home audio system. And when you finish, oh! the pleasure of putting on a favorite album in surround sound!
Oak Speaker Stands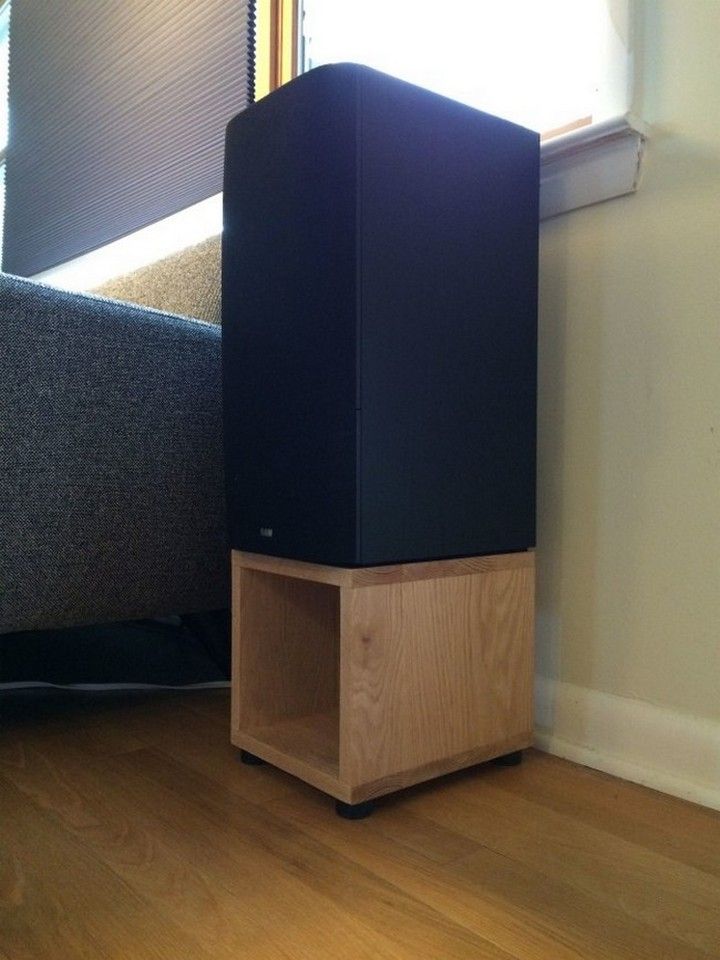 These Oak Speaker Stands are simple and functional but also classic and stylish. Made of solid oak, they offer excellent sound reproduction and will only enhance your home theater experience. You don't need heavy-duty equipment or fancy tools because this project is about a bit of sawdust – just cut some oak boards and fit them together with a few screws. With these speaker stands, you protect your speakers and give them a new lookThe project is straightforward but takes some time.
Twin Speaker Stands
Add style to your home theater system with this incredible yet straightforward DIY speaker stand project. You can assemble these stands in no time, and they'll look great in any living room or den! Upgrading your stereo speakers with a separate stand can improve your music's placement and sound quality. This project illustrates building a wood stand for twin speakers using simple techniques. Use smaller nails to secure them, avoiding creating too much weight on one side of the tripod that might cause it to topple over.
Desktop Speaker Stands
A pair of desktop speakers don't have to live on the floor. Try this easy Desktop Speaker Stands project and elevate your sound system to eye level. These stands are easy to make and can be used to place your speakers on a desktop, so it has two points, one top and one bottom. Quickly built from just a few pieces of furniture, these little stand lets you position your device at just the right height.
Bookshelf Speaker Stand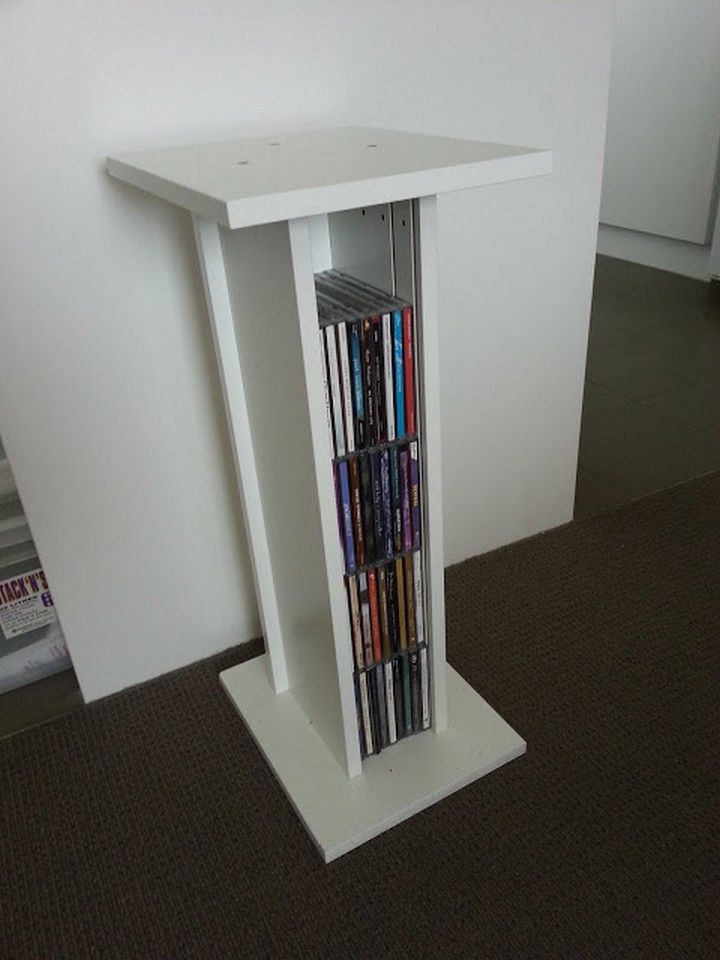 Rock your bookshelf speaker with this DIY Bookshelf Speaker Stand project. It has an elegant appearance that enhances any room's design while offering a strong and stable base for your bookshelf speakers. The bookends make it easy to assemble. And most importantly, you don't need to drill holes into your bookshelf (or pay for expensive woodworking services) to make them hold speakers up properly. The perfect DIY project, this shelf speaker stand can easily be adapted to any size or style of the shelf.
You can also see: DIY Tablet Stand Ideas And DIY Guitar Stand Ideas 
Cornered Floating Stand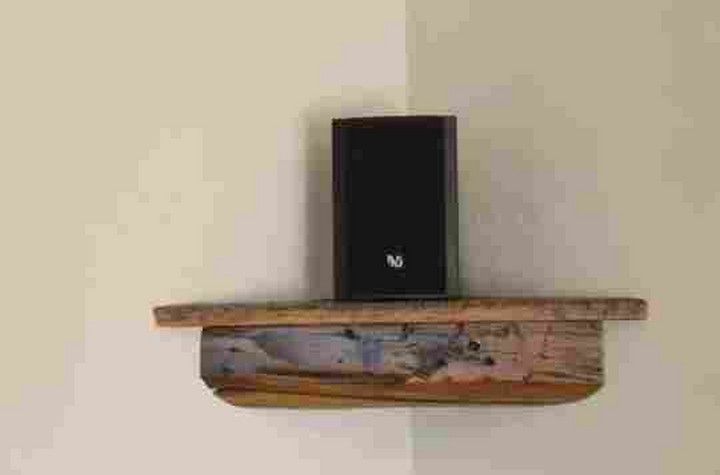 Wall corners are great spots to hold a support frame, so why not use this space? This project gives you a simple DIY Cornered Floating Stand for your studio monitors or your living room flatscreen TV. Using pre-cut pieces and a few glue joints, you can make a sturdy stand in no time. The DIY speaker stand project is simple, economical, and effective for mounting a pair of speakers to create a corner floating stand. All you need is a few tools, lumber, hardware, and essential hand tools.
Wooden Speaker Stand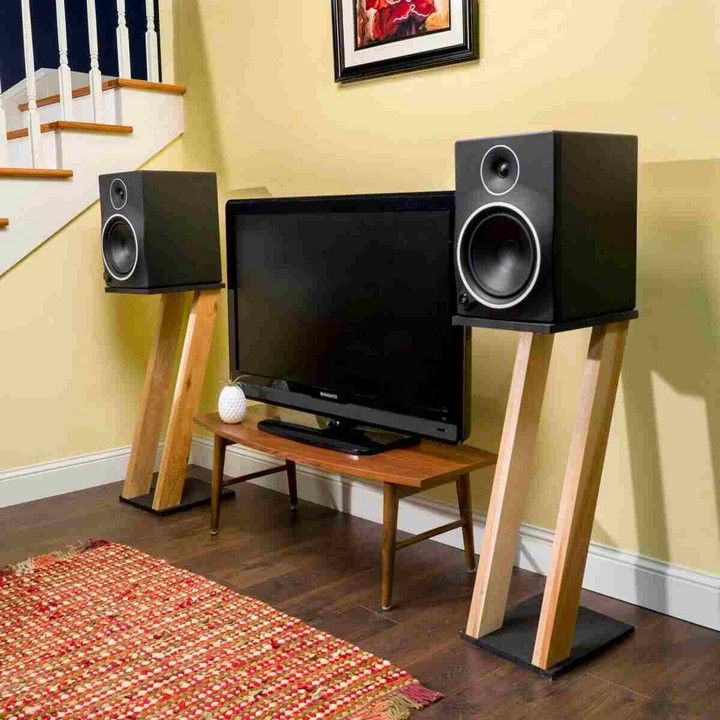 A wooden speaker stand adds to the décor of your room and doubles as a handy shelf. It also makes it easier to move the speakers around if you have limited space. Build a fast, affordable wooden speaker stand using essential tools and some available wood. Add a touch of class with a transparent stain, and even make it your own by painting it in one of your favorite colors. Before building, decide on what shape you want your stand to take.
ABS or PVC Piped Stand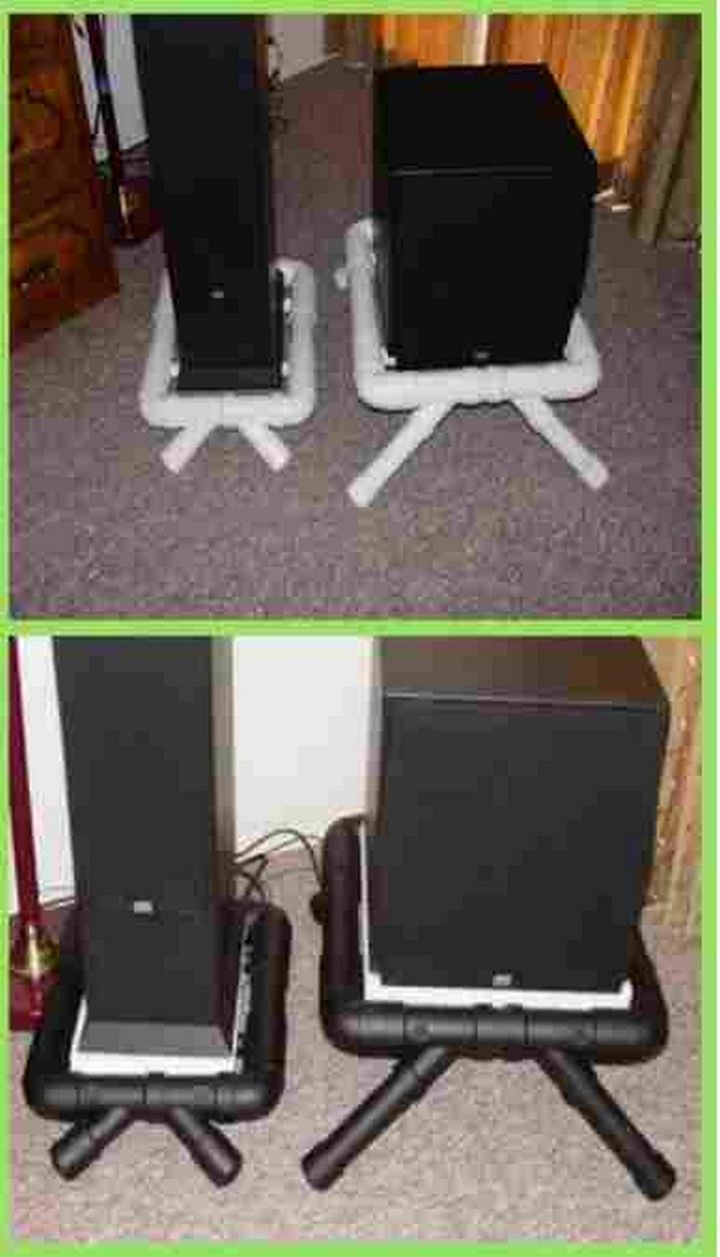 This speaker stand is easy to make and requires minimal expertise. The DIY ABS or PVC Piped Stand project requires a few pieces of raw material, some pipe fittings, and a drill. Learn to create your custom speaker stand in ABS or PVC piping by carving out a stand that fits your living space. Whether you have free-standing speakers or mounted on the wall, this guide will help you triumph over tangled wires once and for all by building a homemade speaker stand that is both functional and stylish.
Basic Wooden Support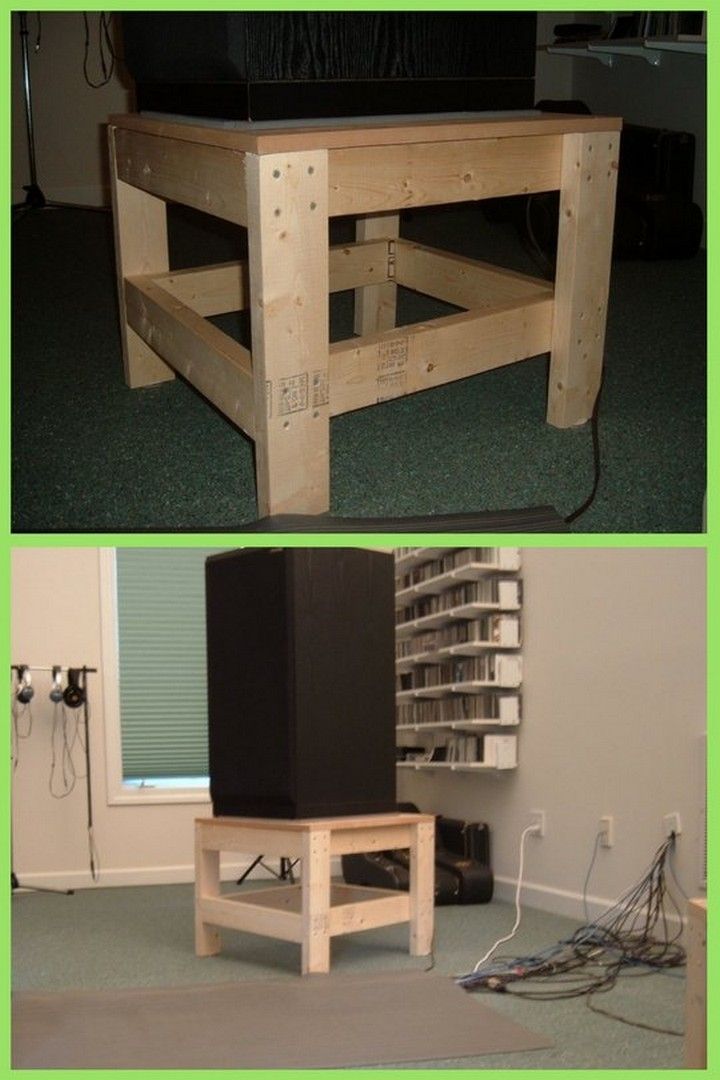 A stand to support a speaker is not just a matter of aesthetics; it should also be well-designed and sturdy enough to hold the heavy speaker securely. This tutorial teaches how to build a wooden stand with plywood sheets cut into various shapes using a router table. The top of the stand is made by using a custom jig. This small project can be made in just a few hours and will make your music-listening experience so much better!
High-Performance Stands
Want to upgrade your home audio system? As you know, the proper placement can deliver a better sound. This DIY speaker stand project is economical and straightforward to build yet sturdy enough to support your speakers. This video tutorial will show you how to make a simple set of speaker stands using hollow cinder blocks and some pipe fittings. It's a great way to add elegance to your home theater (or music) setup, especially considering the low cost.
X-Legged Supporting Stand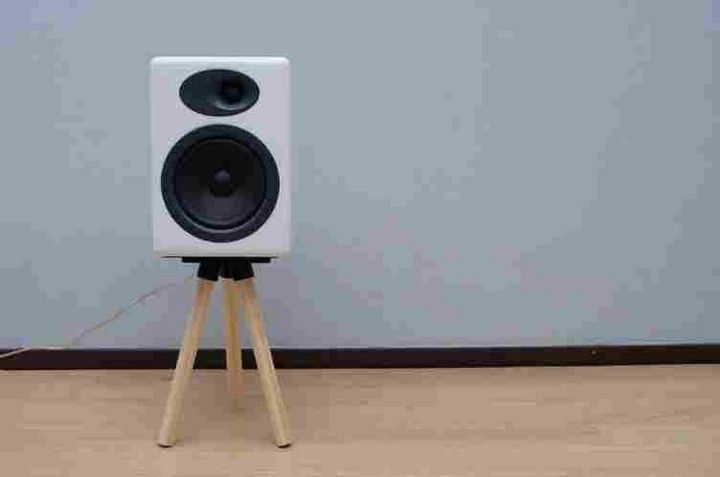 This X-Legged Supporting Stand is a project for the DIY enthusiast. The wood pieces and the metal brackets are easy to source from your local store. The prime coat should be followed by spray painting the same color as your walls, doors, or furniture you want to match. This diy speaker stand project is easy to make and can be customized to suit your exact needs. Whether you're listening to podcasts or your favorite tunes, this stand will give you a fantastic new way to immerse yourself in the music while keeping the look of your media room clean and modern.
Simply Inclined Stand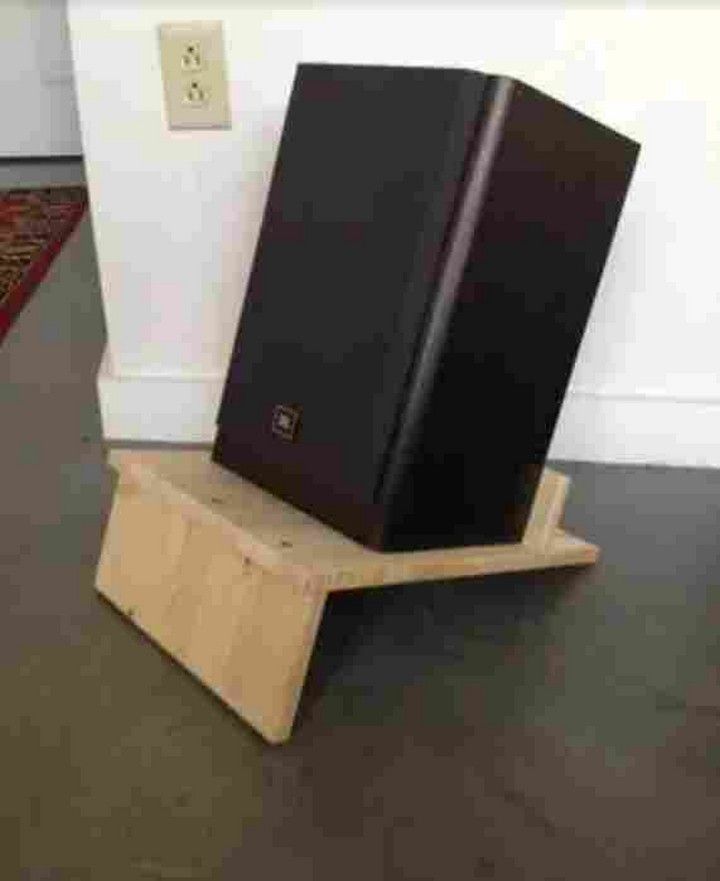 Want an epic speaker stand without having to spend a lot of money? Simply Inclined Stand is the answer. Create simple yet effective DIY stands for your speakers that don't take up much space. This stand has three wooden boards in a Z-shape, making it easy to put together. The Simply Inclined Stand makes your speaker look great and stay put. When crafting the stand, use a strong border, so your speaker doesn't fall off. The Simply Inclined Stand can also be a decorative piece for any room in your house!
Cheap Homemade Stands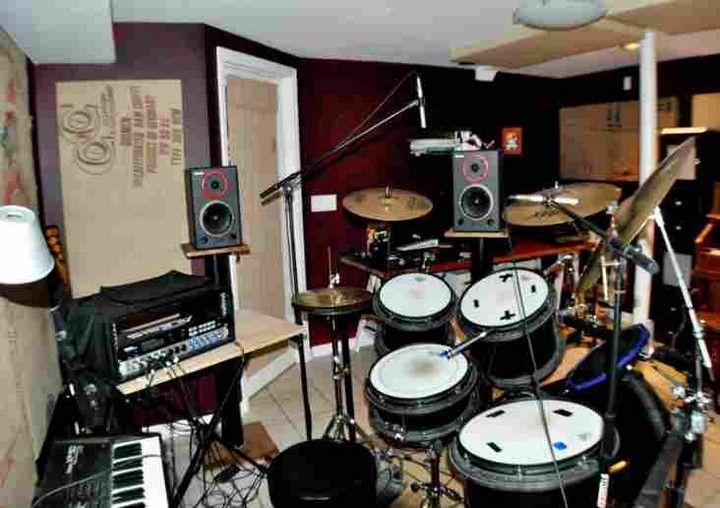 This DIY speaker stand project is cheap, reliable, and easy to build. It requires two simple materials to make them. The Cheap Homemade Stand project is adaptable as it can be built using different materials based on your requirements. In this tutorial, you will learn how to create a robust and sturdy pair of speaker stands that can withstand extreme situations. This instructable will cover the tools needed, how to build them, and tips on ensuring they don't fall over when you're walking past them.
Long Boxed Speaker Stand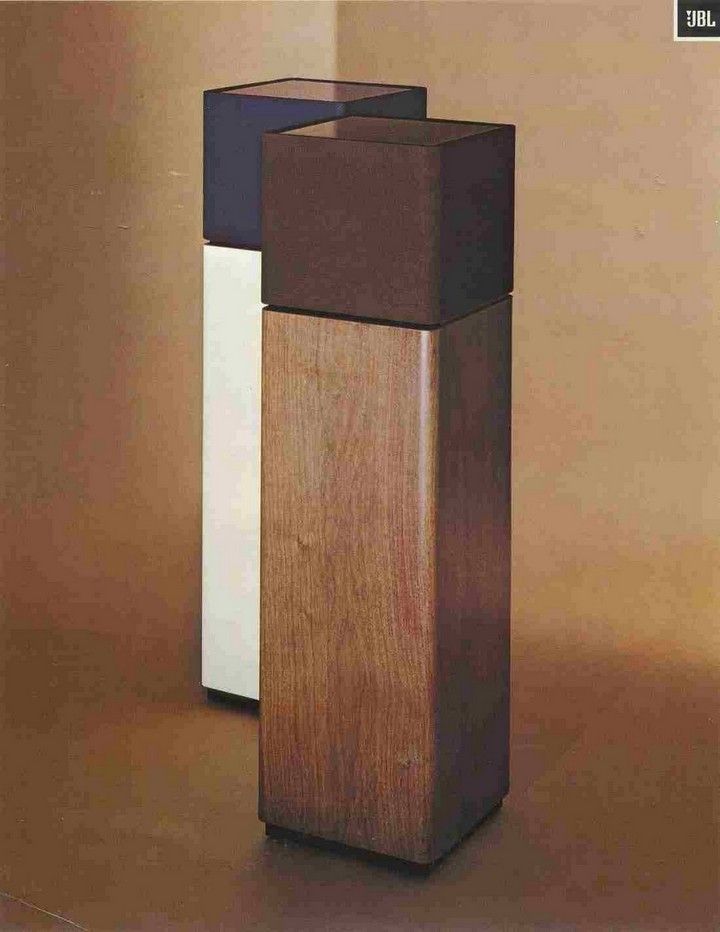 If you're looking for a speaker stand that will work on your budget but not on your design or aesthetics, then this project is the ideal choice. Featuring an elegant shape and simple finish, these wooden speaker stands will fit perfectly into your existing décor while delivering supreme performance. Choose a contrasting color or pattern if you want to go bold and different. This speaker stand is a perfect way to showcase your sound system in style. The simple and striking design will help keep your space neat and tidy.
Multifunctional Winged Stand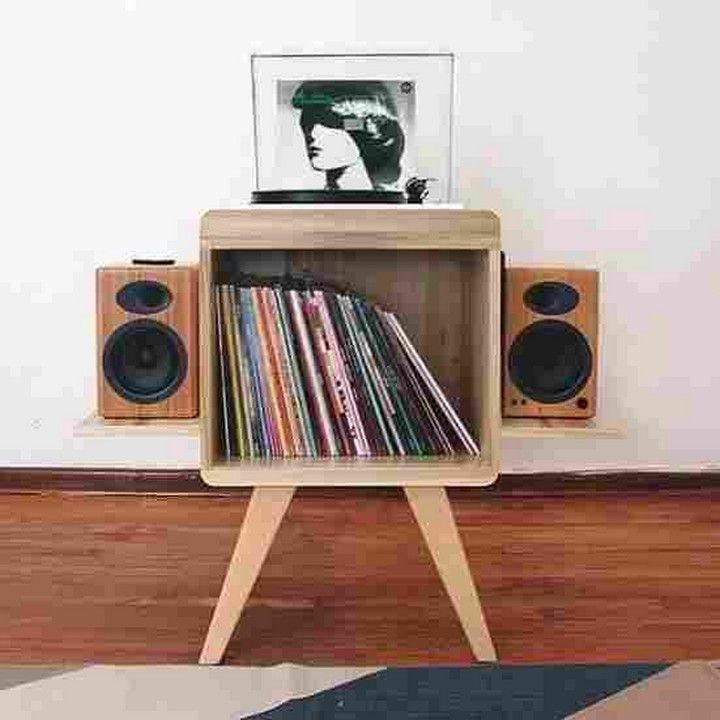 With this Multifunctional Winged Stand, you can elevate your sound to new heights - or at least make it higher than your desk. Made from high-quality, highly durable materials, these easy-to-assemble stands are the perfect blend of style and sound clarity. A successful DIY speaker stand project is achieving the correct proportions and constructing it out of wood. This simple design features a boxed opening for books and two sidewise wings for stability. Use thick plywood cut precisely in size to assemble. This stand is functional in many settings because of its durability and versatility.
Proper Grounding Stand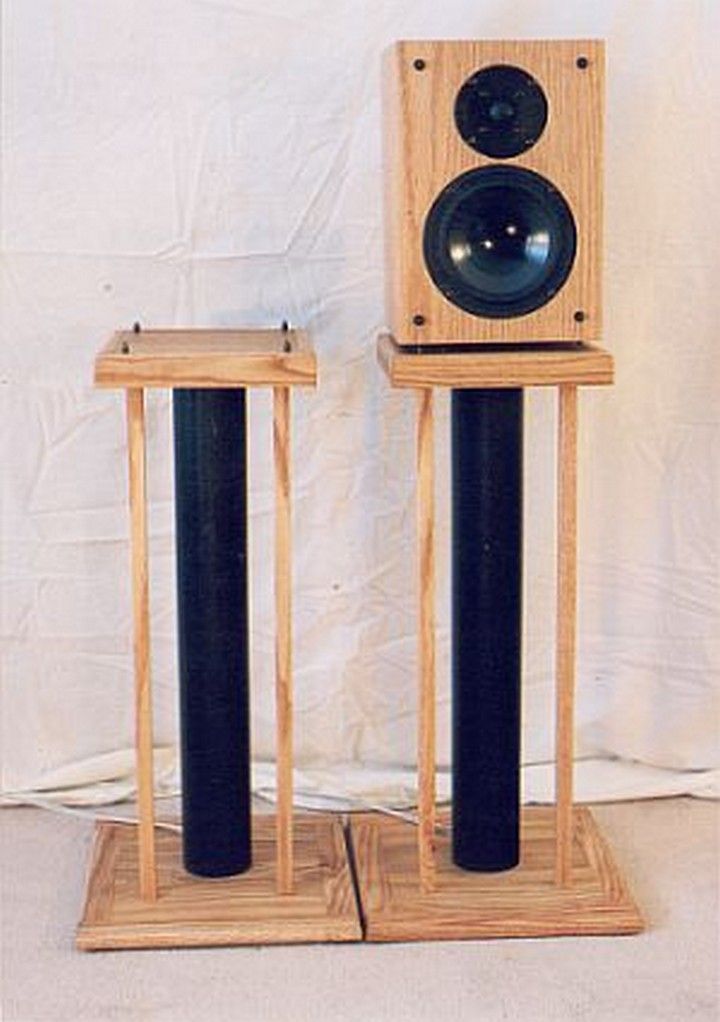 Proper speaker stands are an essential part of a proper speaker setup. This project will teach you how to make your ground stand from scratch, with the added benefits of incredibly durable wooden construction and a custom fit for any speaker. Building an inexpensive stand for speakers is easy and can significantly improve their sound. The structure will hold the speakers up, so you can focus on the sound without worrying about what's holding it up. This project uses a combination of plywood and PVC pipe to create a beautiful and functional design that complements almost any decor.
Surround Sound Speaker Stand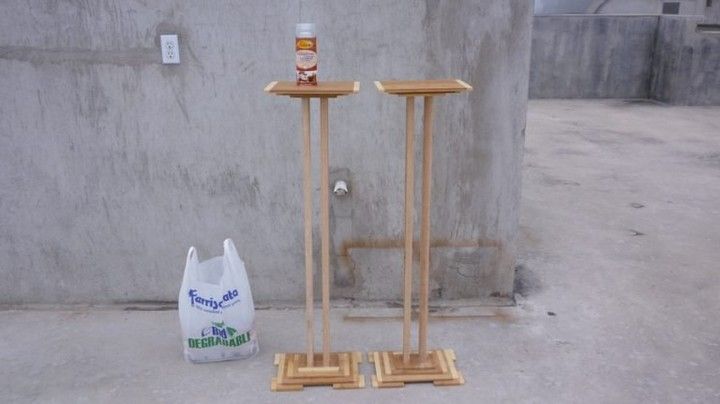 Take advantage of the spare space in your house and hang your surround speakers on a stand. This way, you can move your speakers quickly and make an impactful visual statement about your music. This stand is the ultimate DIY project for your home theater system. It takes less than half an hour to build and will hold speakers. It is built on a sturdy base frame with a cross brace to strengthen it, allowing you the flexibility to place it on most surfaces in your home.
Heavy-Duty DIY Stands
A Heavy-Duty DIY Stands project is an enjoyable and rewarding experience, especially with the help of this detailed how-to video. The project requires skill and patience, but it can be completed in less than an hour, and the result is an affordable stand that will raise the sound level of your home theater (or other) speaker system. You may build something similar using a quick-set-up stand and some lumber. Perfect for anyone looking to create a new sound system but doesn't have the funds.
Hollow Support Design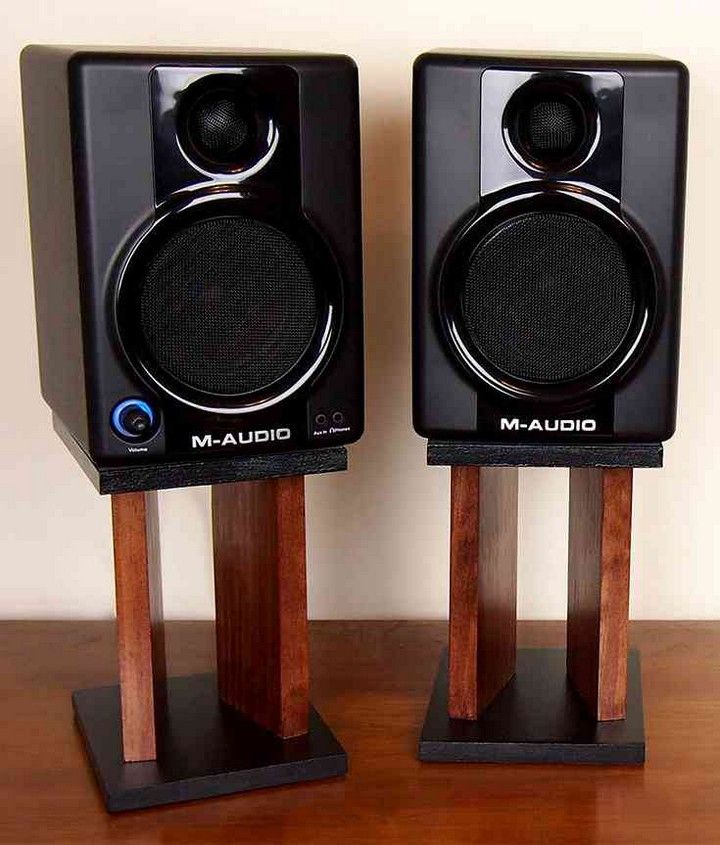 This DIY Speaker Stand Project lets you build your stand in less than an hour without needing complex power tools. The simple yet practical appeal fits compact speakers without complexity. The design features two wooden pieces to hold the top and the base, with veneering that can induce fantastic décor. These speaker stands are easy to assemble and add a beautiful accent to your room. This project allows you to build your speaker stands using inexpensive materials found at any home improvement store.
DIY Speaker Stand Project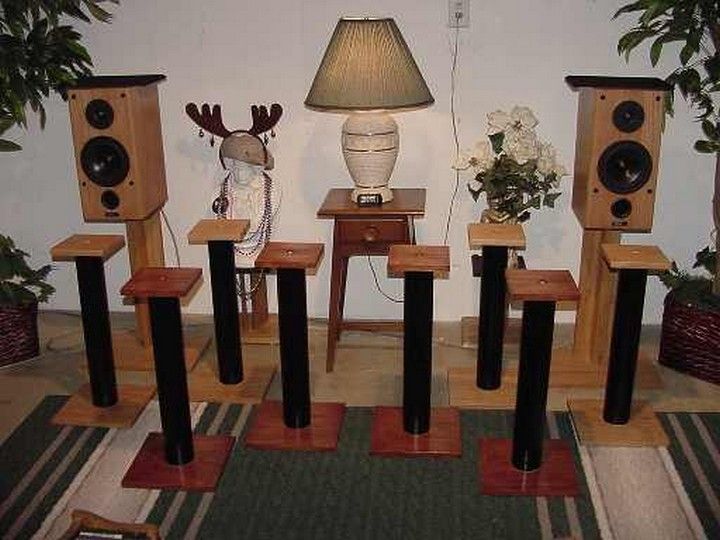 A strong and stable speaker stand is a must-have piece of equipment if you have a severe interest in home audio. If you have speakers that need to be mounted on stands, then it is time for you to make your DIY speaker stand. Whether you're looking for a way to dress up your living room or add style to your home theater, these speaker stands will do the trick. Although they look like expensive commercial speakers, it is pretty easy to build them from scratch. They look great and are functional at a very affordable price.
Moveable Storage Stand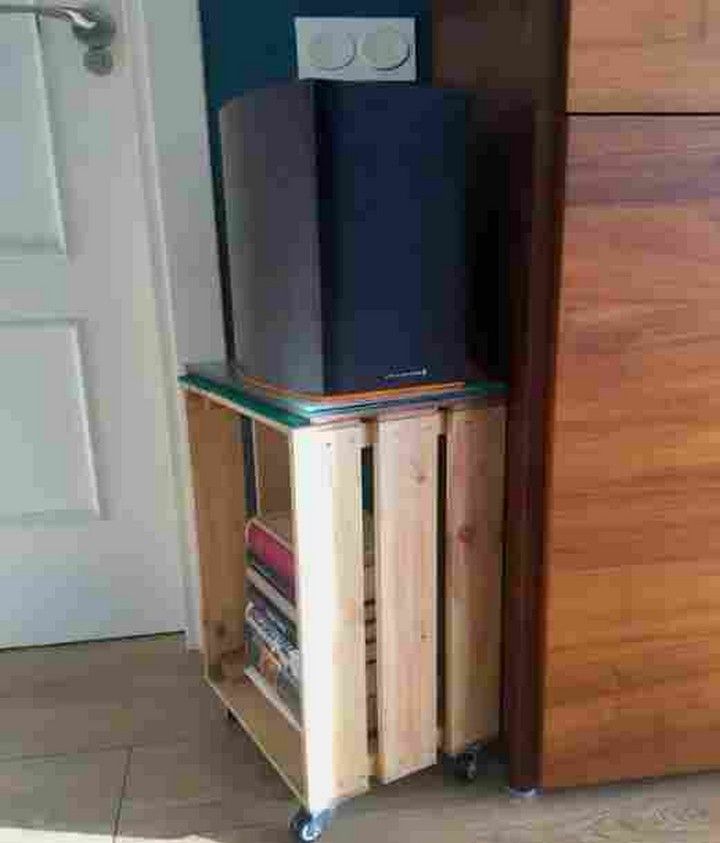 This Moveable Storage Stand is a do-it-yourself project that resists the ordinary. It's a bookshelf that can transform into a stand on wheels with just a couple of screws and casters. The versatility of this product is its most considerable appeal since it combines extra storage with an easily movable surface, which helps to simplify your activities. The DIY bookcase with wheels is a rare combination of space-saving design and convenient access. It allows you to organize your books, magazines, or even videos without having them piled up on the floor or taking up any additional space.
Inclined Support Stand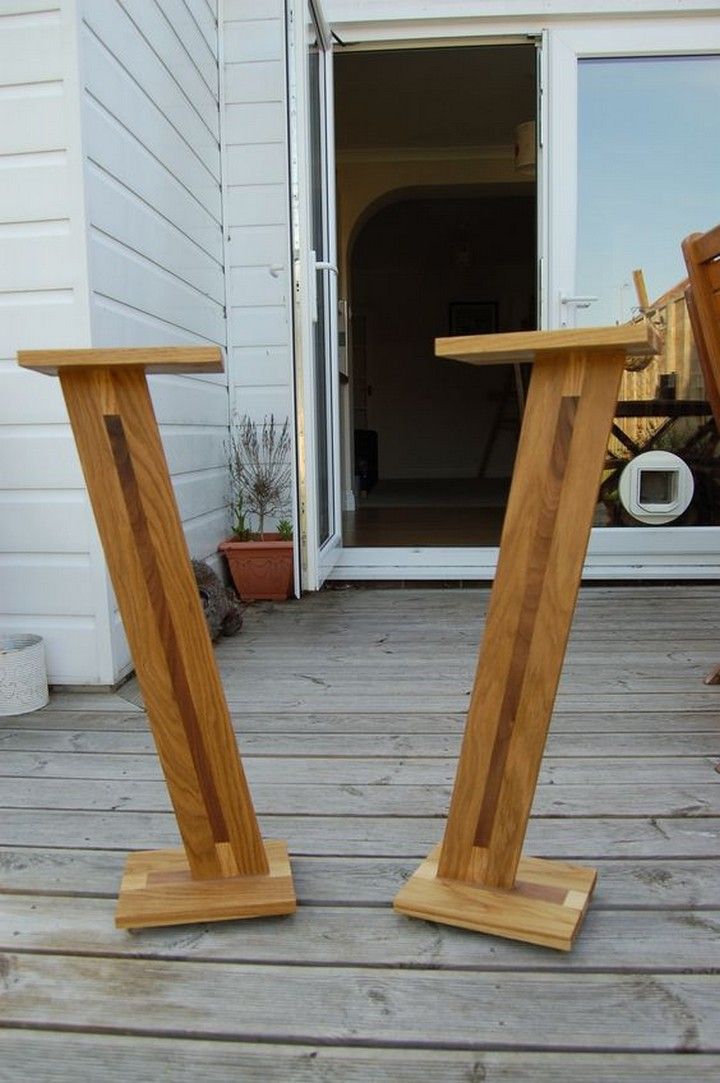 A simple DIY project, the speaker stand is a great way to upgrade your sound system, not to mention its unique look. The inclined frame is built out of Z-shaped wood, which is easy to cut with a saw. This Inclined Support Stand project is an inexpensive, easy way to improve your sound. A few simple cuts and some sanding work make this project less intimidating. It's a great example of how a little effort can lead to significant results.
Sand Filled Speaker Stand
Replace generic speaker stands with a custom-made stand designed to help create the ideal listening experience in your home. Use sand to reduce vibration transfer from your speaker to the floor and dampen unwanted sounds in your room. The sand-filled speaker stand will give your sound a new and different type of platform to stand on. This simple DIY project can transform an ordinary form into an elegant piece of furniture and improve your speakers' sound performance.
Hairpin Speaker Platform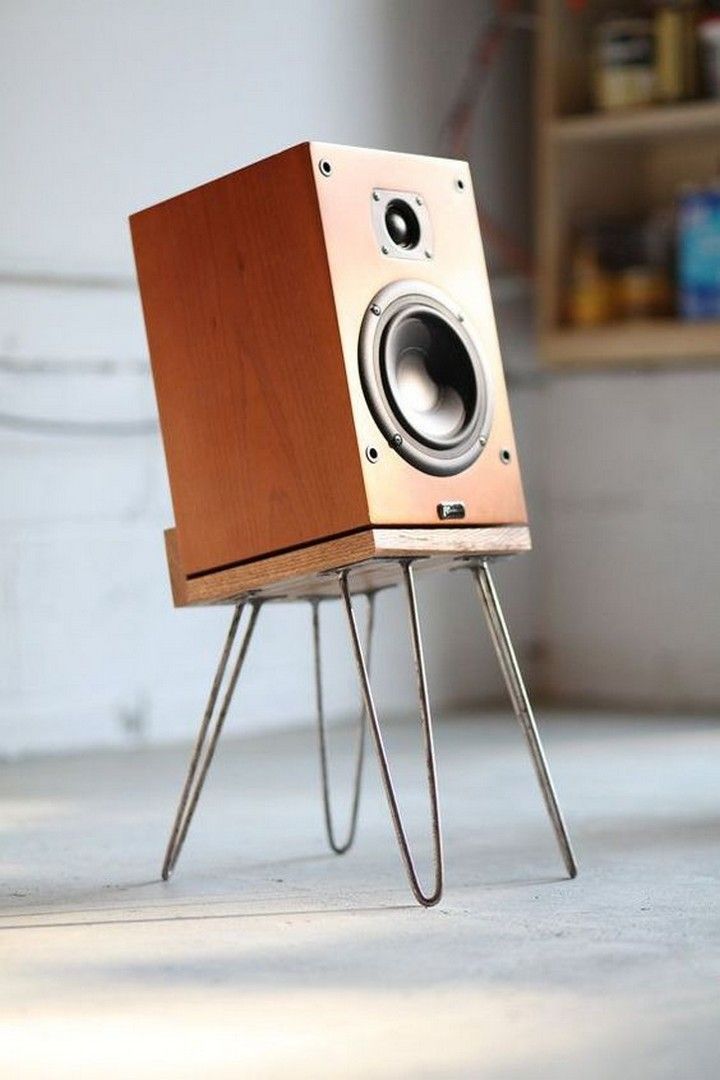 This simple, DIY Hairpin Speaker Platform project uses everyday materials to create a well-built, sturdy platform for your speakers that looks good and fits in with the rest of your home decor. These stands are sturdy and guaranteed to endure the weight of your shades without any problems. Constructed from recycled steel, these speaker stands are made out of hairpin legs which make them light but at the same time very stable. This project is perfect for any DIY'er who wants their sound system to look as good as it sounds!
Metal Pipe Speaker Stand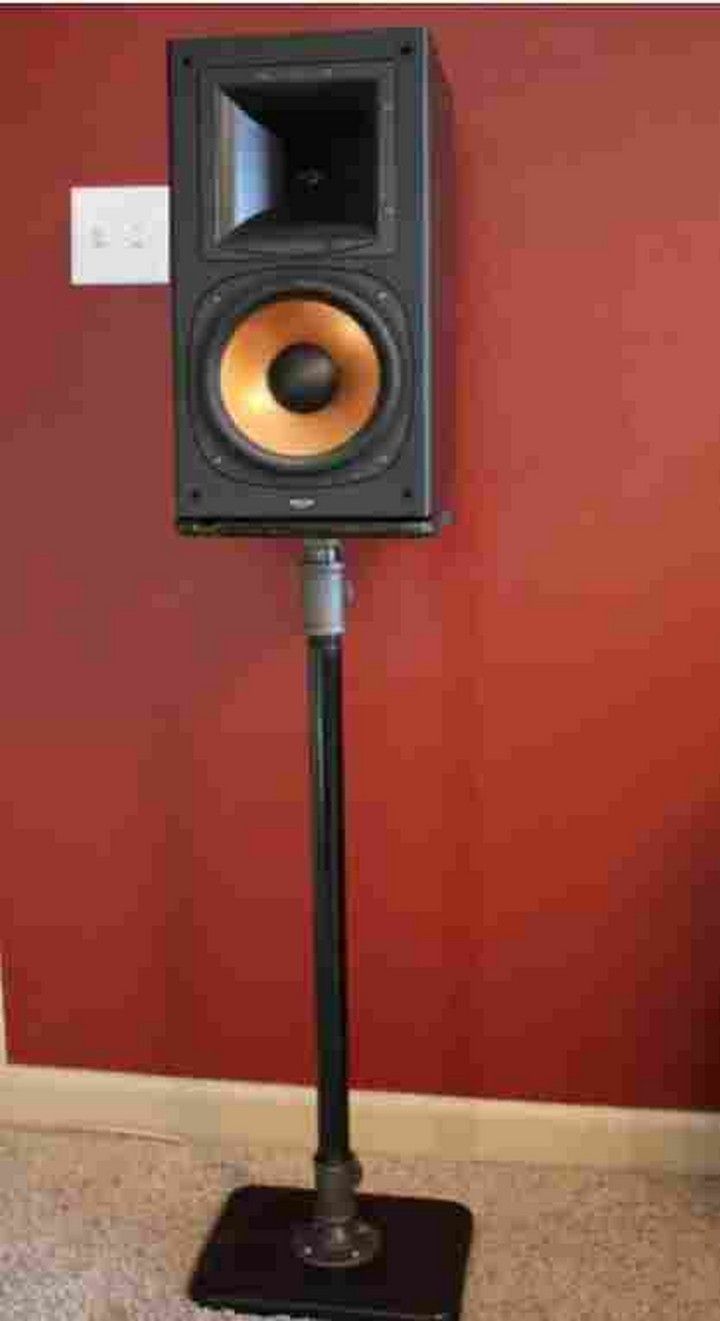 You might need a good speaker stand if you love listening to music or watching movies. You can make one from metal pipes, which are solid and sturdy. The metal pipe connected to the flat base provides a stable surface for the speakers. It can be used for different purposes like home theater systems and bookshelf speakers' placement. This DIY project is not as visually appealing as some, but it is cost-effective and stable.
Hanging Speaker Racks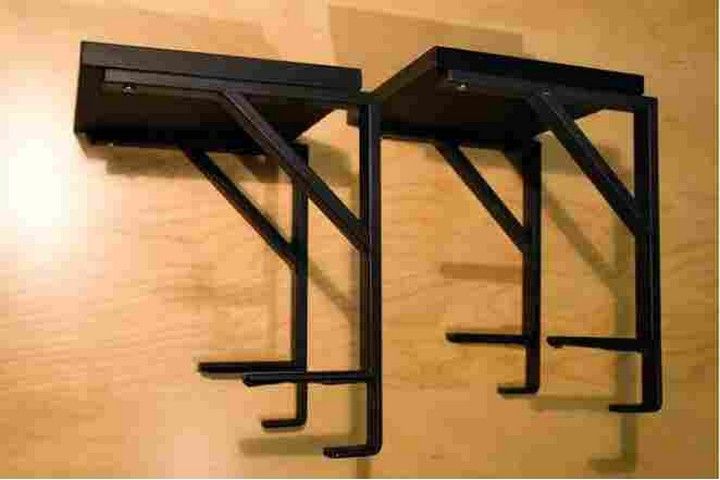 If you have a few speakers in your living room or bedroom, you know how hard it is to arrange them neatly. Mounting speaker stands with this DIY project that can solve your problem, and the best part is that it doesn't require any special skills (or money!). Mount these metal platforms in a decorative pattern along the wall, and you can significantly free up ground spaces in smaller rooms to utilize the emptiness. Let's look at how to build these stands with the pedestal design if you want to build your own.