The guitar stand is an important piece of equipment for any guitarist. It's used to hold the guitar safely without it falling over. A well-made guitar stand can protect your instrument from damage when it falls to the floor. So, you must ensure that you use the best possible guitar stand. However, building a good one can be quite a task. On the other hand, you can spend money on something different than buying one. You can make your DIY guitar stand with these 14 DIY Guitar Stand Plans!
Simple DIY Guitar Stand Ideas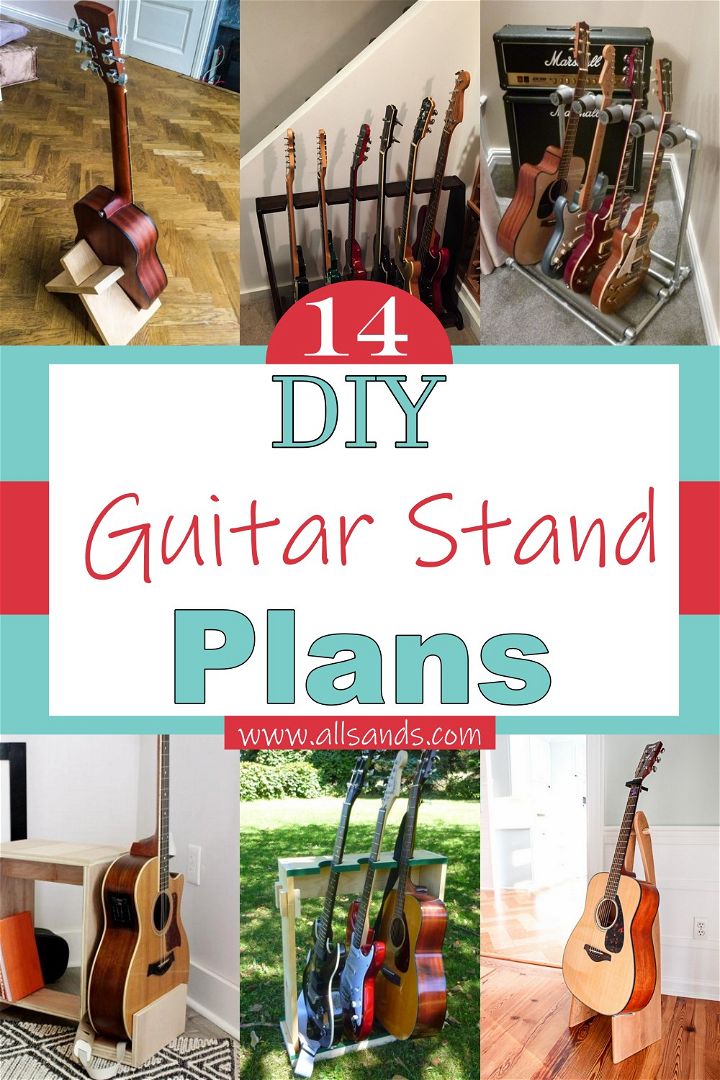 Don't want to keep your precious instruments lying around? Build a stand to hold them! Playing your guitar is a lot of fun, but having it for an extended period can get uncomfortable. You need one of these 14 DIY guitar stands to hold your beloved instrument. This list will show you various designs, from the simple to the complex, to help free your hands so you can focus on playing! These projects are so easy that even a beginner can build them. The stands are handy for hanging up guitars, banjos, and stringed instruments. Get your DIY on and make one of these stands today!
Benefits Of DIY Guitar Stand Plans
If you're a guitar player, you know that a guitar stand is a must. The problem is that many guitar stands are expensive. You can buy an inexpensive stand at your local music store, but if you have several guitars at home, it's better to get some DIY guitar stand plans and make your own. Here are some of the benefits of DIY guitar stand plans:
You can customize the design to fit your needs and your room.
They're cheaper than buying an off-the-shelf model.
You have more options when it comes to materials to use
How To Make A Folding Guitar Stand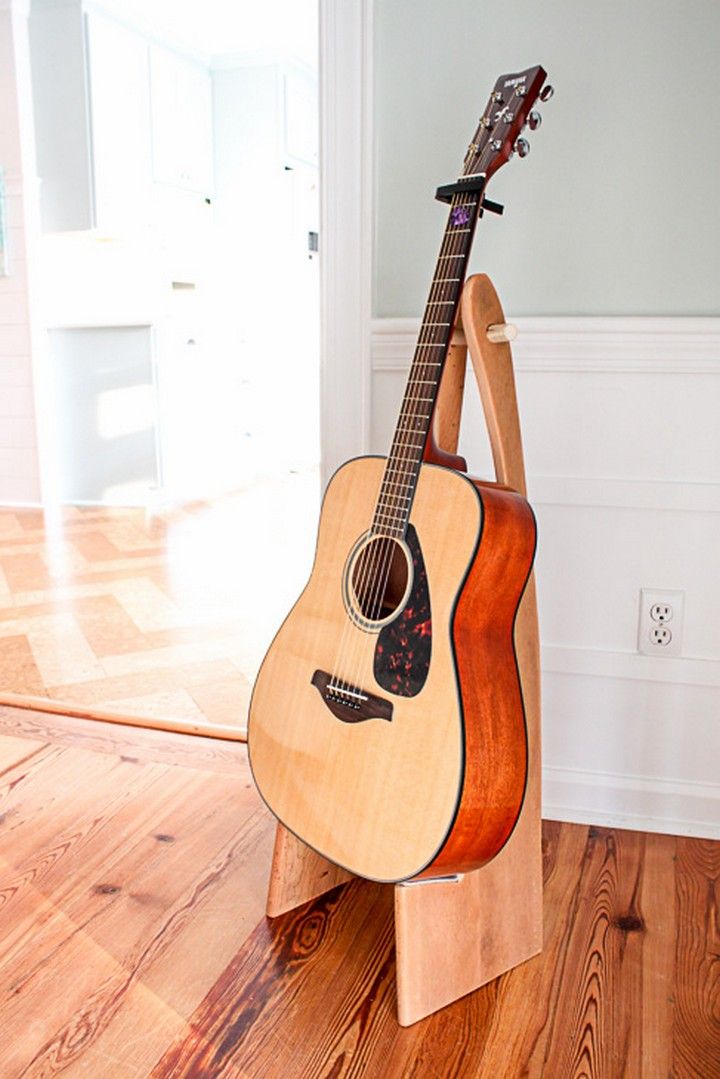 Here's an easy DIY project that will make your guitar stand out in a crowd. This guitar stand is designed for a musician on the go. Its parts are cut from simple pine boards so they can be easily made in any home workshop or garage. You can make this stand without special tools—a jigsaw, drill press, or bandsaw, and a sander will do just fine. The latch on the front allows you to quickly fold up the stand and carry your guitar in style.
DIY 6 Guitar Stand Plan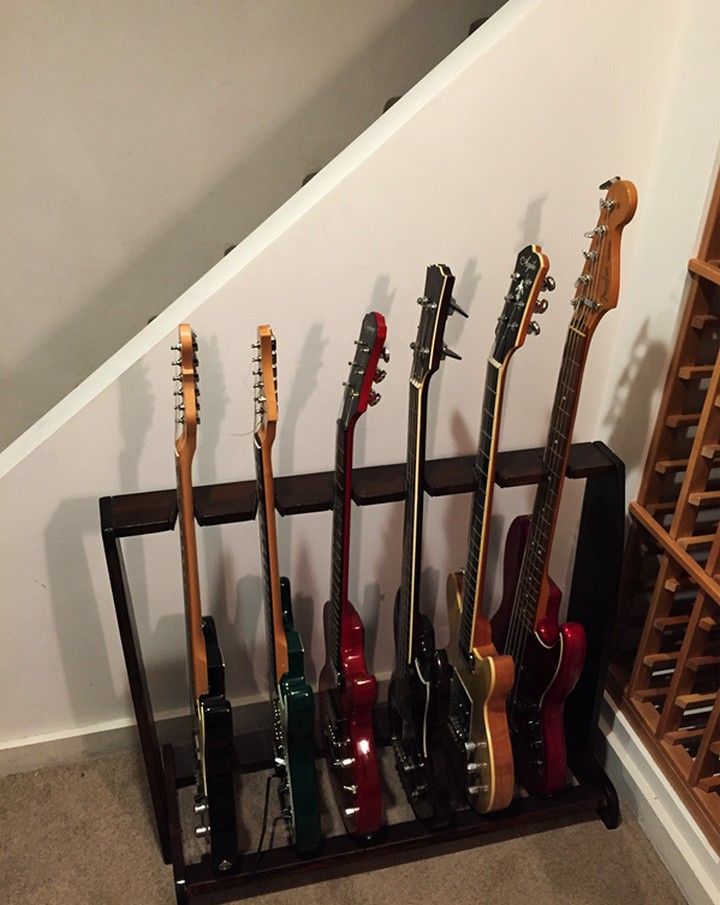 If you want an easy and inexpensive way to display your guitars in your home, office, or practice room, this 6-Guitar Stand is a great solution. This 6-guitar Stand is built from standard 2x4 lumber, with a pegboard top that can safely hold up to six guitars off the ground. If you want to develop your own Guitar Stand, this plan should be good enough for you, an easy project that takes less than an hour to assemble.
Build This Simple Guitar Stand From A Single Board Of Wood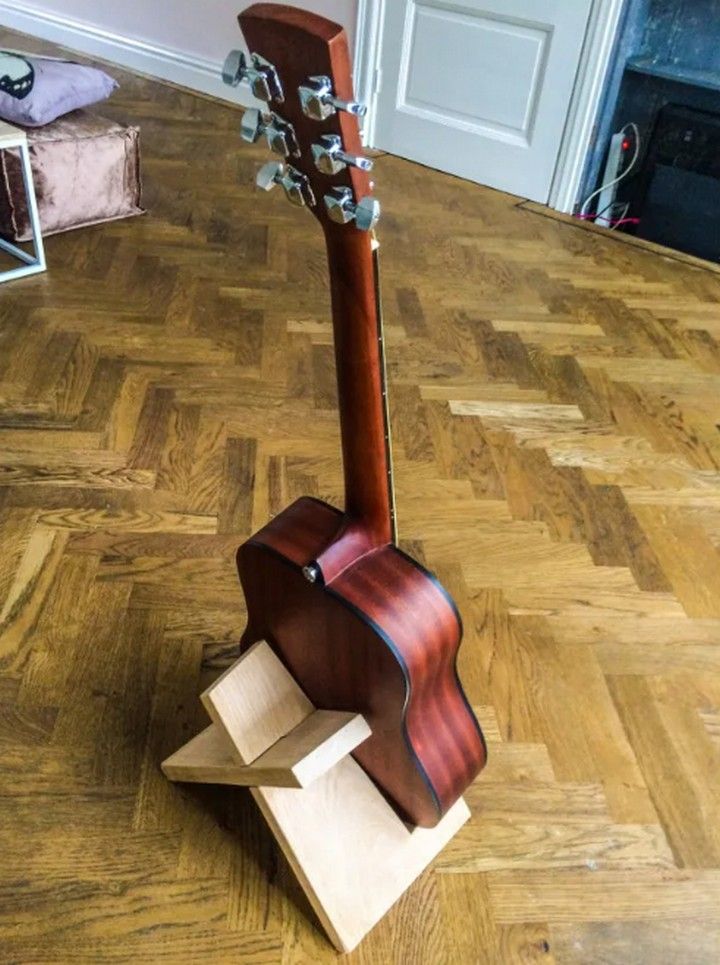 Cure your case of the guitar stand blues with this easy DIY project. This simple guitar stand is made from a single board of wood and takes only a few minutes to put together. This DIY guitar stand makes it easy to display your instrument and keep it safe from damage. It's simple to build and can be adjusted to fit any headstock shape. Once you have this basic design, you can customize it using any materials depending on your needs and music studio space.
DIY Wooden Guitar Stand With Basic Power Tools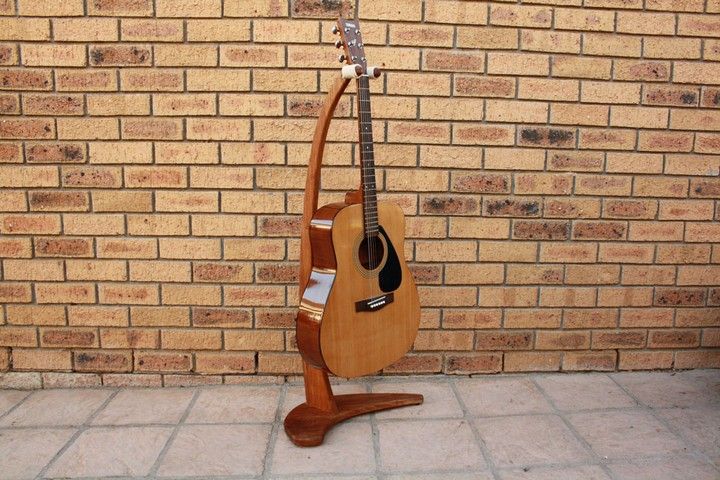 A guitar has to stand somewhere, so make a sturdy stand with this DIY Wooden Guitar Stand With Basic Power Tools. This project takes about four hours, but this is a project you want to take your time with. You'll need basic woodworking tools and a cutting saw and router or other woodworking tools with a rasp bit. This stand will hold up your guitar securely, so you can use it at home or take it with you on the road.
Scrap Wood Guitar Stand And Stool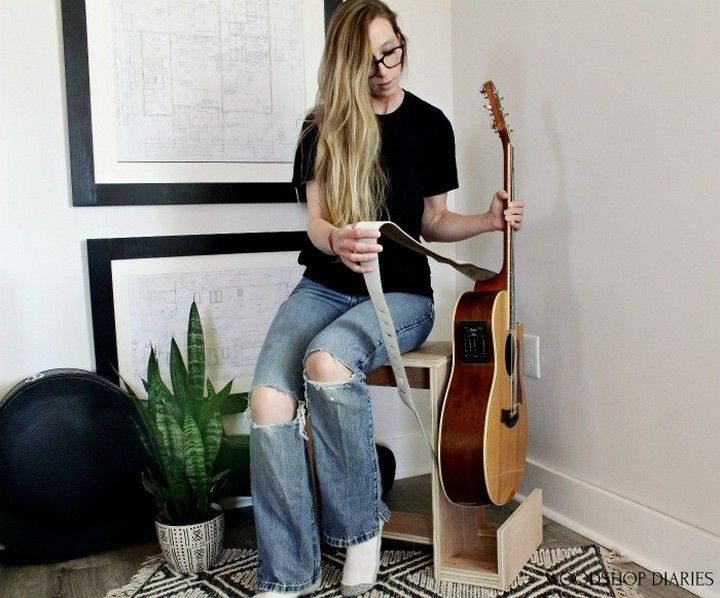 This DIY guitar stand and stool is a simple project perfect for those looking to create their unique décor. This guitar stand is made from scrap wood, which means it's easy to build and does not require many tools. Perfect for both acoustic and electric guitars, this stand will hold your instrument while you're practicing or performing on stage. After you pick up all the materials, you will be on your way to finishing this design in just one hour.
DIY Kee Klamp Guitar Stand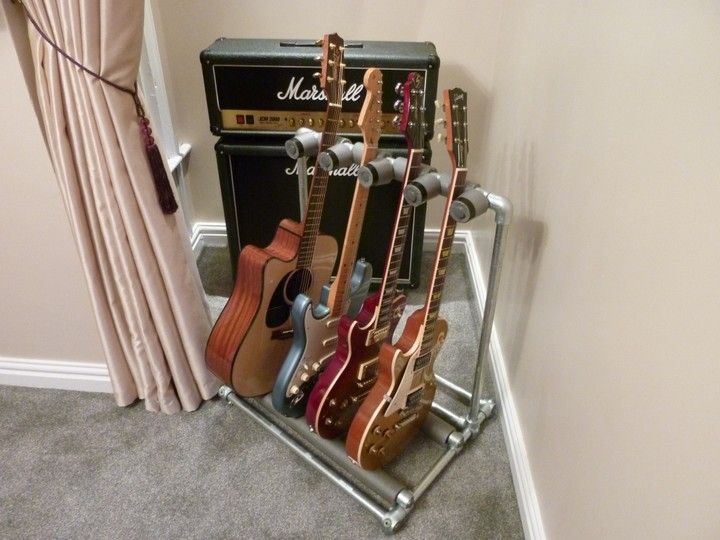 If you have been trying to find a simple, sustainable, affordable way to display your guitar, this is it. This DIY Kee Klamp Guitar Stand design is perfect for virtually any venue or room and works with acoustic and electric guitars. To build this stand, you will need a few materials, nuts, pipes, bolts, and clamps. This stand clamps two lines together and secures them with a short pipe. The tube can be cut to any length and hooked onto a smaller section of the main bar so it can be customized for your guitar, bass, or other instruments!
DIY Wood Multi Guitar Stand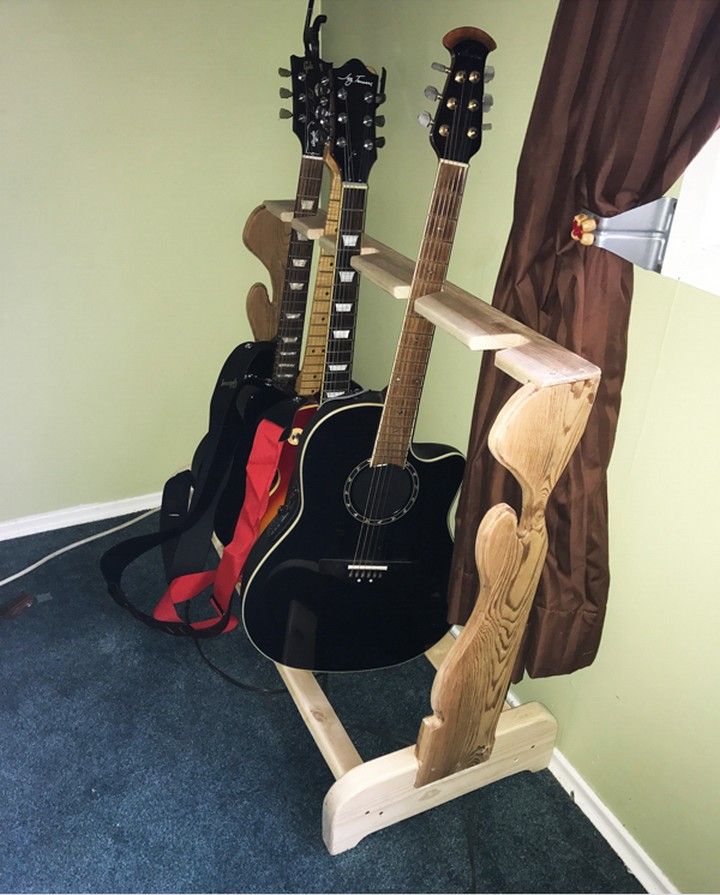 A DIY guitar stand is a great way to organize your space and keeps your guitars in their place. If you are tired of wall hangers, string hangers, and other flimsy stands, build this practical and sturdy stand yourself! If you have a little time, many options are extremely affordable, quick to build, and easy to customize. Use this plan to create a beautiful, solid guitar stand for your instruments. This stand is made from pieces of wood, so the construction is quick and easy.
Make Your Own P.V.C Guitar Stand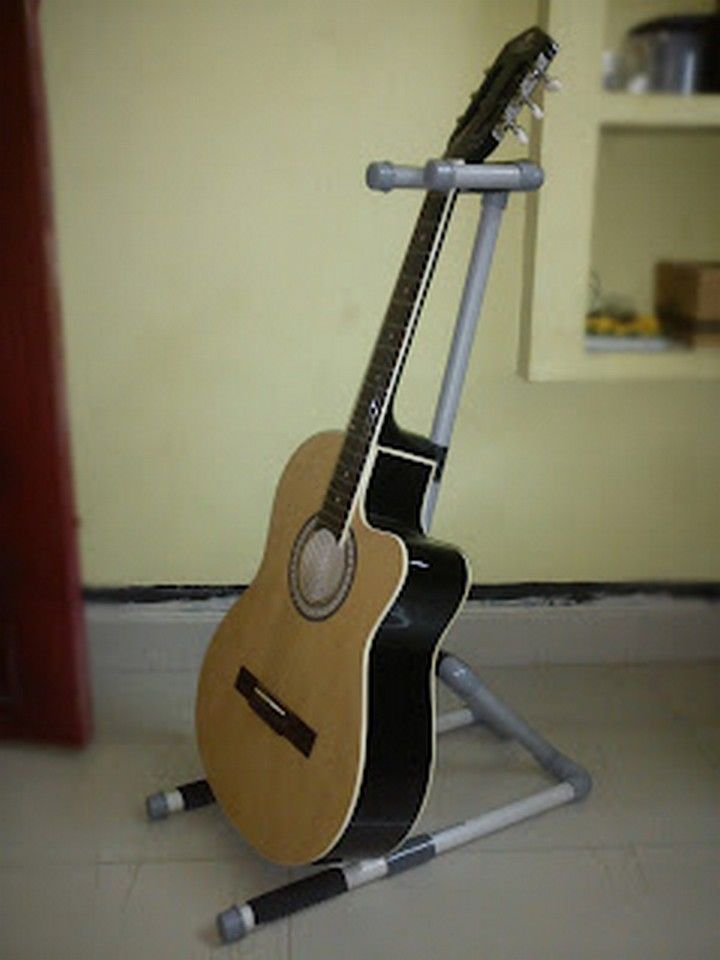 Are you a D.I.Y. enthusiast? You can make this stand using P.V.C. plastic or piping so that it is sturdy and lasts longer; it costs less than buying one at the store! This stand is compatible with a large variety of acoustic and electric guitars. The use of heavy-duty material ensures durability. The dimensions are suitable for all kinds of guitars, especially those having a jumbo fretboard. All parts can be cut out and assembled within minutes following this detailed step-by-step plan.
DIY 3D Printed Guitar Stand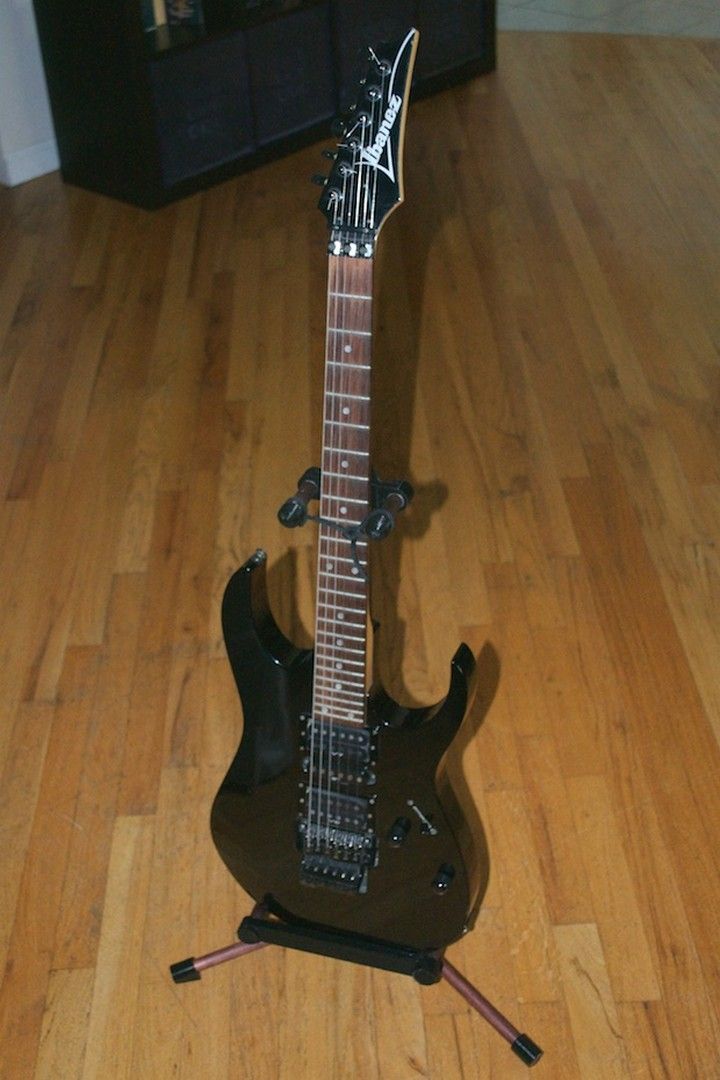 The purpose of the guitar stand is to hold your guitar securely and vertically, allowing for easy storage and a simple setup. Follow these simple steps to build a great-looking 3D-printed upright guitar stand that looks good yet is functional; it's also super simple to make! This can be made from scratch with only the tools you have in your garage! All you need is some 3D-printed plastic, ⅝" dowels, and a few other items.
My Multiple Guitar Stand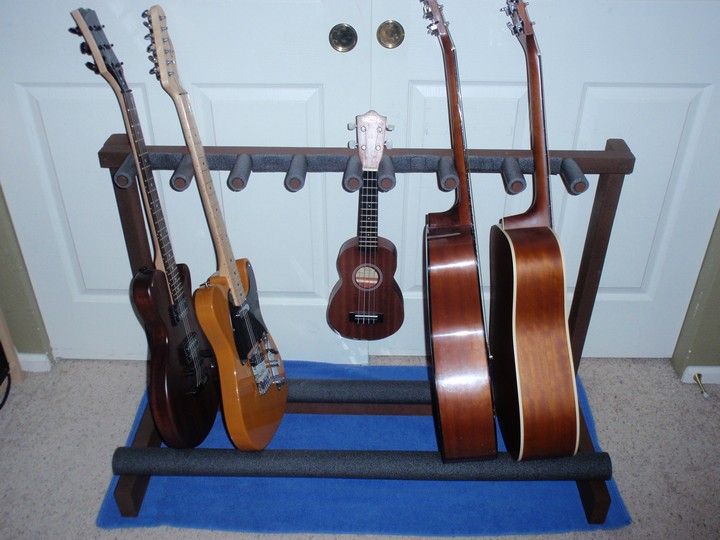 Do you have a love for all things music? Then this DIY guitar stand plan is for you! It's a fun project that will quickly become an attractive and functional addition to your home. A tall design makes reaching each instrument easy but keeps them separate enough to prevent accidental damage. This model can be constructed from easy-to-find parts from your local hardware store and is completely customizable to fit your style. The wood is easy to stain and paint, and the foam pipe insulation protects your instruments.
You can also see: DIY Phone Stand Ideas 
How To Build A DIY Guitar Stand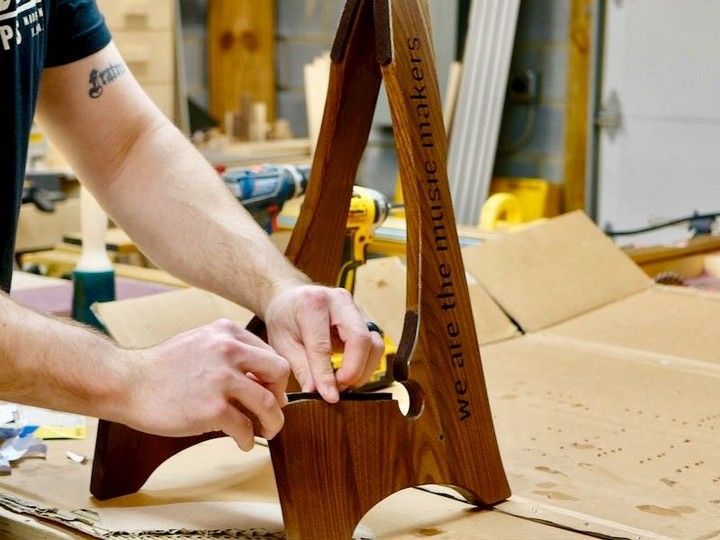 If you are looking for a sturdy and affordable guitar stand, this easy-to-build DIY stand will fit your needs! It is designed to be rugged yet sleek with minimal parts. And once you get the basics down, it's fun to customize your stand by adding your flair: You will need a curved brace, different woods or stains, paint, and other materials. Follow this easy guide, and you'll have your furniture ready quickly! This elegant and functional design will surely be a conversation starter wherever it lands.
How To Build A Multi-Guitar Guitar Stand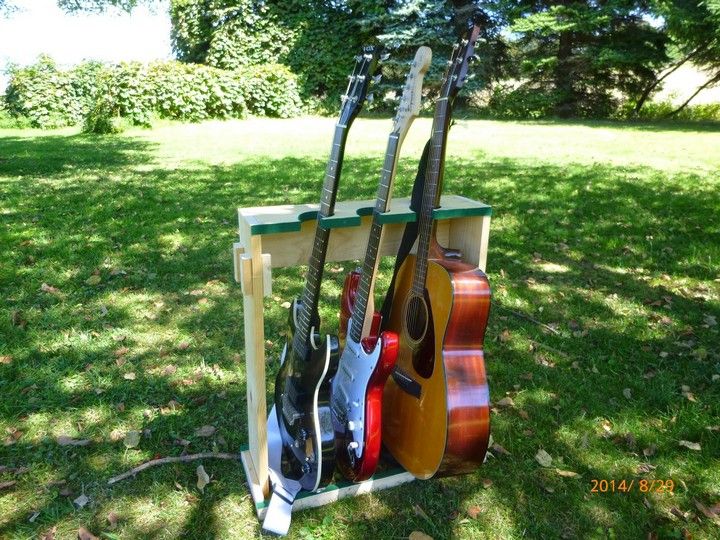 A DIY Multi Guitar Guitar Stand doesn't have to cost a lot of money. All you need is some plywood, a drill, and some screws. This guide will show you how to make your guitar stand with simple DIY plans that are easy for anyone to follow. This project uses a simple box-style base that provides a neat, attractive design framework. The top part of the stand has a series of dividers – one for each guitar neck. Each slot is cut to give each guitar enough space to rest comfortably on its headstock while not interfering with other guitars in the display.
DIY Guitar Stand Stool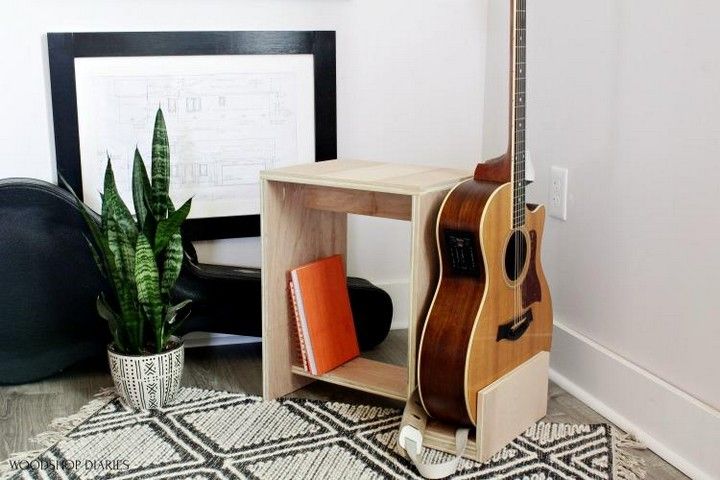 Need a stand for your guitar? Follow this guide and build a custom stand, stool, and shelf combination. You can use it to help you sit down while you play or stand up to show off your skills. You can tweak it however you want, too. Make it taller or shorter as desired. Grab a few boards, put your saw to good use, and build a nice stand for your guitar. Consider using a reclaimed pallet or turning over some 2x4s instead of lumber purchased at the local home improvement store. This is a great project that produces results that last a lifetime.
Guitar Stand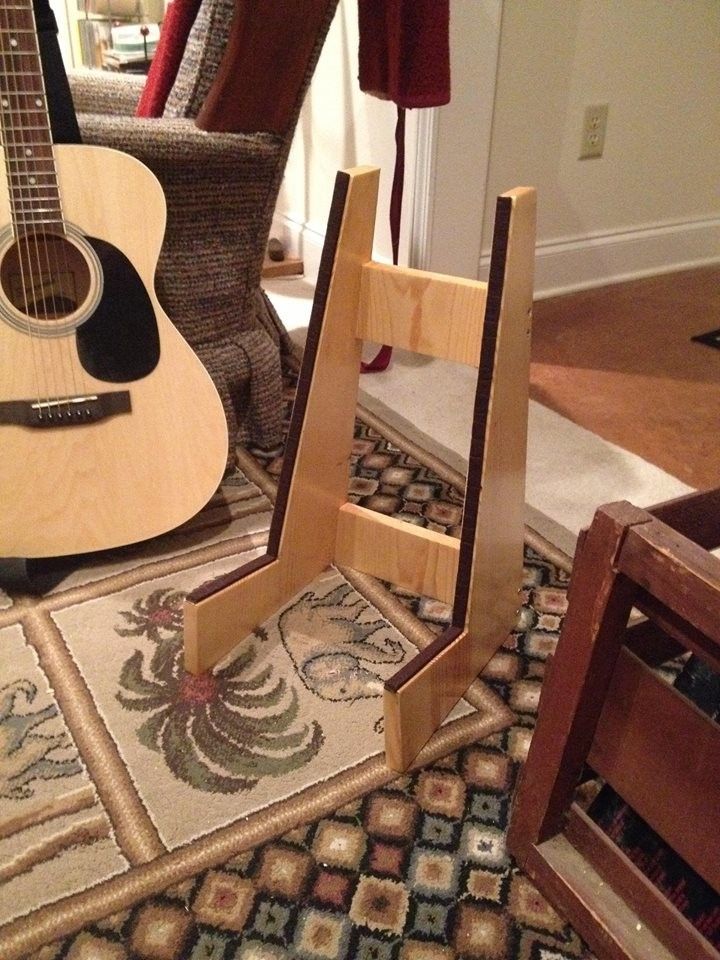 An easy way to store your guitar conveniently and safely on the floor! This free guitar stand plan will get you to make your stand in no time! Using on-hand materials, this DIY Guitar Stand will keep your guitars upright, safe, and sound. The plans are easy to follow, and you can make your personalized stand with a creative design. This guitar stand is easy to build and very functional because it holds the guitar at an angle, making it easier for friends to see and admire your guitar.