We live in a world of smartphones, where we have to prop up our devices and watch the screen simultaneously. What if there's something you need to do, like cooking or eating? Then you have to stop what you're doing and get a proper stand. This is why it's essential to know how to make DIY phone stands by yourself. You can try different sizes and shapes that will match your needs. There's no need to spend money on less functional stands than you want them to be or too expensive for your budget. This article will show you some unique DIY phone stand plans for your projects. The best thing about these plans is that they are easy to follow and won't take much time from your schedule.
DIY Phone Stand For Recording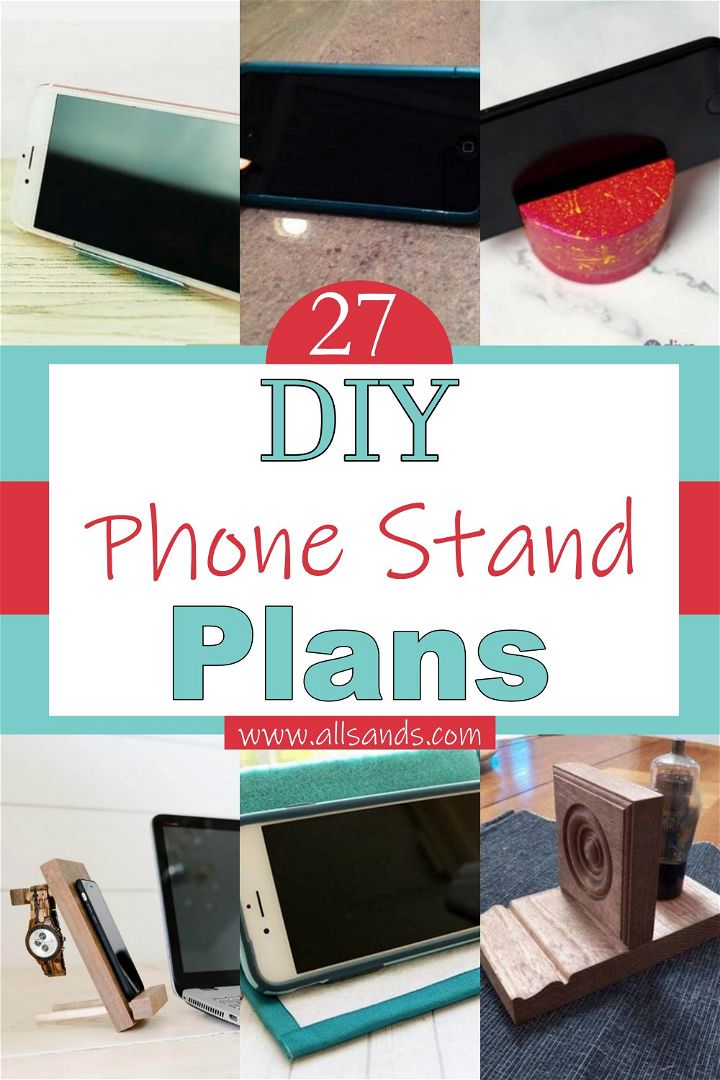 A cell phone stand is essential because it enables you to free up your hands while watching videos, reading articles, and doing other activities requiring your undivided attention. A cell phone stand not only stands your mobile device in an upright position but also keeps it at an angle that makes it easier for you to view the screen. There are various DIY phone stand plans below that you can try in your home. Some of them are even super cheap and pretty easy to make.
Benefits of DIY Phone Stand Plans
If you are looking for a cheap and easy way to make your phone stand, this article will help. A phone stand is a simple device that holds the phone in place when viewing videos or playing games. The phone can be placed horizontally or vertically, depending on the type of stand that you have.
There are many benefits of DIY phone stands. Here are some of them:
It is cost effective
They are easy to make
You can customize them according to your needs
Adjustable Wooden Smartphone Stand
This Adjustable Wooden Smartphone Stand is made of high-quality wooden materials. It is a multi-functional stand design with various angles, making it easy to watch videos while lying in bed or watching cooking recipes online. This wooden smartphone stand allows you to place your phone on any surface to watch videos, make calls, and watch movies. This stand is compatible with most smartphones, with an adjustable upper part and a strong suction cup. Watch this video tutorial and make one for yourself.
DIY Phone Holder With Hanger
In this video, you'll learn how to make a DIY Phone Holder With Hanger! This will help you hold your phone at any angle and protect it from scratches. It is adjustable and convenient. You can adjust its rod to get the best fit for your smartphone. This DIY furniture project makes it easy to use your smartphone as a mirror or alarm clock in the morning without occupying precious nightstand space. This video will show you how to make a hanger phone holder!
Blocks Building Mobile Stand
Blocks Building Mobile Stand is a fun and creative way for kids to build their stands for smartphones and tablets. This set of durable plastic blocks that are easily rotated adds versatility and allows kids to create nearly anything. Additionally, it helps them learn about shapes and problem-solving by building things that work! This is excellent for hands-free viewing of a display, such as your mobile phone or tablet. The stand has an adjustable construction, allowing this type of stand to be used in several positions.
DIY Phone Holder From Toilet Paper Rolls
Looking for a fun and easy DIY to make that you can use to put your phone on when watching a movie or reading? This DIY project is made from toilet paper rolls and doesn't require fancy parts or skills. It's simple enough that even the kids can try it out. This DIY Phone Holder From Toilet Paper Rolls will help you create a stand that makes it easy for you to watch from anywhere in any position. You can use this roll as a holder for your tablet, smartphone, and other devices. So, watch this video and start making!
DIY Origami Phone Stand
Looking for a simple and elegant phone stand? This easy-to-make Origami Phone Stand will do the trick! Made of paper, this DIY project is quick and inexpensive to make. This DIY Origami Phone Stand is excellent for holding your phone, tablet, or e-reader up while you browse the internet. The project only takes about five minutes to put together and will look great in any room of the house. So, let's get started with the help of this video!
How To Make A Mobile Stand
This video tutorial will show you how to make a mobile stand for your smartphone easily. It'sIt's a great way to prop up your phone on the kitchen counter, in front of your TV, or in any room where you have a different surface, like a desk or nightstand. It is an easy DIY project and can be made from a leftover pipe. The best part is the stand isn't just for phones only! You could also use it for your tablet or a picture frame.
You can also see: DIY Hot Glue Gun Crafts 
DIY Customized Phone Stand
Making this DIY phone stand is a straightforward, simple, and cheap way to customize your phone and make it fit you. Making a customized product will help you learn new skills while using existing ones. This DIY phone stand lets you carry it around wherever you go, creating new opportunities to use your phone as an effective tool for communicating and being productive. It's simple and effective, and it's so easy to make yourself.
DIY Phone Stand
You can make this super simple DIY phone stand with some popsicle sticks and glue. It keeps your phone in place while charging and provides a convenient place to rest it when it's not charging. It will snap together in just a few minutes and fits all smartphones, including iPhone and Android phones. So, Make your phone stand that can even be painted to match your office space. This simple DIY project is perfect for beginners looking to make a stylish addition to their desks.
DIY Phone Stand For Recording
If you're a vlogger that uses their phone to record, you know how important it is to have a good phone stand. You don't want your phone to fall over or get knocked over when recording in the middle of a scene. This tutorial will show you how to make a DIY phone stand out of a shower stall handle and some wood. You can make one with materials around the house or purchase them at your local hardware store.
How To Make Origami Phone Stand
This origami phone stand is a great way to impress your friends and family and a handy item to have at home or in the office. You can use it to prop up your phone, tablet, or even a remote control if you'd like. It may seem difficult at first, but once you get the hang of it, you'll be folding these origami beauties in no time! Check out this tutorial and learn how to make your custom phone stand out from origami.
How To Make Paper Phone Stand Without Glue
Learn how to make a paper phone stand with no glue. This origami stand is straightforward to fold, and once you've done it once or twice, you can even make it in under a minute. It doesn't require tape or glue, so if you're looking for a quick and easy way to prop up your iPhone when the battery runs out of juice, this is it! This paper phone stand is the perfect DIY project to make with students, coworkers, or loved ones. It's a fast and easy craft that doesn't require many supplies, so it's perfect for those who aren't crafty!
How To Make A Phone Stand
This simple phone stand from paper clips will help you prop your smartphone up so you can watch videos, read recipes, or type messages without needing your hands. This is an excellent project for any age group. The straightened paper clip may be tricky for younger kids, but an adult or older sibling can bend it. It is very quick and easy to make, so if you're thinking of making something for a friend or family member for Christmas this year, why not try one?
DIY Cell Phone Stand
This DIY cell phone stand is simple and a great project for kids. Just grab some cardboard, ribbon and felt, assemble, use an adhesive gun, and voila! You have a cell phone stand that will elevate your device for easier viewing and provide better protection from damage. This simple project is a great way to reuse leftover cardboard. It only requires a few steps and minimal tools. Use your imagination to create a unique stand personalized for you and your phone. The result will be an attractive, useful stand for your cell phone or tablet.
DIY Phone Pillow Stand
This DIY Phone Pillow Stand is made from fabric, sewing clips, stuffing, thread, and an iron. It's an excellent option for holding your phone in bed or on your desk. You'll learn how to make it in a few easy steps with lots of photos and diagrams that show you how. This project is designed to give you the basic knowledge required to sew quickly and well from there! Use this guide to learn more!
DIY Cardboard Phone Holder
This is a fun, simple, and cheap project that can be done in less than half an hour. If you like DIY projects and if you like to save some money, this is the perfect project for you! This Cardboard Phone Holder is cheap, eco-friendly, and durable. It is light in weight, easy to make, and can be used as a paperweight, bookmark & phone stand, which will help you to keep your phone away from the harmful radiation of mobile devices. In just a few steps, you can prepare it without any hassle.
How To Make A Paper Mobile Stand
This project is an excellent example of how a simple, everyday tool can be easily transformed into something extraordinary. With a few folds and some paper, you can create a mobile origami stand that does not require many supplies. All it takes is your hand and some time. This mobile origami stand is a fun and quick project that anyone can do. No glue, tape, or staples are needed because your paper base will be firm enough to hold up any item.
DIY Popsicle Stick Mobile Stand
Create a simple and creative mobile stand with popsicle sticks. This project is easy enough for kids, but adults can also get in on the fun of creating a one-of-a-kind decoration for their room. This mobile stand is the perfect addition to any room or nursery. You can have so much fun with it, whether you decide to do it yourself or make a presentation. This project doesn't require many supplies, and you will surely enjoy the result of your hard work.
DIY Tablet Stand
This DIY tablet stand project is a great way to display your tablet. The process is simple and quick enough for anyone to do while creating a unique item that stands out from the crowd. This DIY tablet stand is for anyone who can't stop using their devices. The design uses a pine rosette, plinth block, and stain to create a lovely stand for your iPad or other tablets.
DIY Portable Phone Stand
It is always a hassle to hold your phone while watching a movie or video, especially if you are alone. But with an easy-to-make DIY Portable Phone Stand, you can watch videos conveniently. The best thing about this stand is that it is easily portable, so you can carry it with you when moving around the town. The process is straightforward with this guide's help, but it requires time and patience.
DIY Cellphone Stand With Accessory Holder
Here is the step-by-step DIY cellphone stand and accessory holder you can make. This phone stand is ideal for keeping your smartphone, watch, and earphones safe while charging. Incredibly easy to make, this project can be done by anyone. This cell phone stand is great for the garage, kitchen, bedroom, or anywhere else you need to prop up your device. This would make a nice gift for any DIY fan! A great way to keep your phone within reach while working on projects in the garage.
DIY Concrete Phone Holder
Every home needs a solid, functional, and beautiful phone holder. This DIY Concrete Phone Holder is unique; it holds your phone and has a modern design, perfect for any space. This DIY Concrete Phone Holder is a perfect choice for any home, office, or room that needs additional space to hold your phone - it's sure to be the centerpiece of your room. This simple project only needs a few materials and takes less time.
How To Make A Phone Stand Using Cardboard
A phone stand is an essential part of modern-day cell phones. You use your phones for everything, from watching movies to watching the news, and most times, you want to keep your phone on the table so that you can view them comfortably. A stand solves this problem; it allows you to keep your phone upright and avoid scratching its screen even when you put it down on a hard surface. This video tutorial will teach you how to make a smartphone stand out of cardboard. It is easy to do, cheap and the best part is that it looks professional.
How To Make A Foldable Mobile Stand
Learn how to make a foldable mobile stand that's portable and stylish. The stand features an attractive MDF top and base, with the board as phone support and the other as its base. It can be used in any room at home or office. So, this simple tutorial teaches how to make a foldable mobile stand. This sleek stand can be folded and kept in your bag when not needed, but it is sturdy enough to hold your phone securely.
Homemade Tripod Stand DIY
If you want to create a stand with height and stability, you can use cement to build a tripod stand. The tripod legs are typically made from metal, but cement offers advantages. Because cement is heavy and dense, it can provide more strength for holding heftier equipment. A great conversation piece and outdoor accessory, this project is fun and easy to do. You will be ready to shoot with a few simple materials and follow our steps with your own well-crafted tripod stand.
DIY Travel Phone Stand
Keep your phone upright, hands-free, and charged on the go. This phone stand is made from a durable acrylic plate that has been carefully laser cut and etched with a window design, so you don't have to worry about scratching your device while charging. The phone stand has a non-slip base to securely hold devices upright and allow you to watch videos or check your emails comfortably. This DIY travel phone stand will make your trip easier with a way to prop up your phone for hands-free viewing.
DIY Wooden Phone Stand
This DIY Wooden Phone Stand is the perfect way to solve your phone-on-the-bed problems. It's easy to make, and you can customize it any way you want. You can even use wood scraps around your house for this project. Save some money by making it yourself instead of buying an expensive stand that you'll use once a year at best. This stand is also perfect for watching videos and reading recipes while cooking.
DIY Wooden Phone Charging Stand
Nothing is worse than being caught without a charger, so you can make your phone charging stand that works for iPhone and Android phones. This project only takes about a half hour and will keep you from fumbling around for a charger when you need it most. This project is effortless and will make a great DIY gift for your family and friends. The finished product is convenient, strong, and stylish as well. Watch this video tutorial to learn more!