Surfboard racks are great for storing your surfboards at home. Most of the surfboard racks in the market are expensive. You can make your DIY surfboard rack with essential tools and materials. The best thing about making your surfboard racks is that you can customize them according to your needs and requirements. We've got plenty of options for you, so if you're ready to make one of these DIY surfboard racks from scratch, check out these creative solutions below! Here are 14 DIY Surfboard Racks Ideas for you to make your custom surfboard racks.
Creative DIY Surfboard Rack Ideas

Even if you need to become an expert in surfing, you can still make some great ideas for surfboard racks. It's easy since you only need to do some simple DIY from scratch. The best thing about this idea is that it can be an excellent gift for your friends who are surfers and who have a lot of different boards. They will appreciate that you spent your time and money on something made with care for them. Here are some DIY Surfboard Racks Ideas for creating your custom surfboard racks.
Benefits Of Adding DIY Surfboard Racks To Your Space
If you're looking for a way to store your surfboards, you've come to the right place. The benefits of DIY surfboard racks are numerous and include the following:
They are cheap and easy to build.
They can be customized to fit any space or need.
They make it easy for you to access your boards whenever you want them.
Freestanding Surf Rack
Look no further if you're looking for a way to store your surfboards without wasting valuable wall space. This freestanding rack is the perfect solution. It's made of heavy steel that can hold all your boards and has feet that fit on any surface. Plus, because it's freestanding, there's no mounting or installation required - just set it up where you want it! The rack can hold five surfboards simultaneously, making it the perfect solution for all your surfboards.
Surfboard Wall Rack
How To Build If you are tired of storing your surfboards on the floor, this is an easy solution: create a wall rack that hangs three boards on the wall. Fixing it to the wall makes it easier to access each panel and frees up space in your garage or shed. This surfboard rack is sturdy, functional, and can tailor to your needs. The DIY wall rack is as simple as it gets; three pieces of wood and a few screws. It's also easy to use: slide the board in and out whenever you want. To keep the surfboard from slipping off while you're carrying it, add some rubber feet or felt pads - they're cheap, work great, and won't leave any marks.
Surfboard racks are a great way to store your surfboards. They allow you to quickly rotate boards out of the water, properly dry them and keep the salt away from your car and house. Here's a quick video on how to build a surfboard rack. You'll need to have some basic carpentry skills or have access to someone who can help. This surfboard rack was built using cinder blocks and weathered wood with the design elements of a beach theme. A perfect solution for storing your surfboards in your garage or on a porch, although it works just as well if you want to hang your custom surfboard on the wall.
You can also see: DIY Ski Rack Ideas
How To Make A Surfboard Rack
This video will show you how to make a DIY Surfboard Rack. This is a perfect DIY project for the enthusiast carpenter and surfers who want to make their surfboard rack! You can make it with inexpensive materials available at any home improvement store. This rack can handle all the sizes of the surfboards you own, and it is versatile in changing how many boards it holds based on your needs. The Surfboard Rack is a great way to store your surfboards. It is customizable, solid, and easy to make.
DIY Surfboard Rack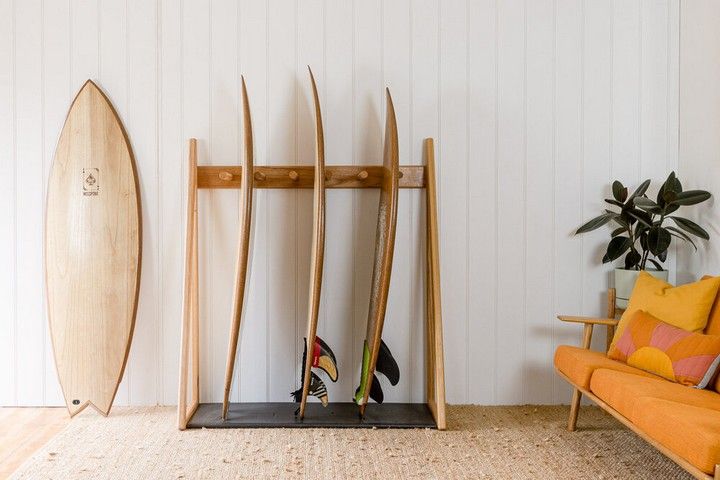 A DIY surfboard rack made from reclaimed wood and salvaged barn doors is the perfect addition to your beachside home. This easy project can make managing your boards much easier, especially when you live near the beach. Build this DIY surfboard rack from scratch with basic woodworking knowledge and tools. It's easy to build, compact, and, most importantly, will allow you to store all your boards in one place. It's super lightweight, which makes it easy to move around if needed.
DIY Surf Rack For Under Fifty Bucks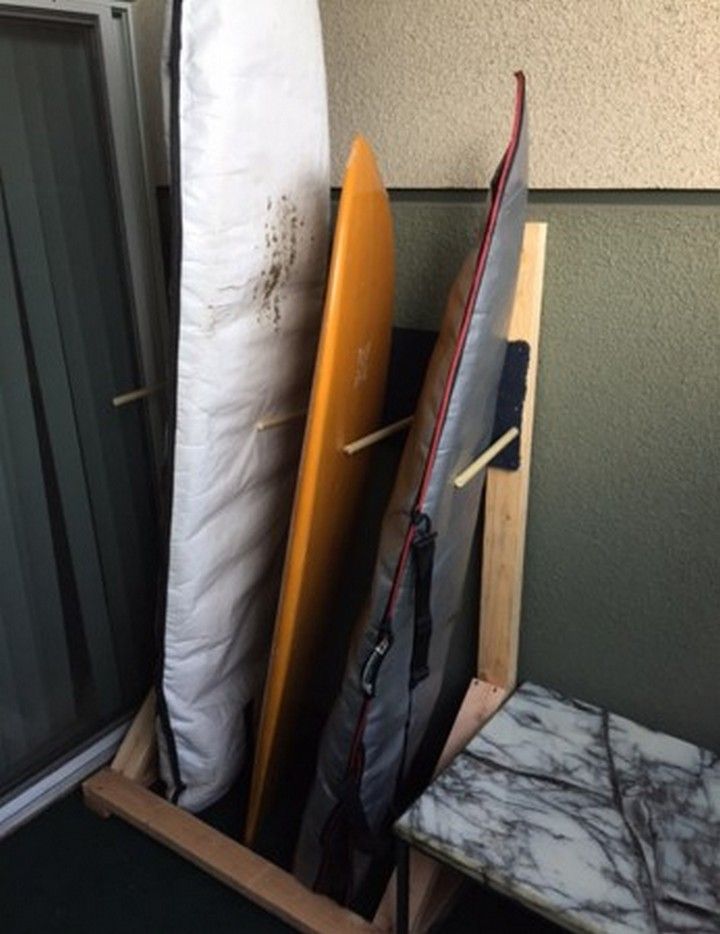 Here's a fun and unique DIY project you can do in your garage using wood and some essential tools. You can build this wall rack that looks great and will last a long time if you take the time to do it right. This surfboard rack will store your boards on the wall beside your other surf necessities. You can build your own DIY Surf Rack for Fifty Bucks or Less. This easy and free woodworking project will serve as a great recycling project and help you get organized with all the boards lying around in the home.
How To Make A Surfboard Rack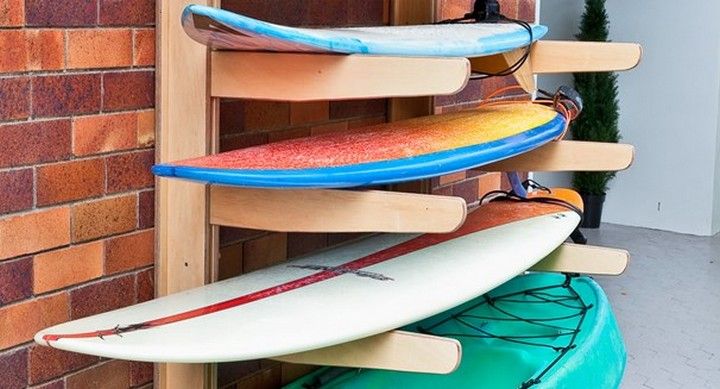 Surfboard racks made of wood are an efficient and stylish way to store your boards. This weekend finds out how to make your surfboard rack that's sure to make a statement in any home. Here's an easy way to store your surfboards. Simple, stylish, and doesn't require any building skills. All you need is some wood, a saw, glue and a few screws. Easy as that! This rack will allow you to store several surfboards in a relatively small space.
Surfboard Racks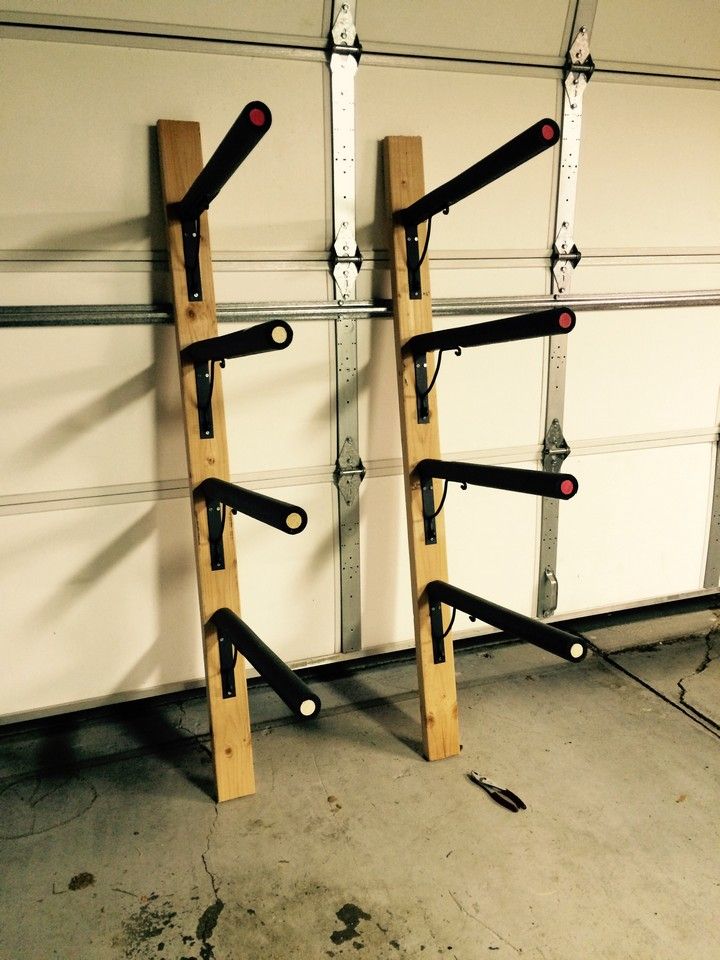 If you're tired of losing your surfboards to the tide, this DIY surfboard rack is for you. It is a sturdy solution for keeping them out of harm's way when not in use. You can build your surfboard racks with a few essential tools and supplies. Follow these instructions to build a surfboard rack that has sturdy cross-braces to prevent sagging. A do-it-yourself surfboard rack can be made in just a few hours. The wood is pressure-treated to withstand the elements, and the foam insulation will protect your boards from moisture damage. A wire will secure each panel to the rack so it doesn't tip over or fall when you go for a surf session.
You can also see: Free DIY Server Rack Ideas
Build A Surfboard Rack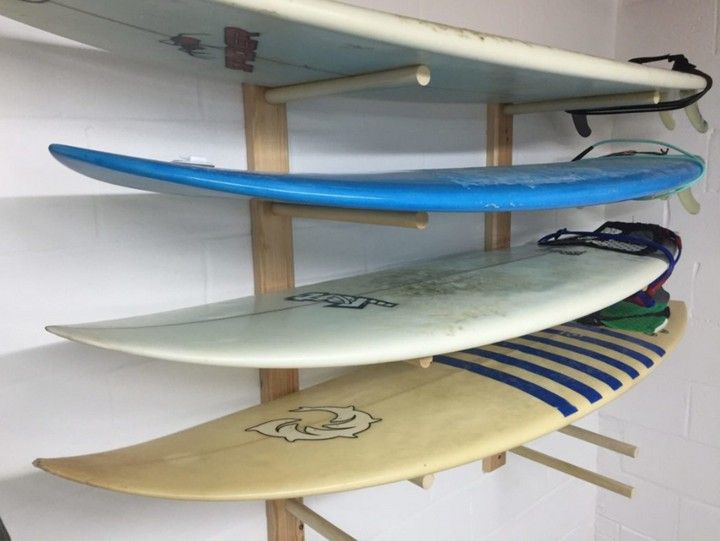 Building your surfboard rack can create more space in your garage, save you some cash and is a great way to personalize your home. It's also the perfect project for a beginner DIYer. This tutorial will teach you how to build a simple yet attractive surfboard rack using standard 2×4 lumber and 1 ⅛" dowels. This project is easy to assemble and made from everyday materials at your local home store.
DIY Surfboard Rack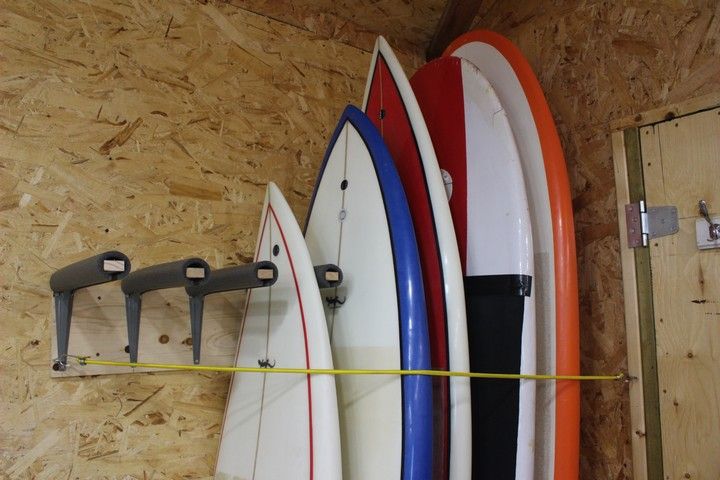 Want to make your surfboard rack? This tutorial shows how to make a surfboard rack that is simple and easy. This DIY surfboard rack uses angle-shelf brackets, wood strips, plywood, and foam matting, then finish it with a long bungee cord to secure your boards. You can use the same design to display different items on a wall, such as skateboards, windsurfing boards or snow skis. You can easily make a DIY Surfboard Rack for your surfboards, which will help you save space and add style to your garage.
Make The Garage Zen Again With These Surfboard Wall Racks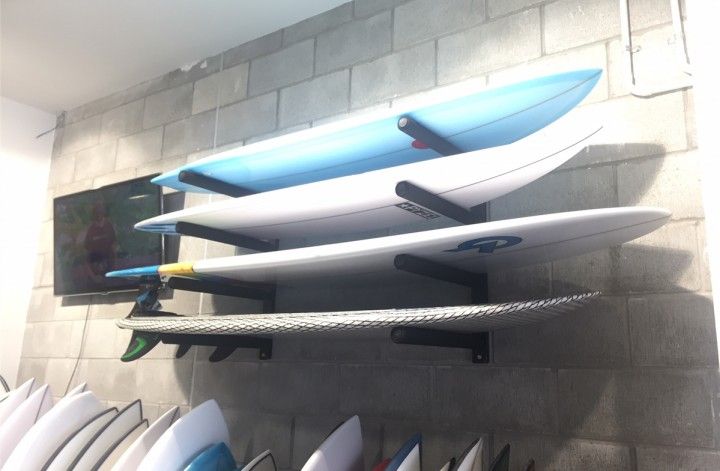 Make sure your garage is a manageable, manageable mess of surf gear. Instead, make it the ultimate surf edition with these awesome surfboard wall racks! Mount these DIY Surfboard Wall Racks and free up some precious floor space. They require some advanced carpentry skills, but once you get the hang of it, you'll never return to traditional racks! Your garage will be thoroughly organized and ready to work if you have the skill, the time and the tools to create these surfboard racks. Find out how to make them at home by following this tutorial.
The Best Surfboard Wall Racks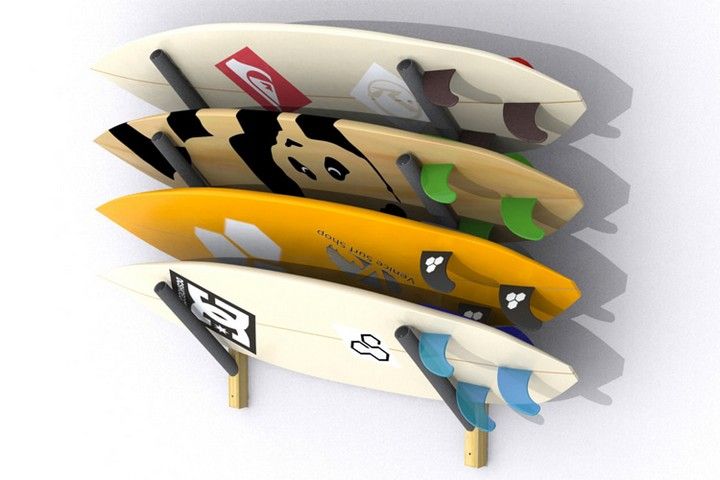 Struggling to find a safe place for your surfboards? This Timber Surfboard Wall Rack is made from solid American red oak. This means they're both strong and durable. The DIY design allows you to build this unique and attractive wood surfboard rack quickly at home with a bit of help from some essential tools and supplies. It holds four surfboards so that you can park your boards in one convenient location. You won't have to worry about damaged walls or making new friends with the family cat anymore!
DIY Ceiling Mounted Bodyboard And Surfboard Storage Rack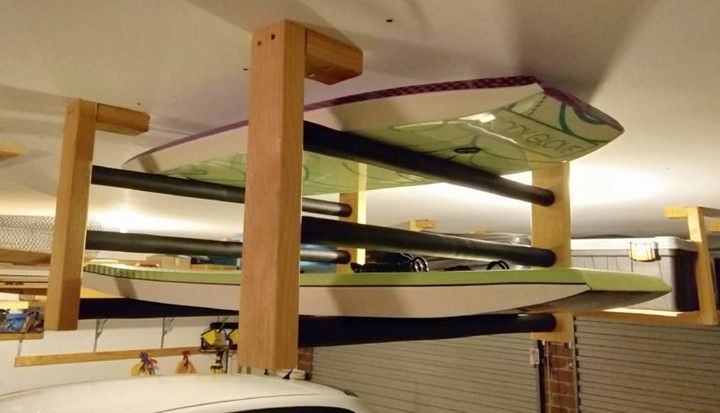 Do you have a bodyboard or a surfboard lying around taking up space? Don't know what to do with it? This DIY surfboard rack is the answer. This DIY surfboard storage rack perfectly organises your bodyboards and surfboards in a small space. With its simple construction and strapping materials, you can make this rack in an hour or less for minimal cost. This is a simple and inexpensive way to store your bodyboards, surfboards and kayaks in hanging style. It only takes about two hours to build and mount on your ceiling.
Rakit Surfboard Rack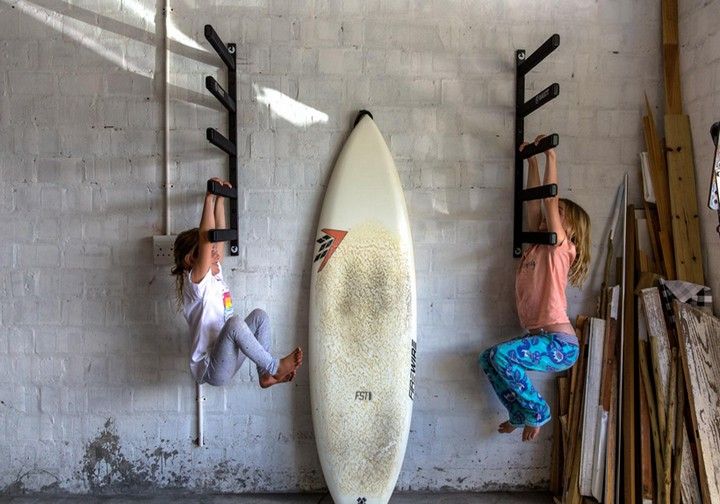 If you are looking for a rack that allows you to safely store your surfboards and keep them ready to go at a moment's notice, the Rakit Surfboard Rack is what you need. Take the pain away from racking your surfboards and get this simple, effective way to organize your garage with stacks of surfboards. This rack is custom-made for surfboards, but other longboards can also fit. Rakit Surfboard Rack is designed with a severe surfer in mind, able to accommodate all types of surfboards and styles of storage.