Check out these DIY power rack projects if you're looking for a new challenge or want to get the most out of your home gym. With a power rack, you can perform squats, deadlifts, bench presses, and more without a spotter. This is great for your safety—you don't have to worry about someone else spotting you alone in your home gym. Below are thirteen DIY power rack ideas ranging from extremely simple to a bit more technical. These will give you some great exercise options and help keep your home gym versatile and functional.
Easy DIY Power Rack Ideas

If you've got a garage or a basement and a little DIY know-how, you can save money and get a sturdy, usable power rack for home gym use by building your own. Many DIY power racks are easily adapted to anyone's needs and skill level: they're made from wood, PVC, and other common materials. They may differ in their designs, but the step-by-step instructions are all relatively easy to follow. The finished products can range from simple do-it-yourself (DIY) wooden racks to more complex multi-staged models with added weightlifting accessories.
Benefits Of Creative DIY Power Rack Plans
You can be a professional builder to make your power rack. You can find all the instructions here, and it's not as difficult as you think.
Here are some benefits of DIY Power Rack Projects:
You can save money by building your power rack instead of purchasing one from a store.
You'll get precisely what you want when you build your power rack.
Building your power rack allows you to customize it however you want.
It's fun!
How to make a Power Rack
A power rack is an essential tool for any gym. You can use it to support your workout, improving your performance and helping you maximize each session. The rack must be robust, stable, and durable – all things more easily achieved with DIY help! Iron Gym is well known as the best fitness equipment brand, but you can make your Power Rack at home with simple tools. It's inexpensive and will give you the latest home workout cage for your gym equipment. This is a great DIY project for the weekend warrior. This video will help you in building one at home.
Fabricating A Squat Rack
If you're a powerlifter, it's pretty common to want a squat rack - but it's tough to find a useful one. So make your own! With this project, you'll learn how easy it is to build your own power rack and save some money. This video explains how to make your DIY squat rack from scratch. You'll learn how to fabricate the frame, assemble it and add accessories like a chin-up bar. This DIY power rack has everything you need for a complete home gym. It's strong, sturdy, and versatile, making it perfect for strength training and lifting.
How To Make A Power Rack
Power racks are an invaluable strength training tool for anyone who works out at home. They allow you to quickly switch between exercises, saving time and space in your small gym. They also increase safety by reducing the risk of injury from quick transitions from activity to exercise. The following DIY power rack project is designed to be built entirely from 2x4 lumber. This power rack design is also easily adaptable to work with different sizes of wood and other space constraints, so feel free to use it as a starting point for your customization! This video shows you how to build a solid DIY power rack that will be very useful in the gym or your garage at home.
Folding Squat Rack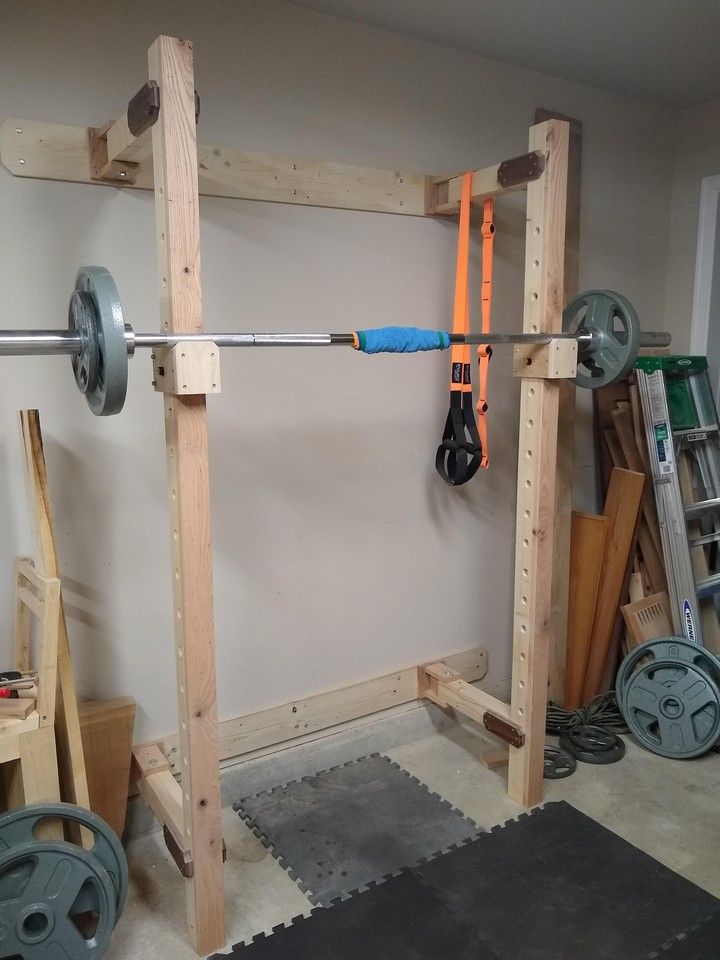 Are you looking for a great way to build your DIY power rack? This sturdy, compact wooden rack is ideal for home gyms and commercial settings. One of the best things about it is that it allows you to have a full-body workout in your garage or basement while saving space and money. It's an adjustable platform with a frame that you can use for squats and bench presses. This video will show you how to make one and where to place your barbell to perform different exercises efficiently.
Homemade Power Rack Gym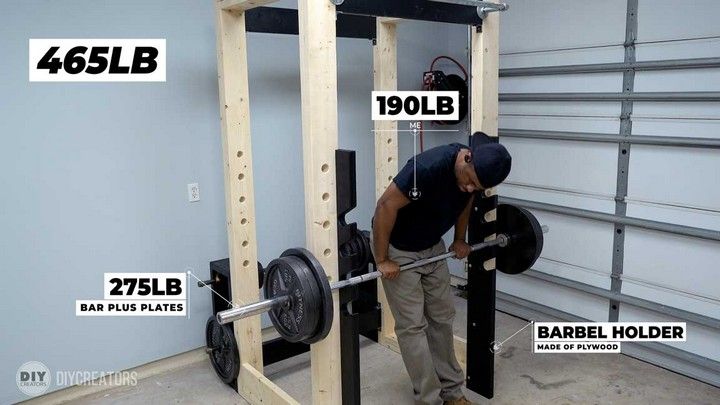 The Power Rack Gym is one of the essential gym equipment for bodybuilders. This unit ensures the safety of the athlete who trains in it. The primary purpose is to protect from severe injuries by guaranteeing the protection offered by a steel cage. The frame must be high enough so that you feel comfortable while training with heavy weights. Here's a quick and cheap way to get your own DIY wooden power rack with a plywood barbel holder. It's simple; all you need is to know some essential tools, use the correct measurements, and pay attention to each step!
DIY Squat Rack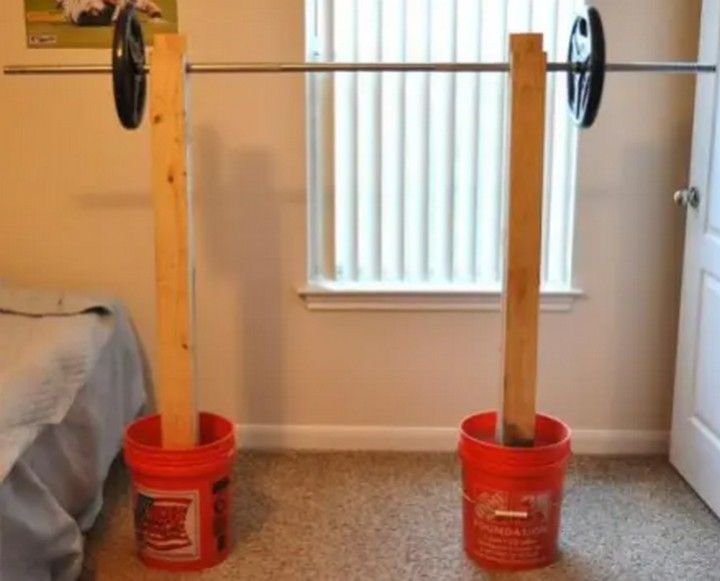 A power rack is a must-have for any home gym. But rather than spending $100's buying one, you can make it yourself with a few tools and materials. This power rack will help you do squats, bench presses, and more without worrying about hitting yourself on the ceiling or falling off the bench when doing your lifts. This DIY power rack is made from wood and is designed to be used as home gym equipment. For this project, you will need wood, plastic buckets, screws, bolts, nuts, and washers. It is one of those wooden squats that can be set up at home, with a resistance training challenge for the entire body, including the back and shoulders.
Homemade Power Rack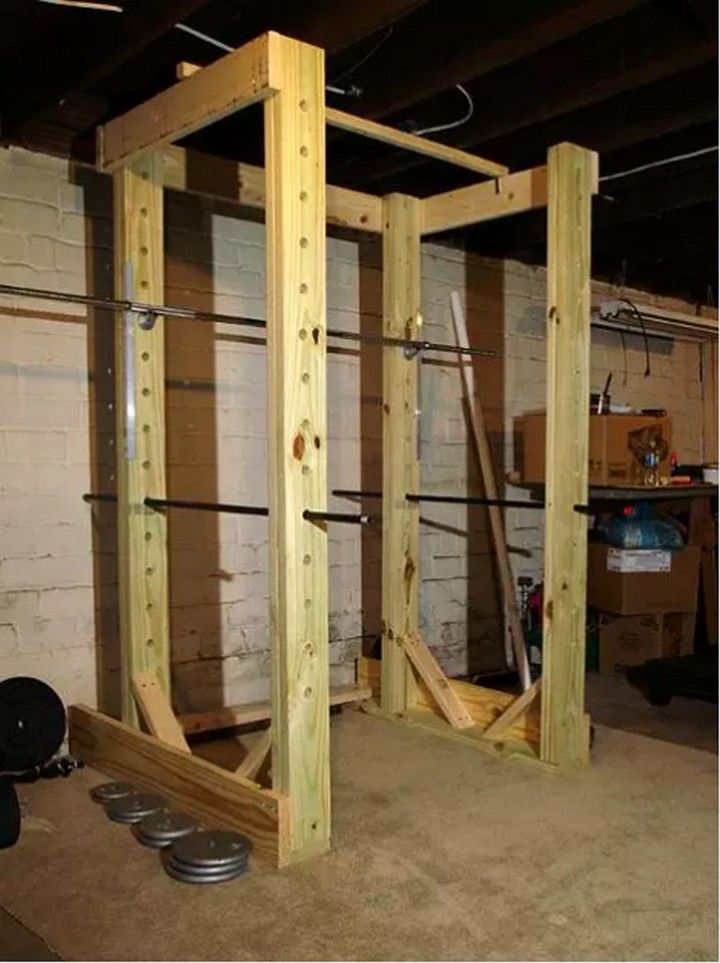 Do you want to have your home gym but don't have space for a full-size power rack? This can be an excellent option for you. You can build your wooden power rack or frame and put it in the garage or the back of your closet. You will have much more space for free weights, dumbbells, bench presses, barbell exercises, etc. It is safer than putting your bench press set up far away from the wall with 2x6 boards holding up weight plates on either side (plus it's more aesthetically pleasing).
Also see: Dumbbell Rack Projects 
DIY Wooden Squat Rack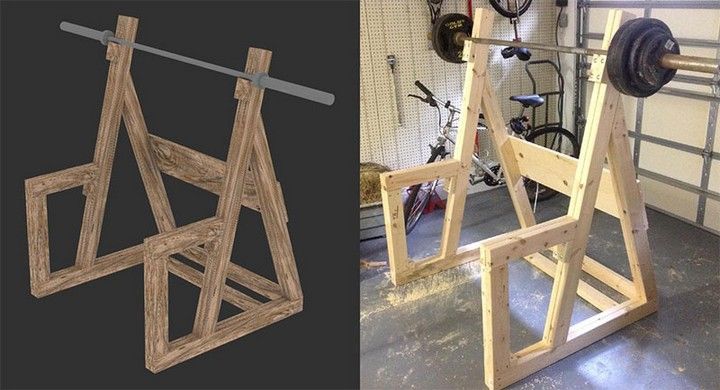 If you love to lift weights, the Squat Rack is an excellent addition to your home gym. This rack can help you work out safely and effectively. You can build this at home. It's straightforward, inexpensive, and requires very little equipment. You only need essential tools like a tape measure, saw, drill/driver, and angle grinder. The project features simple cuts, easy assembly, and a clean design. You can have this power rack up and running in no time!
Building A DIY Power Rack For Exercise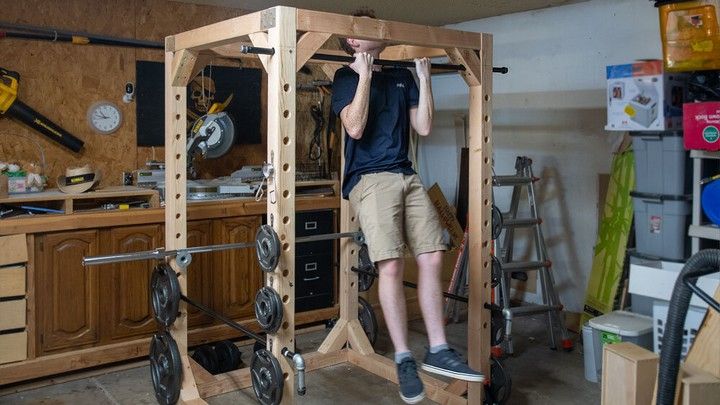 If you want to build a DIY power rack, the best way to get started is with a solid wooden framework. If you don't have any experience and are less than experienced in woodworking, this is an easy enough project that you should be able to complete in the afternoon. The great thing about a power rack is that it provides an excellent workout and makes your garage look good! The power rack is incredibly versatile, as it can be used for squats, bench presses, military presses, and so much more.
I Built The Buff Dudes Power Rack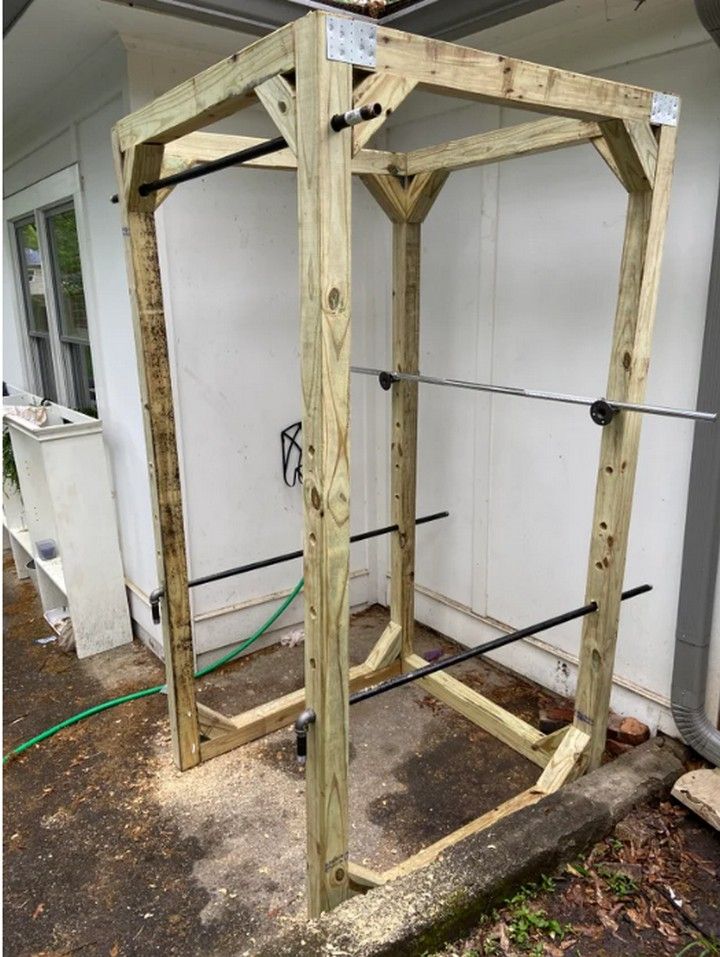 This wood power rack will be great for martial artists. If you want to build your Power Rack, this page is for you. These DIY instructions show you how to build a sturdy, strong wood power rack that can use anywhere in the home. You will only need wood sheets, a drill, a miter saw or circular saw, wood glue, wood filler, clamps and sandpaper. This project can be completed in about a day, and you don't have to be a DIYer to do it!
Homemade Steel Power Rack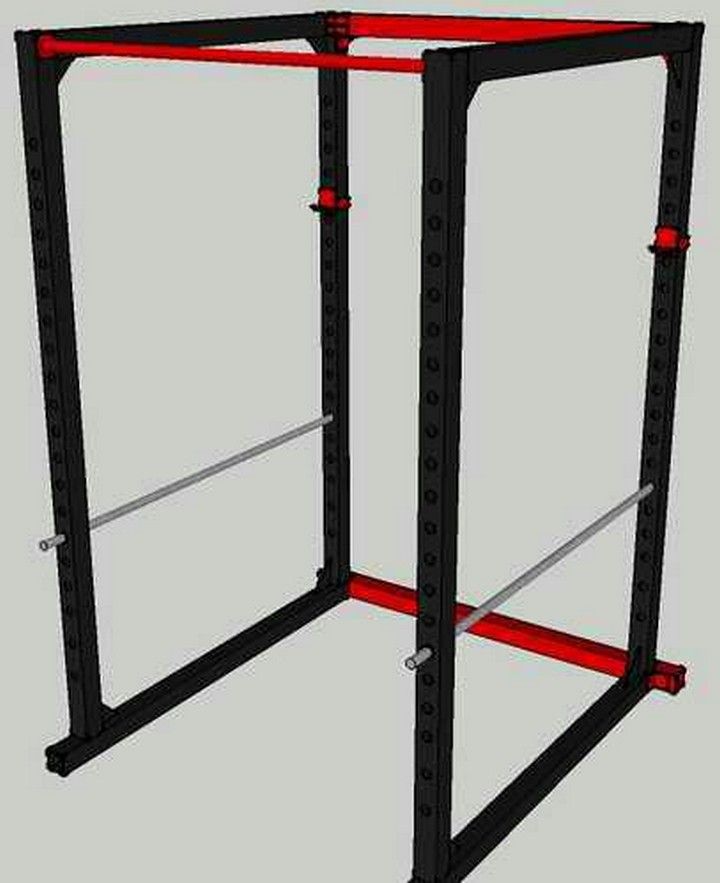 Are you looking for a power rack to add to your home gym? This free DIY power rack project could be just what you want. Complete this project and create the perfect space for squats, bench presses, and more. Get the power rack of your dreams with this do-it-yourself project. Whether you want a home gym or want to work whenever you have time to stop, we have all the details you need to build your bench, including a barbell and weight storage rack.
DIY Leg Press Attachment For Power Rack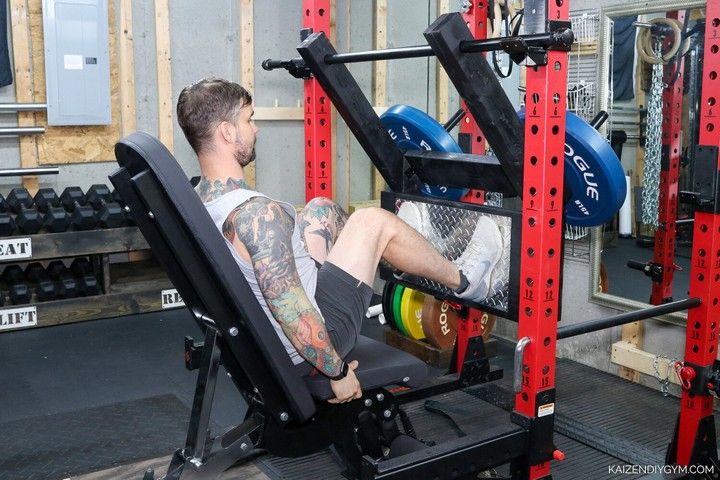 Leg pressing is a great way to build strong glutes and hamstrings. Put together this DIY power rack leg press attachment to give your workouts a more direct approach to strengthening the muscles in your upper legs. This tutorial walks through creating a home gym project to save money and set you up for success when working out at home. They are super simple yet very effective for strengthening the glutes and hamstrings.
You can also see: DIY Coat Rack Ideas
Build Your Own Power Rack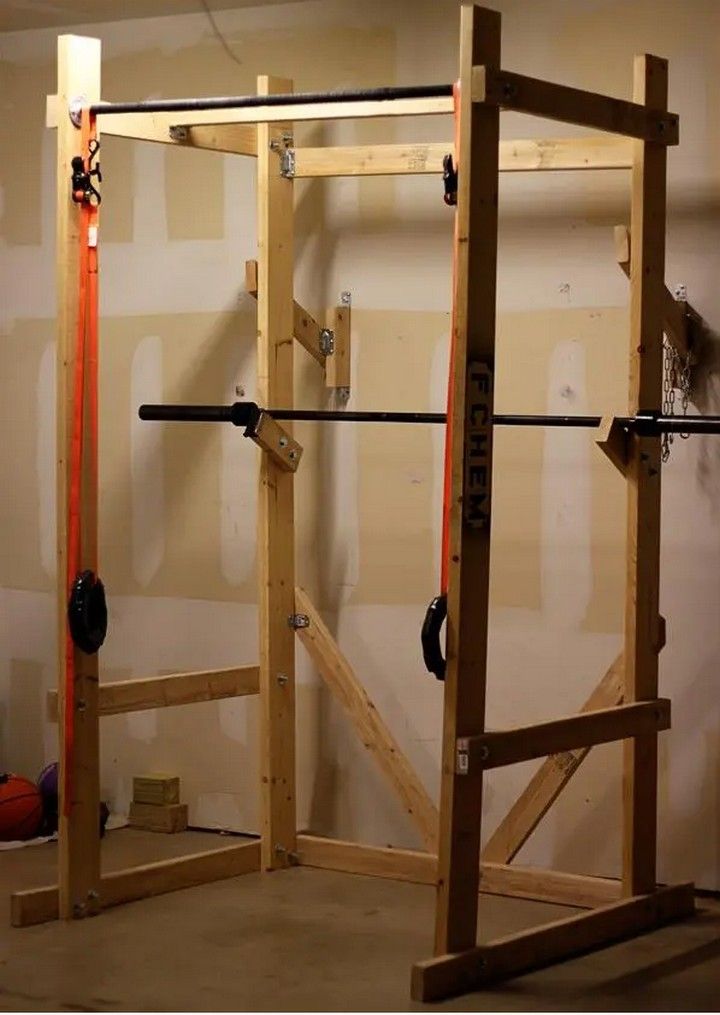 If you are a gym goer or want to start working out at home, you need a power rack for an effective workout. The best thing about owning your power rack is that you can customize its structure and size per your requirements. At the same time, it assures safety during weight training since it prevents you from dropping weights on yourself. The DIY Power Rack is a simple and easy do-it-yourself (DIY) project that you can quickly build using 2x4s and plywood. Several optional upgrades include dip bars, lateral arms, pull-up bars, and weight holder bars.