Dumbbells are among the most versatile and effective pieces of equipment in a home gym, but they can be difficult to store. A weight rack is a solution to this problem. It keeps the weights organized, prevents them from being scattered around the floor, and makes it easy to see how much weight you have available. Plus, if you have a lot of dumbbells, a rack can help you save space by storing them vertically instead of horizontally. If you need help building your rack, there are plenty of design options available online, and here are some of the best DIY Dumbbell Rack Projects to get you started!
Cheap DIY Dumbbell Rack Ideas

Whether you're trying to get in shape for the beach or want a place to store all of your dumbbells, it's helpful to have a way to keep them organized. But instead of spending money on a rack, you may only need for a short time, try making one yourself. You can make various versions with common household items that suit your needs and taste. Here are 15 DIY dumbbell rack ideas to help you get started; whatever DIY dumbbell rack project you choose will be effective for your home gym!
Benefits of DIY Dumbbell Rack Projects
Here are some of the benefits of DIY dumbbell rack projects:
They save money.
They are easy to make.
You can customize them to your needs and preferences.
You can make them in any size or shape or even color them to match your home gym's theme if you want to go that far!
DIY Dumbbell Weight Rack
This DIY dumbbell rack project is simple and inexpensive. It's a great way to add extra storage space for weights and other workout tools. DIY Dumbbell Rack is a great way to organize your weights in the gym. See how to build and install a wall-mounted rack from just some pieces of wood! This video tutorial shows you how to build one out of basic materials like lumber or 2x4s and an inexpensive support grid.
DIY $20 Dumbbell Rack
There are plenty of options to organize your weights in the order of weight and to suit your needs. You don't need to buy new storage for your dumbbells or expensive equipment that may not fit perfectly in your small home gym area. This DIY $20 Dumbbell Rack is a cheap and simple way to make your dumbbell rack. You need 2x4s, 2x6, and a few other materials to complete this project. This is a great way to organize your home gym area while allowing you to work out with more than one set of weights.
DIY Dumbbell Rack
This DIY project is a great way to add a dumbbell rack or equipment stand to your home gym. You'll need just a few basic materials and a few simple tools. Drill holes and use screws to create this stylish storage unit for your dumbbells or weight plates. Build this DIY dumbbell rack for storage in your garage or home gym. This is a great project for anyone looking to save space and organize everything.
Dumbbell Rack For 10-50 Pound Set Of Rubber Hexagon Dumbbells V.3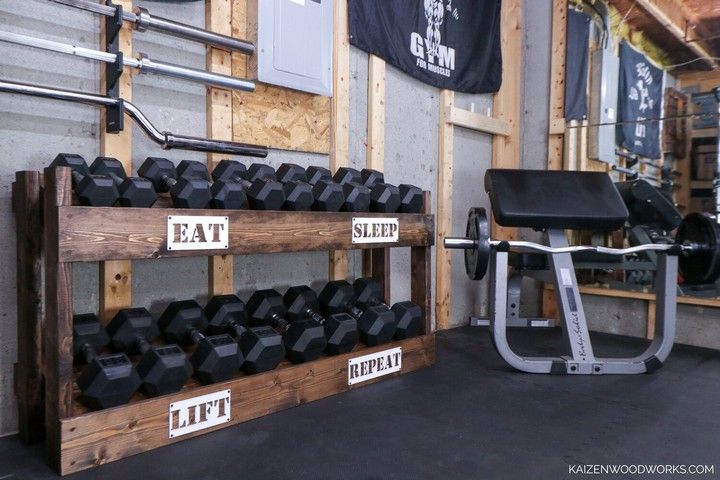 This DIY Dumbbell Rack is made with durable, rough-cut lumber framed between two pieces of plywood. The frame is constructed to hold 8 pairs of hexagon rubber dumbbells, up to 50 pounds, or you can alternate between a mixture of other fixed-weight dumbells for more than one set. The rubber hex dumbbells simply sit on top of the rack when not in use, taking up minimal space and making them easy to find when you need them again.
DIY Weight Storage Shelf With Plan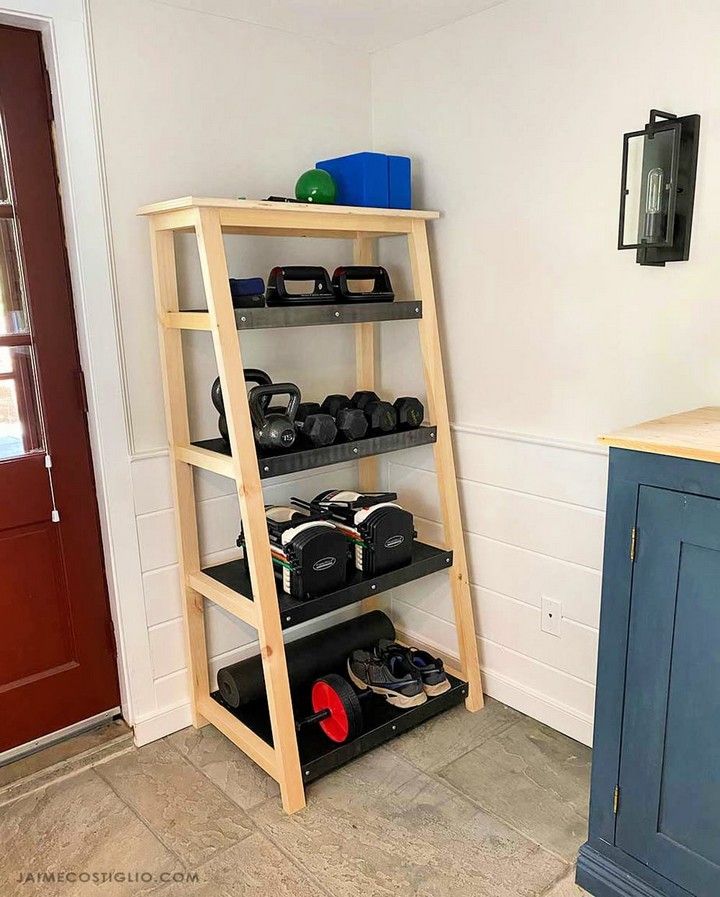 Organize your garage with this easy DIY dumbbell rack. You will need a few simple tools and supplies, but the result is a woodworking project that will last for years! It features a large surface for storing plates, dumbbells, and other equipment and a place for your Kettlebells. The wood frame is made from hardwood construction for durability and strength, and this design can be completed in just a few hours by anyone.
DIY Dumbbell Rack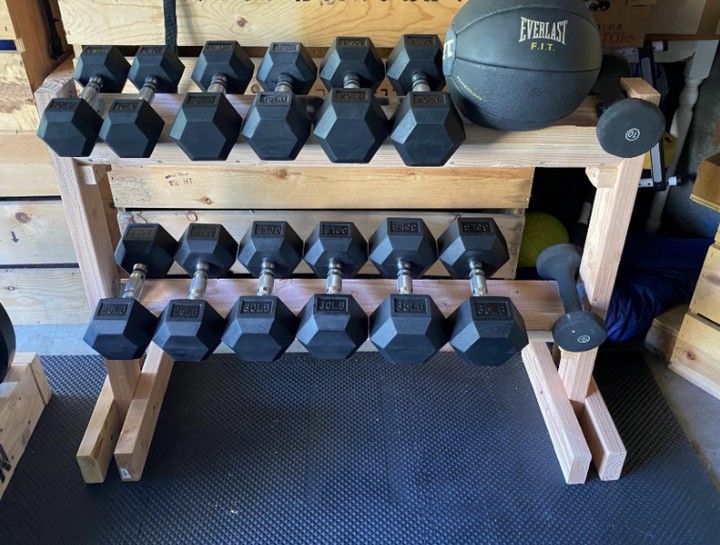 Dumbbells can be a head-scratching problem for home gyms. They're great, but they can be scattered on the floor, piled up in one corner, or end up all over your living space. The solution? A DIY dumbbell rack made with simple materials like wood and screws. This easy project keeps your workout equipment off the ground and organized, so it's there when you need it. If you want to take the project up, you can use cedar to match your other furniture.
DIY Dumbbell Rack Wooden Tree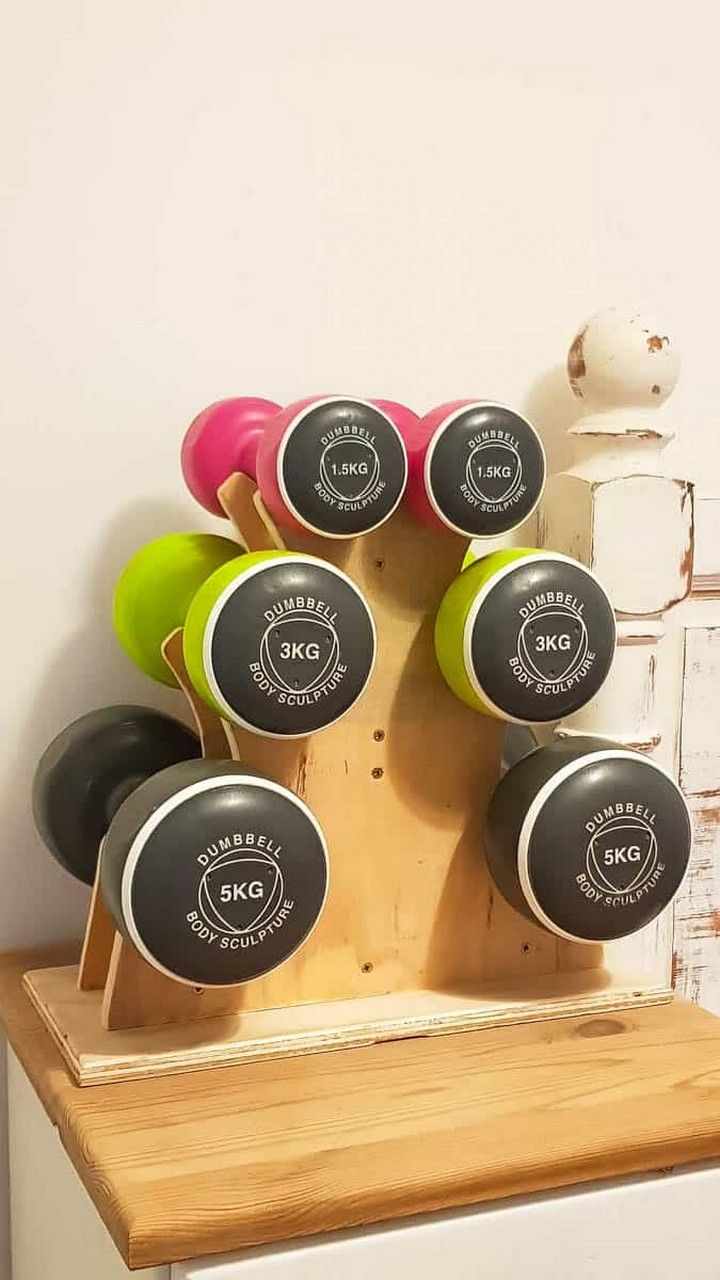 This simple DIY dumbbell rack project is a great way to customize your home gym. Plus, it's an affordable and easy way to make room for all those expensive new dumbbells you were thinking about buying! This easy DIY project is made cheaply using wood offcuts and can be made with various tools, depending on your skill set. This DIY dumbbell rack is made to fit various weight sizes, including 2 and 3-inch plates. The rack can be customized for your home gym, making an awesome gift for an avid lifter.
DIY Wooden Weight Rack
If you need a rack for your dumbbells, here's an easy homemade wooden rack project you can make from thick wood lumber. They're space-saving, cheap, and customizable. It will work great (for both women and men) as it has an intelligent design that maximizes storage space and gives you more workouts with less equipment—the perfect project for anyone who wants an organized workout space to store and quickly retrieve their dumbbells.
DIY Dumbbell Weight Rack Storage from Wood
Dumbbell weight racks are an essential part of any home gym, and there are many design and style options to choose from. Consider this easy-to-build DIY wooden rack project if you're looking for a functional, easy-to-install dumbbell rack that will keep your equipment safe and off the floor. This DIY dumbbell rack will help you organize your space and take up less room. Build this with some basic supplies and materials. This DIY wooden dumbbell rack is perfect for the job and looks great too!
Make a Dumbbell Rack from Scrap Wood
This DIY Dumbbell Rack project is likely to be the most popular one you've ever done! Why? Because there's nothing better than customizing your gym equipment and making it exactly what you want. This video tutorial will show you how to build it without expensive hardware. This easy DIY project is perfect for those new to woodworking and creating their custom equipment at home. Please spend a few hours building this awesome piece with some scrap wood and see how much easier it makes putting away your dumbbells and weights.
DIY Weight And Barbell Storage Rack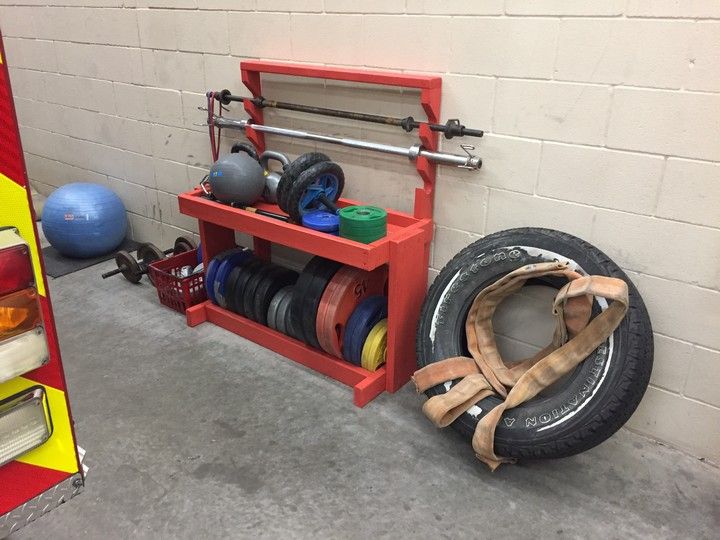 The Dumbbell Rack is a simple DIY project to help you get your weights off the floor and out of the way. Plus, it'll look great in any space. This DIY project takes a little time, but the results are worth it! You can create your wooden dumbbell rack with some simple tools and materials. Cut the wood to size, then sand it down to remove any splinters or rough edges. Use the drill to make holes that fit the dumbbells, then place them on the rack!
Dumbbell Table Desk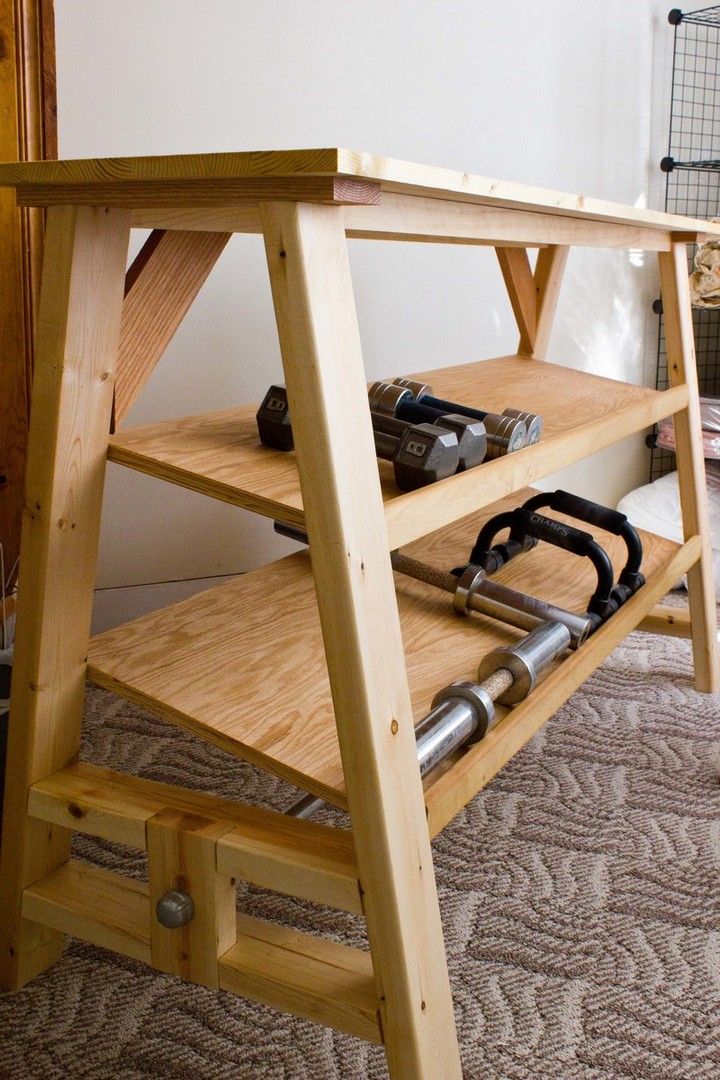 If you're looking for a sturdy dumbbell rack that won't take up too much room in your workout space, the Dumbbell Table Desk is a great option. This tool organizer stores your equipment right by the door so you can get ready to work out whenever you want without moving heavy dumbbells or searching through your garage. This project is a great way to add fun and functional gym equipment to your garage or basement. This tutorial shows you how to make your DIY dumbbell rack while saving money and having the materials you need available from your local home improvement center.
You can also see: DIY Corner Shelf Ideas 
DIY Custom Garage Gym Weights Rack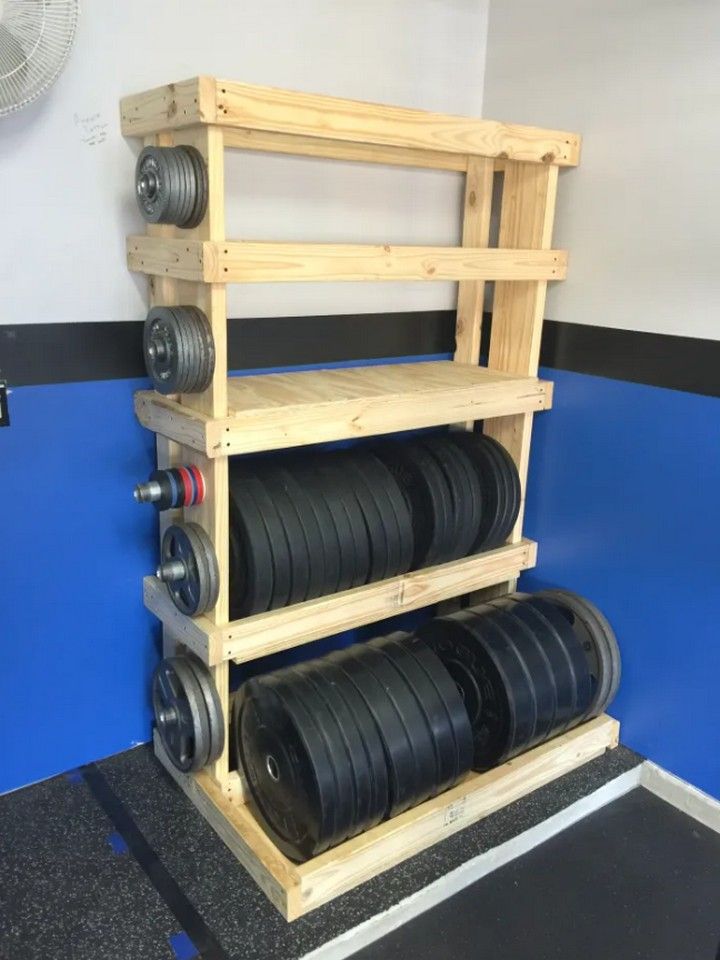 Are you looking to save money and get a workout while at it? Here's a DIY dumbbell rack that you can build yourself. It's cheaper and easier than you think. Build your own DIY Dumbbell Rack Project, or add a garage gym to your home. A little DIY and our large selection of products can help make your dream gym come true. Making the best gym equipment is part science and art; the tutorial takes the guesswork out of building your own custom workout space with instructional and helpful guides to build it right the first time.
DIY Dumbbell Rack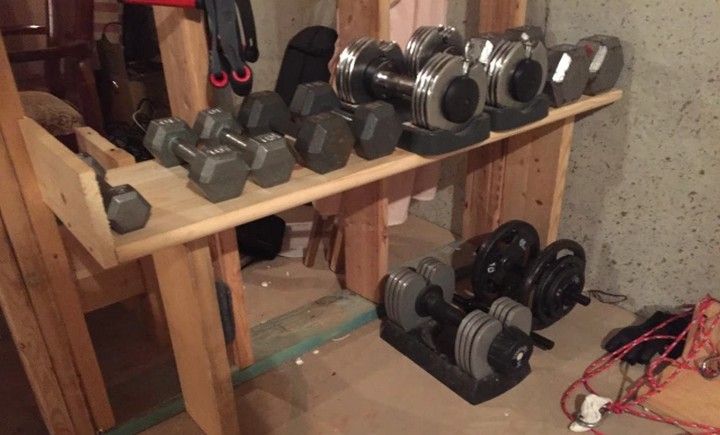 There's nothing more frustrating than buying a workout wardrobe, hitting the gym, and realizing your dumbbell set isn't handy when you need it. Here's how to build a DIY rack for your weight-lifting equipment. It's the perfect size for your home gym! This DIY Dumbbell Rack is perfect for anyone who wants to have dumbbells and barbells on hand when they train. You can use it as a barbell rack by pairing it with some standard Olympic collars underneath! They are durable, attractive, and made from quality materials so that you can feel confident about your creativity.
DIY Weight Rack With Optional Power Blocks Holder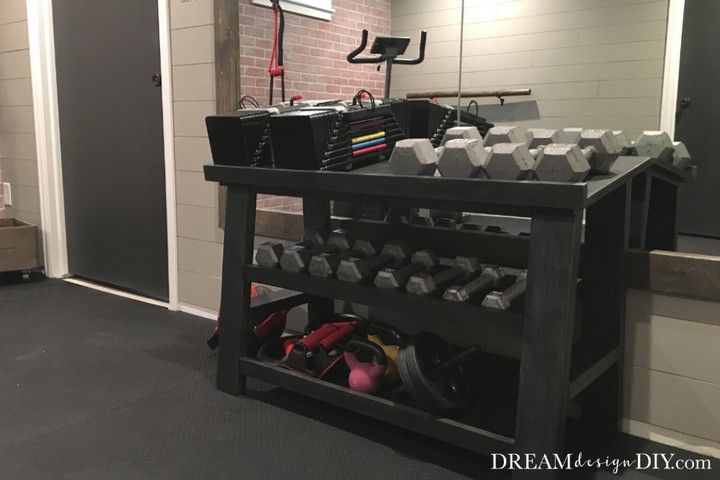 Are you looking for a way to organize your home gym? Well, here is something for you. This DIY weight rack will help you keep all your weight plates, bars, dumbbells, and other equipment in one place to make the most out of your workout. This unique and very useful bench rack can be used as an indoor weight rack and a storage rack. It has plenty of room for all your weight-lifting equipment and holes drilled in it to hold standard-sized power blocks. The main storage area will accommodate most dumbbells and Olympic bars.
You can also see: DIY Power Rack Projects