Photo albums are a tangible testament to your life, memories, and work. They're also a great way to organize them, so they don't get lost in the shuffle. And while we're all for the digital world of photographs, nothing can go above the feeling of running your fingers over an old photo of happy gatherings. You probably have many pictures on your phone and don't even remember many of them being taken. Don't worry because there's something better than scrolling through the photos on your phone: getting creative with picture collages and making your custom photo albums. Whether you have one or 100 albums, we're sure you can always use an excuse for another one! Here are some creative DIY Photo Album Ideas to explore and recreate for your photos. These DIY Photo Album Ideas are perfect if you're looking for a unique way to hold all your pictures!
Unique DIY Photo Album Ideas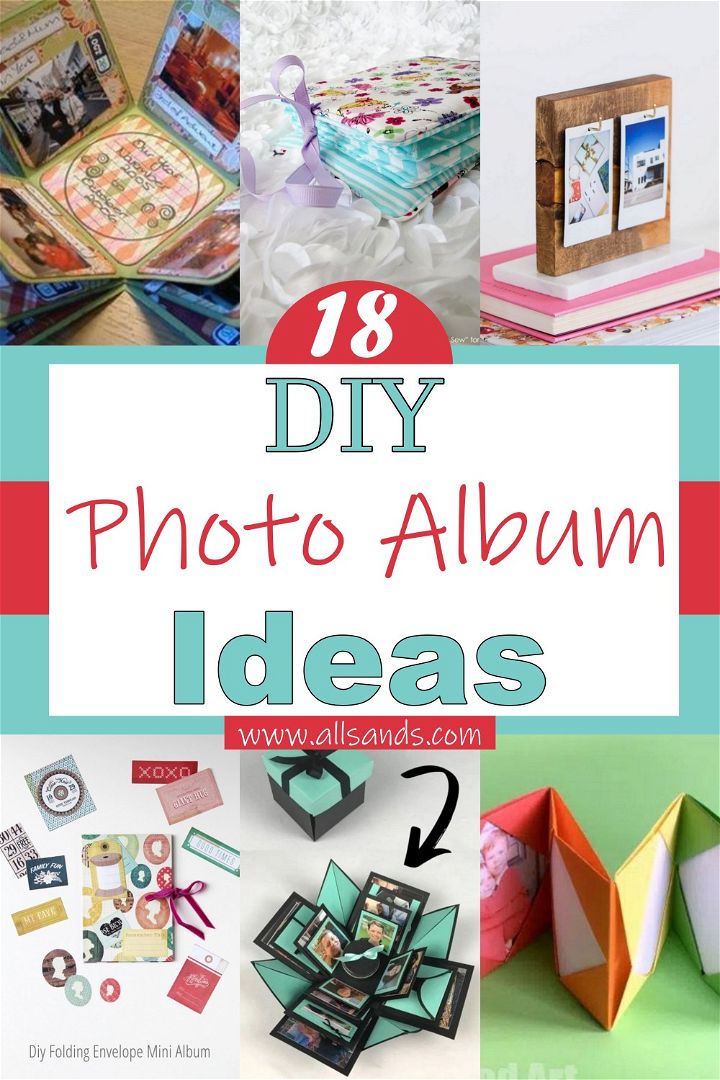 Now, who wouldn't want to make their photo albums? It's not hard to do, but you need to be patient enough to enjoy the process of designing, cutting, and fitting different parts together. There are many easy DIY Photo Album Ideas to help you treasure your precious photos and make them more personal such as using clips, perforations, and corners design. Sure, you can buy a fancy album from the store, but why not use your creativity and recreate the idea with materials you already have at home? Creating your DIY photo album is easy and will allow you to display your favorite memories aesthetically pleasingly.
Benefits Of Making Photo Albums DIY
Creative DIY photo albums can be used as gifts, favors, or personalized giveaways to your guests. You can also use them to record memorable occasions or events, such as family gatherings and anniversaries. It is not only the way it looks that matters but also its functionality. A DIY photo album will allow you to store your photographs beautifully and preserve them for many years in a well-organized manner. These albums are perfect for displaying your vacation photos, documenting fun memories with friends, or designing a unique book of pictures to give as a gift.
Handmade Photo Album Tutorial
Are you looking for handmade photo album ideas? If yes, you found them. A photo album is a beautiful way to preserve and display your photos. Learn how to make a handmade photo album by paper crafting. This video will show how to make a photo album with paper; it's easy and beautiful! You can use your photo with our project. Do not forget to watch the video tutorial on how to make this beautiful photo album. This is an excellent gift for anyone on any occasion or to make for yourself!
DIY Box Photo Album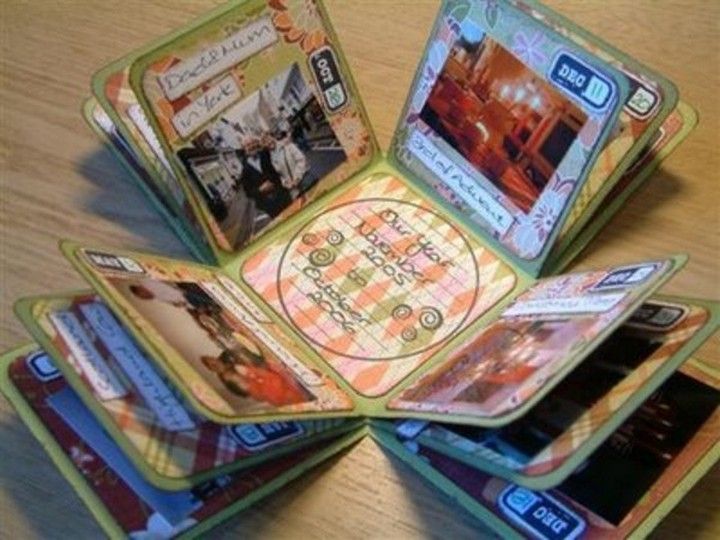 This DIY Box Photo Album is a fun and easy way to preserve those special memories. Let your imagination run wild as you decorate each box with various materials, including paints and glue sticks. Once completed, this fantastic album makes an excellent keepsake for treasures of any age and size. You don't have to be a pro to create your photo book! This DIY album is perfect for sharing photos with friends and loved ones!
How To DIY Photo Album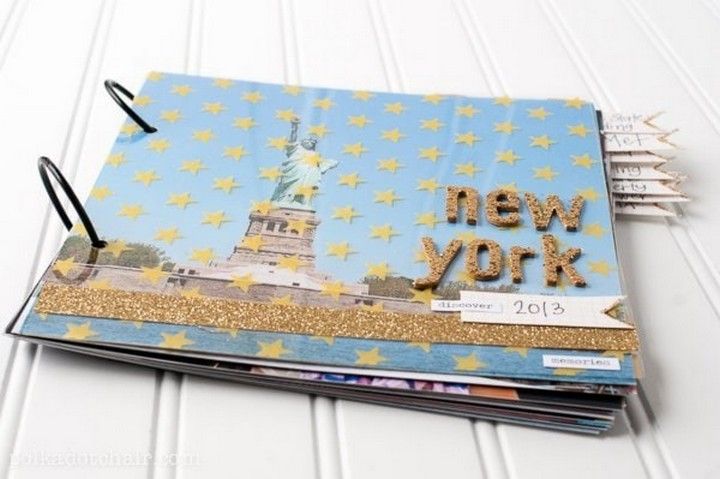 Are you looking for a creative way to display your photos? Try making a photo album out of a book. Not only is it easy to do, but it's also a great way to preserve memories and create a unique gift for friends and family. This DIY photo album is so easy to make! It will take you less than an hour and leave you with a handcrafted memory storage and display masterpiece. In this DIY project, you will learn how to create a decorative photo album that you can use to showcase your loved ones and friends.
Mini Photo Album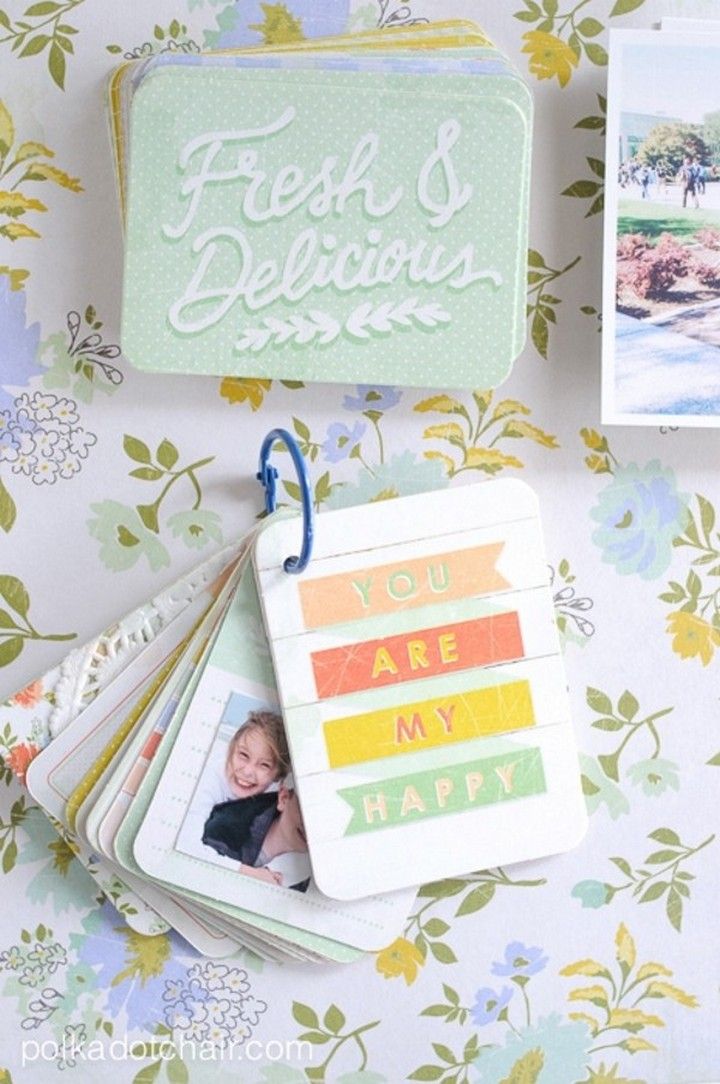 A compact way to keep your photos organized, these mini photo albums hold up to 24 photos and feature a string binding that lets you store multiple books together. The padded exterior protects your pictures from getting damaged, while the transparent pages allow you to view what's inside without opening the book. This mini photo album is perfect for collecting and displaying your favorite photos. Its simple; beautiful design makes it ideal for parents and grandparents to create a lovely gift.
DIY Flip Photo Album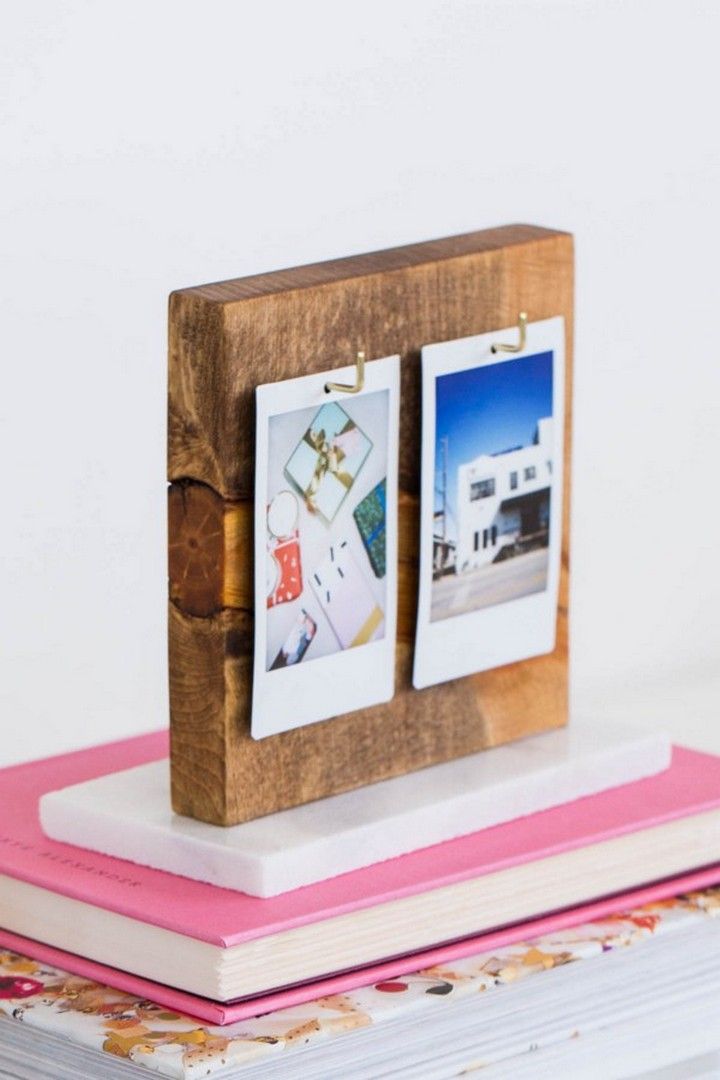 This DIY Flip Photo Album is perfect for the family or couple looking for an alternative to a traditional scrapbook or not confident in their crafty skills. It's also great for someone looking to keep their favorite photos in one place without putting too much effort into making something personal and keeping it organized! All you need is a wood piece, hooks, other supplies, and photos of family or friends! It's a great gift to give as well.
Explosion Box Album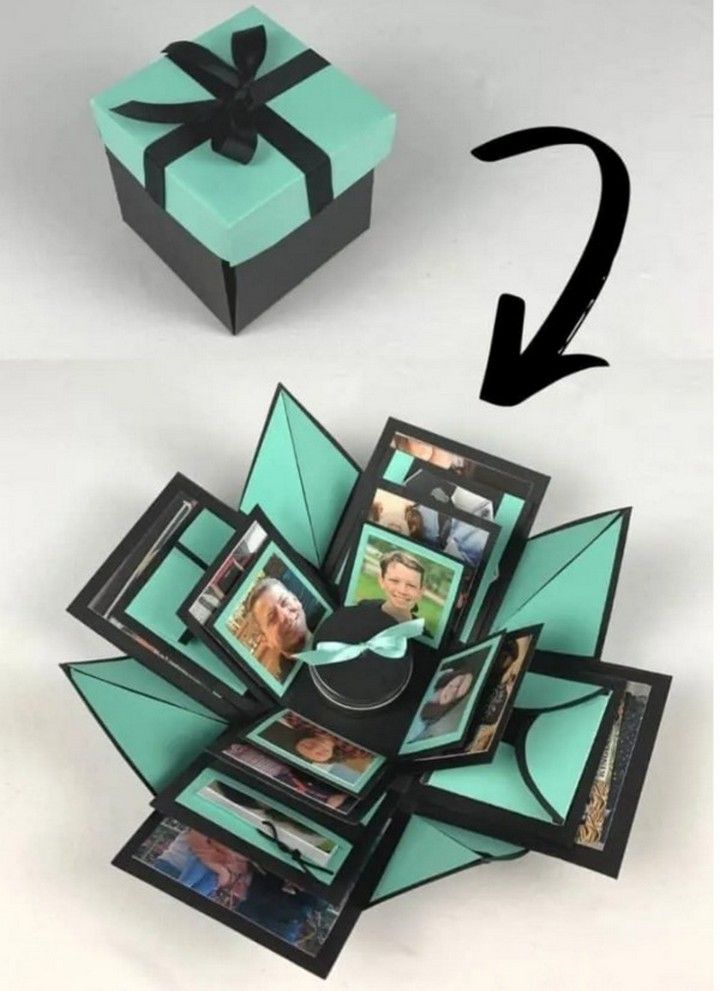 This explosion box album is the ultimate souvenir of your past. It would make an excellent gift for grandparents and parents to create for their babies or grads to treasure forever. There are many ways to make this project your own, and you can also add more before or after the explosion. For example, you can add custom fabric pockets on the inside cover before the explosion happens. You could also add a sheet of cardstock at the spine of your book that has specific information about each picture in your book.
Magnetic Album DIY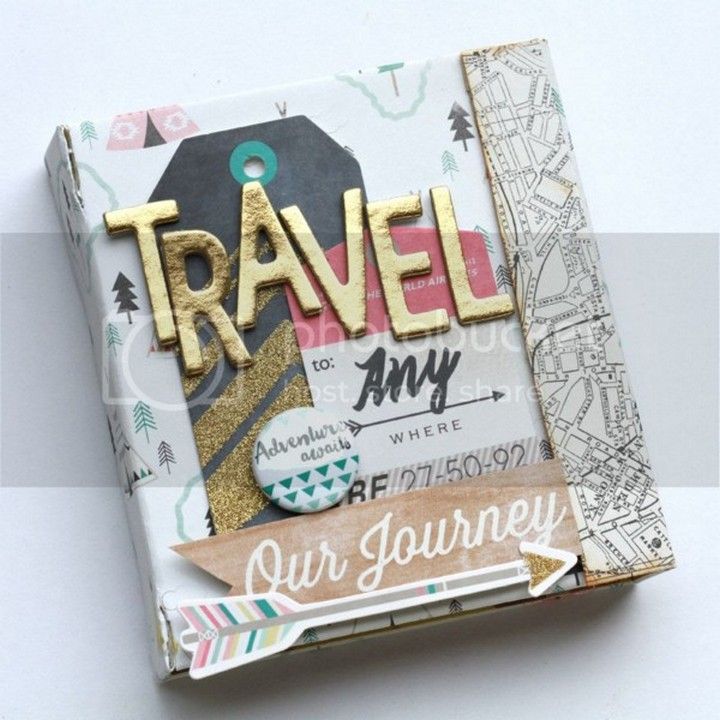 Create a photo album that will keep your memories tightly within the album with this Magnetic Album DIY. Using magnetic tape to create a flap and patterned paper like these to line the album, you'll be able to protect all that precious loot. There's no need to worry about losing anything, as this album holds everything in place! Get ready to create one of these beauties for yourself or share it with someone you love as a gift.
Mother's Day Photo Album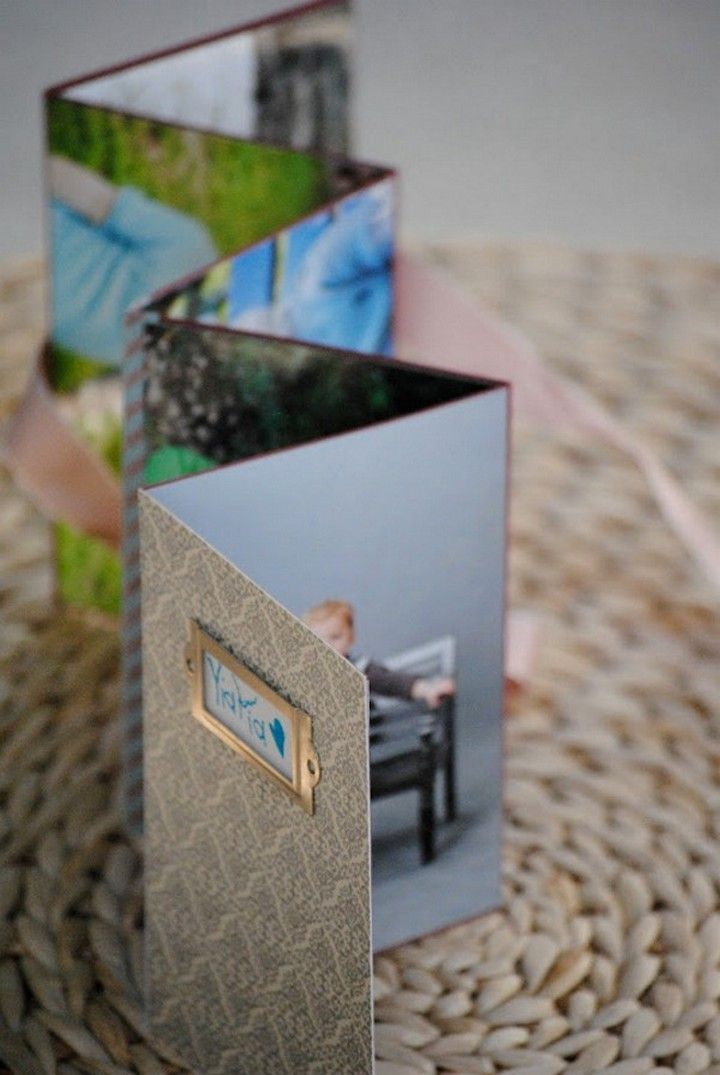 Don't you love when your mom holds onto your most precious memories? Wouldn't it be great to do it stylishly so she could call her own? This Mother's Day photo album is easy to make and will truly put a smile on her face. And it doesn't matter how often you give your mum a framed photo. She's going to love it every time! Pick 10-12 photos you're particularly fond of, close-up or landscape, and begin by securing them onto the front of the album with double-sided tape. If you want to frame them more permanently, you can use photo mounting squares which can be purchased here. Don't forget to include a photograph of yourself too!
Also, see: Hair Clip Holder Ideas For Ladies
Photo Board Book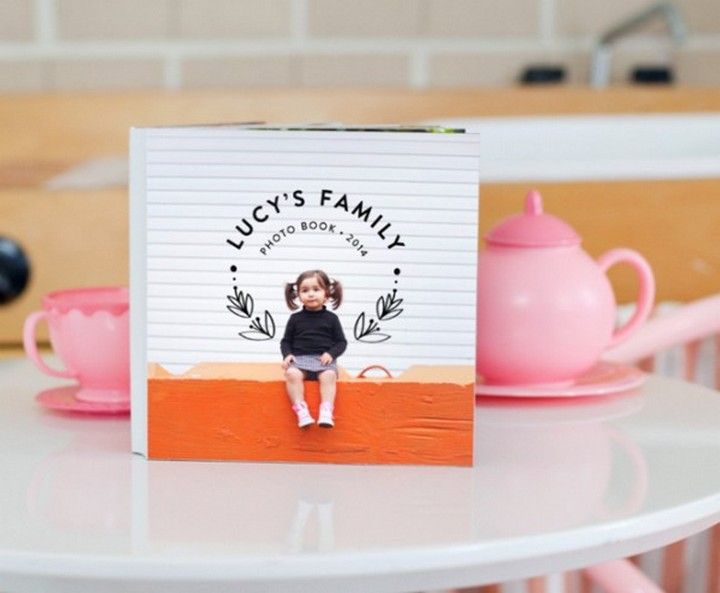 This is a fun and easy DIY project. You can make a photo board book to hold your precious photos for the long haul. The photos will stay in place, and you don't have to worry too much about creases and dog ear corners. The pages of this DIY photo book fold in a while, connected by metal brads and fans out when open. It has large pockets behind each page, so you can slip in pictures or other paper memorabilia you want to keep with your picture books. These sturdier albums are great for displaying beautiful photos and artwork in an ambitious manner.
Mini Origami Photo Album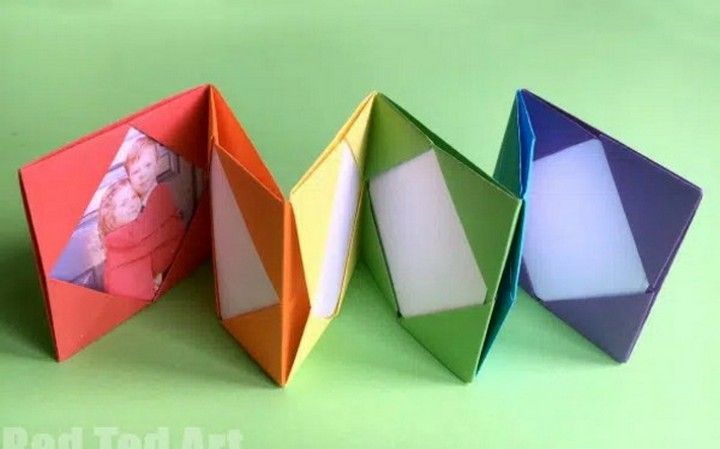 This mini origami photo album is a great way to create a unique keepsake you can share with family and friends. This fun craft requires minimal supplies and time, making it the perfect DIY project. You only need some good photos and a slim stack of origami paper. The paper may be hard to come by, but your local craft store should have some on hand or sell alternative options at a reasonable price. This little album is proper at home on an end table or coffee table, so give it as a gift to someone special who enjoys thoughtful handmade items made with love. Whether they're an avid collector of photographs or just starting their first album, this will surely strike their fancy!
Lunch Bag Photo Album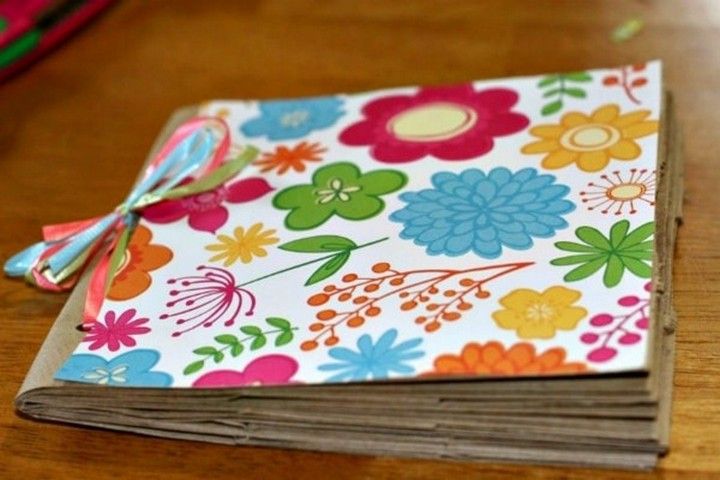 Who knew you could make a lunch bag photo album from paper lunch bags and scrapbook paper? Your kids will love helping you make this album, which would be perfect for bringing to school on the next family day. Each page of the album can feature a different favorite memory. And don't forget to save a particular extra photo of your kids inside the front cover! This fun DIY album would make a wonderful family project and would be the perfect way to keep your child's lunch box paper bag photos.
DIY Valentine Love Book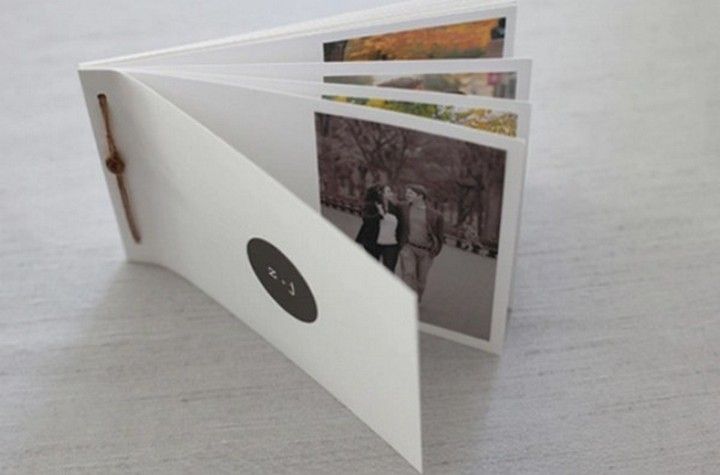 Valentine's Day is coming up, and we all can't wait to celebrate all things love with our loved ones! The important thing is deciding on the perfect gift. You don't want your significant other to fall off their chair when they receive it, but you also don't want a boring gift! We've got the perfect solution - the DIY Valentine's Day Love Book. All you need is a stack of index cards from here and some photos from your most romantic moments.
Folding Envelope Mini Album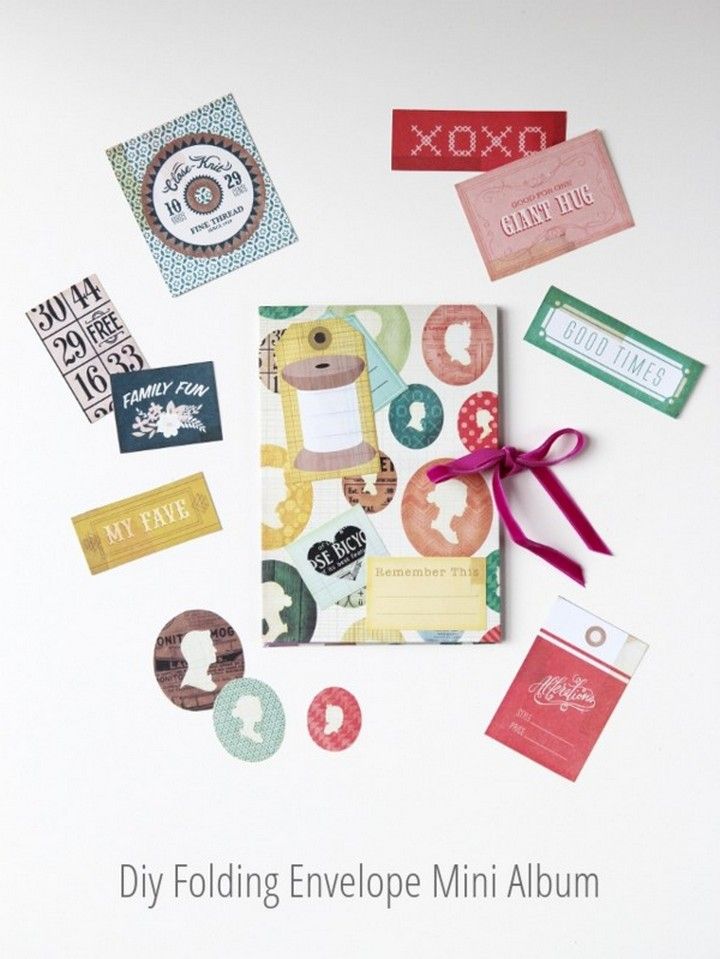 This album you can use to store photos has a beautiful design. The variety of colors makes it match whatever occasion or celebration you have in mind. It's also easy to fill because each pocket has a cut-out for photos or cards, which is much easier than dealing with the glues (and damaging them). It's small enough to carry around with you but large enough not to feel like a burden. So start collecting them now and make your own "unboxing" album filled with photos, tickets, and ephemera.
DIY Fabric Photo Album For Baby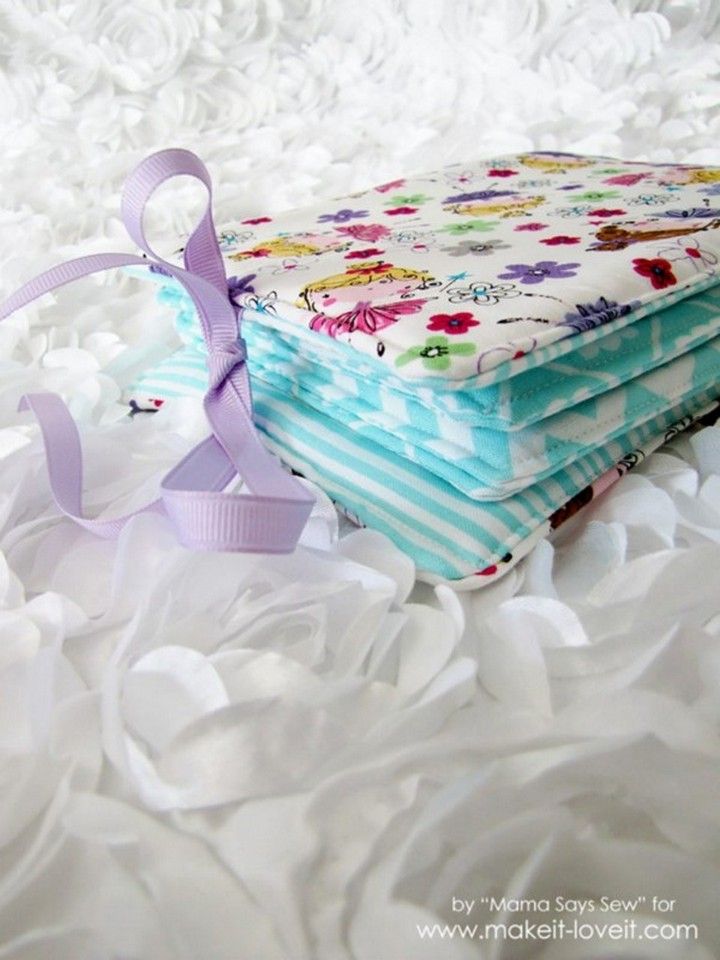 Every photo album starts with a story; this is your chance to document and treasure those milestones in the life of your little one. Fill it with photos from the first day he was born; this will be something for him to treasure for years. The best part about making your fabric photo album is choosing how big it is and what you want on the front cover. You can customize an album like this in many ways – choose the fabric, prints, and size. You could spice it up with a button or bow clasp on the cover!
Tiny Travel Album Box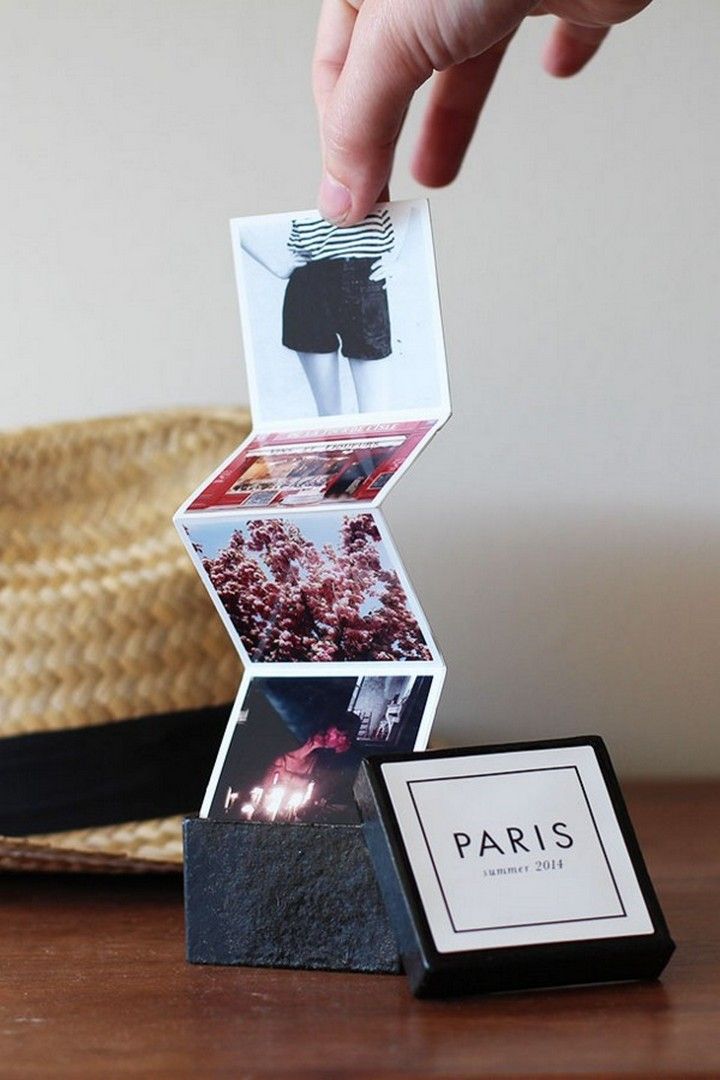 This tiny travel album box is the perfect gift for a frequent traveler. Each can hold up to 30 photos, and you can fill in your labels or even use a book cover or sticker to cover the blank space. If you're interested in constructing one, there are step-by-step instructions on each page of the instructions booklet which comes with it; it's quite simple. Organize your photos, and show them off to everyone when they come over!
You can also see: DIY Jewelry Box Ideas
Mini Album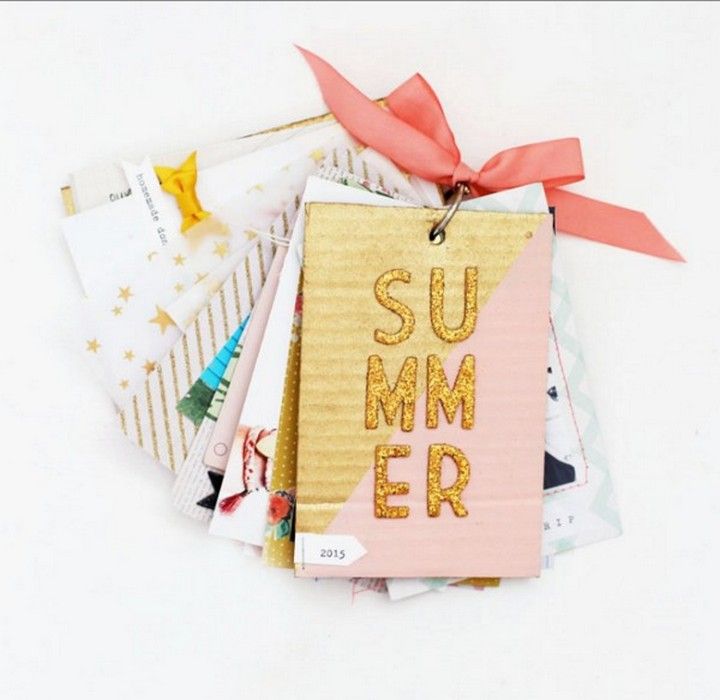 We all love a good family vacation, with family members together and enjoying the sights of new places. So when the summer comes around again, why not make a memory book to remember the beautiful times you had during that year's travel? It is a great way to document all the fun things that happen during the summer or any other time of year. You can use it as a tradition when your kids grow up, so they'll also want to make one every year.
Upcycled Album Book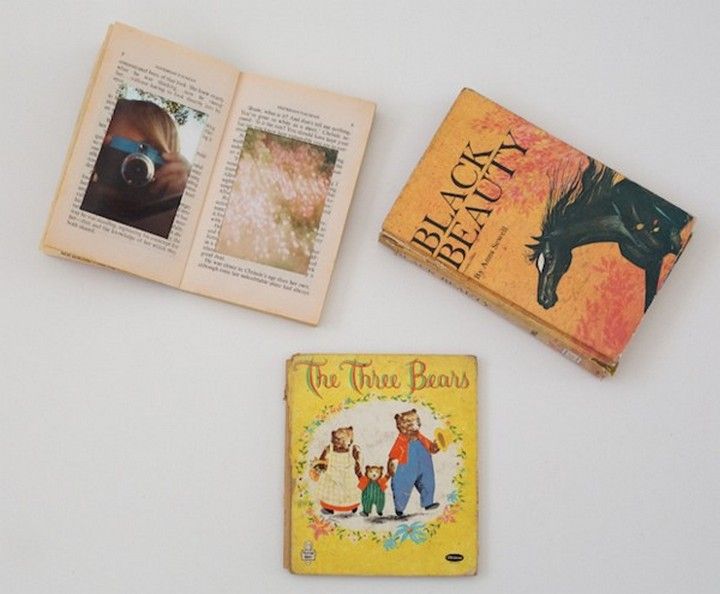 Have you ever considered combining your favorite book and photographs in one thoughtful upcycled album? This guide is the answer! It will transform the story into a stunning, hand-crafted photo book that you can fill with pictures and share with anyone who loves that story as much as you do. It's a meaningful way to preserve memories while showing others how far your creativity has gone. You could start by gathering your favorite library book and some glue and creating your photo album!
Creative Instagram Photo Journal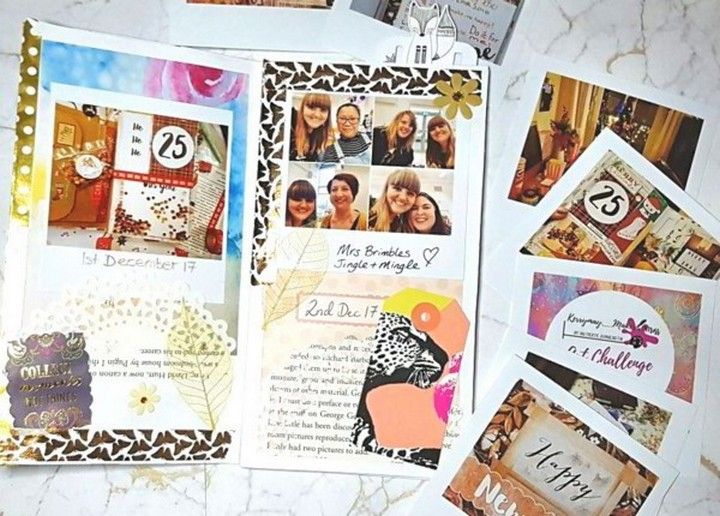 With our Creative Instagram Photo Journal, you can create a beautiful and sentimental album of your favorite Instagram photos. Print out your favorite shots, mount them onto a blank journal page, and add fabulous embellishments. It can also be a great gift if it's retro in style. This project is a great way to highlight your favorite Instagram photos. It's so much more than a book filled with pictures—it's yours and can be changed and updated over time. Take this opportunity to reflect on your favorite memories, and make new ones along the way!