How much do you know about lounge chairs? Finding plans for your next project might be tedious if you are an expert chair builder. But, if you are starting or looking for new ideas, you will love this list of DIY Lounge Chair Plans we put together for you. The lounge chairs were designed for people who like to be outside but want to enjoy a great afternoon nap. These plans are perfect for anyone who wants to kick back and enjoy quality time outside. Whether you want to make an accent chair, ottoman or chaise lounge, this list will show you how to create the perfect lounge chair that fits your needs. Use the essential tools and transform your backyard into an inviting and relaxing place for reading, writing, or lounging. With step-by-step instructions, they are indispensable guides for any woodworker looking to create the ultimate seat!
Easy DIY Lounge Chair Plans

Looking to bring a bit of glamour and relaxation to your home? With these easy-to-follow DIY Lounge Chair Plans, you'll be able to make a stunning lounge chair, ottoman or another piece of furniture that you're sure to love. Adding drawers under the seating surface can add extra storage space if you like. With some woodworking experience and patience, you can build these lounge chairs for your backyard. These lounge chair plans can be easier to build than you might think.
Uses And Advantages:
There are many uses for DIY Lounge Chair Plans; you can make a lounge chair out of anything durable and with the right amount of plush cushioning. They're ideal for the back deck or on a lazy afternoon of flipping through magazines when the weather's not cooperating. Not only will this make it easy to flip through your favorite issue of Better Homes & Gardens, but it will leave plenty of room for you to stretch out and have this perfect read-a-thon on a soft surface without worrying about pain from an uncomfortable seat. They're an excellent decoration method if you have any patio area or balcony where it's common to have guests.
Modern Single Outdoor Chaise Lounge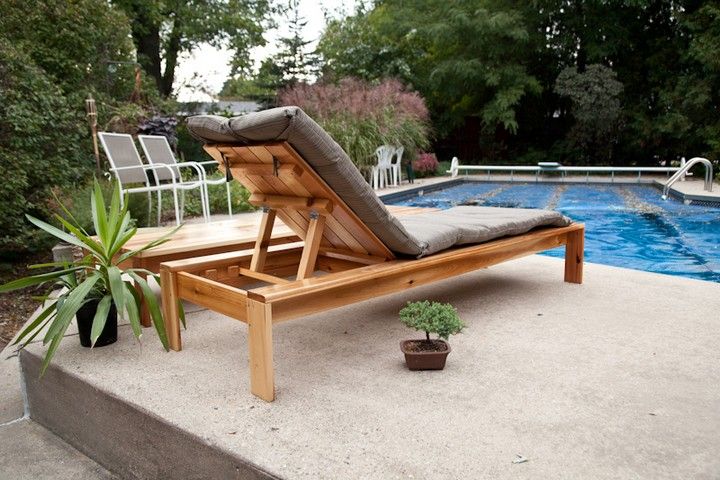 Make the most of your patio or poolside with this modern single chaise lounge. This chaise is designed to fit seamlessly into your outdoor scheme and can be used inside or out. The deep seat and ample width make it comfortable for reading, socializing and relaxing. Add to the style factor with cushions by bringing texture and color to the look. Gather suitable materials, find a helpful guide online, and create the perfect seating arrangement in your backyard or pool.
Outdoor Lounge Chair Build Plan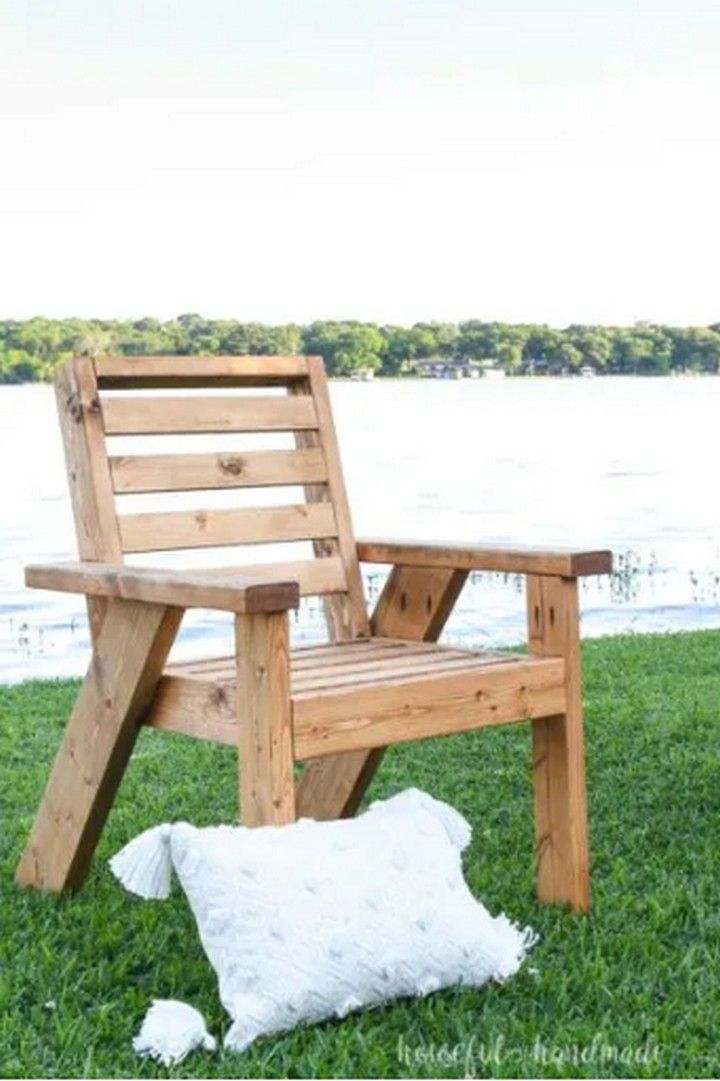 This lounge chair is an excellent addition to any outdoor space. This building plan can make chairs of various sizes and is surprisingly simple. Love to chill out and watch the sunset? Use this easy DIY plan to build your outdoor lounge chair. It's a relaxing way to escape it all, even if that "all" includes city streets and bustling sidewalks. If you have some essential tools and lumber, this project is one that you can finish in a weekend. The best part is that it uses inexpensive materials and can be adapted for any style or look you want!
DIY Hanging Lounge Chair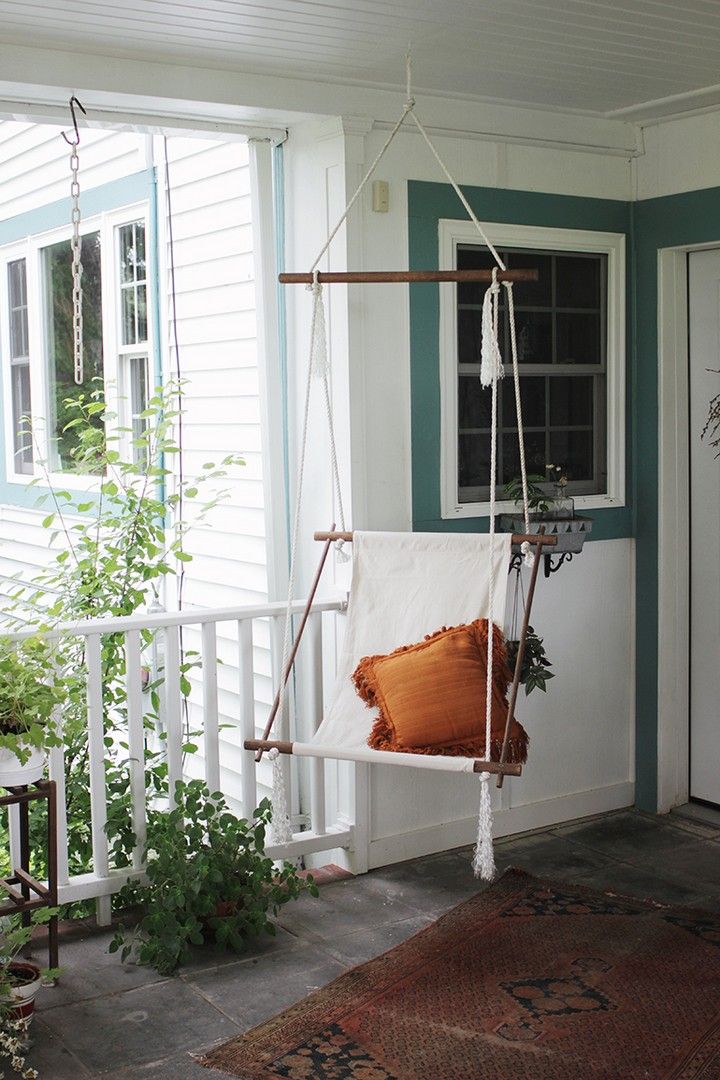 Summer is the perfect time to enjoy the outdoors, and this hanging lounge chair gives you a whole new way to do it. Create a hanging lounge chair that mimics a hammock. With this easy tutorial, you'll be swinging in comfort within just a few hours. It's great for practicing yoga in your backyard or relaxing after a long day of work. The unique design also makes it easy to keep your space organized. This simple DIY project is a great way to add fun and whimsy to any room in your home.
Semi-chaise Lounge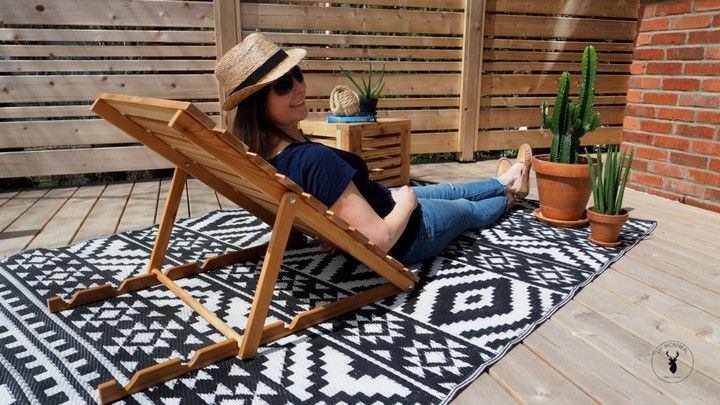 This DIY semi-chaise lounge can be used indoors or outdoors, making it the perfect addition to any room in the house. You can create the perfect place to relax with your favorite book or magazine, sleep or unwind after a long day with a few simple steps. It is the perfect addition to your patio furniture and makes a great conversation starter with friends. Boost your garden's comfiness factor with this DIY lounge that's easy to build and can be made in any size.
Kids Outdoor Double Lounge Chair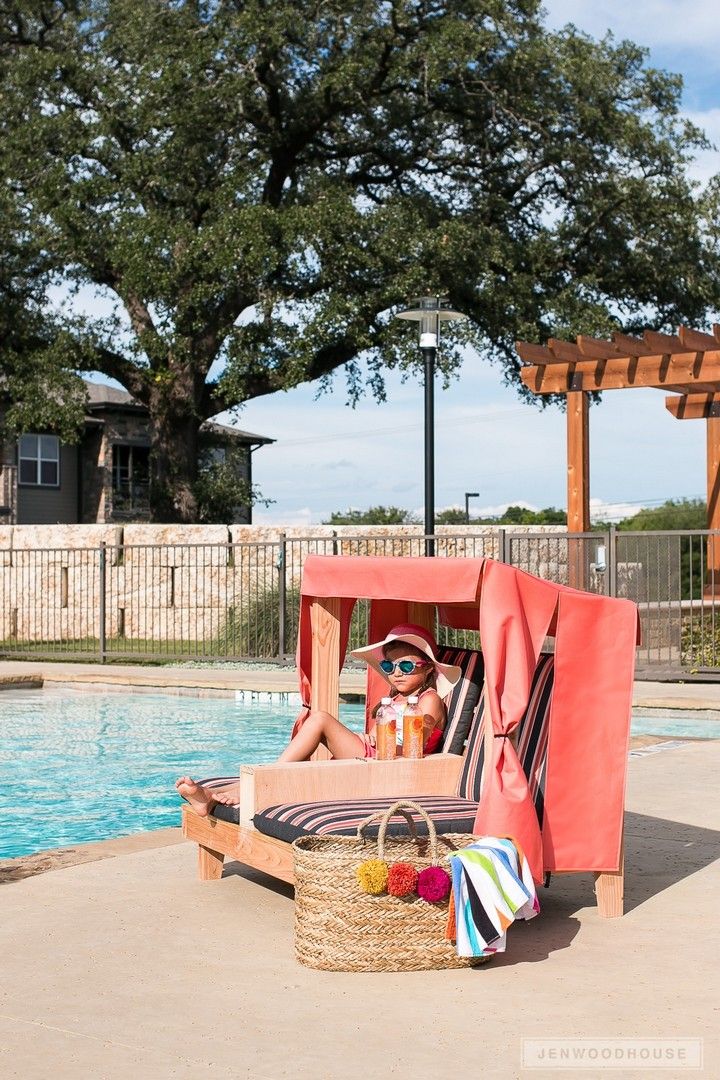 This kids' outdoor lounge chair is the perfect place for your child to relax with a good book or nap on a warm spring day. The sturdy construction of this lounger will hold up to kids playing in the backyard and will look great while doing it! The double design makes it perfect for two kids to sit together and share an afternoon. This sweet little chair will fit with any patio decor, making it easy to add fun colors and patterns to your exterior space. It only takes a few tools to make an easy-to-build piece that will last many years of fun outside. Once it's finished, store it in your garage until the weather turns warm again.
DIY Plywood Lounge Chair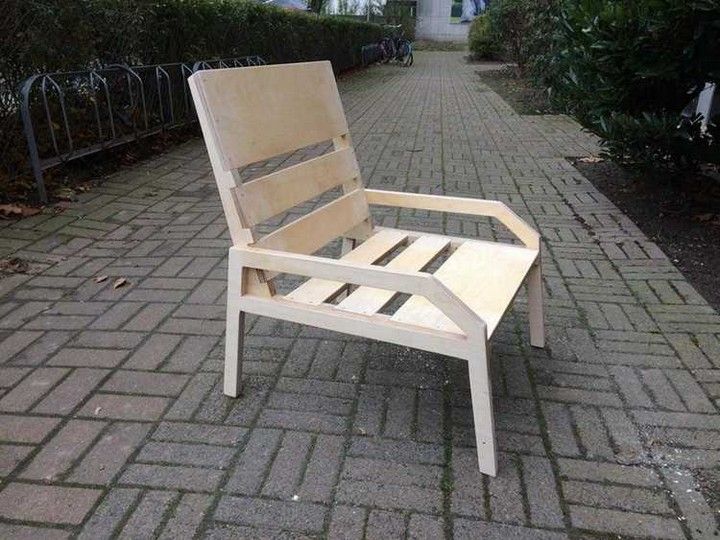 Do you have a limited budget but still want to update your home decor? Of course, you do! Here's a DIY lounge chair for your living room. This project may look complex, but it is pretty straightforward. You only need the right tools, materials and simple instructions to build this plywood lounge chair. This DIY lounge chair is perfect for children's rooms or playrooms because they are sturdy chairs that kids can use. They also work great in offices with limited space as they are lightweight and compact when folded flat.
DIY Cardboard Lounge Chair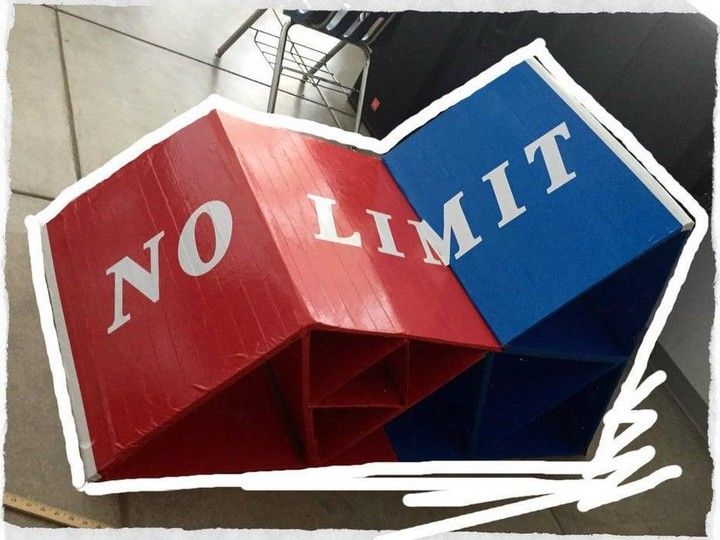 Making a cardboard lounge chair is easy to do and inexpensive. It's an excellent project for anyone with a bit of time and cardboard, duct tape, scissors, a meter stick, vinyl and a vinyl cutter. Cut the pieces out by hand, then stick them together using duct tape. Get creative with your materials - try different colors, patterns and textures for the outer shell and add cushions for even more comfort. It's made from cardboard, so if you want to test out how excellent a lounge chair can be or as an option to wood, this is the perfect DIY!
Bamboo Chaise Lounge Chair DIY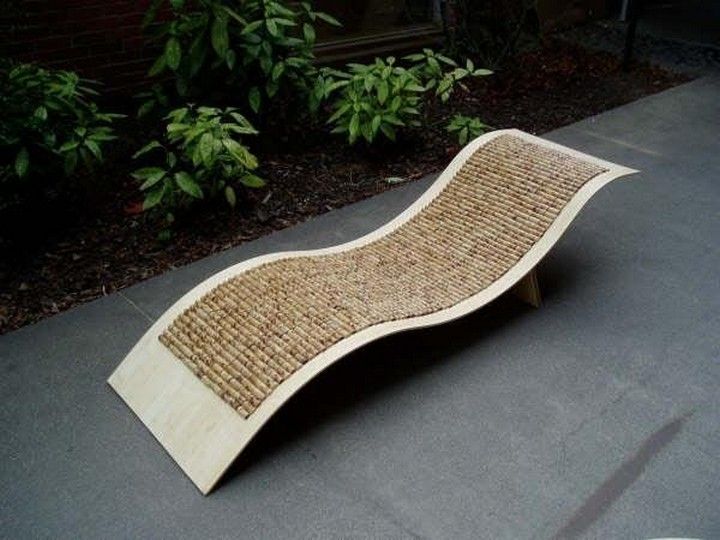 If you love relaxing in the sun and want a little more padding than just your regular garden lounger, this bamboo lounge chair could be perfect! All you need is a piece of bamboo plywood, which can be cut and glued together to create a complex shape. Made from only one piece of bamboo plywood, this makes it easy to have some extra seating in your garden. This bamboo lounge chair is very comfortable and easy to maintain, not to mention that it is ecologically friendly.
DIY Zip Tie Lounge Chair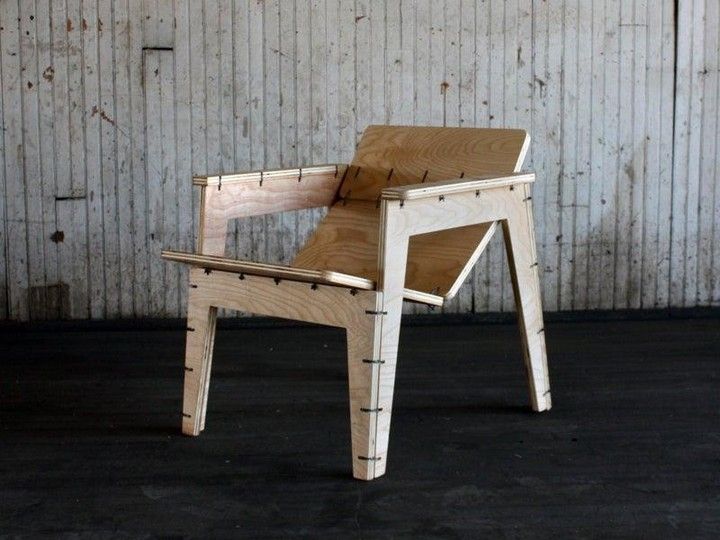 This playful lounge chair adds a bit of extra flair to your home or office. The design is relatively straightforward, so if you have a table saw, cross-cut saw, band saw and drill press, no complicated measurements are required for this project. Once the prototype is built (no more than 5 hours), cut the pieces with wood and assemble them with zip ties. With just a few simple tools and a little knowledge, you can build a durable, high-quality piece of furniture that will last for years.
How To Build An Outdoor Lounge Chair
The outdoor lounge chair is a versatile, simple seating solution for your porch, patio, deck or poolside area. This easy-to-build furniture project uses 2x4 lumber for the legs and supports. Attach one end of each leg to the bottom cross-piece with wood glue and 1.5-inch screws. The lower backrest rail should be attached simultaneously to allow both pieces to extend straight from the main frame. For this tutorial, we'll make a single-piece chair, but nothing will stop you from making one out of two or more pieces.
DIY Modern Outdoor Lounge Chair
Take your modern outdoor lounging experience up a notch with this DIY Lounge Chair. This chair is a more complicated version of the Adirondack chair. It uses the same basic construction methods but adds some extra touches for modern appeal. This DIY modern outdoor lounge chair is perfect for your patio, porch or garden. With simple materials and easy instructions, you can build this project in no time. It's a comfortable place to relax and enjoy the outdoors with family and friends!
How To Turn TV Boxes Into Lounge Chairs
Learn how to make a lounge chair from TV boxes! This DIY cardboard lounge chair is perfect if you love watching TV and chilling at home. This will give you a very nice lounge chair with a stylish design; it's comfortable and easy to sit on even for a long time. It's also great for kids who want to be with mom and dad while watching their favorite show. Fun and easy enough for any skill level, it makes watching TV even more enjoyable.
DIY Outdoor Lounge Chair
Looking to spruce up your backyard space? This outdoor lounge chair is a great DIY project to tackle yourself and will be enjoyed by family and friends for years to come. You can make your outdoor lounge chair with a few pieces of heavy wood and some cleats. No matter how small your yard is, you'll still be able to relax on this great piece of furniture. The chair is easy to make, and following these step-by-step instructions will help you build it in no time. It's also super affordable!
How To Build An Outdoor Lounge Chair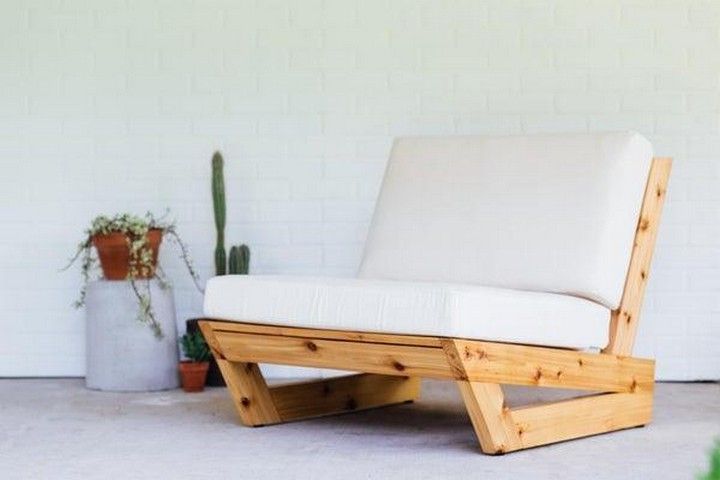 This is a simple but classic design to build an outdoor lounge chair. The splice between the top and bottom pieces of wood on the seat creates a robust structural joint while simultaneously hiding any mismatched pieces. A quick application of wood glue will reinforce the bond and prevent squeaking movement when rocking in the chair. This design requires minimal tools and can be completed in a day. Made from solid and reclaimed wood, this piece has a modern feel but retains the natural materials' warmth. This design requires minimal tools and can be completed in a day.
DIY Outdoor Chaise Lounge Chair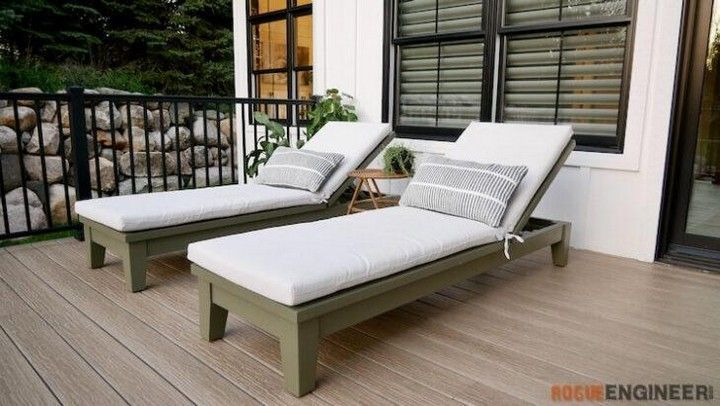 If you want to spend more time in your backyard, then there is no better way to do that than by adding a chair or two. This DIY outdoor chaise lounge chair will make you look like a DIY expert. Not only that, the materials needed are inexpensive, and the steps are simple. Cut the pieces using a table saw and a band saw. The wood parts will also need to be sanded. Attach screws through pocket hole jig holes in the legs for added stability. When you are done with the screw attachment, sand again, then apply primer and finish paint or stain as desired.
You can also see: DIY Chair Cover Ideas
DIY Modern Single Outdoor Chaise Lounge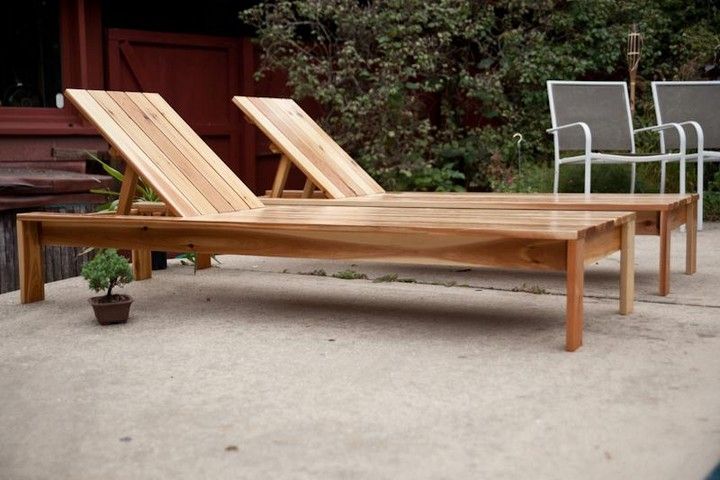 Create a contemporary-looking furniture piece that will upgrade your yard or patio area with this DIY project. This modern single outdoor chaise lounge is simple to build, using a few hand tools and standard materials. This project is easy enough for the beginner woodworker and fun to take out by the pool or on your deck. When you're done, entertain guests with a cold glass of lemonade and enjoy the afternoon sun. It's just the thing for lounging on those lazy summer afternoons.
How To Make A Lounge Chair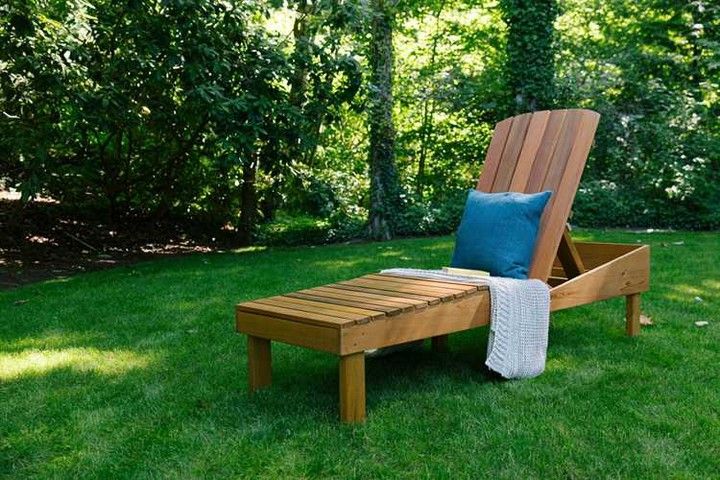 The lounge chair is an easy-to-make project perfect for the beginner woodworker. This lounge chair can be built from cedar with simple tools on the weekend. This seat and back are assembled from essential components, including a side panel, back slat, braces and a seat. It is best to use untreated cedar for this project because it is solid and rot-resistant. Stain the entire chair before assembly for a uniform appearance and add cushioning if desired.
DIY Mid-Century Lounge Chair
This mid-century lounge chair DIY project is a great way to use creativity and test carpentry skills. You can make this awesome mid-century lounge chair with wood, cardboard, and glue. Just gather the required materials, draw the parts' template from cardboard, cut them out, and assemble them. And voila! You now have a pretty awesome piece of furniture that will become a conversation starter wherever it goes. This piece is perfect for both relaxing and entertaining.
DIY Lounge Chair
This DIY lounge chair will serve you for many years. You can put it in your garden and relax or in your house to give it a touch of style. The structure is unique and somewhat complicated, but the process is straightforward once a template is ready. The human-shaped structure makes this chair feel like a cozy cocoon you can roll in and out of. It's perfect for lounging in front of your TV and ensuring no one else has the remote!
DIY Chaise Storage Lounge
This DIY chaise storage lounge is perfect for the home or office. It's a fantastic piece to lounge in and can be very useful when organizing your room. The process is easy and does not require any special tools. All you need is to cut the piece for the boxes, then assemble them with screws, cover them with foam, and fabricate your favorite color out of fabric. Made with two rectangular boxes and covered in foam and fabric, your extra-long seat will be a comfortable place for relaxing or reading - whatever you like!
DIY Lounge Chair
A lounge chair is an excellent addition to your backyard or patio! This one is easy to make as it has a simple design and smooth surface. The wooden seat, backrest, and metal stand are not hard to find and easy to assemble. Although it looks like a professional furniture piece, you can give it a personal touch by staining the wood in any color of your choice and adding any textile fabric. All you need are a few pieces of wood and metal pipes that you can get from any hardware store in your city.
DIY Outdoor Lounge Chair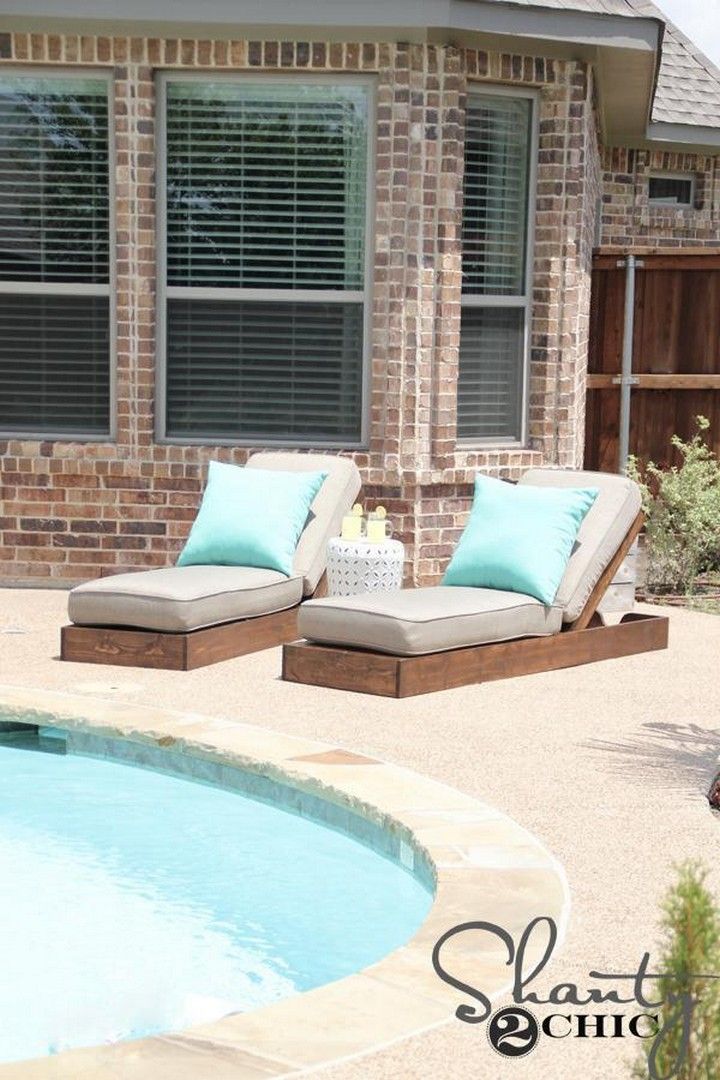 If you love to relax outside on an inviting lounger but don't want to spend a fortune buying one, read this article and learn how to make your outdoor lounge chair. You'll find a free plan for the lounge chair in this article and tips for building it yourself. With this plan, you can build your very own lounge chair! Give your deck or patio some new furniture by building this easy-to-make lounge chair. Enjoy your backyard by sitting in your new DIY Outdoor Lounge Chair made by yourself.
You can also see: DIY Outdoor Coffee Table Ideas
DIY Lounge Chair With Storage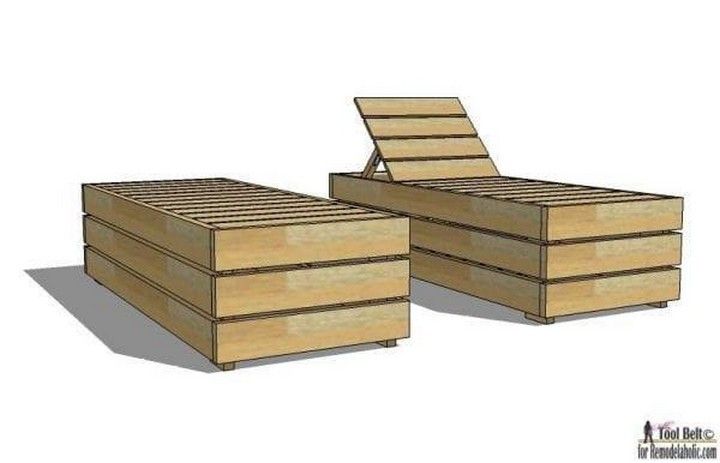 Transform your seating space with this lounge chair that features ample storage. A wide seat and full-size arms accommodate your every need. Please place it in the living room, den, or bedroom for a modern touch of style. Assembly is easy, with no tools required, with all tools included. Not only does the chair come with a storage box, but the back is designed to support their head as they read or watch their favorite show. The box is perfect for holding a book or tablet.
DIY Outdoor Chaise Lounge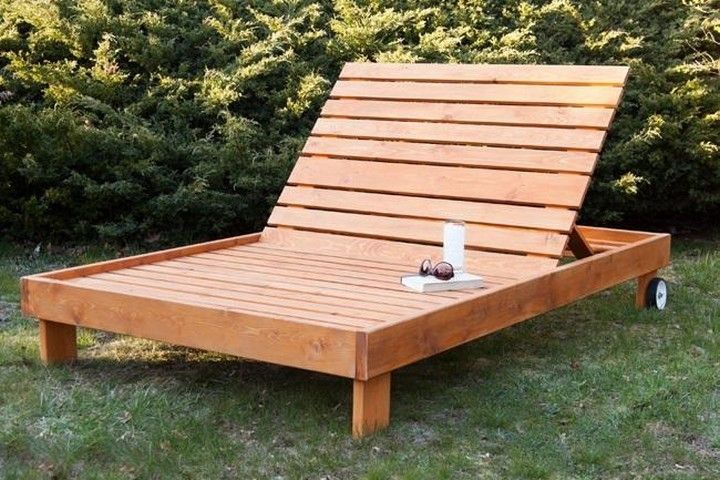 This DIY outdoor chaise lounge is perfect for relaxing in the sun. We've created an easy step-by-step guide to show you how to make it yourself. Make sure you first use a pencil and measure things out. Next, cut all the pieces out of plywood, as we have done in our example. Then assemble the frame and insert legs into it; attach braces to the frame as seats and secure them with screws. Measure where the seat will stop and the backrest will be, then attach a support to the back of the frame to raise the remaining braces as a backrest.
DIY Cardboard Lounge Chair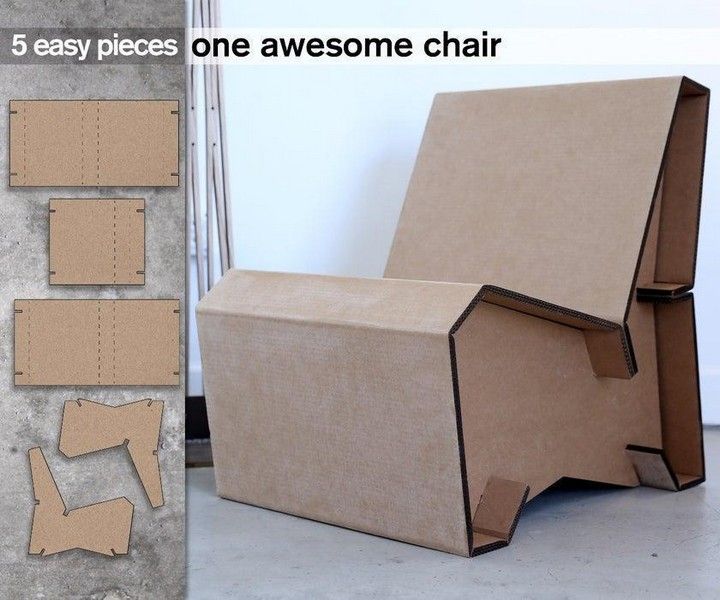 Looking for a weekend project? This lounge chair is perfect. It only takes one day to make and can last you years. No screws are needed, so it's easy to disassemble and re-assemble when needed. If you're looking for a comfortable seat that is simple yet elegant, this is the perfect lounge chair for you. The lounge chair comprises five simple pieces - two sides, two ends, and a back. Once you've assembled the pieces, glue them around a frame and enjoy your new homemade design!
How To Build A Lounge Chair
This lounge chair is the perfect addition to any porch or patio. Follow along with this video and learn how to build it yourself. First, cut the wood into pieces for each leg and armrest. Then, assemble them using screws and glue to keep them sturdy. Next, prepare your frame for the backrest and seat by cutting out foam sheets and fabrics with a table saw. Lastly, cover the seat and backrest using screws so that it is tight enough to hold your weight without sagging.
DIY Lounge Chair For $5
If you are looking for an easy and inexpensive project, this DIY lounge chair is perfect. Using only $5 and in less than 24 hours, you can set up your outdoor lounge chair that can be taken anywhere. All you need are basic materials, including sandpaper, wood glue, plywood, tape measure, wood screws, jigsaw, table saw and wood stain. Start by cutting the pieces needed for your chair, then prep them before assembling them with screws. Use a table or circular saw if you have one at home to cut down the boards. Use wood glue to secure everything together so it is stable enough to hold your weight when sitting on it.
You can also see: DIY Beach Chair Ideas
Chaise Lounge DIY
Craft a lounge chair with a simple design and then upholster it for a soft, cozy place to curl up. This project is suitable for beginning woodworkers comfortable working with power tools such as the miter saw, table saw and jigsaw. Use these DIY instructions as a guide to creating your chaise lounge chair. You'll also learn how to choose the right tools for building furniture and use them safely while creating your outdoor furniture. Not only will you save money by building your chaise lounge, but it's also straightforward!
DIY Outdoor Lounge
Expand your seating options and make an outdoor lounge with this easy-to-follow tutorial. If you have a limited budget but want to add the convenience of a couch to your patio or deck, this is the project for you. The materials list is short and inexpensive, and the finished lounge will hold up against just about anything Mother Nature can throw at it. Assembly instructions are included with all necessary hardware for quick and easy installation; this chair can be built in as little as one day.
DIY Lounge Chairs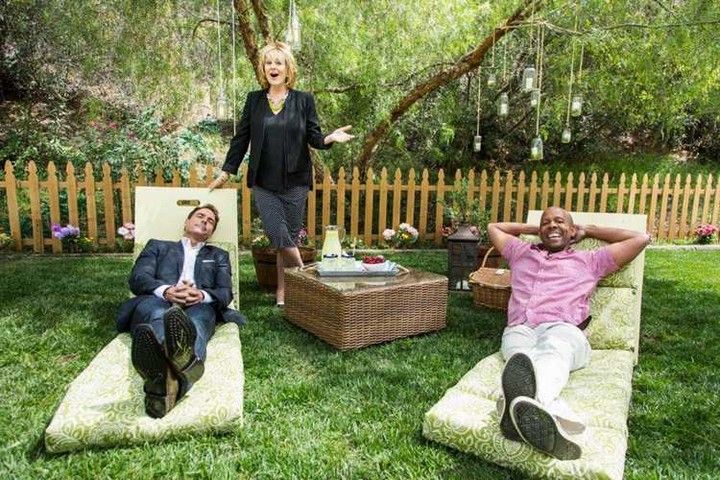 Make your outdoor lounge chairs comfier by adding a backrest. It's easy to build, and the materials are inexpensive. Two sheets of plywood, piano hinges and a few screws will get you started. Whether you're hosting a party or just spending time on the couch, this DIY lounge chair will be a lovely addition to your home. Measure and cut sheets of plywood and attach them with piano hinges. Add cushions to create the most comfortable couch that makes all your guests want one!