Coffee is a vital component of any good morning. It doesn't matter if you're an early riser or have to drag yourself out of bed—you need it. And your guests do too! But there's a catch: you can't leave your coffee on the table in the living room. You don't want to drink cold coffee. And you might even find it a little tacky to leave your dirty cup out in the open while you're away from home. What's a coffee connoisseur supposed to do? We've just the solution for you if you've got outdoor space! With these DIY outdoor coffee table ideas below, you'll be able to entertain outside and enjoy your coffee with style.
DIY Outdoor Coffee Table Plans

While coffee tables are designed to hold your coffee, they're also a great place to hold magazines, drinks, and snacks while enjoying your morning. And since the weather's finally nice enough to spend time outside, it's the perfect time to upgrade your outdoor furniture with creative DIY coffee tables. We compiled a list of creative outdoor coffee table ideas you can make on your own, from repurposed wooden crates to painted glass tops. A few of these tables could even double as decorations for parties and weddings. So grab some wood and paint, and let's get started!
Benefits Of Making DIY Outdoor Coffee Tables
The DIY outdoor coffee table ideas open up new possibilities for your patio. You can create your design and make it as unique as you are. Here are some benefits of DIY outdoor coffee table ideas:
It's cheaper than buying one
You get to be creative with your design
You get the satisfaction of creating something yourself
DIY Truss Beam Coffee Table Free Plans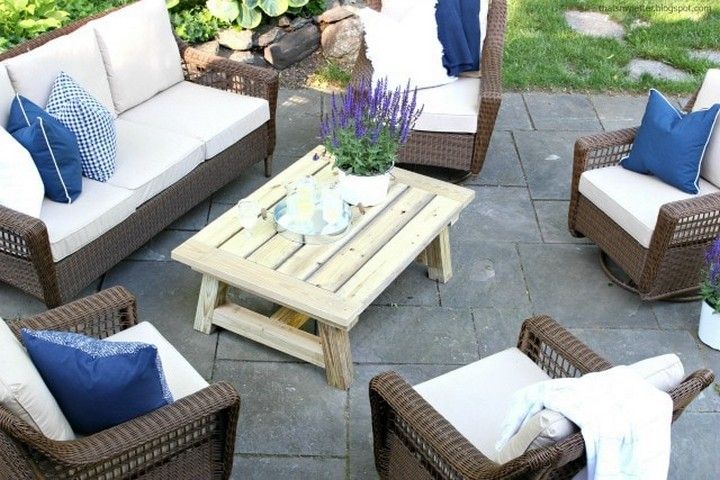 Enjoy some well-earned relaxation with this sturdy coffee table. It's made with a combination of 4×4 posts and decorative cross-supports, giving it a solid feel that'll help you forget the world while you kick up your feet and relax. The beauty of the design is that the joints are simple and easy to make, which means you can build your own with basic tools and joinery skills. You can build this table in under a morning, and you'll have it looking great in your home by evening.
DIY Outdoor Coffee Table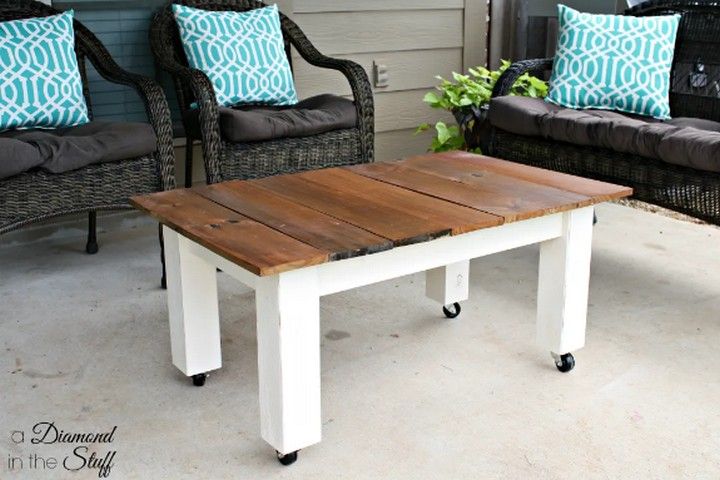 If you want to free up some of your indoor furniture but don't have the space for extra tables or chairs, this Outdoor Coffee Table is a great solution. It has a large top surface and wheels, so it can be rolled wherever needed. You can build this project using some 4×4 and 2×4 boards in no time. Once it's built, grab four casters and install them near the corners for mobility. Then sit back and enjoy your gorgeous new piece of furniture!
Small Outdoor Coffee Table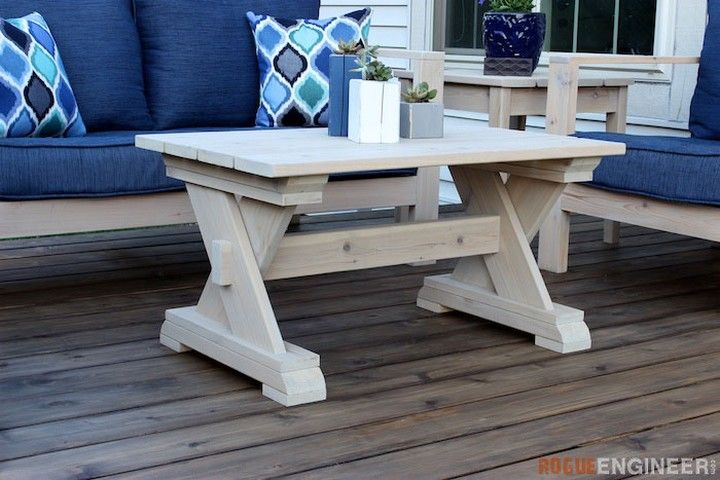 Make a sturdy, stylish coffee table in the great outdoors with this DIY small outdoor coffee table project. With an easy-to-follow guide, you can build this versatile piece of furniture alone in just one weekend. This coffee table is the perfect solution for your small outdoor space. It's constructed from cedar lumber, which provides a natural look and resists fading, rot, mold, and livestock chewing. Follow this step-by-step tutorial to build your own!
You can also see: Creative DIY Tile Table Ideas
How To Make A DIY Outdoor Coffee Table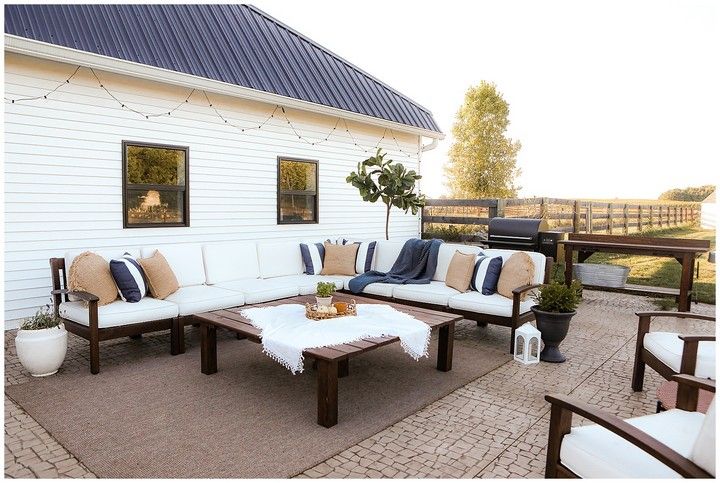 A DIY Outdoor Coffee Table is a simple and easy-to-build patio furniture project. With the right tools and materials, you can easily create a custom outdoor coffee table that is perfect for any outdoor space, including your front porch or backyard patio. You can find affordable materials at any home improvement store to build your own. The materials used in this project were simple 2x4s, 1x2s, and basic hardware store lumber.
DIY Outdoor Coffee Table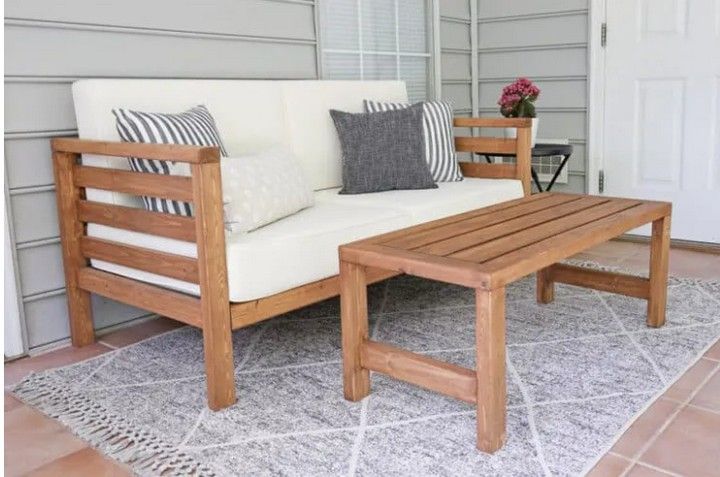 Are you looking for an outdoor coffee table that offers ample seating space and doesn't break the bank? Building an outdoor coffee table is one of the easiest DIY projects. Here's how to build your own for less than $20! This DIY outdoor coffee table, made from a couple of 4×4 posts and some 1x6 wood slats, is just what you need. It's inexpensive, easy to build, and matches any decor. What else could you ask for in a great-looking outdoor coffee table?
Your Outdoor Coffee Table Is About To Get A Whole Lot Cooler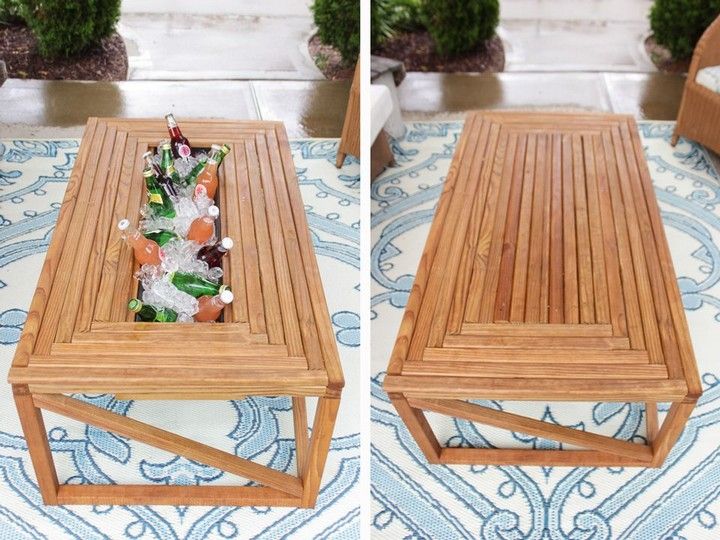 If you love being outside but need a place to drink your morning coffee or relax with a good book or your favorite drink, this DIY Outdoor Coffee Table may be just what you're looking for. The rustic table is easy to assemble and looks great on your deck, porch or patio. Once completed, it's large enough to hold cups and camping supplies on the tabletop, with plenty of room for a chair below. This table is functional and beautiful, with an insert for extra tabletop space and space for ice or even flowers. Your Family and Friends Will Love Your New Outdoor Coffee Table
Easy $15 DIY Outdoor Coffee Table
Are you looking for a fun and easy DIY project requiring minimal building tools and supplies? This Outdoor Coffee Table plan is easy to follow, has been designed with beginners in mind, and only requires basic woodworking skills. It's all about creating a plan that works for you - so let's get started! This outdoor coffee table's dimensions are 35''L x 22''W x 18''H. The best part? It only costs $15 in materials and less than 3 hours of your time.
DIY Outdoor Coffee Table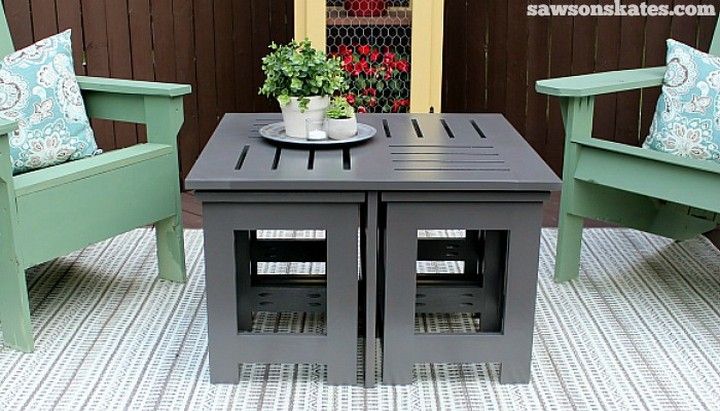 What a great way to save space at an outdoor party! This DIY project will turn your ordinary outdoor coffee table into a multitasking centerpiece. This DIY outdoor coffee table looks like an ordinary table, but you can tuck away four side tables just by pulling out the small storage units under the surface. When the party's over, slide the small tables back into place, and everything looks tidy again! This table is perfect for entertaining or relaxing on the patio with a cup of lemonade and a good book.
DIY Concrete Outdoor Coffee Table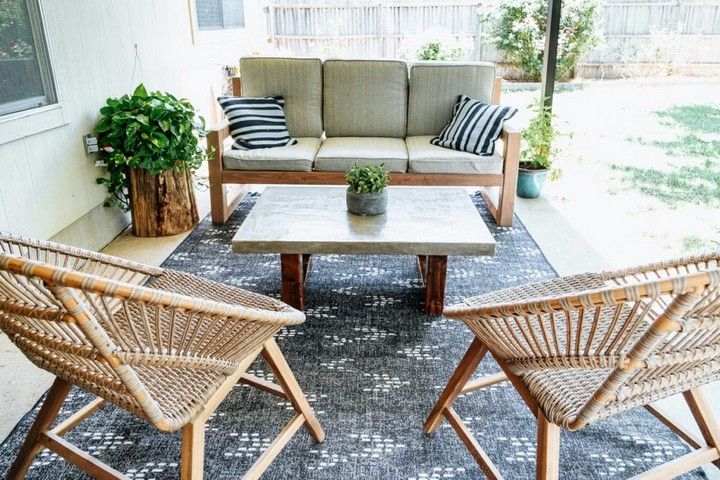 Make your own stunning concrete coffee table with this easy DIY tutorial. You'll need a few pieces of wood and your favorite stencil or pattern. Then you're ready to go! Here's a fun project you can make in one day using standard masonry supplies and easy-to-follow instructions. It will impress your friends and family when they come over for coffee or wine. This helpful tutorial removes the guesswork of making a concrete outdoor coffee table. Have it ready for summer entertaining!
The Perfect Outdoor Coffee Table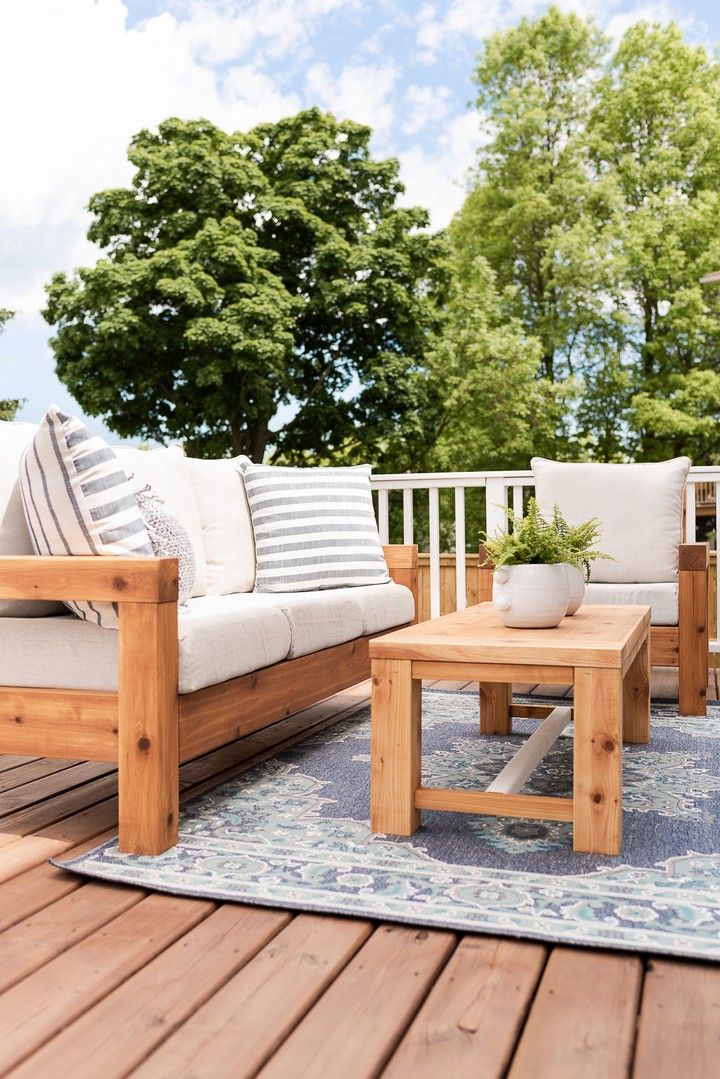 The Perfect Outdoor Coffee Table gives you everything you need to get the most out of your backyard space, including a unique tributary-inspired design and high-quality tabletop. Give your living room or den a bright and breezy update with this rustic table that's perfectly at home in the great outdoors. The solid wood base and sturdy construction ensure stability and durability, and the open design makes it easy to put things like reading material, drinks, and snacks within easy reach.
DIY Outdoor Coffee Table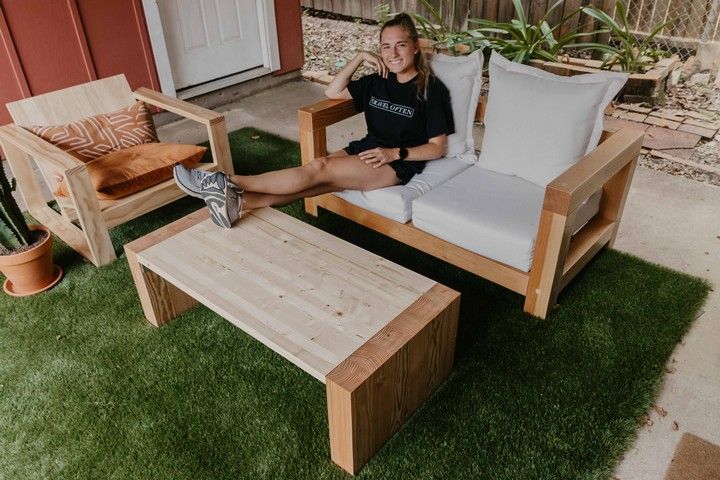 If you're ready to create a new outdoor table or side table but have limited space or funds, the DIY Outdoor Coffee Table is a great solution. This DIY outdoor coffee table project is super easy and uses materials found at most home improvement stores. All you need are (2) 8ft 4x4's and a few screws. It even has an option for updating your existing 4x4 post so that you can create this in just a few hours!
You can also see: DIY Outdoor Daybed Ideas
DIY Outdoor Chevron Coffee Table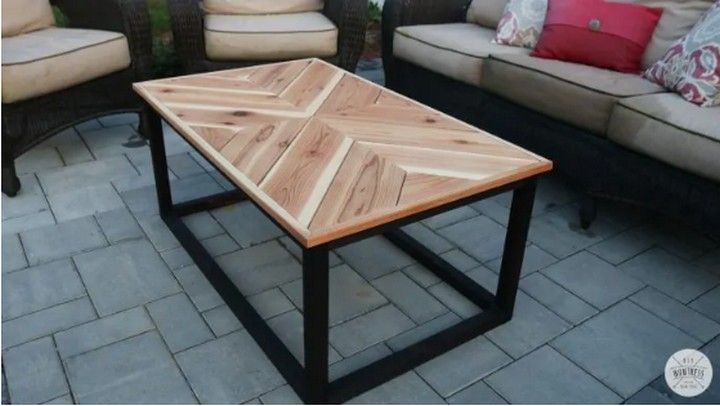 This outdoor coffee table is perfect for bringing a stylish touch to your backyard. It's made of cedar boards, durable against moisture yet sturdy enough to hold your heaviest drink glasses. The top is waterproofed using a stain-resistant finish to keep it looking great season after season. Anyone can build this project. The DIY Outdoor Chevron Coffee Table is an easy-to-build design that gives you a rustic feel without extra work.
DIY Patio Coffee Table Made With Pavers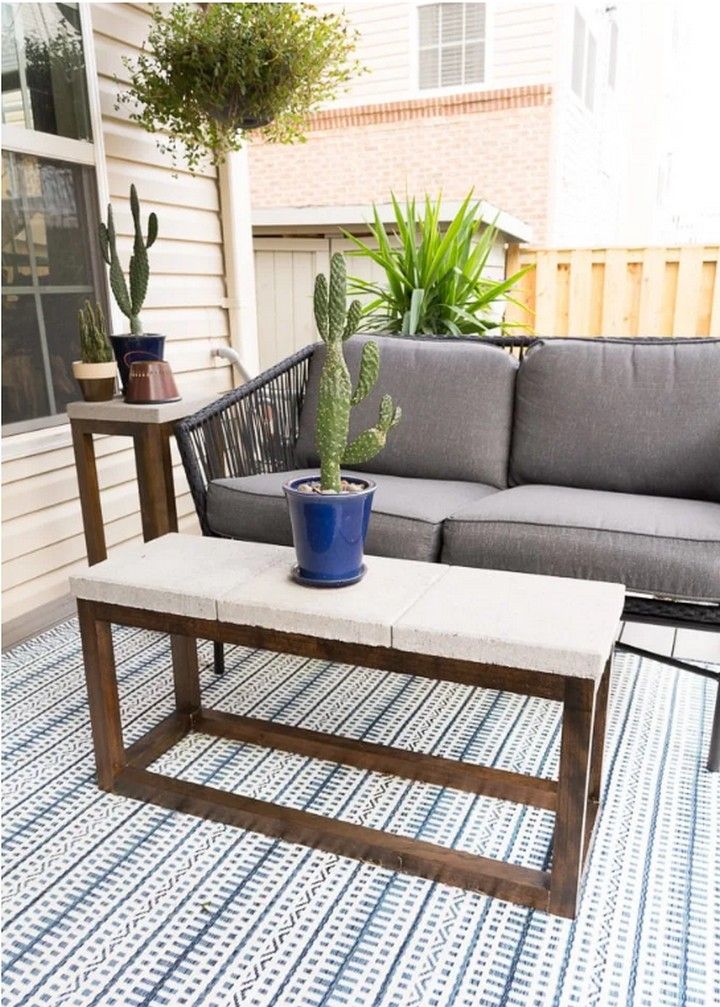 The DIY patio coffee table is an awesome way to spruce up your backyard and summer parties. Make a coffee table with a concrete-like surface without the mess and hassle of dealing with a wet concrete slab. The tutorial teaches you how to use concrete pavers and 2×2 to make a DIY patio coffee table and how to create an old-world look using unique colors. Get ready to spend time outside on your new DIY patio coffee table!
2x4 Outdoor Coffee Table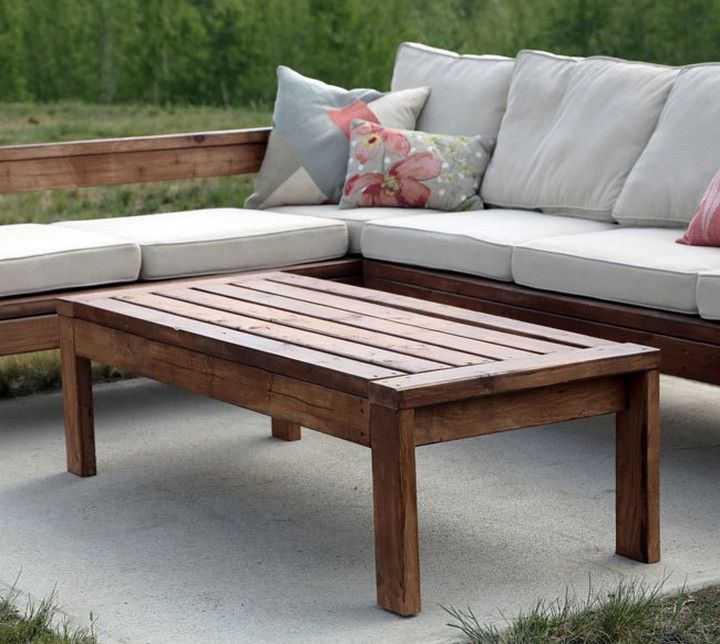 Build this simple 2x4 outdoor coffee table to make the most of your time outside. This handy project is perfect for weekend warriors who want to get dirty and have fun doing it. These DIY projects take only a few hours to complete and can be completed at home without the hassle of renting expensive tools from your local hardware store. You don't even have to be a framing carpenter; follow these step-by-step instructions, and you can build this coffee table for your patio or garden. It also includes a materials list and a tools list.