Summer is the perfect time to grow your tomatoes. The warm outdoors makes it easy to give your tomatoes the necessary care. However, with no support and a lot of foliage, strong winds can easily damage your tomato plants. Additionally, it would help if you could raise your plants as they grow taller and taller. That's where the tomato cages and trellises come in handy! You can use any material to make your trellises, like wood or metal. Still, the most popular material for tomato cages is bamboo because it's sturdy, flexible, and looks nice in any garden. You can customize these cages with paint or stain if you have an artistic flair! It doesn't matter what material you choose for your DIY tomato cage or trellis as long as it works for your needs!
Wooden DIY Tomato Trellis & Cage Ideas

Tomatoes are delicious, but they're also a bit particular. They need sun and soil that drain easily, and they need to be staked, so they don't fall over while growing. If you've struggled growing tomatoes in your backyard, consider making a tomato cage or trellis. There are plenty of options available at garden centers, but if you have the time and desire, why not make one yourself? Many garden staples can be considered "DIY," but tomato cages and trellises seem particularly appropriate because of their flexibility. You can make them as permanent fixtures or movable frameworks that will last only for the season. With so many possibilities available, why purchase one when you could spend less than an hour making something better?
Benefits of DIY Tomato Trellis & Cage Ideas
The best part about building your tomato trellis and cage is that you can make it as large or small as you want. You can use any material you like and make it as decorative as possible.
Here are some benefits of making your own:
You can save money. If you're on a budget, making a tomato trellis and caging yourself will save you money compared to buying one at the store. If you have woodworking skills, then even better! You can get creative with your designs and make something even more elaborate than you could find in stores.
You can customize it for your garden space. There are many different types of materials that you could use for making this project – from bamboo sticks to PVC piping – so it's easy to customize and find the right material for your space. This also allows for flexibility when deciding how tall or wide you want your tomato cage to be, based on how much space is available in your garden bed or container.
It's fun! Building something like this is a great way to spend time outside with family or friends while enjoying the process of creating something useful simultaneously (and getting a little extra exercise).
How to Support Tomato Plants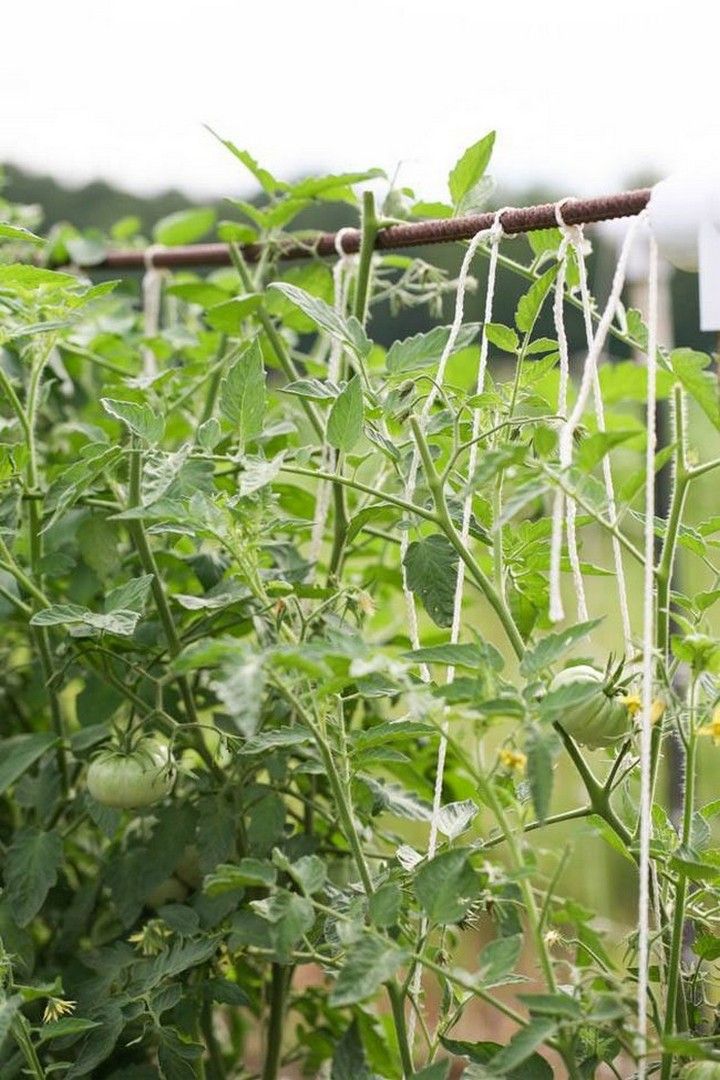 Tomato plants are the most productive and ornamental of the common garden vegetables, with colorful fruit in various sizes and shapes. They come in a range of disease resistance, productivity and yield. Tomatoes can be grown in containers or on the ground. The plants are heavy producers at various maturity levels, so if you want to build a strong support system to help your tomato plants flourish, consider these tips. The guide below will show you the complete procedure for supporting your plant.
Homemade Bamboo Tomato Cages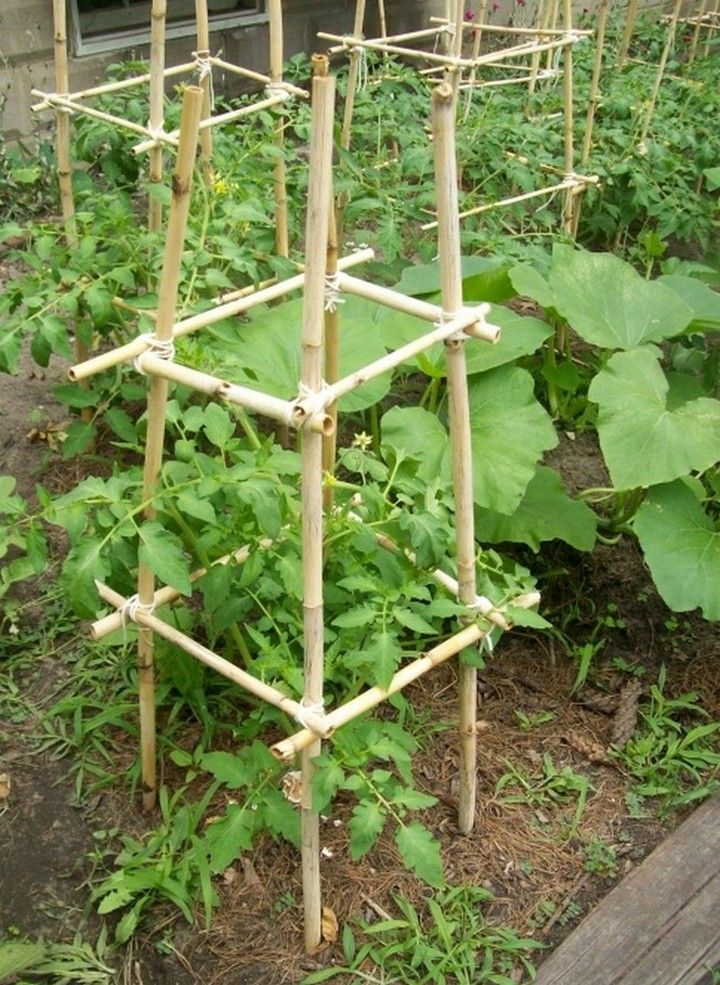 This project is for you if you want an easy, affordable, sustainable way to grow your tomato plants! This guide shows how to make your bamboo tomato cages using recycled materials. You can get premade wire tomato cages at the store, but they're expensive, inconvenient to use, and often flimsy. This bamboo cage is sturdy, flexible and attractive (no ugly feet). So, go through this guide and make your bamboo tomato cage to save money and grow tomatoes that won't fall over.
DIY Tomato Trellis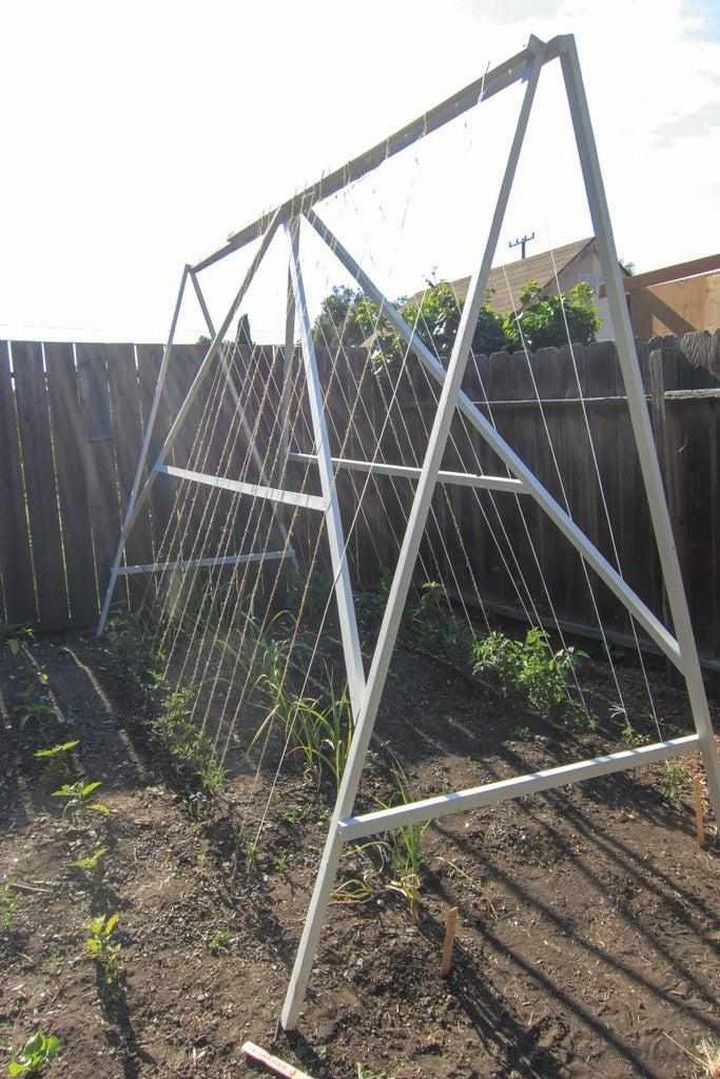 Tomato plants need plenty of light to grow but need help growing tall enough in your garden. This DIY Tomato Trellis will help you grow tomatoes the way nature intended! DIY tomato trellis is a very interesting project to grow your tomatoes. With low-cost materials, this DIY Tomato Trellis offers a large-scale tomato trellis that can support more than one tomato plant. You can make this DIY Tomato Trellis with a few woodworking skills within half a day.
You can also see: DIY LED Grow Light Projects 
DIY Bucket Tomato Trellis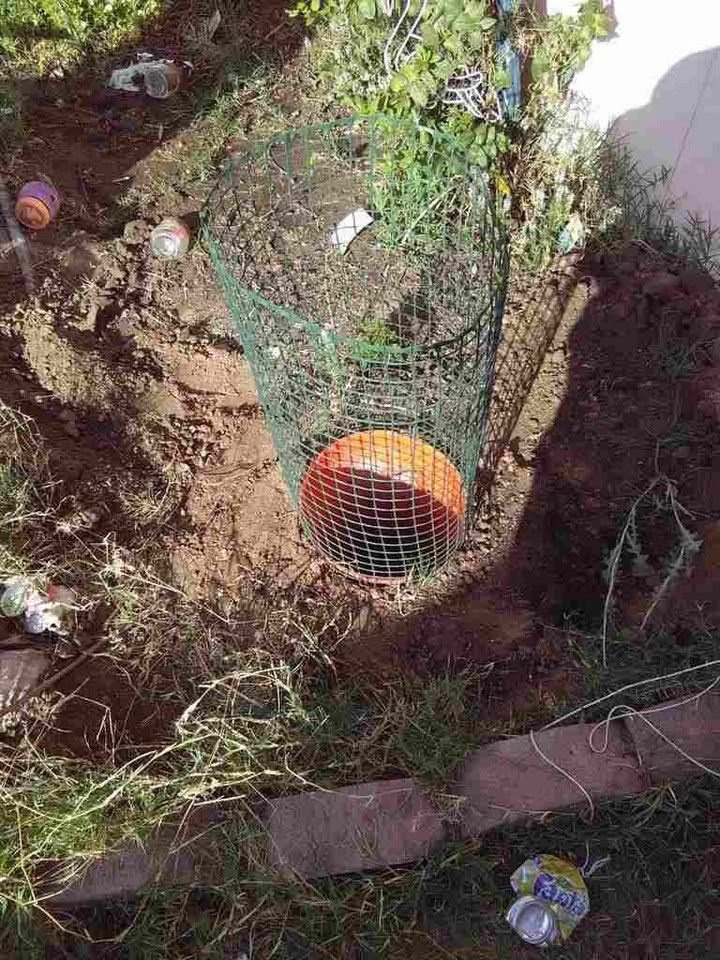 This super-simple DIY tomato trellis is the easiest way to grow a lush and healthy tomato plant in your backyard. Whether you leave it up year-round or take it down in the fall and store it for next year, this DIY project will add a chic touch of green to any space. Choose a five-gallon plastic bucket with a matching lid and get started on this wonderful project. This bucket tomato trellis is the perfect DIY project for the garden. It's easy, inexpensive, and adds a beautiful display to your garden space. The process is easy and simple to follow.
How To Make A DIY Tomato Cage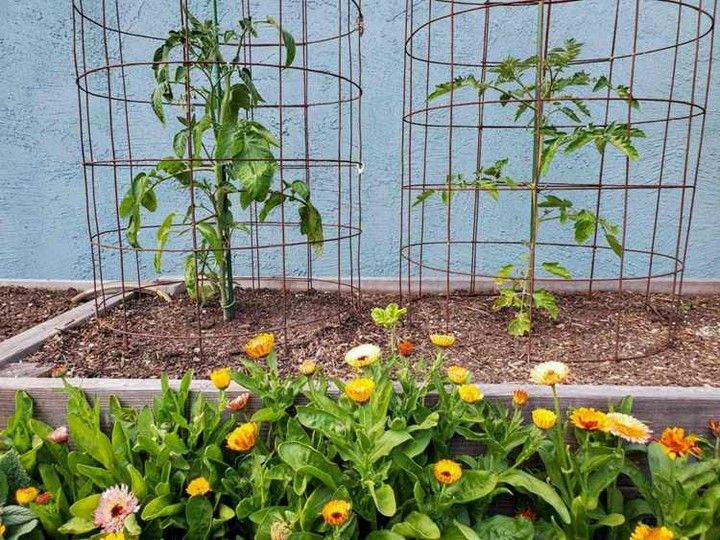 If you want to grow tomatoes that produce more and bigger fruit, then DIY tomato cages might be your best option. It can also help you save money by not buying a particular product. This tomato cage is perfect for a small garden in your backyard. You can easily build it yourself in a short time and for very little money. You'll be able to grow tomatoes through the summer and beyond by following this guide - complete with photos!
DIY Indestructible Tomato Trellis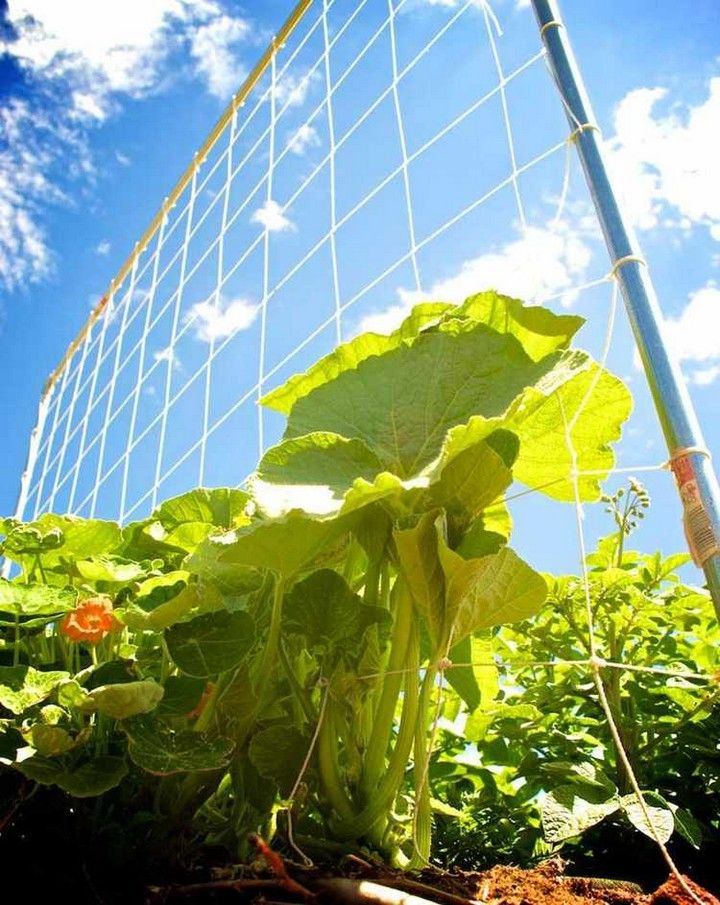 Here is an easy homemade indestructible tomato trellis that you'll love. First and foremost, it's easy to make using electrical conduit, conduit elbows and a few other supplies. Secondly, it's virtually indestructible! You can pitch this up against a wall or pole and not worry about whether it will fall down or not. It's all made from cheap materials, so you can make as many as you want without breaking the bank. This indestructible tomato trellis is a great project to do with your family or neighbors. It can be built by hand, with minimal tools and maintenance, lasting for years.
How To Build A Tomato Trellis
You will learn how to build a tomato trellis that can help you create the perfect growing conditions for tomatoes. A great tomato trellis can be made with a few simple tools and may give you years of growing success. In this video guide, you will learn how to build a homemade tomato trellis using wood pallets, natural soil, and common garden hoses. A well-made trellis is essential to support healthy tomato plants; it's also a stylish addition to your yard or garden. This video tutorial provides step-by-step instructions for building a simple, sturdy tomato trellis.
Cheap And Easy Tomato Trellis
Growing tomatoes on your deck can be difficult. The plants get too heavy for their stakes, and the fruit can wind up on the ground if you are not careful! This is the solution you've been looking for. You will need simple materials to make your tomato trellis that holds up even the heaviest plants. So, Keep your tomato plants off the ground by making this simple, cheap and easy tomato trellis. This is a great project for beginners that will only take a few minutes to construct.
How To Build A DIY Tomato Trellis
Tomato plants are heavy producers and must be staked to keep their fruit off the ground. A homemade tomato trellis will help keep your plants upright and healthy, maximize sun exposure and keep fruit off the ground. This DIY tomato trellis is easy to make, requires no power tools and can be assembled in an hour or so. The result is a tomato plant that has lots of support and will yield tomatoes off both sides of the plant all season long. Here's a how-to video that will show you the complete procedure!
DIY Tomato Cage Idea
If you like eating fresh tomatoes in the summer, this is a DIY project you'll love. It is super easy to make, it does work, and it's so inexpensive that you can make more than one for a couple of dollars! This video will show you how to make your tomato cage. This is a simple and effective tomato cage idea that will keep your plant stable and allow it to grow properly. This tomato cage can be made from pallets, adding a few extra pieces to make it sturdy, durable, and easy to transport. You will need minimal materials for this project:
DIY Tomato Cage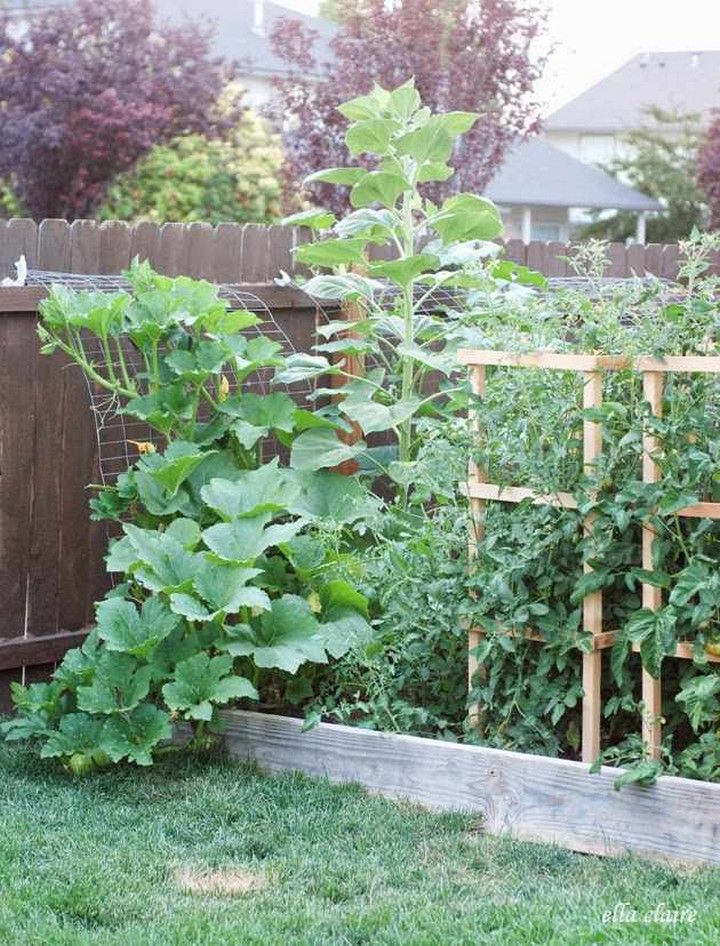 You can easily make your tomato trellis by following the instructions in this video. Many types of tomato cages and staking systems exist, but this design is simple and made of wood. The materials are readily available at any home improvement store, and once you have everything together, it should take about 30 minutes to build one. This project requires nothing special or difficult. It's a great way to get a little garden project done over the weekend with very little time investment.
DIY Easy Garden Obelisk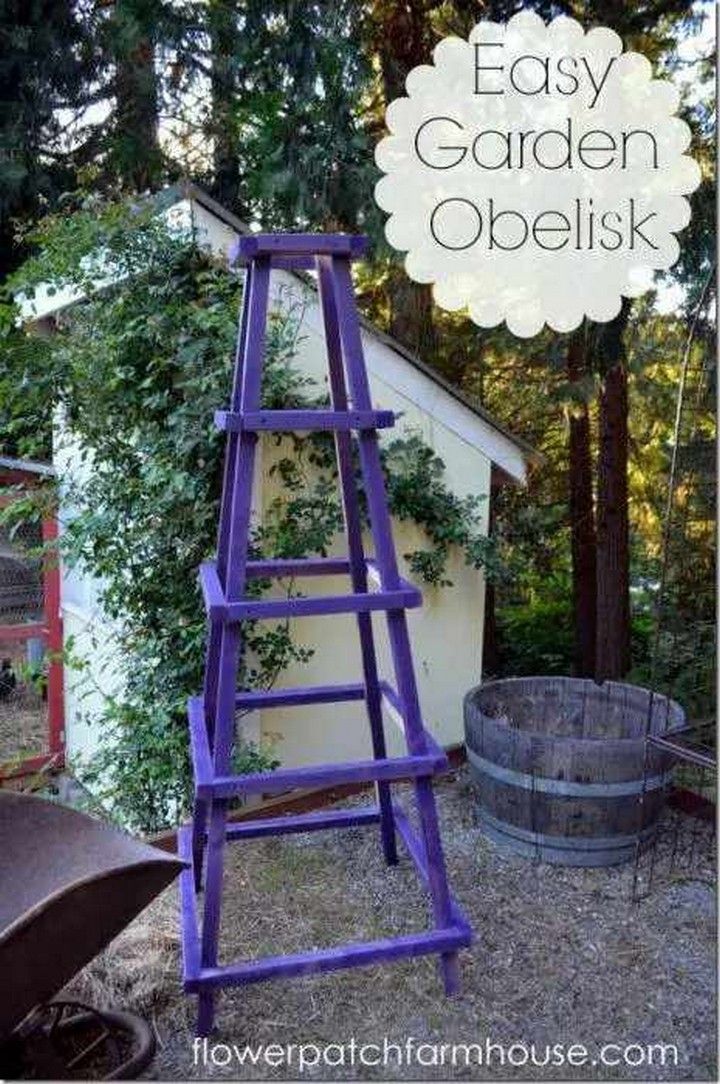 If you love gardening, this obelisk is a great addition. It's made of wood and can keep vines or fruit plants upright. This project is easy enough for most people to do in a few hours, but you might need a saw and drill, together with the other materials, which will cost around $20-$30. This is one of the easiest DIY garden Obelisk you can do. It is super easy to build, uses very simple materials, and gives you a good-looking garden. It will give your plants a nice sturdy support while adding to their natural beauty. Here's how to make it:
DIY Upside Down Tomato Cage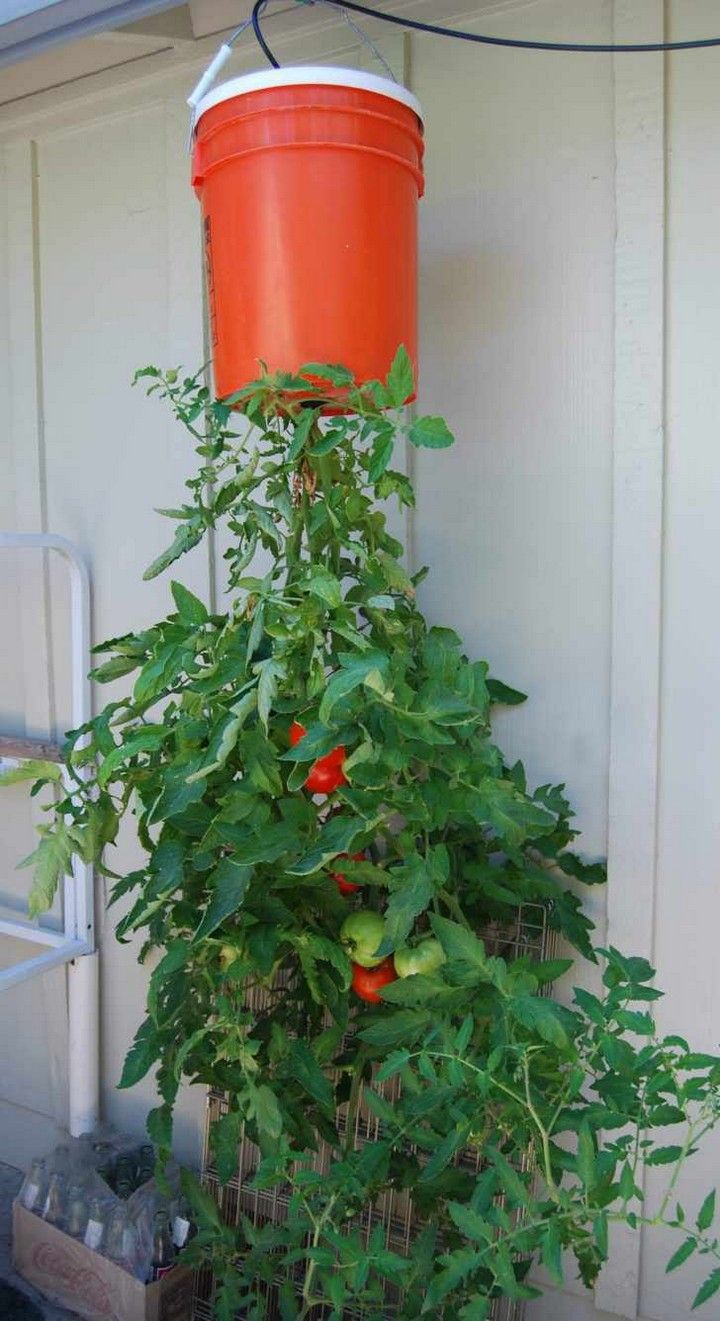 This step-by-step guide teaches you to build a DIY Upside Down Tomato Cage. Start with a plastic bucket and some zip ties, and plant your tomatoes in buckets or pots suspended above the ground in an airy environment. It's easy to build and super effective at growing tomatoes. This easy-to-build tomato cage will make your gardening experience a breeze! The hanging bucket holds your plants, allowing you to garden in the ground.
DIY Tomato Cage With Trellis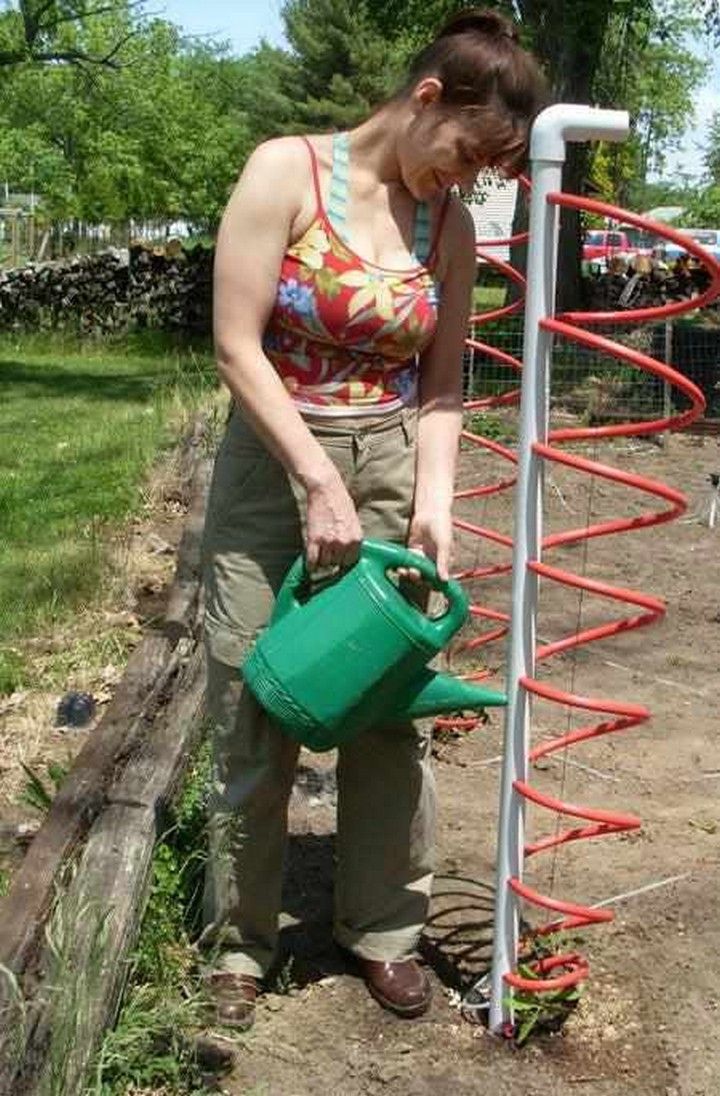 Creating a DIY tomato cage with a trellis is perfect for gardeners who want to grow more than one plant on their small patio, balcony or deck while also saving space. The cage hugs your plants and lets you grow various fruits and veggies, like tomatoes and cucumbers. Whether you live in an apartment or want to create a beautiful garden, this is a quick and easy way for your tomato plants to get the support they need.
How To Build A Simple Bamboo Trellis
Bamboo is the perfect material to create a trellis because it is versatile. You can buy special clips that are used for a more permanent result, but tying works just fine for a temporary and movable option. In this video, the creator will show you how to create a simple bamboo trellis using nothing more than bamboo rods and rope. This bamboo trellis is a perfect addition to your garden. With these thin bamboo, you can make any shape you want, and it's easy to do. You'll only need a few simple tools and materials!
Easy Tomato Trellis Setup
The Trellis system helps to increase the yield of your tomato plants. If you love gardening and want fresh tomatoes, this video is for you. This tutorial guide will help you build a tomato trellis that is easy to set up and requires only a few materials. You will also learn how to set up this simple tomato trellis. The entire process is super easy and can be completed within minutes. Without any special experience or tools, create your tomato cage with the help of this video.
DIY Inexpensive Tomato Trellis
Have you been struggling to keep your tomatoes supported? No worries, we have a cheap and easy solution that anyone can do. This simple tomato trellis will ensure that your tomatoes stay intact from having too much fruit. Use this video tutorial and make your own low-cost, DIY tomato trellis to grow your plants and enjoy delicious tomatoes on the patio or garden. This is a great way to keep your tomatoes close to the ground and easily reach. This tomato trellis has snaps that hold it in place, so you can use it throughout the season rather than having to dig it out each time.
DIY Bamboo Tomato Plant Cage
This bamboo cage is great for the beginner gardener and can be built in an hour or two. The instructions are straightforward to follow, and all materials are inexpensive. The best part about this cage is that it's sturdy enough to last through many gardening seasons. It will help keep pests away from your plants while they grow up, so you can enjoy delicious tomatoes throughout the season! This easy DIY project is perfect for any beginner gardener.
How To Make Folding Tomato Cages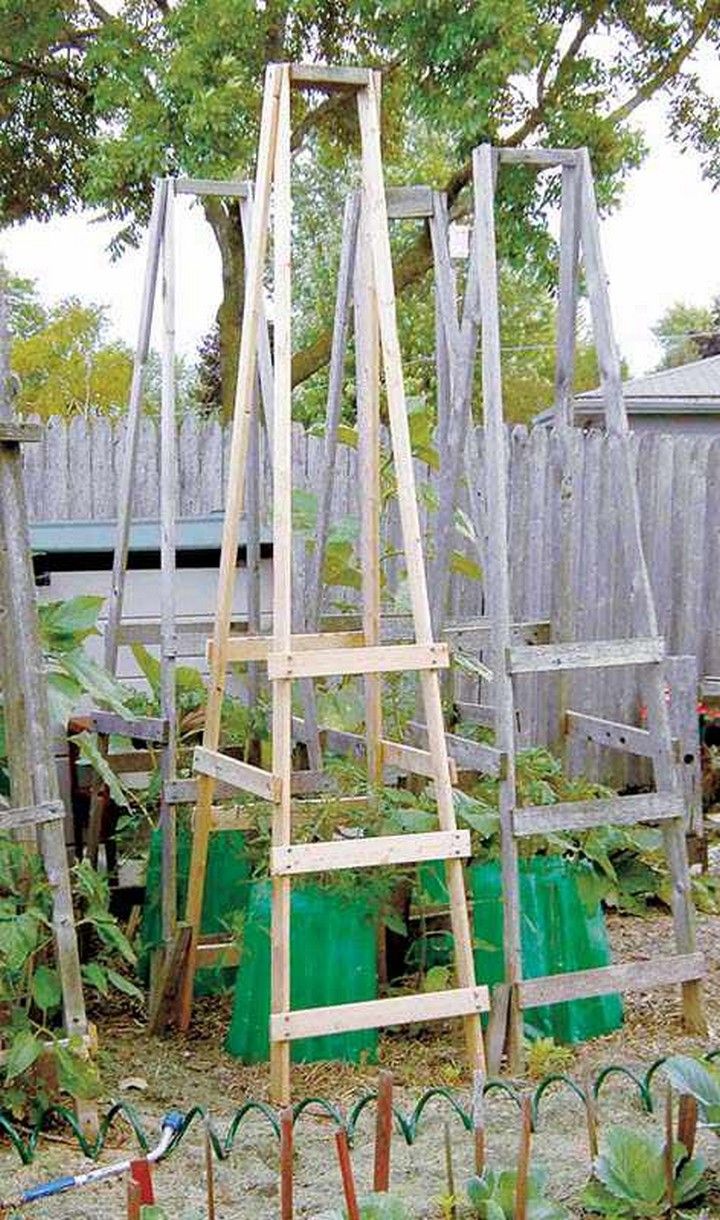 If you are looking for a way to grow tomatoes that stand up to strong winds and heavy rains while ensuring they stay upright, here's a solution! This project allows you to build tomato cages that are 8 feet tall, making them perfect for your garden. Building a sturdy tomato cage is easy with the right tools and materials. In this video, you will learn how to make a tomato cage that is as beautiful as it is functional. It's great for creating beds to grow your favorite fruits and vegetables.
DIY A-Frame Tomato Trellis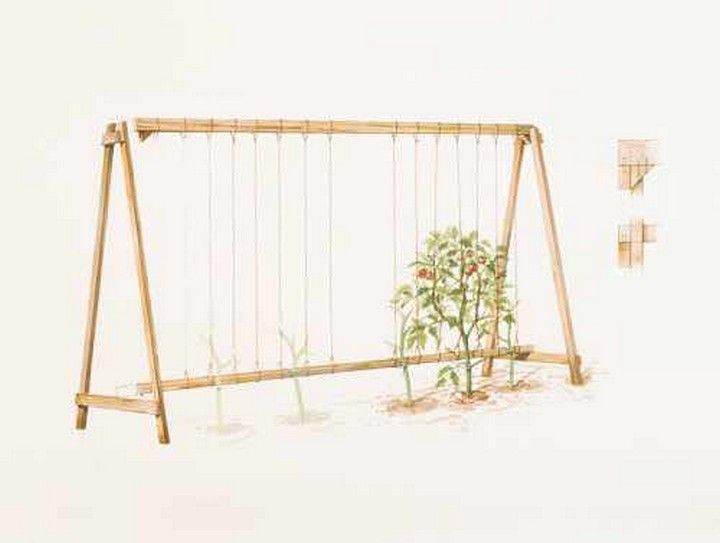 Build an easy-to-make and sturdy A-frame tomato trellis. You can build it without expensive materials in a day, so you'll have tomatoes ready to enjoy in no time. The Tomato trellis is a simple and inexpensive garden tool that can make your tomatoes much easier to manage. You need some DIY skills and follow the guide below to build this simple tomato trellis. It's easy to put together and takes less than an hour to complete. And the best thing is that you'll be able to use it year after year!
DIY Bamboo Tomato Trellis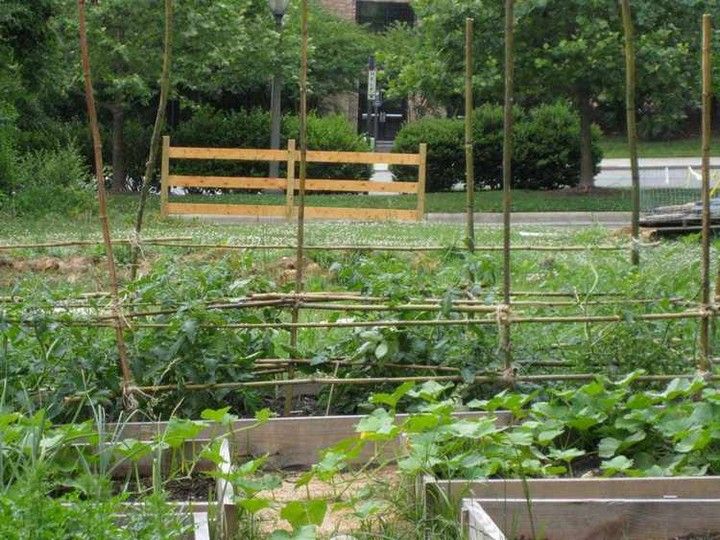 If you want a cheap and easy solution to growing bigger tomatoes, this bamboo tomato trellis could be your answer. Do-it-yourselfers of all skill levels will love this super-easy tomato trellis made with bamboo. The instructions are quite detailed and make it easy to ensure your plant is watered consistently and gets the nutrients it needs to grow strong and healthy. This DIY project is a great way to increase the yield of your tomato plants. Made from bamboo, it is easy to build, durable and cost-effective.
DIY Tomato Trellis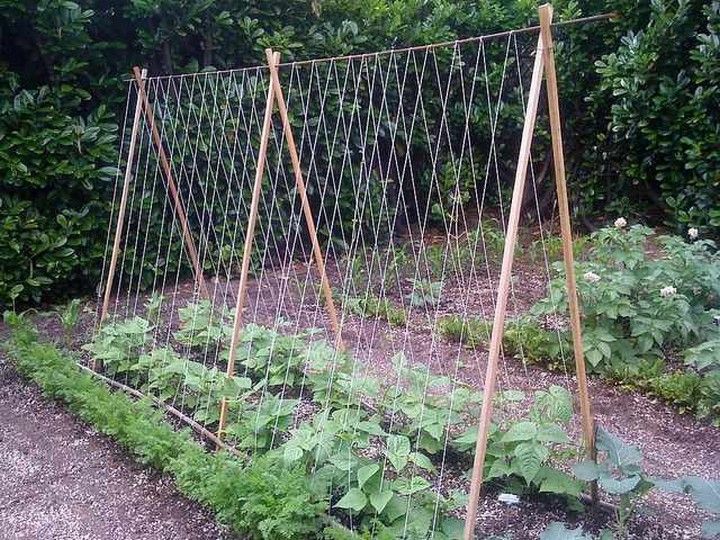 Love your tomatoes, but hate to see them fall over? This tutorial will show you how to set up a tomato trellis using two types of materials: wood strips and bamboo sticks. With this DIY project, you will be able to grow tomatoes that are sturdy and help you take advantage of more vertical space in your garden. The cost is minimal, and the benefits are huge. Use this guide to learn more!
DIY Cheap Tomato Trellis
Here's a functional and inexpensive method of creating a tomato trellis. This design can be built in less than an hour and will last for years. Use it to create a tomato grow space that lets you harvest fresh fruit early or late in the season since tomatoes do not like to be exposed to mid-day sun due to their delicate nature. So, Try this easy DIY project to add a trellis to your garden. It will also help prevent them from breaking under the weight of the fruit as it grows.
DIY Quick Tomato Trellis Using Bamboo
A garden trellis is an important feature in a garden. It helps to hold the plants upright, supports taller plants and can even provide a decorative element in your garden. When you plant tomatoes, the wind is one of the most common problems you will have. The bamboo is not only beautiful but effective when it comes to preventing damage from strong winds. It's the perfect project for gardeners looking to add some green design to their backyard. Bamboo is a sturdy plant that grows quickly and provides excellent shade during the summer so that you can truss up tomatoes in no time!
How To Make Easy And Cheap Trellis
Learn how to create your trellis using inexpensive materials. Depending on the look you want, you can make a simple square trellis or a more ornate archway trellis. With this guide, you'll be able to easily add greenery to your yard and garden For a fraction of the cost. This DIY trellis creates the perfect backdrop for flowering vines. The guide will also walk you through finding the materials needed and creating this easy DIY project.
DIY Champion Trellis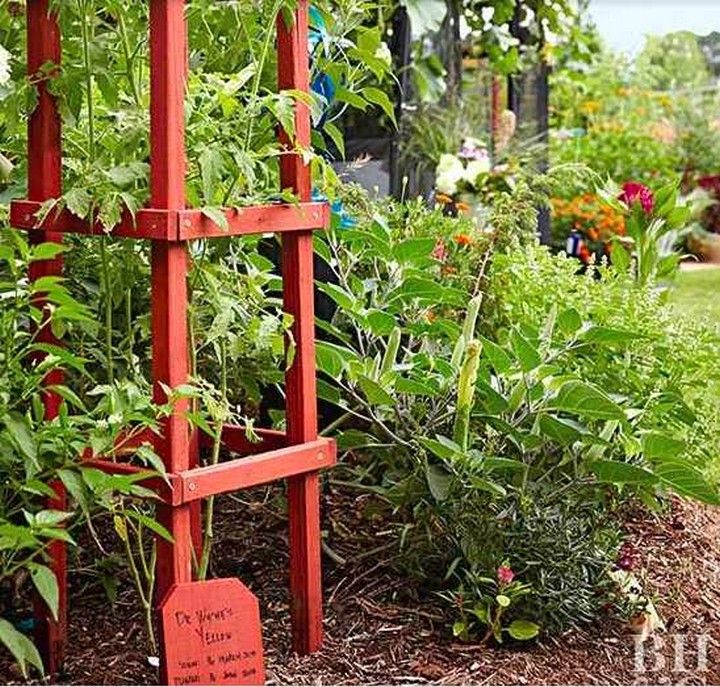 This DIY trellis is an economical and easy project to help you grow your favorite tomatoes. You'll need some wood, galvanized screws, a power drill, a paintbrush, and a little time. You can build this DIY Champion Trellis in an hour. It's a great way to keep your tomatoes off the ground and off of your hands and will give your plants more exposure to the sun. Once you're done, all you have to do is paint it! With this guide, building your own trellis in your backyard is simple.
DIY Folding Trellis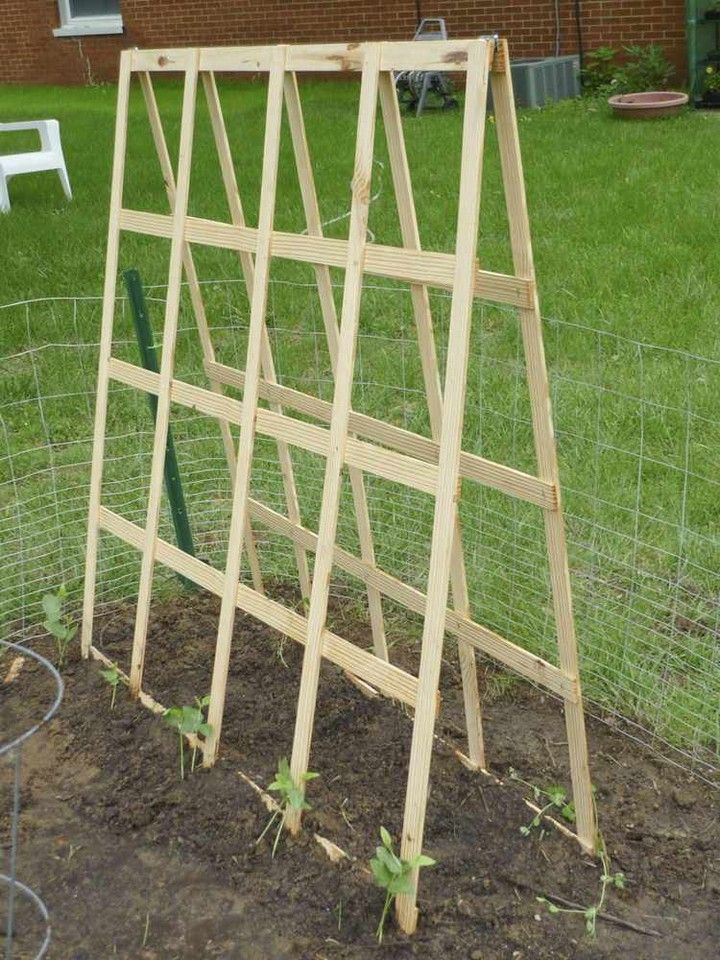 This DIY folding trellis is easy to build and far cheaper than store-bought options. All materials are available at your local home improvement store and are a great addition to your garden, helping you grow bigger, healthier plants that produce more fruit. This DIY tomato trellis is incredibly easy to build and cheap too! It's perfect for large plants like tomatoes or small cucumbers. Building this tomato trellis should be a breeze with all the materials in place!
Tomato Trellis Idea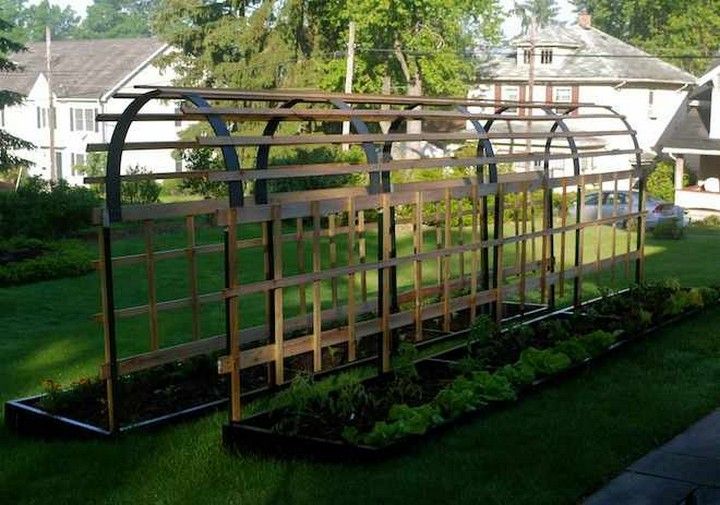 Regarding vegetable gardening, the tomato trellis is a great way to support your plants. It supports and holds the fruit and helps grow more tomatoes by keeping them off the ground and allowing air circulation that promotes growth. Here's a simple yet effective plan for building a tomato trellis made of wood. The plan is based on an old-fashioned design with some modifications. But it's not just about cutting and drilling - it's also about creativity and imagination!
How To Build A Tomato Trellis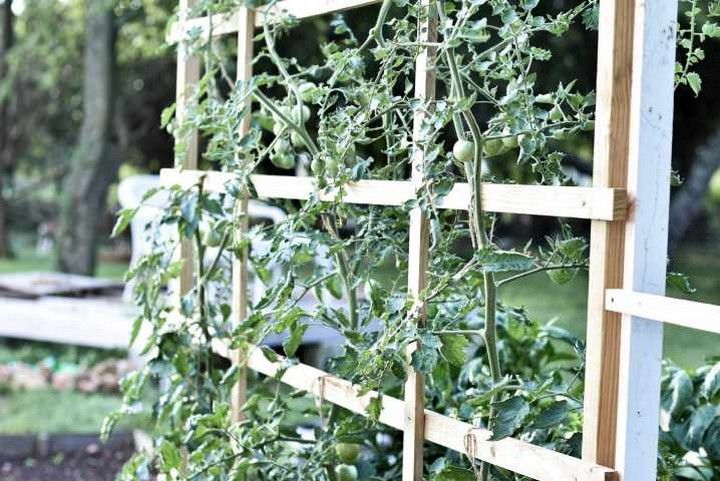 Tomatoes need all the support they can get. A sturdy tomato trellis can help them grow beautifully and free from all diseases. The best part is that you don't have to spend much money to build your own. This simple DIY project should cost no more than a few dollars if you keep your eyes open while shopping at home depot or your local hardware store! Here's how to build a tomato trellis, which will help you grow more tomatoes and spend less time tending them.
DIY Tomato Trellis
If you're planning to grow your tomatoes, a good tomato trellis will help them grow straight up instead of leaning on each other and provide support so they don't fall under their weight when they start getting heavy with plump fruit. This DIY tomato trellis is easy and affordable to make with the help of this video! This DIY tomato trellis is an easy and affordable way to keep your plants tidy and compact. With this project, you'll make your garden look beautiful.
How To Build A Tomato Cage
Metal is one of the most effective materials when building a tomato cage because it's easy to get, sturdy and reliable. It's perfect for tomatoes since they tend to be heavy once they're full-grown. Building your cage will save space and support and decrease disease outbreaks in your plants. This modern method for building a tomato cage is a great way to add some rustic, personalized vibe to your garden. It clings to the side of your house and makes a beautiful addition to any garden at an affordable price.
How To Make Tomato Trellis
Do you have lots of tomatoes that you want to grow? To grow more, a tomato trellis can be your best tool. A tomato farm with a tomato trellis increases the yield of tomatoes and makes it easy to find your fruits. Imagine how much time you'll save from looking for your fruits on the ground when they are hanging up high in your garden. This is a great way to support your tomatoes, making it easier for them to grow bigger and more plentiful than ever imagined!
DIY Cucumber And Tomato Trellis
This easy DIY cucumber and tomato trellis will add garden beauty without additional space. It features a simple design that is low-cost and quick to build. With this project, you'll be able to grow more tomatoes and cucumbers than you ever could before with less space and less maintenance than a traditional fence or trellis. For those gardeners who are short on space and want to grow tomatoes and cucumbers, this trellis is perfect. Adding this DIY trellis will take very little time and effort!
Easy String Tomato Trellis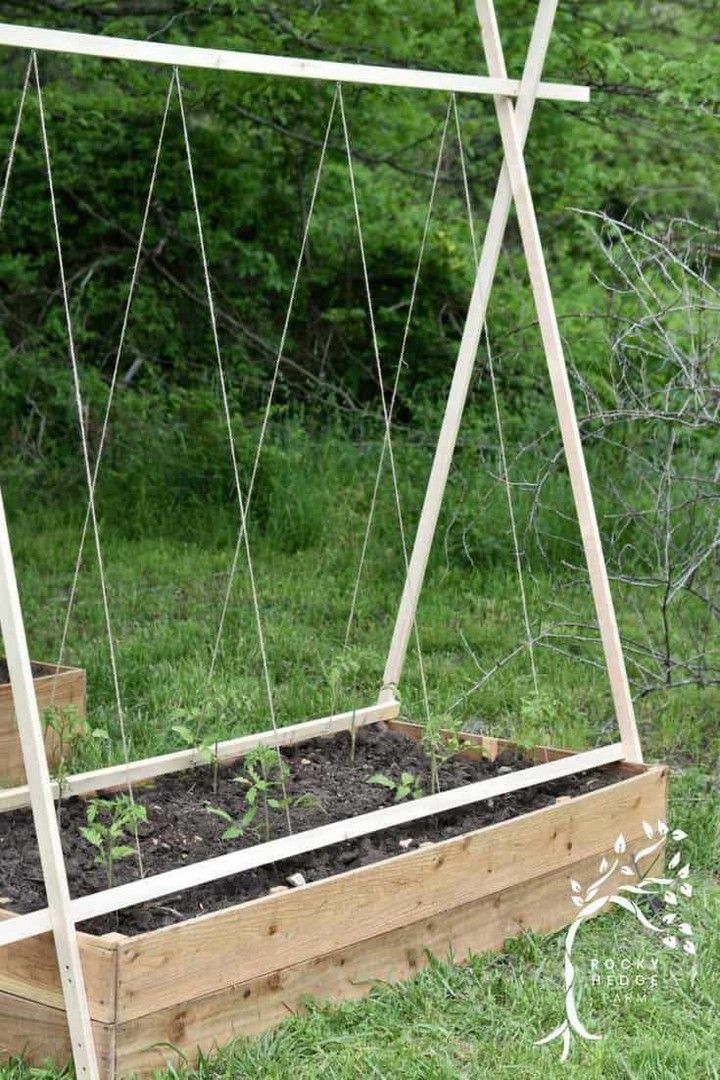 Are you looking for an easy way to grow more tomatoes? This tomato trellis is perfect! It uses basic tools and can be built on a weekend. This is a great project for an indoor garden and someone with some free time. It only takes about an hour to build but can last many years if properly cared for. The result is a sturdy, durable tomato trellis that you can use repeatedly. This is also an excellent project for beginners.
DIY Tomato Cage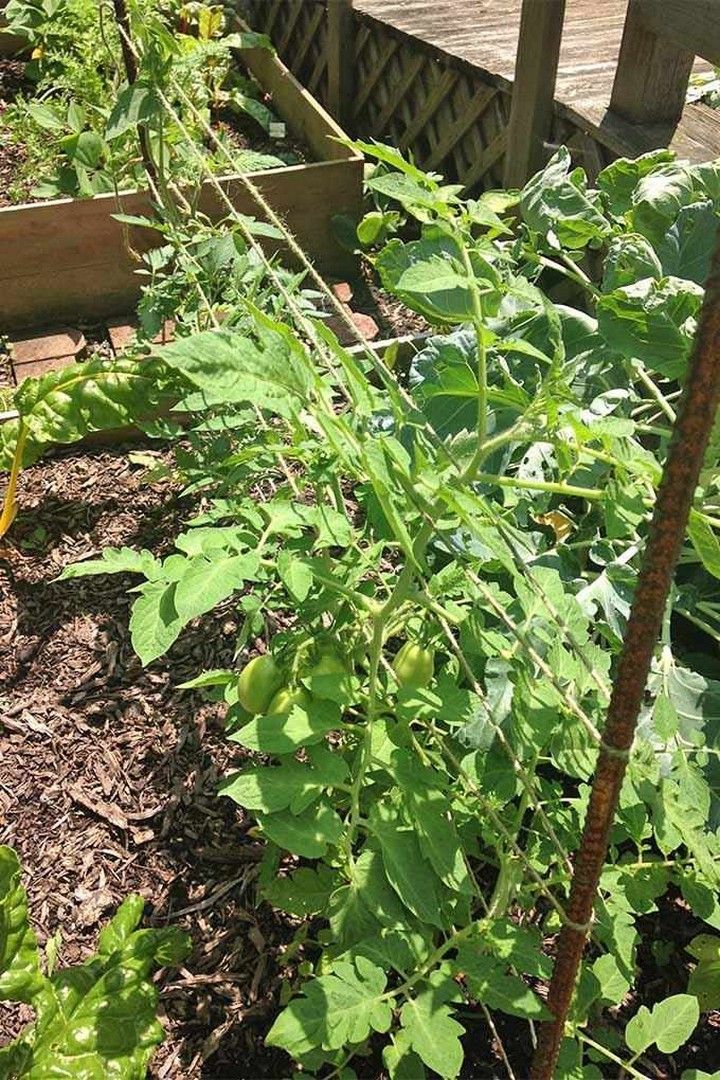 If you love fresh tomatoes but need help getting the plants to grow the way you'd like, try this DIY tomato cage. It's easy to make and will keep your tomato plants upright and supported as they grow. The best part is that it uses very little material or effort so you can spend less time in your garden and more time tasting sweet homegrown tomatoes. You'll have a great time building your trellis for your tomatoes. It's the perfect side project to do with the kids; they can help you.
DIY Tomato Trellis Build
Would you like to have a simple but efficient DIY tomato trellis? It is an easy project that anyone can do at home, requiring no experience and almost no tools. You'll be able to keep your tomatoes or other plants under control while they grow strong by using this method to provide them with the perfect frame and a wire mesh so they can safely hang on. So, Build this DIY tomato trellis to help keep your plants strong and healthy so it's more likely to produce a bigger crop. This simple structure can also be used for many plants with vines, like cucumbers or other veggies.
How To Make A Bamboo Tomato Cage
You'll want to ensure that your tomato has all the nutrients and water it needs, but you must also protect it from insects. With this bamboo tomato cage, you can grow strong and healthy crops of tomatoes and still have room for other vegetables around them! So, this video guide teaches how to create an inexpensive yet sturdy tomato cage. This simple DIY project will help you grow your tomatoes with ease!