Looking for a way to spruce up your patio? Whether you want to create a man cave or stash all of your grilling gear in one place, here are twenty DIY grill station projects that will make keeping your outdoor spaces clean and organized a breeze. These DIY grill station projects are for you if you'd like to have a place to store and organize your grilling tools and gadgets, keep your countertops and tables clean, or even for a way to make your outdoor kitchen look more beautiful. Grilling can be a great way to spend time with family and friends. Here are DIY grill station projects to help you set up the perfect outdoor kitchen in your backyard, plus tips on using your grill station the most!
Because grilling is now one of the most popular activities for every season, it's essential to have a well-stocked and organized area where you can hang your tools and utensils. This will keep your grill station looking tidy while making it easier to find what you need when cooking delicious food. Here are 20 DIY grill station projects to help organize your grill area. Make your outdoor space the talk of the neighborhood with these inventive DIY grill station projects. You'll find everything from rustic wood palettes to construction-ready to-go stations with portable islands. And everything in between — because everyone needs something different regarding grilling.
Whether you're a grill master or just learning, these 20 DIY Grill Station Projects will help you master grilling in no time.
Benefits Of DIY Grill Station Projects
DIY Grill Station Projects
There are many benefits to DIY grill station projects, including saving money, increasing the longevity and quality of your grill, and making sure you can customize it to fit your needs. Here are some of the top reasons why you should consider building your grill station:
1. Cost - Building a DIY grill station is far less expensive than buying one already built. Depending on how much wood you want to use and how elaborate you want, it is possible to build a very functional and sturdy structure for less than $100.
2. Quality - Most commercially available grills are made from low-grade materials that only hold up well over time or with heavy use. By building your structure from high-quality materials like cedar or redwood, you'll improve the quality of your cooking experience while extending your grill's life by years or even decades!
3. Customization - If there's anything we've learned in our lives, it's that not everyone likes everything the same way!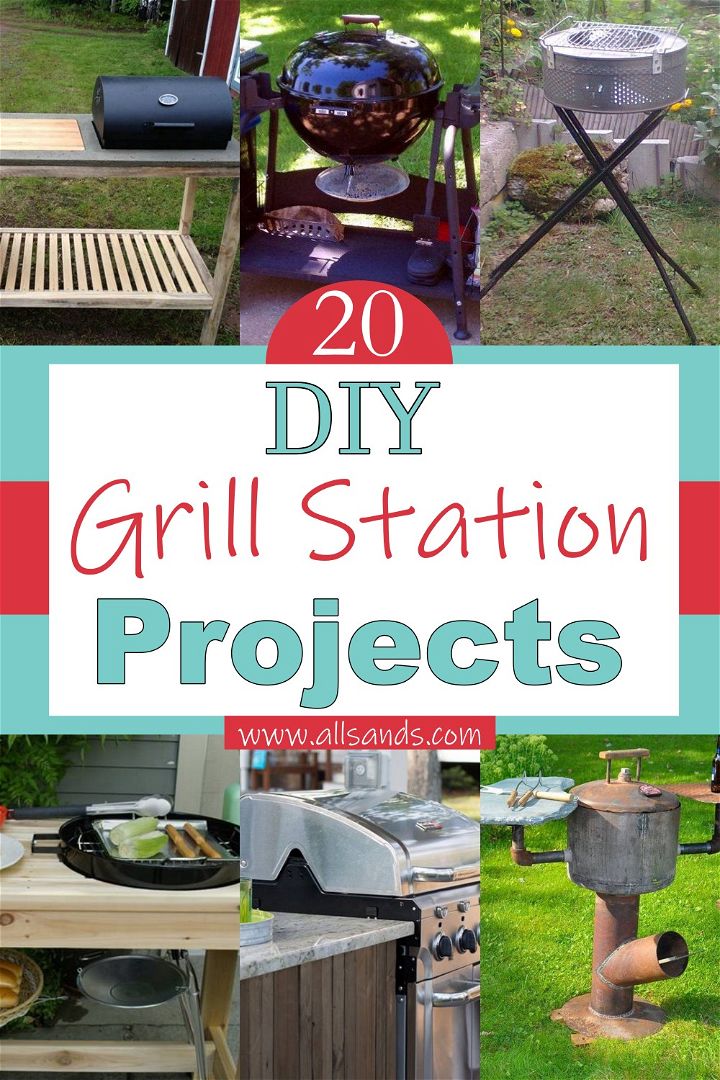 1. DIY Outdoor Kitchen Built-in Grill Station
Looking for the ultimate outdoor cooking experience? Then look no further; this DIY grill station is perfect. Built-in grills take up less space, which is great for small backyards and balconies. The double grills allow you to try out new recipes or even use them as a buffet station for serving dishes. This DIY grill station can help you get more out of your patio or backyard with a built-in barbecue. This grill station is easily installed and has a large enough cooking surface for a whole chicken, steaks and grilled vegetables.
2. DIY BBQ Grill Station
This BBQ grill station is a massive outdoor project that requires a manufactured frame. It's a massive project requiring a lot of time, and the cost is very high. This BBQ grill station is a massive outdoor project that will look great on any deck, patio or backyard. The large cooking surface leaves plenty of room for guests to help you grill those burgers and hot dogs. This DIY grill station comes with a custom size aluminum frame that's easy to install.
3. DIY Weber Grill Cart BBQ Station
The Weber grill cart is a simple DIY project that anyone can complete within an hour. The materials required for the project include wood, steel wool, and high-temperature paint. With a few tools and some simple materials, the DIY Weber grill cart is a project that can be completed in one hour. With this grill cart, you can serve your guests while tending to your barbecue since it keeps tools and food safely stored at all times.
4. How To Build A Grill Station With Concrete Countertops
This DIY project is perfect if you're looking to build a new grill station or own one that desperately needs an upgrade. Because this station features a concrete countertop with stainless steel and a heavy-duty grill, it's super functional and beautiful! Most of the structure is made from 1" square steel tubing cut with an angle grinder. And use a speed square to draw lines around the steel tube to make measurement and cutting accuracy.
5. How To Make A Stainless Steel Grill Station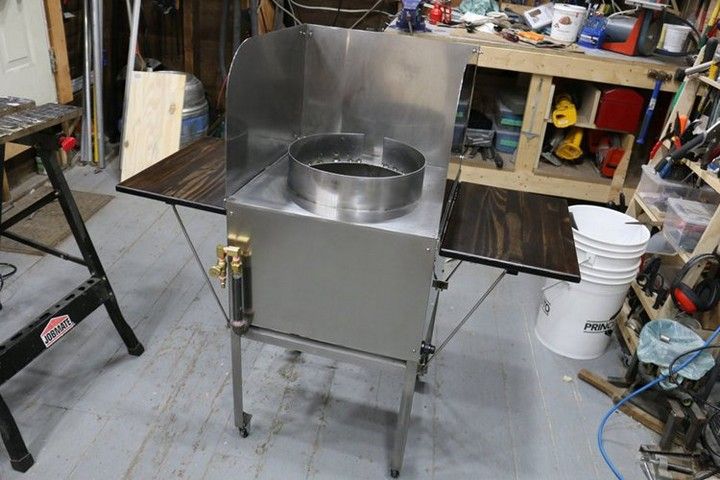 Looking for the perfect place to cook dinner? We've got you covered! This DIY Grill Station goes from grill top to table when you're done. The built-in grill and work surface are big enough for cooking, eating and hosting summer parties in style. It's time to step up your grill game with this DIY stainless steel grill station. Follow the tutorial to create an elegant and functional addition for grilling in your backyard, complete with a table and storage for grilling tools.
6. DIY Outdoor Grill Station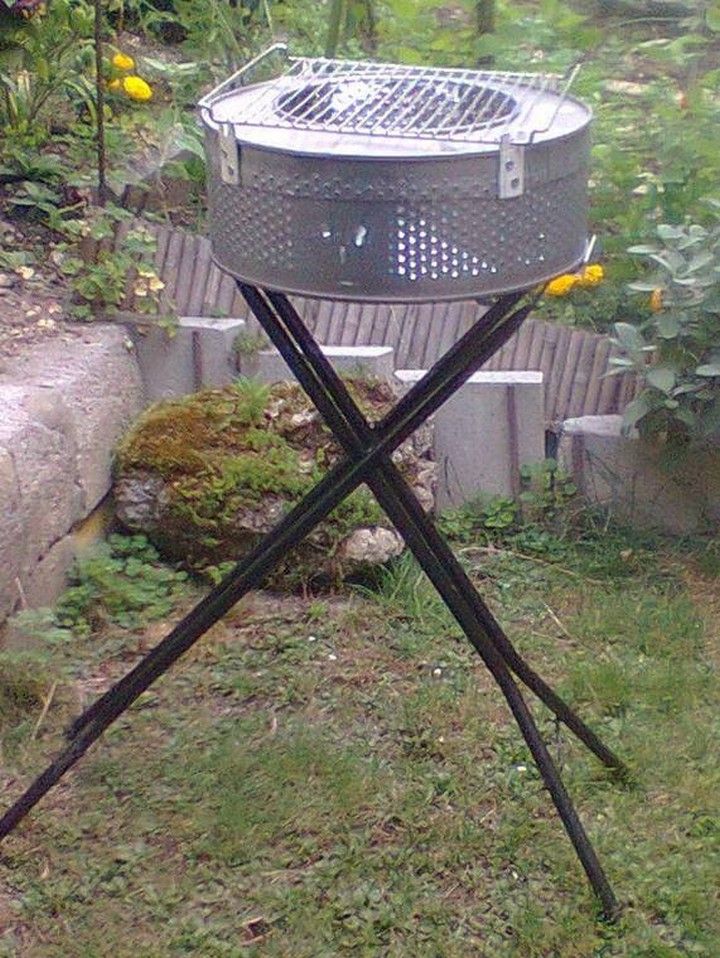 Do you love grilling out but hate the mess it always makes in your backyard? If so, this DIY grill station will solve all of your worries! It features a built-in water heater that keeps everything neat, plus storage space for tools and utensils. It is a low-cost grill station, and it is built from scrap material like drums from a washing machine, an iron board stand, an angled profile, and a holder for the heater. The grill comes with stone and has grates for searing and grilling.
7. DIY Kettle Grill Station
This grill station is a classic combination of a Weber grill and a kettle grill. You can easily remove the grill from the stand and save some space. Combine the grilling power of a Weber kettle grill with the functionality of a Weber gas grill and create your own DIY Kettle Grill Station. The kettle grill is installed on top of the other grill, eliminating the need to move from one location to another. Using a few tools and some DIY skills, anyone can build this grill station on the weekend.
8. DIY Rocket Grill Station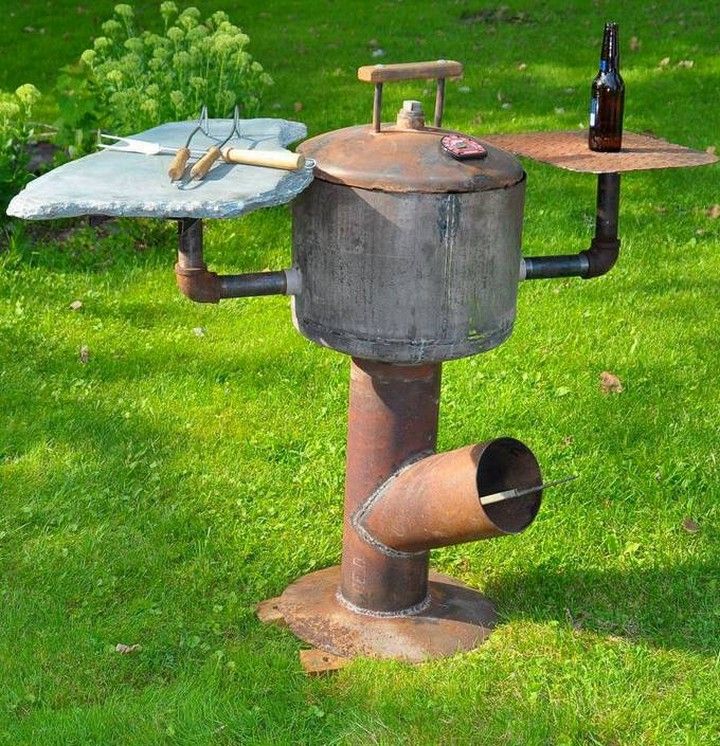 Explore your inner barbecue chef with this DIY Rocket Grill Station. The materials used to build it include recycled newspapers, oven-baked clay, bricks, clay and mortar. This grill station is made from a used wine barrel and salvaged bike parts. It is a simple way to get started grilling on your DIY rocket stove. This rocket grill station is a simple and effective way to eliminate fossil fuels while turning your open flames into an unobtrusive design statement.
9. Building A Brick Charcoal Grill
Have you ever wanted a portable charcoal grill that's durable and stylish? If you do, it's time to learn how to build a homemade brick charcoal grill. This project is easy and should only take a few hours to complete. It could be done over a weekend by those who are handy and can spare a few hours during the weekends.
10. How To Make A Brick Charcoal Grill
Do you want to use charcoal as your primary heat source instead of gas? Well, this video will help you how to make your grill into a stove. This brick charcoal grill is a great way to build a DIY backyard grill station or patio. It's perfect for grilling up some burgers or chicken on the weekends with your family or just keeping your hot dogs warm at an outdoor party. You'll be able to cook food like you're in your bbq kitchen! Once the project is done, pack them and put them at the bottom of the stove.
11. Blackstone Grill Station Build
This sturdy wood-and-metal grill station makes cooking and cleanup easy. This grill station is perfect for your backyard. It's compact, solid, and can store all your grilling accessories. We used cedar boards for the tabletop because they are firm and look great after finishing with a water-based stain. Make sure you seal the tabletop before applying it, or else the wood will absorb all the water and swell, giving your table an odd sag. The top shelf can be used for storing grilling tools and condiments.
12. DIY Grill Station
A Grill station means a station where you can prepare grilled foods. Remember that it needs a clean place with a proper drainage system. It must be compact and have a large area to prepare food or hold countertops or cabinets. You can build your grill station with these DIY projects. When you build it yourself, you can ensure that the grill station has everything you need. The grill station can be a great addition to your backyard or patio area and will impress your guests.
13. DIY Outdoor Grill Station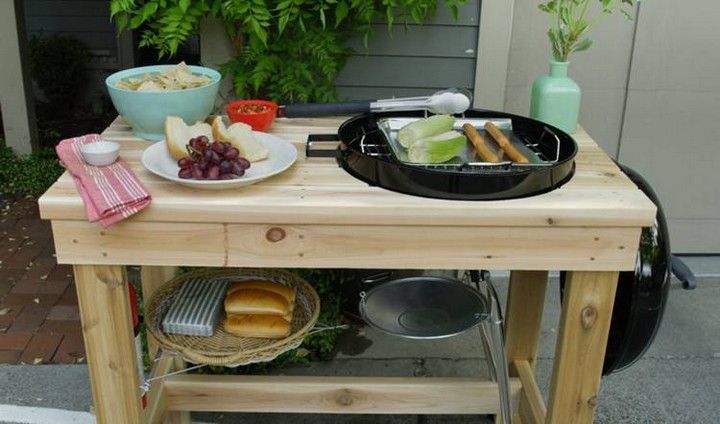 14. How To Build A Grilling Island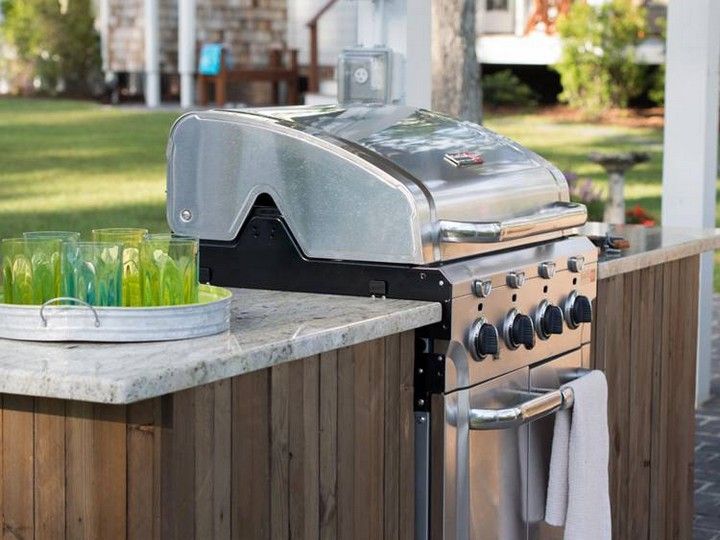 15. DIY Outdoor Grill Station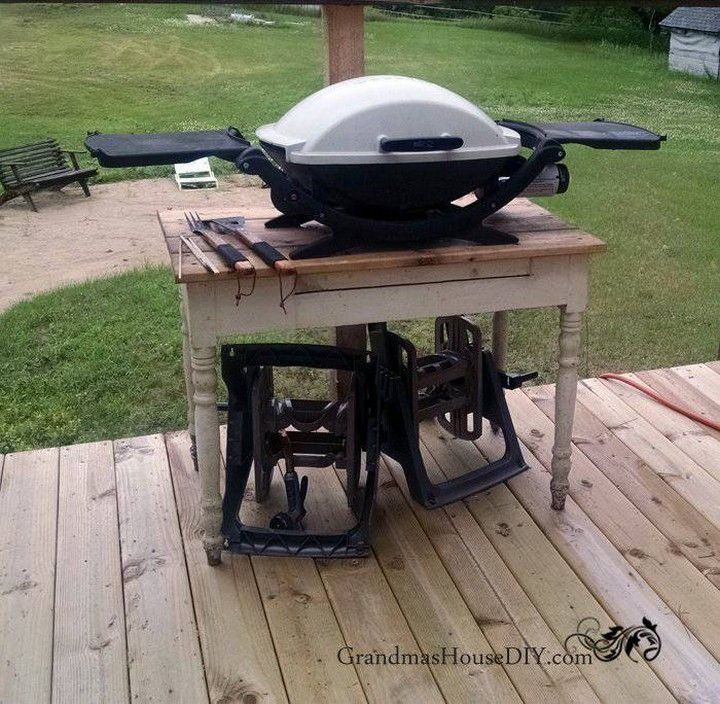 Do you want to know how to build an outdoor grill station? Here is the best guide for you. This DIY project is easy and adds excellent to your patio or backyard. This DIY Grill Station is great for relaxing outdoors with family or friends. The table is made from locally sourced lumber and sturdy enough to support your grilling appliances, utensils, condiments and other entertaining accessories. It's also an easy build for anyone with basic carpentry skills.
16. DIY Grill Station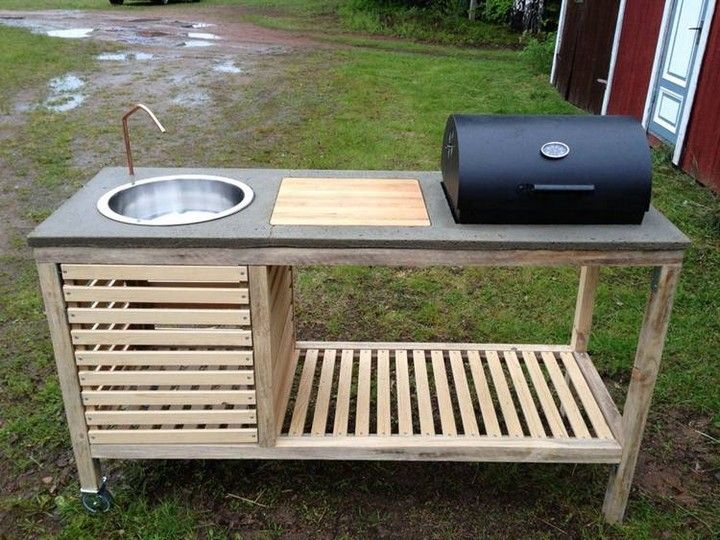 If you love grilling but don't have room for a commercial barbecue station, then this DIY project is just what you're looking for. You can quickly assemble the grill station with a basic materials list and a few handy tools. After all, it only takes one afternoon to build and has all the amenities of an expensive model. The technique used in this project is very easy, so even beginners can try it out. You must buy the materials and start making the frame assembly immediately.
17. BBQ Grilling Station Plans
This is your best choice if you're looking for a BBQ station design plan. This grill station can be built in about two hours with some carpentry skills. This grill station will be awesome with two sheets of plywood and the right drawer rails! This DIY grill station is perfect for you if you are looking for more space on your grill station. Your grill station includes built-in storage, a cutting board and lots of countertop space. It is easy to build and uses only two sheets of plywood.
18. DIY Grill Cart
This DIY grill cart will make grilling more accessible, better, and more efficient. It has a measured design incorporates your grill and all its accessories in one convenient unit. It has a sturdy construction made from wood and metal for easy wheeling to any part of your home. With the DIY Grill Cart, you can quickly cook in your backyard. Wheel this cart to the grill and back to the kitchen as you prepare your meal.
19. How To Build A DIY Grill Cart
Here is a DIY grill cart you can make yourself, repurposing old wooden pallets and adding a few other materials. This multipurpose grill cart makes it easy to store your charcoal grills, smokers and other barbecue accessories when not in use. Grilling can be a fun and relaxing pastime, but sometimes you may need more room or equipment to handle your cooking needs. A DIY grill station is a simple way to organize your tools and provide a central location for grilling that works well indoors or out.
20. DIY Grilling Station
Grilling is fun and relaxing. But it can also be frustrating if you need a place to store your tools and food. This DIY grill station will make grilling easier, more efficient and safer. This DIY grilling station is a beautiful way to store all your grilling tools, spices and sauces. Featuring space for a grill tray, a drawer for keeping cast iron skillets and other essentials, and a top shelf for hanging utensils like tongs and spatulas.