A grill table can do the trick if you want to add rustic charm to your patio or lawn. These tables are meant to bring the fun of grilling indoors and make your backyard feel like an extension of your home. They're generally made from wood planks and have plenty of space for you to keep food, drinks and condiments as you cook on your grill. Here are 20 DIY grill table projects. Consider one of these grill tables if you're looking for a fantastic centerpiece for your patio or deck. They're all creative and functional, and they'll add some flair to your outdoor space.
When the summertime hits, there's no better place to be than with your friends, family and the grill. We've collected these DIY ideas to help you create your custom grill table. The projects range in difficulty, but all are sure to get you thinking outside the box regarding your outdoor cooking set-up. We'll show you how to make a base for your grill out of pallets or shipping crates, a picnic table planter and a seating area that doubles as a fire pit! These tables are sure to bring warmth and fun to any home or restaurant space. With ideas from square-shaped tables to circular, you can easily find the perfect table for your space.
With these 20 DIY projects, you can customize a grill table for your specific needs; from simple and portable to giant and sturdy, these ideas are easily adaptable to your space.
Benefits Of DIY Grill Table Projects
DIY Grill Table Projects can be a great way to save money and make your grill table. You can use this project to build an outdoor table that you can use when grilling food.
You may have heard about the benefits of DIY projects, but what exactly are they? There are many benefits to doing it yourself, including the following:
Cost savings
Time savings
Increased knowledge of how things work
Improved skills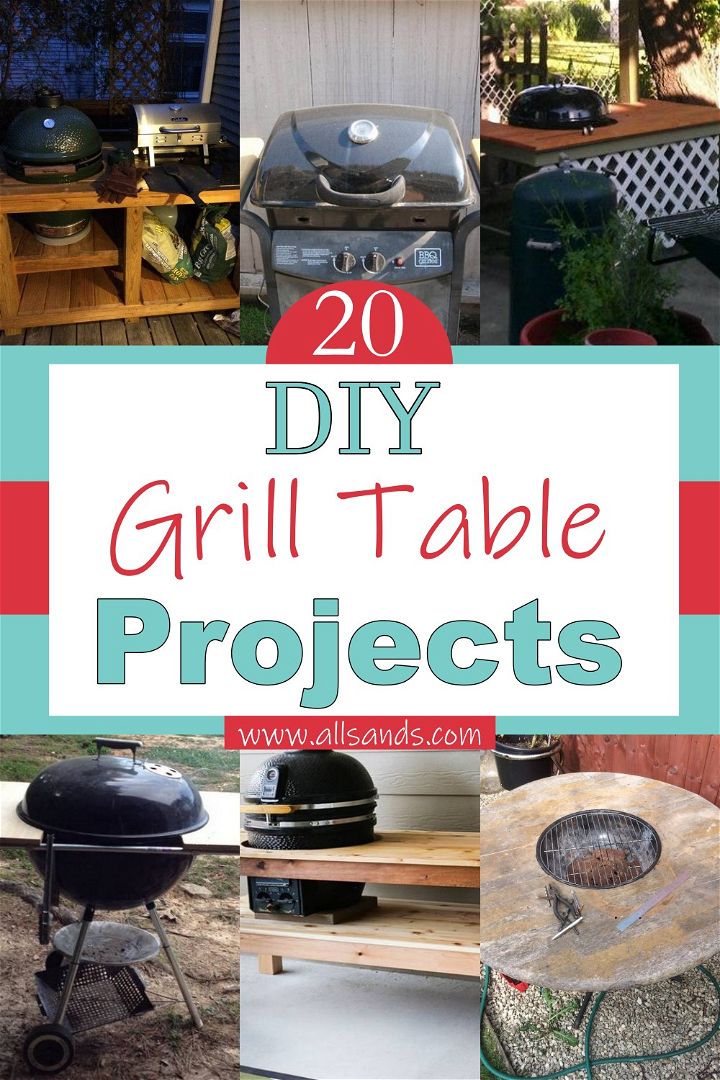 1. DIY Weber Grill Table
Build your own 6" Weber grill table and put an end to grilling on a dirty old table. This grill tabletop is made from synthetic decking material, which is water-resistant and easy to clean. A utility drawer provides storage for grilling tools and utensils. With caster wheels attached to each bottom of the table, it's even easier to move around when you need it out of the way or need to move it in. Make your barbecue even better with this simple DIY Weber grill table. With the caster wheel attached to each bottom of the table, it's easier to move it around.
If you want to make the most of your outdoor space without spending a lot, making your own picnic table with built-in grills is the way to go. It's a fun project that will make you the envy of your friends as they sit on their padded chairs and watch you dine with style. Easy, quick and makes an excellent piece of furniture to entertain. The grill top only takes a few minutes to assemble; just put the grills in place, and you are ready to go! You can sit on your chair, relax and watch over the meat from time to time.
3. How To Build A Grill Table
Learn how to build a sturdy and portable grill table. This project is ideal for outdoor dining, but it will work great in any space that needs a large table top. It has four parts; the two side frames, the bottom decking, and the top decking. The caster wheel is optional, but it's an excellent accessory that allows the table to move around quickly. This DIY project should take you about 12 hours to complete from start to finish.
4. How To Build A 22' Weber Kettle Grill Table
Find out how to build a 22" Weber kettle grill table. This DIY project uses two types of lumber and is built using pocket hole joinery. Make your backyard grilling experience more enjoyable with this homemade grill table of the famous Weber Kettle. This conversion has a large surface allowing you to prepare your grilled meals conveniently. It is a great project to build in your home shop. It stows in a corner when not in use, and you can use it outdoors or indoors on those cool fall and spring evenings!
5. DIY Grill Table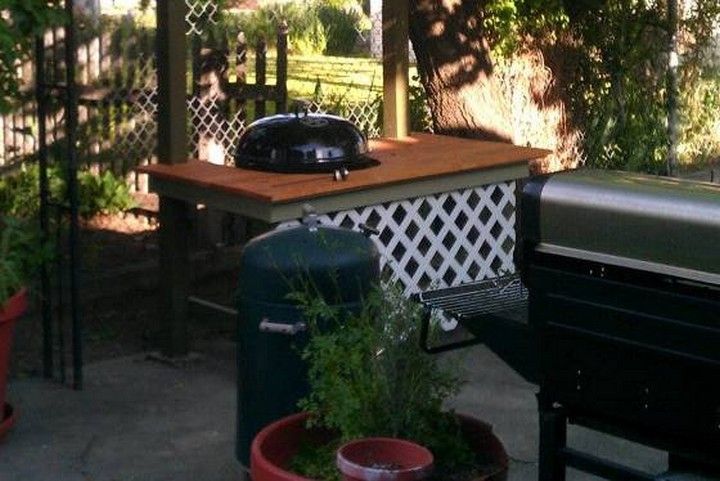 Do you love to grill but hate the mess that it brings? This is your answer! Just build this DIY grill table to make your grilling experience more enjoyable. The best part? It's made of scrap wood, so it'll be cheap and easy to build. You can build this DIY grill table out of any wood you want. You could even use pallets. To ensure that the table is sturdy, you will want to ensure that it is altogether level and has pressure-treated lumber. The legs are adjustable, so they can be at different heights and angles to fit your needs.
6. DIY Weber Grill Table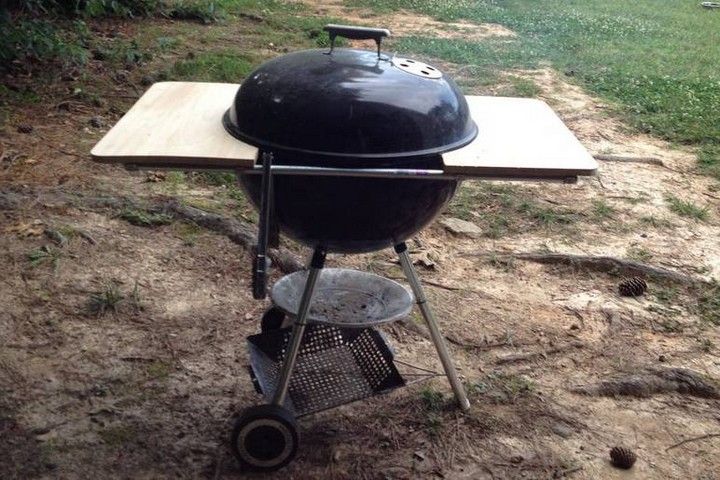 The table is strong and can hold the grill's weight. It has a beautiful arched design and, thus, will be the center of attraction on your patio. It also has space for small items such as keys or wallets. This DIY Weber Grill Table will give you a classy and functional piece of furniture for your grill. It allows you to store the grilling tools and food on it and makes it easy to move around when needed. You can make this table in just half an hour with materials that cost less than $10. You need two pieces of wood, conduit straps, electrical conduit, screws for straps and a drill.
7. DIY Grill Side Tables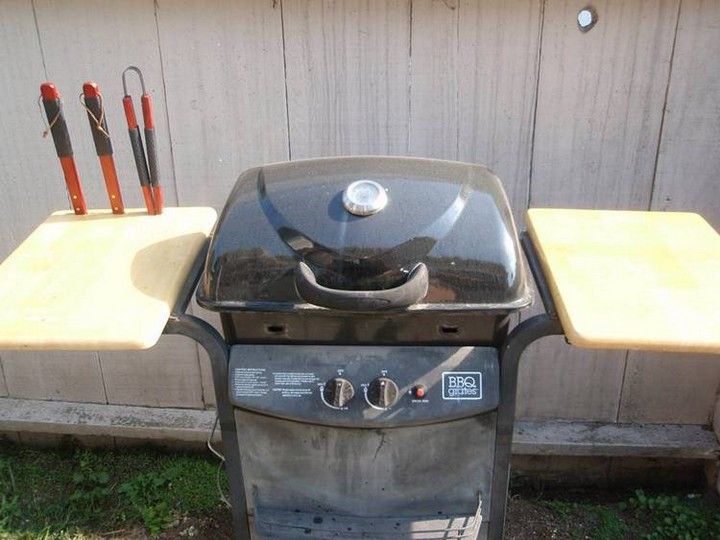 8. Big Green Egg And Gas Grill Table DIY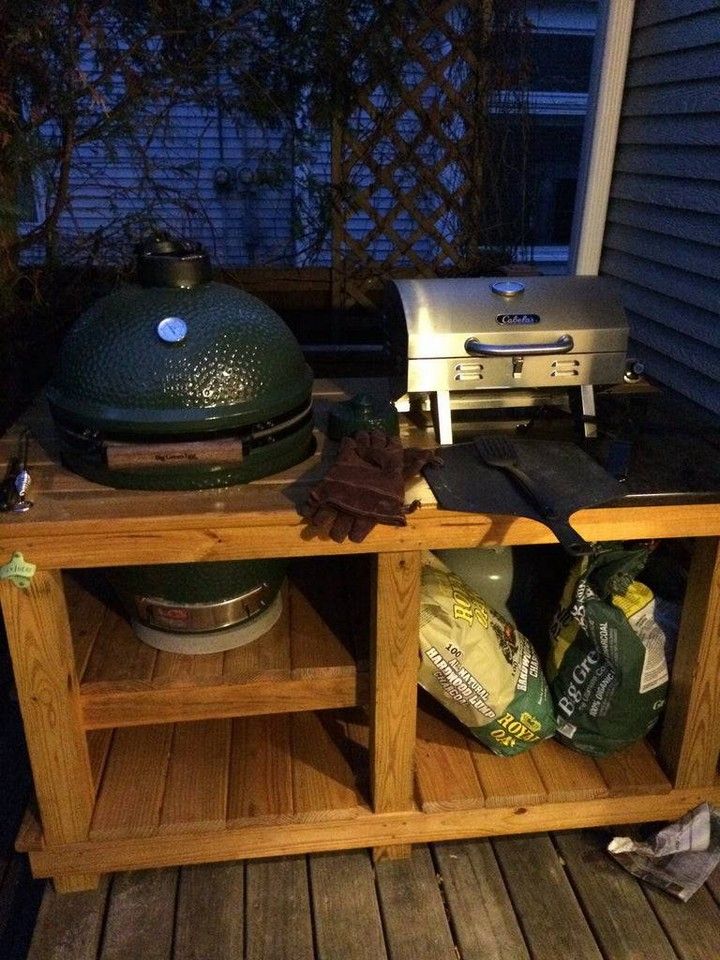 Egg & Gas Grill Table is perfect for your outdoor kitchen. Whether you need to increase table space or want an awesome-looking table, this project works great. The Big Green Egg grill table is the best way to elevate your Big Green Egg, allowing you to use it in many areas of your home. Other features include a built-in side tray for holding tools and utensils and storage compartments that can hold charcoal.
9. DIY Outdoor Grill Table
Grill tables are built to accommodate your outdoor cooking needs while protecting your patio or deck. The table provides a convenient surface for placing food, tools and other items, while the grilling surface gives you plenty of room for active cooking. This is an excellent project if you have an outdoor grill or are looking to build one. So many options are available, and they can be costly to buy. You decide how big you want your table and what features you want on it. The grill frame is easy to put together but will require a concrete pad once completed.
10. How To Make A Rollable Outdoor Grill Table
Using this rollable barbecue table is perfect if you're sick of your grill sitting outside and don't want to go out there to cook. Turn your backyard grill into a multi-use station. This rollable outdoor grill table is perfect for serving food, prep and serving table, and barbecue station. It's also great for serving food and working on the grill without having to go inside for utensils or other stuff. The best part is that it's durable and lightweight, so you can quickly move it around your yard or patio area.
11. DIY BBQ Table
This DIY project is inspired by the idea that a portable grill can fit anywhere, including on top of a table! This video will show you how to make a portable table with casters that fit in most places and gets the perfect height for grilling. The unique design allows you to move the tabletop around quickly while grilling. The tabletop is a beautiful piece of plywood, but unfortunately, it's not good to leave outside in the weather. So, if you want to make this table as durable as possible, please cover it when not used.
12. DIY BBQ Table From Wood And Concrete
Here's a great way to make a homemade BBQ table that can be used for outdoor entertaining or as a serving station. It has a nifty little storage shelf under the tabletop to keep tools, tongs, etc., nearby and out of sight when not in use. The DIY Grill Table is perfect for those backyard cookouts and picnics this summer. Made from wood and concrete, it's a functional addition to your outdoor space, with plenty of storage space for tools and tools in the tool drawer.
13. DIY Grill Table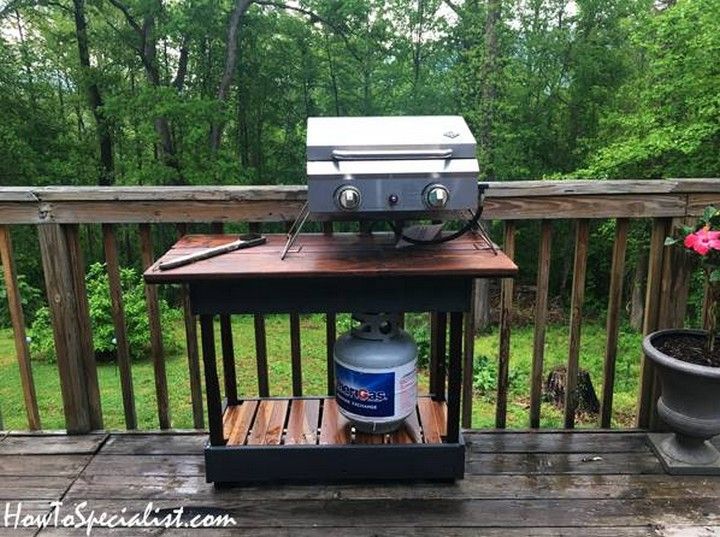 This DIY grill table is designed to be built from a few simple materials, such as steel and 2x lumber. Its unique feature is that it holds an 18-inch propane tank and has a shelf underneath to store tools and grilling accessories. This innovative DIY Grill Table combines the convenience of a grill with the cleanliness and speed of an indoor grill. Designed for quick setup, this table grills both sides of your food in less than 10 minutes. Place your food on top, close the top cover and push one button to start cooking.
14. How To Make A DIY Grill Table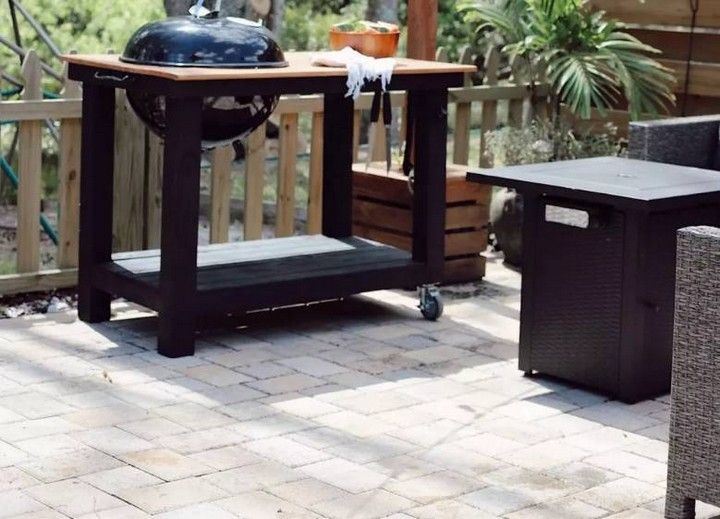 There's nothing like grilling up a fresh steak or some chicken, so why not take your grill and set it right at the table with this DIY Grill Table? With this guide, you'll learn how to build this awesome table with casters on the legs that let you wheel it right out onto your deck. The hammered steel handles give it an industrial look, while the bright red legs add a unique twist. This project is easy enough for anyone to try!
15. DIY Kamado Grill Table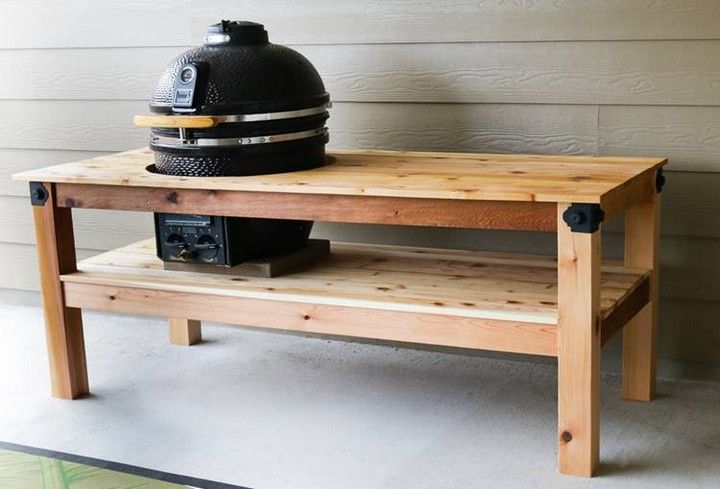 This kamado grill table is the perfect addition to your backyard or patio. It extends the use of your charcoal grill by giving you more space to store tools and ingredients, cook food, and keep drinks all in one convenient location. Consider making a DIY grill table if you're planning on adding a new element to your backyard or upgrading your kamado grill. Kamados often come with small tables, but this one can help keep food and other items organized while grilling.
16. DIY Grill Table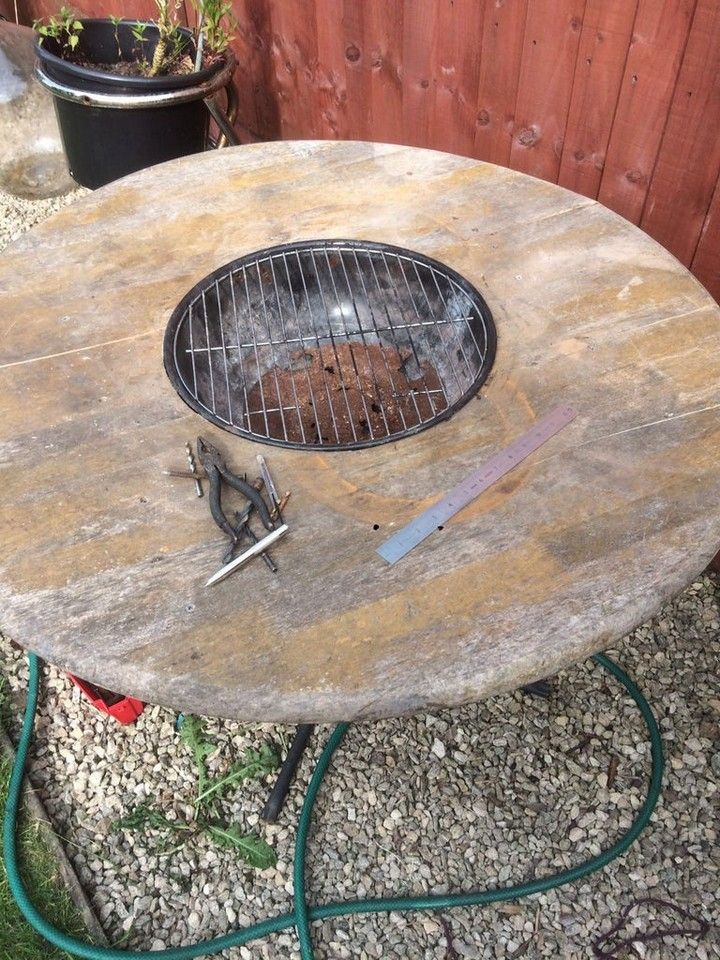 A DIY grill table is a must-have piece of equipment for grilling. It makes grilling more accessible and organized and improves your food's taste. But it's more than just any old table that makes an excellent grill station. It should be lightweight, strong enough to hold your propane tanks and have a sturdy base. Using suitable materials ensures that the table you build can withstand heat and moisture caused by cooking outdoors. This DIY grill table will make your backyard entertaining more fun. With this table, you can grill up a storm and enjoy it with your loved ones.
17. BBQ Table DIY
This DIY grill table offers endless possibilities for your outdoor enjoyment. The grill is separate and easy to move around; it's removable, so you can take it wherever you like, and it can be used for various things (like grilling, baking cookies or eating pizza). It's made from wood and rubber to withstand outdoor use. This project will help bring your pastimes together with a one-of-a-kind creation that reflects your style.
18. How To Build A Grill And BBQ Table
If you're looking for a way to make your grilling experience even more enjoyable, this DIY grill table is the perfect solution. It's great for outdoor grilling but can also be used indoors as a dining table. This DIY BBQ table is quick and easy to build with the right tools, materials, and a few hours of your time. The cool thing about this project is that it can be built with pocket hole joinery, Kreg screws, drill, Brad nailer and clamps.
19. Kettle BBQ Pallet Side Table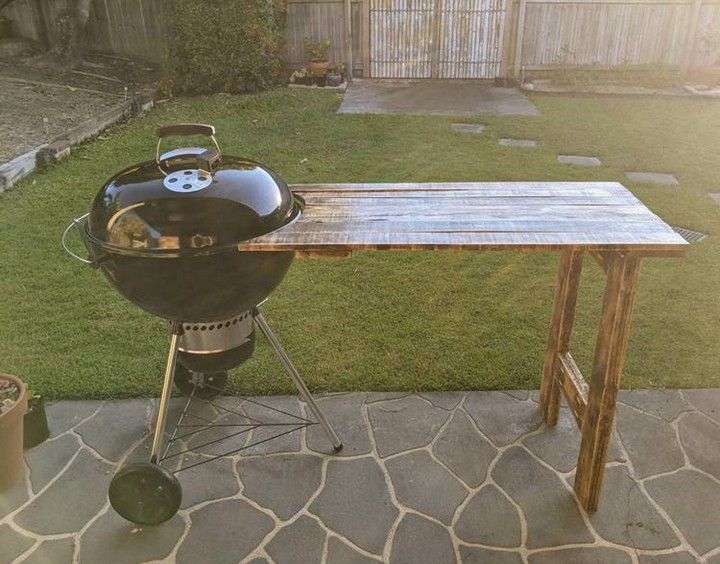 This easy-to-follow tutorial turns a weathered wooden pallet into a lovely, rustic grill table. It's perfect for your back deck or patio and will last for years! This simple yet fantastic DIY grill table idea is a great way to make your outdoor BBQ more inviting. It's easy to build and looks great with minimal cost and materials. It is an excellent project for anyone who loves to grill. With its rustic, natural design and materials, this table will make a statement in your backyard or patio.
20. DIY Grilling Table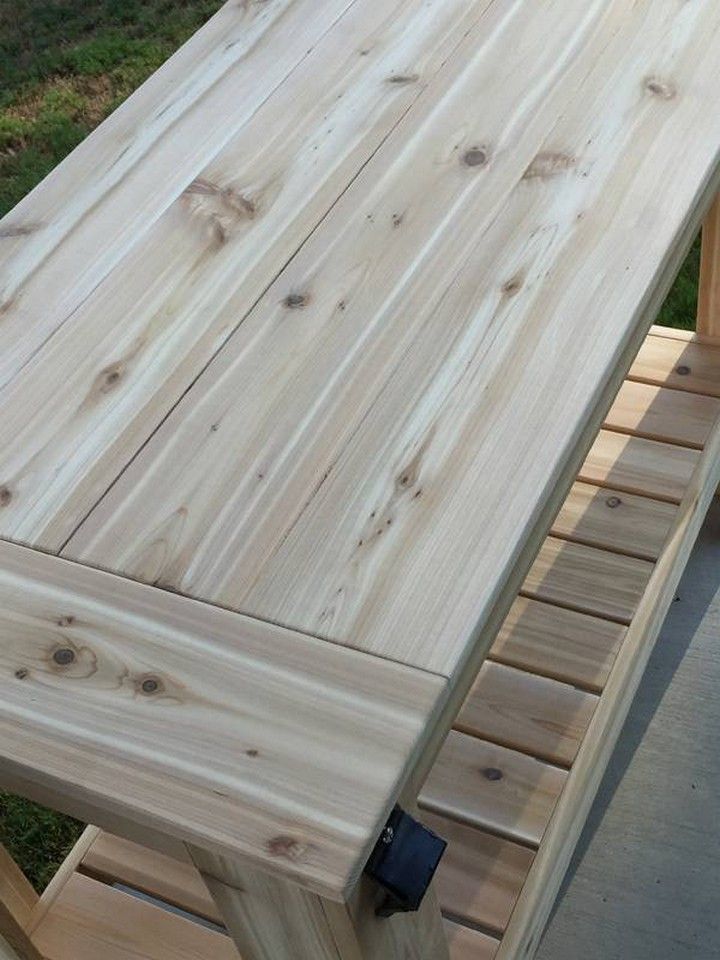 The DIY Grill Table provides a sturdy platform for grilling food on your patio or deck. An excellent gift for the avid griller in your life is this DIY Grill Table. The table features a lip to keep spices, sauces, and condiments within reach while cooking. It is made of Cedar boards, naturally resistant to weather conditions and pests. The table is easy to clean with a damp cloth and assembled with a screwdriver.