Who doesn't love a good drying rack? They're essential for ensuring your wet clothes get the air circulation they need to dry quickly, and you can make one out of just about anything. There are so many racks, from ones that use multiple levels to let you dry small things next to big ones to those with slats in the back so you can hang items with straps. So why settle for just one? Let's look at some unique DIY drying rack projects —you'll be surprised how easy it is to add a few to your home!
Easy DIY Drying Rack Ideas

If you've ever come back from a weekend trip with wet towels that need to be dried, only to find that your home doesn't have a DIY drying rack, you know the frustration of not having enough space to hand things up to dry. While store-bought drying racks are available, many need the size or shape to fit all your clothes. (This is especially true for people with limited closet space.) Using a few simple tools and materials, it's possible to make your own customized clothing rack at home. This article will show you some DIY drying rack ideas that can be placed anywhere in your home, from the kitchen and bathroom to the garage and even outdoors on the patio!
Benefits of DIY Drying Rack Projects
Drying racks are used to dry clothes and other items. They are often constructed from wood but can also be made from metal or plastic. Drying racks can be purchased in stores, but many make their drying rack projects. Benefits of DIY Drying Rack Projects include:
Save Money:

 You can save money by making your drying racks. The cost of materials is much lower than purchasing a standard drying rack from a store.

Make It Your Own - 

Customize your drying rack with paint, stain, or other finishing materials to make it your design. This will allow you to match the look of your home decor or create something unique and beautiful just for you!

Save Space:

 A custom-built rack can be designed to fit perfectly into any space where you need it most!
DIY Pull-Down Drying Rack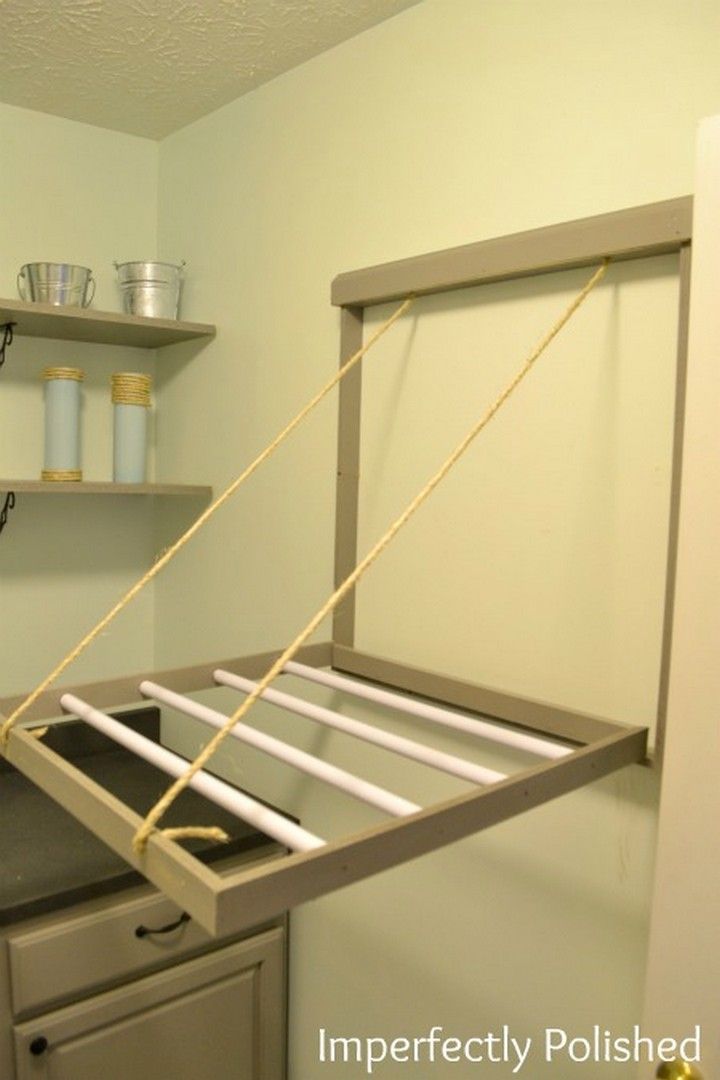 Have you ever seen a laundry room that doesn't have at least one drying rack? It's a staple in any well-equipped laundry room, and this cute DIY folding rack lets you pop it up when needed and push it out of the way when not. You will love how the directions show how to build a collapsible drying rack with added storage! This drying rack is simple to make, especially if you're handy with power tools. This can be so helpful in a small apartment or house.
DIY Clothes Drying Rack with Shelf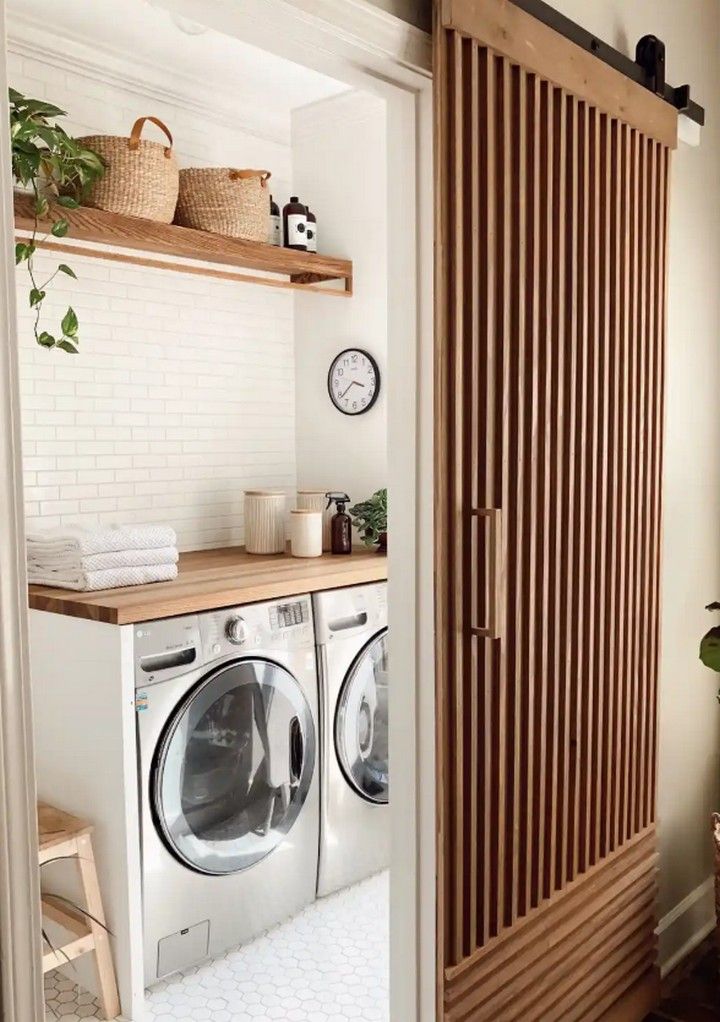 Does your laundry room lack a drying rack? If so, try this DIY Clothes Drying Rack with Shelf. It only takes a few minutes to build and can be made using everyday materials around the house. This design uses two pieces of wood, but you can make it larger or smaller depending on what works best in your space. The shelf not only gives you extra storage space but also helps keep clothing off the floor.
DIY Clothes Drying Rack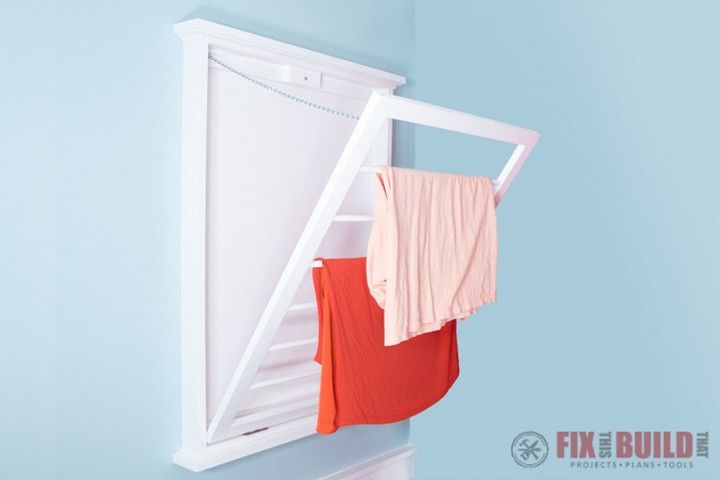 A drying rack is an easy, efficient way to dry laundry indoors. With this simple drying rack project, you can have a DIY clothes rack that folds flat for easy storage. This project requires minimal materials and a few quick steps to assemble at home. This DIY Clothes Drying Rack is the perfect solution for a small space or apartment dweller. It fits in many places within your home, and its foldable nature means you can collapse it when not in use.
Ballard Designs-inspired Beadboard Laundry Drying Rack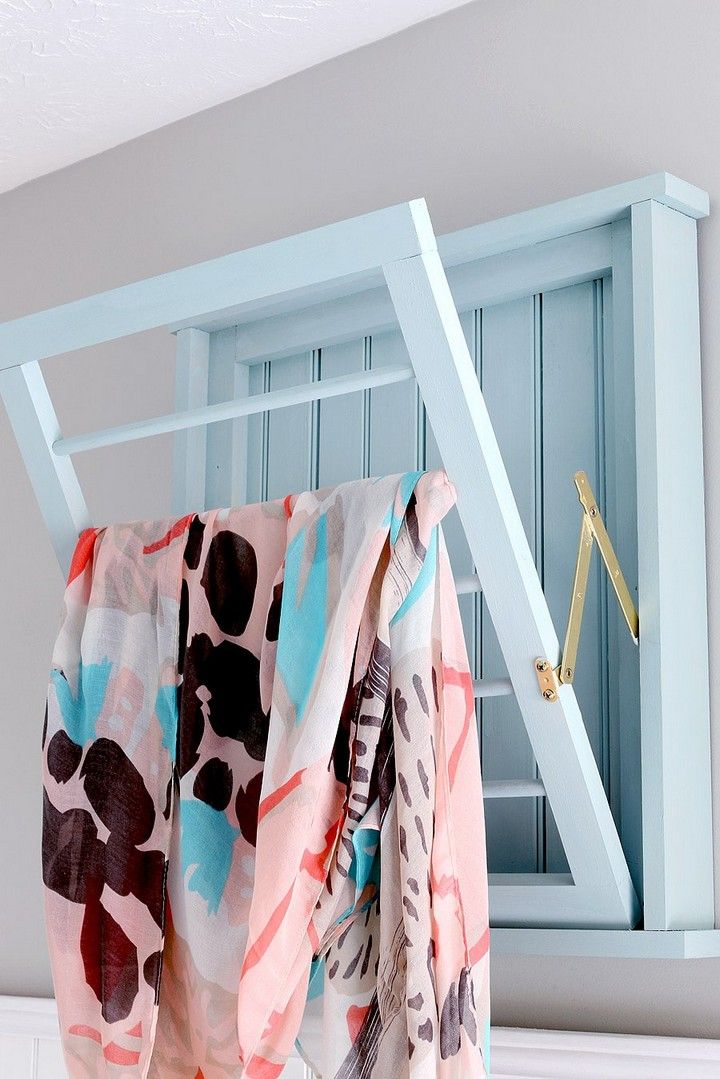 Drying racks are essential for any laundry room—especially when you're short on closet space. Create a Ballard Design-inspired laundry drying rack with this simple tutorial. Hang it in the mudroom, kitchen or anywhere else to dry towels and clothes from the kids' sports teams or your favorite yoga pants after spin class. The simple design allows you to hang items directly or use hangers or clips to secure them in place. Mount it on the wall for convenience, or use it freestanding for easy access.
Wall Mounted Clothes Drying Rack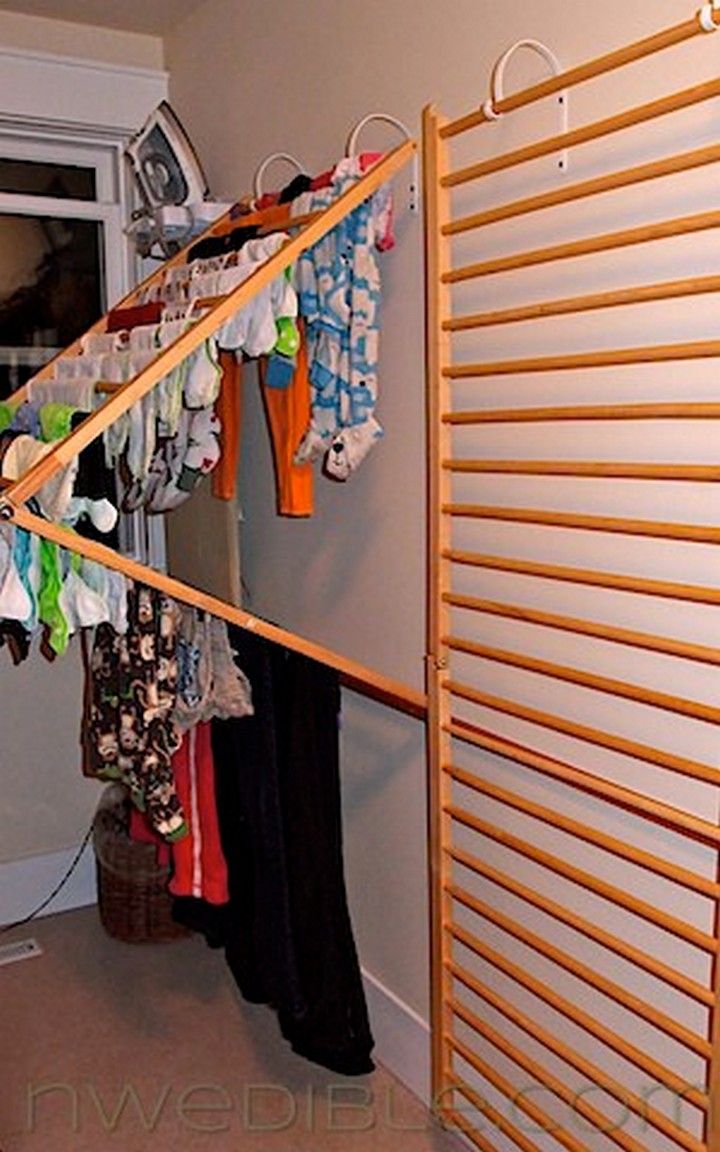 DIY a wall-mounted clothes dryer rack that's ideal for drying wet clothes. The compact design lets you save space and provides plenty of drying room on either side. Attach this rack to a wall in your laundry room for an easy-to-install and convenient solution to your daily laundry needs! This cleverly Wall Mounted Clothes Drying Rack is an excellent alternative to the usual dry method. The rack has a sleek wood frame and can easily be hung on any wall without special tools. It's designed to sit flat against the wall, leaving your floor space open for other things!
How To Build A Drying Rack Laundry Room Makeover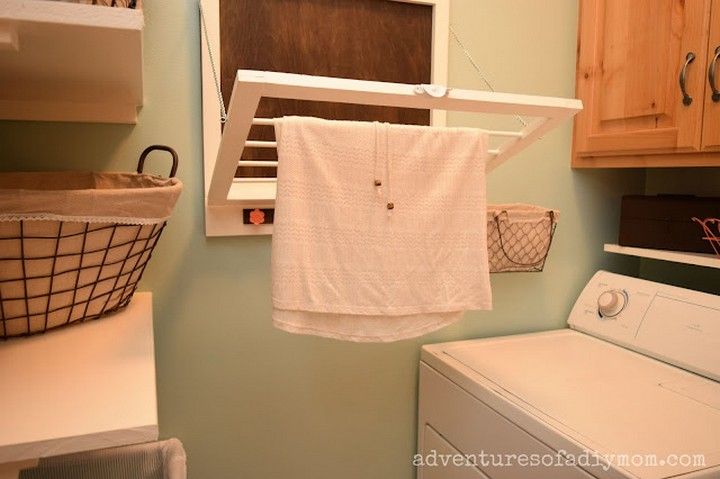 When laundry day hits, it's time to get your hands dirty. This DIY Drying Rack Project is a simple upgrade that helps you organize your drying area and ensure you have enough space for a clean load of clothes. You don't need to spend much time or money to make your laundry room look great! This project is easy and budget-friendly, so it's an excellent place to start if you're starting or have limited funds. You won't need any special tools, and this is a great chance to put those DIY skills to use!
Make Your Own Laundry Room Drying Rack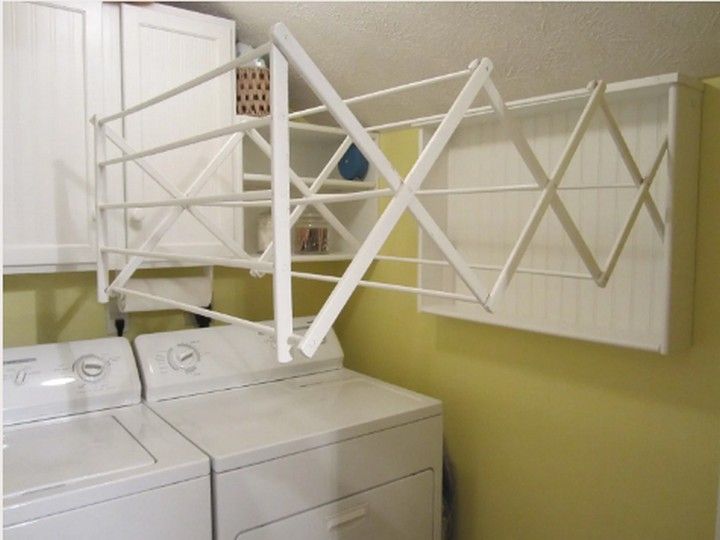 This DIY drying rack is easy to build and will make your laundry room more efficient. Stackable, it allows you can hang up wet clothes, towels, and sheets to dry quickly and easily! Get your laundry done faster with this easy DIY drying rack. This DIY project is made from wood and some screws, perfect when you need a larger space to hang clothes in your home. The DIY drying rack is a simple and cost-effective way to save space in your laundry room. This drying rack also saves energy by avoiding using the dryer whenever possible.
Make This Easy Ladder Laundry Drying Rack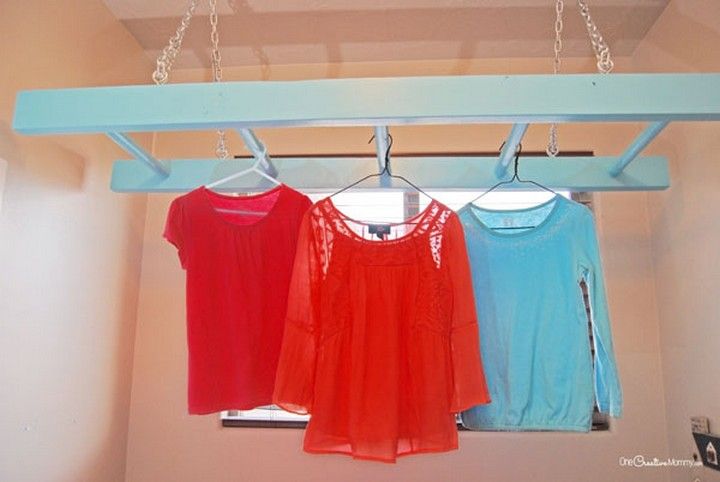 A DIY drying rack is an excellent solution to add extra space to your laundry room. It's also super easy to make. It's also the easiest to assemble, taking advantage of its inherent strength. And using clean, quality lumber means that your drying rack will outlast years' worth of trips through washer and dryer combo units. Place your wet clothes on this DIY drying rack and let them air dry naturally. The best part? You save space in your laundry room by hanging it up when not in use.
Repurpose A Ladder Into A DIY Drying Rack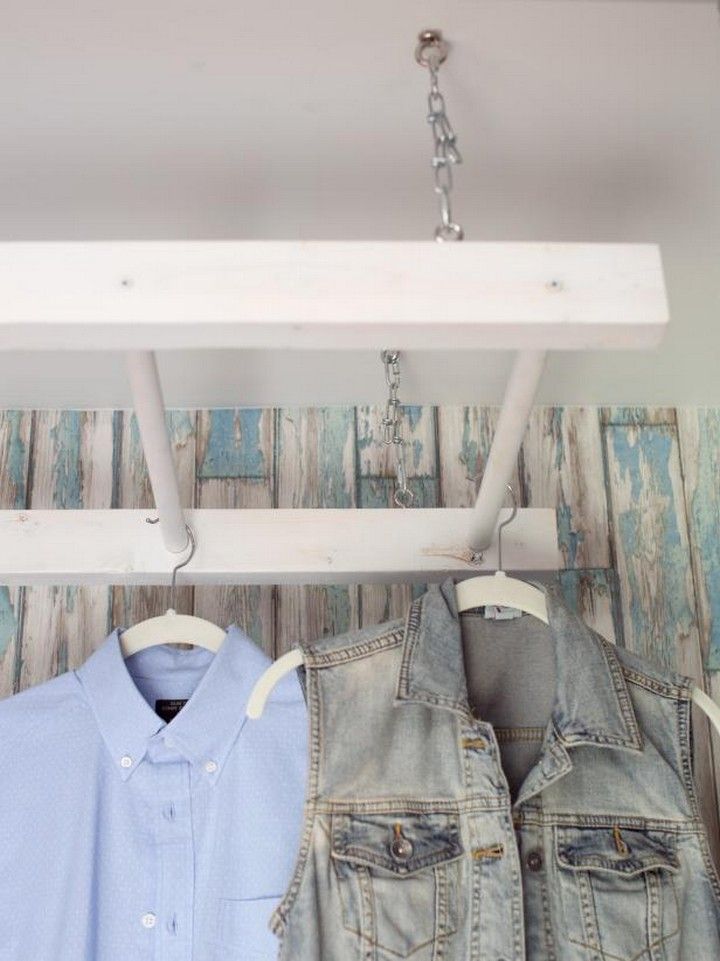 You can't beat a good old-fashioned DIY drying rack when drying your clothes. Here's a great idea for repurposing a ladder into a DIY drying rack. It's perfect for those who lack counter space but don't want to sacrifice their lint-free and wrinkle-free clothes. This tutorial shows how to transform an old ladder into a simple yet super-functional piece, perfect for hanging towels and robes too! Plus, there's no muss and fuss since you won't need to drill anything into the walls. Great for apartments with small spaces and limited storage options.
Make Your Own Art Drying Rack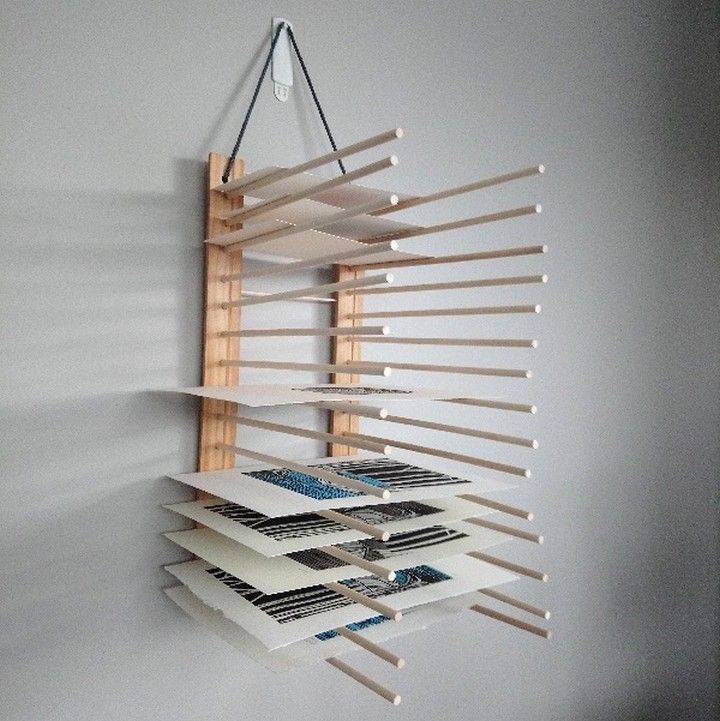 If you want to save space, this drying rack is just what you're looking for. This Art Drying Rack project is an excellent addition to any home. It's perfect for drying artwork and other crafts, featuring a unique design that adds interest to any room while leaving space on the table underneath to store paint cans or brushes. This project is as cheap and easy, and you can use it for all kinds of things! The guide will walk you through the steps, so you don't have to worry about getting it right!
DIY Clothes Drying Rack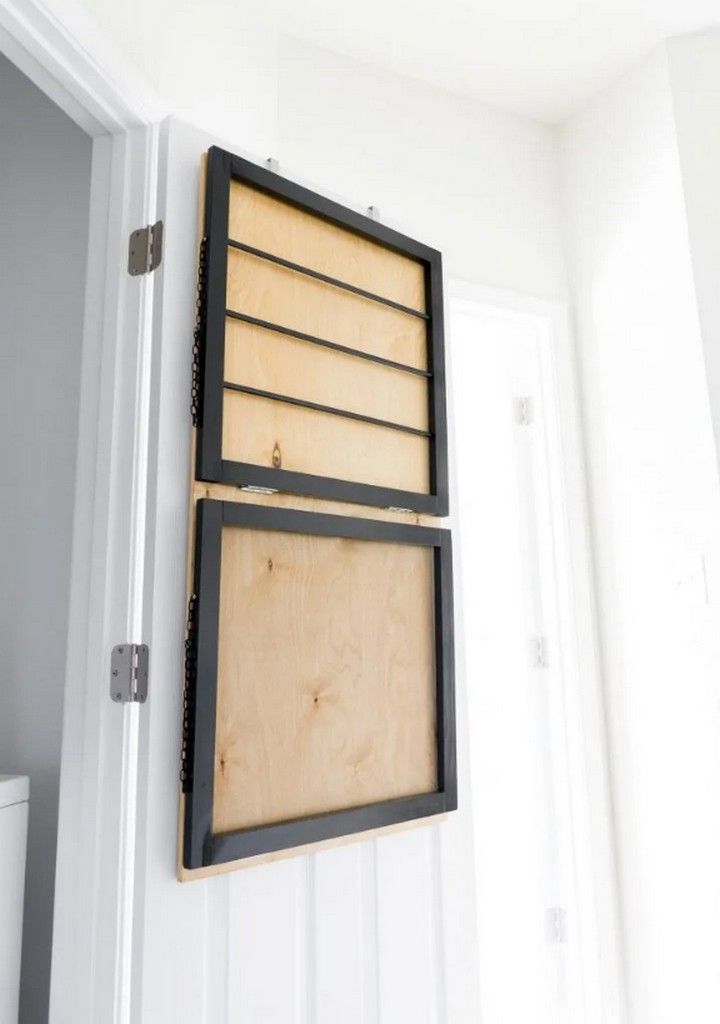 A clothes drying rack is an inexpensive and easy-to-make project that provides a convenient, space-saving solution for your laundry needs. It is perfect for drying items such as towels and sheets after washing them. This DIY project nails the basics of building your drying rack -- plus, it's durable enough to last through lots of heavy use in your home. Instead of wasting energy and money running your dryer, use this DIY clothes drying rack project to save money and reduce your carbon footprint!
Ceiling Mounted Clothes Drying Rack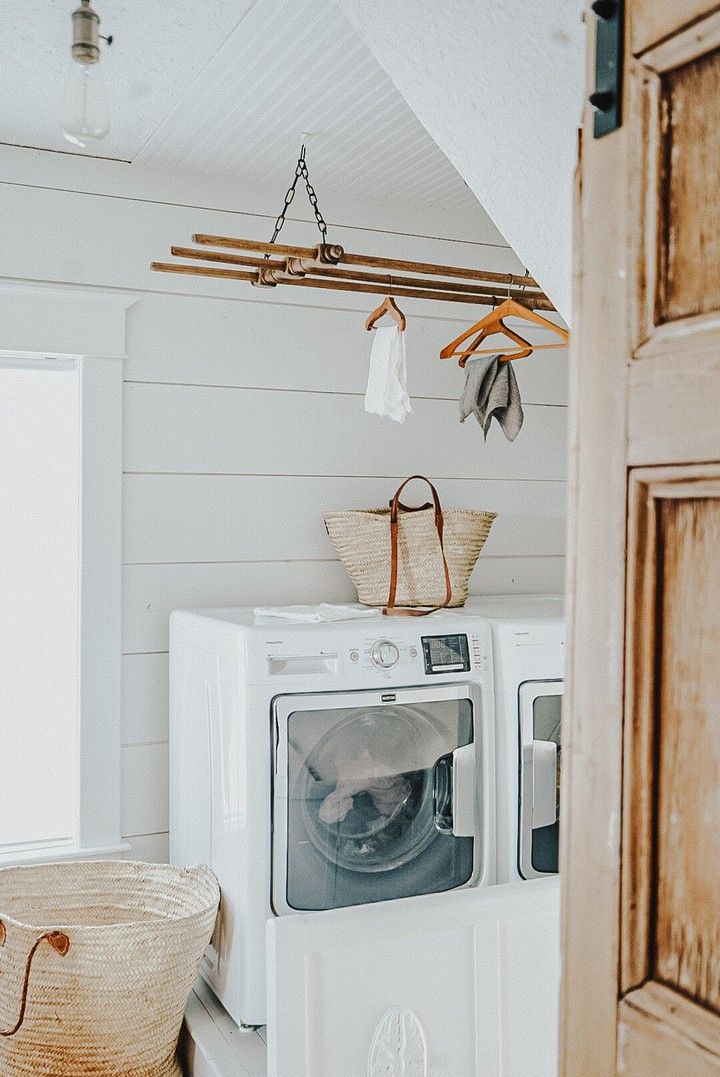 You can't beat a clothes dryer, but sometimes the weather doesn't cooperate, or you want to give your clothes a chance to air dry before the next wash day. The DIY Clothesline project is a clever design that installs easily into any ceiling or works as a portable option using adjustable fittings. This DIY drying rack is great for your home, apartment or if you live in a dorm. It will quickly dry clothes and help you free up some storage space!
You can also see: DIY Boot Dryer Ideas
How To Build A Hanging Laundry Rack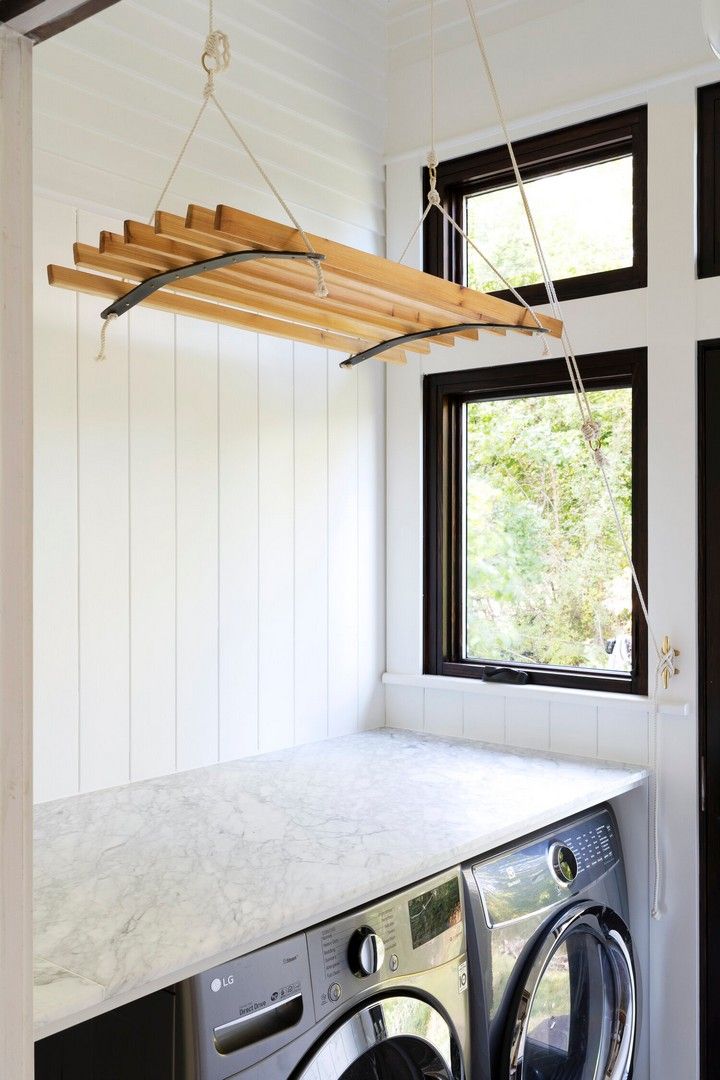 A DIY drying rack is perfect for adding extra counter space in your laundry room. You can build this sturdy wood drying rack in less than an hour. The laundry Rack is the perfect way to store and organize your family's laundry items. The workbench style gives it a rustic charm that works for any home decor. The heavy-duty metal support can hold several pounds of clothes at a time, and the sturdy wooden slats ensure they will last a long time. Click through to find out how easy it is to build one yourself.
DIY Foldable Drying Rack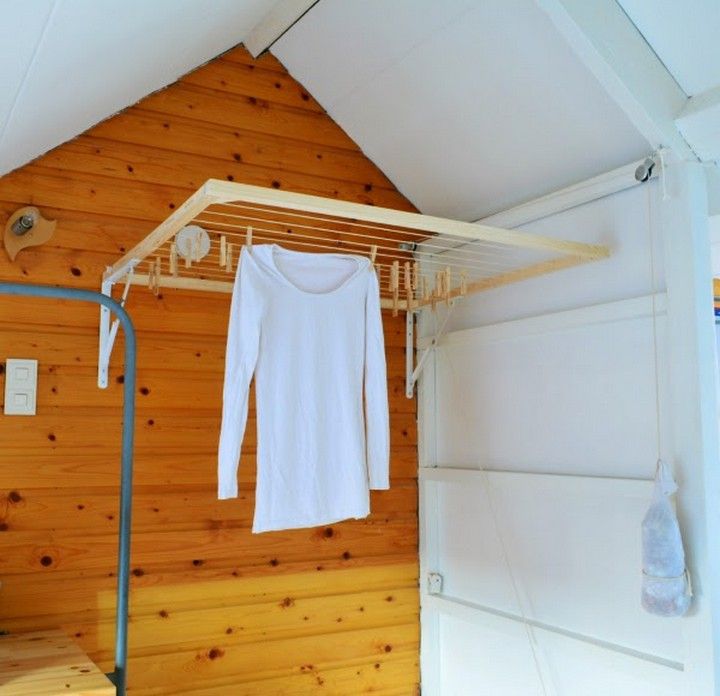 Are you looking for the perfect DIY Drying Rack project? Look no further. With this DIY foldable drying rack, you will never have to worry about finding a place to hang your clothes as they dry! This project is perfect if you have a large family or do a lot of hand-washing. This DIY project is a fun and cost-effective way to add extra hanging space to your laundry room or outdoor shed. The foldable design makes it easy to store away when not in use.
Fold-Down Drying Rack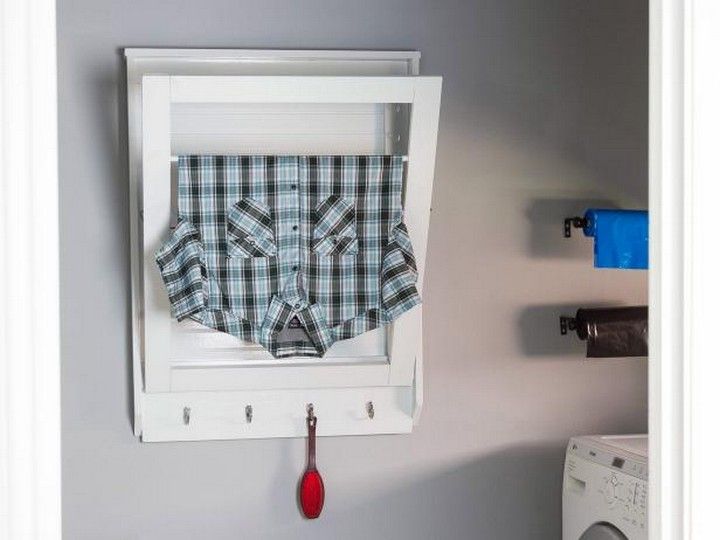 Do you love organization but are always on the go? This Drying Rack Project is perfect for anyone looking to keep their clothes neatly stored in a portable fashion! Make this easy DIY drying rack to keep your laundry room organized and tangle-free. It's the perfect way to dry delicates, towels, or blankets — any laundry that needs air circulation. Drying racks are great home storage devices, but this fold-down drying rack is a convenient solution for those who do not have much space to spare. You can fold it down or leave it up according to your needs, conveniently hanging it against the wall between uses.