Because we spend so much time in our homes, making them as comfortable and functional as possible is essential. A mudroom storage area is an excellent addition to many homes, but it can take effort to figure out how to set one up without breaking the bank. To help, we've rounded up 24 easy DIY mudroom storage projects for use inside and outside your home. Having an organized home can make your mornings more productive and less stressful by keeping everything in its place.
Easy DIY Mudroom Storage Ideas

If you need a place to store your everyday essentials clean, organized and stylishly, then your mudroom should be the spot. Whether your style is rustic and weathered or clean and modern, these DIY mudroom storage ideas will help you assemble a space that works for you. Storing your shoes and coats in the same place is a great way to simplify your mudroom. Here are some simple DIY mudroom storage ideas that fit any budget and space.
Benefits of DIY Mudroom Storage Ideas
DIY mudroom storage ideas can help you create an organized mudroom that is easy to keep clean. Here are some of the benefits of DIY mudroom storage ideas:
You can customize your mudroom to fit your needs, making it more valuable and inviting.
DIY projects allow you to save money by being resourceful with discarded items or purchasing inexpensive items at a hardware store.
DIY projects are a great way to stretch your dollars further if you are working on a budget.
Easy To Make Locker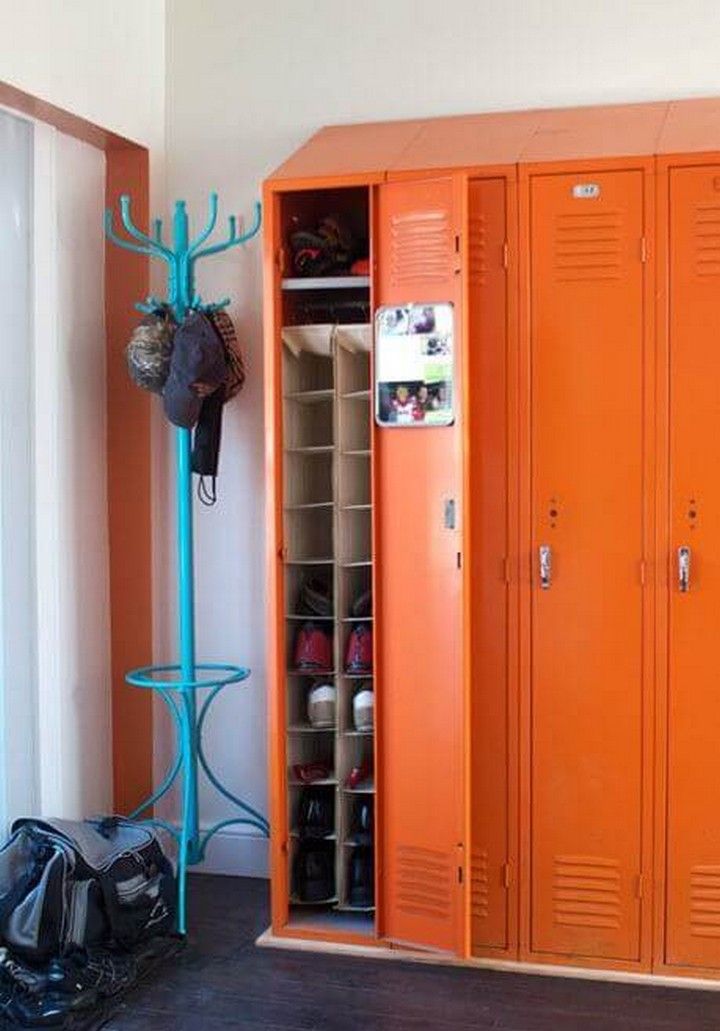 Add dynamic storage to your mudroom by using lockers. The Mudroom Lockers are wish-listed items for anyone looking for storage space to keep their small items from getting lost. Each locker is ideal for small accessories and items you want to keep safe but out of sight. The solid construction provides durability and longevity in any environment, while the beautiful finish allows these lockers to blend effortlessly into any decor. The lockers are designed to be easy to access while maximizing space, so it's easy to find something when it matters most. They can be built-in and freestanding and include various styles and sizes from which to choose.
DIY Rustic Mudroom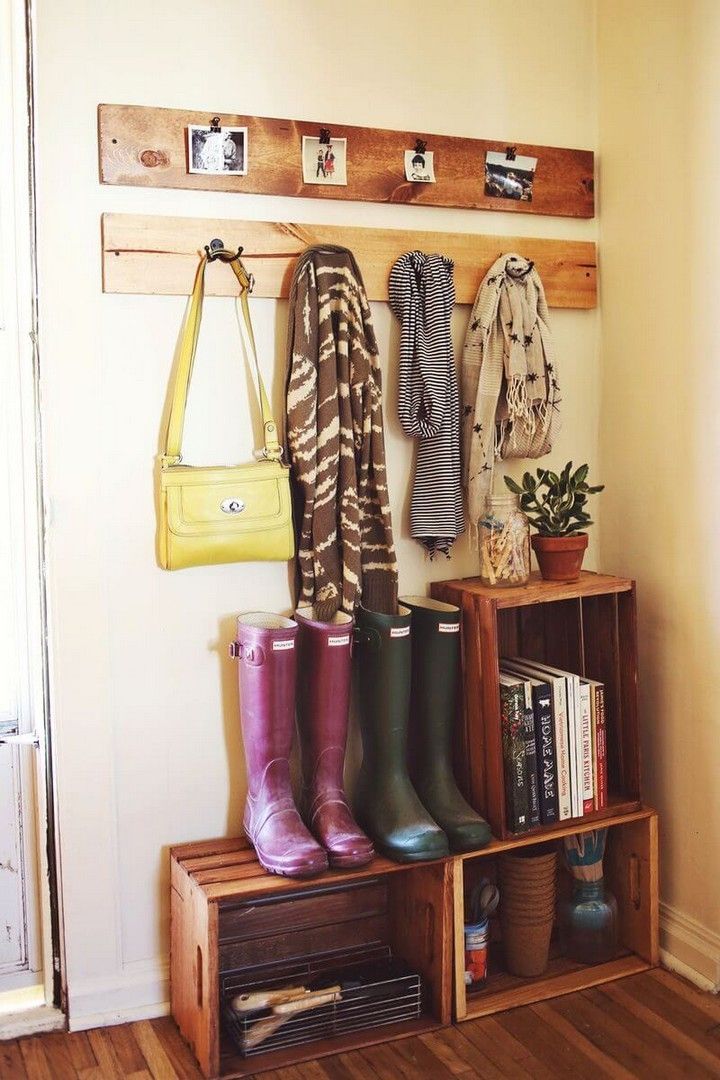 Create a space that's as much fun to spend time in as it is functional. This mudroom with rustic charm is a perfect addition to your entryway. A rustic mudroom is as comfortable and attractive as a contemporary one. A great room serves many purposes. It can be a place to socialize, cook, or relax. It will help you keep your shoes and boots off of your floors while keeping you organized with ample space for hooks, cubbies and space for bags. This would match perfectly with the look of your rustic farmhouse decor.
Beautify An Old Dresser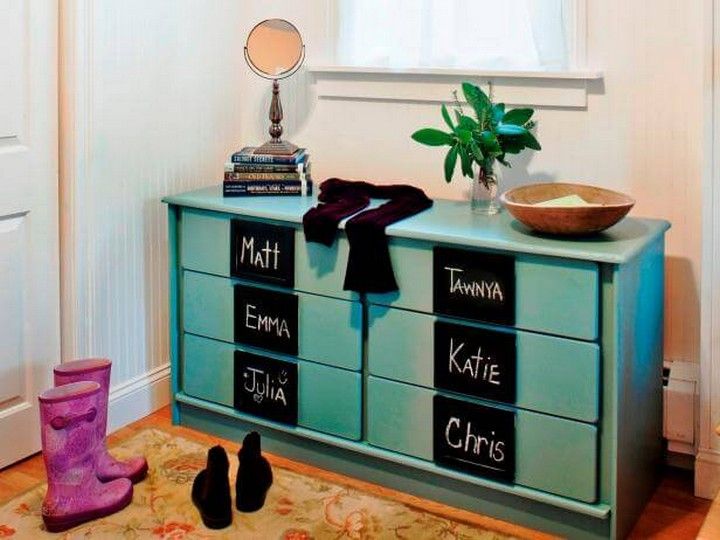 Need a dresser that works in the mudroom? Or just tired of your entryway looking like a storage closet? This old dresser has been refurbished and is ready to be your new favorite. The perfect addition to your mudroom, this dresser is constructed of solid material, allowing you to store many items in the same space. This workhorse has seen better days but still has plenty of life left. Perfect as a mudroom dresser or entryway table, this dresser is a great minimalist addition to any room. This is a classic piece that you'll be able to use for years to come.
DIY Cozy Mudroom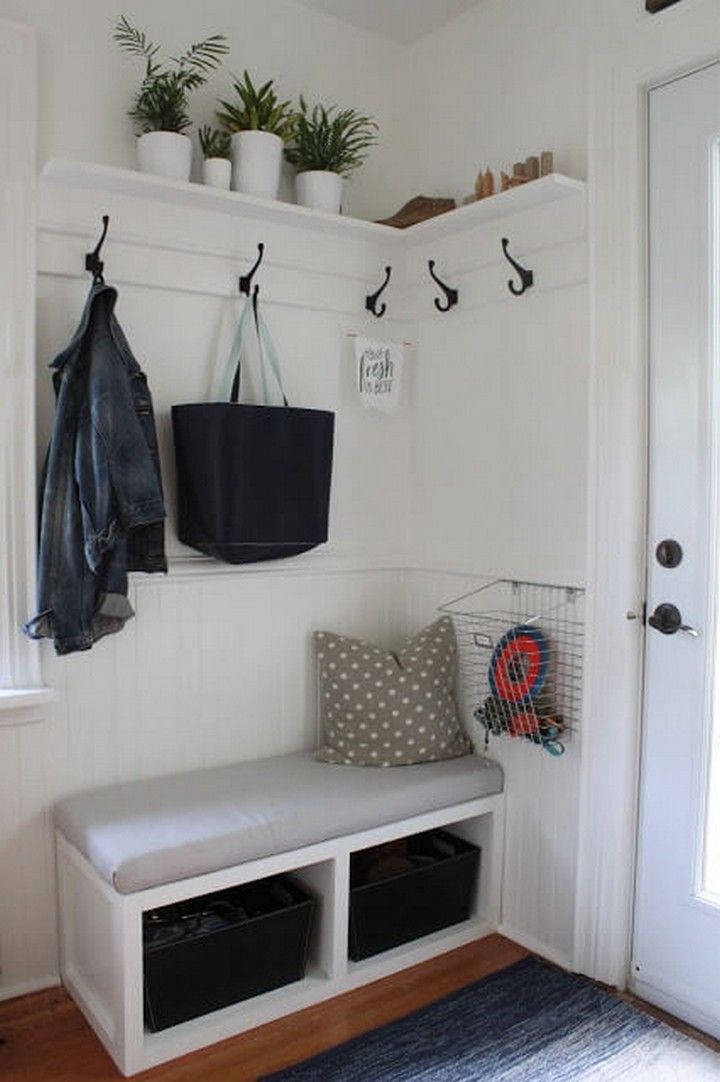 It's like your favorite cozy sweater but for your front door. The Cozy Mudroom is a stylish and functional front entry. It will keep everything in its place so you can come and go without missing a step. This is a perfect place to take off or put on your outdoor gear. It's a space where you can unwind, enjoy the view, or sit by the fire. This Cozy Mudroom is designed to create more storage space in the entryway and, at the same time, complement your decor. It stores all of your footwear to keep the floor neat and tidy.
DIY Indoor Porch Storage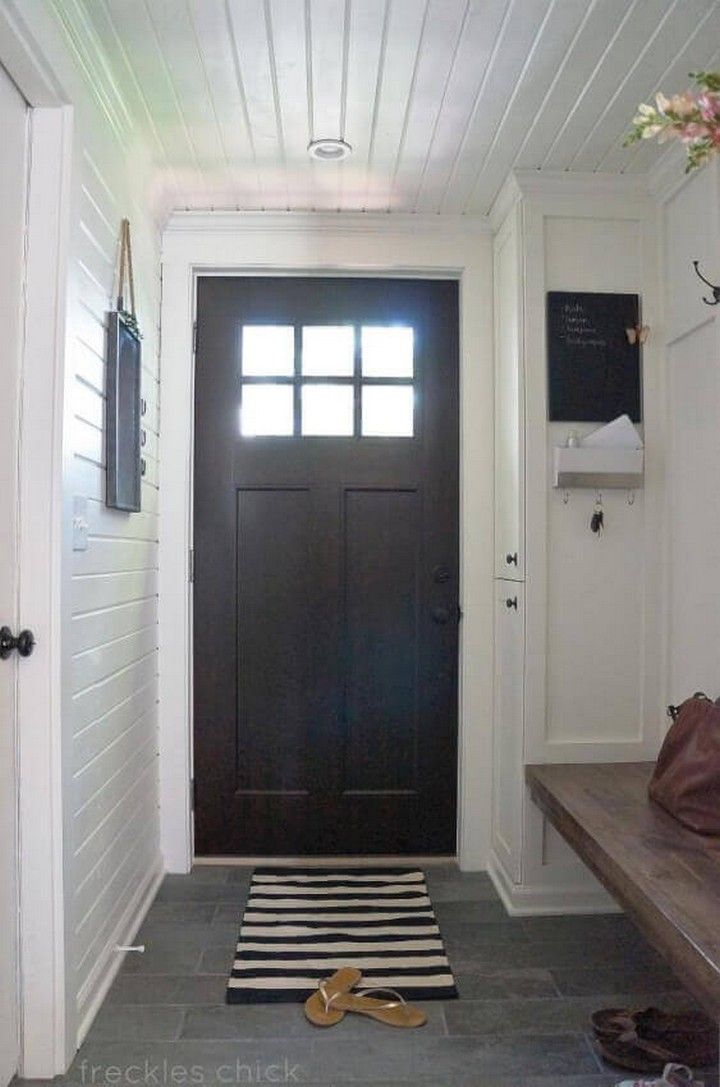 Create the ultimate entertainment space with an 'Indoor Porch.' The enclosed Porch is a great place to enjoy your favorite views while keeping you and your guests warm and cozy. The Porch is perfect for those who want a more open, airy look and feel of a covered porch. Ideal for creating a space to eat outside, entertain guests or take in the view of your backyard, this product allows you to extend your living space into the great outdoors. This is also a perfect space for respite and relaxation, helping you enjoy your garden while reducing noise. The use of high-quality materials attracts the eye and maximizes the space.
DIY Mudroom For Small Spaces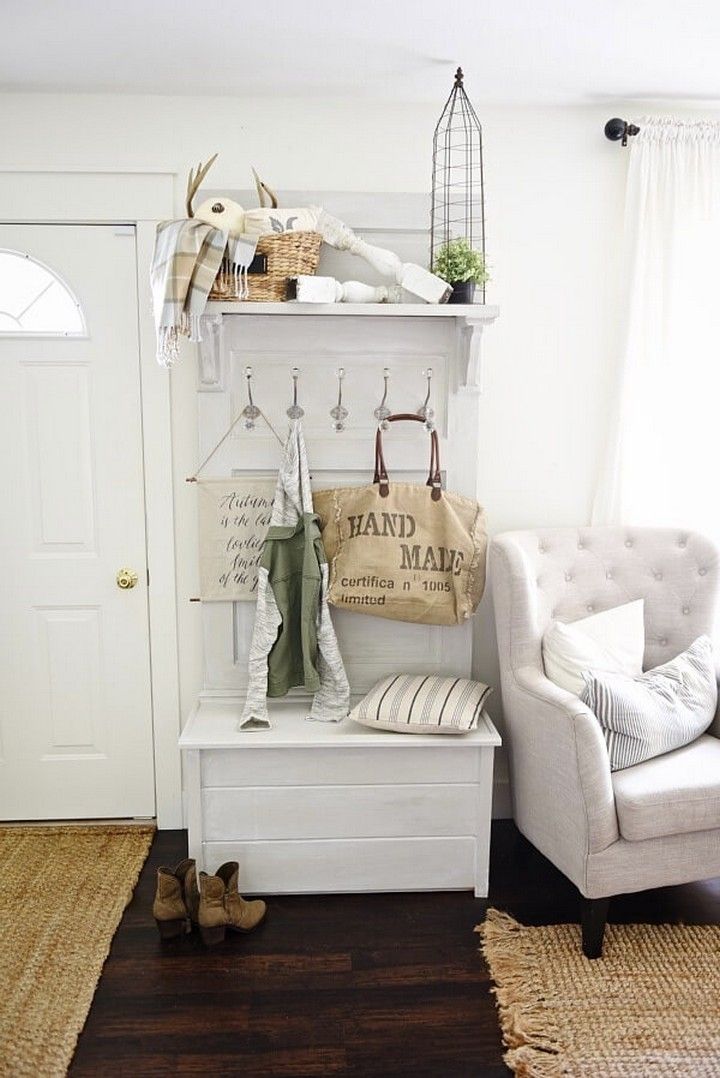 You're lucky if you have a small space but big plans. Mudrooms can be found in many styles, but they all share the same purpose. They are spaces where you can store items and clean up before entering the rest of your home. These are especially useful for smaller homes that have a limited amount of storage space. These are also a charming and practical addition to your home, making getting ready in the morning with kids easier. They can transform from a dark, cluttered space into a refreshing refuge of calm and comfort after the chaos that often happens before school.
Hook-Based Storage Solution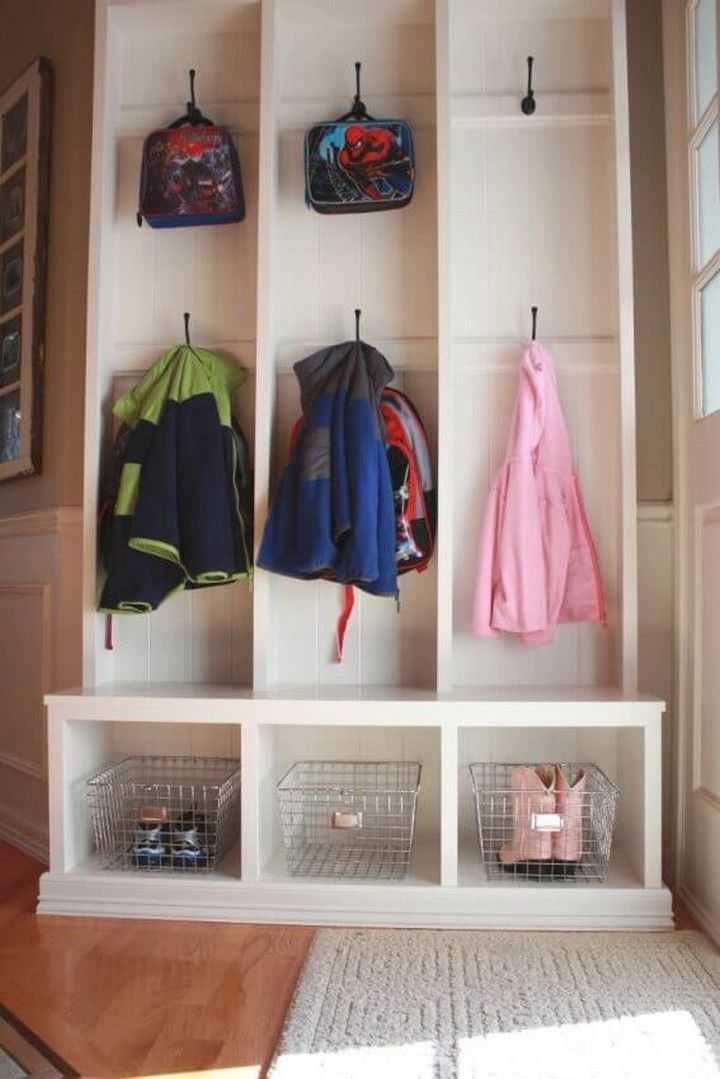 Mudrooms are a great way to organize your home, but cleaning and drying off shoes after each use can be a nuisance. The Hook Based Solution solves this problem by providing a hook for each family member's shoes, keeping your mudroom organized and dry. This mudroom storage solution is a unique space saver. This solution is easy to use, clean and maintain. This simple and elegant solution allows you to hang your coats, hats and bags on hangers in an orderly manner. Hanging space is maximized in the most efficient way possible by utilizing the wall space efficiently.
Family Command Point Organization
A mudroom is an excellent place for families to store their belongings, but it can get messy. The sleek, modern design and ample space on this piece make it easy to manage your family's busy lives. This product also works well in entryways or bedrooms, allowing everyone in the house to know where they should keep their stuff. The attractive design of this commanding point will fit any decor scheme and make your entire home more efficient and organized. Every house member can see it and update it as they complete their tasks, ensuring everything runs smoothly.
Reversible Mudroom Storage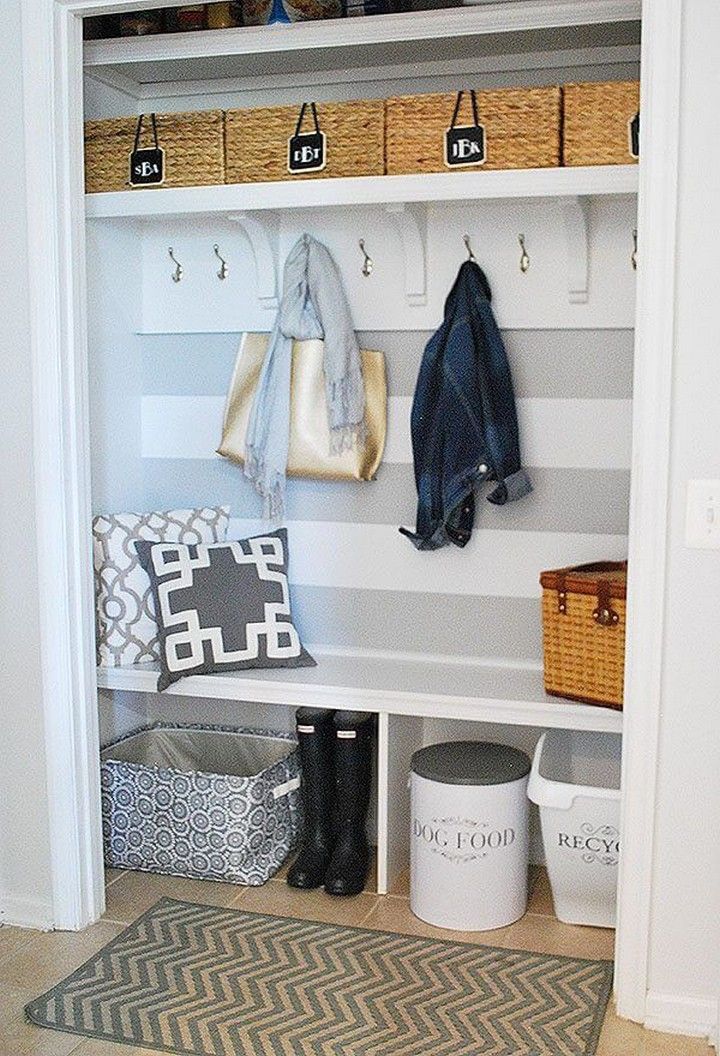 Customize the look of your mudroom with these reversible mudrooms. These mudrooms are the perfect solution for your entryway needs. Made with grade-A materials, these mudrooms are built to last. These Mudrooms are an easy-to-install mudroom and storage solution for your home. Whether you are building a new home, renovating or just looking for a better way to organize the things you use daily, Reversible Mudrooms store and organize your belongings, they are reversible and have multiple looks in one! These mudrooms can be dressed up or dressed down to match your decor.
A Traditional Storage Approach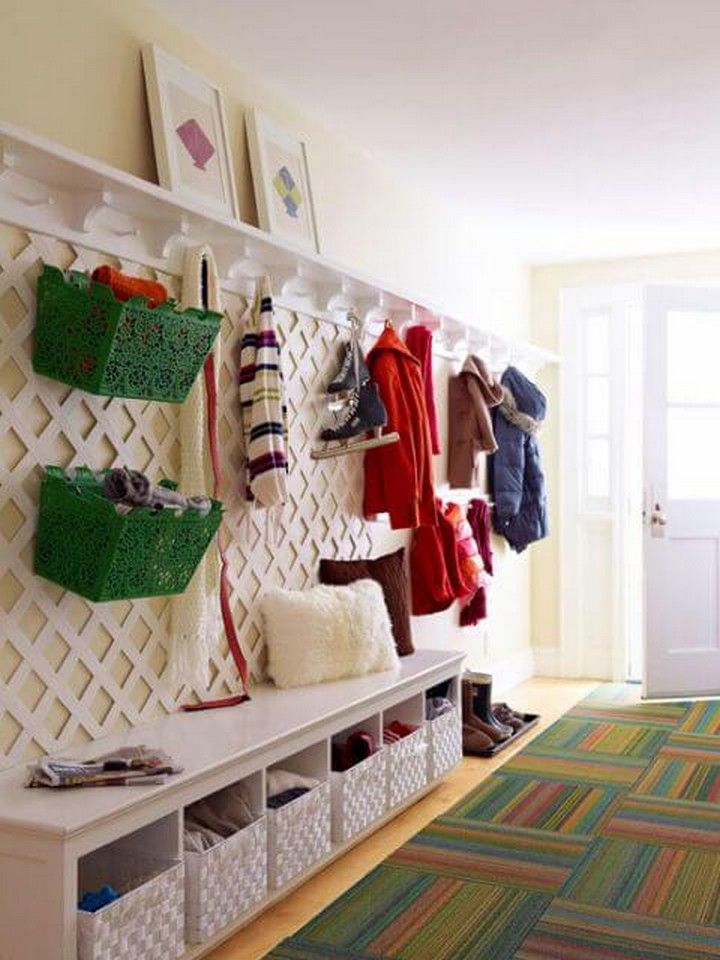 Traditional materials are the most popular and often match a variety of decor. They have ancient roots and have been used for centuries. They are visually stunning; they feel great to touch, reflect your life's subtle and quieter tones, and have built-in history and character. Traditional designs are perfect for classic, elegant and luxurious spaces. Using a traditional material can be innovative and create a modern feel. By contrast, traditional materials are usually considered déclassé, low style and old fashion. However, incorporating traditional materials as part of your high-style design can give your home a high-end look.
 DIY Pallet solution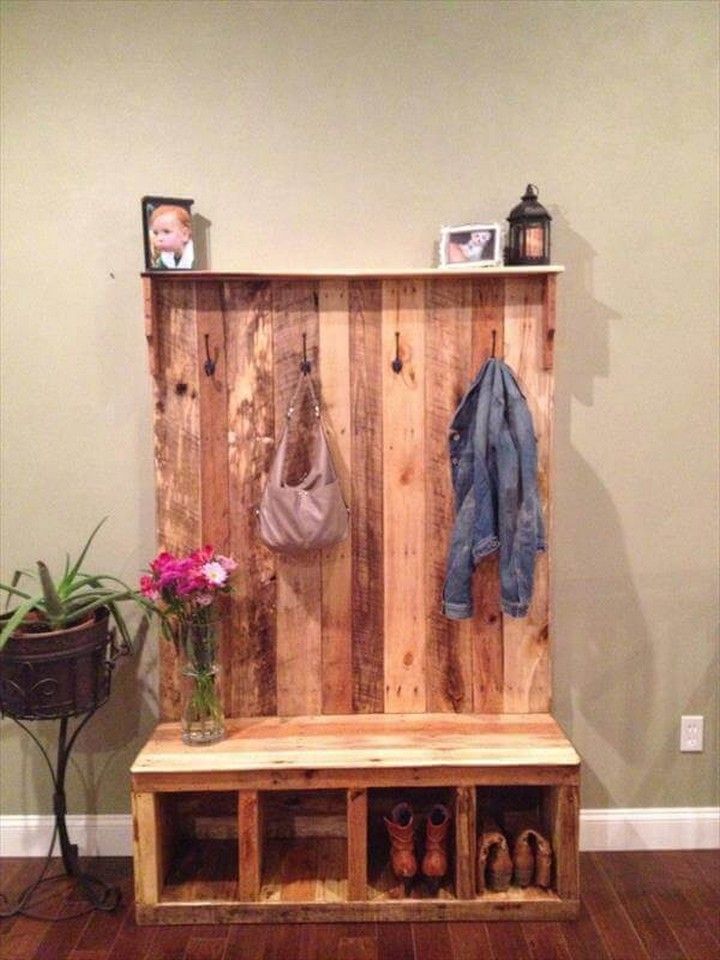 A pallet solution is a great way to transport and store goods. Pallet solutions are used in many different industries and businesses, like food packaging, shipping, health care and manufacturing. Storage shoe racks and shelving are an integral part of the pallet packaging. A pallet solution will make your inventory management quick and easy. This step-by-step instruction includes a wide range of shelving systems, combined with traditional and innovative modular storage solutions, that create a safe and cost-effective environment where value can be added at every stage, in every corner of your operation.
Small Mudroom Space Solution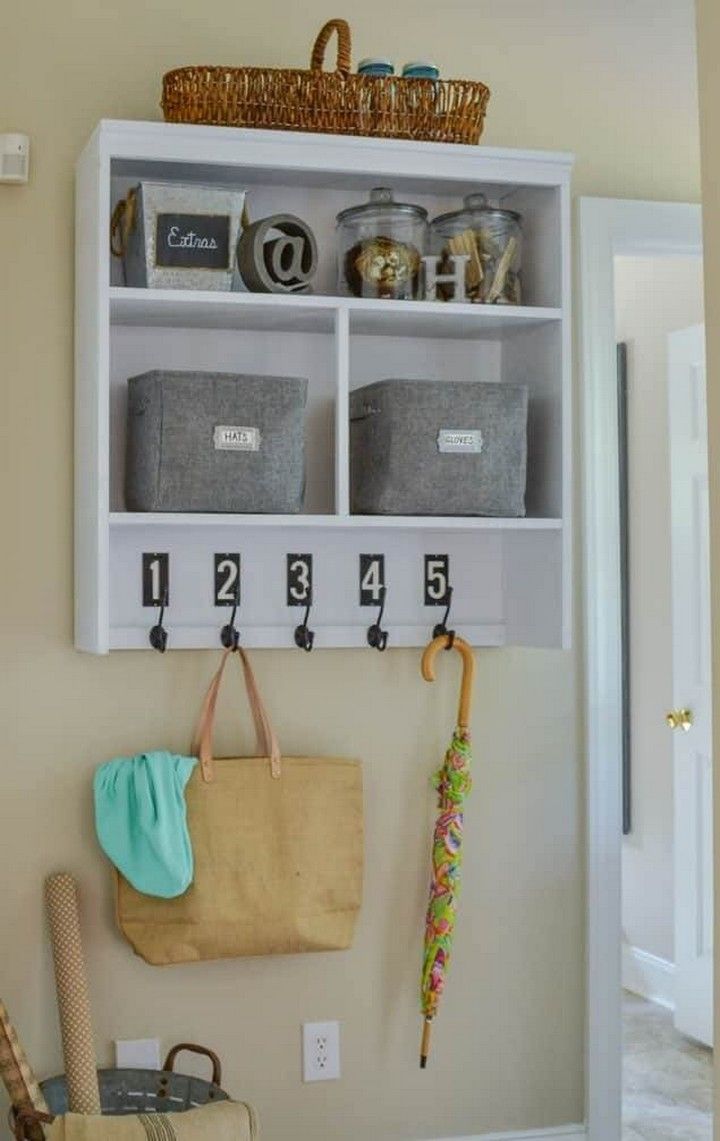 If you love the look of your home but feel it lacks storage, think about Small Space Solution. This product is designed to meet the needs of anyone with a lot of space to fill but only a little room to do it. For example, students often need more areas they can call their own. This Small Space Solution provides an easy way to add much-needed storage to any room. You can find great space-saving solutions like this one in this step-by-step instruction, which is full of other great ideas for small spaces!
Ikea Mudroom Storage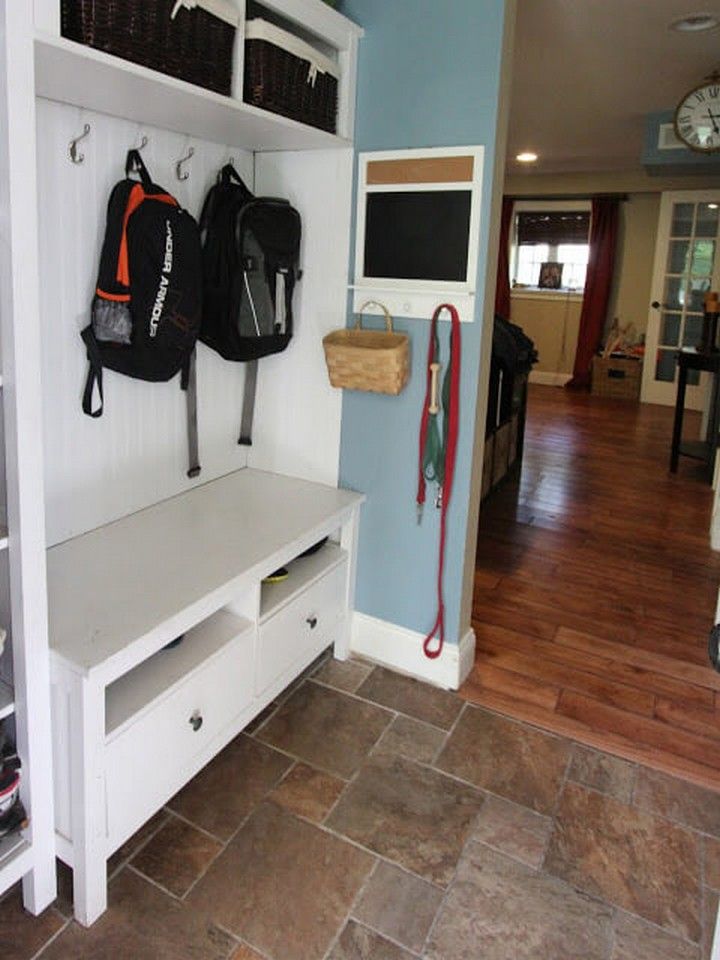 Ikea is one of the world's most popular and successful furniture chains. It's also one of the most innovative. With a wide range of products, you can match its brand for your home or office. The furniture is attractive and functional, making your life easier. While not all of their products are beautiful, many can be made to look nice with a bit of effort. Ikea furniture is not only cheap but also easy to assemble. If you're looking for modern, high-quality furniture that will be easy on your wallet, Ikea is a great option. The instructions are simple; Ikea is known for having clear instructions and excellent quality control.
Small Mudroom Storage Solution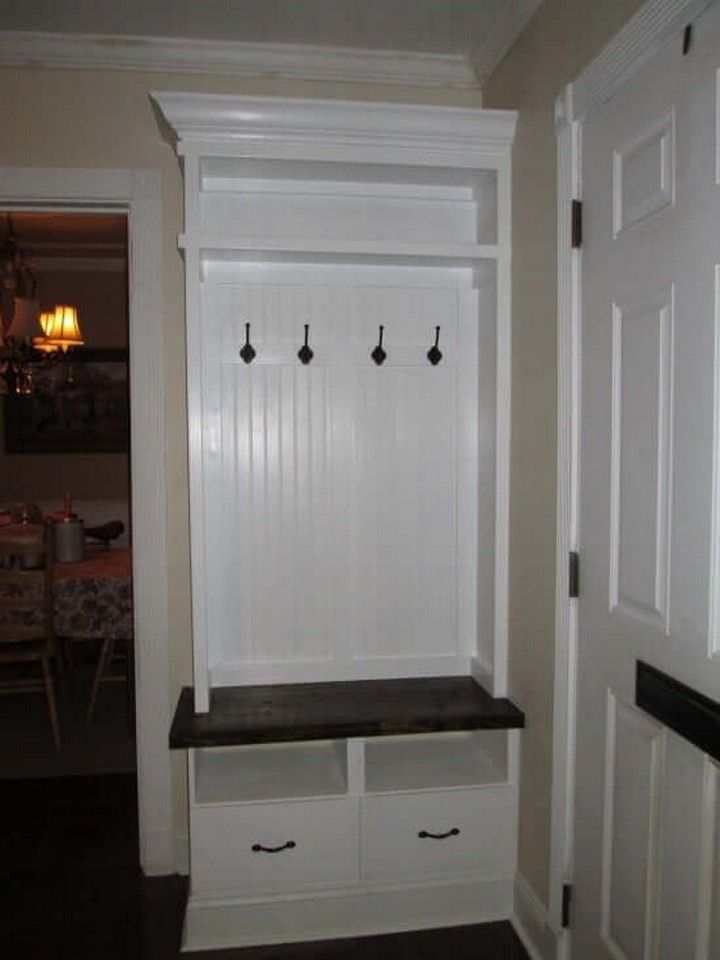 This small mudroom solution is the perfect addition to your home. It is a simple addition that serves two purposes: It acts as an entryway, allowing you to kick off your shoes at the door before entering the house. It's a no-fuss way to keep your entryway neat and clean and provide a space for shoes that works well with today's trends. And two, it can help organize yourself for your busy day ahead. Great for entryways but also great in kitchens, hallways and finished basements where storage needs to be improved.
PVC Pipe Storge Solution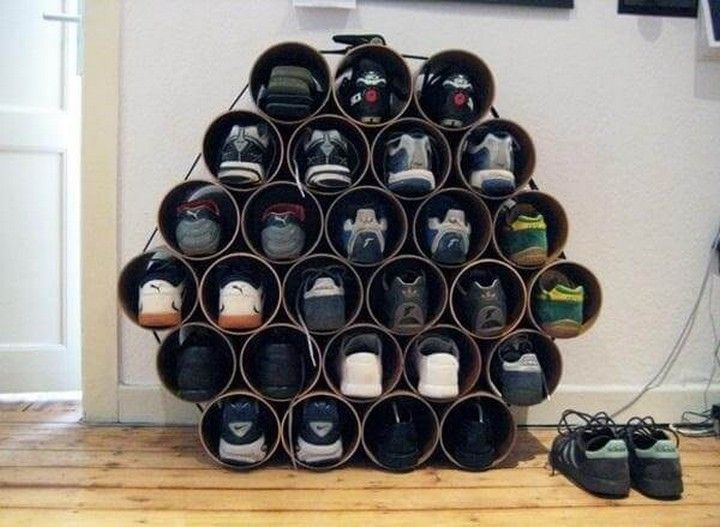 A mudroom is where you can keep the shoes at all times. Giving this space a dedicated home allows guests and family to organize their belongings easily. A box with wheels allows for mobility, which makes storage easy. You can also paint them or add plants to the design (which will help with air circulation). A great mudroom should have plenty of space for all the family shoes and boots. A PVC Pipe Solution is a simple solution to tiled floors where shoes are constantly being removed and put back on. They can be used indoors or outdoors on concrete, grass, and other hard surfaces.
Mudroom Bench Storage Solution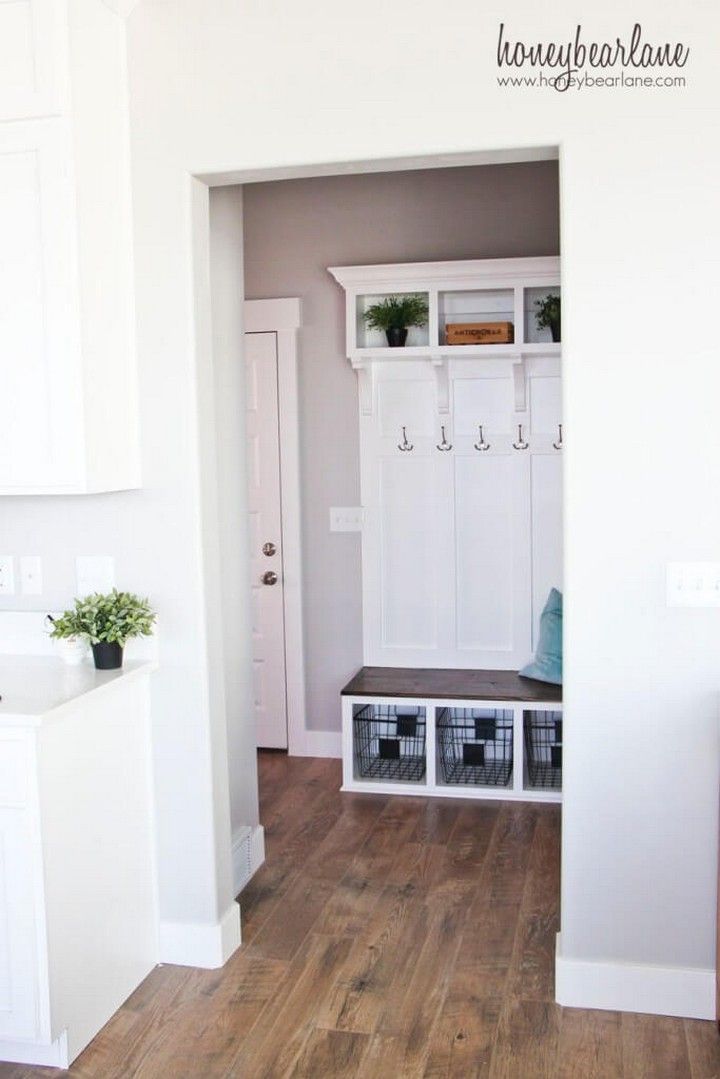 The Mudroom Bench Solution is the perfect addition to your mudroom. It offers a convenient spot to store shoes and more so you can stay organized. This solution features ample storage space, where baskets or containers are placed on the corner shelf underneath the bench seat, while overhead hooks provide a place to hang jackets, bags and more. Mudroom Bench Solution is a quick, affordable way to provide storage and organization in your entryway or mudroom. The bench's open design makes it easy to clean without compromising style or function. This bench is designed to provide additional storage and a comfortable place to sit within the entryway to your home.
Built-in Storage Solution
This model most applies to homeowners who own their homes and are looking to add a mudroom. Having a permanent mudroom allows you a convenient entry point while also adding to the overall value of your property. Having a mudroom as a permanent solution to your entryway logistics saves time and effort daily, which can be invaluable when juggling other duties. Plus, it adds to the value of your property if you ever decide to sell your home. It offers a convenient, permanent mudroom that can be added to your home without removing walls or renovating anything.
Corner Storage Solution
If you are looking for a storage solution that provides organization and convenience, consider The Corner Solution. Corner Solution provides an easy-to-install wall unit positioned in the corner of any room, enabling you to maximize space within your home by utilizing previously unused wall areas. With this corner solution, you can convert the clutter of your mudroom into a practical and attractive storage space. The versatile design easily installs in a corner, creating additional storage space to overcome space limitations and budgets. This is also the best way to get organized and keep your shoes off the floor.
You can also see: Easy DIY Corner Desk Ideas
Underneath Staircase Mudroom Storage Solution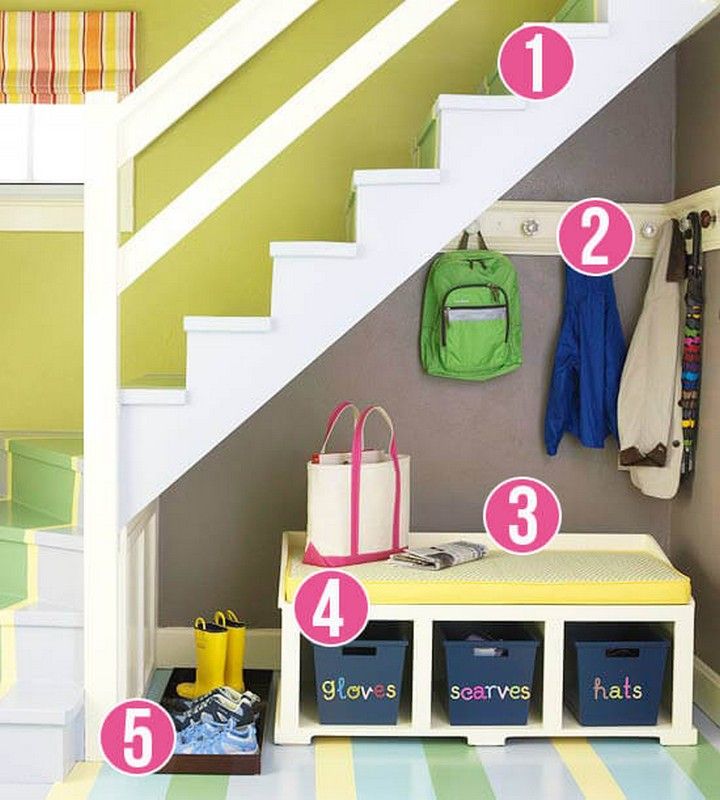 If your mudroom, entryway and foyer require extra space, the Underneath Staircase Solution is the solution. You can make your mudroom more functional and visually appealing with The Underneath Staircase Solution. Use this solution to get your desired mudroom while keeping your hallway clear. With This Solution, you can transform your mudroom into a functional area that adds value to your home. This design is perfect for anyone looking to increase storage in a space with limited options. This product can be built to match any size staircase to give you more storage and display area for shoes, coats and other accouterments.
Mudroom Storage At The Bottom Of The Stairs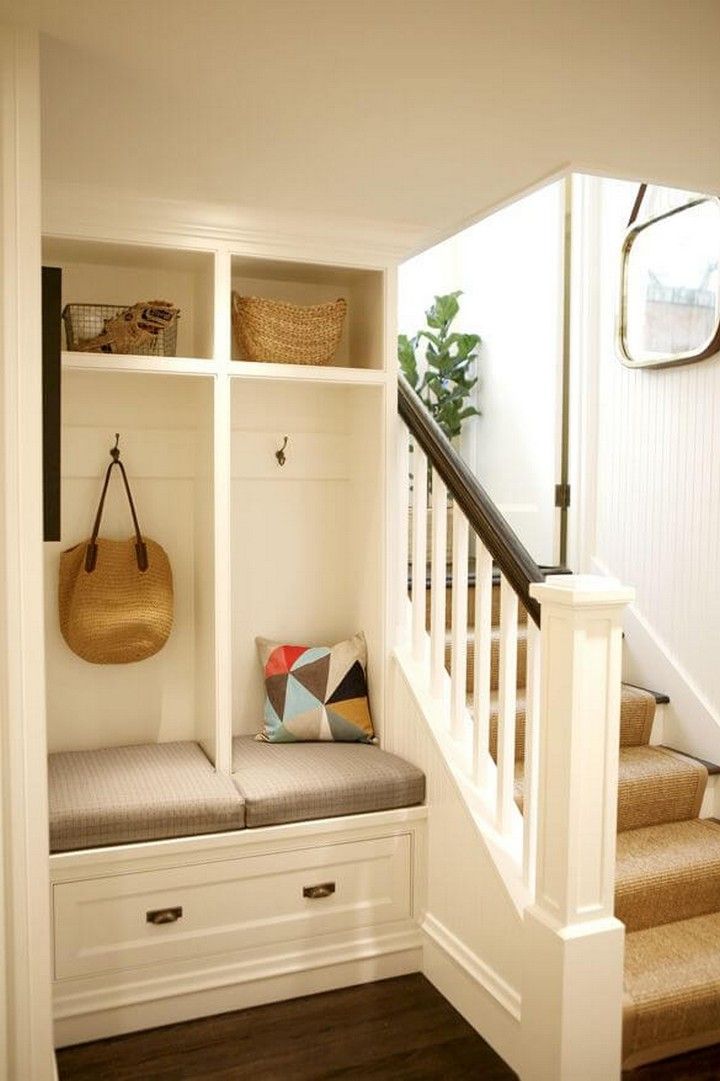 Create an efficient mudroom to keep your home organized and tidy with a mudroom at the bottom of the stairs. This space will provide a place to put on shoes and outerwear and store sports equipment and other items. You can also use the space for laundry or cleaning supplies to locate everything conveniently. It keeps these items close at hand but out of sight when you enter your home. This mudroom is also a cozy and functional space for your family. The best part is that you can customize the design to fit your home and family.
Mudroom Storage In The Garage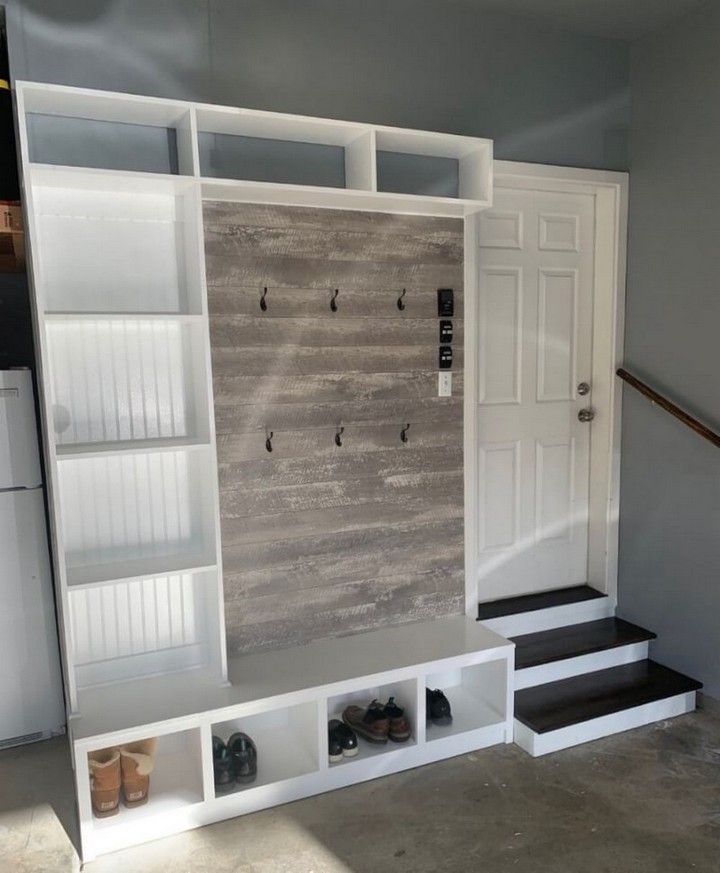 Get organized this spring with an easy-to-install mudroom in the garage. This mudroom in the garage can be an excellent solution for those homeowners who not only have a garage but also need to store their coats and shoes. It is easy to install yet durable with its heavy-duty construction, and the material used will last many years. This mudroom in the garage is a great way to keep water off the garage floor and in an easy-to-clean indoor space. It also has tons of storage for shoes and gear, so you'll never have to fight for space in your coat closet again!
Mudroom Storage Idea Before The Kitchen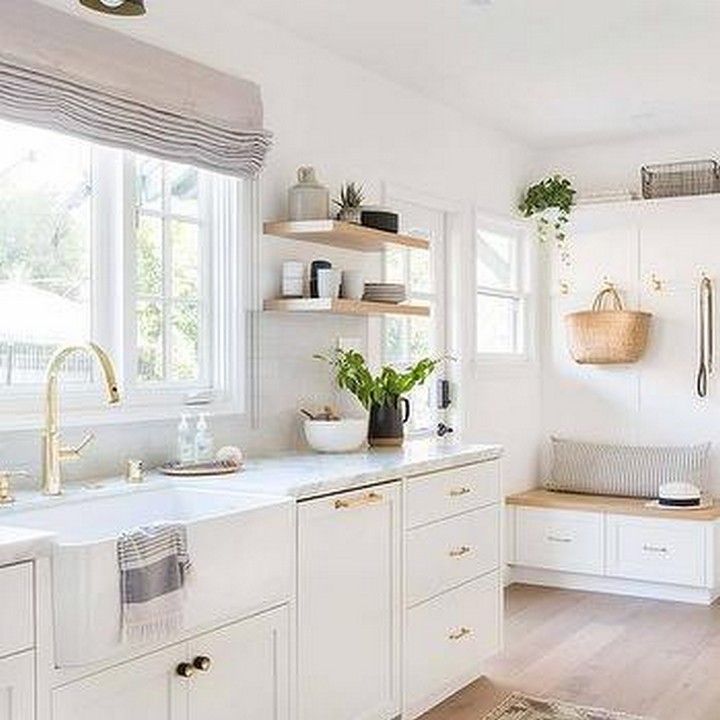 A mudroom space is ideal for keeping the kitchen and entry to your home organized and clean. Not only does it help keep dirt from coming into your home, but it also eliminates the need to wipe off shoes before entering the kitchen. This is a space that may be used for various purposes. It can be used for storage areas and even to get some work done. This area can be as simple or elaborate as you want and can include full-length mirrors, bench storage, magazine racks and more, depending on what works best for your needs. The mudroom before the kitchen allows for an easy transition from outside to inside.
Mudroom Laundry Room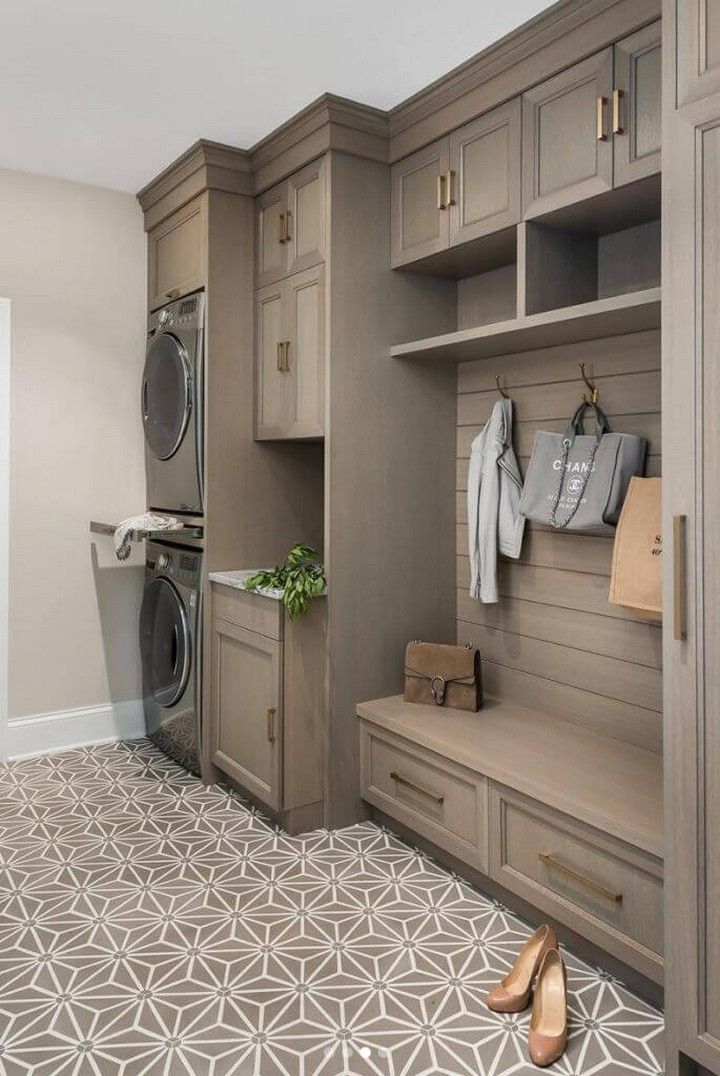 Easily convert your mudroom or laundry room into a beautiful and functional space. The mudroom laundry room is a perfect addition to your home. Designed to make your life easier and help you organize, this room is the latest trend in cleaning! This laundry room offers a spa-like, efficient multipurpose space that eliminates the hassle of managing dirty clothes and separating them from your other household items. This Laundry Room is also a perfect space to meet your family's laundry needs. The system will be great for anyone who wants to organize your items.
You can also see: DIY Storage Cabinet Plans 
Mudroom Basement Storage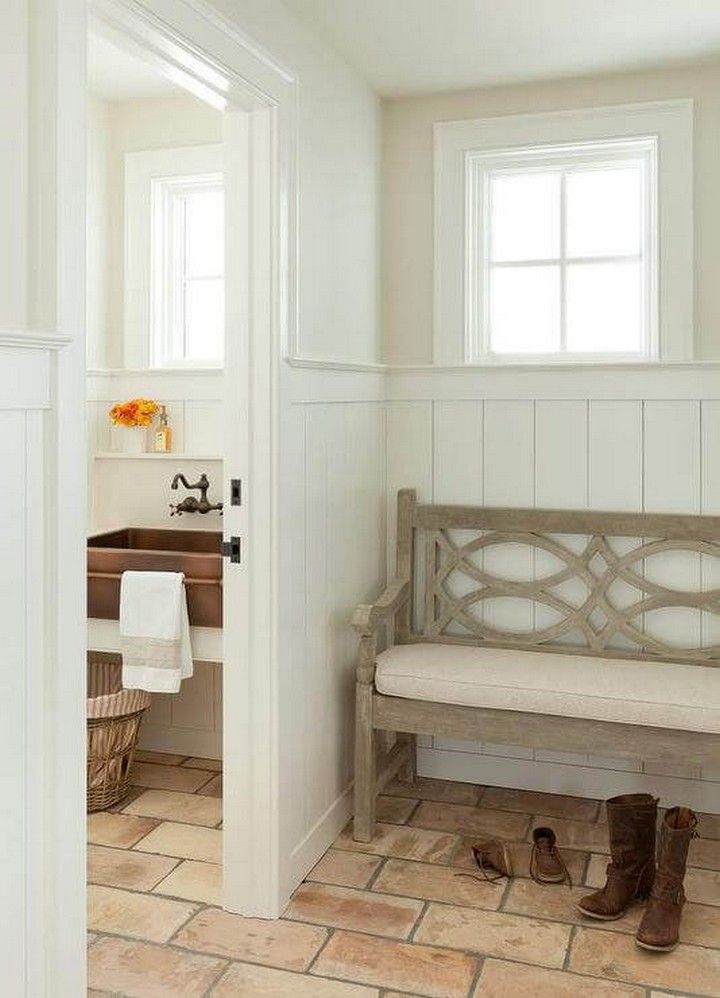 This is your place if you love spending time outdoors in the mud. The Mudroom Basement is an excellent option for use in the basement to store your shoes, coats and other clothing items. It creates a welcoming entryway where all family members are expected to enter and exit the home. This mudroom basement has a ton of space, making it an excellent place to store your family's athletic gear or set up an extra bedroom to accommodate overnight guests. This modern mudroom is also perfect all for style, storage and functionality.
Mudroom Alongside The Stairs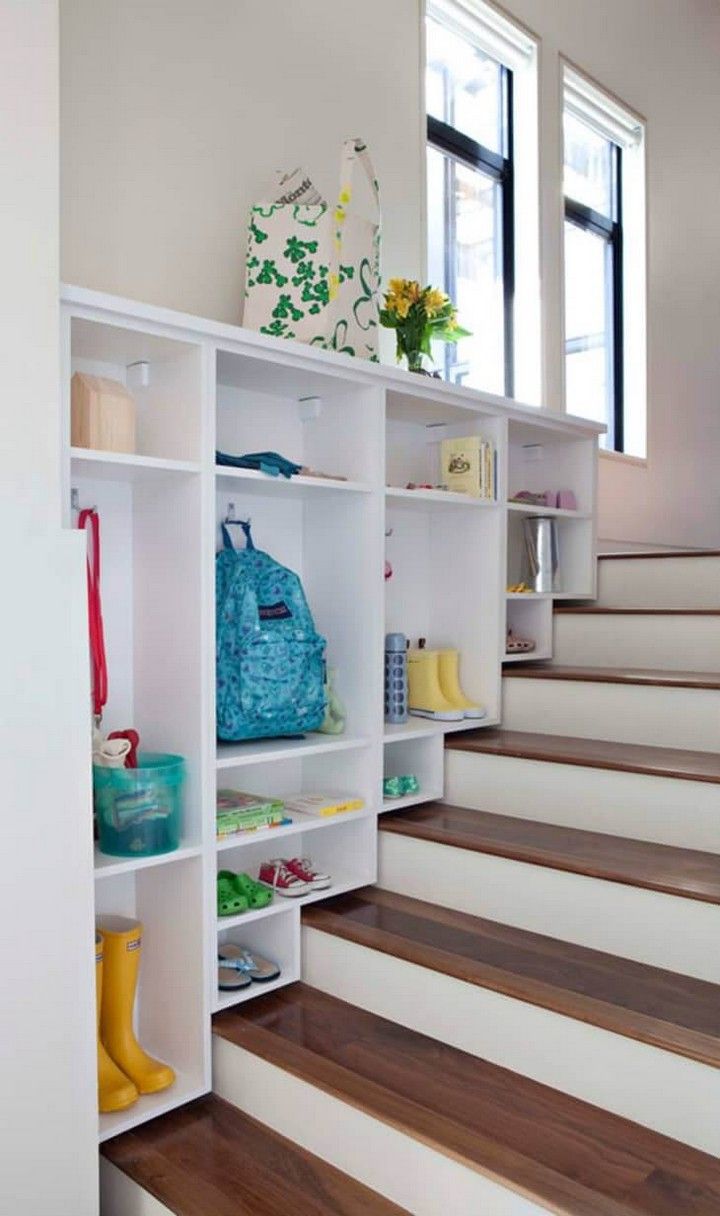 Expand your home with this Mudroom Alongside The Stairs. This piece's warm and inviting design will bring joy to any room in your house if it doesn't fill space instead. A mudroom is a place to store and dries off your shoes and boots and a space for your family to hang up their coats and put on their winter gear. The floor should also be made of a material that is resistant to moisture as well as strong enough to protect against damage such as cracks or scratches caused by heavy objects dropped on them.
Conclusion
The entrance to your home is essential as it acts as an interface between the outside world and the family. It should allow people to unwind as they take off their shoes, bags, and coats. For this reason, the functionality should not only be the object style, and the blend of the décor should also be considered. There are many solutions at different price ranges and construction materials, all of which can meet your specific needs. For those that live in their own houses, considering a long-lasting solution could be the way to go. For renters, the solution should come off quickly to avoid losing the deposit on the house.