Towel racks are great for any bathroom. They not only serve their purpose, but they also free up some space in your bathroom. So why settle for the same old, boring towel rack? Instead, you can use your imagination to create something more personalized and unique. Here are some fantastic DIY towel rack ideas that can inspire you to create something new. These simple projects will help you keep your bathroom looking great and also allow you to save some money. There's no need to pay for new racks when so many cool and creative ideas are out there!
Homemade DIY Towel Rack Ideas

Towel racks are so simple they're often overlooked. They're also vital to the success of your bathroom. It's not just about having a place to hang your towels but also a rack made of something sturdy. When you make your DIY towel rack, you can customize it to fit your style and needs, whether using different colors, adding hooks, or even using two-by-fours to attach it to your wall. Designing one yourself is easy because there are many materials and styles options. Here are some DIY towel rack ideas to inspire your DIY project.
Benefits Of Making DIY Towel Rack Bathroom
DIY towel rack ideas are a great way to save money and get creative with your bathroom. A towel rack can be customized to fit into any room in the house. Here are some benefits of DIY towel racks:
Save Money: You can make your towel holder for a fraction of the cost of buying one at a store or online.
Customize It: Make the holder match other decors in your bathroom or living room. You can even paint it or add embellishments like ribbon, flowers, or beads to make it more decorative and personalize it for your home.
Easy to Install: After you have built your DIY towel rack, it is easy to install on any wall surface in your bathroom. Most racks are made of wood, so they are sturdy enough to hold up several towels without tipping over or falling off the wall when using them with wet hands.
Simple DIY Towel Hanger
Are you looking for a quick and easy DIY project? This towel hanger project is a perfect one-day project that you can customize to fit your style and space. Plus, it's inexpensive and doesn't need any special tools. Even with a tight budget, this project will still be possible if you can do some basic woodworking skills. Even the metal hooks add the look of luxury without any added costs or complex techniques needed for assembly.
DIY Bathroom Towel Rack
This DIY Bathroom Towel Rack gives your bathroom a touch of nature and simplicity. You can make your towel rack with just a few handy tools and items you already have at home! It's a great way to transform an ordinary space into something more interesting, especially if you're short on storage. The DIY towel rack is constructed from wood but can be changed using an alternate material base. Whether you're a woodworking novice or experienced, this simple DIY project is easy to complete. Watch this video tutorial to build a simple, stylish DIY bathroom towel rack to store your hand towels in style!
DIY Towel Rack & Bathroom Organizer
If you love decorating and only want to make the items for your bathroom that make sense, this is the DIY towel rack. It's straightforward to make and offers a lot of space for towels, rags and washcloths. You can also use it to hang up jewellery as well! It's very creative and space-saving. This can go above or below your sink in the bathroom or even on top of a dresser if you like! Check out the video tutorial here – it's super easy to make and customize to whatever design inspires you most.
DIY Rustic Towel Rack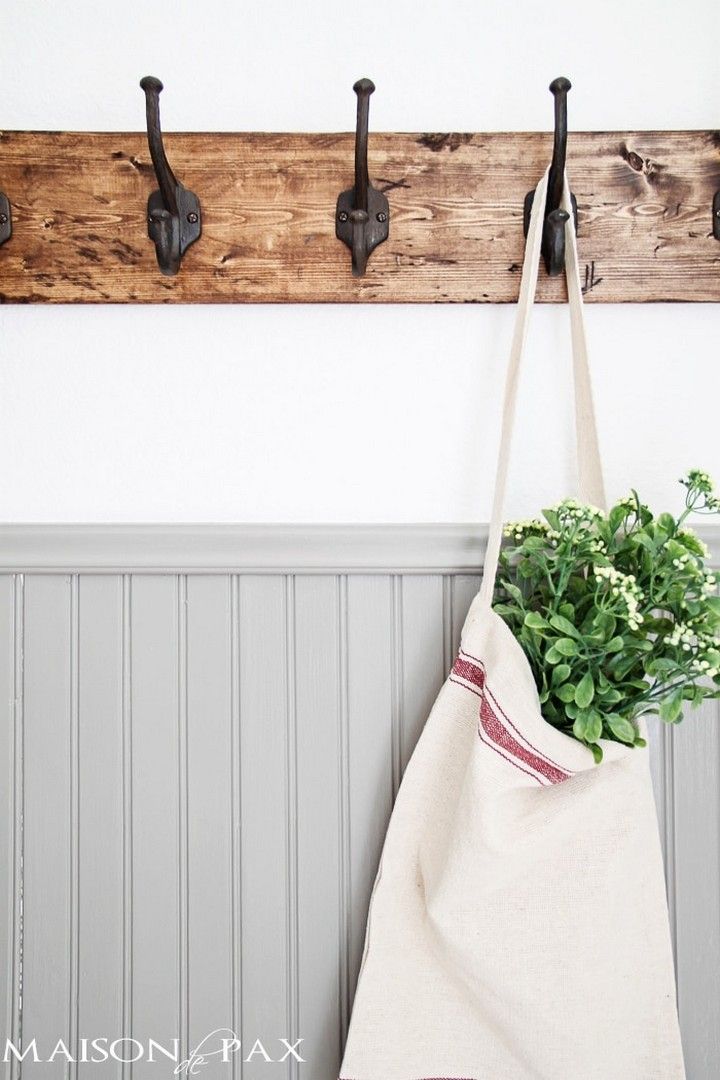 This DIY rustic towel rack gives your bathroom a touch of rustic style. With this DIY towel rack, you can hang your towels and robes on the wall in your bathroom or laundry room. It is easy to create, and the materials are super affordable. Learn how to make one that looks rustic with just a few simple tools! Moreover, you won't need any power tools to complete it. You'll only need two materials for this project: solid wood and metal hooks. This is a simple project that can build in an afternoon.
Farmhouse Style DIY Towel Rack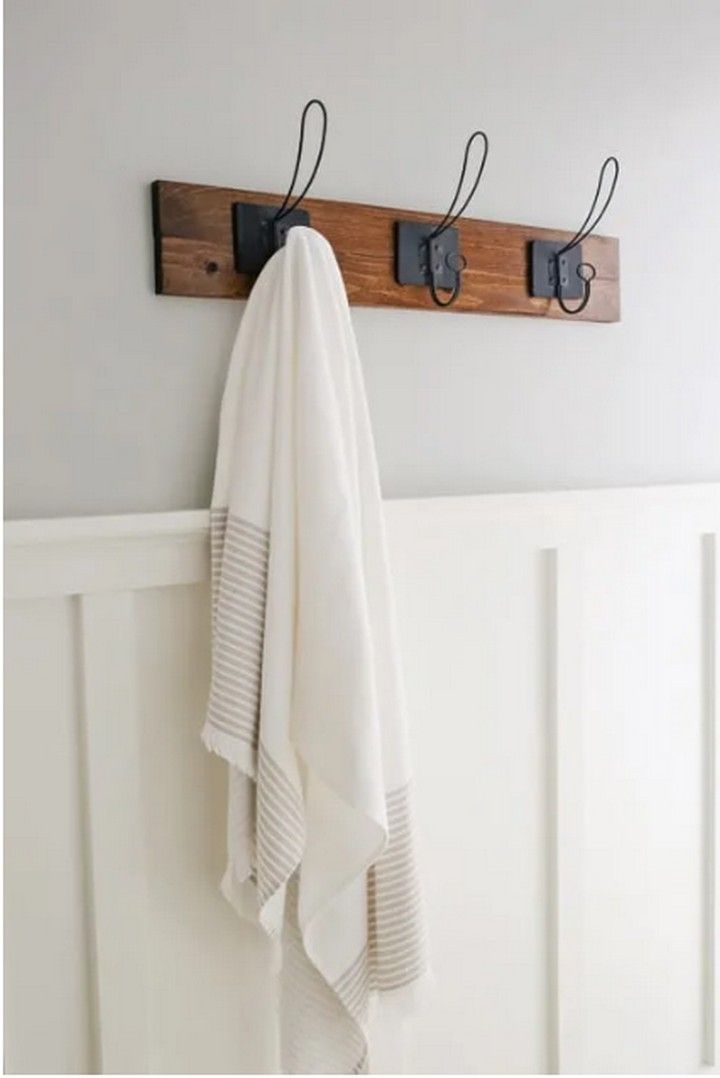 Give your home a rustic touch with this Farmhouse Style DIY Towel Rack. This piece adds farmhouse style to any bathroom and makes for a gorgeous, functional home accessory. It's easy to make; follow the detailed instructions provided. Use a piece of wood to make a farmhouse-style DIY towel rack to hold your hand towels and washcloths. Hang it up in the bathroom, kitchen or anywhere for extra storage! You'll be able to hang towels or any other items you wish.
DIY Towel Rack & Shelf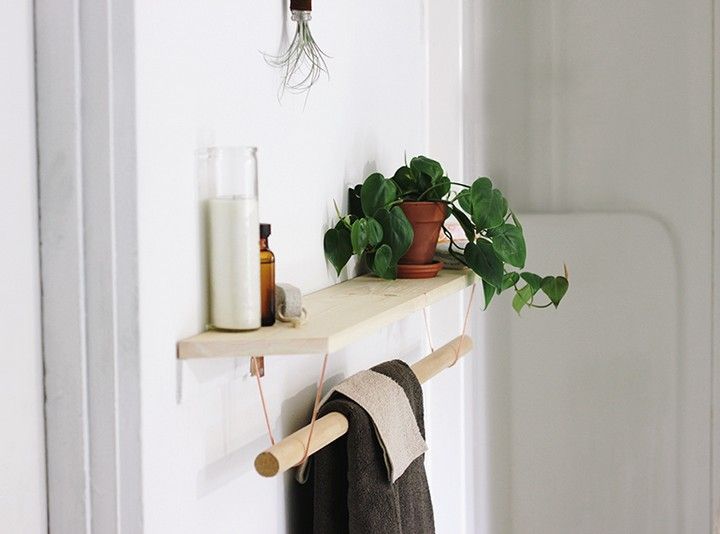 Whether you're looking for a way to hang up your towels or add extra storage and style, this DIY towel rack & shelf idea is the perfect solution! Create a unique towel rack with these easy-to-follow instructions. Making it easy, and all the materials you need will already be in your home. This project will help you get organized in style! The DIY Towel Rack Idea is an inexpensive, stylish way to organize your towels and save space in the bathroom!
DIY Floating Shelf With Hooks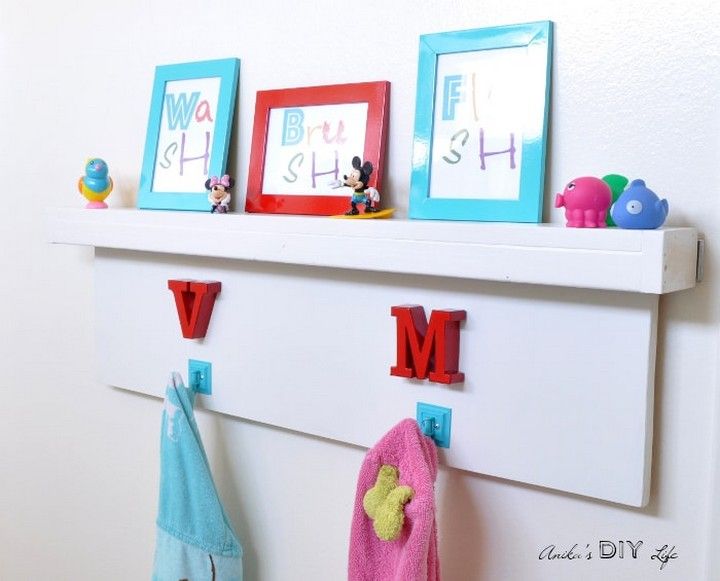 If you're a minimalist but want to create more storage space in your home without adding more furniture, this DIY floating shelf with hooks is the perfect solution. Follow these simple steps to make your own! You can use different coloured hooks to match your towel colours or create a design. This floating shelf with hooks allows towels, robes and other items to dry in the bathroom. It's easy to assemble since all you need is a plane 2x4 and a couple of hooks. The shelf is installed right into the wall studs, making it extremely sturdy. You'll have extra counter space in less than an hour!
Lucite Towel Bar DIY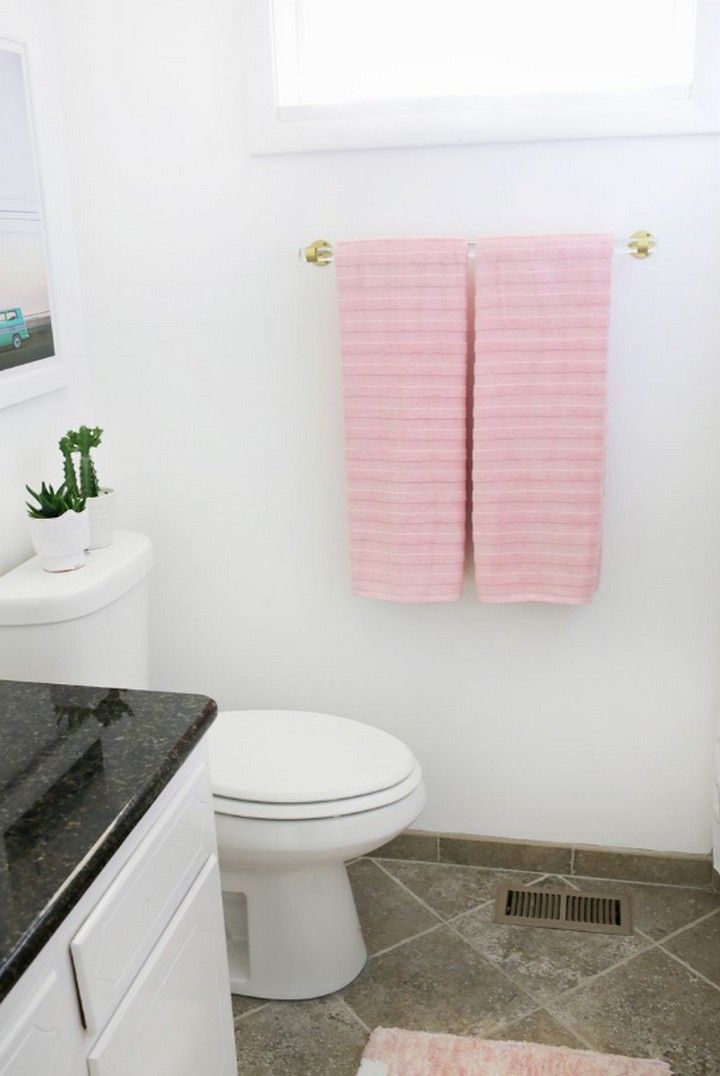 If you love the look of lucite but want to add some personal style to your bathroom, this project is perfect. All it takes is a few simple steps, and you'll be able to make your unique towel bar! DIY your custom-painted towel rack with these free instructions, featuring bright colours and intricate designs. This towel bar has the perfect vintage feel. You can add your style with various colours, distressing, and decals!
DIY Rope Towel Holder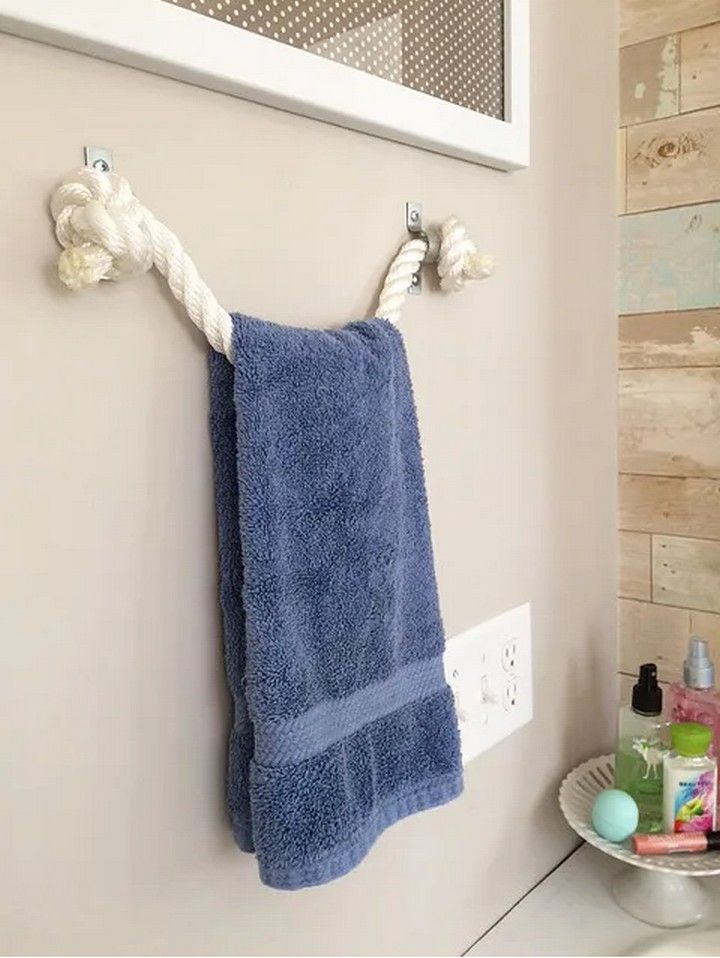 This bathroom project is a great place to start if you want to upgrade your space. Make this DIY rope towel holder with just a few supplies, and you can complete your entire bathroom in no time. This easy DIY towel rack keeps your towels and robes handy in your bathroom. It's the perfect DIY bathroom decor idea that uses a thick rope and cute ends to make this project achievable for almost any skill level. Hook them onto the wall at the desired height, and you have a simple and stylish towel holder!
DIY Wooden Towel Bar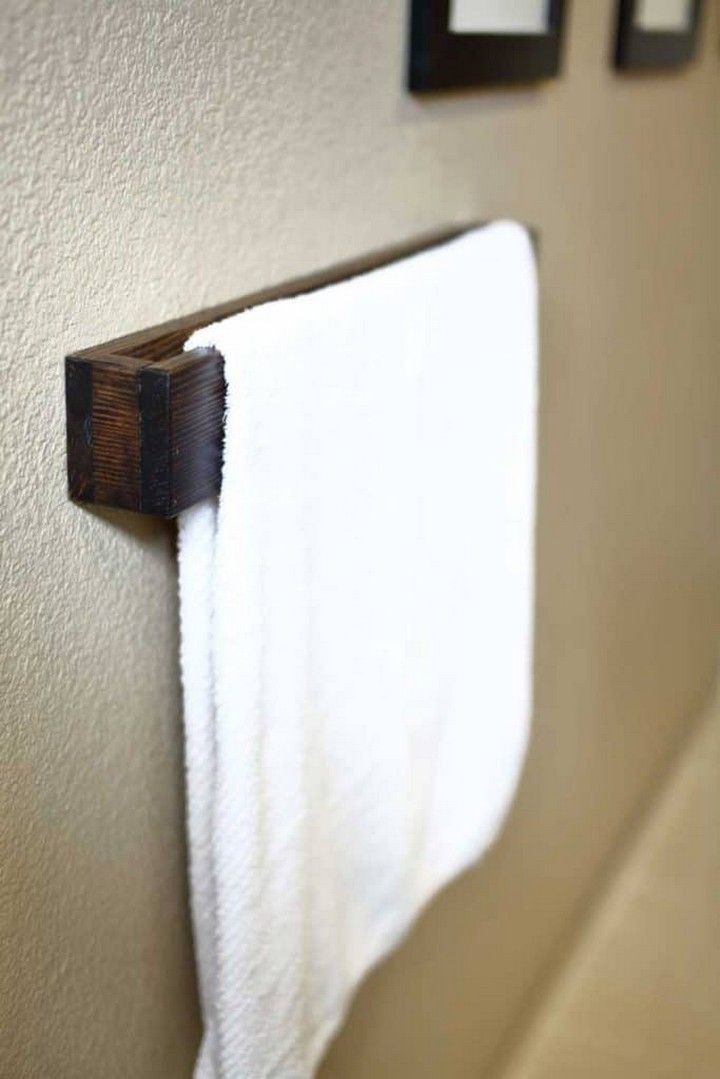 If you want to make a towel rack out of wood, you can easily do so by using the simple steps mentioned in this article. Build this simple DIY Wooden Towel Bar for hanging towels in the bathroom or kitchen. It's easy to do with just a few tools and materials, and you can customize it with your own design. All it takes is a couple of hours and some elbow grease! This is an excellent project for beginners new to woodworking and a great way to turn a few pieces of wood into something functional and beautiful.
DIY Towel Rack With A Shelf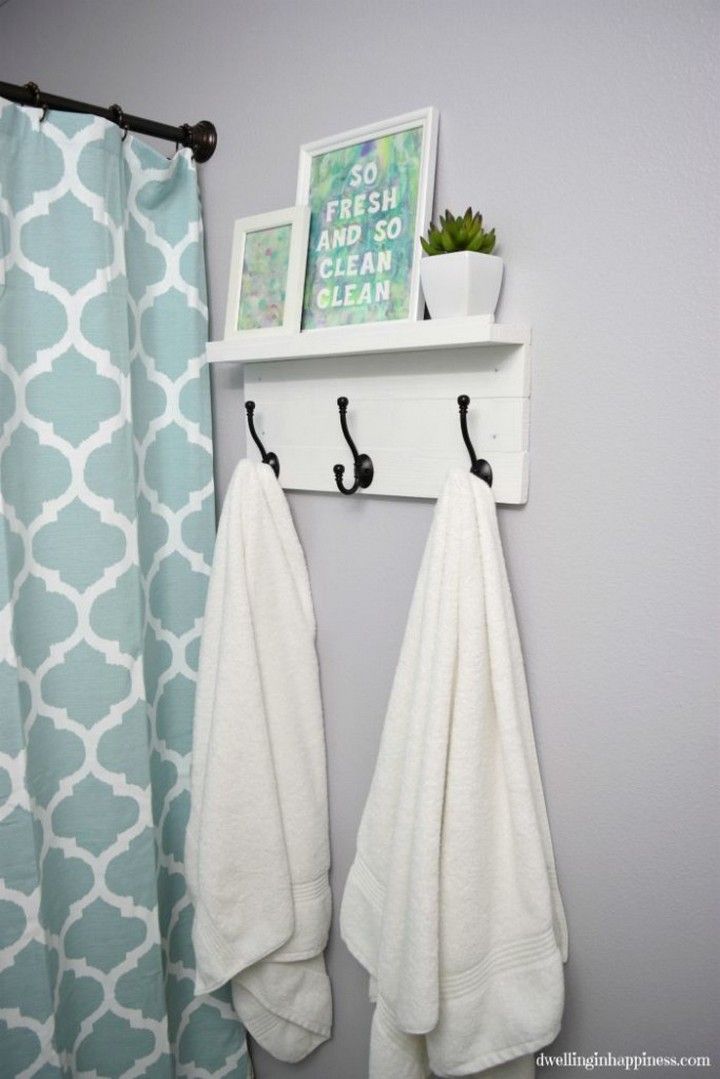 A towel rack is a handy addition to any bathroom. It makes it easy to keep bath towels, hand towels and bath mats in one place and organized. This DIY Towel Rack With A Shelf only takes a couple of hours to complete and is an affordable alternative to store-bought versions. This easy-to-follow step-by-step tutorial will show you how to create a beautiful and functional shelf for the bathroom. With this project, you can make the perfect addition that will be a highlight in your home.
Installing A Branch Towel Bar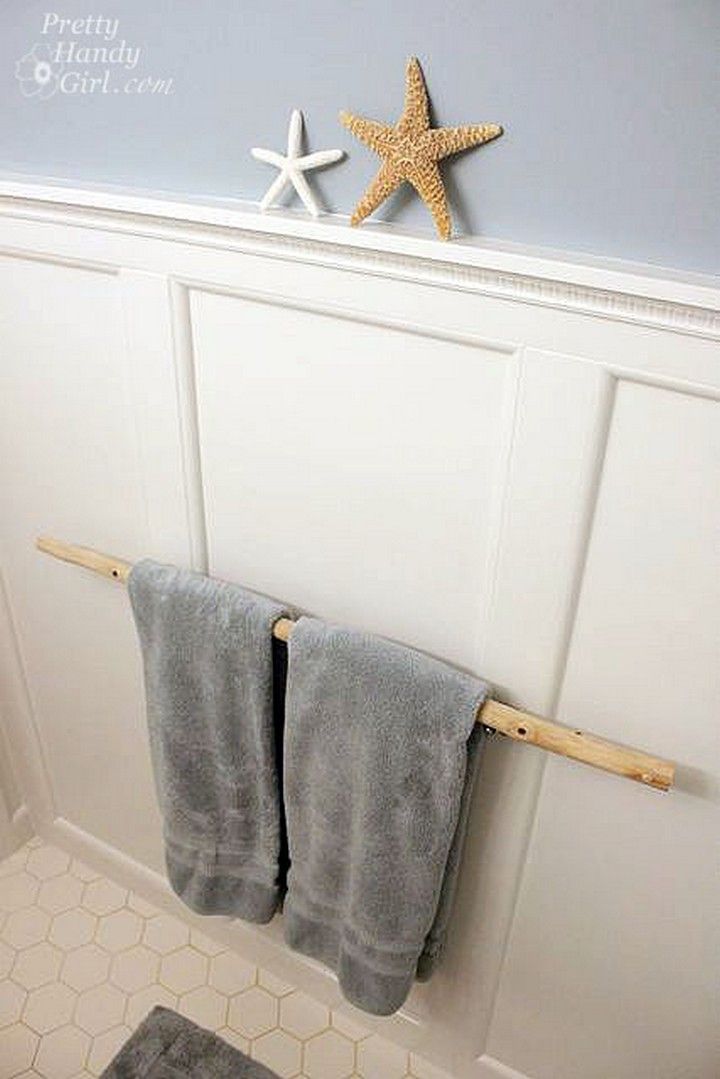 This towel rack project is simple and inexpensive to build, yet looks fantastic. It combines the natural beauty of wood with a modern, industrial aesthetic that works well in any bathroom. It's also made entirely from scrap wood, so you can save money by buying the first thing you spot on Craigslist or at the local hardware store. Follow these simple instructions to hang a branch towel bar that will turn any empty corner into a beautiful focal point.
DIY Towel Ring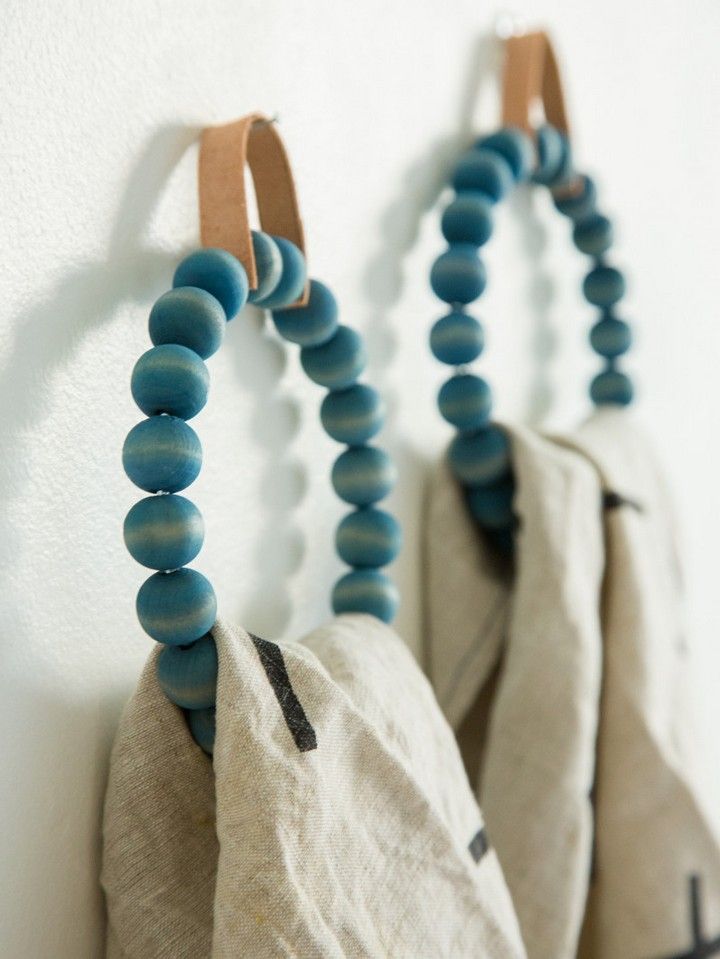 People first see your bathroom when they walk in, so make sure it looks great! This DIY towel ring is a unique and fun way to show off your favourite colours and fabrics. Not to mention, it looks great sitting on the side of the tub or sink. Here's how you can make your towel ring." The simple, elegant towel rings are a great diy project to create yourself. Made with just a few standard tools and materials, it's accessible whether you're a novice or an experienced DIYer.
DIY Nautical Towel Holder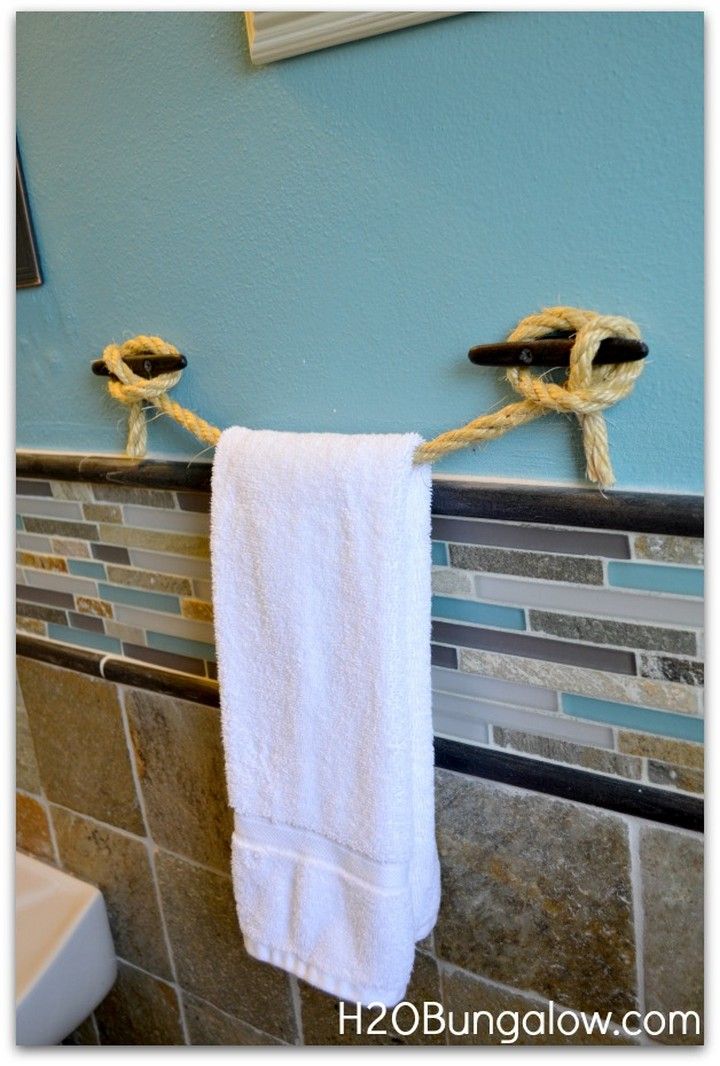 If you are looking for a new towel holder for your bathroom, look no further! This DIY Nautical Towel Holder is super easy to make and will help keep your towels organized. All you need is some rope, rope clips and clamps, a hammer and nails, wooden hooks, and paint in the colour of your choice. It takes just a few minutes to make and will easily hold any standard bath towel.
Super Cute DIY Towel Holder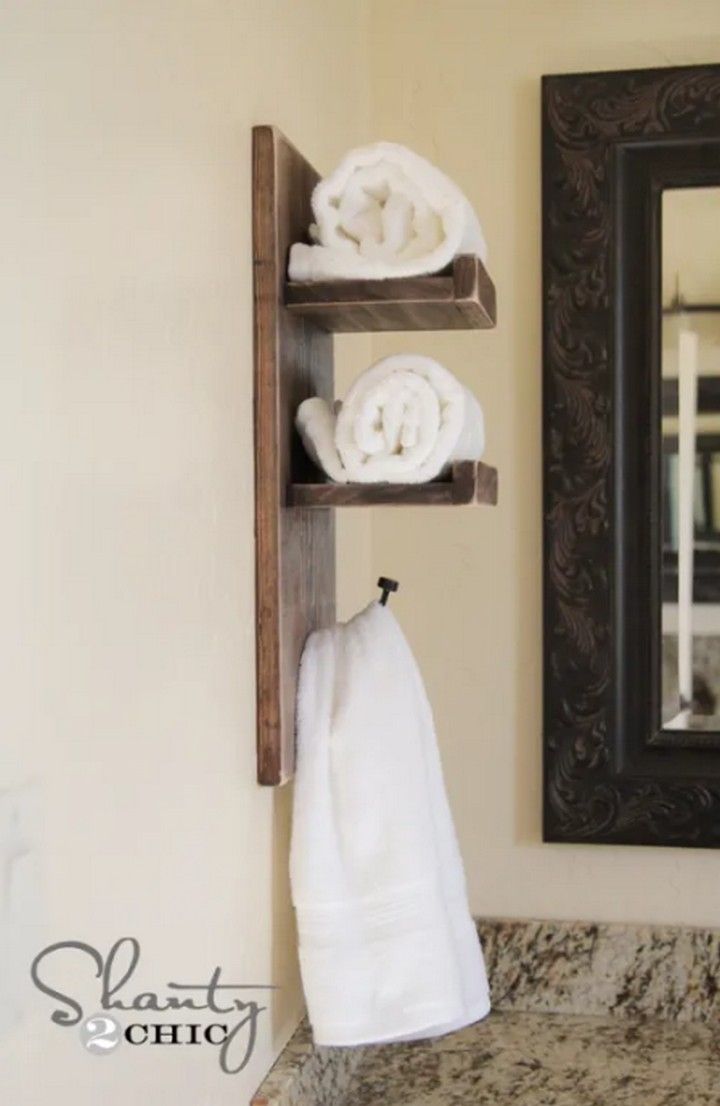 You might be on the hunt for creative towel storage ideas if you have a small bathroom. DIY towel racks are a great way to add style and function to your space, whether you want a statement design or something more subtle. This super cute DIY towel rack is so easy and cheap to make! This project is a great way to use old wood, or you could even use a reclaimed piece of wood for that rustic charm. This towel holder would make a beautiful addition to any bathroom!
You can also see: DIY Sauna Plans 
DIY Towel Holder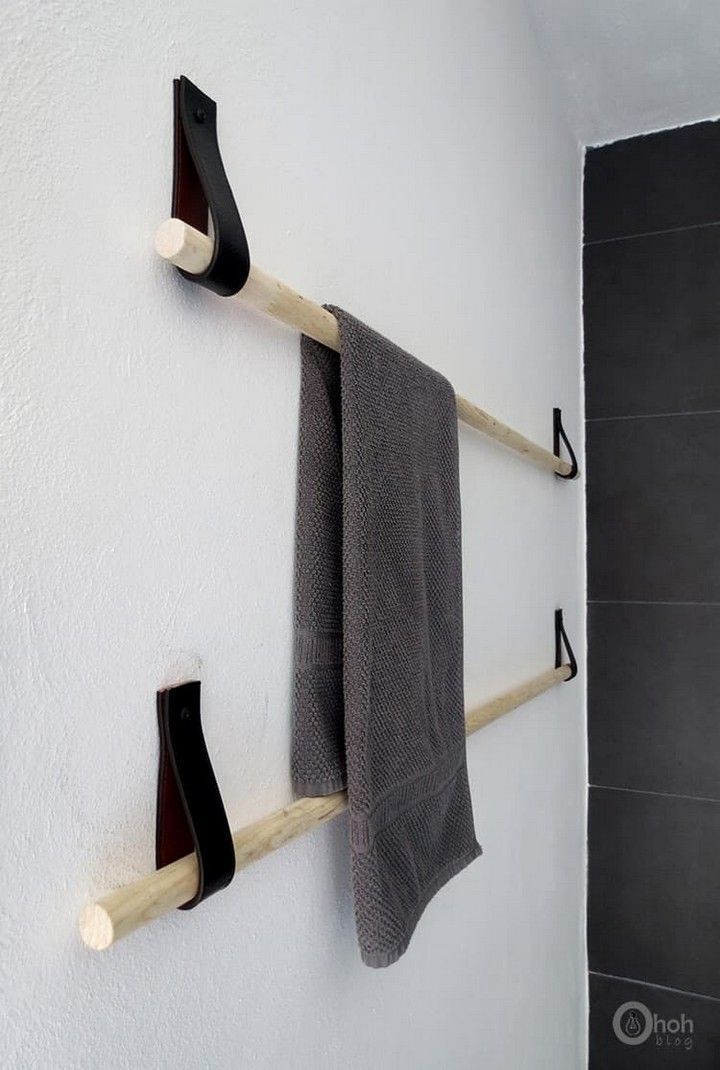 Do you have an extensive collection of towels and extra space in your home? Try this unique DIY towel rack that can hold all your towels. It's easy to make and will look beautiful in your home. Check out this great DIY idea to create a towel rack quickly mounted next to your shower. Two wooden dowels, an old leather belt, screws and a drill are all you need to do this project. This DIY will make your life much easier since the design of this particular rack allows you to hang clothes and towels in one place so that you'll never lose them again.
DIY Wood & Leather Towel Shelf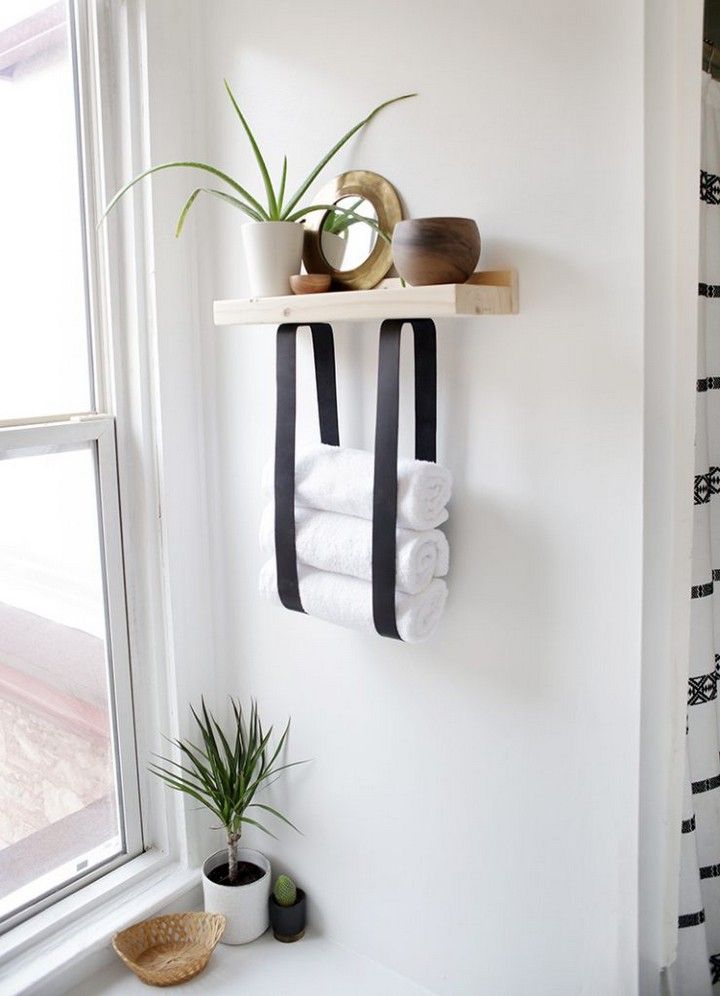 Are you looking for an easy and fun DIY project that your family and friends will love? Well, this one is it. It's a beautiful way to showcase towels, toiletries, and other necessities when guests are over. The DIY Wood & Leather Towel Shelf is the perfect solution for storing towels on your bathroom wall without taking up too much space. All you need to complete this project is wood, a drill, some countersink bits, wall anchors, and leather so your towel rack will stay firmly in place.
DIY Scrap Wood Towel Rack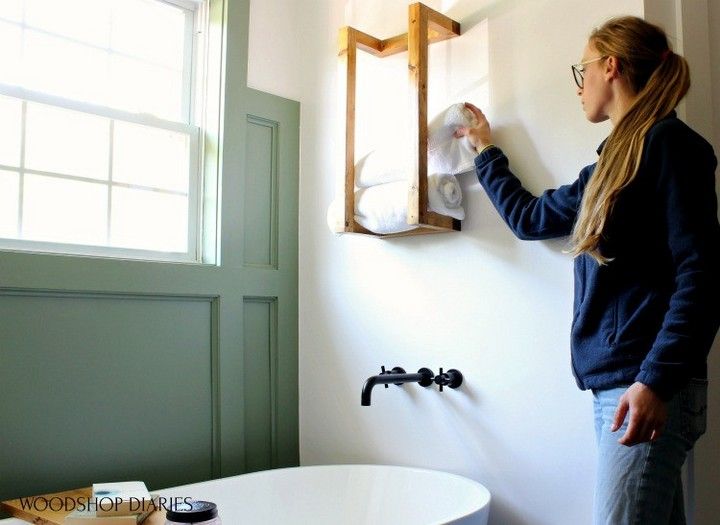 A towel rack is an excellent addition to your bathroom, but if you're looking for something more unique than the standard towel rack, this DIY Towel Rack is perfect! This DIY Scrap Wood Towel Rack can make with simple materials you can find at any big box hardware store or home improvement store. All you need is some scrap wood from your local home improvement store or backyard, wood screws, and a power drill! It's versatile and easy to make, so let's get started!