Do you love board games? If so, you're probably always on the hunt for dice trays. These dice tray plans will be a great addition to your game room. They can also be used as cool gifts or decorative items in your home. These are very easy to build, and you can get the plans for free. Here are 13 DIY Dice Tray Plans to help you make your own. Some are large, some are small, and some are unusual. But they're sure to be enjoyed by game players of all ages!
Handmade DIY Dice Tray Plans

The best part of dice tray plans is that you can use them as an opportunity to make something special and unique. The projects are not difficult to complete, even if you are a beginner woodworker. Whether you want a workspace or make one as an addition to the existing space in your home, these DIY Dice Tray Plans can help you create something new. All you have to do is pick a more appealing project, gather the required materials and tools and start making your DIY Dice Tray.
Benefits Of Making DIY Dice Tray Plans
DIY dice tray plans are great for several different reasons. They're easy to make, they allow you to personalize your gaming experience, and they look pretty cool on top of that. Here are some ideas for DIY dice tray plans:
As a gift for your gamer friends or family members.
For yourself, because you love DIY projects and want something unique.
To use as a decoration when you aren't playing games to add some flair to your gaming space.
To use as a centerpiece whenever you're hosting a game night.
DIY Dice Tray In 10 Minutes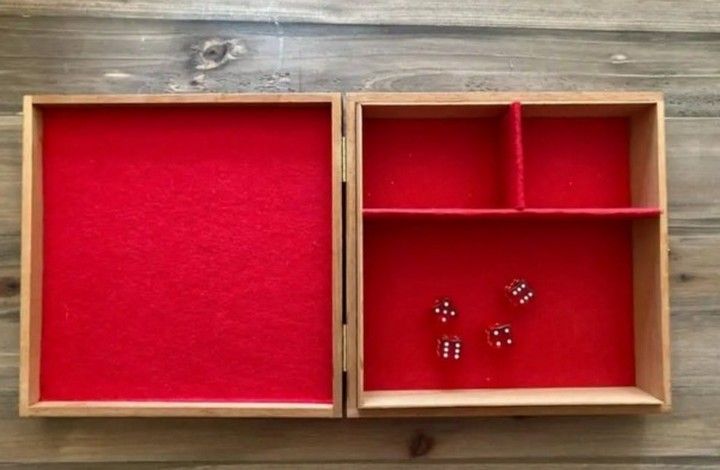 If you love playing tabletop games but are sick of the same old cardboard cubes, this easy DIY dice tray is for you! This easy-to-make dice tray is great for various games, from traditional tabletop games like Risk to casual family activities. So make your own with the help of this tutorial guide and see how simple it is to create a fun way to play your favorite game. With this easy-to-make DIY dice tray, you'll have a sleek accessory for your next gaming night. This simple tray can be customized to fit your games, from Monopoly to Settlers of Catan! It's an inexpensive way to enhance your tabletop experience and make your own with the help of this tutorial guide.
You can also see: Creative DIY Dice Bag Ideas
Travel Dice Box With Built-in Tower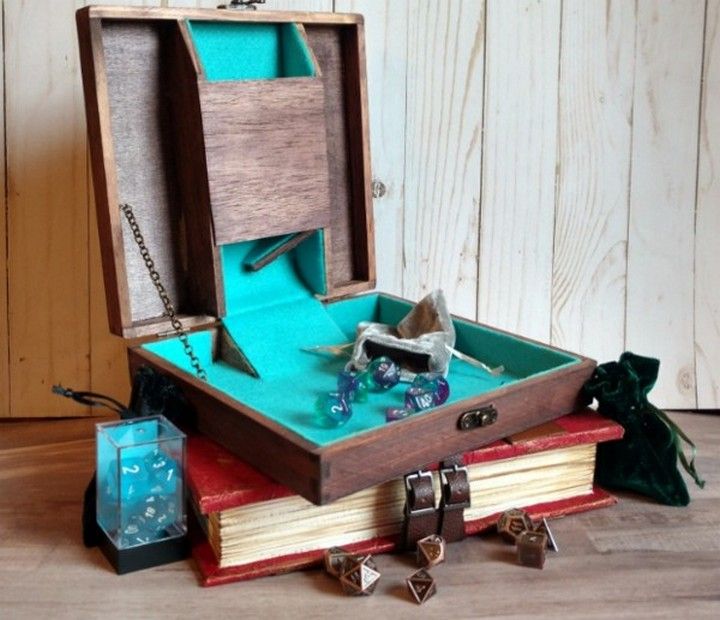 If you love to play board games and are a frequent traveler, this Travel Dice Box With Built-in Tower is the perfect gift for yourself or your favorite gamer. An inexpensive wooden cube or book-style box is transformed into an elegant storage container and rolling tray. The video guides you through creating a custom dice tower with two bits of acrylic and some silver thumbtacks. This dice box will hold everything you need when you're out on the road: a dice tower, a rolling tray, and more!
How To DIY A Dice Tray
Rolling dice around is a fun way to keep track of the gameplay but rolling over tables can leave them scattered across the floor. If you want to make sure your dice are always close at hand, check out this easy tutorial and learn how to build a dice tray! This DIY dice tray is an easy project that can complete in about an hour. The tray helps keep the dice contained and provides a nice spot to roll your favorite wooden tabletop game. All you need is some wood, screws, and paint to create a one-of-a-kind gaming accessory that will inspire envy from all your friends.
How To Make A Dice Tray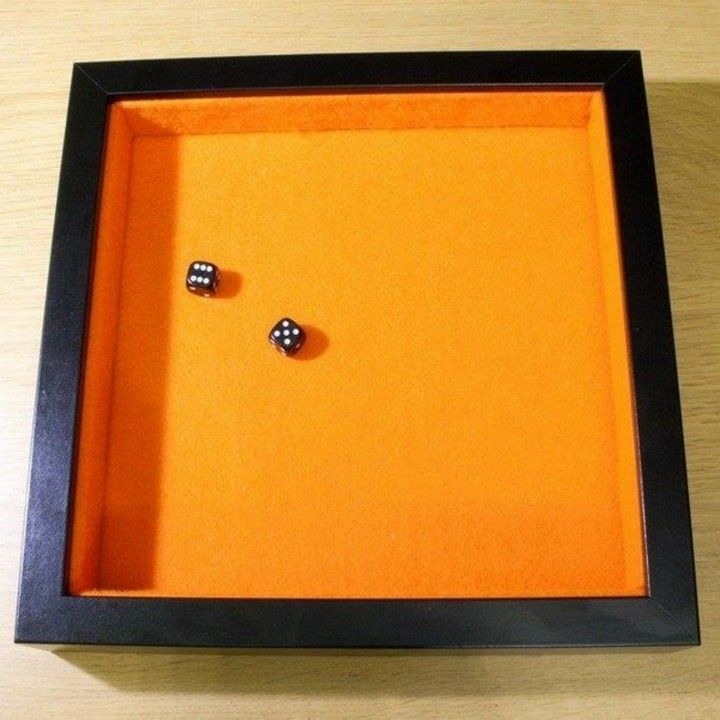 Dice roll off the board without a tray? Never again! This is a quick, cheap, and easy solution to keep your dice where you want them. Making a dice tray can be a good and fun DIY project. The materials used are quite common; you can use any material you like or have handy at home. This article will show you how to make your dice tray from an Ikea Ribba frame and some other easy-to-find material; the best thing about this project is that it's cheap and simple to create.
DIY Dice Tray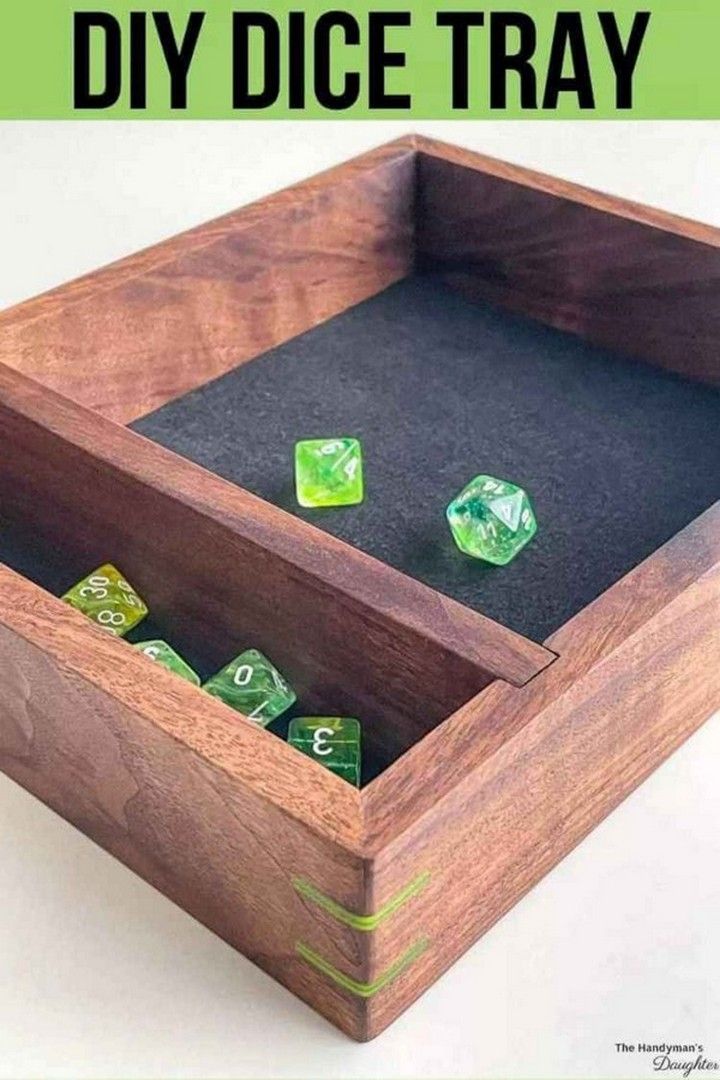 This dice tray is a perfect tool for you to roll your dice. It is easy to put together and will make your gaming much more comfortable. The Dice Tray is a great way to organize your dice, and it looks cool, too. You need wood, splines (wooden pegs), and veneer to make your own. This project will take about two hours from start to finish, plus drying time. If you don't like the felt-lined tray, you can make this easy woodworking project out of a piece of plywood and some dowels.
$1 Dice Tray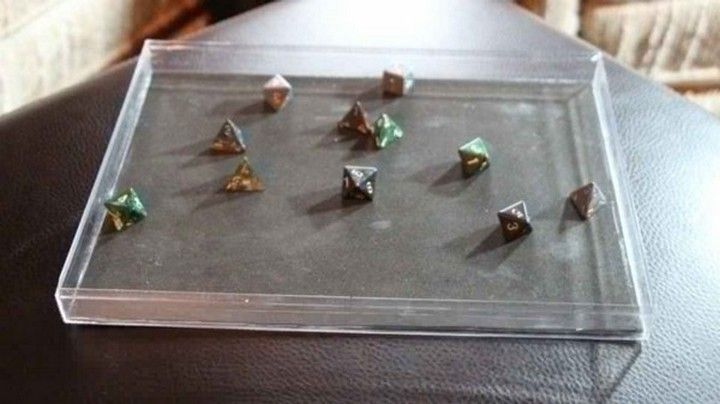 Making a dice tray for your favorite dice game? That's great, but have you ever thought about making it a little more personal? With some real style, or just a different color than all the other trays? The possibilities are endless, and a box is all you need! This DIY $1 Dice Tray particular tutorial is easy to set up and make, plus it won't break the bank and will help you get exactly what you want.
DIY Folding Dice Tray
Do you want to make your dice tray? This is a simple DIY project that any crafter can do. Instead of buying costly dice trays from stores, why not make one yourself? The leather and fabric construction makes it attractive, and the built-in bowl makes it easy to use on a tabletop without losing any dice. This DIY project takes relatively little time but can make a huge difference on your next game night! The best part is the folding design allows you to store your dice on the table without worrying about knocking over cups and spilling drinks while you play.
How To Make A Dice Tray In 30 Minutes
Whether you are a tabletop games enthusiast or want to add a DIY touch to your game room, this dice tray will be perfect! This fun, fast and easy DIY dice tray craft is also the perfect gift for your favorite game-playing partner. It's a great way to practice your woodworking skills without much effort. Whether you're a beginner or have been working with your hands for a while, this project requires just 30 minutes plus simple supplies and tools (like paint, wood stain and brushes).
How To Make A Wooden Tray
This project can be the coolest thing you have made. If you like board games, especially dice, this dice tray will be a good addition to your collection of games. This one is for real men and easy to make at home. This is a great accessory if you like playing board games with your friends. Make a wooden dice tray with felt, picture frames and acrylic paint. The felt inside makes rolling dice easier, especially when playing with a large group of people or across multiple tables.
DIY Improved Dice Tray
Have you ever gotten frustrated while playing your favorite board games? Maybe you were busy moving all of your pieces around or had to take off the lid each time you rolled the dice. Well, here's a solution to that frustrating situation. The DIY Improved Dice Tray has been designed to double up as a storage container for your game components. The materials are relatively inexpensive, you can use any cloth for the look or texture, and it will require glue or adhesive. All it takes is tacking the fabric down with glue or adhesive and folding it over.
DIY Cheap Dice Tray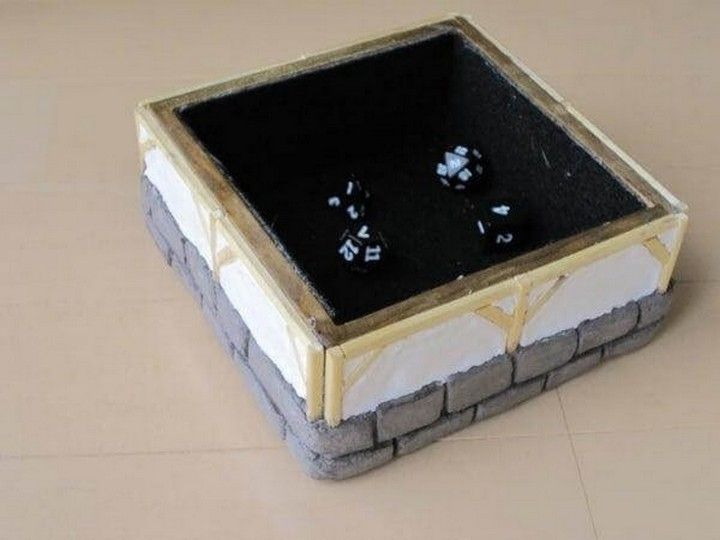 Have you ever wanted a custom dice tray? Well, now you can make one. This is a really easy project and requires only inexpensive materials. This dice tray is perfect for rolling your favorite number of dice while playing your favorite game. In this tutorial, you'll learn how to make a wooden box, stone wall, and paneling. The stone wall can be created using air-drying clay. This DIY project can be completed in just a few hours and will look great on your table or gaming table in your home!
DIY Dice Tray Idea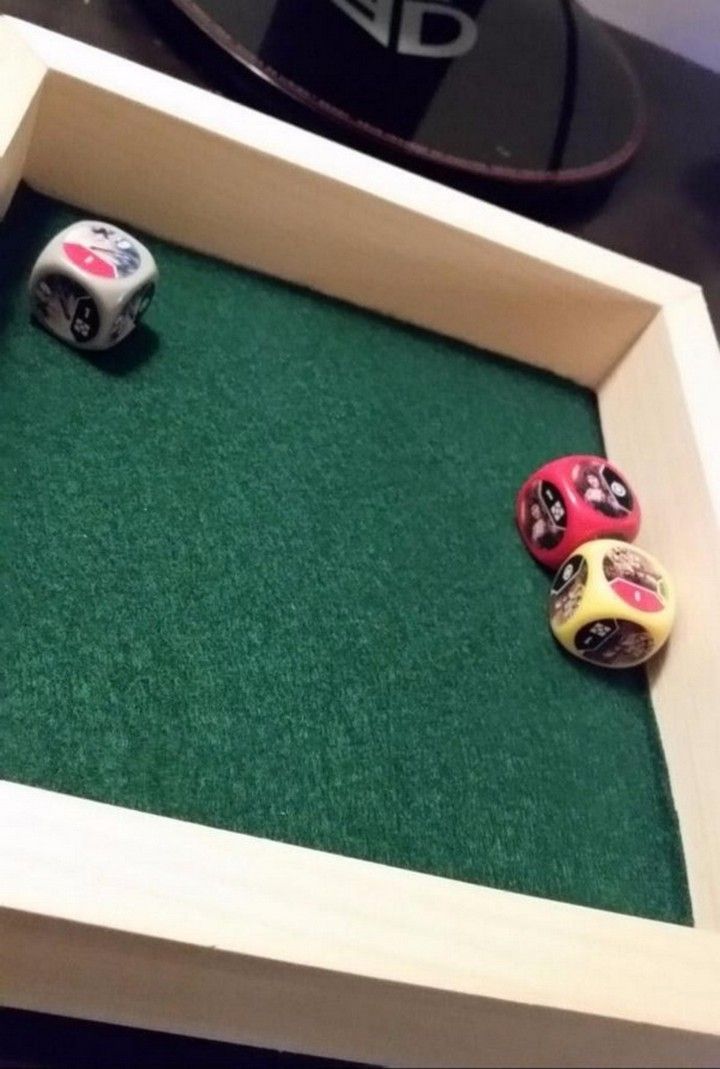 This DIY Dice Tray is a very easy project to create, and the results are ethereal and intriguing. With this awesome dice tray, you can bring the fun anywhere. The best thing about this project is that it is really simple and cheap to make; other than that, you will impress your friends with how well you made it. You will only need some basswood, paper and felt to make it happen.
Cheap DIY Custom Tray
Customize your gaming experience with our Dice Tray. It's the perfect companion piece for tabletop games and works especially well with deep board games. Slip it into any standard-sized photo frame, then fill it in with your favorite accessories. The great thing about this dice tray is that it is easy, affordable, and effective. This idea is perfect if you want something different and unique that will give your gaming experience a new edge. Have fun rolling in style with this Cheap DIY Custom Tray.