Crocheting sunflowers is a great way to bring a bit of summer into your home in winter. Sunflowers are bright and cheerful, but they don't require much yarn or time to make, making them a great way to use up scraps and create something new simultaneously. This is also an excellent project for removing that pesky little ball of yarn from the corner of your stash that you're unsure what to do with. These flowers can be made in any color, and depending on the size hook you use, they can be crocheted quickly with just one ball of yarn (of course, there's nothing wrong with using more than one if you want to). In this article, we've collected some free Crochet Sunflower Patterns that can be made into sunflowers.
How To Crochet Sunflower Patterns

Sunflowers are also one of the easiest to crochet, making them great for beginners. There are tons of crochet sunflower patterns to add a little pop of summer to your home. Something about their bright colors and easy construction makes them an ideal project for new crocheters who are still learning their way around the craft. They're a series of chains and single crochet stitches that make up the petals. These unique crochet sunflower patterns span a wide range of skill levels, from beginner-friendly to those looking for a challenge. They're all unique, and many can be made quickly with the essential materials you already have!
Tips For Crochet Mini Sunflower Patterns
Crochet sunflower patterns are a popular choice for a summer project. They can be made into beautiful flowers or used as appliques for bags, hats, and blankets.
Here are some tips for crocheting sunflowers:
Use a large hook to make a tight stitch. This will give your flower more volume and keep it from falling apart when you pick it up.
Use several colors in one flower if you want a multicolored look. You can also use one color in multiple shades to get an interesting effect.
If you're using large stitches, use several strands of yarn instead of one, so your flower will be smooth-looking.
Crochet sunflowers are easy to make, so try out these patterns today!
Sunflower Square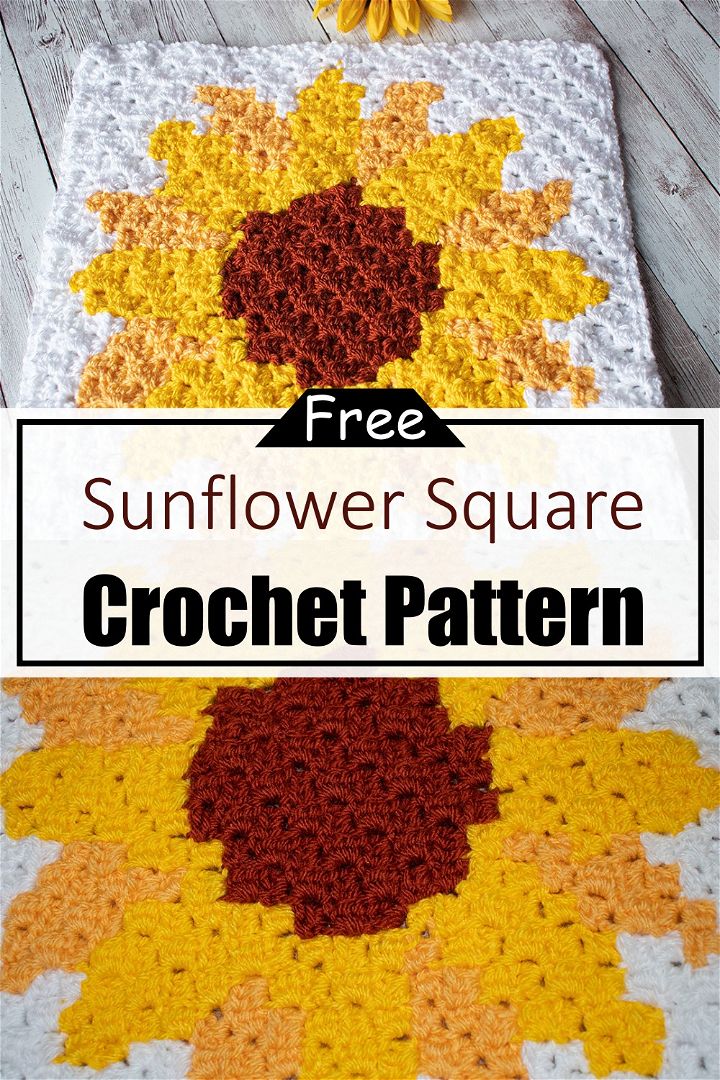 Add a pop of color to your summer wardrobe with this easy crochet pattern. This Sunflower Square crochet pattern will show you how to create a beautiful sunflower square, which can turn into anything like pillows, table runners, or a tote bag. It's easier than you think! You'll need three yarn colors, with the second and third colors being the same in each square. Once you've got those elements down pat, it's a breeze to make them all!
Sunflower Sachet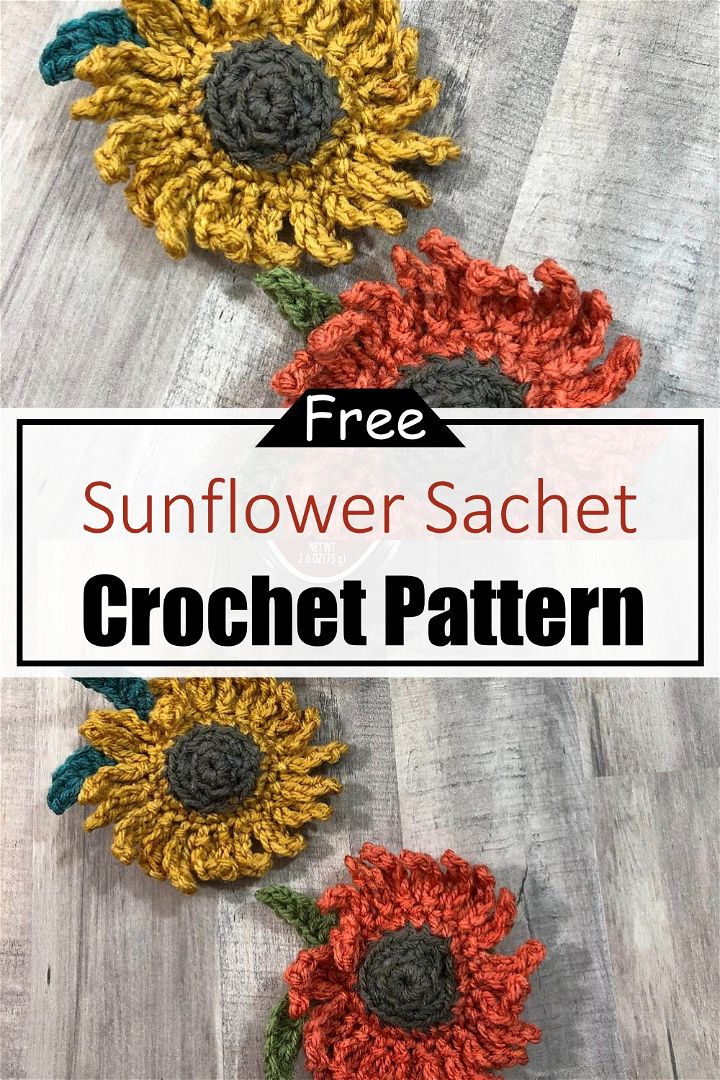 This sunflower towel sachet is the perfect way to brighten your house or car. It's easy, uses just a little yarn, and works quickly. Use DK-weight cotton yarn and an "E" hook. You can use it as a sachet or hang it on your doorknob. The thread used for this pattern is stunning, and the best part is that there is no sewing involved, so you can quickly get right to crocheting! They work up quickly, and they make great gifts.
Sunflower Wind Spinner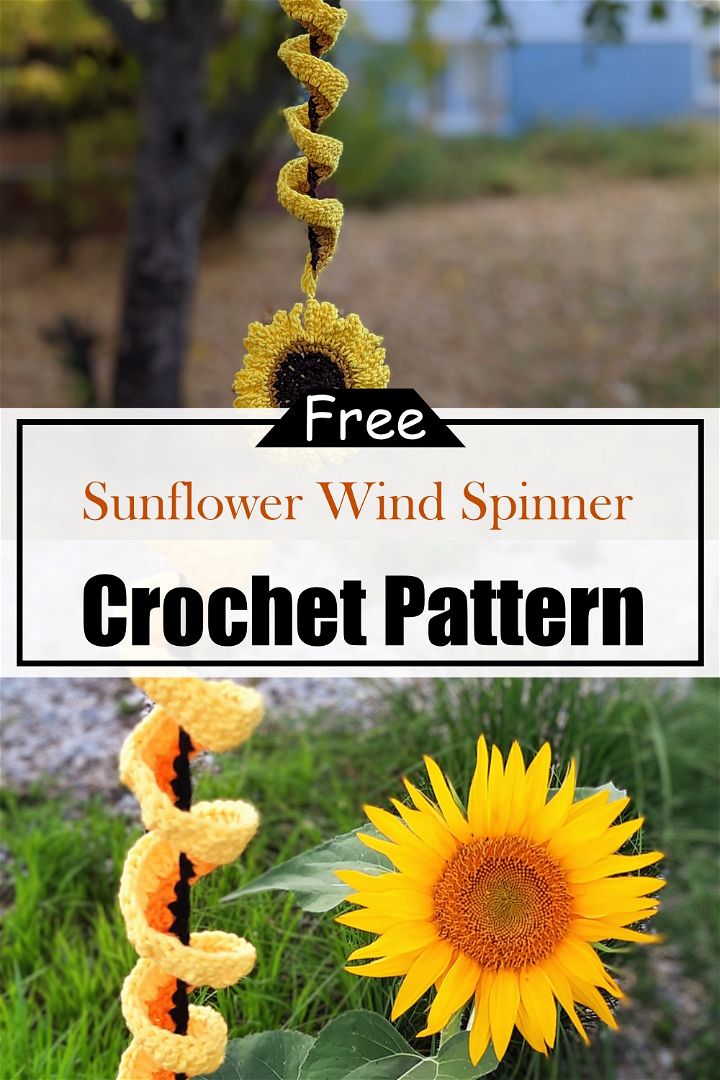 This stunning sunflower wind spinner adds brilliant color and energy to your garden! The robust and durable design is great for spinning in the breeze and will make you smile whenever you see it. The flower is made of acrylic yarn, which will last for years. You can also hang this lovely decoration on your porch, balcony, or trees to bring some life to your outdoor space.
Sunflower Wand Flower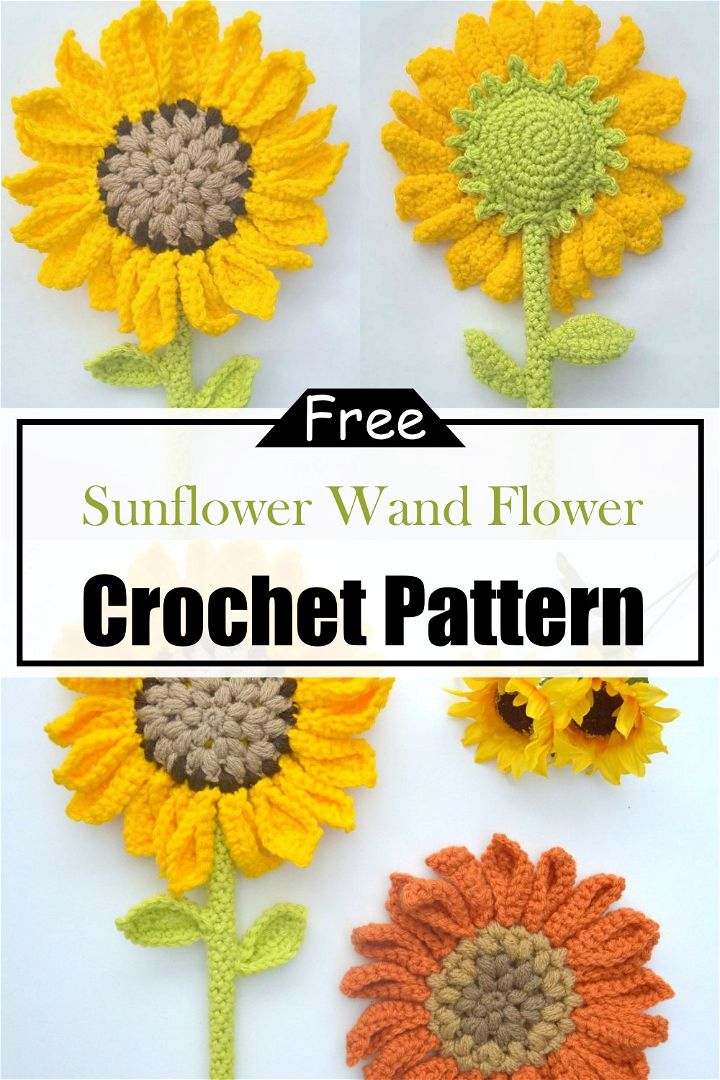 Fan out the petals on this sunflower wand flower to bring sunshine into your home. This well-designed pattern includes the anatomy you need to crochet a perfect little sunflower, a receptacle, petals and stems, and leaves. This crochet pattern creates a perfect replica of a sunflower! The sunflower is made of a simple petals shell with a center that features a lot of pretty Puff stitches. With all the same parts as a natural sunflower, it's the perfect craft for beginning and experienced crocheters alike.
Sunflower Placemat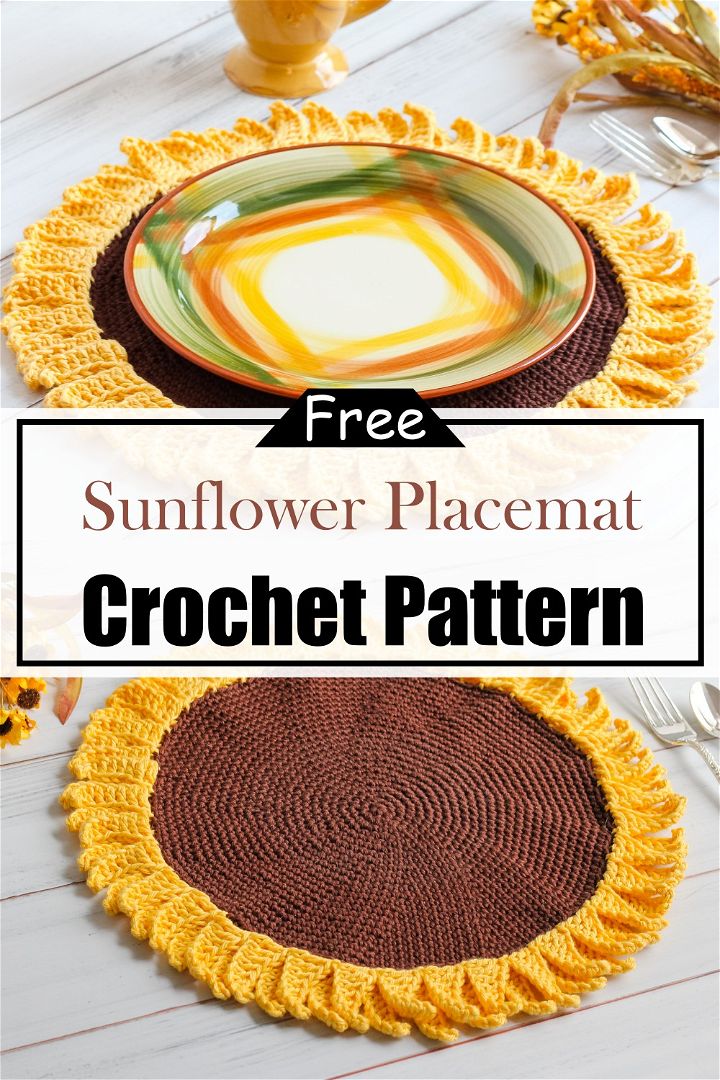 This crochet sunflower pattern is the perfect addition to your summer decor. The design includes detailed instructions and photos, so even a novice crafter can whip up this fantastic placemat in no time at all. This Sunflower Placemat is perfect for summer birthdays, housewarming parties, and baby showers. Made with soft hemp, it will stand up to hot plates and drinks while keeping your table looking beautiful! It also makes a lovely kitchen mat. The super bulky size means you can complete this project in one day.
Sunflower Coaster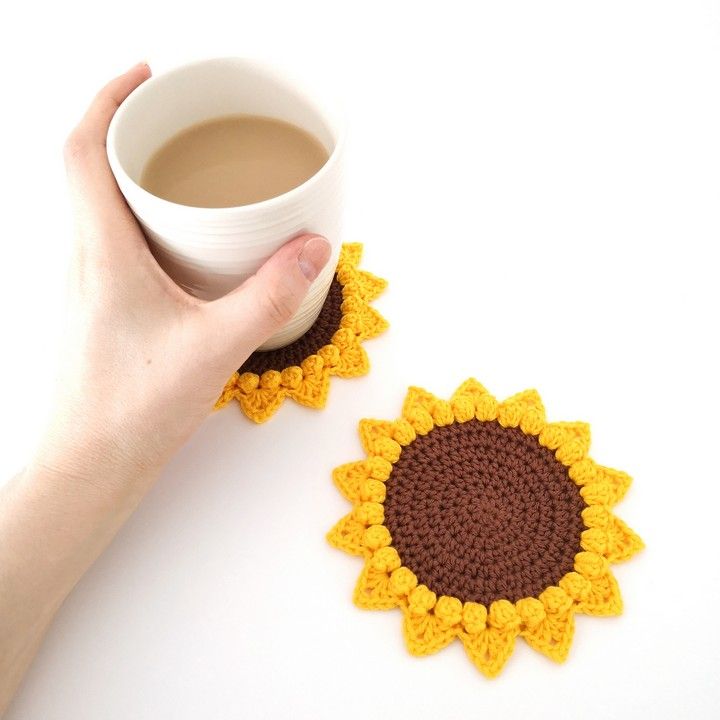 This sunflower coaster is a crochet pattern perfect for anyone who loves creating beautiful home decor. They are beautiful and make a great crochet pattern for several reasons. First, there are so many different color combinations that you could use when making these flowers! You can make them in any color you like. It serves as both a decorative and functional piece of art. Stitch the sunflower pattern, and you're ready to use this project as a coaster for your favorite drinks or decoration!
Sunflower Tote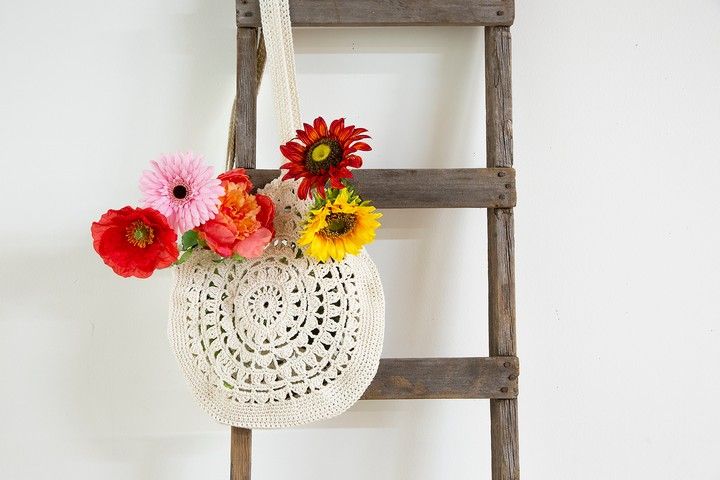 Make a statement with this bold crochet sunflower pattern! This pattern is for a small crochet tote bag with classic sunflowers. This tote features a brightly colored floral design that is perfect for Spring or Summer outings and can be customized for any occasion. Crochet this Sunflower Tote to carry everything you need and want to take with you on a busy day. The basketweave look of the bag makes it easy to keep your things organized, and you can make one for every season. The pattern includes instructions for making the bag with handles.
Sunflower Towel Topper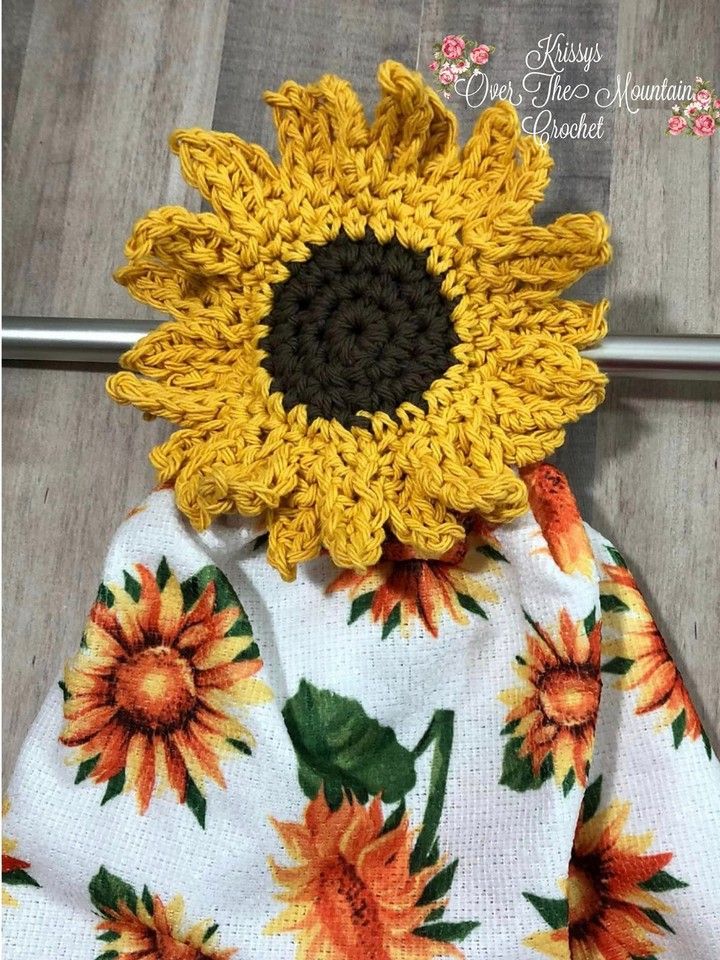 Make your bath time more cheerful with this crochet sunflower towel topper. It features a simple crochet stitch that creates flower petals and leaves. The finished towel topper is fast and easy to create, and it's not attached to your towel. This is perfect for an upcoming summer baby shower! The sunflower looks best when made in a solid or semi-solid color, as it adds contrast to show off the stitches on the flower.
Sunflower Dishcloth Scrubby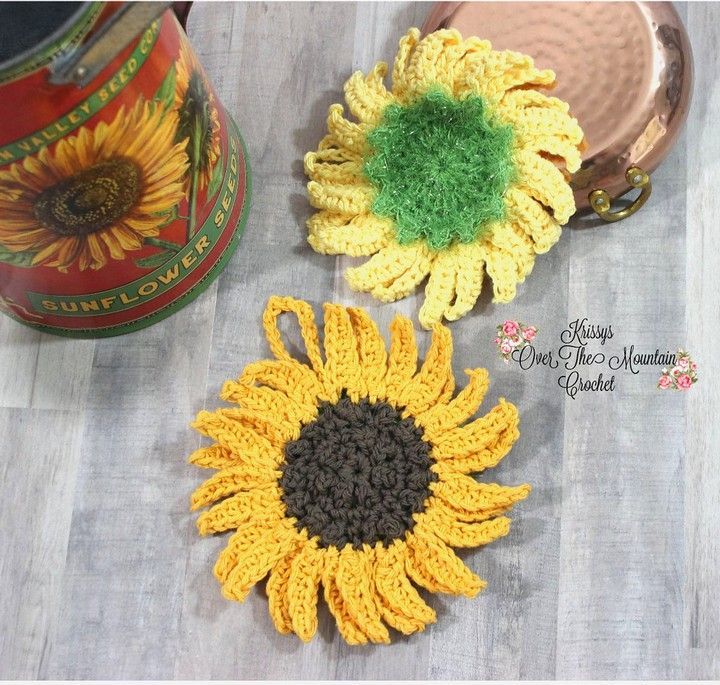 Sunflower Dishcloth Scrubby is a pretty little crochet dishcloth with an added scrubber on the back. It's a fun and colorful way to brighten up your kitchen. Make a dishcloth that is both beautiful and functional. With a crochet sunflower cover, this scrubby will be loved by all who see it. Make it with your favorite color if you want to show your inner flower child – or give it as a gift! With this dishcloth and pot scrubber combination, you'll never have to worry about scrubbing stuck-on food from your dishes again!
Sunflower Candle Coaster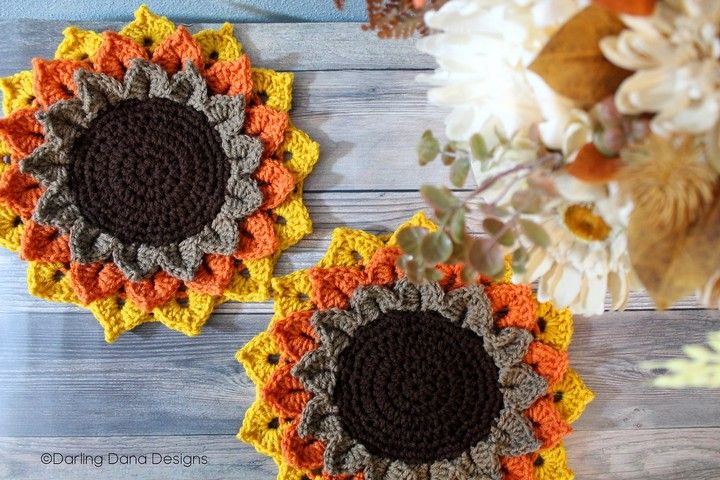 Sunflowers are the perfect addition to any home decor. This easy crochet pattern is ideal for adding a little sunshine to your life! The Sunflower Candle Coaster is made using size D and E hooks, making it easy for beginners to achieve in no time. Create these super cute home coasters to give as gifts or sell in your shop! You could also use these to make a garland of flowers or as a hanging wall.
Sunflower Coaster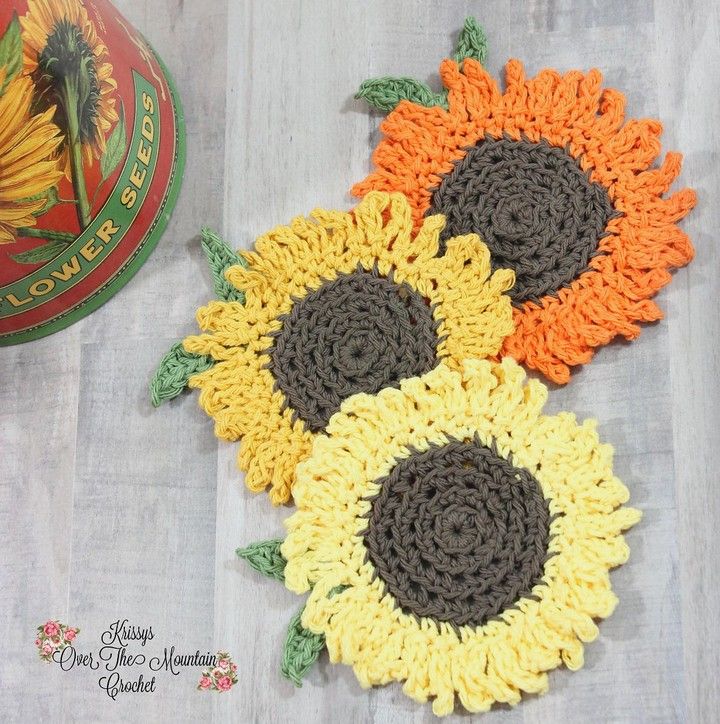 If you love sunflowers, you will love these whimsical crochet sunflower coasters! These cute little sunflower coasters are a delightful addition to any kitchen and make great gifts. Sunflower Coasters are the perfect project for crocheters who want to add extra character to their home while practicing a new technique. The coasters' design is easily altered to create unique versions each time, making this set truly customizable. Sew two or more together to create a coaster trivet, or use it as a special corner hanging decoration!
Ukrainian Sunflower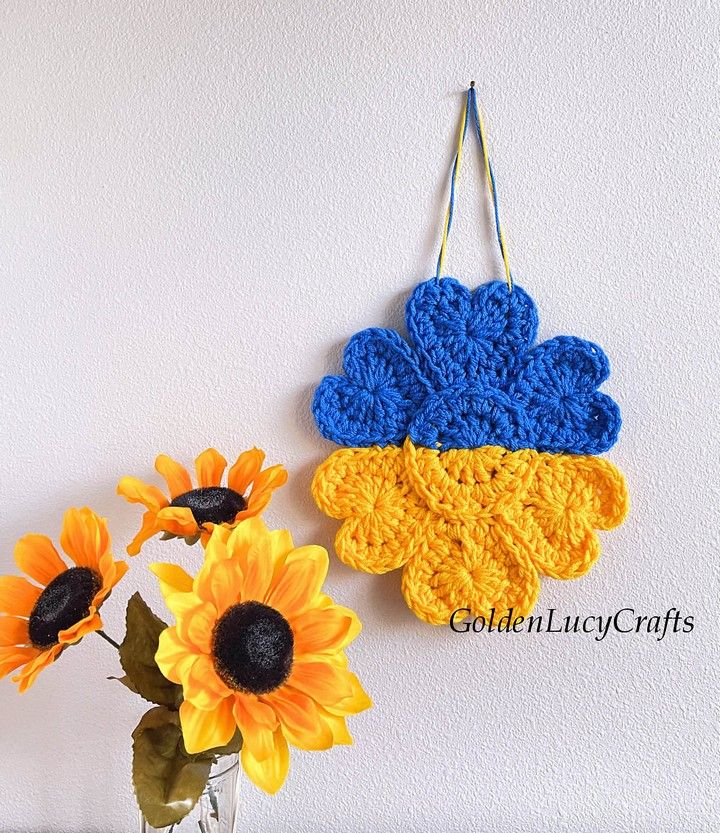 This Ukrainian sunflower pattern is one of the most famous traditional motifs of Ukrainian embroidery. It has been used for centuries in pottery, rugs, and tapestry and continues to be used today by artists and craftspeople. This beautifully detailed crochet sunflower pattern features a classic Ukrainian design while creating a beautiful accent piece that can hang in your home or garden. Made with worsted-weight yarn, this sunny flower is the perfect addition to your wall art or table centerpiece.
You can also see: Crochet Rug Patterns 
Sunflower Mini Doily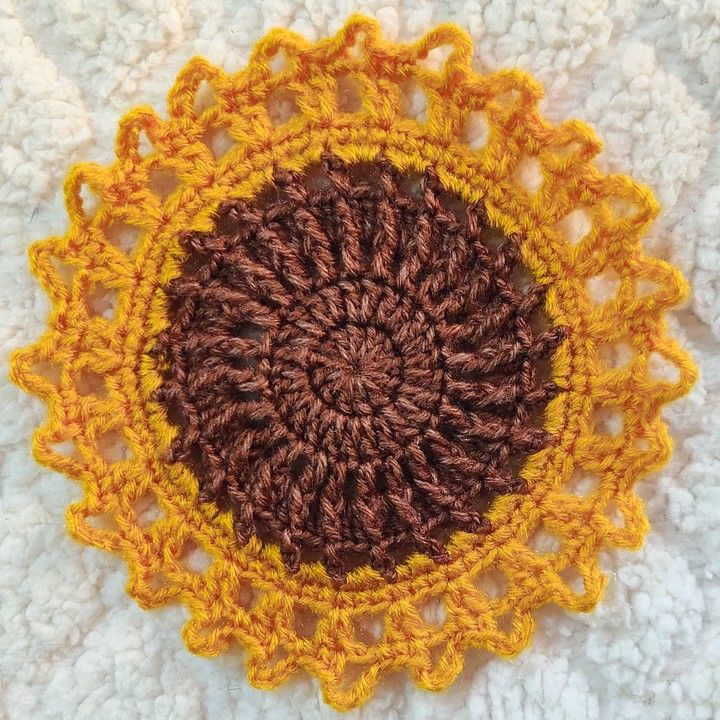 If you're looking for a sweet and simple way to brighten your home decor, this Crochet Sunflower Mini Doily is the perfect crochet project for you! Make your Crochet Sunflower doily with this easy crochet flower pattern. They are easy and fast to make as well. You can use it as a trivet or placemat or add it to your kitchen decor. It's fun to make, and you will love how easy it is to crochet this pretty sunflower mini doily.
Sunflower Power Coasters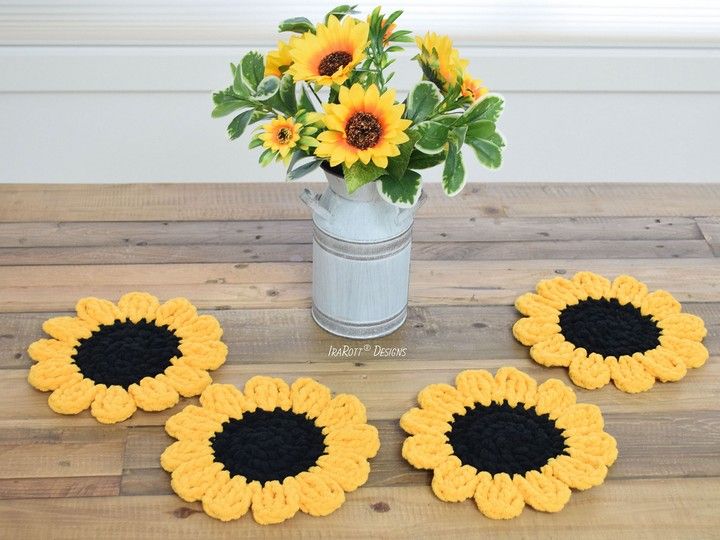 Need a fun and colorful way to enjoy your favorite beverage around the house? Try crocheting these Sunflower Power Coasters! Crafted in Bernat Blanket yarn with a gorgeous sheen and a bold, graphic pattern. Effortlessly chic yet endlessly cozy, these coasters are the perfect accent piece for any décor. Every sunflower needs to bloom, so do your part with this incredibly adorable crochet sunflower pattern. You can use it as the perfect decoration or brighten up any room by using it as a coaster.
Rustic Sunflower Pot Holder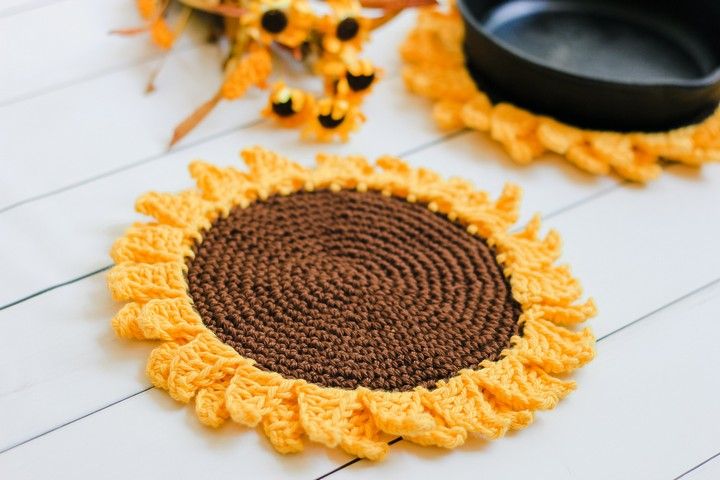 The Rustic Sunflower Pot Holder is an excellent project for summertime. Like the real thing, this rustic sunflower is just as beautiful and brings that touch of summer to your kitchen or makes a fantastic gift. They worked up quickly and easily using seamless single crochet rounds, with just a few games of alternating petals added at the end. This double-thick pot holder is durable and functional to use on your tabletop or hang from the wall with a ribbon hanger.
You can also see: Crochet Bracelet Patterns 
Sunflower Amigurumi Fidget Toy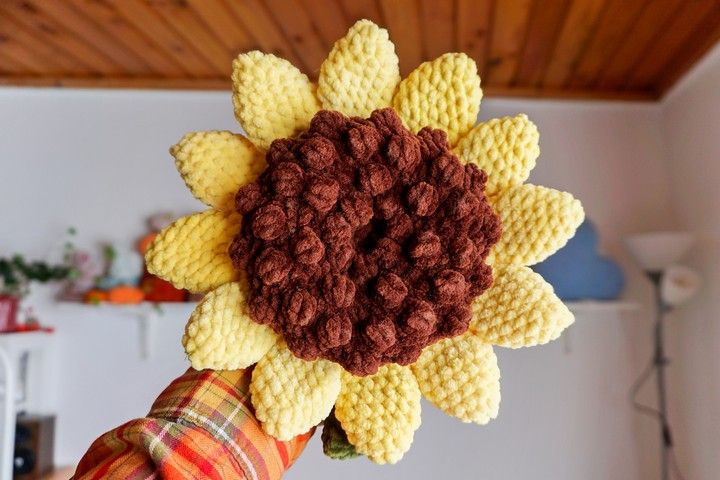 Sunflowers are beautiful flowers to crochet and make incredible decorations. They are also beneficial if you have a child that needs fidget toys or a teething baby! This pattern is large enough to use as a pillow for a child or adult. The miniature version is perfect for pocket fidget toys and brooches. This is also suitable for crafting if you want the flower to be smaller or bigger. You will only need to sew on the petals to the side of the flower; no need for weaving in all those ends!
Sunflower Lace Crop Top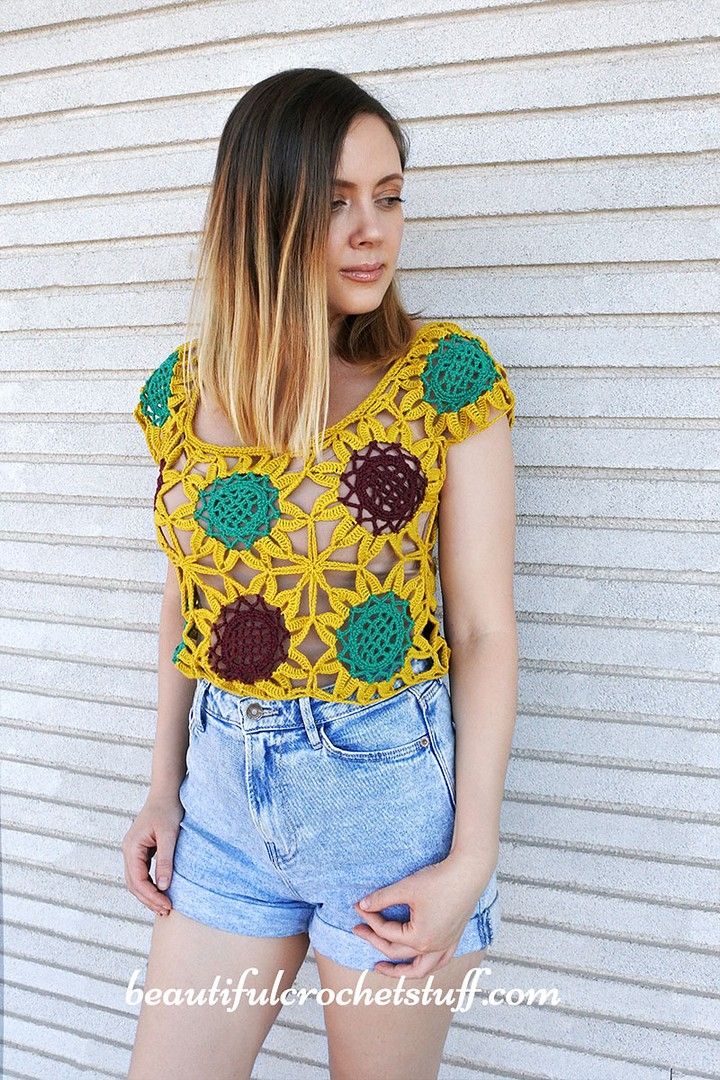 This crochet sunflower top is perfect for any summer event! It's so light, airy, and comfortable to wear. The crochet panels on this top give it a delicate look that adds dimension and style to the beautiful Sunflower Lace Top. Make this classic sunflower lace top to wear year-round - perfect for festivals, shopping, or just looking cute! It is very customizable, so you can make it in any size you need.
Sunflower Basket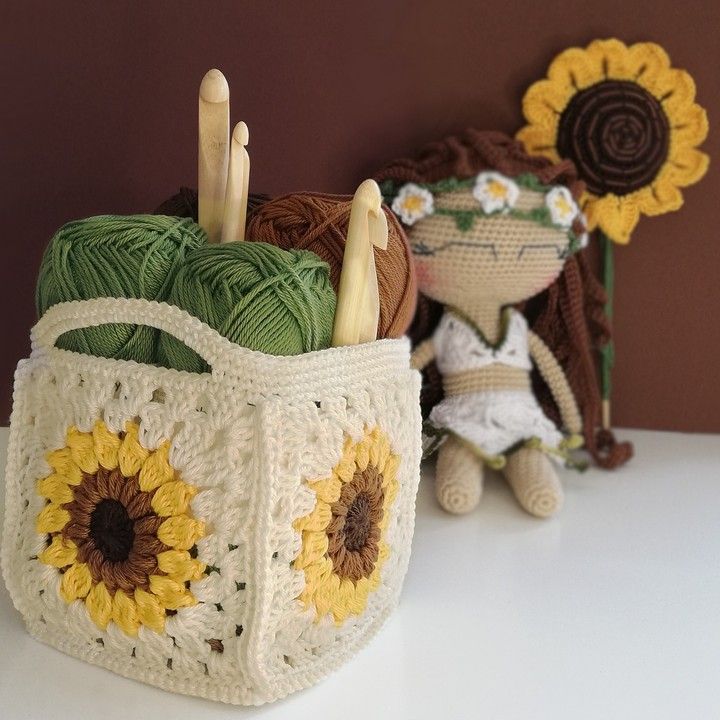 This Sunflower Basket pattern can be easily made following the chart and instructions. The finished product is an eco-friendly basket that can store small items such as yarn or other craft supplies. It will make an excellent gift for your loved ones or yourself! It's easy to make in just a few hours, making it a wonderful gift for someone special without breaking the bank! The pattern uses sport-weight yarn and a 3.0mm hook, so it's easy on the budget.
Sunflower Wine Cozy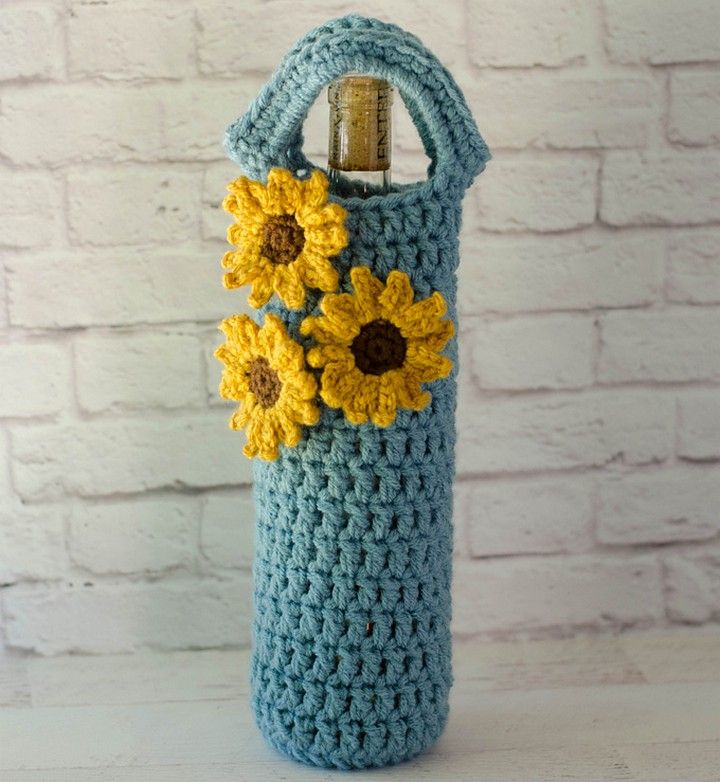 Sunflowers are beautiful and cheery flowers. This cozy is the perfect way to drink your favorite wine while keeping it at just the right temperature! It will be an excellent gift for your favorite outdoor enthusiast, or bring your wine to the next outdoor BBQ. The crochet Sunflower Wine Cozy is quick and easy to make, making it a great handmade gift. It also comes with step-by-step instructions with lots of pictures to help you along the way.
You can also see: Crochet Potholder Patterns 
Solig Sunflower Pillow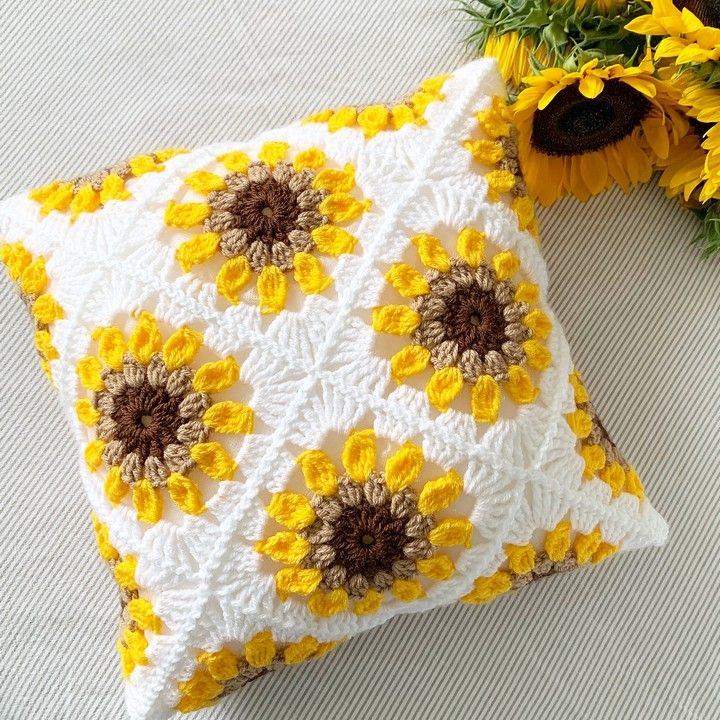 This sunflower pillow pattern will make a unique and creative decor piece in any home. The pillows are fast to crochet, fun to make, and brighten up any dark corner of your home! This crochet pattern has all you need to create your sunflower pillow—complete with a yarn chart and written instructions. The design uses Brava Worsted 100% acrylic yarns; this 16"x16" pillow is sure to delight people of all ages. Any crocheter will love the bright sunny colours and crafty design!
You Can See More Crochet Patterns