Try one of these crochet bracelet patterns if you want something different for your jewelry collection. We have patterns for you, whether you're looking for a subtle accent or something bold and bright. In addition to the sheer beauty of the crochet bracelet patterns, these bracelets are also quite fashionable and unique. From an infinity twist to a modern braid, these patterns will inspire you! With so many patterns and styles, you're sure to find what suits you best!
Crochet Bracelet Patterns Free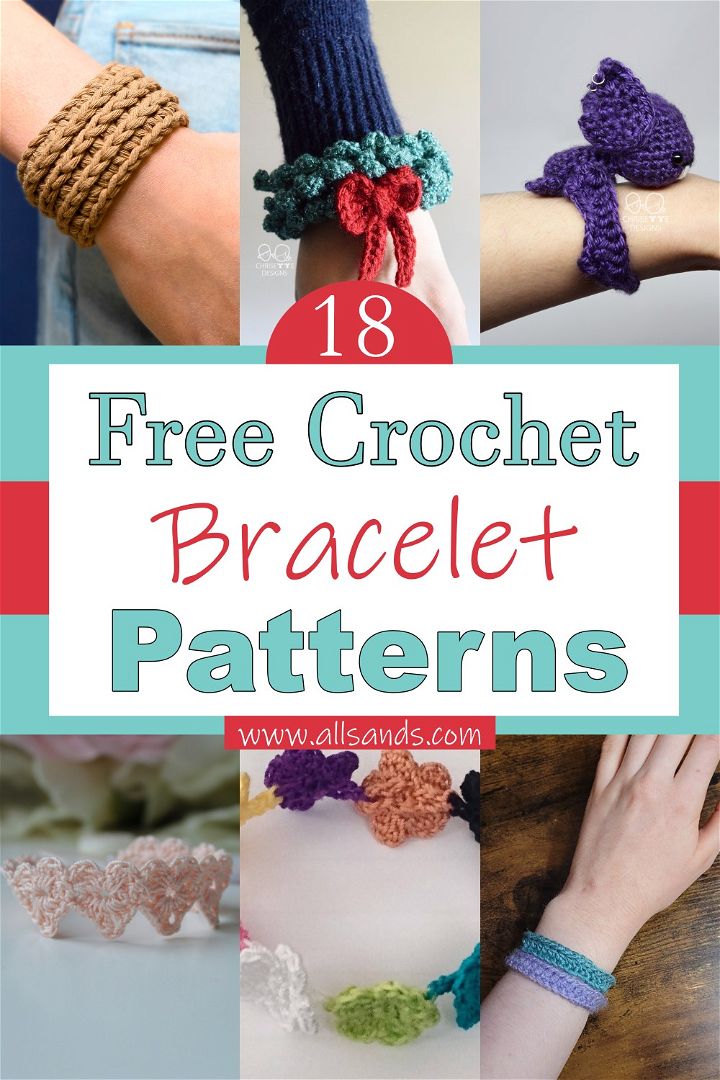 When you're looking for a gift to give, you want to make sure it's something the recipient will love. You can't go wrong with a handmade gift designed specifically for them. Whether you're searching for a special treat or a thoughtful little something, These amazing crochet bracelet patterns are perfect for any occasion! Crochet bracelets are also a great way to add handmade accessories to your wardrobe. They are easy to make and allow you to design something unique and perfect for your style. You can even customize it by choosing the colors that you like. So get ready to try these patterns and pick a bracelet that expresses your personality!
Tips For Crochet Bracelet Patterns
When ready to start your bracelet, look at the patterns available. Do they look complicated? It may be time to simplify them. Here are some tips for making your crochet bracelet patterns:
Make sure your hook is the right size.
Make sure you have all the yarn and other materials you need.
Plan what you want to do and make notes so you remember everything!
String Of Hearts Bracelet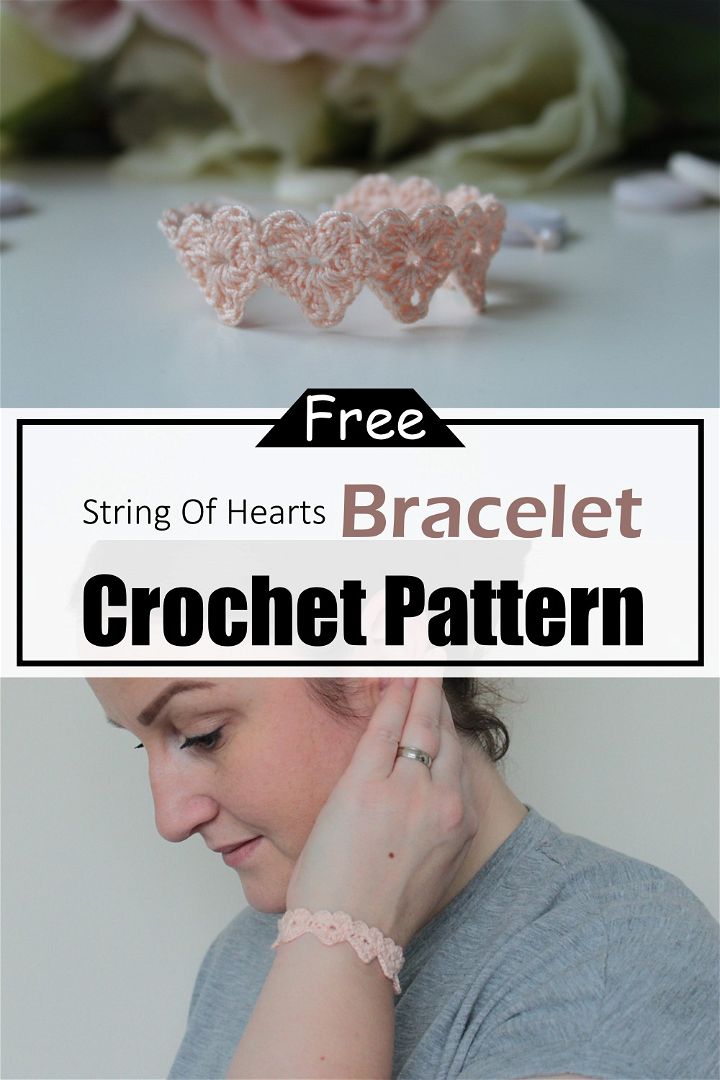 Use the String of Hearts Bracelet Pattern to create an adjustable bracelet. It features a string of hearts and measures about 18 inches long. You can make the bracelet as big or small as you like by adjusting the number of hearts on each side. Just keep in mind that each heart should measure 2 x 2 cm. This pattern uses Rico Design Essentials Crochet Yarn Thread, so it's easy to make and comfortable to wear. This beautiful, light, delicate bracelet is perfect for giving as a gift.
Bracelet Chunky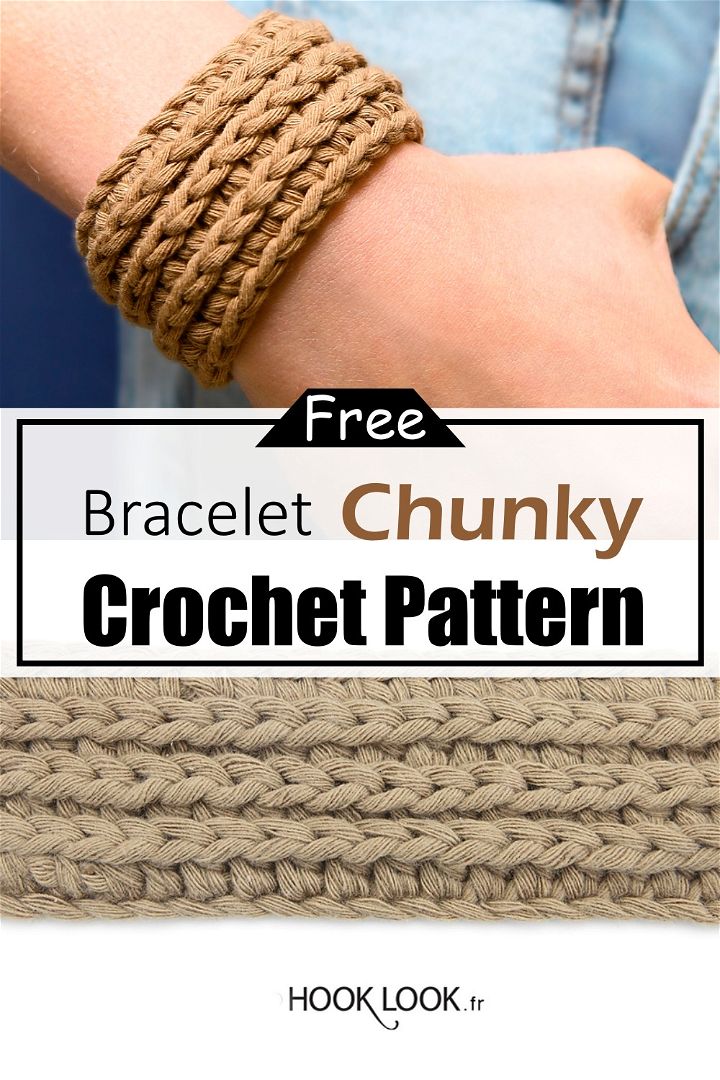 This bracelet is made of Phildar Aviso yarn and is quick and easy to crochet. The bulky yarn makes it warm and comfy enough to wear every day. The Bracelet Chunky is a basic bracelet pattern that you can easily modify by changing the stitch count, adding beads, or changing yarn weight. You can create this Bracelet Chunky to be worn alone or in combination with other pieces, and it's ideal for a casual look.
Bat Bracelet Batlet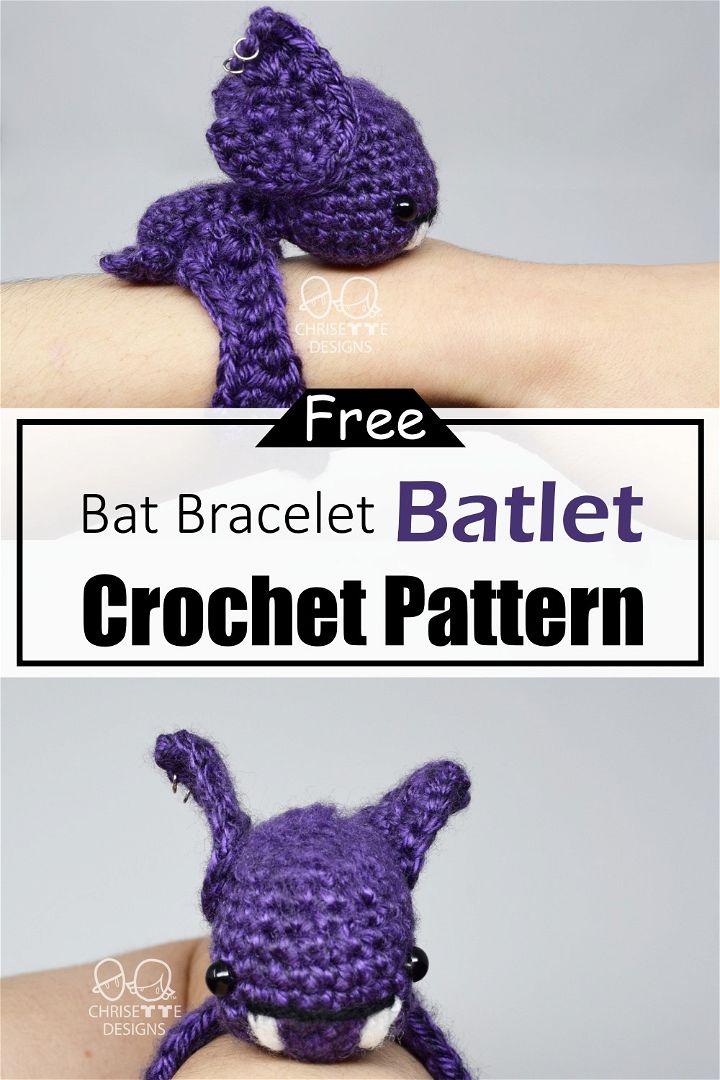 Bat Bracelet Batlet is made with a thick elastic cord and is adjustable for small and large wrists. Use this small project as an introduction to crochet, or have fun with it on your own time. There's enough to keep you occupied during snack time or a quick family road trip. This easy-to-follow pattern includes all the skills needed to complete this fun little project. The bat capelet can be worn alone, or add additional bracelets to make the perfect set, like in the picture! Use velcro or jewelry hardware for closure options. Make sure to use safety eyes for children under three years old if making for them.
You can also see: Free Crochet Scrunchie Patterns 
Floral Link Bracelet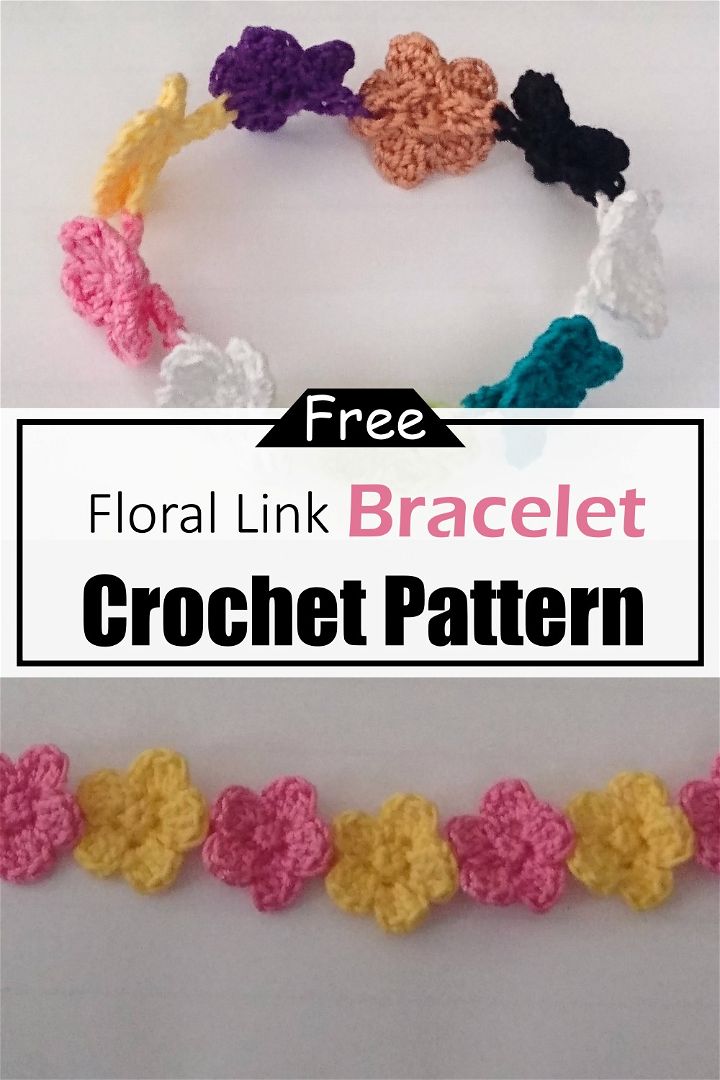 This Floral Link Bracelet is a fantastic pattern for crocheting with scraps of thread left over from other projects. It makes a beautiful and comfortable bracelet with two threads, but you can add as many floral links as you want in various sizes, depending on the look you're looking for. This bracelet pattern is simple and fun. So easy to make, yet beautifully elegant and unique. This could be the perfect gift for a friend, or make it for yourself to match your favorite dress. This project makes a great gift and can easily be adapted to make necklaces or crowns!
Wreath Bracelet Wreathlet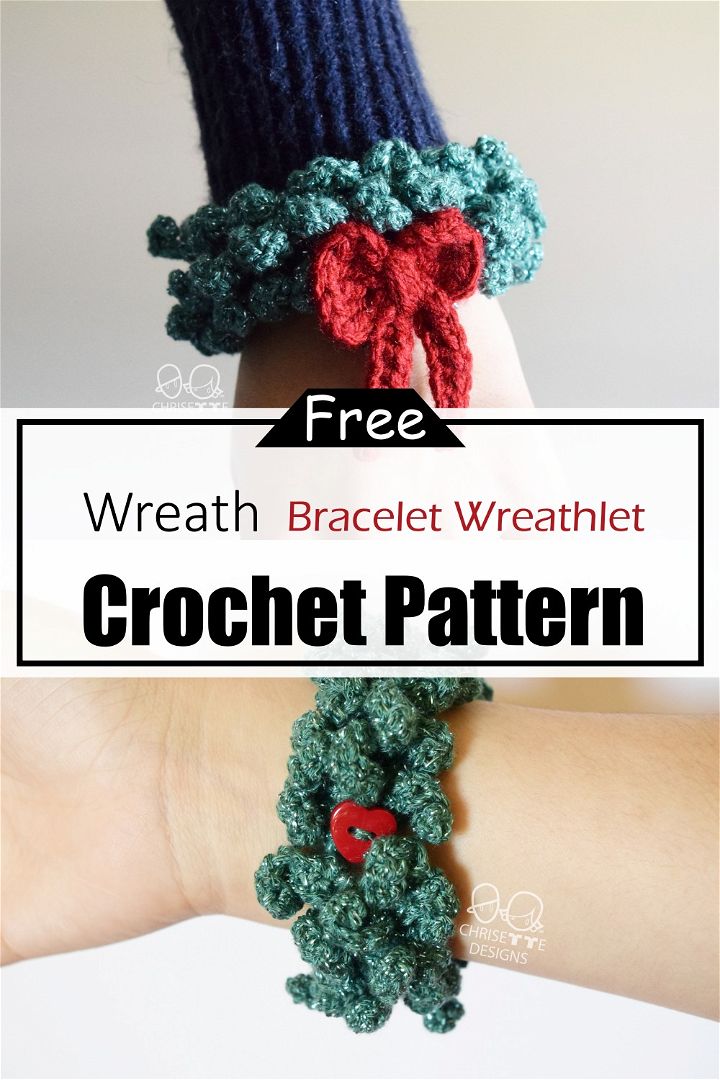 The Wreath Bracelet will add a touch of winter charm to your holiday outfit! Whether you're dressing up for the office Christmas party or heading to get groceries, this bracelet makes a great accessory. This wreath bracelet pattern will guide you in creating a cute little accessory ready to go as soon as you're done! This pattern is easy enough for a beginner, but many more experienced crocheters may want to play with it and make it their own. The bracelet has a solid loop end and a split ring end for versatility. You can use any size hook and yarn for this pattern--make sure that it's snug on the wrist so that it stays put!
Crochet Bracelet For Complete Beginners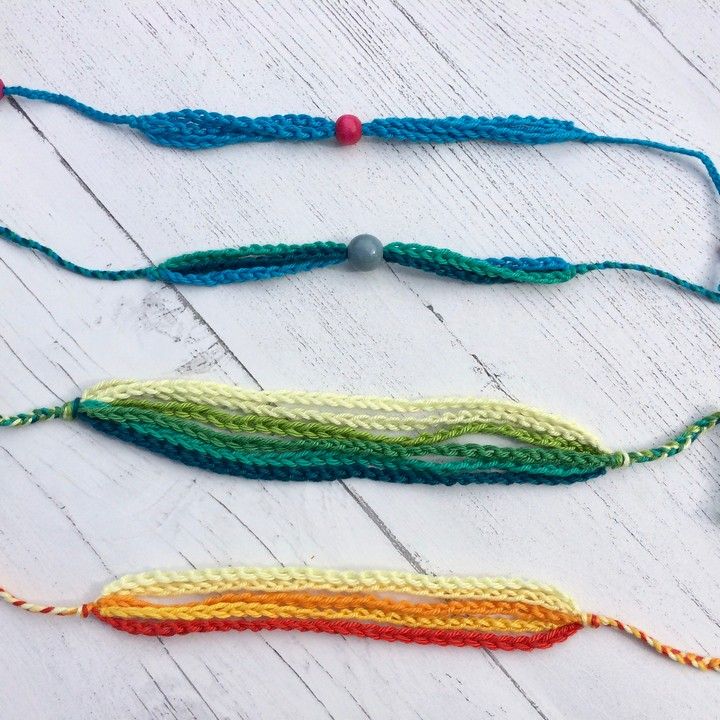 Want to learn the basics of crocheting and keep your wrist warm simultaneously? This simple and easy crochet bracelet pattern is made with a single chain, slipped stitches, and beads. The perfect beginner project for busy moms, school kids, or anyone looking for a quick head starts into the crochet world. This lovely project can make in a few evenings, so it's perfect for those with limited knitting time. The possibilities are limitless regarding the yarns or threads that can use, so get experimenting!
Rustic Wrap Bracelet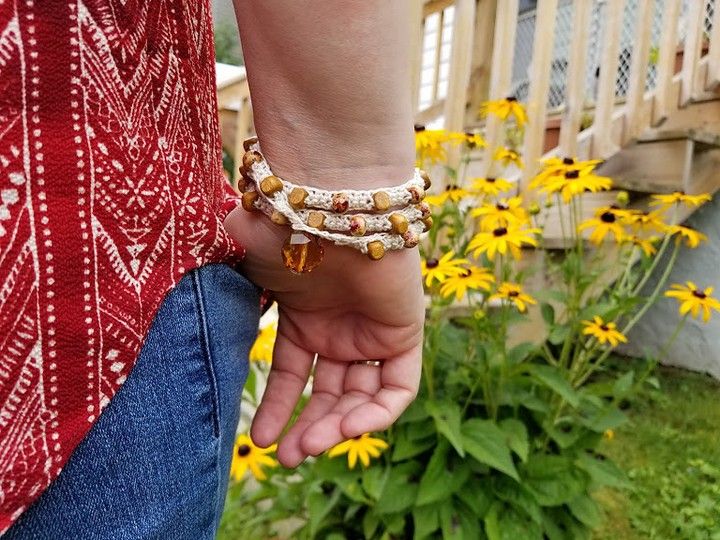 This simple yet elegant bracelet is a lovely project to practice new stitches and experiment with a new design. Using just single crochet stitches, the Long Wrap Bracelet has a rustic look that can be worn alone or with other bracelets or watch strap accessories. This Rustic Wrap Bracelet pattern is suitable for all levels of experience, as it's a lovely yet simple design that doesn't require any previous knowledge or experience. You'll use the single crochet stitch throughout to create a beautiful texture in the shell-like base.
Crochet Cord Bracelet with Adjustable Closure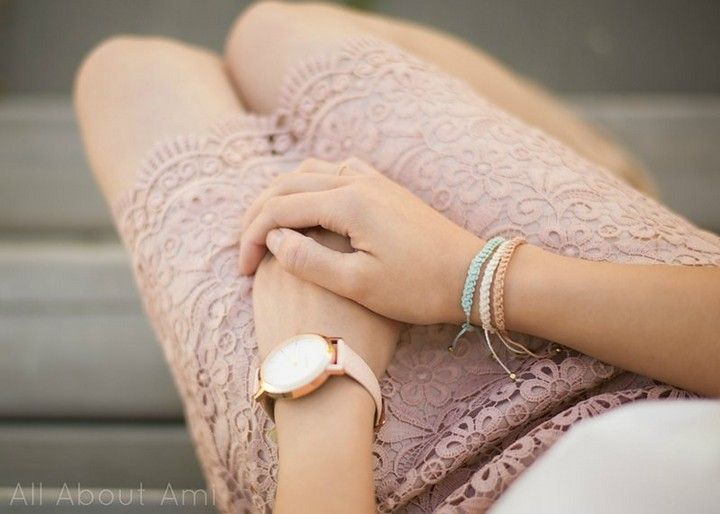 Inspired by the iconic cord bracelet, this modern update is crafted from beautiful handspun yarns and finished with an adjustable closure. The perfect everyday piece for all your summer adventures! This fun and stylish crochet cord bracelet is perfect for a weekend getaway or as a gift for someone special. Featuring a simple adjustable closure, it's easy to wear and adds greatly to any outfit. The long rectangular shape is flattering on nearly any wrist! The beautiful color combinations combine so well that you'll want to make several of your favorite colors for yourself and your friends.
Candy Braid Bracelet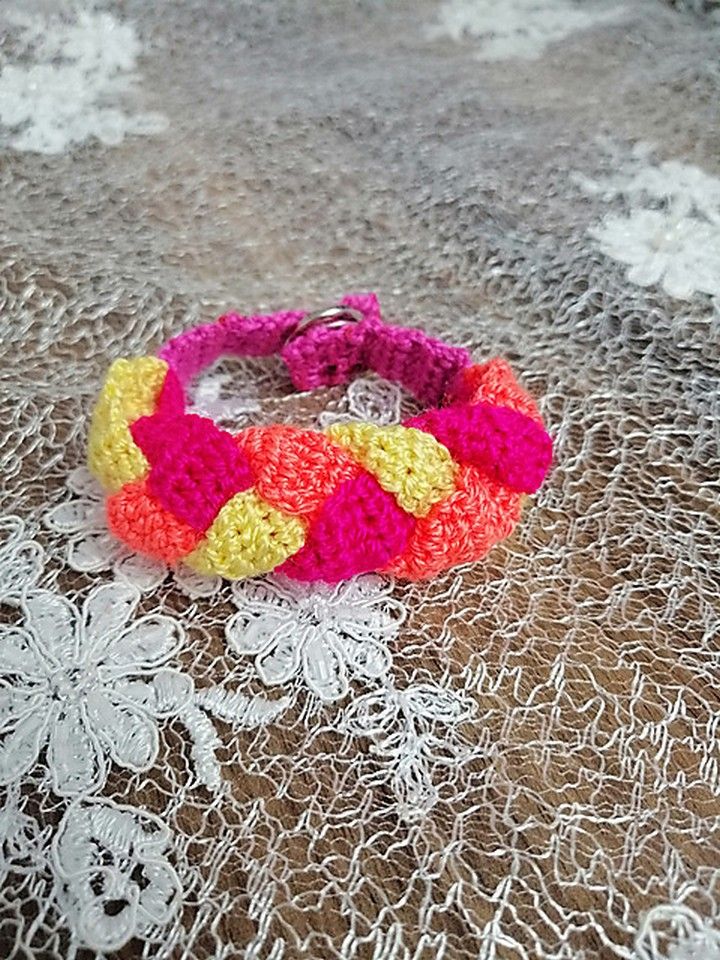 This Candy Braid Bracelet is a braid but with a twist. The braids are made from a crochet thread that creates a gorgeous texture when knitted. The braids are then joined together to create the body of this bracelet. This can wear long or wrap around the wrist several times for something different. The candy Braid Bracelet is an easy pattern to make and is perfect for beginners. The braid of the candy adds a fun twist to this bracelet that looks great in several colors. Even though it's quick and easy, each bracelet takes many hours of crocheting, tying, and cutting curly elastic.
Simple Bracelet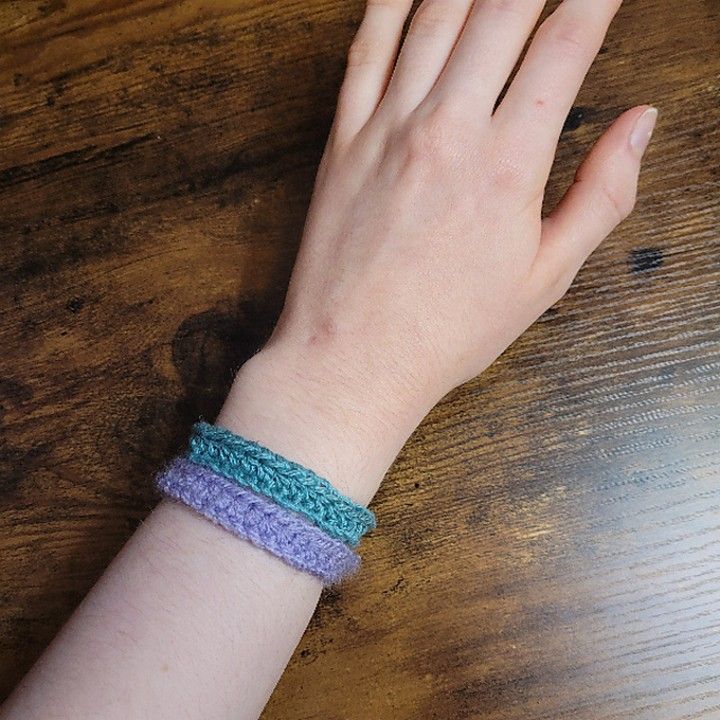 Looking for a knitting or crochet project you can make quickly? This simple bracelet is the perfect weekend treat! It's quick to make, looks amazing, and is adjustable, so you can make one to fit any wrist size. This pattern will walk you through the steps to crochet a simple bracelet using the half-double stitch! It's easy and quick, too - so grab your hook and get started! Plus, there are links below to fun patterns that use the same stitches.
Friendship Flower Bracelet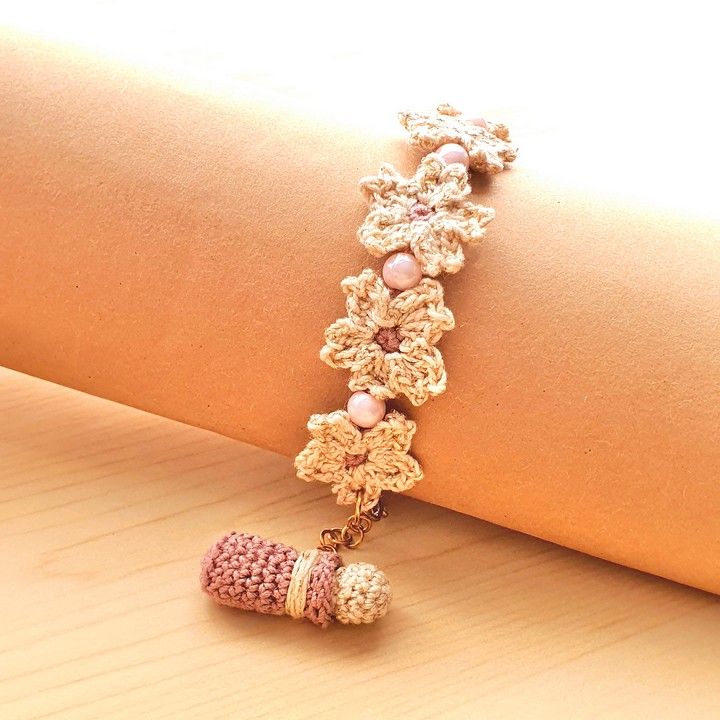 This lovely bracelet features a flower made from the friendship stitch. It's a classic crochet pattern that looks great in any color—try it in a variegated yarn for a beautiful gradient! This Friendship Flower Bracelet is an excellent starting project for new crocheters; you'll master single, double, and treble stitches (and picots!) and make chains and slip stitches in this quick-to-make project. You will need a size G/6–1.75mm crochet hook and some sort of closure to finish your bracelet.
Fairy Bells Bracelet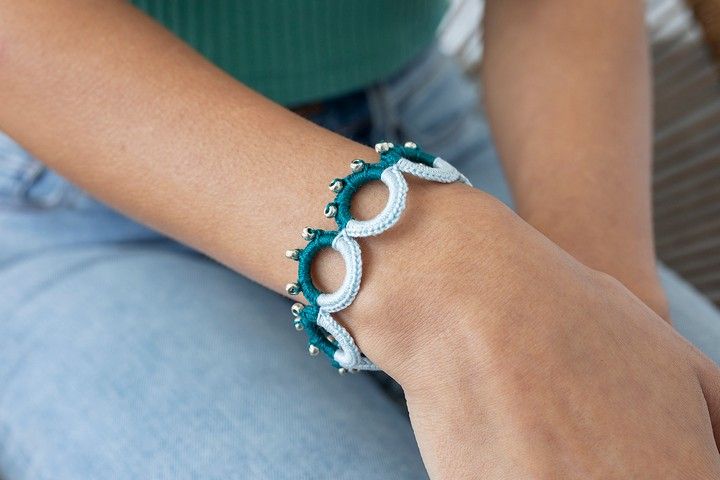 Incorporate yarn and jewelry design elements into a simple bracelet with the Fairy Bells Bracelet. This Fairy Bells Bracelet project works quickly by incorporating plastic rings into the design. No sewing is required, making it suitable for beginners and experienced crocheters alike who want a quick project to complete in an evening! This is not only an easy project to make but very affordable. It makes for a nice accessory for the summertime, or anytime you need an added pop of color!
Teeny Tiny Flower Bracelet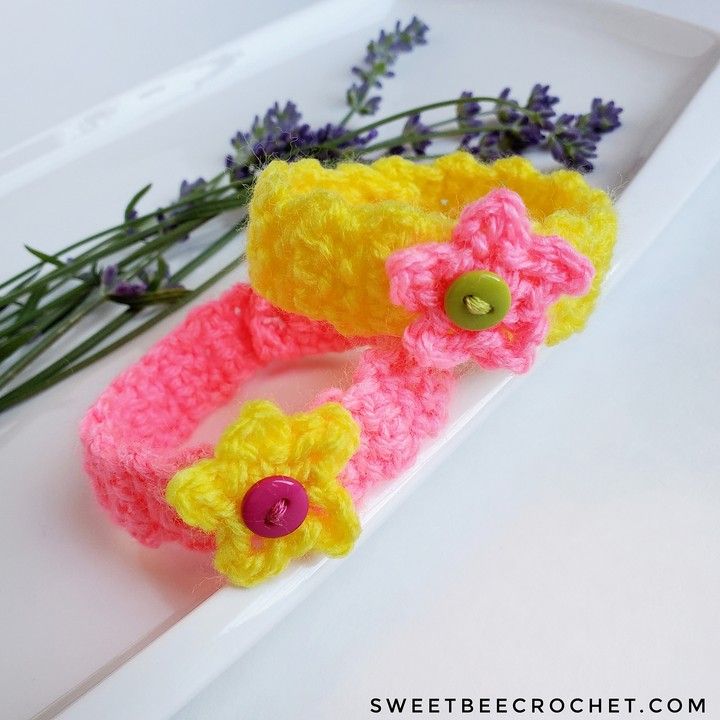 If you love flowers and super tiny things, this Teeny Tiny Flower Bracelet is for you. The blossoms are created with the herringbone half double crochet stitch, which creates a flower petal-like look. This floral design is made even more adorable by adding a contrasting button. As a bonus, it's easy to customize the length of this piece or use different colors. This easy-to-make bracelet makes a fun little accent for any outfit. It's comfortable, stylish, and can easily be worn during work or play!
Arewa Bracelet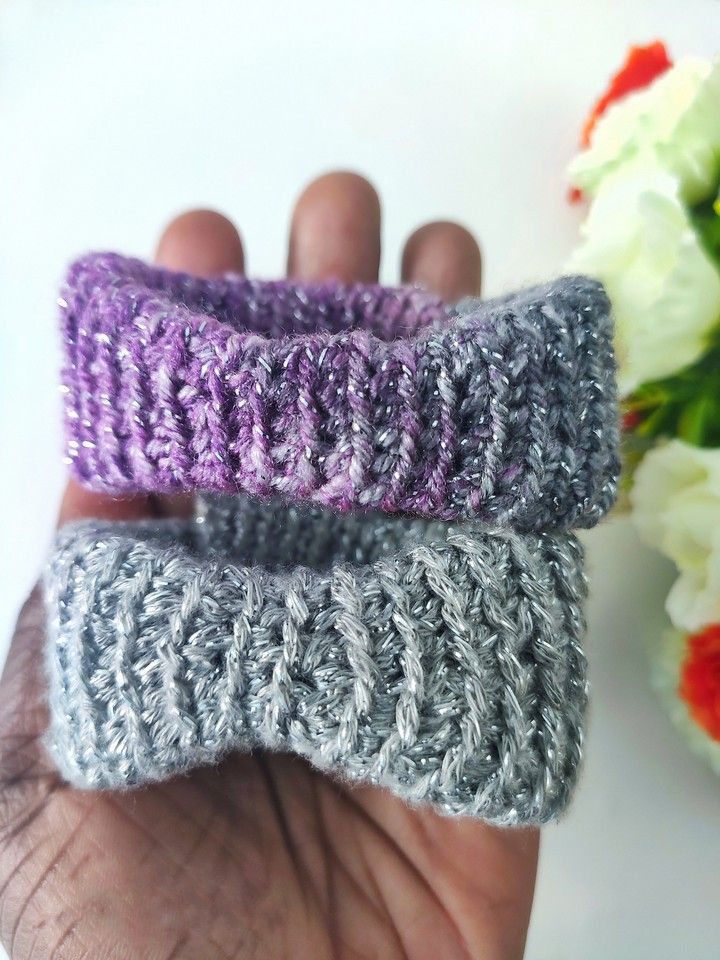 The Arewa Bracelet pattern is a fast and easy project you can make. Give your wrist some love with this easy-to-make bracelet. The pattern uses just one skein of scrap yarn, so you don't have to commit to making a full-size project. Use any DK weight yarn leftover from other projects and create this stunning accessory in minutes! It has a button that adds just the right touch. Once you see how simple it is, you will want to make quite a few of them.
Circle Of Hope Crochet Bracelet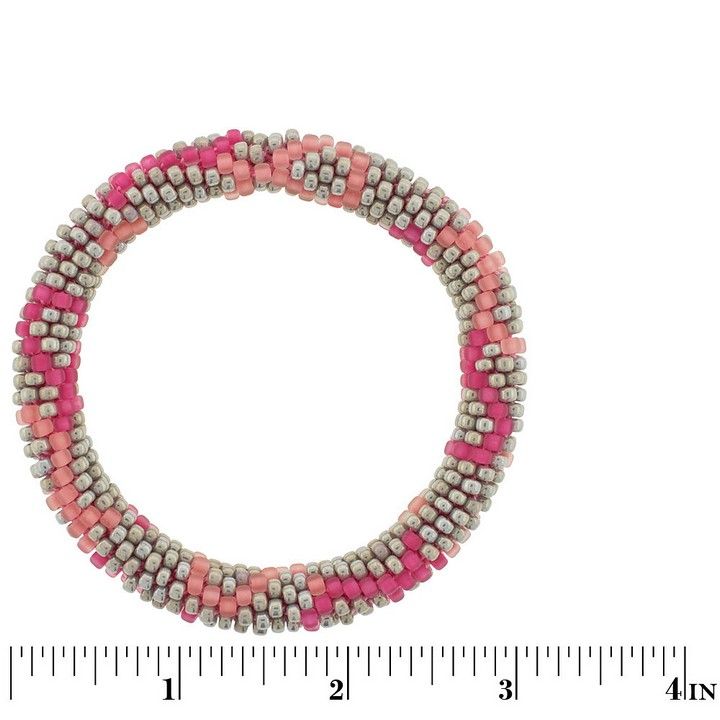 Create a bright and beautiful bracelet with this easy crochet pattern for the Circle of Hope Bracelet. The combination of turquoise, pink, and beads makes a charming statement that will surely bring cheer to you or someone you love. No jewelry or beading experience is needed for this project, just time and patience. Crochet enthusiasts will love creating and wearing this Circle of Hope bracelet. Each stitch makes a difference, so add this beautiful piece to your jewelry box. It's the perfect project to use up scrap yarn you still love!
Crocheted Bracelet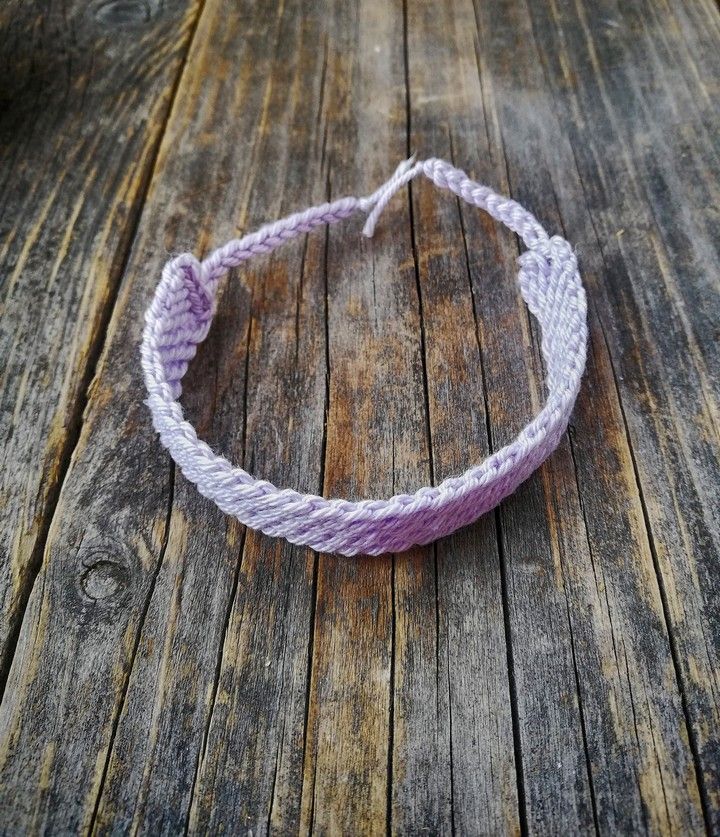 This simple and fashionable crochet bracelet is a great skill builder and stylish accessory. Wear it alone or layer it with other pieces to create your look. Look good and feel good when you wear this crochet bracelet. The pattern is designed to use materials you probably have on hand. You can make a bracelet for friends and family members in just one or two hours, so give them as gifts for any occasion. This easy crocheted bracelet has a vintage look and is super comfortable.
Flower Bracelet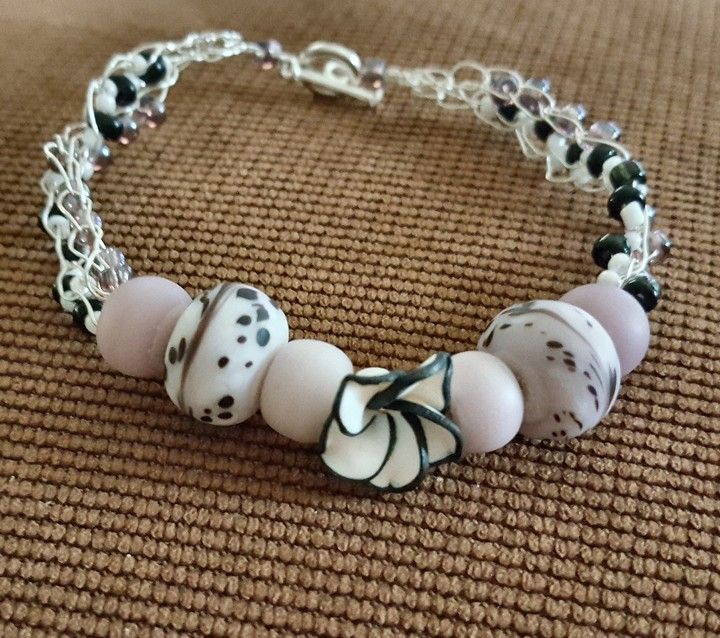 Looking for a project to show off your favorite beads? Use this pattern to create a unique piece of jewelry that will make you look like a pro! This Flower Bracelet has a great finish that compliments any outfit, making it the perfect accessory for your wardrobe or used as the perfect gift to someone you care about. It is a fun project to crochet and shows off your skills in wire crochet. You can be sure to stand out with this beautiful piece!
Sweet Liberty Bracelet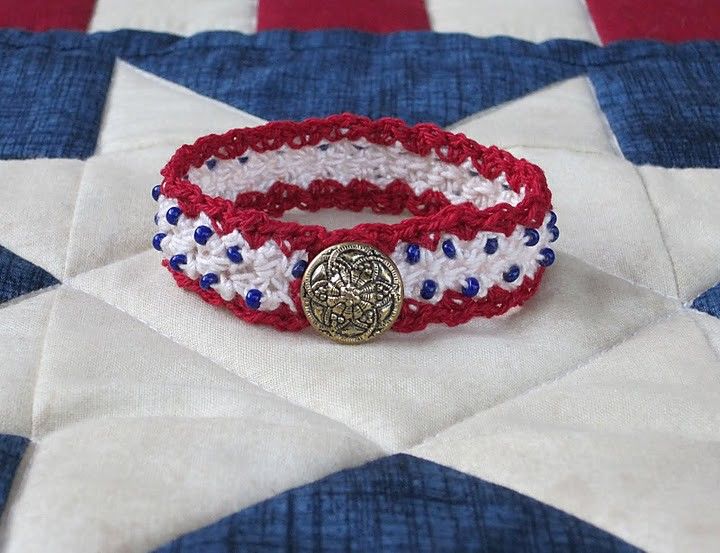 Celebrate freedom and the right to pursue happiness with this Sweet Liberty Bracelet, which features a daisy chain of beads and crochet flowers. It features alternating spirals of variegated cotton and cotton fluff held together with a paracord core. The pattern includes a photo tutorial that walks you through each step as you work, and every stitch is explained in detail. This project is a perfect introduction to working with crochet thread and will inspire you to design more colorful bracelets for yourself or someone who appreciates handmade jewelry.
You Can See More Crochet Patterns