Wall planters are a great alternative if you want to add some greenery to your place but need more space or the time for a full garden. They're easy to care for and can fit anywhere. And if you're feeling crafty, you can even make your own! There are many different planters to choose from—you can use anything from an old drawer to a wooden crate as the base. The sky's the limit regarding materials, so go ahead and have fun with it! Here are some unique DIY wall planter projects to help bring green into your home!
Wall-Mounted DIY Wall Planter Projects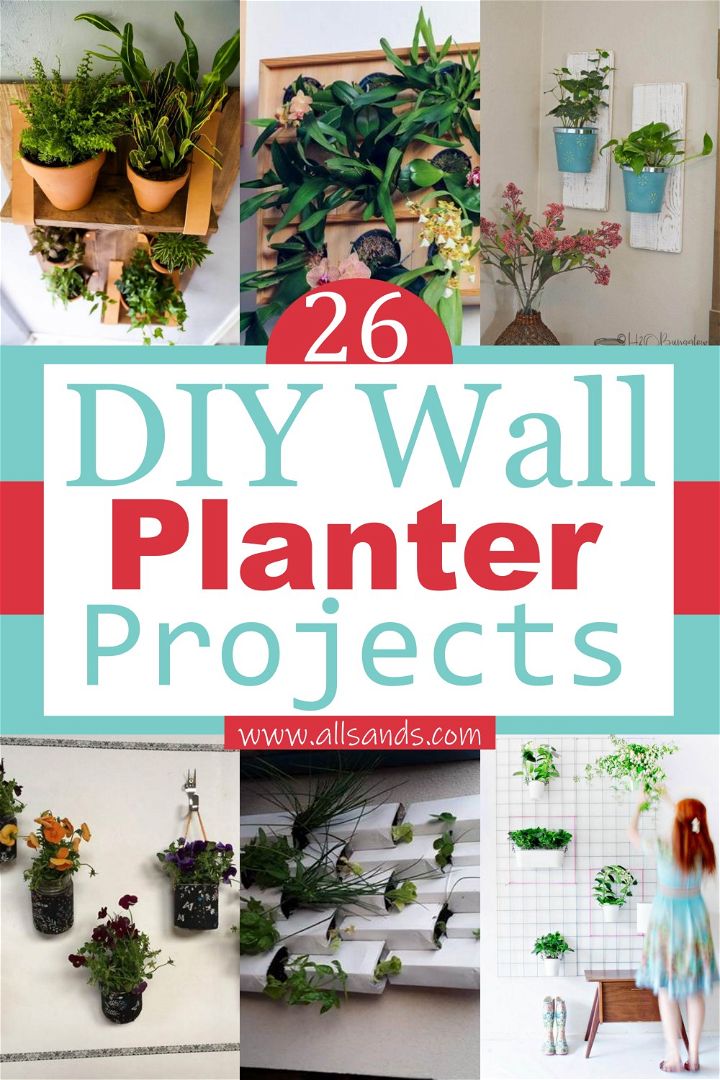 If you want inspiration to start growing your herbs, fruits, and vegetables at home, look no further than these DIY wall planter projects below. Hanging gardens are a great way to pack a lot of greenery into a space and make it seem open. It's perfect for people who don't have a lot of yard space but don't want their indoor space to feel bare. These projects will help you start your DIY hanging garden project. Not only can you personalize them with your favorite colors, patterns, and textures, but they're also a great way to repurpose items you already have. So, If you're feeling creative, try one of these amazing DIY wall planter projects.
Benefits Of DIY Wall Planter Plans 
Wall planter projects are a great way to add greenery to your home. They can be as simple as hanging a few potted plants on the wall or as complex as building an entire raised garden bed that looks like part of your interior design scheme.
The benefits of doing your wall planter projects include the following:
Cost savings:

 Building your wall planters is less expensive than buying them from a store or online retailer. You can also save money using recycled materials such as old pots and scrap wood or repurposing items you already have around the house.

Customization:

You can customize your wall planters to fit your style and space by adding different materials, painting them in bright colors, or adding decorative touches like stencils or decals.

Fun factor:

 Creating something new is always fun, especially when it's functional too!
DIY It Hanging Basket Planters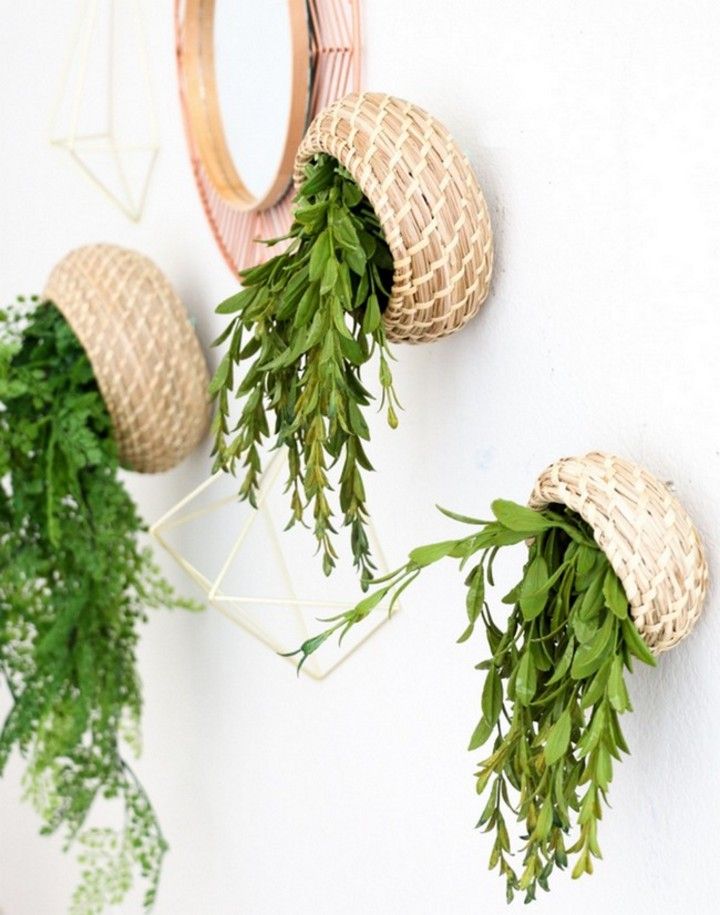 Are you ready to create some fabulous faux greenery planters? These hanging basket planters will bring lots of life to any wall! With a simple wire wrap and some artistic styling, your gallery wall will be the envy of all who see it. So grab these great DIY Ikea basket trio deals and start adding greenery. You will love this DIY It Hanging Basket Planter because it's the perfect way to add greenery to your space without sacrificing precious real estate! Get the supplies you need at Fryken, then follow these simple instructions.
You can also see: DIY Hanging Planter Ideas 
DIY Wall Planter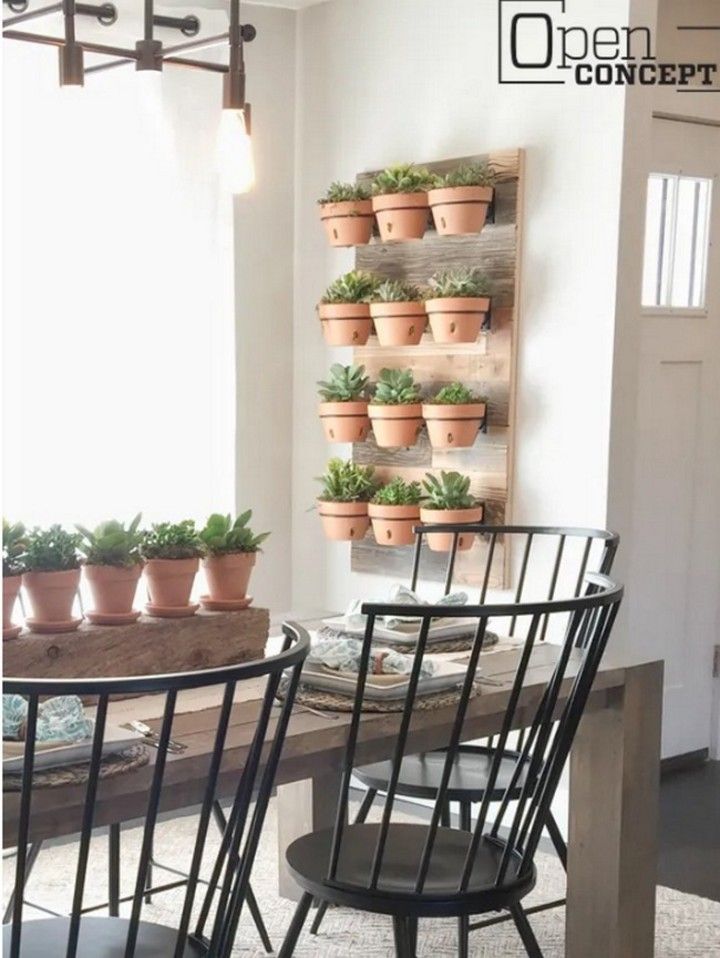 This DIY wall planter is a fun and easy project for you to try! Make it any size you like, using any board. You can create several of these to hang in a row or create one large statement piece that fills up an empty wall. A nailing gun and saw will be all you need for this beauty. This simple DIY wall planter is a great way to add greenery to your space. Check out this tutorial, and start building today!
DIY Vertical Wall Planter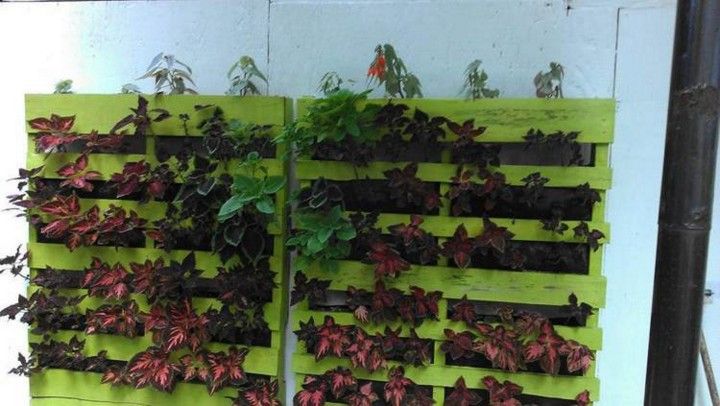 This DIY Vertical Wall Planter is a great way to add some color to your space, and it's so easy to make that you'll have time to start planting. Start by painting the pallets in your preferred color, then drill holes into your pallets every 6-8 inches. Using a pot with drainage holes will make it easier as you're planting not to have water fill up the box too quickly. You can also add a hanging hook or chain at the back of the pallet to hang it on the wall easily.
This DIY Vertical Wall Planter is a great way to add some color to your space, and it's so easy to make that you'll have time to start planting. Start by painting the pallets in your preferred color, then drill holes into your pallets every 6-8 inches. Using a pot with drainage holes will make it easier as you're planting not to have water fill up the box too quickly. You can also add a hanging hook or chain at the back of the pallet to hang it on the wall easily.
Bamboo Wall Planters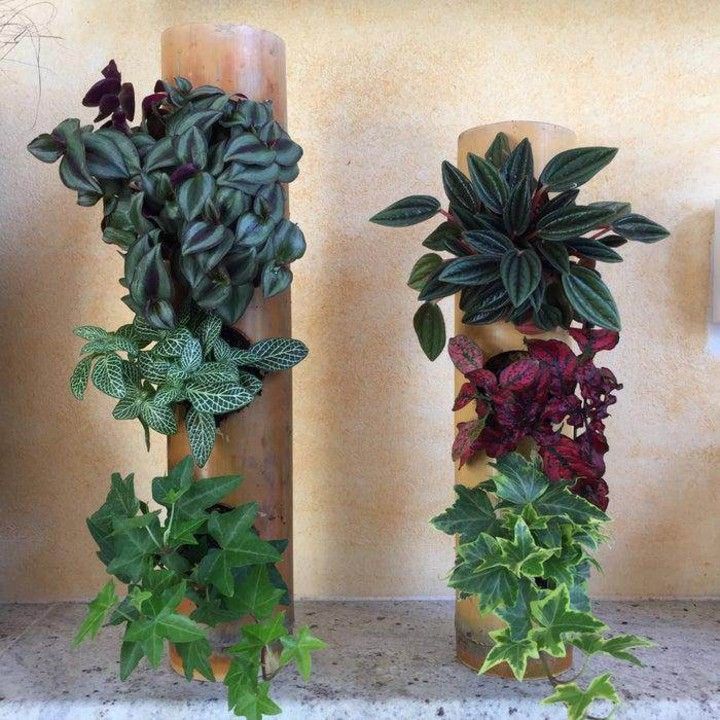 Are you looking to make your home or office a little more green? Looking for ways to bring some greenery into your space? With this DIY Bamboo Wall Planter, you can have the beauty and tranquillity of a garden in your own home. Bamboo is cheap, so you don't have to worry about spending much money or breaking the bank. You need a few simple tools and materials, and you're off! Simple as can be!
Wall-Mounted Planter DIY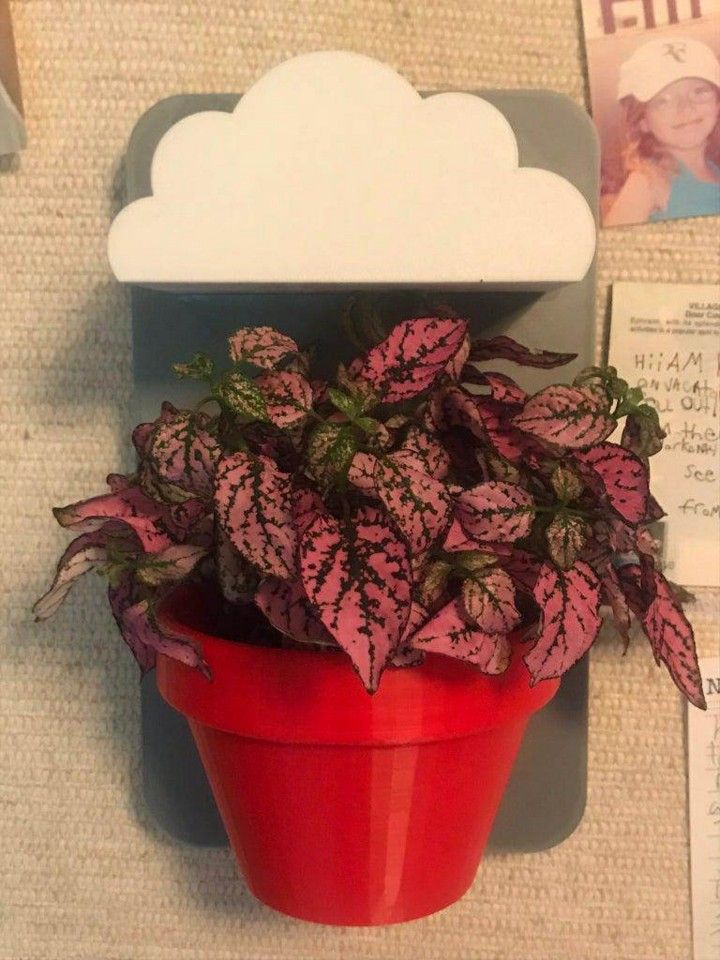 This Wall-Mounted Planter DIY is a simple planter that can be ready in hours, not days. The creator used a 3D printer to create the planter and its base, but if you don't want to mess around with a 3D printer, there are other ways of obtaining the parts needed. For instance, most local hardware stores carry masonry anchors that are usually about two inches long and come in various sizes for thicknesses of your choice.
Concrete Geometric Wall Planters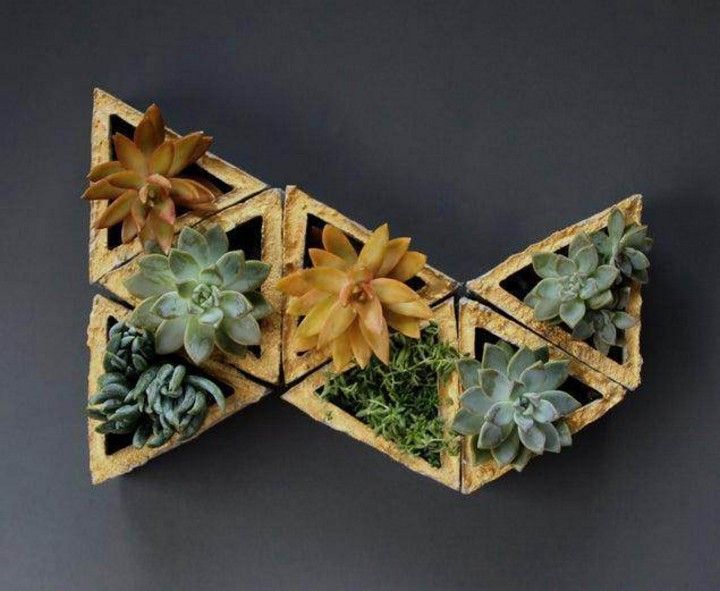 This geometric wall planter brings a touch of nature and nature's geometry into your home. This contemporary wall planter is made from concrete. It has a simple design, sure to draw attention in the garden or the patio. It's lightweight and easy to hang on any wall, making it perfect for indoor or outdoor use. The sturdy concrete will ensure your plants get plenty of sun and water, but it'll also give you something beautiful to look at when you come home from work or travel.
DIY Dollar Tree Wall Planter
If you love having plants and flowers at home but don't have the ground to plant them in, this DIY Dollar Tree wall planter project is for you. This wall planter is stylish and easy to make, with supplies from the dollar store. All you need to do is pick up a 9-inch baking pan and start. Begin by placing the zip lock bag on the bottom of the pan, layer your choice of pebbles, and then place the faux plant inside. Next, add some epoxy glue and a few more easy-going supplies to create an eye-catching wall planter that is sure to complement your home's décor
How To Build A Wall Garden
Wall planters have always been a popular option. It saves up space on the floor and enhances the look of your outdoor area. However, ordinary planters often require maintenance, a lot of water, and time. If you're more of a DIY-er, here's an idea to build your wall garden using recycled pallet boards. Start with a recycled wooden pallet and make an inspiring pallet vertical garden box. This is an easy project that will not take much time to do. You'll need just a few materials, vintage-looking pieces of wood, and other accessories.
How To Make A Living Plant Wall
If you want to live in a house full of greenery, this is the DIY project for you! With the following video guide, you will learn everything you need to know to create a living wall in your own home that won't take much time and expense. It will show you how to make your own with a few materials and some simple DIY steps. Get up and get started on your very own wall planter now.
Tetra Brik Modular Wall Planter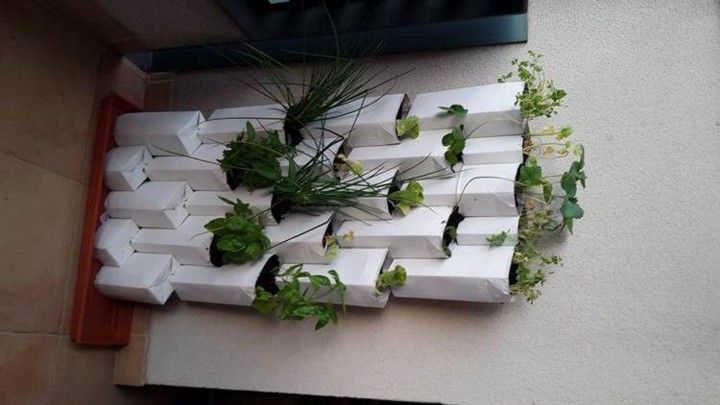 Building a planter from Tetra Brik containers is the perfect project to build in your office, on your balcony or wherever there may be space. Whether looking for a stylish storage solution or an eye-catching display piece, this 3D printable planter will bring a little green into your life. This wall planter is a unique way to showcase your plants and greenery. It's easy to make and requires minimal tools or a 3D printer if you want to go big! The simple design makes it perfect for a ground-level planter that sits on its bottom.
Vertical Orchid Planter DIY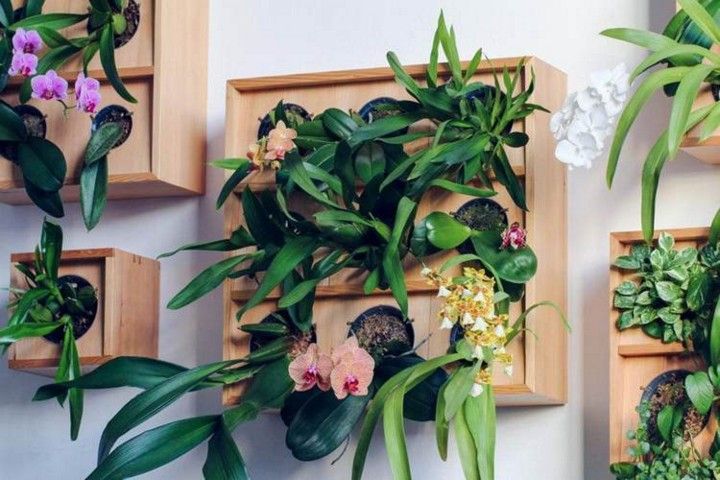 This DIY vertical orchid planter is a simple woodworking project that will help you put your skills to use while giving your living room some much-needed style. It's inexpensive, easy to make, and only takes a few hours from start to finish. It is made from wood boards, plywood, plastic garbage bags, head screws and more. It's a simple DIY project that you can build yourself! This vertical orchid planter can hang vertically on your wall or horizontally on the corner of a room to shelf.
Indoor DIY Wall Planter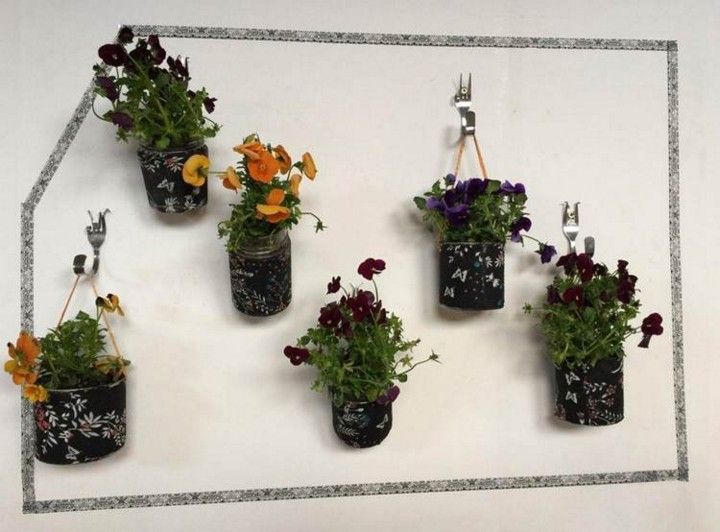 This wall-mounted planter is a great way to turn space into something gorgeous, using only simple materials and your imagination. Create a focal point that's perfect for hanging plants. This project uses many simple materials and can make a beautiful statement in your home. You need not buy them when you can easily make them yourself. Create a stunning vertical garden out of large glass or wooden containers, washi tape and rope. The best part is making as many of these planters as you would like! Pick up your materials and get started!
DIY Wall Garden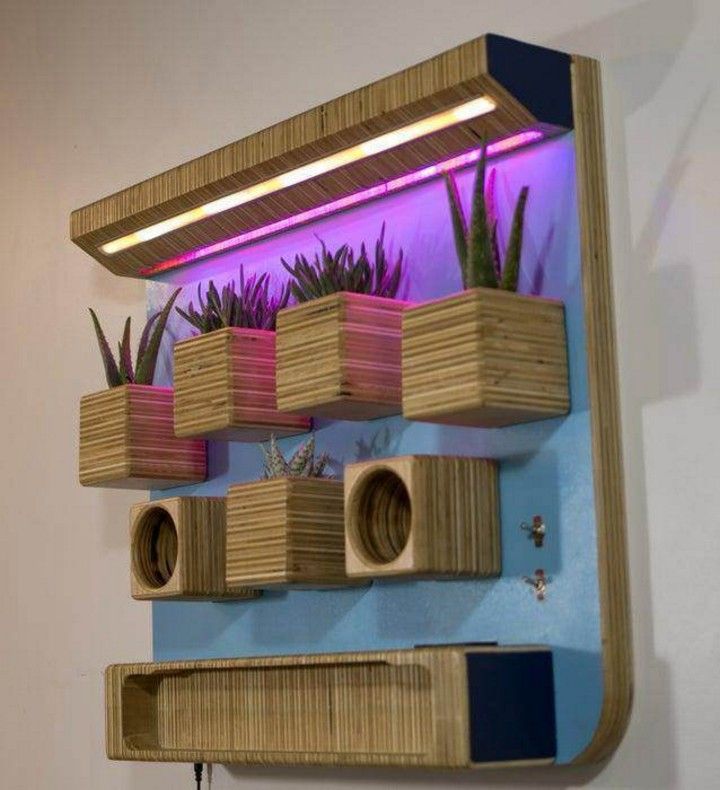 The DIY wall garden is an amazing way to display plants in the home. It's made of bright white LED lighting and a plywood frame, with a shallow planter for growing your favorite succulents and herbs. This DIY planter is an affordable and easy-to-install wall garden. It takes just a few hours to create one, and the result is a beautiful display that provides food for your home without making any mess. It's also a fun project for the whole family and a great way to get rid of old wood from around the house.
DIY Succulent Plant Wall
This DIY succulent wall planter is a great way to decorate your home and make it look more lively. You can install this hanging succulent wall planter in various locations such as the kitchen, living room or even bathroom. This is the perfect gift for your family and friends with plants in their houses. This is a diagonal shape and can be hung on a wall. Making several of these for different plants around your house is also an option!
DIY Cheap Easy Vertical Garden
Consider a vertical garden if you're looking for a decorative wall to grow plants. Here's the super easy and budget-friendly way to do it. This vertical garden is a DIY project that won't cost much. It's super easy to do and only requires metal rods, a pot and some soil! This DIY vertical garden is made by hanging the rods on the wall with nails and then covering them with soil. The video even shows how to attach chicken wire to the top of your fence to keep critters from eating all your plants!
DIY Wall Planter For Succulents
This is the easiest way to build if you want a unique DIY wall planter for succulents. You need a wooden frame, succulents and spray paint. The impressive thing about this succulent wall planter is that it's made from cheap materials and requires no professional skills. It features an open design that makes it simple to plant and water! Use this video guide to make one for yourself in a short time. It's lightweight, so you can move it around as needed. And paint yours to match the walls of your home decor.
DIY Wooden Wall Planter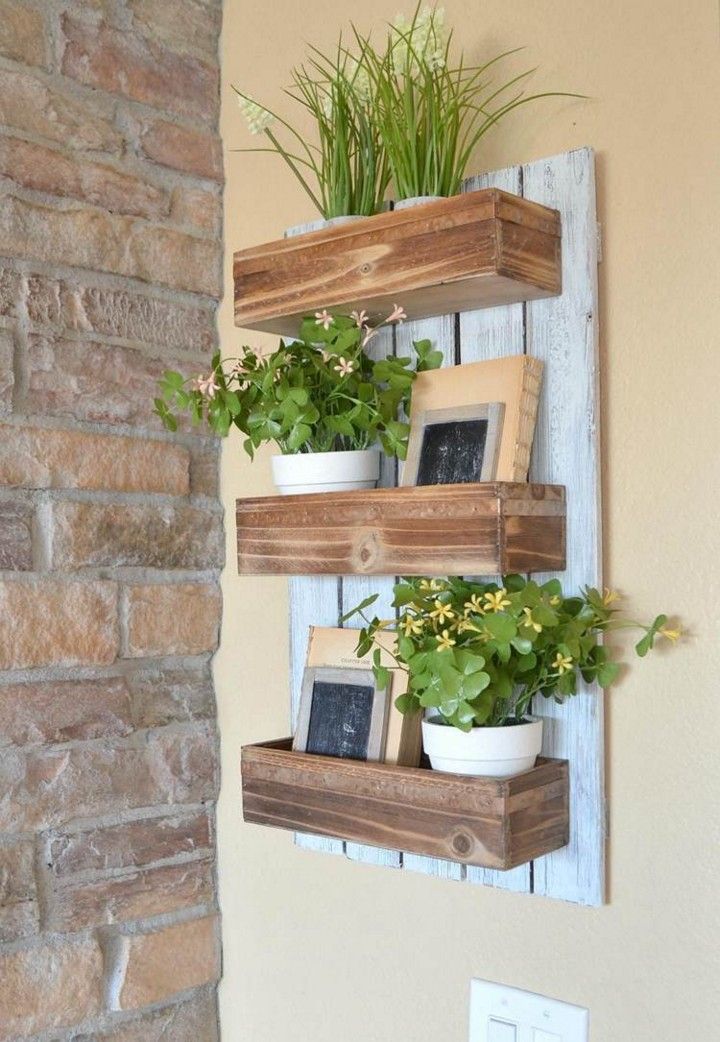 Do you want to know how to make your wooden wall planter? Well, you are in the right place, then! This is a unique and easy DIY Wooden Wall Planter tutorial for you. Follow these step-by-step instructions and learn how to make this wall planter that can also serve as a floating shelf. Made from pallet boards and some lumber boards, this project is easy to build and looks great in any room. Plus, it's customizable, so you can design it however you like. The shelves are large enough for books, plants, or other items. Hang it up on your wall, add some succulents and enjoy!
Green DIY Wall Planter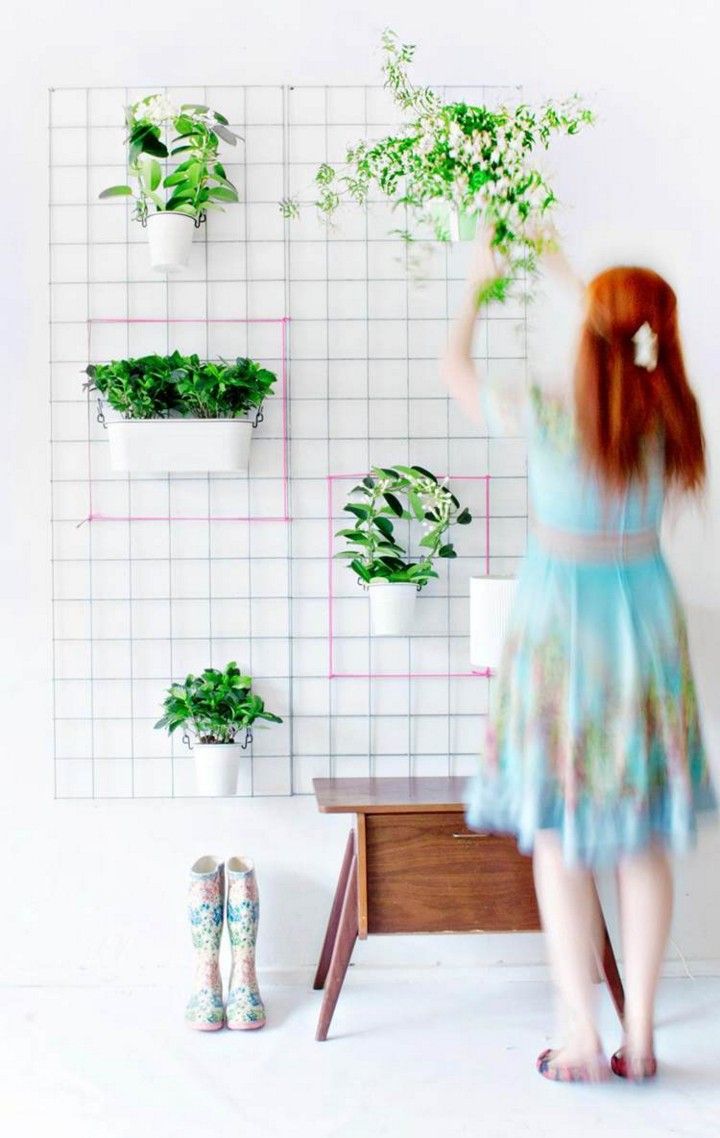 This is a simple and unique way to create your green wall planter. The DIY Wall Planter uses steel meshes, hanging pots, rope, and plants. This is a very simple project that most people can complete in a matter of hours or less. It's a perfect addition to any room, and you can even add a little color by adding neon-colored rope to the bottom of each planter which can hang from the steel mesh to create an even more creative design.
Vertical Wall Planter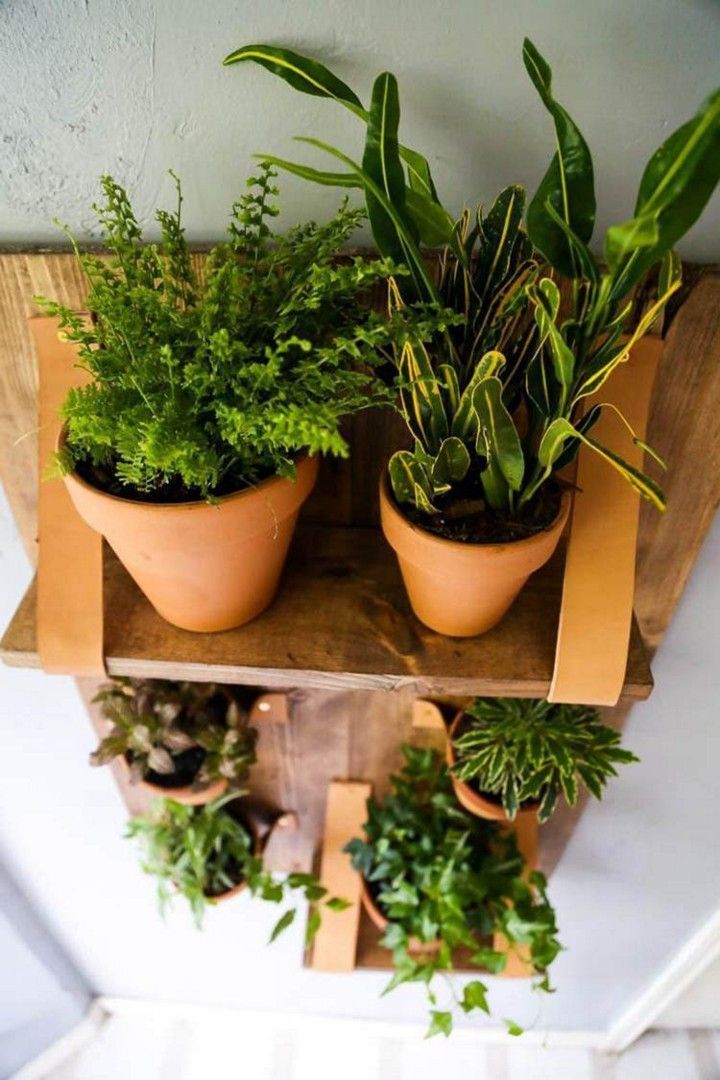 This tutorial will teach you how to make this great vertical wall planter that won't rust. It may seem like a simple project, but it will give your home a sophisticated look. The perfect vertical wall planter gives your home or apartment a modern look. It's easy to make and only takes a few materials that are easy to find. The steps are easy to follow along with the images provided, and in no time, you'll have your new vertical wall planter on display! This is a solid DIY vertical planter made from wooden boards and leather strips that can be easily assembled in one afternoon.
DIY Mason Jar Wall Planter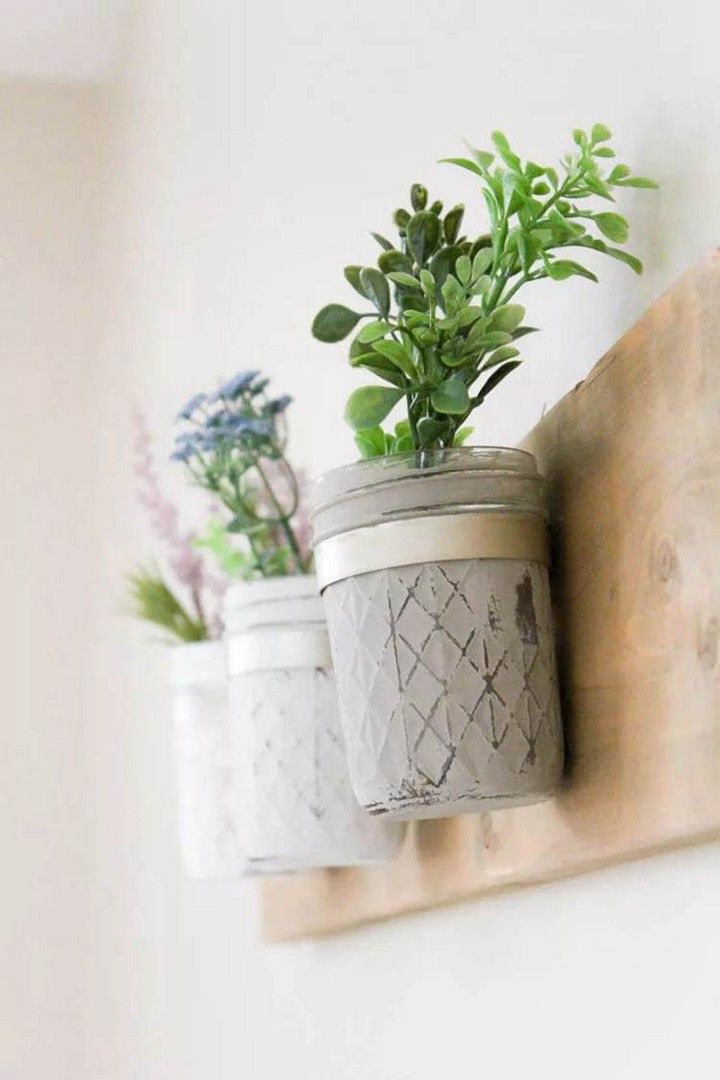 If you don't have the space for a full-size garden on your patio or balcony, try this low-maintenance wooden planter designed to sit comfortably on your wall. Its rustic style looks great in a country and urban setting, but beyond its decorative purpose, it can also provide fresh herbs or plants year-round. This mason jar wall planter idea is perfect if you want to create an accent wall but don't want to spend too much on it. All you need are the right materials and a keen eye for design to create something that will make your home look more amazing than ever.
DIY Succulent Wall Planter
This is a super cute DIY project to make your succulent wall planter. It's pretty easy, and you can add the finishing touches with various materials, such as decorative metal wire or colored pom poms. This DIY Succulent Wall Planter is a simple project to create a customized place for your plants to grow. Made from wood putty, wood boards, and glue, this container will last for years and look great on any wall in your home.
DIY Wall Planter
This DIY Wall Planter is the perfect way to display fresh flowers and plants in your home or office. Easily mount it and start planting! The clean lines, neutral color palette, and distressed wood finish are great for any décor. Create a beautiful display of flowers and greenery with this DIY Wall Planter. This DIY wall planter can decorate your living room, bedroom, or hallway. It provides a vertical display for plants and flowers, allowing you to gracefully incorporate nature into your home.
DIY Plant Wall Under $20
Are you looking for an easy and cheap way to decorate your home? This DIY Plant Wall Under $20 is perfect for beginners with little or no experience building such projects. Everyone loves plants in their homes, but they can be time-consuming to maintain and difficult to find a place for. Put your green thumb to good use by building your planter wall with this easy guide. This video tutorial takes you through the process step-by-step and gives tips on adapting it for any space.
How To Make Indoor Wall Planters
Want a way to display your favorite plants and flowers? In this video guide, you'll learn how to make a planter out of simple supplies that you probably already have at home, like cardboard, paint, needle, and thread. This guide is ideal for indoor displays but can be modified if you want something more durable for outdoor use. Creating your indoor wall planter is easy to do and costs very little. You can create one in just a couple of steps, and it will be ready in no time.
DIY Wall Hanging Planters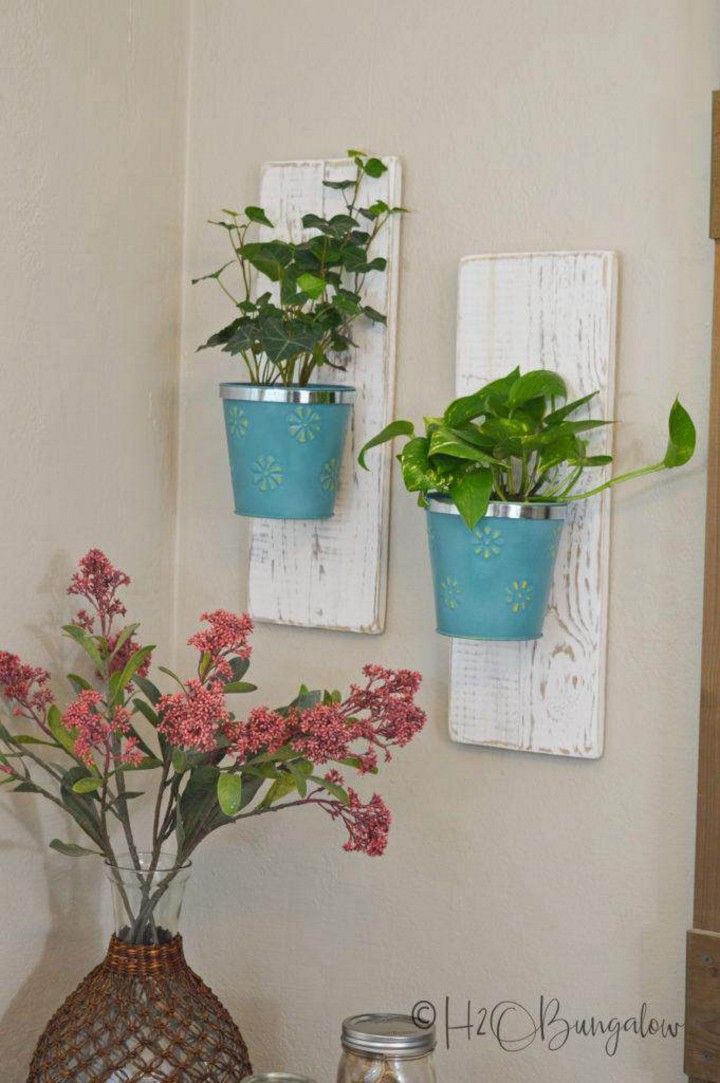 Your house needs some greenery, but you don't have any space for plants or flowers. Or are you just looking for something unique? This article will show you how to DIY wall hanging planters that are easy to create at home and require minimum tools and supplies. These wonderful wall-hanging planters will pleasantly surprise you. The combination of different colors makes the planters look even better. The metal buckets are the perfect size for small plants, d-rings for hanging, and screws will help you attach everything. Hose clamps will keep them in place and the whole structure sturdy.