Trellises are great for adding a decorative touch to the yard. Whether you have a balcony, a porch, or an entryway, trellises can create more space for plants and flowers. They add a soft touch of greenery to your home and help beautify the exterior of your home. If you are looking for inspiration on using trellises in your home, look no further than the ideas below! You don't have to spend much money on a store-bought one; you can make your own out of things you already have at home and save some money! The following are some DIY trellis ideas that you can incorporate into your landscaping. These trellis ideas are simple and do not require much time or effort. So go ahead, try them out.
Easy DIY Trellis Ideas For Home Decor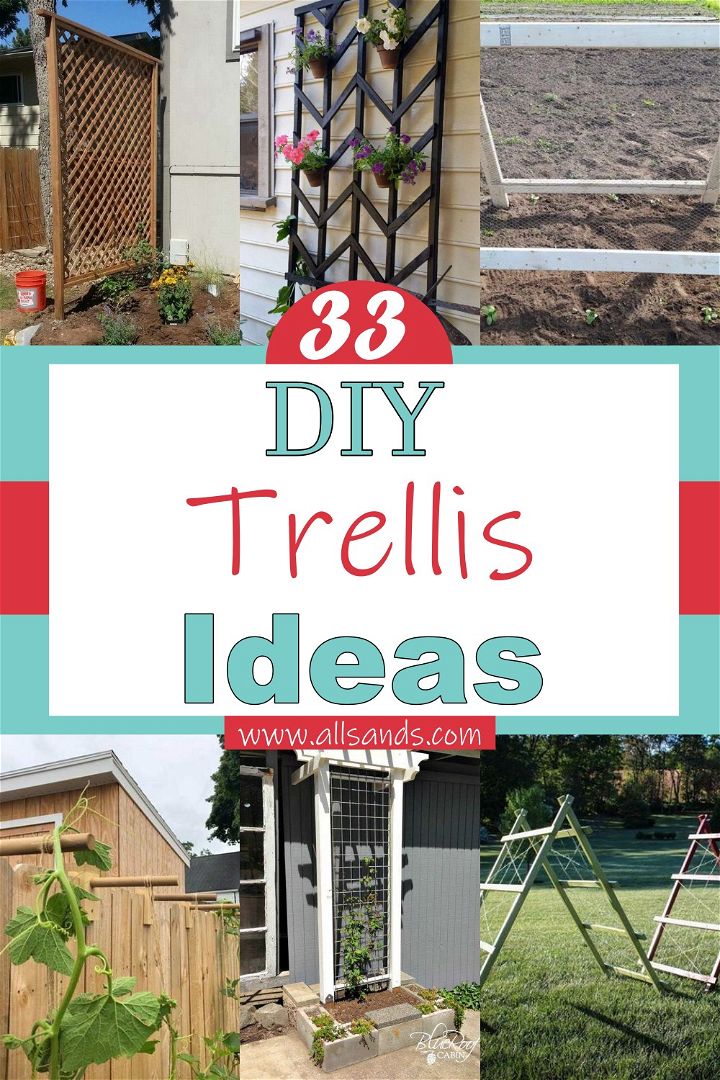 DIY trellises are great because they're easy to make and add a pop of greenery to any space. Plus, they're really pretty; you can use them to grow plants on your patio, porch, or garden! Whether adding a decorative touch to a home garden or making your climbing trellis for your favorite climbing plant, the project is relatively simple. Plenty of DIY trellis ideas require little more than some wood and a saw, so there are endless possibilities. Here are some unique DIY trellis ideas that use both natural elements and artificial materials to create unique designs.
How To Make Easy And Cheap Trellis
Trellises are often used to support plants, but they can also be beautiful additions to your garden. Take this one, for example -- it's lovely and would fit perfectly next to a fence or along a side wall. Not only that, but it's super easy and cheap to make! The materials are inexpensive and available at a home improvement store or hardware store. You can easily make them at home with the help of simple things and cut wood. All you need is a 1x2 board, wire mash, and chalk. Follow the steps in this video tutorial to make this basic wood garden trellis step by step.
DIY Easy Trellis
If you want to grow vining plants in your garden, you will need a trellis. This easy DIY trellis is the perfect solution -- it's simple and inexpensive! The best trellis for tomato plants is tall and made of metal wire. You can attach it to the side of your barn, fence or any other sturdy structure. The plant will climb horizontally along the wires and not just upwards. Use fast-release soil ties to secure tomatoes to the wires every 10 inches up the post and every two inches along each wire with twists. DIY Easy Trellis is a simple video tutorial that helps you grow more plants in less space!
Easy Fast Trellis DIY
Are you looking for an easy way to grow your veggies? This trellis creates a sturdy support structure without any of the hassles. This Easy Fast, Trellis DIY project is complete with a video tutorial and is great for small to medium-sized plants. In simple steps, you can cut and insert two lengths of bamboo to create an attractive trellis for climbing plants in your garden. This trellis requires no skill and is perfect for the 1st time gardener. With the right plant and size, this trellis will be a great addition to your garden.
DIY Garden Trellis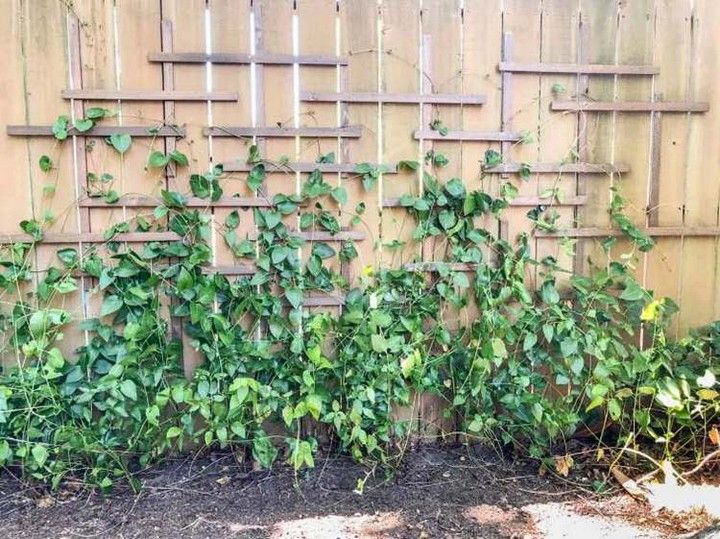 If you have a garden and want to add some functionality, then this DIY Garden Trellis is what you need. It's simple and easy to make as long as you have the materials. You can make your garden fence trellis with a little wood and basic tools. The key is finding the right wood and using the proper tools for each process step. A table saw is used to cut the pickets into smaller pieces precisely, and then sanding them smooth will help keep water from collecting in the grooves.
How To Build A Trellis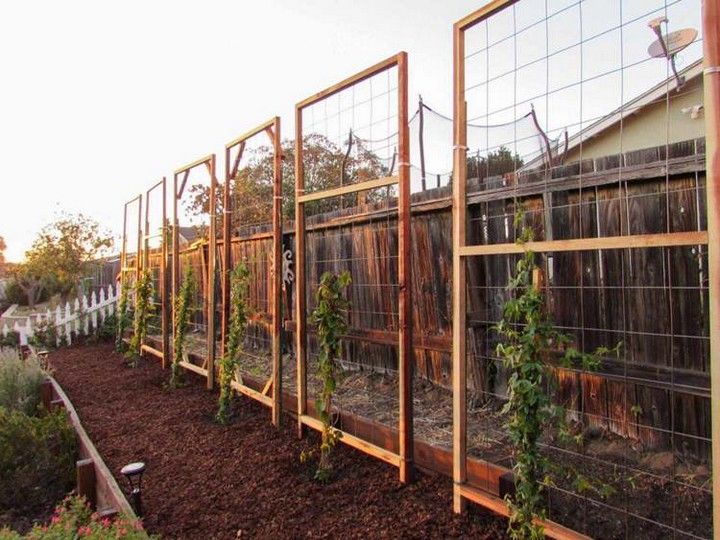 Trellises are the perfect garden addition for your growing plants. Whether you want to help your climbing plants reach their full potential or provide support for heavy fruit-bearing vines like grapes, a trellis will let you design a stunning vertical garden. Here are methods to build an inexpensive trellis that provides extra support and structure to your garden's most vibrant flowers, vegetables and fruits. This DIY trellis project is easy to make and, best of all, cheap! With just a few simple materials, you can custom tailor the size to fit in any space you need.
How To Make A Tee Pee Trellis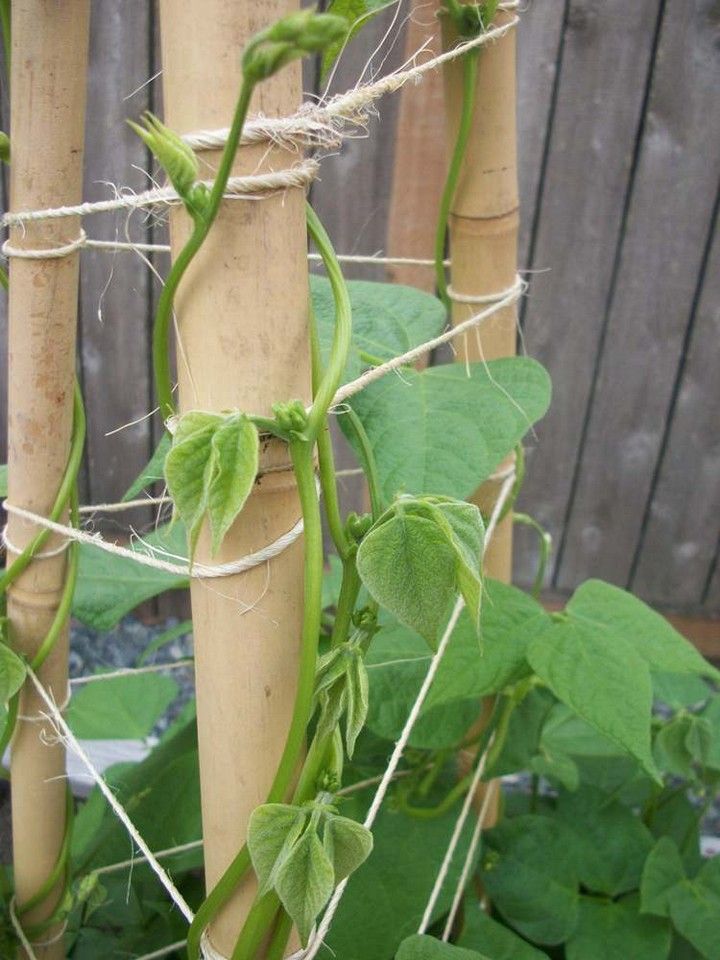 What could be more versatile and attractive than a trellis? This tee pe trellis can support plants on any side of your house, apartment patio, or garden area. The structure is easier to make than it looks, and the results are gorgeous. Three bamboo poles were set up triangularly, with heavy-duty twine attached. Your plant will eventually take up its space between the three posts. This project will take very little time and very little expense. With these instructions, anyone can build an attractive plant support.
DIY Backyard Trellis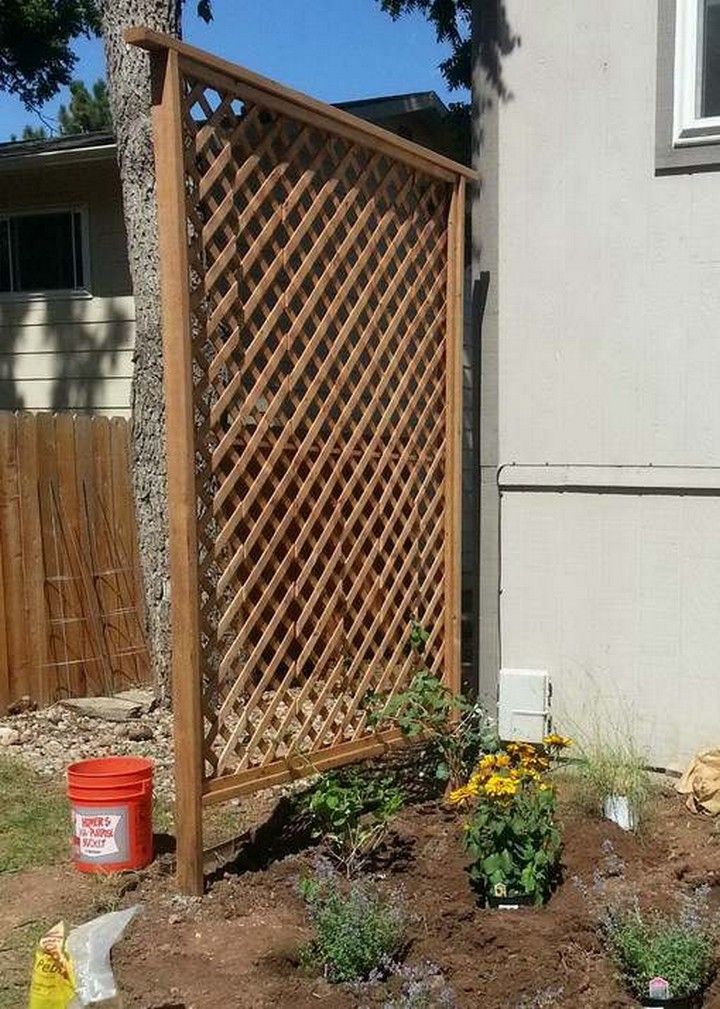 Give your backyard a beautiful and classy look with a DIY backyard trellis. This project takes just a few hours and requires cutting, staining and assembling materials. Use it to create an eye-catching focal point in your yard or simply as decoration. This simple DIY backyard project will give your garden a unique and natural look. CEDAR is the ideal choice because it's naturally rot-resistant and insect resistant, making this a great addition to your backyard garden or home. The cedar wood can be stained or painted in any color to add a personality layer to this beautiful design.
DIY Easy Trellis Idea
You need a trellis if you have a large garden and want to grow plenty of vegetables and fruits. It will make it easier for you to grow a variety of plants. You can grow climbing vines and keep them in check by building guttering from wood, which will keep your plant away from the ground. Watch this video to learn how to construct a two-level trellis for climbing plants. This DIY Easy Trellis Ideas will helps you create a homemade trellis. Create sections with the same size, then attach the wood sections using screws to form a square shape. Then attach more boards at right angles on two sides of this square, inside the square.
Cheapest DIY Trellis For Vines
Do you want to create a trellis for the vines but need more money, or don't need anything fancy? This is a very simple and cheap way to make your trellis. Cheapest DIY Trellis For Vines is a great material to make a trellis that will help the vines grow up and get more sunlight. Sticks and coconut coir rope is strong enough to support all kinds of climbing plants and easy on the budget.
DIY Trellis For House Plants
Decorate your home with adorable plants and save money with this DIY trellis for house plants. This decorative plant holder is easy to make and helps keep your plants in place as they grow. If you've got a house plant and a little time, you can make your trellis for house plants using a tomato cage and bamboo sticks. This tutorial shows how to customize it to fit your specific space and decorating needs, making the process less expensive than buying ready-made versions at the store.
DIY Garden Trellis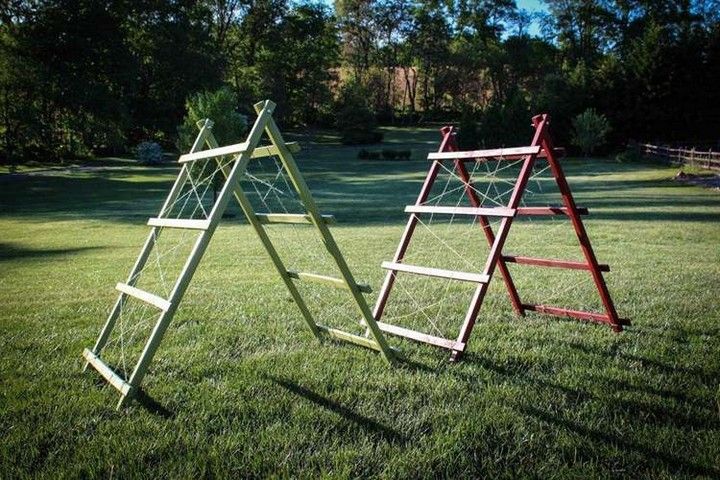 Add elegance and beauty to your garden with this simple DIY Garden Trellis. This stylish trellis is perfect for supporting plants or vines that grow vertically, such as wisteria, clematis and roses. The materials are easy to find at your local home improvement store, and you can use either treated wood or cedar to construct the frame according to the weather conditions in your area. It will add style and charm to your patio, porch or deck, with plants blooming all summer.
DIY Pipe Trellis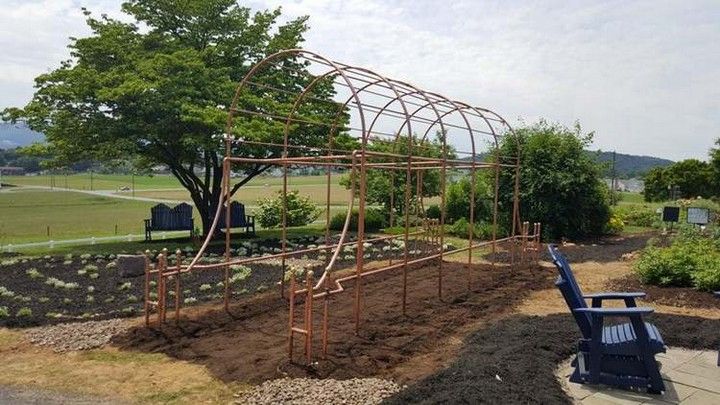 If you want to add a bit of surprise to your garden and a different look to your balcony, this DIY pipe trellis is perfect for you. It is easy to make,, and you can customize it however you like. You need some materials and some simple measuring skills. You can go to your local hardware store, get a pipe and start a DIY pipe trellis. The steps are easy and simple to follow. Any gardener could create their design of a pipe trellis or even just a simple installation above the plants, which can keep them off the ground.
DIY Cucumber Trellis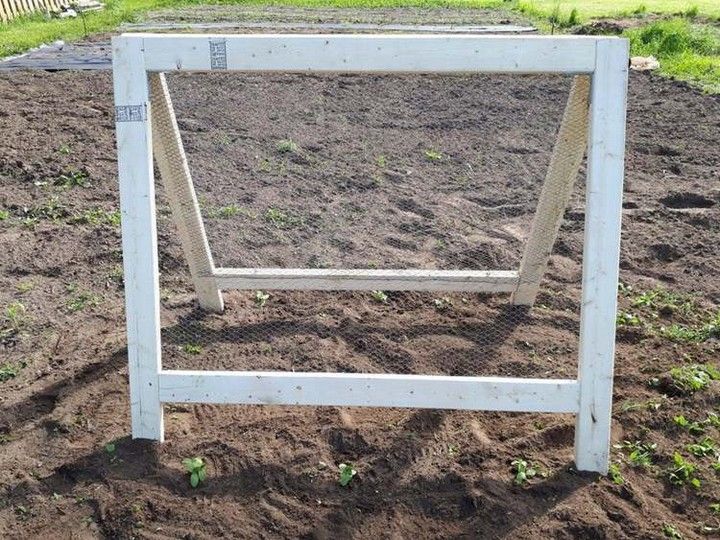 A trellis will be your best friend if you love growing cucumbers. After all, who wants to deal with the sprawling vines? Not to mention the birds who snacked on your fresh produce before they hit the soil. This easy DIY project is great for your plants and an extra gift for Mother Nature. It would also make a great addition to a gardening centre or market space. With cucumber trellis, you can create a very simple and versatile chicken wire cage to grow cucumbers, tomatoes and other plants. This project is simple enough for beginners but will add great beauty and functionality to your garden space.
Recycled Tire Trellis DIY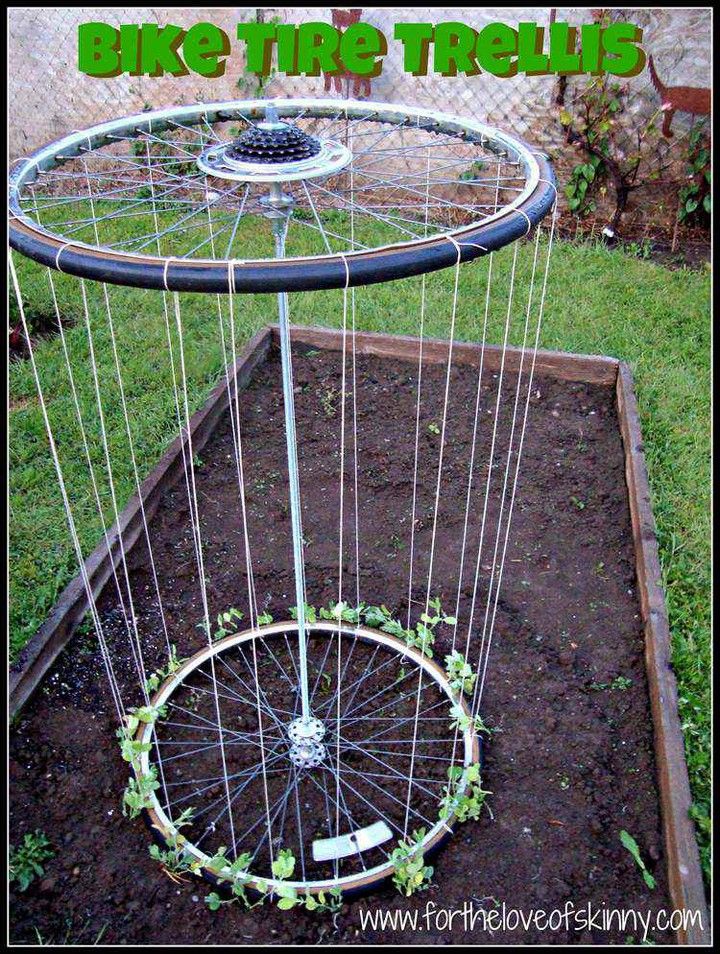 Are you searching for an interesting idea to hang your favorite plants? If so, this Recycled Tire Trellis DIY is just what you need. Not only is it simple and easy to make, but also functional and charming. You can create an attractive garden feature that will last for years with a little work. So don't hesitate - to start working on it right now! This is perfect for plants such as grapevines and beans that need support in your garden, but it can also be used indoors!
How To Make String Trellis
Tall plants need support to grow and bloom. Many gardeners are familiar with tomato cages, but a simple trellis will do the trick just as well. Creating a trellis is also a nifty way to add charm to your garden without breaking the bank. Learn how to make this simple yet stylish trellis with your own hands. You will need stakes and strings for this project, and it takes less than an hour and will add a unique touch to your garden. The best part is that you can use this trellis any time of the year by simply changing the flowers.
How To Build A Trellis
A trellis can help support your plant structures and vines and make your walkway more inviting. A trellis is also ornamental and can be crafted from various materials. Learn how to build a trellis with this detailed video tutorial. Whether you are looking for a super substantial trellis, a more basic one for fruit trees, or something decorative, this is the perfect project to start. Just follow the steps and ensure you use the proper materials and tools so your trellis is strong enough to support its load!
4 Simple Ways To Trellis Tomatoes
Growing tomatoes is an art, but some of the arts are very simple and not expensive to learn. In this video tutorial, the creator will show four ways you can trellis or prop up your tomato plants in a very simple way. These DIY tomato trellises are awesome for keeping your tomato plants elevated and off the ground. Better yet, they only take a few minutes to build, and it doesn't matter what size your plant is or how many tomatoes you are growing; there's always room for one of these in your garden! Grab your hammer, nails and some twine to make something useful out of them.
How To Build A Simple Bamboo Trellis
Creating a bamboo trellis is an easy project that anyone can do, even if you are a beginner. The key is knowing how to tie the twine so it will not easily break properly. This video shows step-by-step instructions on how to create this simple trellis. You will need bamboo poles and wire to make a bamboo trellis. Once you get your poles and wire, the directions on tying it together with twine are very clear in this video. This is one of the simplest trellises with the most basic tutorial.
DIY Upcycled Garden Trellis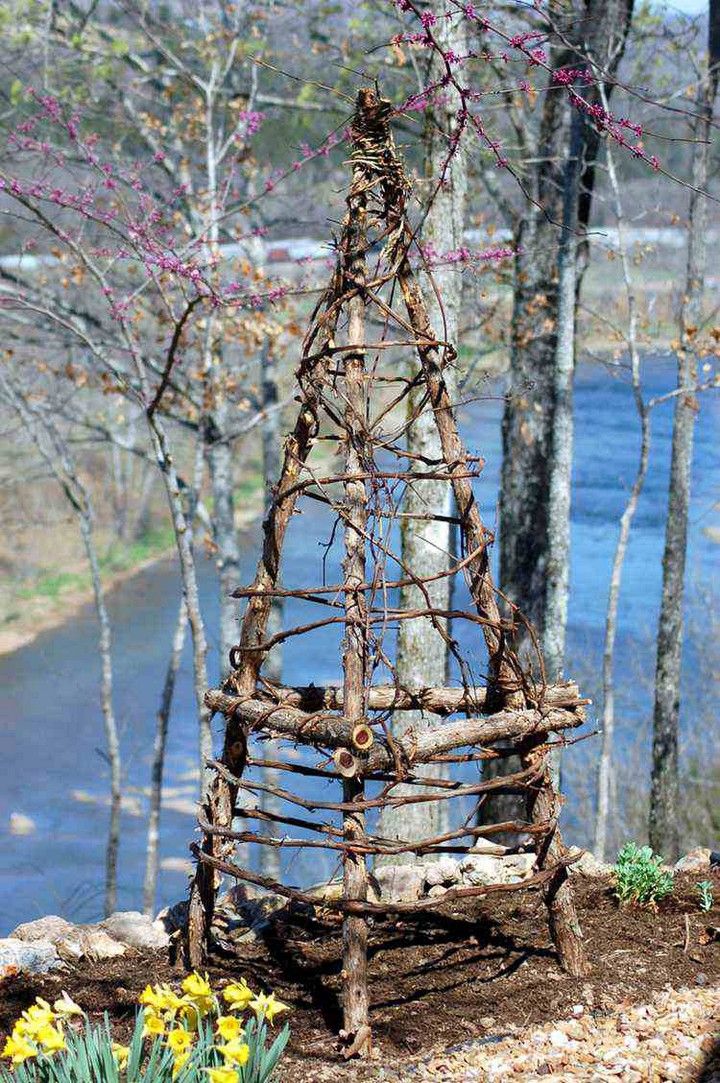 Want to add some greenery to your home or garden? Instead of buying expensive plants and trellises, upcycle old wood into functional art. This DIY upcycled garden trellis shows you how to create an affordable and stylish addition to your landscape with a few basic tools. This DIY Upcycled Garden Trellis is a budget-friendly and easy way to increase the plant space in your yard or garden. It's perfect for hanging plants such as tomatoes, beans, and peas, plus it makes a great rustic decor piece for your yard.
DIY Garden Trellis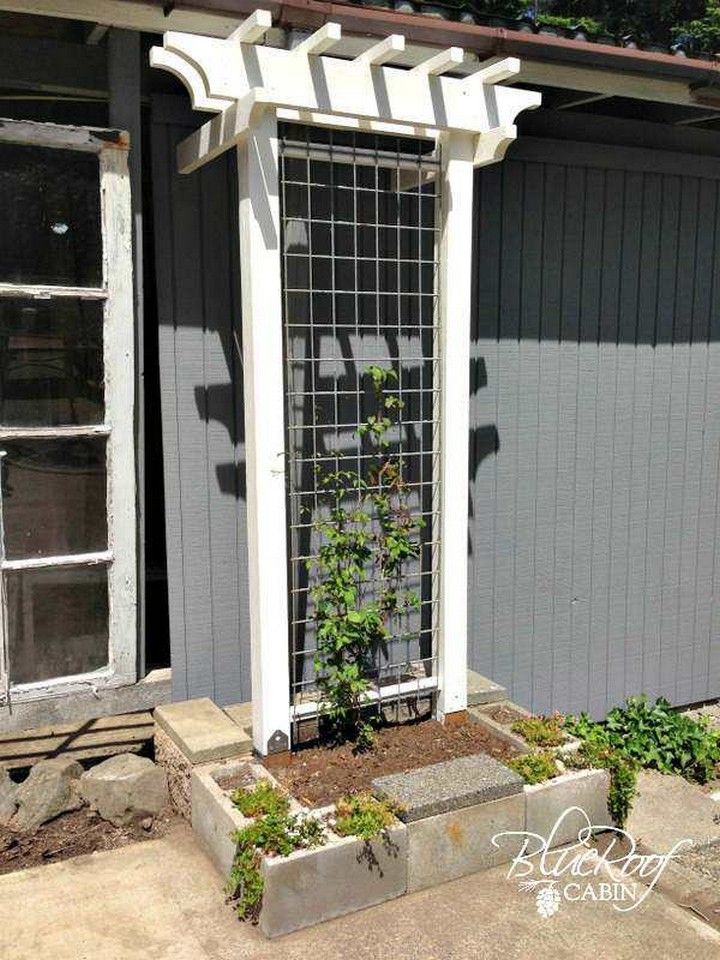 Wouldn't you love to have a nice garden but need to know where to start or have maybe no time? Here is an easy solution, DIY Garden Trellis. With this project, you have a garden and an area where you and your friends can enjoy the sun and each other's company and. also have space in your garden rather than making your plants fall off or suffer because they have no space. This DIY project is simple, durable, and can be done with minimal materials and tools. Paint your trellis any color you like, add some flowers or vines, hang something pretty at the end of it, or leave it plain. It's up to you!
DIY Fence Trellis Brackets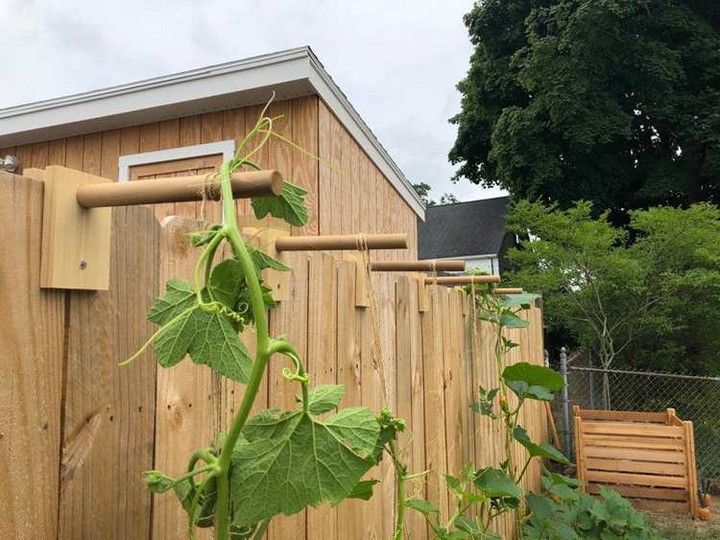 If you want to make your backyard look amazing without spending much money, you can use DIY Fence Trellis Brackets. It is one of the cheapest and easiest ways to add a touch of elegance or style to your backyard. This fence trellis is great for growing plants, and the best part is it will not only be functional but also enhance the aesthetic value of your house. To make this simple yet beautiful piece, you can cut out some wooden beams per your need and attach them to railings with nails or screws.
DIY Tomato Trellis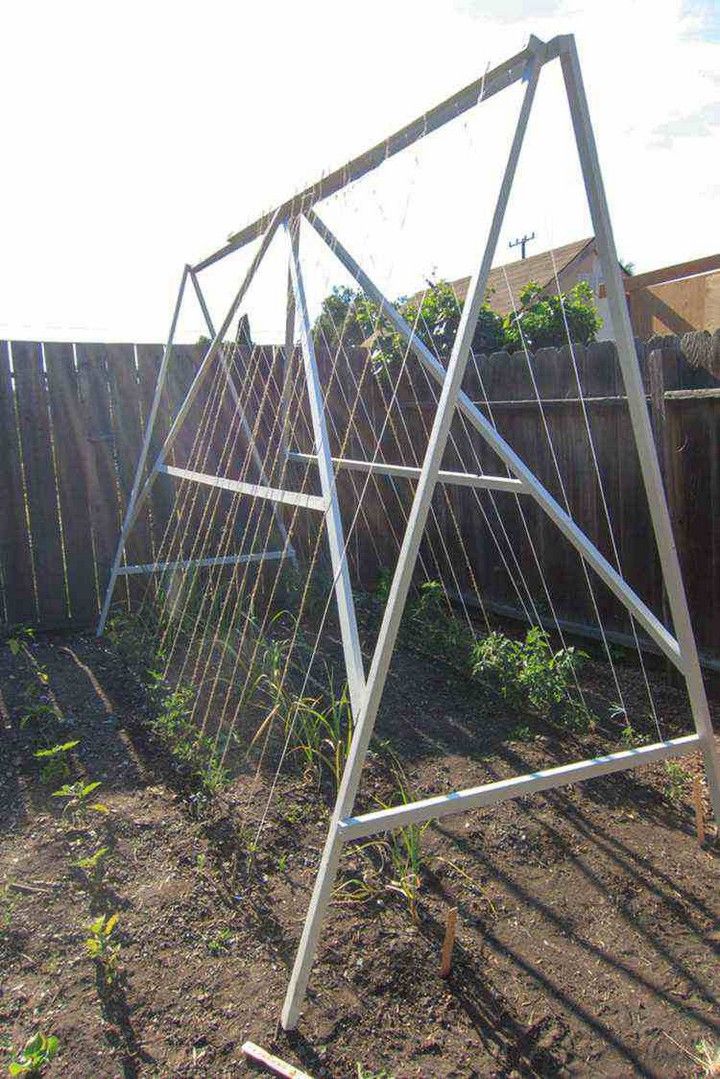 If you need more space in your garden, you can create a tomato trellis out of boards, as shown in the picture. This DIY project is easy; you only need simple tools like a table saw, screw gun and screwdriver. This trellis is much easier to assemble than others, and it's easy to customize for your specific needs. What's cool about this design is that you can use any size of wood you want and cut anything out to make the trellis look like whatever shape you want.
DIY Grape Vine Trellis
Making your grape vine trellis is easy, economical, and can be done in less than a day. This DIY Grape Vine Trellis design uses basic 2x4s and ten small boards that can all be picked up from your local hardware store. You will need to attach the pieces with landscape timber, and then you are ready to create a trellis out of chicken wire or cattle panel fabric (or both!). This is just a fun little thing to do, and it will keep your grape vines high enough so they stay out of the way.
How To Build A Trellis Fence
This garden fence is a perfect choice for your backyard. Trellises add a unique twist to any garden and can transform an area into something beautiful. This type of fence is also ideal because they help keep bugs out of your yard and makes reaching the upper leaves of tall plants easier. Building a trellis fence is a great way to enhance your yard and add visual interest. This video tutorial shows you how to build a super big trellis fence with wire mesh, recycled hardwood, concrete, high wind post support and more. Not only will you create a beautiful space for others to enjoy, but this type of fence is also functional. You can use it as a veggie garden or fruit orchard.
DIY Cheap Trellis With Scrap Wood
Tired of paying high prices for trellises? It's easy to make your own at home! This tutorial will walk you through everything you need to know. Watch this video to learn how to build a stylish, inexpensive trellis with scrap wood, a nail gun and much more. The tutorial will guide you step by step on how to bring your plant dreams into reality. This easy DIY Cheap Trellis With Scrap Wood project is perfect for protecting your plants from animals or overgrown plants in your garden.
How To Make A Beans Trellis
A well-made trellis for beans can help your plants grow more efficiently and produce a higher harvest. Here is a simple design that works well for many kinds of beans. This quick video demonstrates how to make a vertical bean trellis. It's a wooden frame made of screwed-together 2x4s, held vertically with T-posts or tomato cages. First, you need to determine where you want your trellis, and then you will choose your materials and, finally, assemble the pieces into place.
DIY Garden Obelisk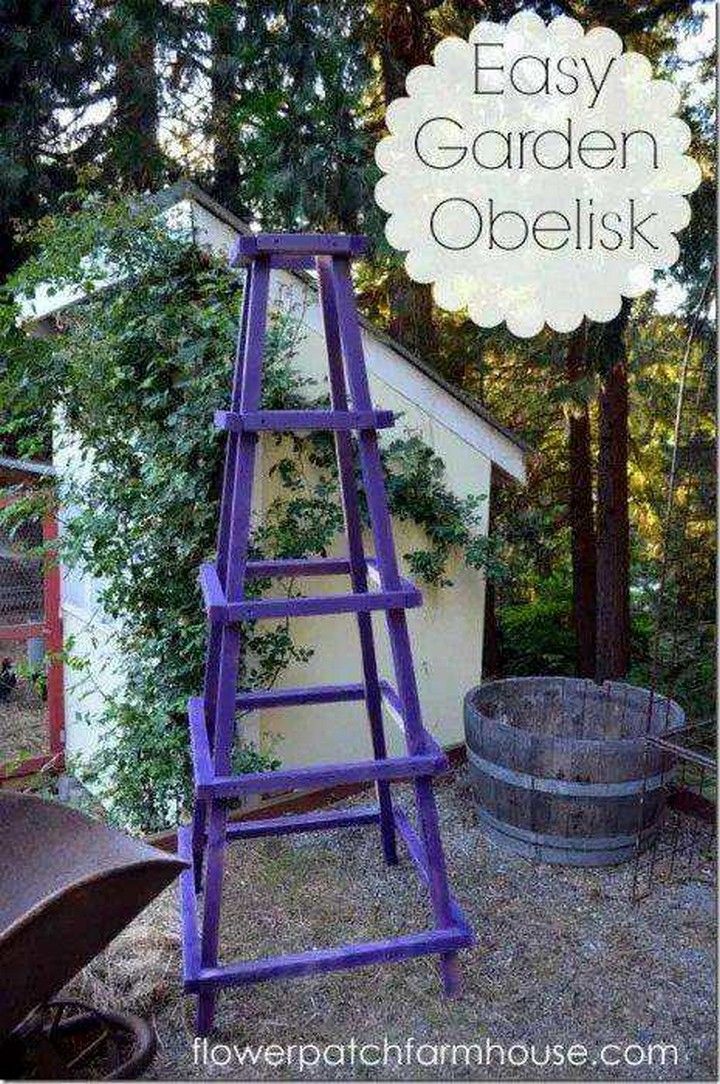 This is an inexpensive garden obelisk DIY project that you can do in one day and has many purposes. A simple design that works with many different styles of gardens and landscaping, this obelisk can be used in your backyard or front yard to create a focal point as a support for climbing vines, plants or vegetables and more. You can make it from sturdy 2 x 2s, and they provide an inexpensive addition that makes a big impact. This DIY Garden Obelisk will make an eye-catching addition to any gardener's home or garden property.
DIY Chevron Lattice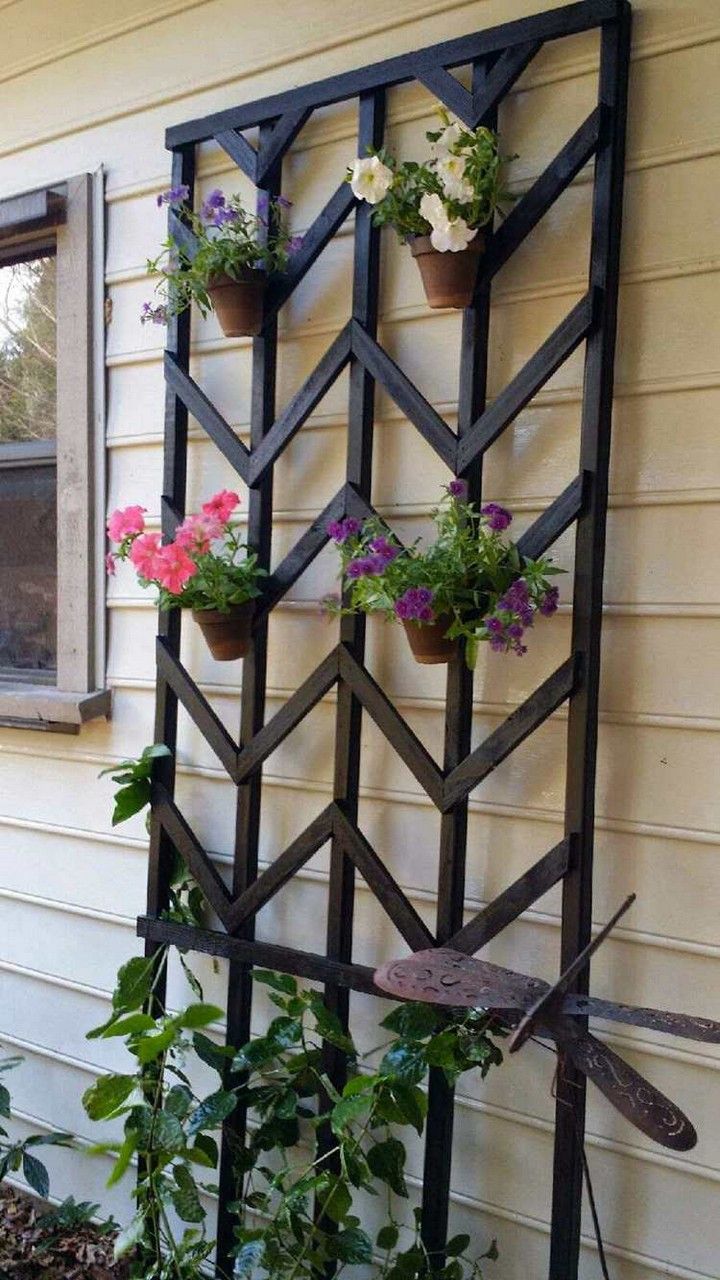 Chevron lattice can be used for more than just a fence; this DIY wall treatment is classy, stylish and the perfect way to add fun and excitement to your decor. Check out this step-by-step guide to building the perfect design. This DIY Chevron Lattice project will take only a few hours of your time. The measurements are correct in length and width; you can use any lattice for this project or build your trellis frame if you want to get creative! This project is perfect for beginners and intermediate DIYers alike.
DIY Macrame Trellis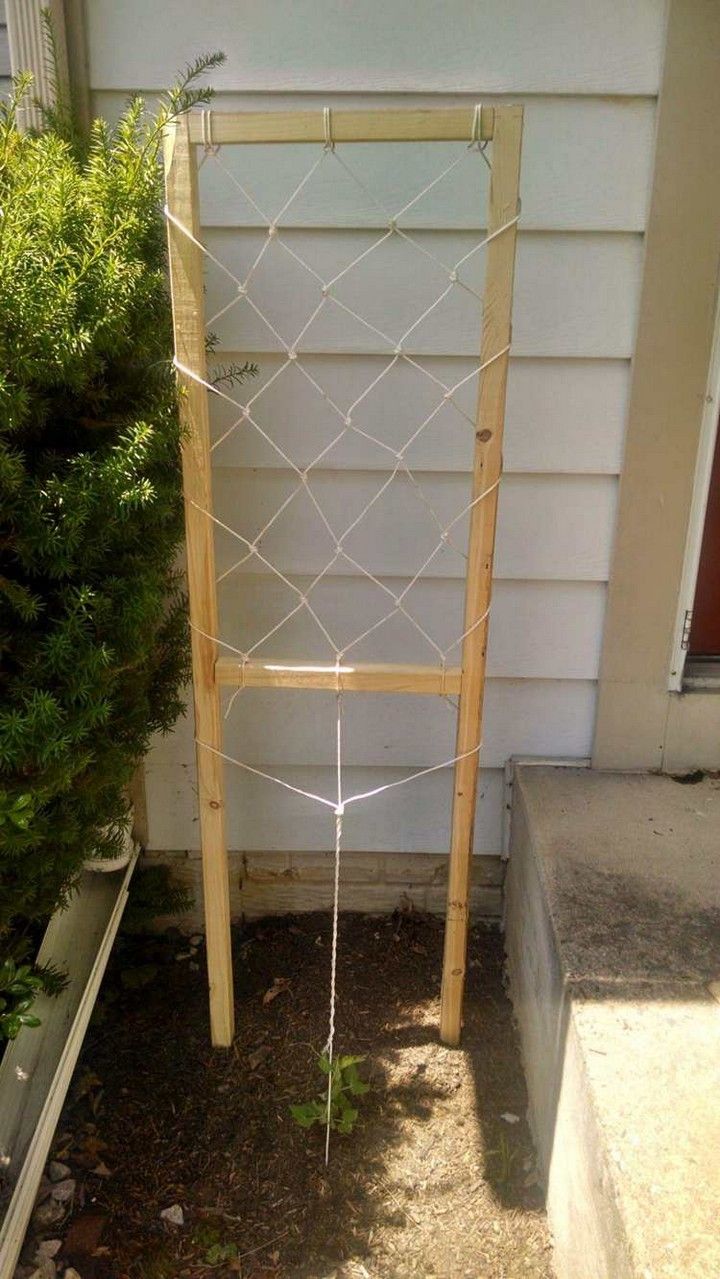 We all know the importance of having a trellis in the garden. It helps hold up plants, but it also looks great and boosts the aesthetics of your outdoor space. This DIY Macrame Trellis is easy to make and a nice addition to your patio or front porch. You'll need two 2x2 pieces of wood, strings, a paracord, and much more. Here is DIY Macrame Trellis guide that is easy to follow. Simple design, two hours project and budget-friendly!
DIY Rustic Trellis Planter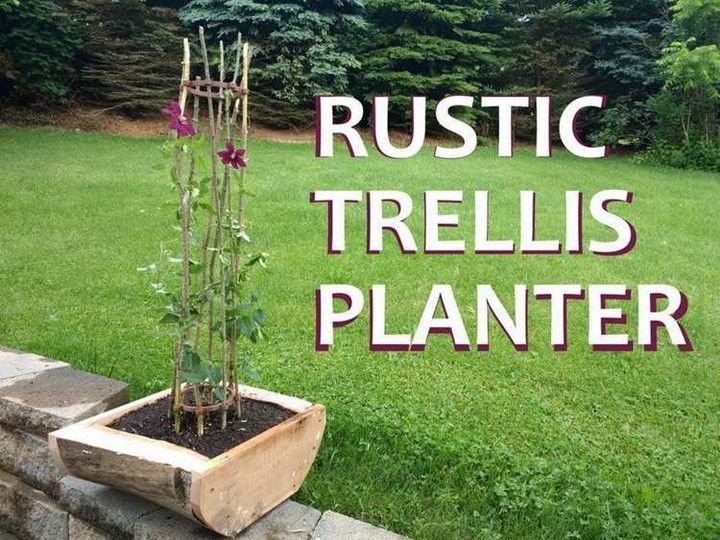 Bring the outside in with this DIY Rustic Trellis Planterm, a unique planter using a simple yet elegant design. Made completely out of wood and pipes, this planter allows for optimum airflow for your plants, keeping them healthy and vibrant! The design is easily customizable to fit any outdoor space. Made with a 180mm tube shape and a thick wall, this trellis makes an attractive addition to any outdoor space. With several evenly-spaced tubes, it's easy and fun to create!
DIY Trellis
If you've got a garden and want to grow plants but don't have much money to use a wooden trellis, this is your solution! You can make this structure yourself at home or in the backyard. It helps add style and beauty to your garden. You can create this simple DIY trellis in just a few hours. It's the perfect addition to your garden or balcony, adding color and beauty throughout the year. The design expert shows you how to build it in this video tutorial.
How To Build A Simple Bamboo Trellis
This How To Build A Simple Bamboo Trellis is a great way to create a vertical garden, it's easy to make, and you don't need expensive materials or tools. This video will show you how to build a simple bamboo trellis in just a few hours! It might sound like a lot of work, but these trellises are simple. You will need 6-7 bamboo sticks and a zip tie or twin to hold them together. Once your bamboo sticks are put on the ground properly, it's time to tie them together. Use a zip tie or twin to hold them together tightly.
How To Build An Arched Trellis
Some plants need more support than others, and arching trellises give your plants exactly what they need to thrive. In this video, we show you how easy it is to build an arched trellis in your garden using inexpensive materials that you can find at any home improvement store. Using two t-posts and a cattle panel, you can create an arched trellis using zip ties to support your plants. The process is simple but time-consuming, but the result will be a work of art that you and your family can enjoy.