Totes are so useful and stylish that it's no wonder why they're one of the most popular items for DIY-ers to make. You can make your tote unique by choosing a fun fabric, adding features like pockets or straps, or even adding ornaments! Whether you're headed to the farmer's market or need a simple bag for grocery shopping, a tote bag is one of the most functional things you can have in your wardrobe. Since they're so handy, why not make them yourself? There are many ways to turn something simple into a personalized bag that no one else will have—not to mention it saves you money! So, with that, here are 27 DIY Tote Bag Ideas.
DIY Tote Bag Designs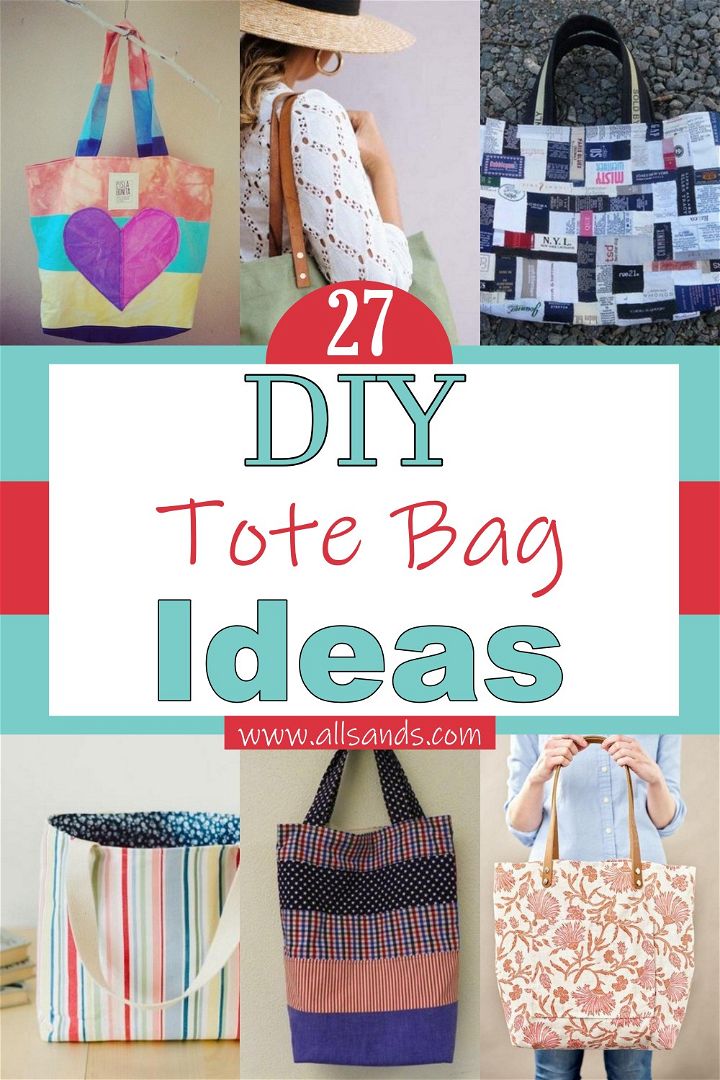 Tote bags are the ultimate reusable shopping bags. They're the perfect size to hold a couple of grocery items or souvenirs from your latest vacation. You can even use them as makeshift laundry bins if you live in a dorm. They're convenient, functional, and durable and can be made from materials you probably already have lying around your house! Do you have some old t-shirts that are ripped or stained? Or maybe you have an old pair of jeans that could use a second life as an alternative to plastic produce bags at the supermarket. If you've got fabric lying around waiting to be used, these DIY tote bag ideas will get it out of your closet and on its way to becoming useful for your everyday life.
Benefits Of DIY Tote Bag Ideas
The DIY tote bag is one item that you can make on your own. It will be a great gift for your friends, family members, and yourself. The DIY tote bag can also be made with various types of materials. Here are some benefits of DIY Tote Bag Ideas:
It is a great way to express your personality. You can choose the colors, patterns, and designs that you like best.
It is a great way to save money on gifts for family and friends. You can make them something they will love without breaking the bank!
You can make it as simple or as fancy as you want!
Customize them easily with patterned paper, ribbons, buttons, and other embellishments!
You can make one for yourself too! This is a great way to reuse old clothes and create something new!
Easy To Sew Tote Bag
Ready to up your bag game? This DIY tote is the perfect canvas for your creativity. Made of sturdy cotton canvas and available in various sizes, this project offers the ideal opportunity to experiment with different fabrics and designs. The trick? Raw edges give it that cool DIY look, but the zippered closure and interior pocket mean it's easy to keep organized. Slip in your latest read, midsummer picnic essentials, or other travel essentials for a sturdy and stylish bag that can use again and again. You can use it for grocery shopping, as your everyday purse, or take it to the beach.
DIY Tote Bag From Old Jeans
Learn how to make an easy and stylish tote bag from old jeans. The DIY kit is a great project for busy days with friends, including needles, thread, and instructions. This DIY Tote Bag From Old Jeans is a great way to recycle old jeans and make them into something you want to use and carry around with you. It's a great project for your closet or to give as a gift! This project is perfect for beginners who have never sewn before, who want some practice sewing straight seams with their machine, or anyone who wants a stylish, durable multipurpose bag.
Rainbow DIY Tote Bag Idea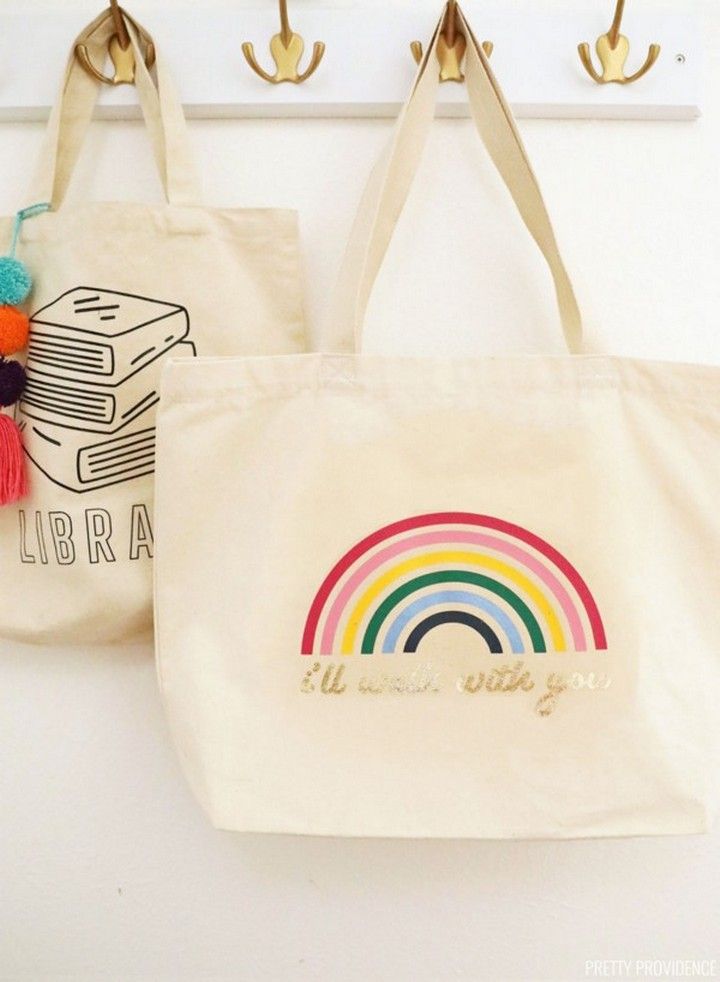 Who doesn't love a personalized tote bag? This rainbow DIY tote bag is the perfect project for all of the little crafters in your life. Enjoy the summer with this cute Rainbow DIY Tote Bag Idea. This is a great project to do with kids, they can pick out the fabric, and you can teach them how to sew it all together. When they are finished sewing their fabric tote bag, they will have something of their own that they made! It's time to get crafty and make yourself a handy rainbow bag that you can use for anything from fun summer days to heavy-duty picnics. Just take it one step at a time and put your spin on this DIY project!
How To Make A DIY Tote Bag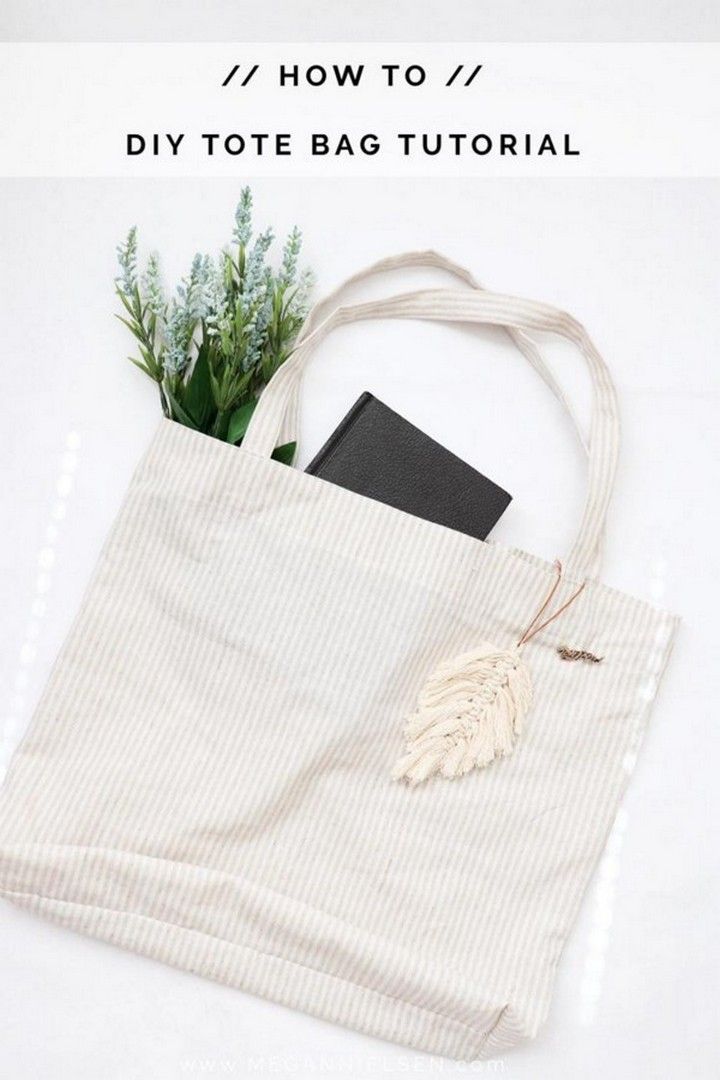 What a great basic tote bag. This is a rather large, medium-sized bag that can use for just about anything. If you have a sewing machine or know someone who does, try making this simple tote bag. You only need a few materials, and the process shouldn't take much time." This DIY tote is great for everyday use and ideal for groceries, pool trips, or beach outings. The bottom of the bag is pretty large so you can pack lots of stuff in there. It's very versatile and a great beginner project that you can customize any way you want.
How To Make A Tote Bag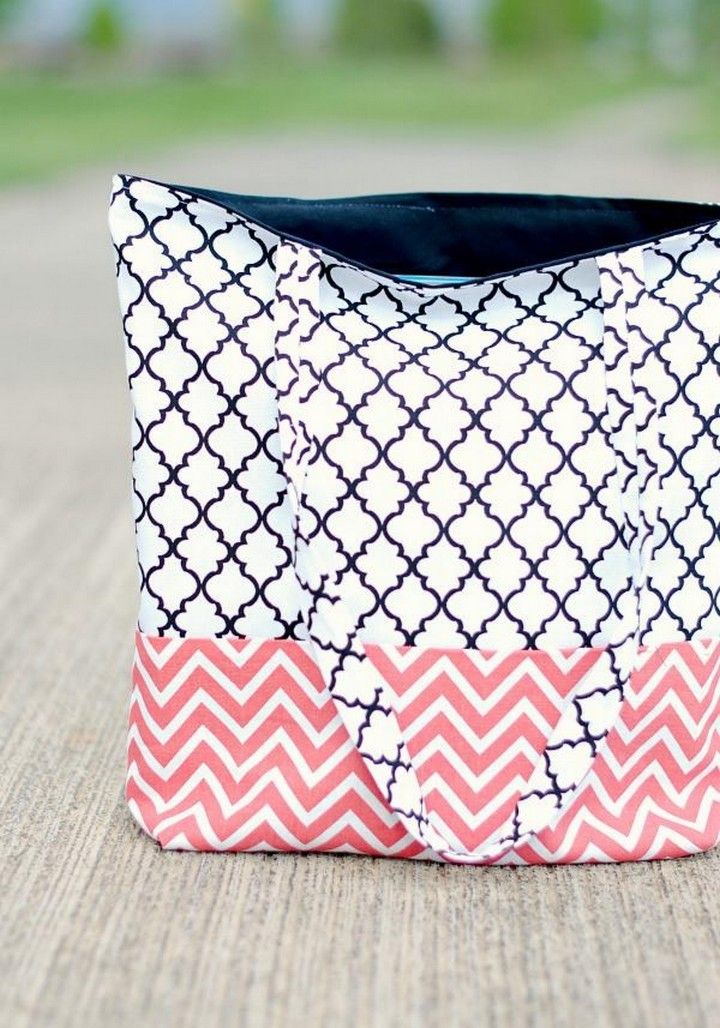 The most difficult part about the tote bag is cutting the fabric, but once it's done, you can carry it with you. Making a DIY Tote Bag is the perfect project for anyone that loves to sew. This tutorial will show you how to sew a bag with three fabrics in various colors and prints for extra style. It's easy to make, and you can use a pattern or create your design. You can sew in buttons, flowers, and patches to make it unique!
DIY Tote Bag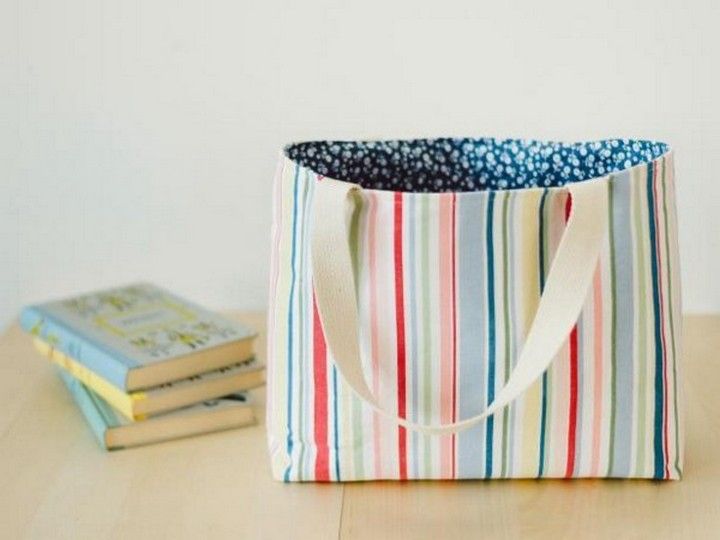 Make this easy tote bag for yourself or friends and family. It's a great DIY sewing project to get you confident in your sewing prowess, and it can be customized in various ways. The lined fabric tote bag has the perfect structure to keep its shape without being stiff, making it easy to wear comfortably on your shoulder all day. You can DIY this tote bag with flair by adding personal touches. Make it one of a kind for yourself or somebody special!
DIY Canvas Tote Bag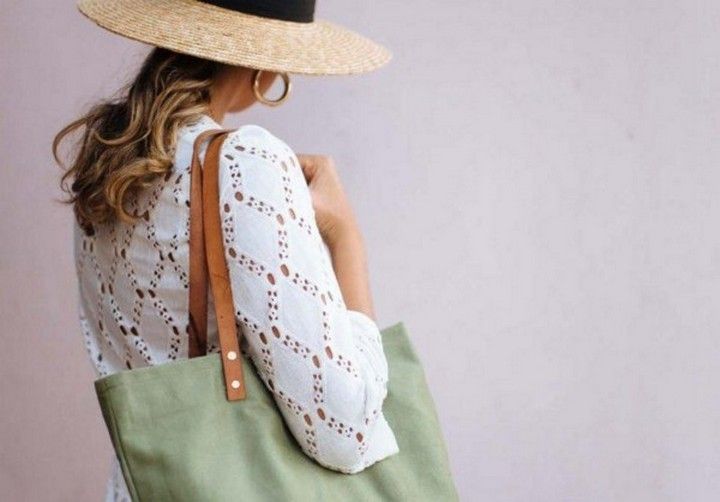 A tote bag is a perfect accessory to have while traveling. It'll become your friend in your daily adventures and remind you of the memories you've made with it later. It'll hold items precious to you, whether they're a souvenir from your travels or just things that make you happy. You can use this bag for any occasion because it's casual enough for everyday use but also makes a statement when needed. This canvas tote bag is perfect for your next vacation! This bag will last longer, and you can take it for a ride.
DIY Tote Bag
If you're interested in sewing but need help figuring out where to start, this easy DIY project is the perfect way to see if you have what it takes! And it's a great gift for friends, family, or anyone who loves to spend time outside. This bag has a clear pocket on the outside, and the inside shows through. The straps are adjustable, so you can change them to fit your style or use it as a backpack. This tote bag can take a variety of fabrics, so if you want to make your unique design, try out the different fabrics. The shapes and patterns are endless, so be creative and have fun creating your designs.
DIY Tote Bag For Beginners
Are you looking for a fun project to do? Do you want to start a new holiday tradition with the kids? This basic liner tote bag is a great beginner project for sewing. Use it as a gift bag, or make several and give them out at holiday parties! You will love how easy and inexpensive this is to make! This DIY Tote Bag is perfect for getting your feet wet in the sewing world. It's made using lightweight decorator fabric, but whatever you choose will be right if you follow the steps carefully. Beginners can easily create a bag they'll love - and it may even draw them into making more bags!
DIY Ankara Tote Bag
This beautiful craft is made using Ankara. You will use two patterns of Ankara fabric to create a bag design that's just your style. Get the supplies, measure and cut your fabric to size, and sew it together using a sewing machine. You'll be on your way to making your tote bag in no time! It is a lovely craft to make as a gift for your loved ones. Get your fabrics, measure and cut to length, then sew them together. This tote bag will take about an hour, but the result is worth it.
How To Tote Bag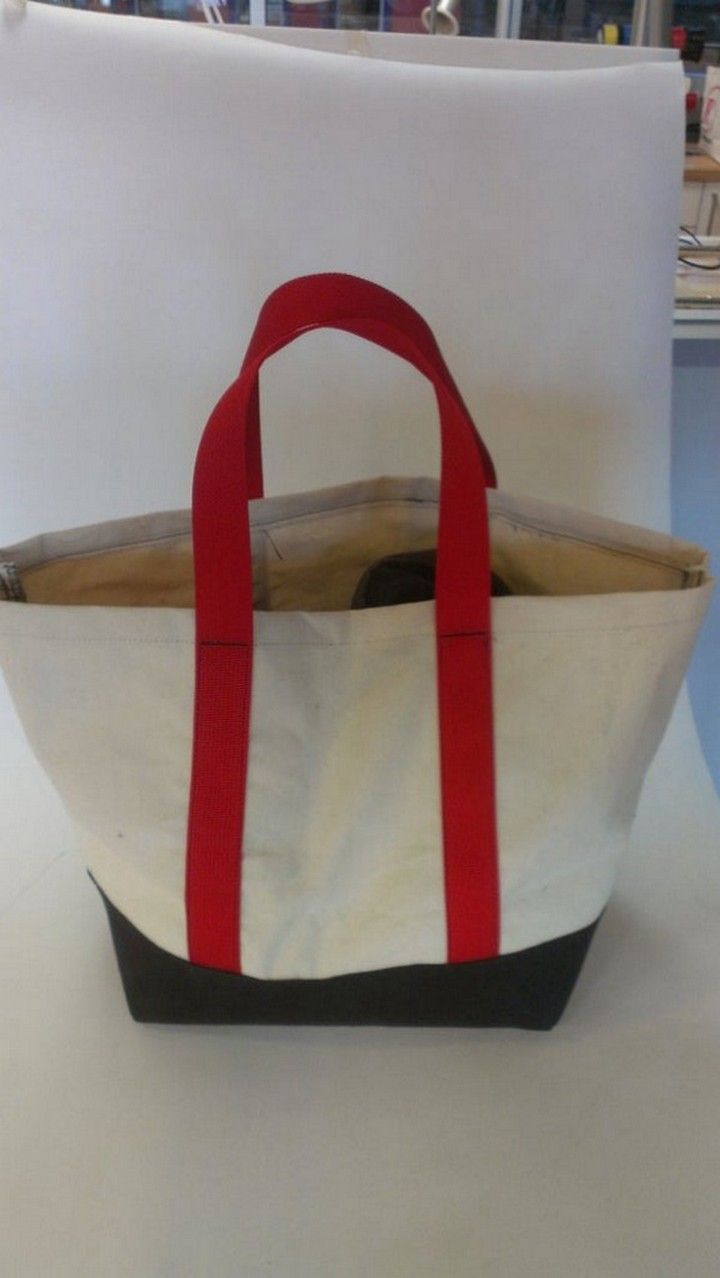 Have some old t-shirts in your closet that are beyond repair? Refrain from burning them; make this tote bag instead. It's sturdy yet affordable, and you can make it in less than an hour! Such a durable tote bag will come in handy for traveling, shopping, or even everyday errands. Make your eco-friendly tote bag with this free sewing pattern. This bag is easy to sew and the perfect project to make with fabric scraps. It's a great size for grocery shopping, beach trips, and other uses.
DIY Tote Bag Pattern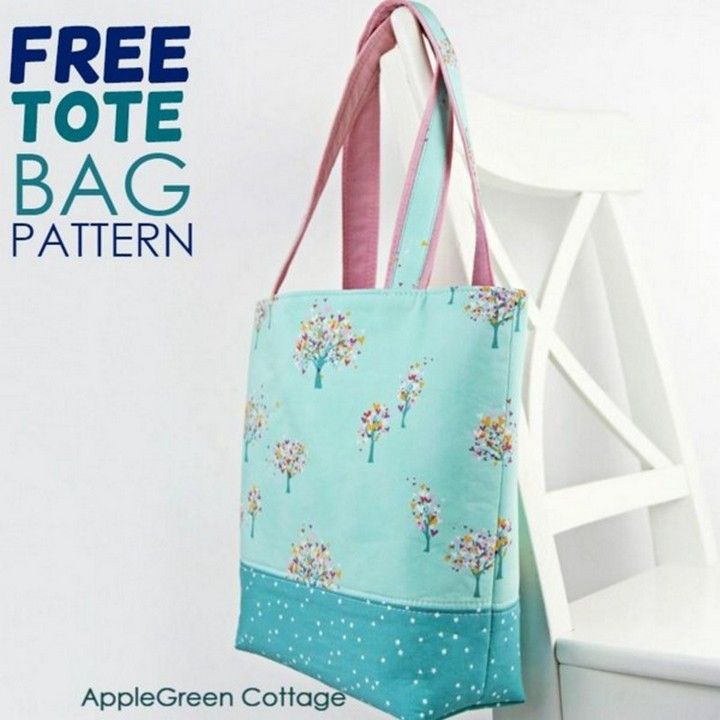 This quick and easy bag pattern is so easy you can whip it up on the weekend. No hardware is required, and the resulting bag will be sturdy enough to use daily! We've included two sizes - one perfect for your laptop and another for diapers, wipes, or carrying snacks to the park. The interior pocket adds an extra surprise! Make it in any size and on your choice of fabrics to fit your personality. Add an interior pocket for small items as well!
DIY Big Tote Bag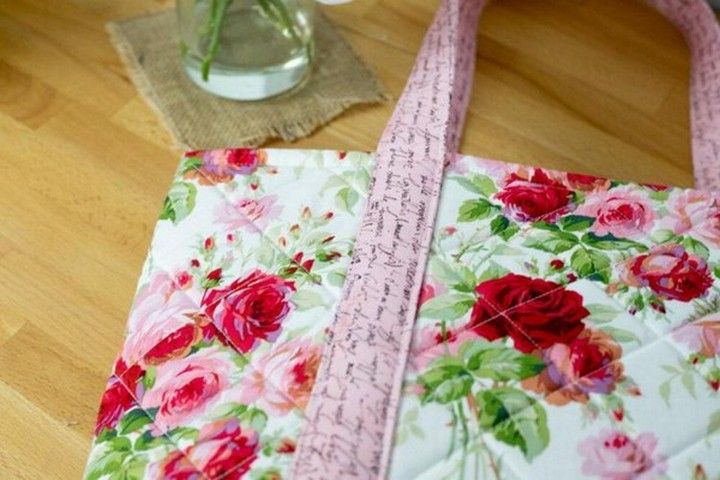 If you love DIY projects, this tote bag is a must. It's a great option for anyone who craves an easy project they can make while watching TV or chatting with friends. It's also great for gifting in the warmer seasons or holidays like Mother's Day, Valentine's Day, and Christmas. This tote bag is the perfect one to have in your closet. It is made from a durable cotton canvas fabric but has a soft feel. The straps are made from interfacing and can be adjusted for different heights of the wearer.
You can also see: DIY Crossbody Bag Sewing Patterns 
DIY Market Bag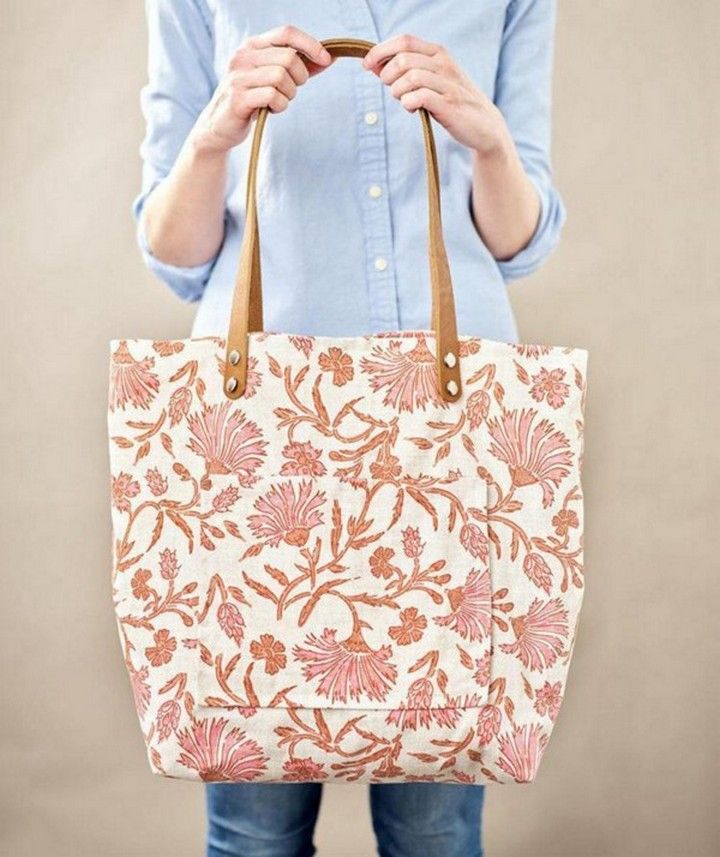 Look no further if you're looking for an everyday bag that can become your constant companion. This DIY market bag is large enough to contain all your shopping needs and just as stylish. It's crafted from soft cotton canvas and features a natural leather strap and cotton webbing accents. Plus, it's easy to customize with a sharpie or fabric marker! It can be used as a market tote, library, or everyday bag. Whether you need to carry groceries or study materials, this bag will keep everything neat and organized.
DIY Tote Bag For Beginners
Create a classic tote bag with this easy sewing project. This tote can be used as a beach, grocery, or overnight bag. Make several in different colors for your favorite people! This tutorial is to make a simple bag that can be used for grocery shopping, going to the mall, or carrying stuff around. It is easy to make and can be customized. You can add pockets, straps, etc if you want to use it as a travel bag and carry it by hand or over your shoulder.
How To Make A Tote Bag
This DIY tote bag tutorial will teach you how to create your own. You'll be amazed at how simple it is to make once you ensure the supplies are available. You'll also be happy to know that you can tailor this project to suit your personality and fashion sense, making it your own. Once you learn how to do this, you'll realize how simple it is to make. You can make your own tote bag at home and at your convenience.
DIY Leather Tote Bag
If you love handmade items, this is the perfect one for you. With your effort and creativity, with a little help from us, you could work on your tote bag. You can build your tote bag with some leather and craft skills. This DIY project offers a lot of satisfaction at the end when it's done. It's a beginner-friendly project that anyone can do. The following video tutorial is detailed, easy, and reliable. It will guide you to build your custom leather bag.
DIY Dior Book Tote Bag
This Dior book tote bag is very fashionable and unique. It's perfect for your casual outing, shopping in the market, or as a matching bag to your outfit. You can use it as an everyday market bag and pair it with your favorite outfit for a stylish look. You may not be able to afford these bags in your favorite stores, but with this tutorial, you can make a Dior book bag for yourself! This tutorial is easy and requires only basic sewing knowledge. It's suitable for beginners just starting on their DIY journey.
You can also see: DIY Ita Bag Projects 
DIY Tote Bag Idea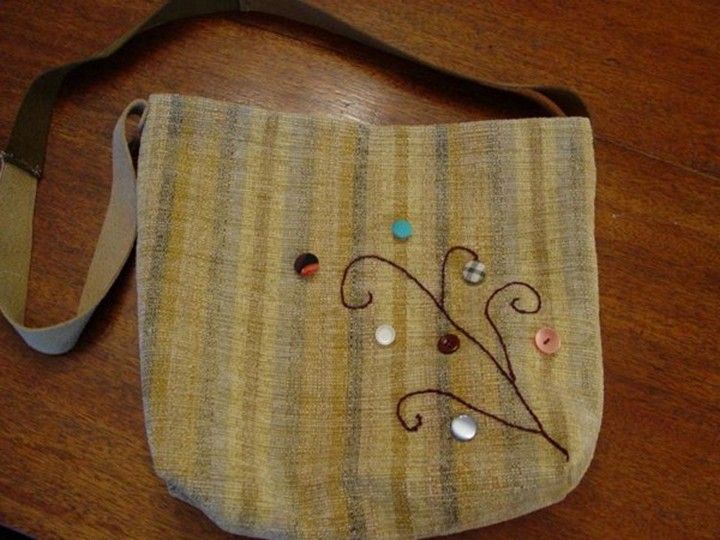 This tote bag is quite heavy-duty and very easy to make. It uses upholstery fabric for the outer layer, several men's dress shirts for lining, and scraps of fabric for pockets or lining other parts of the bag. Make this versatile bag from upholstery fabric and recycled dress shirts. The DIY Tote Bag is made with a layer of upholstery fabric, a layer of lining fabric, and a sturdy inner shell to create a strong foundation for the bag. The layered design lets you see patterns or colors through the top layer.
DIY Ironic Tote Bag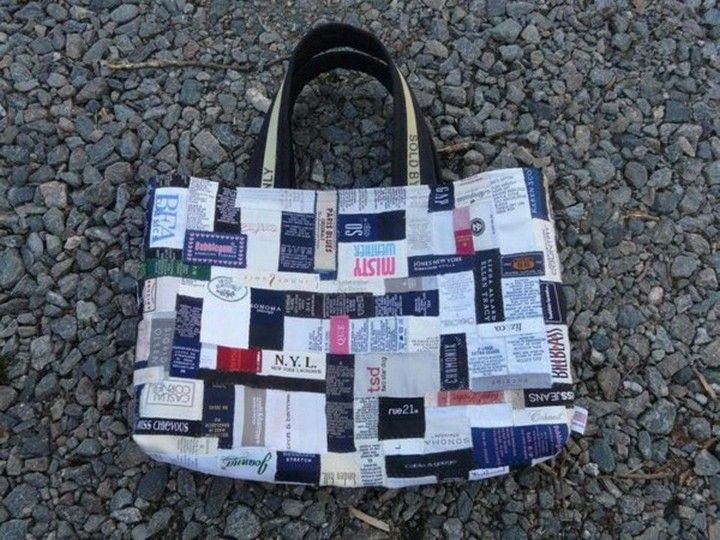 Do it yourself! Create your tote bag using clothing labels that are colorful and stylish. This is a perfect project if you're into art and design or need a way to upcycle old clothing labels in your closet. Following this tutorial will give you the skills to create almost anything, from a fun purse or diaper bag to custom shopping bags for shops. This project is excellent for you who like to discover new things in your life. It's also a good chance to use your creativity and at the same time have fun.!
DIY Beach Tote Bag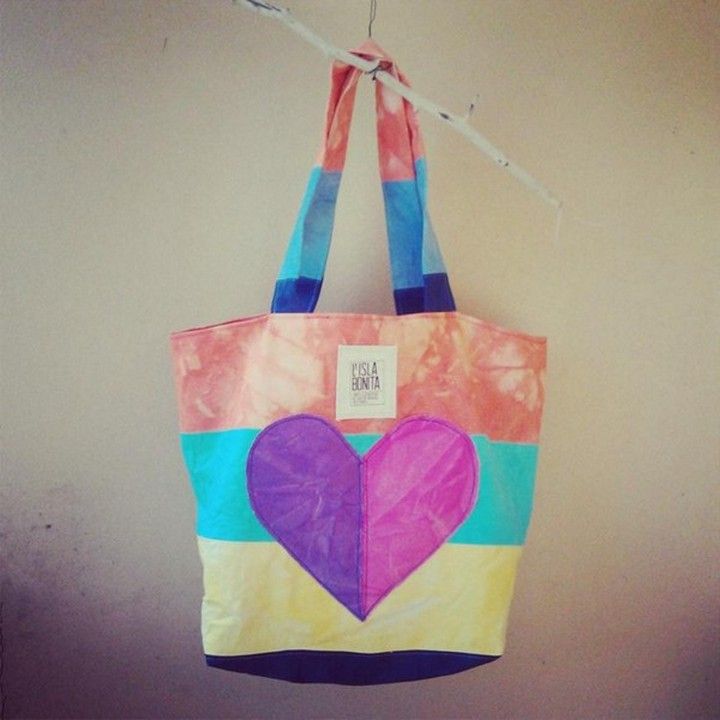 This DIY Beach Tote Bag is a simple and easy pattern to make. They are great for the beach, groceries, the gym, and more. Great size to hold all of your items in one bag! It would be a great beach bag for your next vacation. It's large enough to fit all you need, yet it's easy to carry around. You can make this in two ways: a pillowcase-style bag or a pouch! It's also great for someone in a hurry who wants to get rid of their old ugly bag that's falling apart! You can change the fabric or use different colors for your unique style.
DIY Patriotic Tote Bag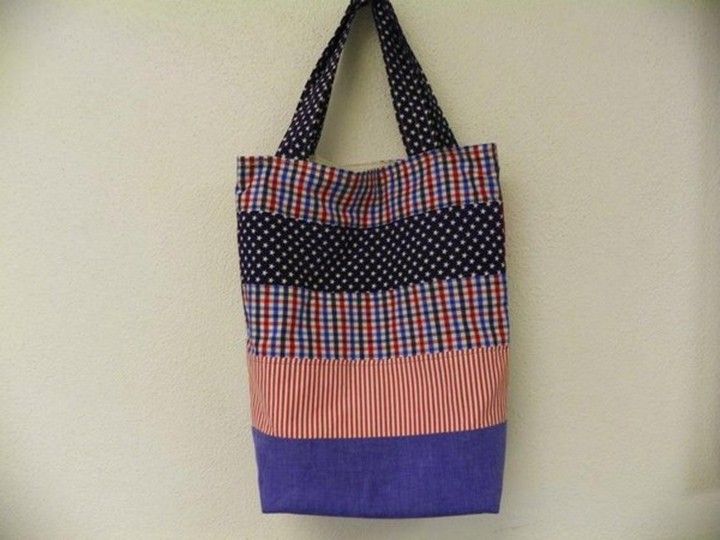 Need to carry more stuff than your arms can handle? Then surrender with this bag. Let your hands breathe, and let this bag do all the heavy lifting. Printed on any fabric of your choice. Depending on the size of your fabric, you might have an excess thread at the end of its seams. You can tie them up in a knot or use them again to sew another project. This is the perfect opportunity to enjoy this summer with family, friends, and colleagues. This DIY project comes as one of the easiest projects, but you will get huge appreciation from everyone. So, get ready to sew your way through to a new creation!
DIY Tote Bag
This is a beautiful and sturdy bag you can easily carry around gifts, books, or even your laptop. As it is quite spacious, everything will fit just right. This tote bag is a great project for beginners. The fabric is sturdy, and the pattern is easy to follow, making it a great project for anyone who wants to practice sewing but doesn't want to start with a difficult project like pants or a skirt. You don't need a sewing machine, no experience is needed, and all you need is a simple straight stitch. This will be a great bag to show off your stitching skills.
Book Tote Bag DIY
Make a fashion statement and read in style with our DIY tote bag. This tote features a square-bottomed base and shoulder straps and is fashioned from your selected printed fabric. Pattern includes detailed instructions for creating this beautiful tote bag using commercial/quilting interfacing and fusible fleece to give it a sturdy construction and stability. This bag is made from a heavy brocade fabric with a decorative print. It is large enough to fit books and magazines and makes a great gift for any teacher or book-lover.
DIY Simple Tote Bag
You can customize a simple tote bag with fabrics, colors, and designs. Check out this short tutorial that shows how easy it can be to create your bags in a matter of minutes. This stylish tote bag is simple yet practical. Perfect for the beach, a casual outing, or as a gift. It's easy to carry with one hand while grocery shopping, going to the farmer's market, or on your daily commute. Simple, easy to make a bag. Perfect for transporting your belongings comfortably.
How To Sew A Tote Bag
Learn how to sew a super cute and functional tote bag. It's beautifully lined with pockets, so you can easily fit items like a wallet or phone. This is great for shopping, going to the market or library, or carrying your things comfortably. It's also large enough to be used as an overnight bag! This is a simple yet cute bag you can make on the weekend. It's a great project for beginners, but you'll also find that it offers a bit of a challenge with the fun ribbons and linings. Whether heading to the market or the library, this will be your new favorite tote bag.
DIY Oversized Tote Bag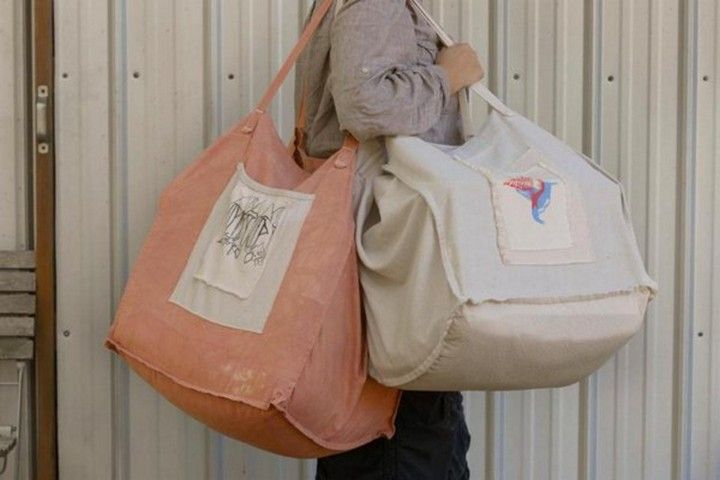 This DIY tote bag is great for carrying everyday items or for a weekend getaway. Upcycle an old blanket into this oversized tote bag. It's made from an old blanket and is easy to make at home. Perfect for keeping your laundry sorted and folded, transporting pillows or bedding on vacation, or even as a beach bag! The roomy size makes it easy to fill up with everything you need while still being lightweight enough to carry comfortably.