Pyramid-shaped planters are an eye-catching way to make a statement in your yard or garden. They look great when arranged in pairs, rows, and clusters, creating a layered effect that mimics the pattern of a succulent forest. The shape is also versatile: it offers an alternative to the boxy planters that are so common, as well as a way to add height, visual interest, and variety to your garden's design. Pyramid planters can be made out of any material you want. Here are ten DIY pyramid planter ideas that show how easy it is to construct one of your own. Garden inspiration for your existing planters or create new ones with these DIY pyramid planters.
DIY Pyramid Planter Ideas

Pyramid planters are increasingly popular worldwide, from their use in industrial projects to the decorative water features of the rich and famous. Pyramid Planters are the perfect way to add a touch of fun and color to your yard or garden. These DIY planters can be built with inexpensive supplies, and they're easy enough for most DIYers (even beginners) to tackle. Choose from various materials, including plastic and clay pots or recycled items like wooden crates or metal buckets. With these 10 easy DIY Pyramid Planters, you'll be ready to grow your own veggies at home in no time!
Benefits Of Adding DIY Pyramid Planter To Your Garden
Pyramid planters are a great way to add greenery and style to your backyard. They're also easy to make yourself with just a few tools, supplies, and a little know-how. Here are some benefits of DIY pyramid planters:
You can customize them to fit your space.
They're great for growing fruit and veggies.
They add height, making your yard feel more spacious.
You can make them from recycled materials (e.g., old pallets).
They're easy to build and install — no need to hire a contractor or buy expensive materials!
How To Build A Pyramid Strawberry Planter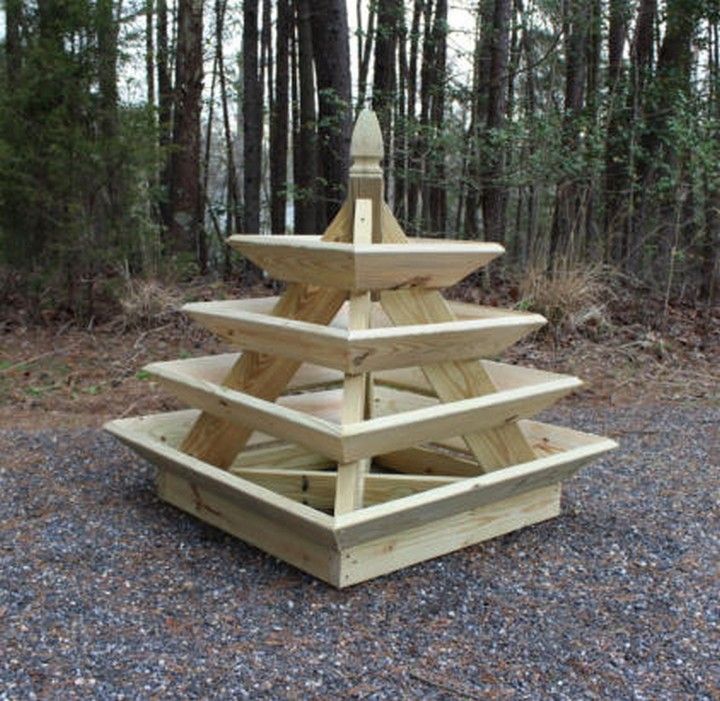 In the pyramid strawberry planter design, you fill the towers with soil and pop in your strawberry plants. This pyramid strawberry planter is the perfect small garden accessory for your deck, patio or balcony. You can plant strawberries and other plants in the towers to create a vertical garden that looks great. If you love strawberries but have little space for a garden, this pyramid will fit the bill perfectly! Just use your imagination and create a vertical garden in your yard or garden.
How To Make A Slot Together Pyramid Planter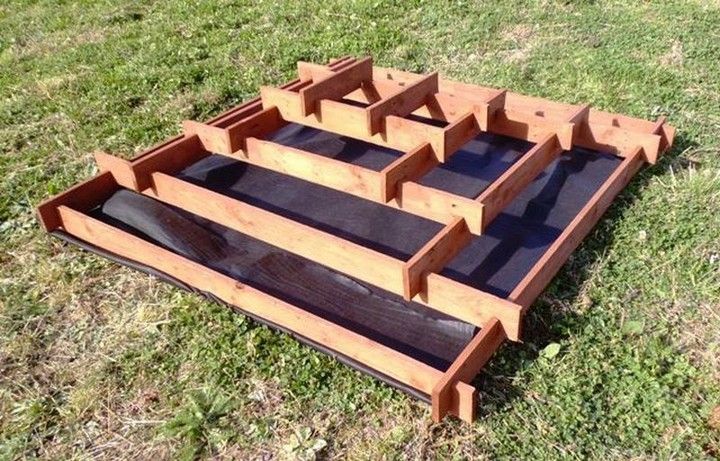 Pyramid planters are great for growing various plants, especially if you don't have a lot of space in your garden or yard. This simple yet clever design makes it easy to dismantle the planter when not in use, making it perfect for placing it in different locations around your home. You can't beat a Pyramid Planter for its simple yet practical design. It looks great in your garden, and adding soil to each compartment is accessible. The slotted blocks allow you to dismantle your planter and move it elsewhere. Over time, your pyramid planter will mature and look even better as plants grow through their rungs.
How To Build A Vertical Garden Pyramid Tower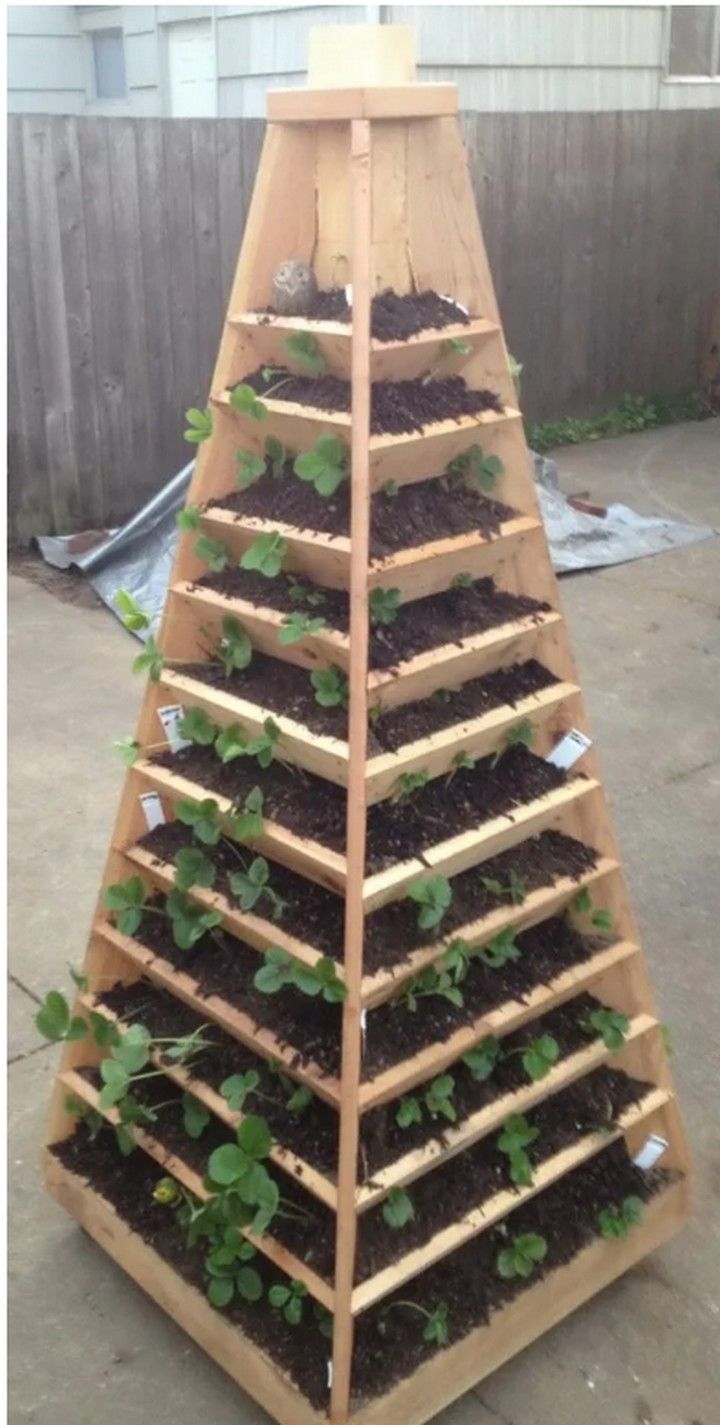 Most of us have limited gardening space. If you are one of the lucky ones with plenty of room to grow plants, then kudos to you, but most of us have to make do with what we have. This DIY Garden Tower Planter is a great way to add vertical planting space and grow vertically. It will give you extra space and make your garden look more attractive. This DIY Garden Project will give you the necessary gardening and planting space. This is an excellent project with lots of planting variations! Planting your own food is rewarding and healthier; it's also fun!
Build A Great Strawberry Pyramid Planter In 4 Steps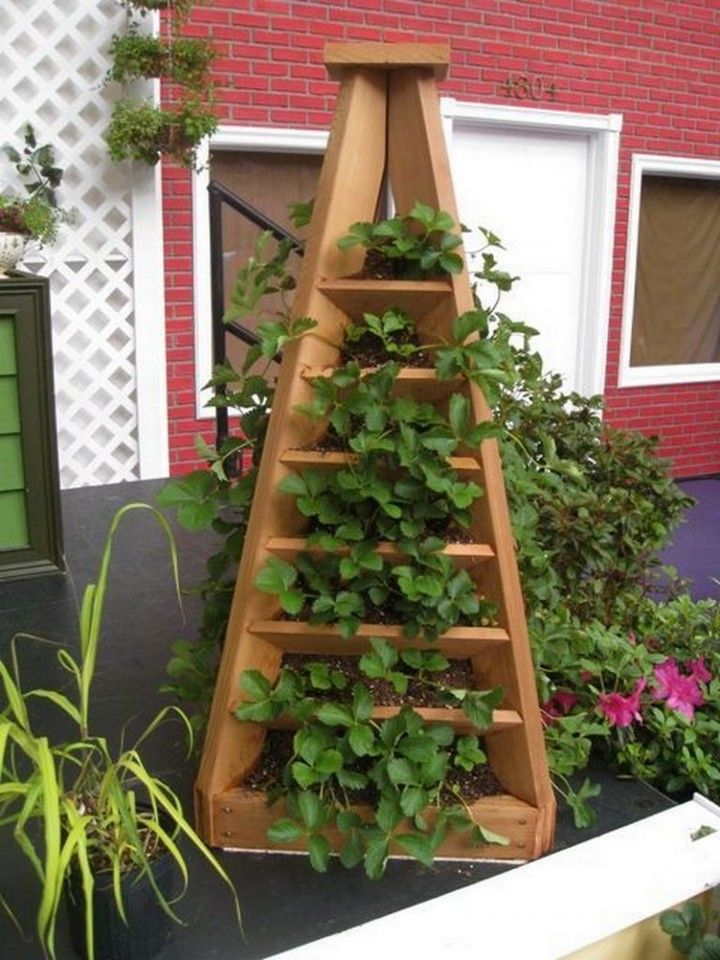 Did you know that strawberries do not grow straight up but instead form a pyramid shape? It's true, and this DIY pyramid planter is the perfect way to take advantage of it. In four simple steps, you can build your own strawberry pyramid planter, giving your garden new life and a touch of whimsy–and helping prevent soil compaction while keeping water in the container using a water-filled planter! This pyramid planter is an easy and quick DIY project that you can use to grow your favorite plants. It is an excellent project for beginners looking to dive into gardening!
How To Build A Strawberry Pyramid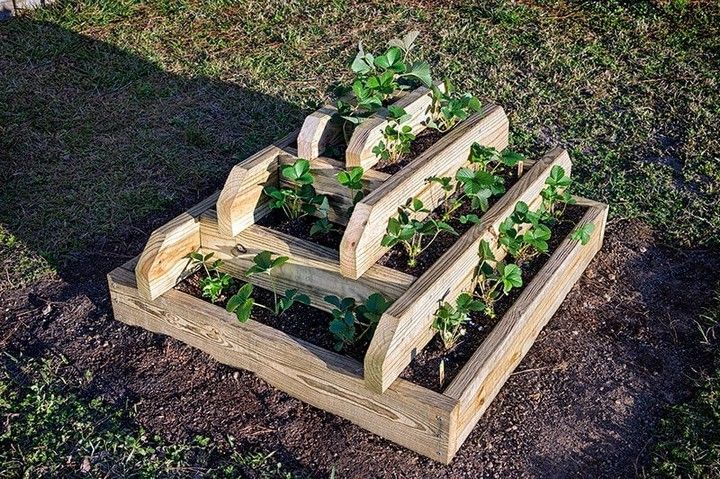 Want to grow more strawberries in your garden? This pyramid planter is a great way to do it! It's easy to build, fun to use and will give your strawberries a perfect start in life. You can build a simple yet attractive strawberry pyramid in your backyard with just a few materials! This DIY project is easy and inexpensive and requires no green thumbs. You'll have fresh strawberries from your garden all summer long!
How To Build A DIY Gutter Planter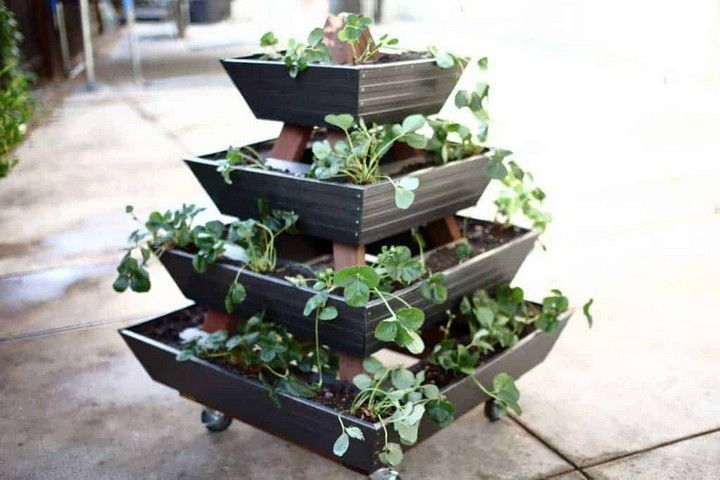 Growing strawberries in containers are easy to enjoy super-sweet fruits all summer. This container could also be used for herb plants, flowers or other small plants." With a little effort, this gutter planter is the perfect way to grow strawberries in the garden. You can create a DIY Pyramid Planter to grow your own strawberries with a few basic materials and quick, easy instructions.
Rustic Pyramid Planter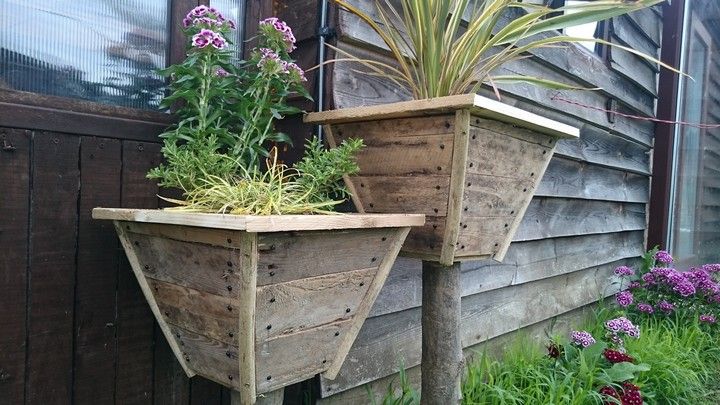 Create a stunning display of your favorite flowers with this DIY pyramid planter. Perfect for porches, decks, patios and gardens. Add a handmade touch to your home with our DIY Pyramid Planter. This easy weekend project requires only a few supplies and impacts any room of your home. Build your own rustic pyramid planter and fill it with herbs or flowers, then keep it on your porch. The easy-to-assemble pyramid shape is a perfect addition to any home.
Cedar Vertical Tiered Ladder Garden Planter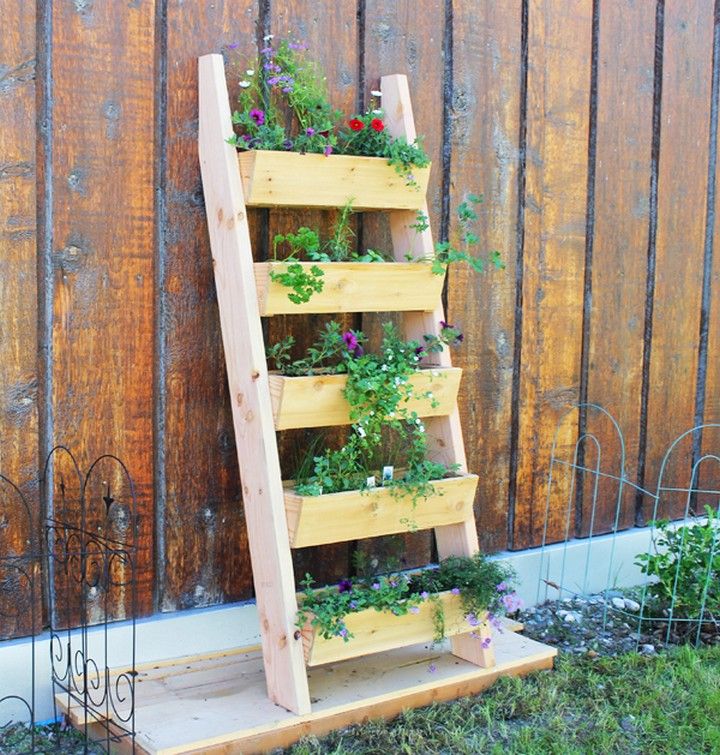 If you love climbing plants but lack the space for a full-sized garden, this slim and stylish tiered planter is a great solution. Made from cedar to complement any landscaping or patio decor, it comes with interlocking wood slats that allow you to customize your planting arrangement as you see fit. The tiered set-up provides maximum storage space for your produce and a unique look to add to your porch or patio. This project would be a great decorative addition in an urban area with limited space.
How To Build A Killer Pyramid-Raised Garden Bed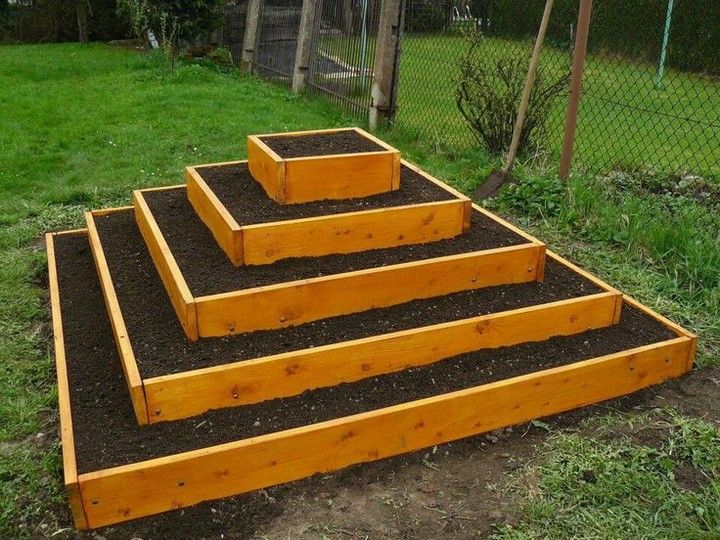 On a budget and looking for a veggie garden? Build a raised pyramid planter out of easy-to-find supplies and save money. This pyramid-raised garden bed is a fun project to spruce up your backyard. It's easy to build and the perfect way to grow vegetables or flowers in the spring and summer. This easy-to-follow video tutorial will show you how to assemble simple materials using only the tools you have in your garage. Learn about the benefits of a pyramid planter design and the easiest way to water your established plants without bending over.
Pyramid Planter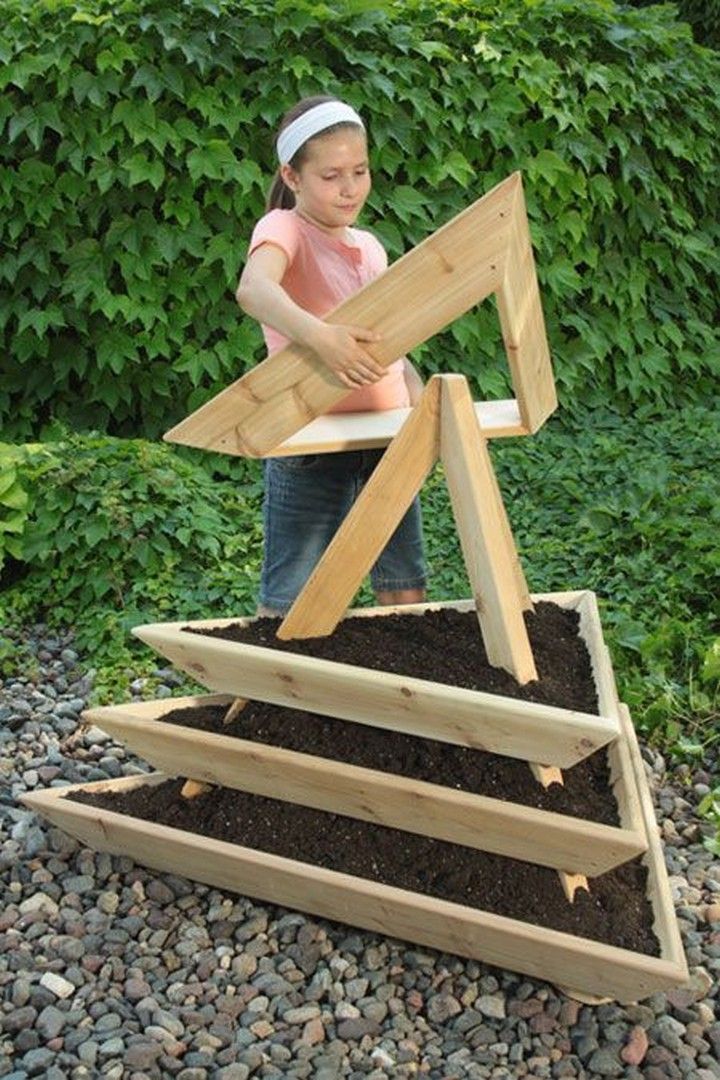 Transform a lowly wood into a stunning planter with this DIY project. Stack masonry blocks, trim the top and enjoy your new look. This DIY Pyramid Planter is a fun and visually impressive project for any home or front porch. Create your unique planter using recycled materials and the step-by-step instructions in this tutorial. You can also use this pyramid planter to grow herbs and other plants with limited space, such as on a balcony or patio.