A child's imagination runs wild when playing—and that's why play kitchens are such a popular toy. The kitchen is like an alternate universe for little ones, where they can pretend to make delicious meals for their dolls, teddy bears, and stuffed animals. But sometimes, buying a commercial play kitchen is beyond what you have in your budget. Sure, you could buy one of those plastic ones that come in a fancy box with electronic sound effects and plastic food accessories—but there are many other ways to make a homemade play kitchen. If you've got some time and DIY spirit, we've got all kinds of DIY Play Kitchen Ideas to get you started saving money while still making something fun for your kids!
Creative DIY Play Kitchen Ideas

Whether your child is a toddler or a teenager, play kitchens are fun in the home. Toddlers can use them to act out their favorite TV shows and pretend they're feeding their dolls. Older kids can cook with their friends for fun or help practice when they are on their own one day. There are so many options and possibilities that you can find the perfect fit for your family's needs. We've collected some of our favorite DIY play kitchen ideas from around the web so you can prepare for imaginative playtime. Plus, creating a custom kitchen from scratch is easier, and your kid will love knowing exactly what the appliances do!
Benefits Of DIY Play Kitchen Ideas
A child needs to be able to express their creativity through play. It also helps them develop their imagination and even problem-solving skills. Play kitchens are great for kids to learn how to cook and prepare meals. They can learn how much time it takes to make a meal and how long it takes for food to cook. There are many benefits of DIY play kitchen ideas.
1) It allows children to practice cooking skills in a safe environment where they won't burn themselves or get injured with sharp utensils or hot surfaces.

2) Children can experiment with different types of food and recipes without worrying about making a mess because they're using fake ingredients.

3) It allows children to use their imagination while cooking fun foods that aren't necessarily edible but still look delicious!

4) It encourages children to explore their creativity and think outside the box by coming up with unique ideas for dishes they might not have tried before!
Ikea Play Kitchen DIY Tutorial
A play kitchen is a great option if you want a space to keep your kids entertained while they play with their toys. It's also a great way to let them use their imagination and learn how to cook during imaginative role-playing! This play kitchen video tutorial is easy, requiring only basic tools and materials. Learn how to make your own Ikea Play Kitchen DIY Project. This project is simple and affordable, great for beginners.
DIY Play Kitchen for Under $90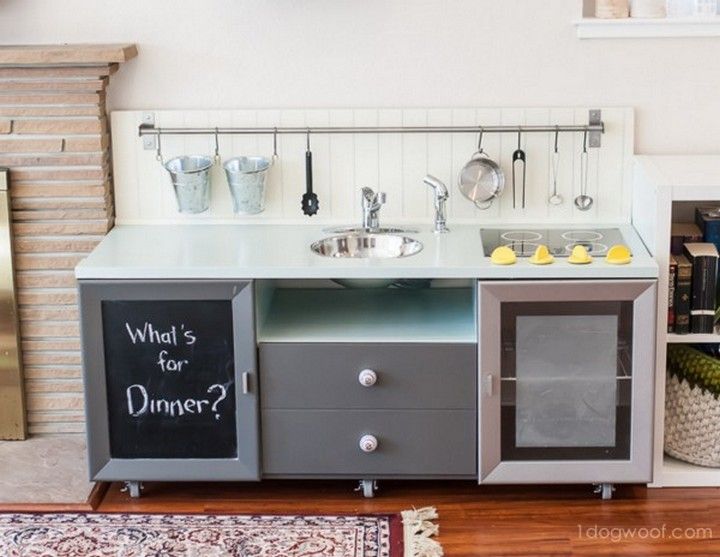 A DIY play kitchen is a great way to have fun while teaching kids how to cook, store ingredients, and get creative in the kitchen. One of the favorite features is that this can be used by kids and adults alike so that you can use it as a planning station. This DIY Play Kitchen for Under $90 project shows you how to build one cheaply. With just a few inexpensive items, you can create a fully functional kitchen with an oven and fridge that your little chef will love. It's cheap and customizable, and you can find a perfect sink for your child!
How To DIY Play Kitchen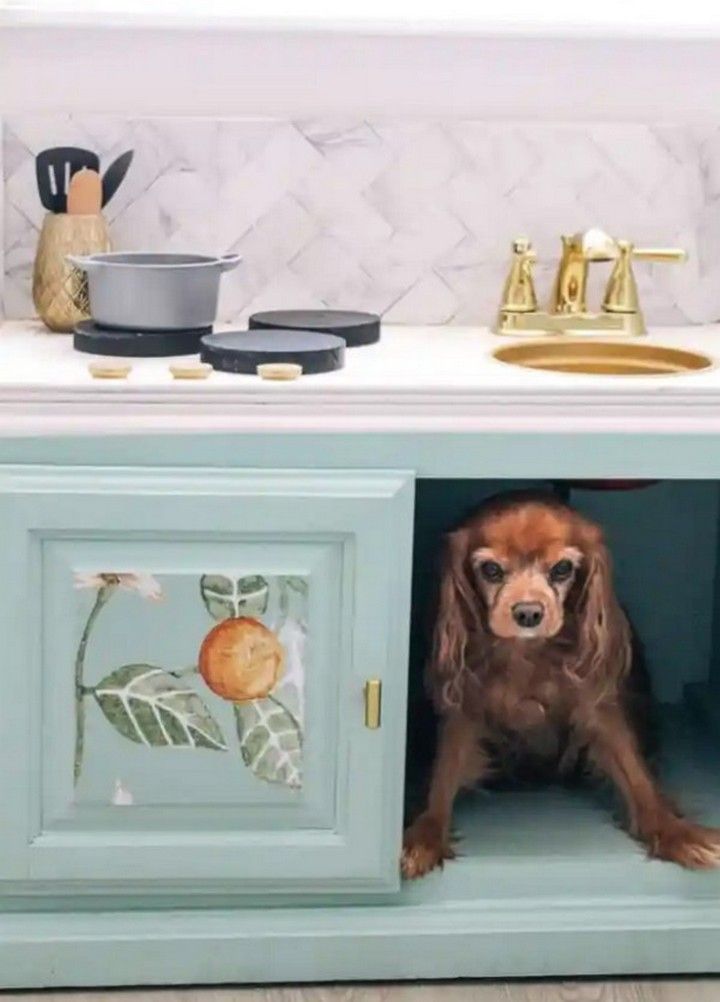 A play kitchen is a great way to keep kids entertained and can add life to your living or dining room. If you're looking for a project to keep your kids busy, create this DIY play kitchen. This is a great way to teach kids the fundamentals of cooking while also giving them a place to play with their favorite toy. Not only do they look great, but you can also use them for storage! So with creative DIY carpentry, you can build an adorable new play kitchen for your girls!
Transformed Cabinet Play Kitchen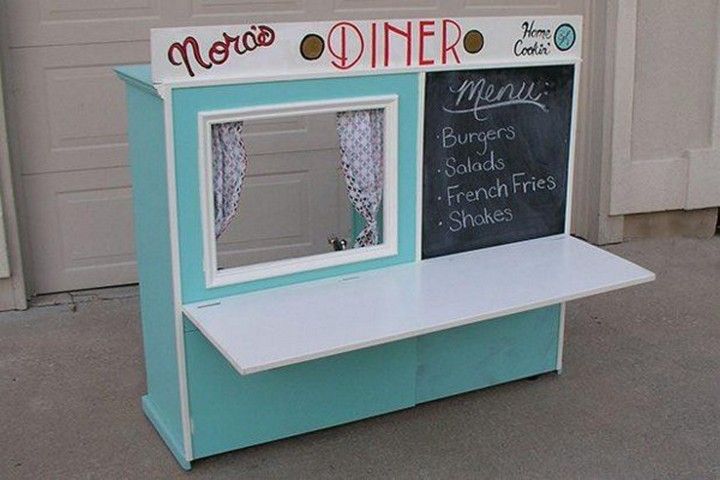 The DIY play kitchen idea brings you the luxury of a professional kitchen. This handcrafted cabinet play kitchen is crafted from materials that are as sturdy as they are decorative. With a few simple tools, a little paint, and imagination, you, too, can transform your old cabinets into an outstanding play kitchen for your child. You will love repurposing something old into something new and useful again.
Cute Play Kitchen Idea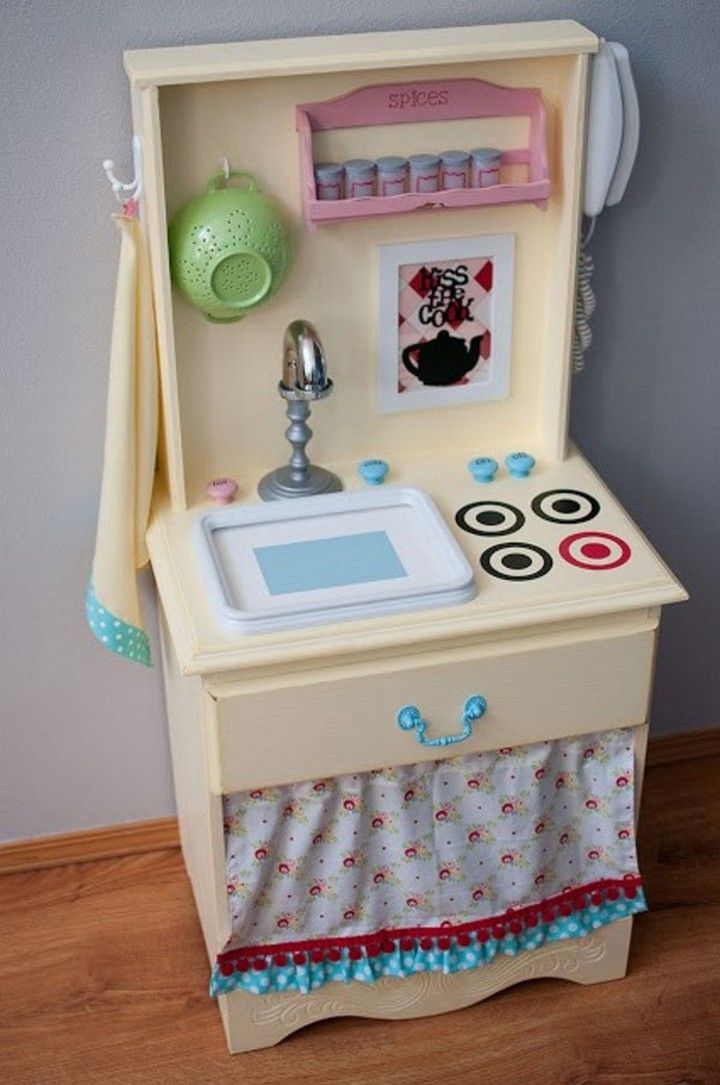 This simple tutorial turns an old nightstand into a super cute play kitchen. You can add some detail by purchasing a vintage bowl and fork set or cutting up some fun paper to make the labels on various containers. It has a great space with a sink on the side and even some shelves inside, where your little girl can put her spices or other pots and pans. She will be delighted with this DIY play kitchen idea!
Handmade Play Kitchen Idea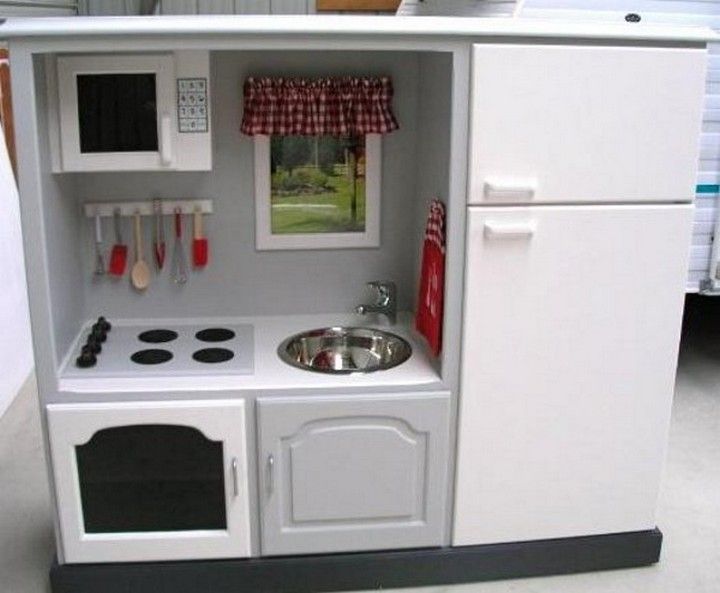 If your kids love cooking, this is the perfect project. It can easily be made at home, and you can use recycled materials to save money. Add some accessories, and it will look great! It has a sink, oven, and everything to make the little ones feel like grown-ups for a day! Your kids will love this, and it's easy to make you don't need professional skills. It only takes a few hours and some equipment you probably already have at home.
You can also see: DIY Chessboard Ideas
Large DIY Play Kitchen
This large DIY play kitchen is a full-on solution for creating a new area in your house dedicated to imaginative play. There are so many details that it's almost like a real restaurant. Your kids will love it! You can turn an empty room into a fun playroom for your kids. They will spend hours having fun creating stories and playing with their toys. Any handy person can do this DIY project. You only need to have some time and patience, plus a few tools that are not expensive at all.
Play Kitchen Made From Cabinet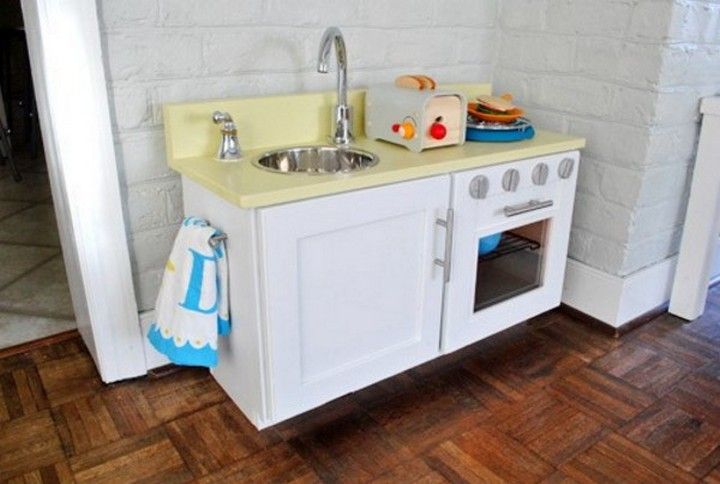 If you have an old kitchen cabinet that you plan to throw away, then this is a great project for you. Just take off the doors, and use them and the drawers as a play kitchen set for your child. This allows you to save money and make something unique for your child. So simple to make, but such a big impact! This DIY Play Kitchen Look is versatile and can be used as a toy, a craft project for the kids, or even a Christmas gift idea.
Low Budget DIY Play Kitchen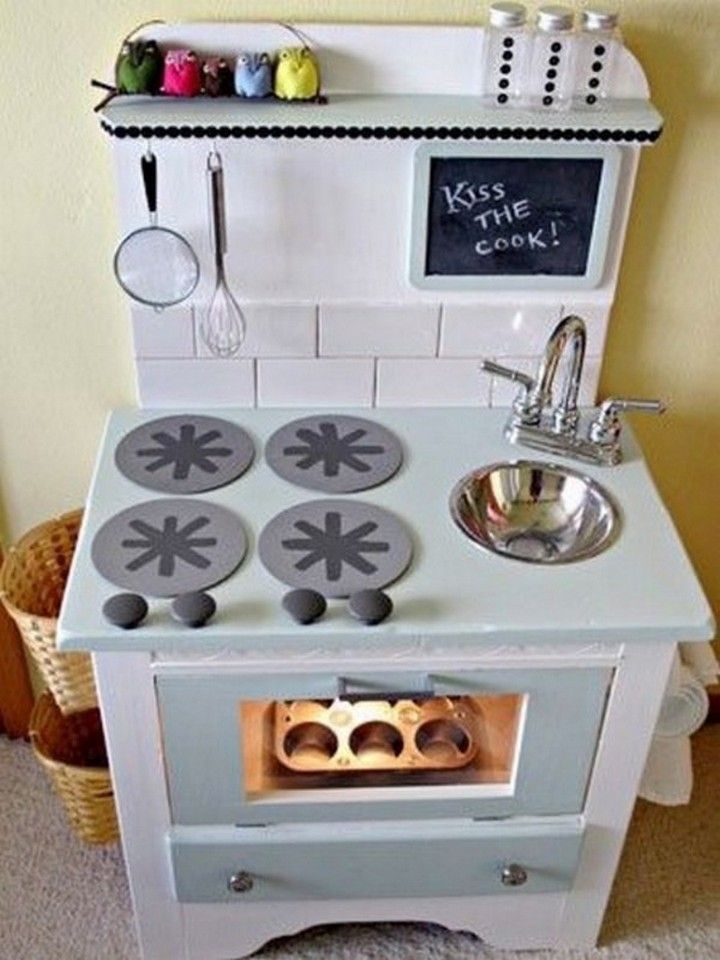 This will be the perfect gift if your toddler loves to play around with kitchen appliances. It looks fancy, but it can also be made with limited resources. These kids' play kitchen looks great and can be customized to your child's favorite color. The entire work will cost you around $10 to make a realistic-looking play kitchen. Ideas for the project are easy to follow and fun for both parents and kids to do together.
You can also see: DIY Under Cabinet Lighting Ideas 
DIY Play Kitchen Makeover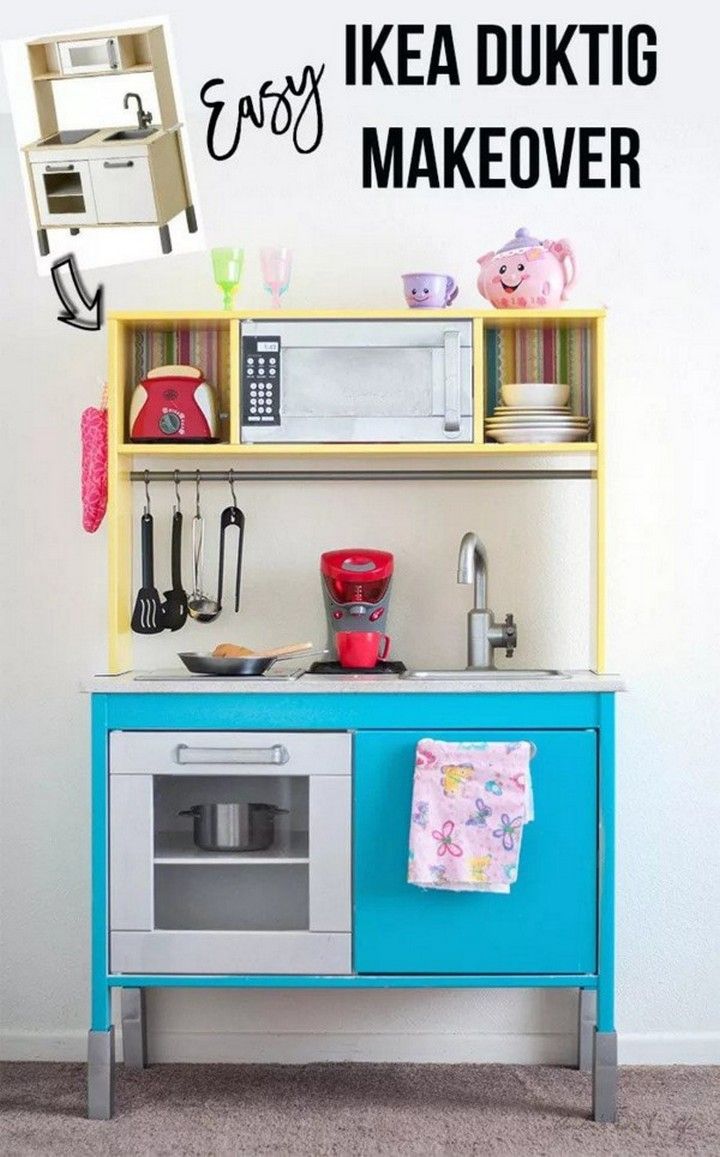 Transform your child's old play kitchen into something that is both stylish and functional with this DIY play kitchen makeover. With a few simple tools, a few hours of your time, and some great colors, you can give this old piece new life in just a few steps. One of the easiest ways to spruce up your play kitchen is by painting it! This can be done in one evening, and the cost is minimal if you have the paint on hand. Here are some other ways to makeover your little chef's kitchen.
Decorated DIY Play Kitchen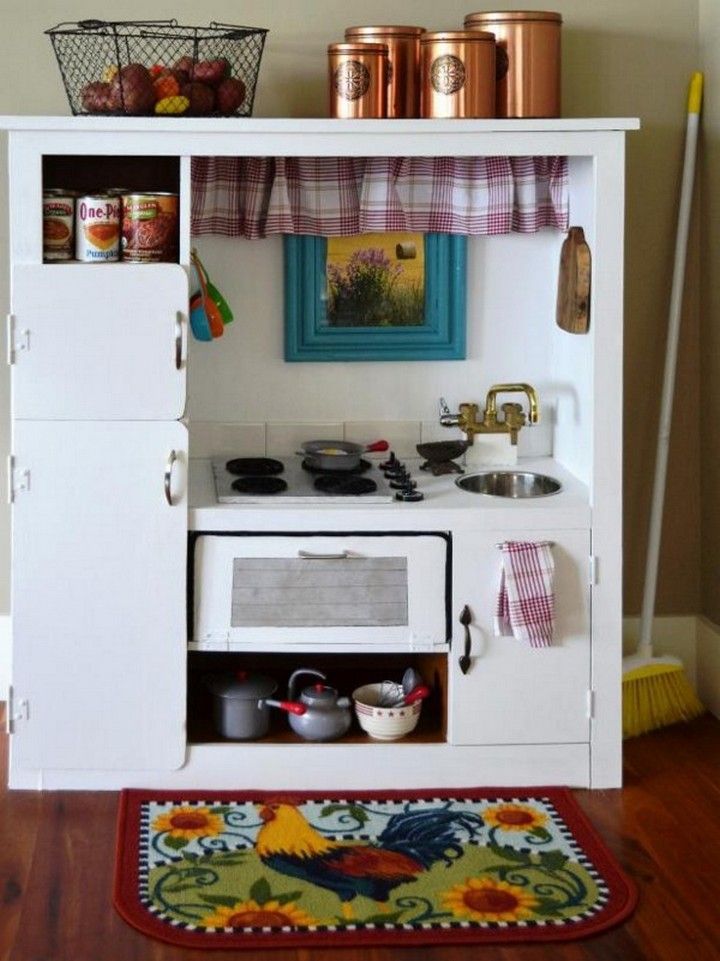 If you have an old entertainment center in your garage or basement, this is a great way to reuse it. It's time to get your kids away from playing online games and have them engage in other activities. If you are one of those people who cannot afford to buy expensive play kitchens for their children, then this DIY project is for you. You can create your own custom DIY play kitchen that will spark the imagination of little ones for years to come. Let's start with basic supplies and discuss making kids play kitchen from scratch.
You can also see: DIY Truck Bed Slide Ideas And DIY Gaming Table Ideas
DIY Play Kitchen With Cabinet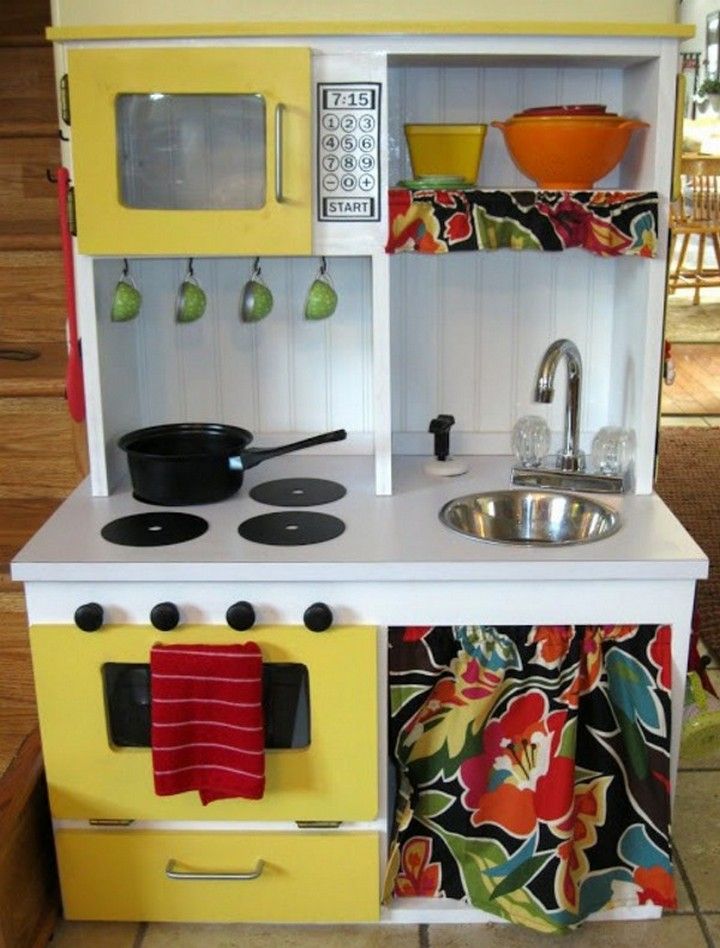 Playing kitchens can be expensive, but with creativity and an eye for detail, you can create one of your own. This DIY play kitchen is built on an old kitchen cabinet. You can customize it however you want by adding drawers, shelves, or anything else that you think of. The bonus? No mess! You will love the flower print fabric that covers the walls and door. This post will guide you through DIYing your play kitchen and adding finishing touches that make it more real.
DIY Kids Play Kitchen
Play kitchens will keep your kids occupied, but it's not always easy to find one that's just right. This video shows how to build your own from scratch using various materials. You can use any fake appliances you have lying around the house to make this DIY play kitchen—or add some of your favorite colors with spray paint. Once you have all your supplies, you can start building and making memories in no time!
DIY Play Kitchen Makeover Idea
Upgrade that old play kitchen in your home with this DIY Play Kitchen Makeover Idea. Instead of having a fixed look, you can alter the appearance and turn it into something that matches the rest of your living space. This video shows you how to makeover your child's room with simple and inexpensive steps. This is a great project for the weekend when you want to spend quality time with your children.
DIY Kitchen Playset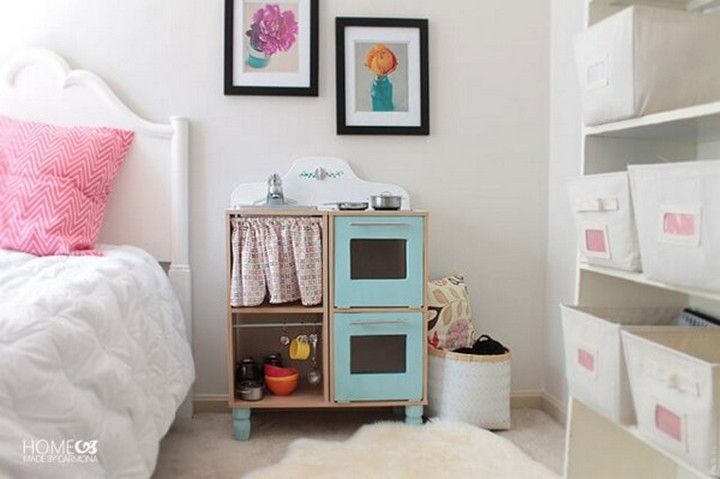 This DIY Kitchen Playset tutorial creates an amazing play kitchen for your kids. It's the perfect size to fit into a smaller room, like a bedroom. Add your kid's favorite kitchen accessories, and this fun set will become their favorite place to play! With simple materials and the right tools, you can make the perfect play kitchen for your kids! This DIY project is perfect for little ones who want to help in the kitchen. The materials are easy to find and affordable, and the project can be done in less than a day.
Ultimate DIY Play Kitchen Idea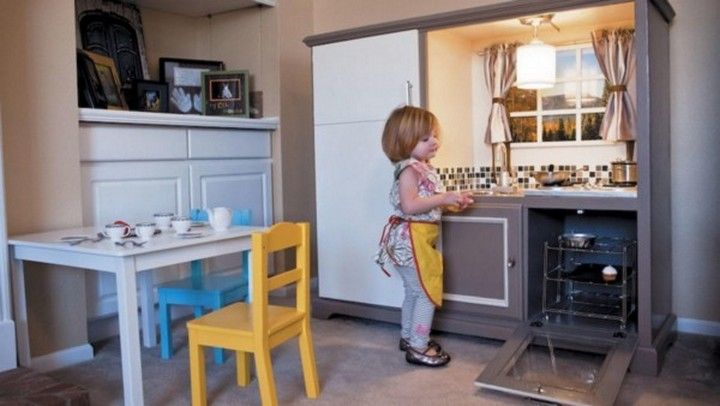 Being together with your kids is one of life's most precious moments. It makes you realize how much we have to enjoy and be thankful for. Spending time with them and sharing what they like to do is important. The best way of doing that is by making a play kitchen. This Ultimate DIY Play Kitchen Idea involves a play area and storage area, so it's useful when your children are cooking with their toys. They can even store food and utensils in the box below their oven.
Simple Kid Play Kitchen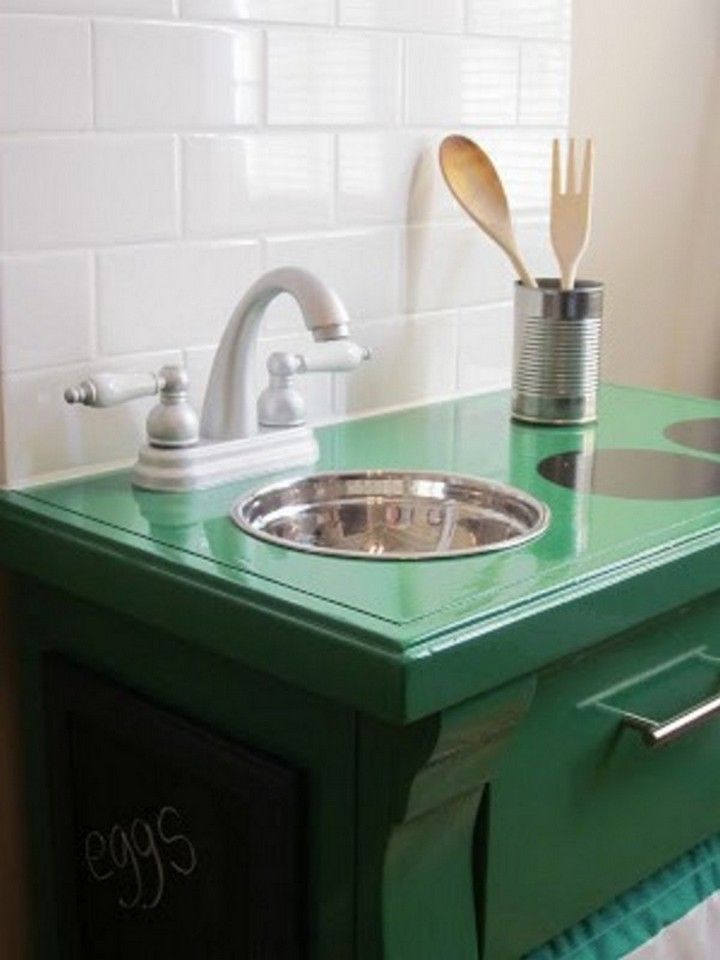 Creating your own pretend kitchen set for your kids can be fun and rewarding. They will love playing with it, and you can rest easy knowing that the materials are safe, non-toxic, and kid-friendly. This DIY is so simple and yet very amazing. You can make this Simple Kid Play Kitchen with just a few pieces of plywood and some decorations that you can easily find around your home. It is also good to know that this will cost you almost nothing.
DIY Realistic Play Kitchen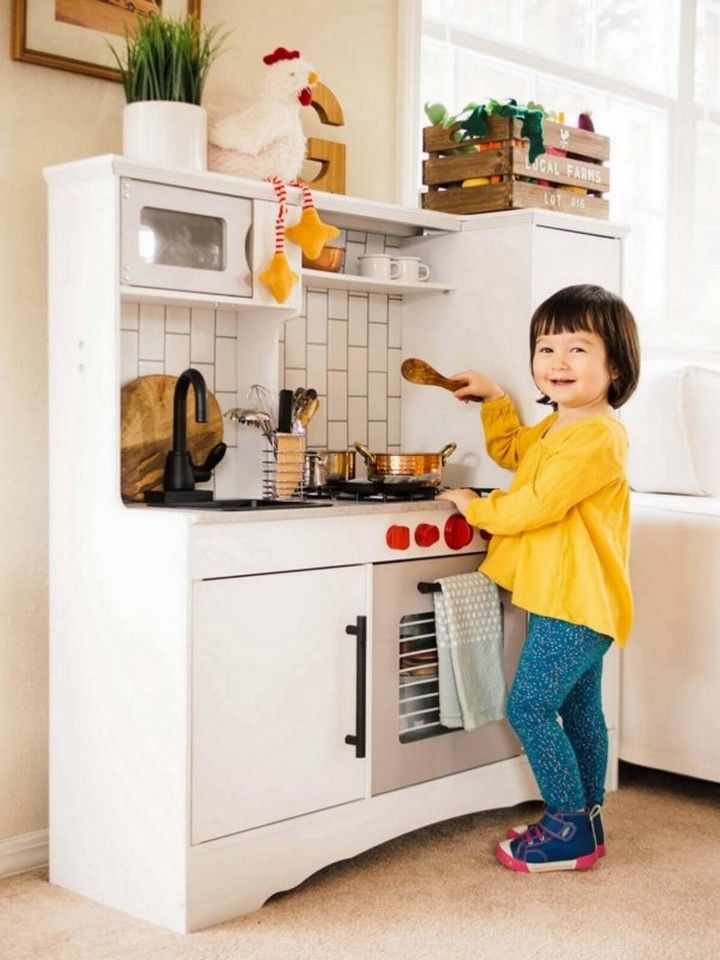 This DIY Realistic Play Kitchen looks like the real deal. Give your toddler this Play Kitchen, and they will be in paradise. The smile on their faces is priceless as they play with this realistic kitchen set. Kids can play house and have lots of fun with this realistic-looking pretend play kitchen. The kitchen features a stovetop with knobs that turn and burners that light up and make noise. A sink connects to the faucet with real water sounds when the dishwasher is open! Other realistic details include doors that open, dishes stored inside the oven, pots, pans, and utensils so kids can play with food as mom or dad does in the real kitchen.
Also see: DIY Crib Ideas For Home Decor And Easy DIY Solo Stove Ideas
Cheap DIY Play Kitchen
The play kitchen is a great way to encourage children's imagination, reasoning, and creativity. However, when buying a new one for your child, you might realize this is quite an expensive project. Instead of spending money on buying one, why not make one yourself? You are probably surprised, but it is true! You can use an old TV stand to turn it into a play kitchen. This video tutorial shows how you can convert an old TV into a cheap and simple DIY play kitchen for your kid.
DIY Low Budget Play Kitchen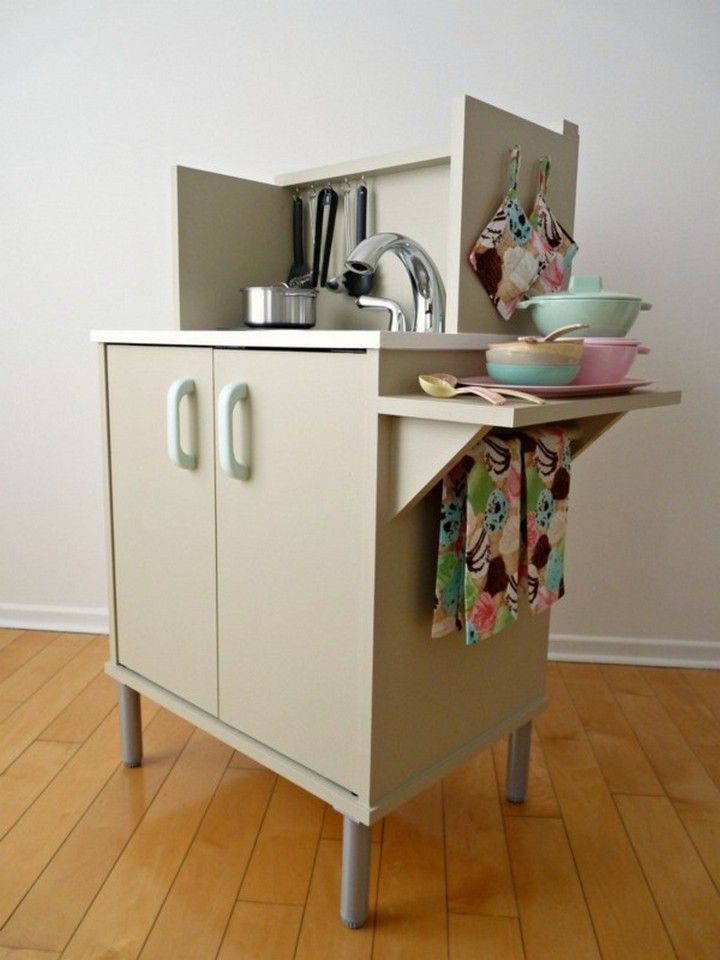 Play kitchens are a great way to keep your children busy while they are having fun. As parents, you must provide them with the right toys that appeal to their taste, especially when choosing the right play kitchen. This DIY play kitchen idea consists of a microwave stand designed to mimic the look of a real kitchen. The cupboards and drawers have been made using simple materials like cardboard and slates; this creates an appealing effect. This kind of play kitchen might not be complicated, but it sure looks cute enough for your kids.
DIY Miniature Cardboard Kitchen
This DIY Miniature Cardboard Kitchen is perfect for toddlers who can't wait to start cooking. This cardboard play kitchen idea is a great way to recycle old boxes and make them fun for kids. All you need is a wooden box, paint, and some cardboard. The video shows you step-by-step how to make this cute little kitchen. It's also very affordable, easy to build, and you don't need a lot of tools! You can use any small-sized box by cutting off an appropriate size from each side of the box. Then you will glue or tape it into place. It's that easy!
Modern DIY Miniature Play Kitchen
Your kids need a fun, safe play kitchen for all their little dollies and other small toys. Make this modern miniature play kitchen to suit any doll or small toy. Here's a completely safe and modern miniature play kitchen for your toddler. It consists of cardboard and other household waste materials so they can be easily made at home. This is a fun activity to keep them busy while you get some household chores done. If you like the color and design, feel free to change it as much as you want.
DIY Kids Cooktop
See how to make a fun, safe kitchen for your child. In this video, the creator shows you how to make a miniature play kitchen using cardboard. The shades and sounds add to the authenticity of this project so that kids get plenty of playtime out of it. It's a great play kitchen for kids to make pretend cooking practice without worrying about the safety of your children. With this toy, you can allow your child to experiment with real-life cooking steps without the risk of burning or cutting themselves. It is so easy to assemble and clean.
DIY Kitchen Idea From Entertainment Center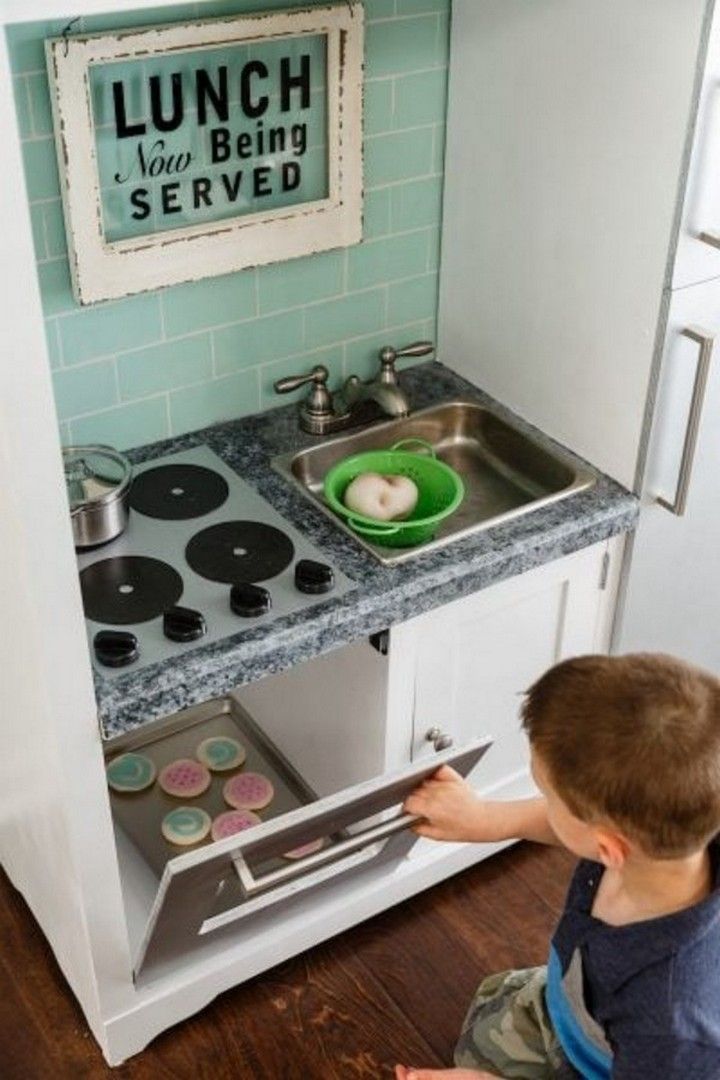 Finding the best materials for a play kitchen toy can be challenging: wood or plastic? Paint or stickers? Sometimes you can find the perfect piece of furniture blown out at a yard sale, but often you're left with a lot of do-it-yourself projects. This DIY Kitchen Idea From Entertainment Center is such a cool idea! It's full of details and teaches kids much about the real world. This DIY play kitchen idea was made by taking apart an entertainment center, repurposing it, and adding some simple touches to make it just like a real faucet.
DIY Play Kitchen For Kids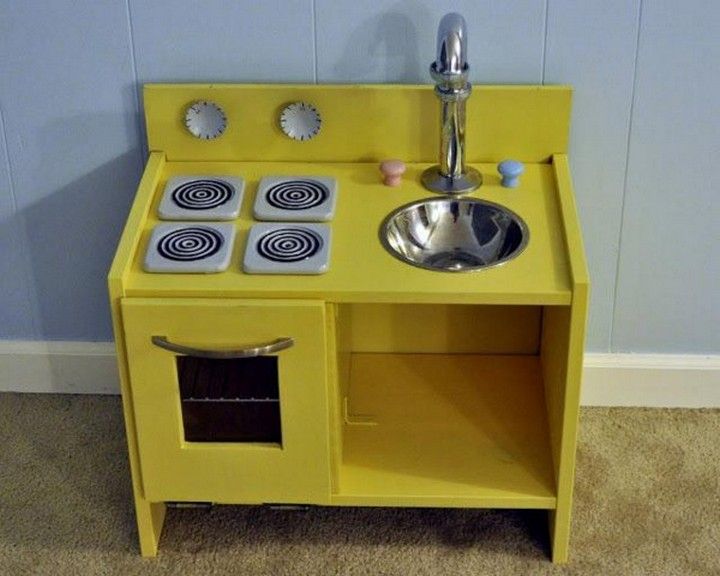 There is no doubt that kids love to immerse themselves in their world of fantasies. It would be more relaxing for you if your child could do some imaginary play without disturbing the whole process in the house. Your child may find these ideas helpful and will make him feel happy while playing alone or with you. Making your DIY Play Kitchen For Kids can be a great and fun bonding experience, not to mention that the resulting construction toy is cool.
DIY Play Kitchen In A Box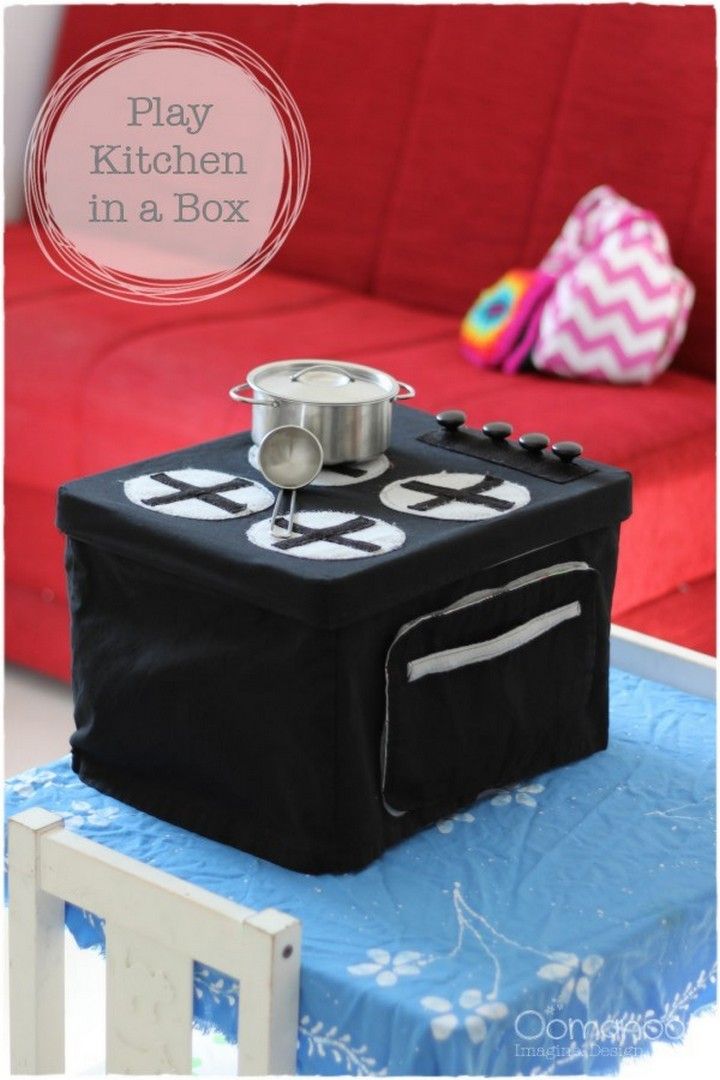 This DIY play kitchen in a box is perfect for a trip or for taking it along whenever you move from one place to another. This play kitchen can be constructed with cheap materials that can easily be found at home. The best part is that it will not take too many hours to make; therefore, it is the perfect project for those who want to spend time with their kids but don't have the luxury of doing so. All you need to do is find some suitable card boxes, pots, pans, and other kitchen accessories, then have your kid create a simple wooden box with an opening on the front that can fit their head through, and then place all their toys inside.
Play Kitchen DIY Woodworking Plan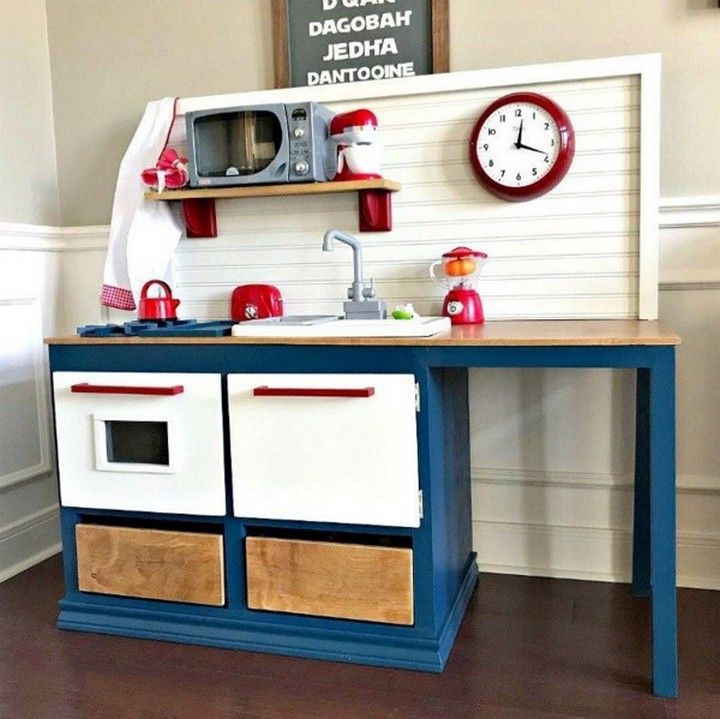 Show your children how to use their imagination and create fun ways to play. This kid's play kitchen is perfect for quiet time and will have your kids playing all day long. This play kitchen is a great project for any woodworker. The best part is that you don't need a lot of tools to build it, and there are plenty of options for customization. You can even create a matching sink or dishwasher! Take your time and follow the simple instructions in this tutorial. You'll be proud of yourself when it's all finished,