as As a student or working lady, you always look for functional and stylish bags to help you through the day. So, check out DIY Backpack Ideas, a list full of do-it-yourself backpack ideas that will make you the envy of your friends. These are easy to make, from beginner to advanced, regardless of your sewing level. Choose the one that speaks to you, and start crafting!
A backpack is one of the most versatile and essential items for any student. It can carry books, laptops, binders, pencils, and everything else needed for class. The thing is, backpacks are pretty expensive. Whether you have a specific use in mind or want to make something special and unique, the DIY backpack is a great way to take your old bag and turn it into something new. The best part? There are many possibilities and ways you could customize this project. With that in mind, here are 23 DIY backpack ideas.
DIY Backpack Patterns

Backpacks are one of the most versatile and valuable items in the home. A backpack can be used as a game bag, store groceries, or a hiking pack. These DIY Backpack Ideas will save you the hassle of going to the store and spending money on a backpack. You can make your own sturdy yet stylish backpack from all materials, including denim, plastic bottles, or even canvas! You can customize them in many ways to fit your style, personality, and needs. There's nothing like having a fully personalized set of backpacks for the kids!
Benefits Of Making DIY Backpacks Rather Than Buying Them
DIY backpack ideas are a great way to take charge of your own fashion. Here are some of the benefits:
 You can customize your backpack to match your style and personality.
 You can save money by making your own backpack.
 DIY projects can be fun with family and friends, especially if you're working on them together!
Zipper Backpack With Pocket
A zipper backpack is a perfect choice for a fun weekend getaway. Make it yourself, save money, and customize it your own way. The ideal gift for backpack or purse lovers. You can make an inexpensive backpack just as good as store-bought ones with a few simple materials. Change the look of your backpack by choosing different fabrics; add fabric trims to the top of each side flap or make it a messenger bag! Whether hitting the trails or heading to a music festival, it easily packs down and can be stowed away in a second.
Old Jeans Recycle Into Backpack
You can make a backpack from old jeans. This DIY backpack is surprisingly easy to make and gives you plenty of room to pack all your gear for your adventure. Get inspired to create your own handmade pack by checking out these creative ways to upcycle old jeans! Old jeans are a great way to create something new for yourself. You can make a vest out of them, pants, or even a purse if you want. This tutorial shows you how to recycle your old jeans into a simple backpack. You only need scissors and some fishing line (or any other string). Enjoy!
Custom Backpacks Using A Cricut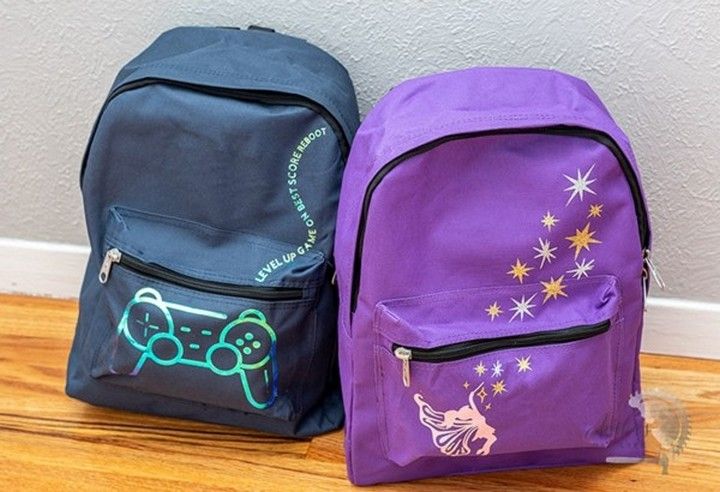 This DIY backpack is an excellent gift for any occasion. It's fun to make, and even more so when you see how happy it makes someone else! We'll show you how easy it is to make fantastic custom backpacks using your Cricut machine. This tutorial demonstrates using a Cricut Maker to create your custom backpack. The design includes several icons and uses clear vinyl to be reflective, even in the dark.
DIY Polka Dot Backpack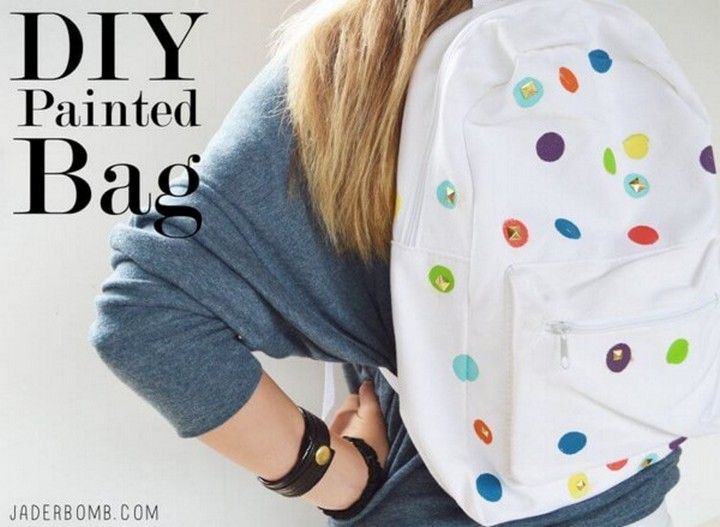 Polka dots are always fun and simple, but with watercolor paper, they can also be elegant. Just fold your paper in half, cut along lines, and you have the perfect pattern for a backpack. Use waterproof fabric paint so it doesn't spill on your clothes. Then, use a ruler to ensure the lines are even around. This is one of the quirky and creative ways to make a backpack. It will draw the eye of your fellow students and friends because of its shapes, colors, and designs. The best part is; this is cost-effective and can easily be done at home.
Polka dots are always fun and simple, but with watercolor paper, they can also be elegant. Just fold your paper in half, cut along lines, and you have the perfect pattern for a backpack. Make sure to use waterproof fabric paint, so it doesn't spill on your clothes. Then, use a ruler to ensure the lines are even around. This is one of the quirky and creative ways to make a backpack. It will draw the eye of your fellow students and friends because of its shapes, colors, and designs. The best part is; this is cost-effective and can easily be done at home.
DIY Denim Backpack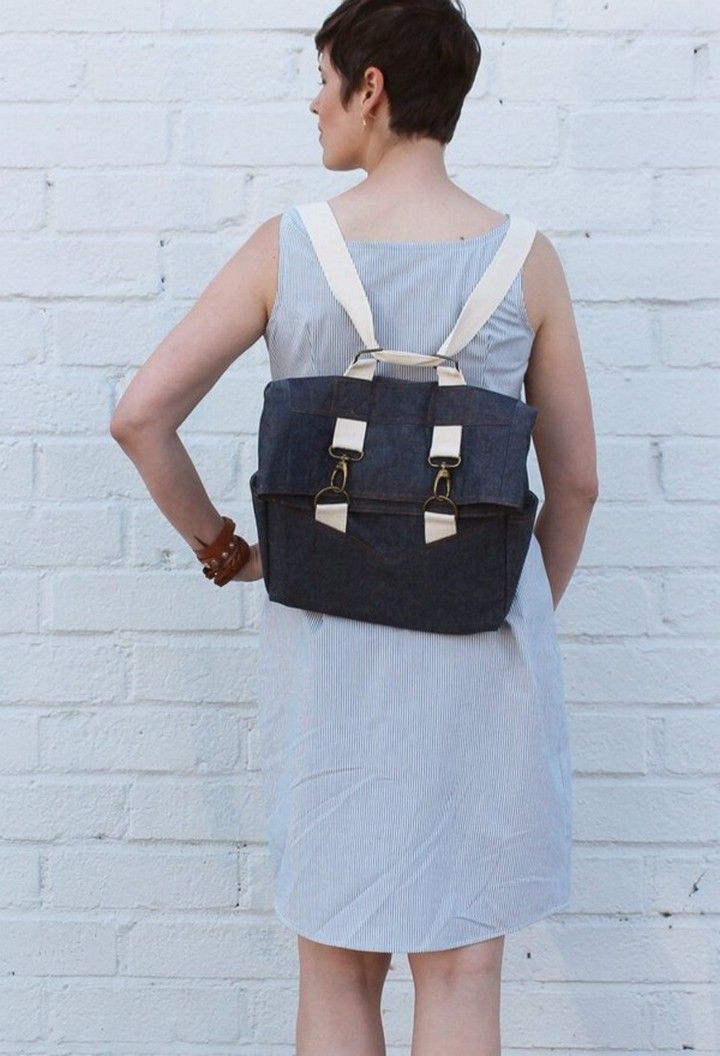 Say goodbye to boring backpacks and hello to this DIY Denim Backpack that is a fashion statement. Crafted with two interior pockets, a side pocket, and a zipper at the top, it is perfect for bringing to school or going out with friends. Just make sure you wear it with style! The designer initially made this DIY Denim Backpack a gift for her friends. The bag features two interior pockets, a side pocket, and a zipper at the top. You can personalize it with your favorite fonts, patches, or embroidery to make the perfect back-to-school backpack for anyone you know who is going to school for the first time!
DIY Mini Backpack
If you are looking for a mini backpack that is durable and stylish, this DIY mini backpack is the right choice. Made of leather and cotton, it is very simple; you need a few basic materials available at local stores. It's easy to follow the video tutorial and have fun making this mini backpack from scratch. This DIY mini backpack is the best way to carry extra things on your travels. It's so simple to make, and you can use any fabric; make sure it's durable! The video explains the process well so you can easily make one yourself.
DIY Toddler Backpack
Make this easy backpack using the template provided. Make a toddler backpack that is truly unique and will be remembered by everyone. This simple DIY backpack pattern is easier to make than it looks and can be made in just about any size, making it an excellent craft for families with young kids interested in sewing. If you're looking for gift ideas for boys or girls, consider making them a backpack they can use year after year!
How To Make A Backpack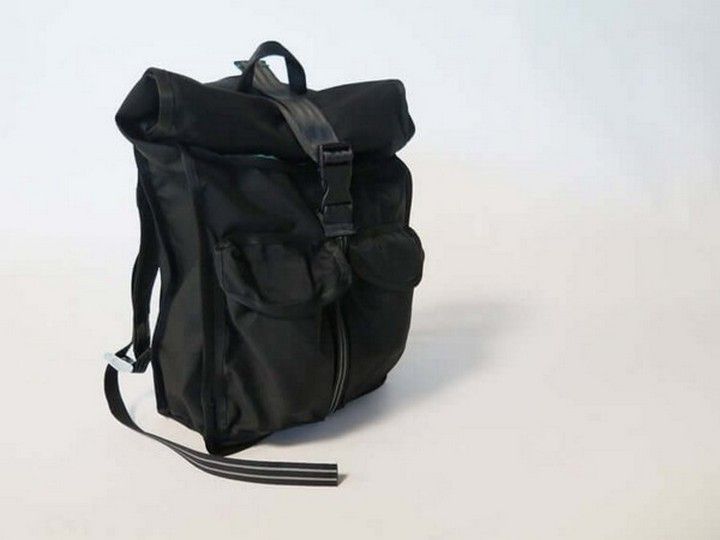 DIY Backpack is a beautiful and creative way to design your bag. You can create these bags with your own design and material; this DIY is suitable for everyone. It's always early enough to let kids get involved with crafting and sewing. This craft requires you to make a backpack, the vision of your design, choose different materials, and sew them into the trailblazing backpack you always wanted! This DIY backpack is an excellent opportunity for young people to learn something new while having fun with friends or family.
DIY Teddy Bear Backpack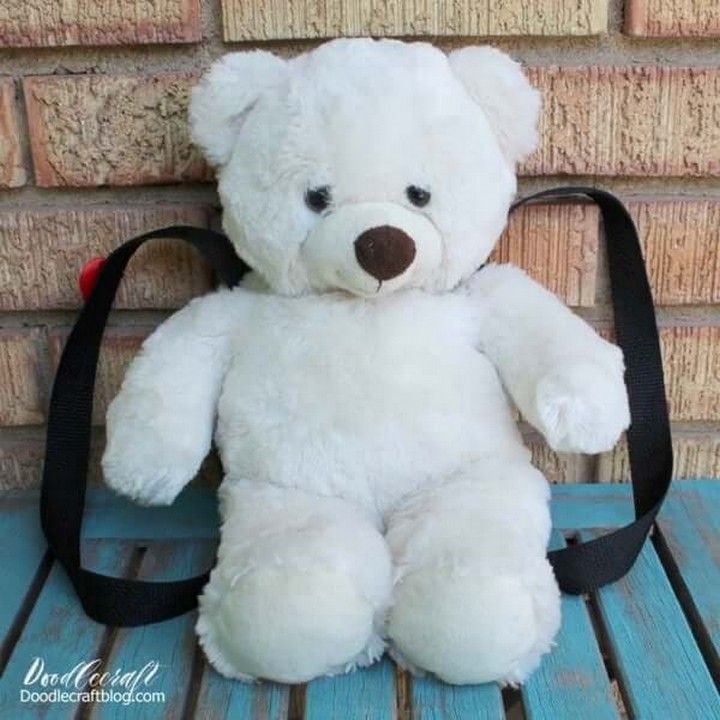 Backpacks are not just for kids. Adults can also use them and make a statement out of them. This DIY Teddy Bear Backpack is the perfect project to ensure you get noticed wherever you go. It's easy to make, comfy, and adorable! A creative way to decorate any kid's backpack. Use this tutorial to make this DIY Teddy Bear Backpack a fun and practical gift for kids. The design is very easy and can be done by following a few simple steps. Make your kids happy by turning a teddy bear into a backpack that carries everything they need!
DIY 3-Pocket Backpack
Have fun with this 3 pocket backpack, perfect for the summer or camping. This tutorial is so easy that you can make it in about 30 minutes! This can be made in smaller or bigger sizes, depending on what you want! All you need to do is measure your pieces correctly, cut & sew (don't forget to use a sewing machine!), choose a fabric that matches your style, then assemble the bag! It's quick and easy to make, but the sewing experience for other projects will help you with this step-by-step tutorial. It's a great way to recycle your old jeans or any other fabric scraps lying around.
How To Make A Pretty Backpack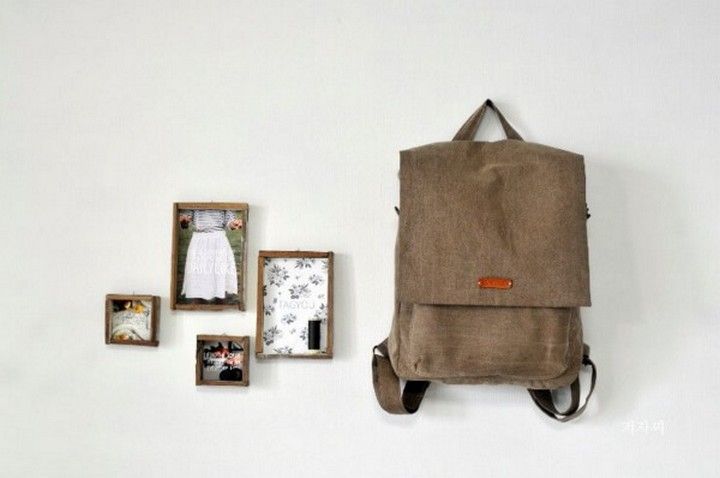 A DIY backpack is a fun project. You can also carry your everyday things, like books and personal belongings. The DIY backpack can make your favorite clothes look fresh and cool, and the bag is an excellent way to express your sense of fashion. It's time to swap out your old backpack and make it into something that reflects who you are! It is a fun project; you can personalize it with your favorite fabric and colors. It's perfect for school or work, day hikes, weekend getaways, shopping, etc.
DIY Mini Backpack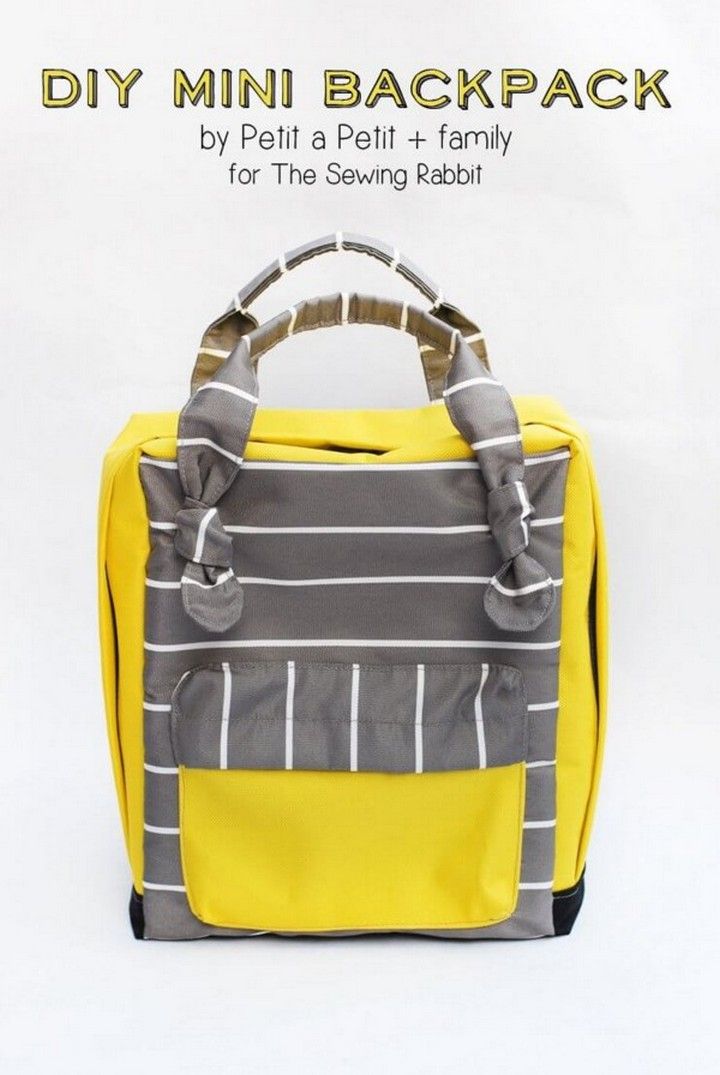 The DIY Backpack mini is perfect for children and teens who want a backpack that can carry their books, gym clothes, swimsuits, and maybe even a laptop. It's made from a boxy shape like the other backpacks but with extra-wide straps that make it comfortable to wear around the shoulders and hips. The cover is sewn together with four seams and has a slightly lower bulk of fabric to make it easier to sew. You can add a personal touch to it with the nylon fabric, which works as a water-resistant and durable fabric. This backpack makes traveling safe and fun.
Hand Stitched Leather Backpack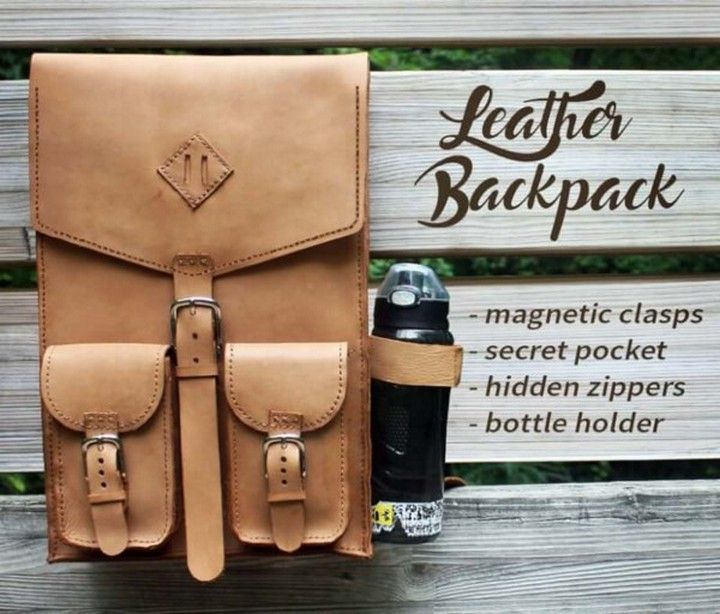 This backpack is the perfect size for all of your everyday needs, whether you're hitting the streets or hitting the books. It's made from durable vegetable-tanned leather, which holds up better than traditional store-bought leather bags. The backpack can fit all essentials, including your laptop and notebooks. This is a beautiful, high-quality bag that will last for years to come. It is designed for students and can carry books and supplies.
How To Make A Super Mario Backpack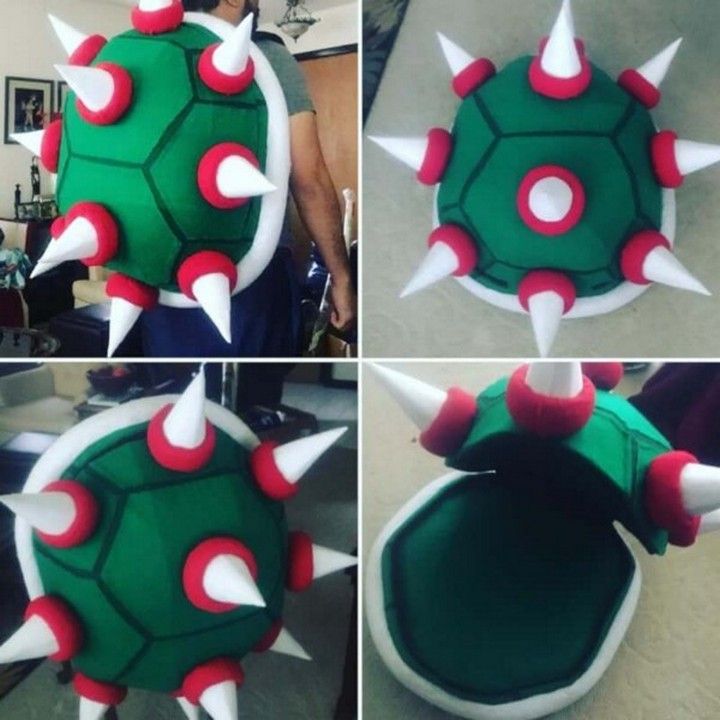 Backpacks are essential for school, so make your own. This DIY backpack is easy to customize and personalize just for you. It takes work to find a stylish and practical backpack. You can add your personal touch to the bag when making your own Mario backpack. This project requires some sewing skills, but anyone can learn how to make a simple design. It will take some time, but it's worth it because you can use this backpack for years.
How To Make A Backpack
Learn how to safely, easily, and inexpensively make a backpack for you or your students. This project can be completed in about 30 minutes if you are handy with a sewing machine or needle and thread, but you might need to spend additional time cutting out the material if you are making it by hand. This backpack is handy and adaptable. You can use it as a school bag or for any other purposes. It has enough compartments for all your things. You can also personalize it by adding your favorite material, some design, or just paint, whichever suits you.
DIY Foldover Top Backpack
Are you tired of constantly buying backpacks that just don't fit? Do you like to do things yourself but know it can be tricky? Add some fun to the usual backpack by creating your own! This pattern is super easy to use and will provide you with a stylish and unique bag that everyone will want. This backpack is functional and modern, with a myriad of material options that you can use for the outer and inner layers. The perfect size to carry your purse inside, it's sure to become one of your favorite bags!
How To Sew Backpack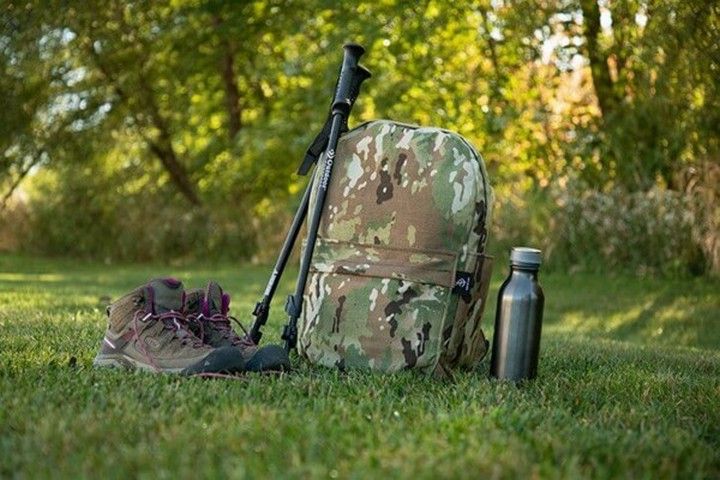 This is a very simple project and also easy to use. The idea behind this DIY backpack is that it can be used as a travel or daypack, or to make it clear, if you are looking for something smaller, this is probably not the suitable tutorial for you. The great thing about making your backpack is choosing what fabric or color you prefer. Also, it allows you to experiment with different materials and add details that suit you better than an original real-life version bought from a store.
DIY Drawstring Backpack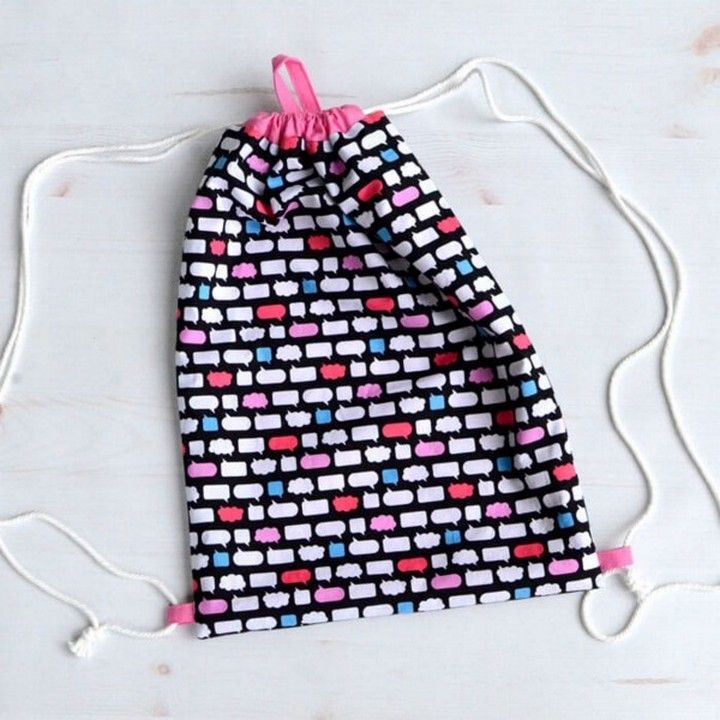 Now you can make your own personalized drawstring backpack! This easy DIY craft project is great for beginners and looks great regardless of skill level. It's quick and inexpensive, and the materials required can be purchased at any fabric/craft store. In addition to being durable, this handmade drawstring backpack makes an adorable gift for friends - or even yourself! This fun and easy-to-make drawstring backpack is perfect for all ages. It's functional and fashionable and makes a great gift!
How To Sew A Backpack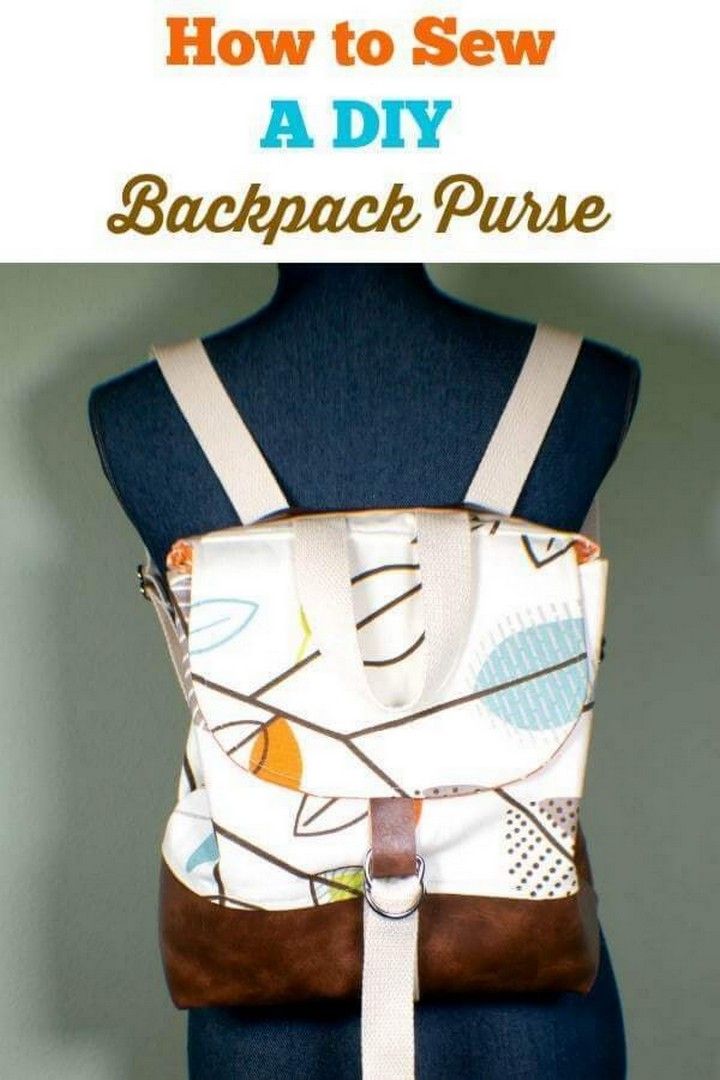 Looking to make your own backpack purse? This how-to-sew backpack is perfect for you. Make it out of canvas and faux leather, or use a softer material. Learn how to sew a backpack purse with this free sewing tutorial. The pattern and instructions help sew a large backpack with added pockets, handles, and straps. Everything is covered, from choosing the best fabric and measuring it correctly to adding and stitching the design. This is a quick and easy DIY backpack project you can make in just a few hours. It's also inexpensive to make, so you can create something unique that won't break your wallet.
You can also see: DIY Wallet Ideas
DIY Backpack
Create stylish and unique bags with this DIY backpack tutorial. Create a personalized and unique backpack with the DIY Backpack tutorial. This easy-to-follow guide shows you how to create a backpack using synthetic leather fabric. The pattern and all templates are provided, including a video on construction. The backpack has a sturdy design that can be used as a traveling or weekend bag. This is the perfect project for weekend sewing or craft nights - you can make a few of these backpacks in no time, stash them away for gifts or use them as a class activity.
Best Design Backpack DIY
Every girl needs an awesome backpack she can use for school and store her stuff. This DIY Backpack is super easy to make and will last a long time. It is very easy and fast to make. You need a fabric, two zippers, and wall fiber tape for the bottom. Just use this tutorial and learn how to make your own backpack. This is the perfect way to express your personality and style by creating your own personalized backpack with this easy-to-use template.
DIY Cardboard Backpack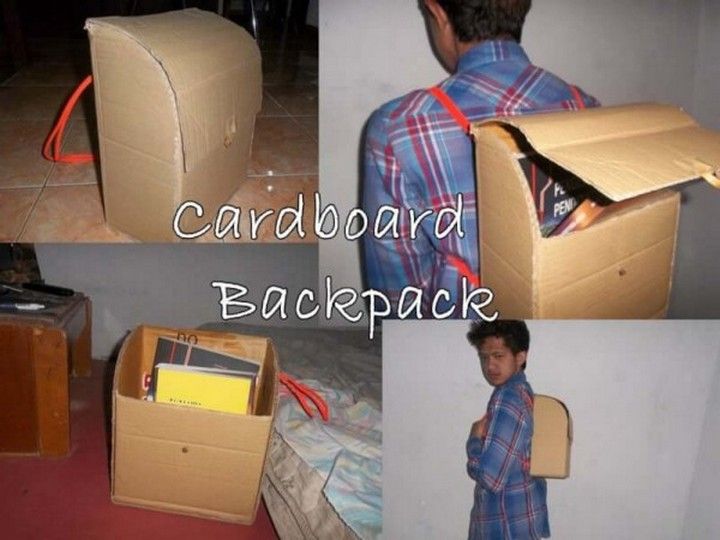 In a pinch, you can make your own backpacks. You can also use them as unique totes or school bags. This DIY backpack is cute and sturdy for the kids to use for school or as a fun weekend bag. You can make this from cardboard boxes and newspaper, with just a few additional supplies like glue, scissors, and ribbon. Look for sturdy materials that will last through lots of wear and tear. These sturdy, functional tote bags are inexpensive and easy to make with little skill required. It's an excellent project for kids learning to sew and make arts and crafts projects.