If you're looking for a way to smoke meat entirely off the grid without electricity, then you'll want to make one of these DIY Smokehouse Plans. Smokehouses have been used for centuries. Although they were initially used for preservation rather than flavor, the addition of smoking brought forth the delicious flavors we know and love today. The following 25 DIY Smokehouse Plans will help you turn your backyard into a smokehouse and allow you to create your smoked meats at home.
Building your own smokehouse is an easy and worthwhile project if you've got the space for it. It's a great way to be in control over how your meat is cooked, how much smoke it absorbs, and the flavor profile of your final product. The most straightforward designs are the simplest to assemble, so we've collected 25 DIY Smokehouse Plans that range from super-basic to intermediate—perfect for anyone who wants to get into smoking their meat.
Ready to build a smokehouse? These 25 DIY smokehouse plans have all the information you need to get started— most can be completed in less than an hour!
Benefits of DIY Smokehouse Plans
The DIY smokehouse plans are great if you want to save money on buying a commercial smoker. It is also helpful if you want to make your homemade jerky, sausage, bacon and other products.
There are many benefits of using the DIY smokehouse plans:
1) You can save money by building your smoker instead of buying one from the store;
2) You have more control over what goes into your food;
3) It is easier than you may think;
4) You will have fun doing it;
5) It allows you to try something new;
6) The finished product will taste great!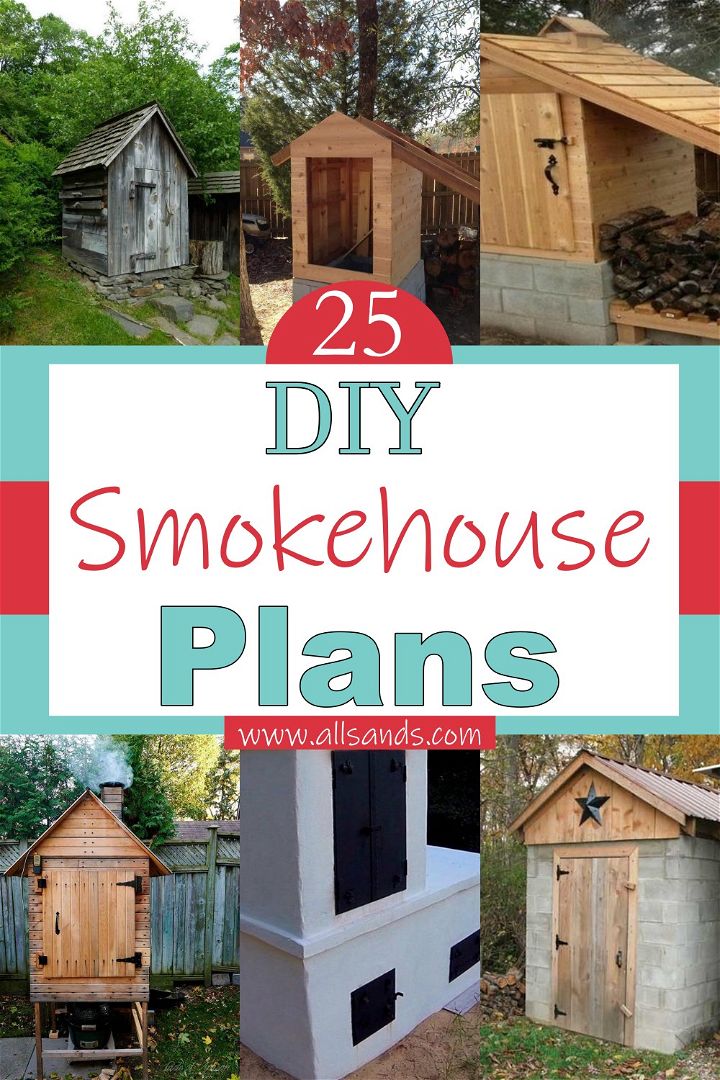 1. How To Build A Smokehouse
Smoking food is a great way to preserve it and make it taste delicious at the same time. A smokehouse can make this process much easier and safer than other methods. This video shows you how to build your smokehouse, complete with detailed plans and step-by-step instructions on building the chimney and racks. This is an excellent addition for homesteaders looking to preserve meat, fish and fowl inexpensively. It creates a dry environment where food will last much longer than when frozen or canned.
2. DIY Smokehouse Plans Under $100
Are you interested in doing your DIY, where you don't have to pay a designer to create a smokehouse? If so, then this video tutorial is for you. This DIY smokehouse plan is designed to be easy to follow and assemble, perfect for anyone who wants to make smoked meats, fish and more! Save thousands of dollars and build your smoker today. This design is quick and easy to build, and it'll help you enjoy a fantastic array of smoked foods with minimal effort.
3. DIY Smokehouse
This woodworking plan is for a DIY Smokehouse, which will help you smoke and preserve your food. The plan is easy to follow, with all the step-by-step instructions that allow you to build this project outdoors or in your garage. If you like cooking smoked food, this DIY project will significantly add to your existing skills collection. It does not require much work and can be done in a couple of days. The smokehouse uses basic materials readily available at most home centers, and it's easy to adapt the design to whatever size you want.
4. How To Make A Smoker - DIY Smokehouse
Are you a fan of smoked meats? How about building your smoker from scratch? You're lucky because this video will teach you how to make a homemade smokehouse. Follow along as the man in the video tells you about the materials needed and how to build your smoker. It only gets a little easier than this! Using this simple design, you can create your smoker for smoking any food such as bacon, fish or meat. The best part about using an indoor smoker is eating your smoked food sooner than expected!
5. DIY Smokehouse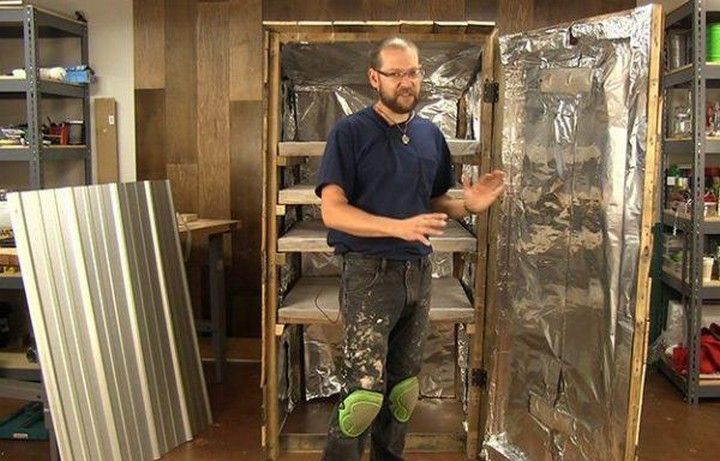 High-temperature wood-burning stoves are a great way to add smoke flavor to your meats in the comfort of your backyard. If you like to smoke your meat at home, this DIY Smokehouse Plan is a great project to work on. You will learn how to make your smoker using repurposed wood pallets and corrugated tin. This project includes instructions on building the smoker and maintaining it and instructions for smoking various foods.
6. DIY Smokehouse Tutorial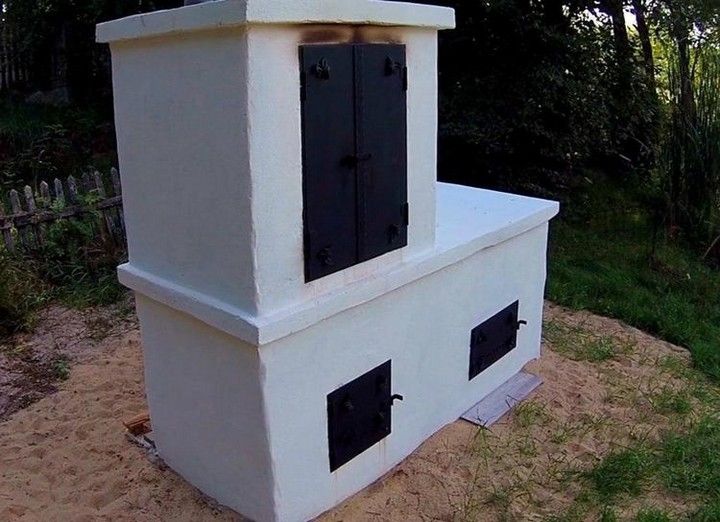 This DIY smokehouse is perfect if you want to smoke meat, vegetables, fish and cheese at home. This tutorial will teach you how to build a two-sided smoking box. One side for cold smoking and one for hot smoking. Step-by-step instructions that anyone can follow. All you need are essential tools, items in most hardware stores, and four or five days of free time. You can build this unit in your backyard or garage and continue to use it throughout the year (unless it rains).
7. Do It Yourself Smokehouse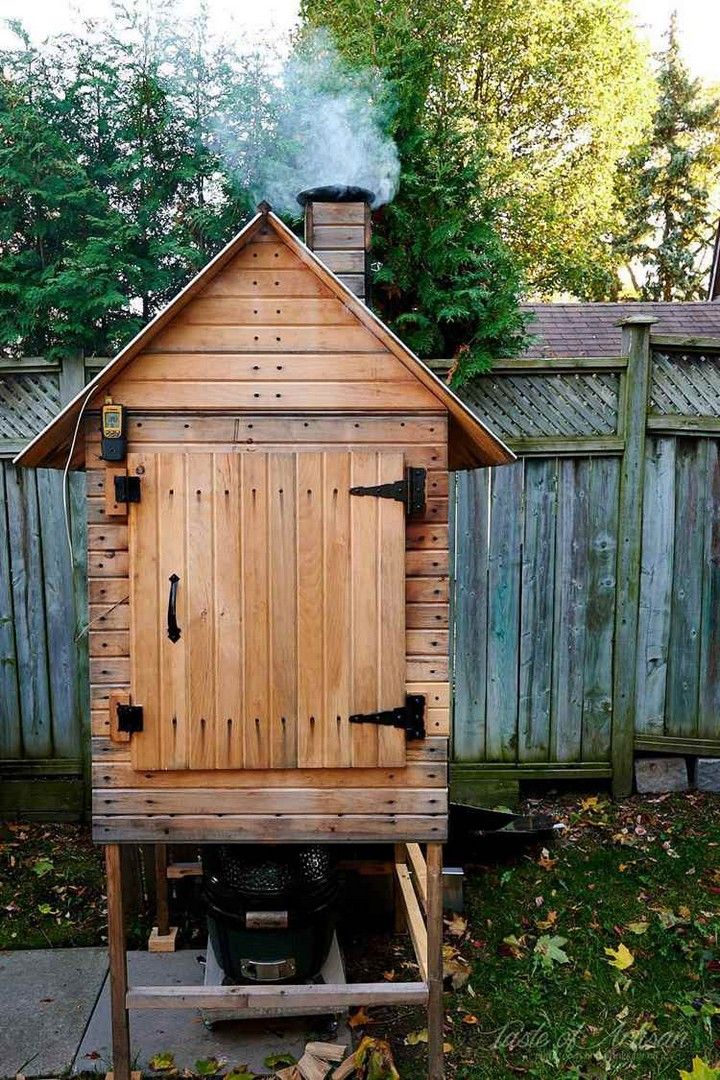 A DIY smokehouse that provides all the benefits of an outdoor smoker without needing an expensive pit or a large woodworking shop. This one is easy, affordable, quick and looks great. The materials are inexpensive and readily available at any home improvement center. This is an excellent project for those who like to work on projects around the house. You can learn how to do this simple project in your backyard or patio. This is also a great way to get your meat-smoking capabilities up and running without buying expensive equipment immediately.
8. How To Build A Smokehouse Out Of Cement Blocks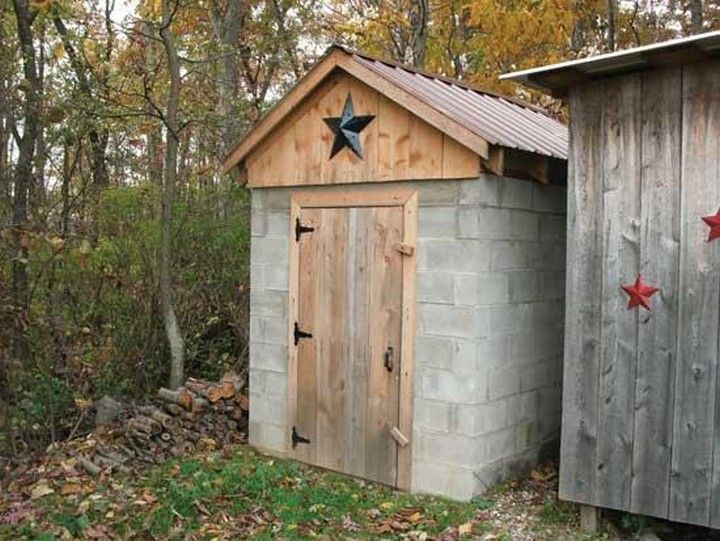 If you are interested in constructing your smokers at home, this guide will help you make the best possible from common materials such as concrete blocks and sand. Building a smokehouse out of cement blocks is a project you can tackle independently, even if you're a beginner. A basic smokehouse follows the same concept as an outdoor oven, only more minor and portable – perfect for the backyard or patio. This style of smoker only requires minimal time and effort to build.
9. DIY Outdoor Smokehouse
This is the smoker if you want to smoke meat for a living or as a hobby. With a few pieces of wood and some ordinary materials, you can make your smoker in a weekend that will turn out great smoked food every time. This handy structure is made from common materials and can quickly move around. It requires little maintenance and allows you to quickly produce delicious smoked foods - only wood chunks are needed!
10. How To Build A Smokehouse
This is an excellent start to making a small smokehouse or smoking device. Build this wall of bricks and blocks. You'll love how it turned out, and you can use every excuse to fire it up and smoke something. The components are easy to build and use readily available materials. This smokehouse will work well if you make small batches of hardwood smoked sausages. Or if you like to smoke other foods at home for personal consumption or important occasions, such as Easter dinner, Thanksgiving dinner or perhaps a birthday party.
11. DIY Smokehouse Construction Plan
This DIY Smokehouse Construction Plan video will show you how to build an excellent wooden smoking smokehouse. It s built with a stone furnace and beautiful wood walls. You know this will be a fantastic weekend project when all you need is a circular saw, nails, a hammer and other materials. Its simple construction will keep you and your family entertained while allowing you to customize your smoke shed design. Let's get started!
12. DIY Mini Smokehouse From Gas Cylinder
https://youtu.be/tXA6Ic7btc8
Do you need a smokehouse that is cheap and easy to make? Well, there's no better solution than this mini smokehouse. It's made with a gas cylinder that can find in any hardware store. DIY mini smokehouse from a gas cylinder is easy to make and will cost you a fraction of the price compared to buying one in the market. The mini smokehouse helps eliminate smoke and burning odor and provides a good end product. Get ready for your next barbecue party or your family dinner.
13. DIY Smokehouse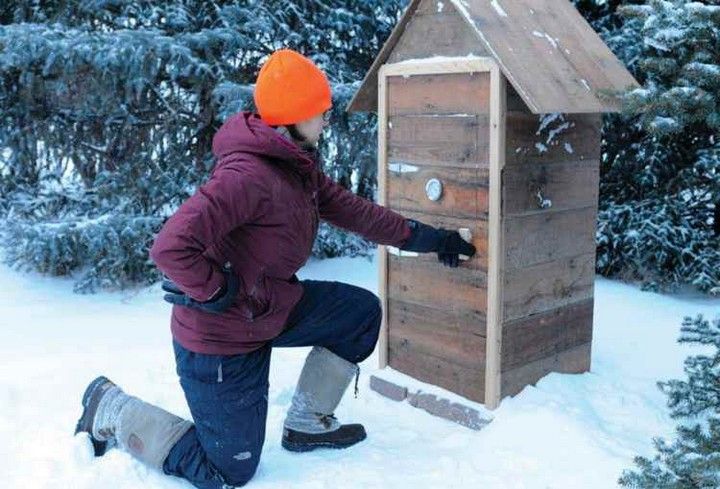 DIY Smokehouse is a guide to building a simple, efficient smokehouse. This DIY Smokehouse Plan is perfect for the home butcher and outdoor enthusiast alike. Constructed of reclaimed materials, this small smokehouse can be built on a weekend with minimal tools and materials. Save lumber scraps from other projects to build frames that serve as a framework for this smokehouse. This small smokehouse is built around a frame of 2x2s. The most expensive parts of the project are screws and hinges, so don't be afraid to get creative with materials.
14. DIY Backyard Smokehouse Plan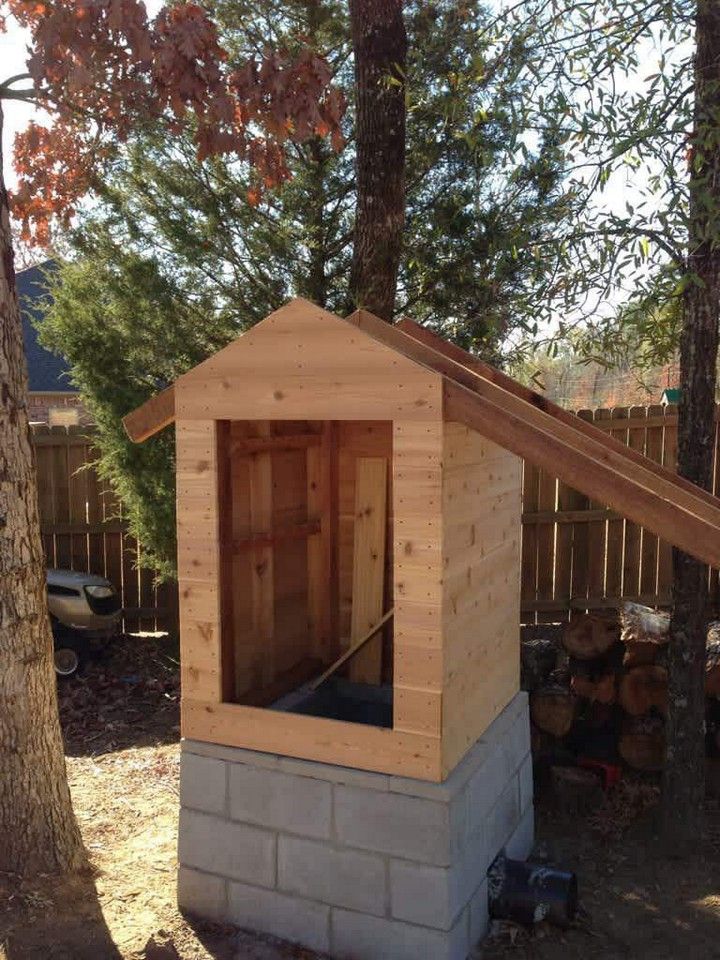 You should have a smokehouse if you love barbecuing and smoking meat. This DIY project will help you to build one in your backyard. Enjoy a delicious homemade smoked meal with your favorite ingredients in this first-class barbecue DIY project. Whether trying to make your delicious bacon, jerky or pastrami, this simple and easy-to-build smokehouse will help you bring your backyard barbecue to the next level. You will have the freshest smoked food ever!
15. DIY Cedar Smokehouse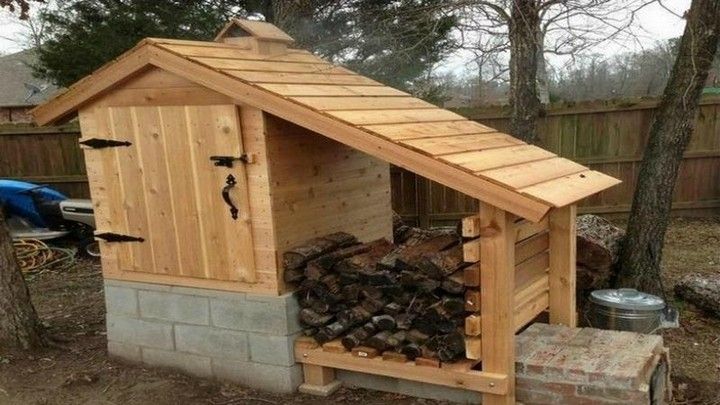 Everybody loves good smoked meat and the smell of it cooking. But smoking your food can be challenging, especially if you need a smoker or space to do it. The DIY Smokehouse can be built using elementary materials and fundamental tools. And it makes your house smell better! The DIY Cedar Smokehouse is a low-tech, easy-to-build smoker using cedar to impart a rich flavor of smoke. It's the perfect way to start smoking your beef, pork, lamb and sausages on a shoestring budget!
16. DIY Smokehouse In A Barrell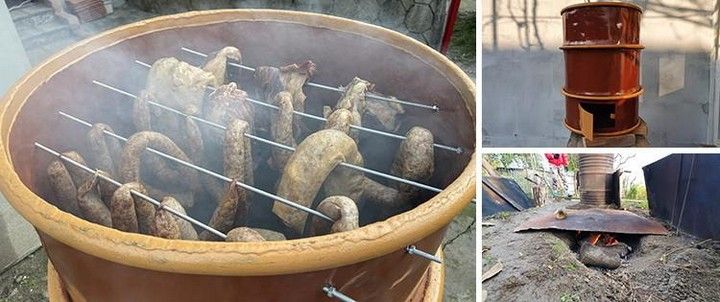 Do you have a passion for smoking and love to eat smoked meat? If you do, then this tutorial is perfect for you. Nowadays, more people are taking up smoking as a hobby. Make your smokehouse to preserve your food. This DIY smokehouse will keep most types of meat fresh for long periods. It's an inexpensive and easy way to create a custom smoking chamber, which helps seal the game's flavor during cold weather when you don't want to fire up the grill. It can be done by either smoking alone or with friends during their free time.
17. DIY Smokehouse Plans
Amaze your family and friends with this DIY Smokehouse Plan. It's affordable, easy to build and will provide you with delicious smoked meats for years to come. The plans include detailed instructions that help you build a smokehouse using recycled materials. This DIY Smokehouse is an excellent project for anyone who wants to try smoking but needs something small to get the taste before committing to a large smoker. It's also great to entertain and impress your friends with smoked meats, fish and other delicious foods!
18. How To Build A Smokehouse
Get your DIY game on by building your very own Smokehouse. Explore the art of smoking and enjoy the rich flavors it brings to your food. This video contains everything you need to get started right away. You can be something other than a barbecue expert or have a lot of cash to build your Smokehouse. Follow the directions carefully, and soon you'll enjoy delicious smoked meats and seafood at home.
19. DIY Southern Style Smokehouse
Are you a meat smoker? Then you will want to build your own DIY Southern Style Smokehouse. This fantastic DIY project can be built by anyone, even if you have never built anything. Follow the step-by-step DIY Smokehouse video plan, and you will have a fantastic smoking chamber where you can smoke all your favorite meats! It will allow you to smoke various foods, from salmon, brisket and sausage to the more traditional hams, bacon and sausages. You'll be able to enjoy your smoked meats with friends and family!
20. How To Build A Wooden Smokehouse
Build a wood-fired smokehouse with this simple DIY Smokehouse Plan. Learn how to build a smokehouse using simple tools, standard lumber and materials. Make smoked meats and other recipes in your very own outdoor smokehouse. This video tutorial covers vital techniques for building a wooden smokehouse, including where to source materials, frame and assemble the structure, build a fire pit, and care for your grill. The dimensions are customizable, so you can alter them to suit your needs and space.
21. How To Build A Smokehouse - Tips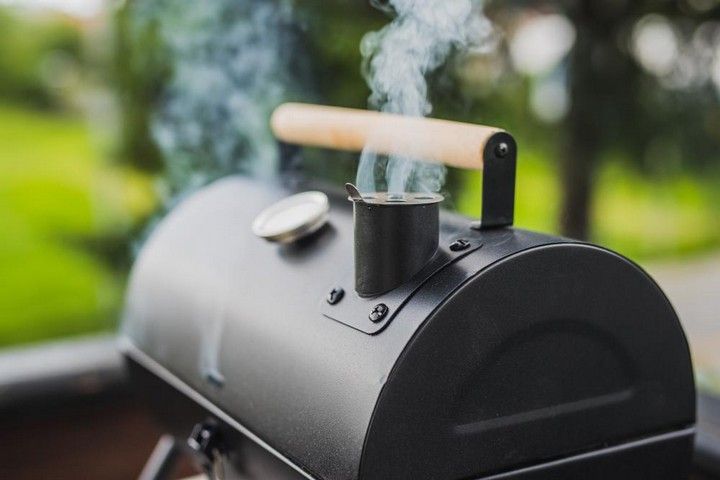 A smokehouse is a small building where meat products, such as bacon and ham, are cured with dry heat and smoke. Smokehouses can age meat and make smoked meat that doesn't need refrigeration until it is ready to be consumed. Here is a step by step instructions on how to build a DIY smokehouse. All it takes is simple materials, like cedar wood, black stove pipe and concrete blocks. You will also need to gather bolts, door hinges and knobs, bolt locks and other essential supplies that are easy to find at any hardware store.
22. Build A Backyard Smokehouse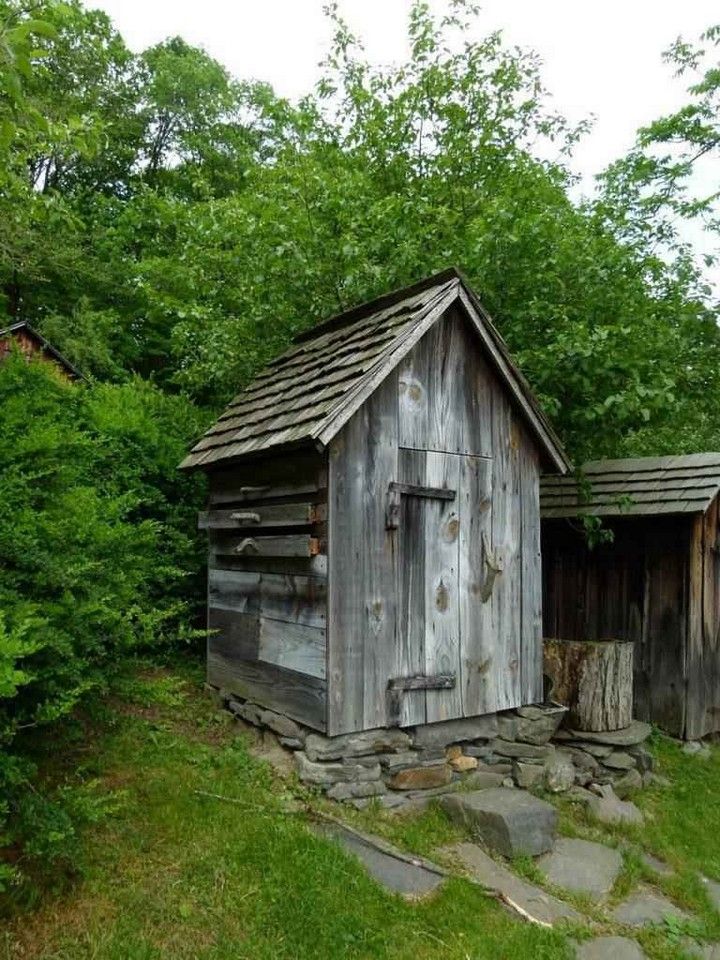 Build your own backyard smokehouse to create delicious smoked meats that are healthier and easier to store, prepare and cook than traditional methods. With this guide and all of the tips, tricks and recipes included, you'll enjoy building a custom smokehouse for yourself for years to come. You'll love this easy-to-build DIY backyard smokehouse plan. It's an excellent way to control your smoker's temperature and smoke levels, perfect for smoking meats or fish.
23. How To Build A Smokehouse
If you are looking for a way to preserve your meats and fish, this smokehouse is the perfect tool. It allows you to safely smoke your food quickly, efficiently and above all. Moreover, it's easy to build even if you're inexperienced in DIY projects like this. This video explains how to build a smokehouse and the materials that are required for it. You can use this video as a guide, but you should also modify it according to your needs and preferences. This is an excellent DIY project for those who love outdoor projects and enjoy having something like this in their backyard or garden because it only looks like they have a restaurant at home!
24. DIY Pallet Wood Smokehouse
Have you ever wondered what it would be like to own your smoker? Now, you can do just that with this DIY Pallet Wood Smokehouse. Built from old pallets and metal pipe, this smokehouse is convenient, cost-effective and easy to use! On top of that, it's great for grilling or smoking meat, fish and even cheeses by warming them up in the top section of your new smokehouse. It's guaranteed to impress your friends and family with its straightforward style and helpful design.
25. Hot & Cold Smoker Build
Do you love smoking meat? Are you tired of paying too much for delicious hot and cold smoked meats? Then this video is for you! Watch to learn how to build your smoker! This DIY smoking plan makes a great little smoker for your backyard. You'll learn how to build a cold and hot smoker with step-by-step instructions, all while keeping the costs down. And at the end of this course, you will have the knowledge and skills to build a custom smoking plan that suits your needs perfectly!