Wall hangings are an easy way to add a pop of color and interest to a room. They're also great for using old clothes, unneeded items, or fabric scraps from other projects. Hanging decor on the walls is something anyone can do, from the crafty to the non-crafty. It's also great to bring a room together—once you get past the initial process of deciding what to hang where! We've rounded up 20 easy and cheap ideas (with many being free!). From DIY signs and wreaths to fabric bunting and frames, there's sure to be something that will inspire you to get your creative juices flowing so you can start making ornaments for your home.
Wall hangings are some of the most straightforward and versatile DIY projects. You can make them as simple or ornate as you like, and they're an easy way to add a little character to your space. Plus, they're a great way to use up some of the fabric you have lying around. Wall hangings are a great way to decorate any room, and they're even better when you make them yourself! Mediums like fabric, paper, and even plastic can be transformed into beautiful wall art that brings personality to your space. Here are 20 DIY wall-hanging ideas for all different kinds of people. Keep scrolling to find out how to make some stunning home decor!
Here are 20 DIY wall-hanging ideas that will bring personality to your space and inspire great decorating.
Benefits Of DIY Wall Hanging Ideas
Cost-effective: DIY wall hangings are often cheaper than ready-made decor from a store.
Personalization: Creating your wall hanging allows you to personalize it to match your taste and style.
Creativity: DIY projects allow you to be creative and experiment with different designs and materials.
Sense of accomplishment: Completing a DIY project can give you a sense of pride and satisfaction.
Flexibility: With DIY wall hanging ideas, you can change or update the decor as often as you like.
Customizable: DIY wall hanging ideas can be customized to fit the size and shape of your wall and space.
Eco-friendly: Using natural materials and repurposing old items for wall hanging is an environmentally friendly option.
Fun activity: Doing DIY projects with friends or family can be a fun and bonding experience.
Skill development: Creating DIY wall hangings can help develop skills such as crafting, painting, and sewing.

DIY Rainbow Latch Hook Wall Hanging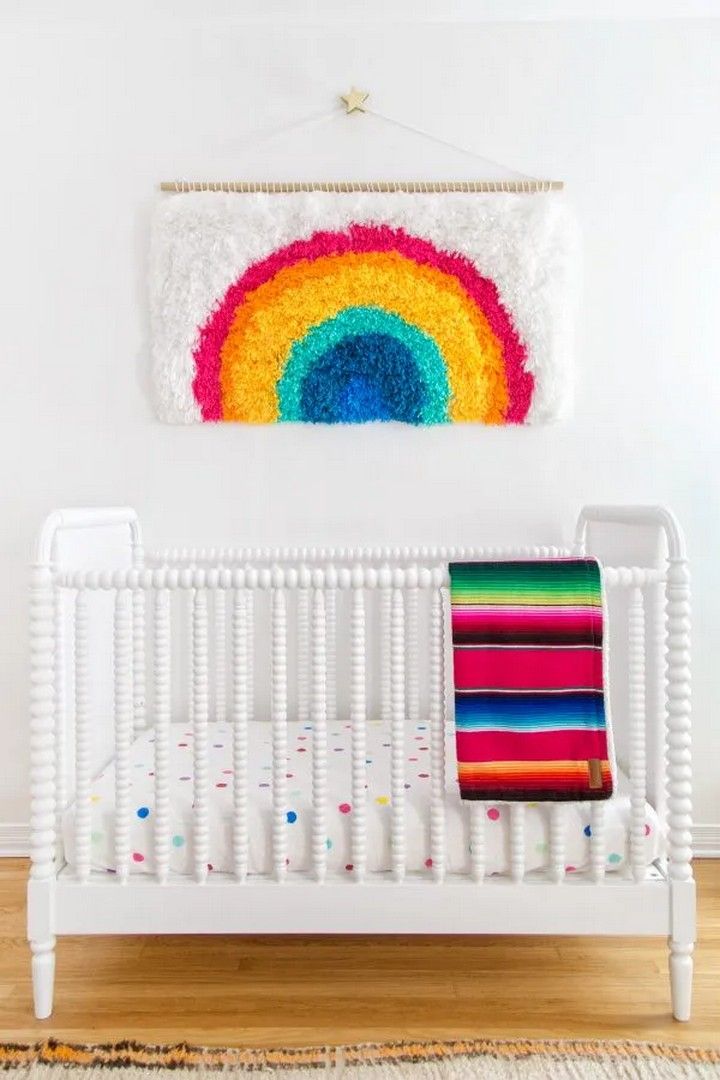 Watch as this fun and relaxing craft project comes together. You'll love the colorful and textural charm of this handmade wall hanging, made with a latch hook tool. This latch hook wall hanging makes the perfect decoration for your bedroom or playroom. It can be customized to match your favorite colors, patterns, or designs. You'll find that this project is relatively easy to make and requires minimal supplies. Add color to the wall with this colorful, DIY Rainbow Latch Hook Wall Hanging. It features an easy-to-follow tutorial so you can create your masterpiece.
DIY Photo Wall Hanging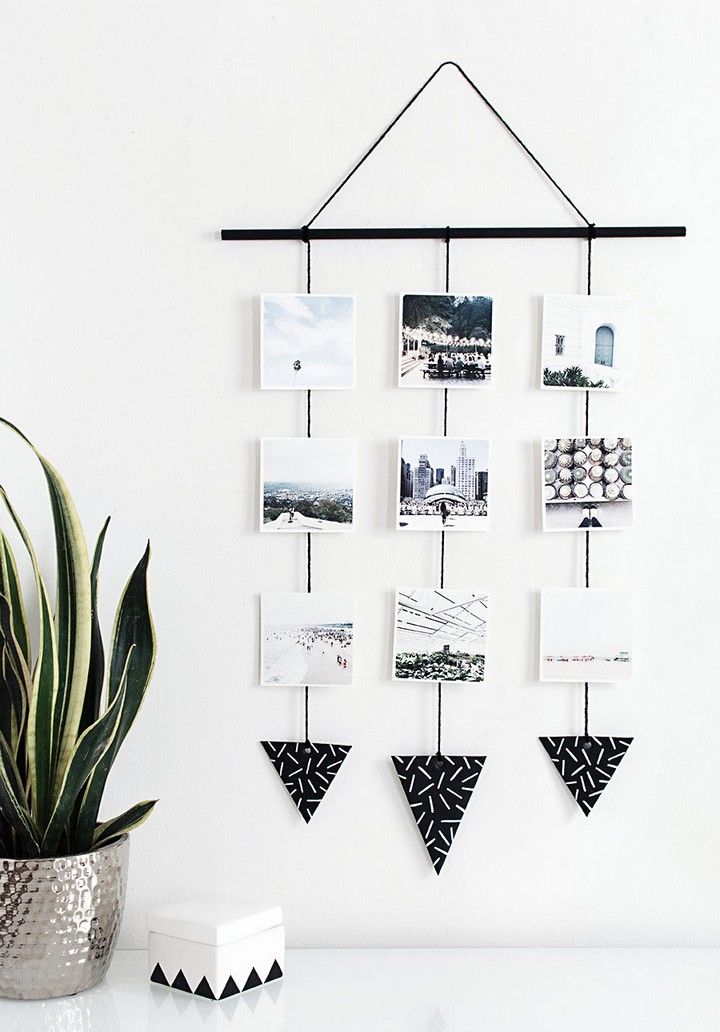 Embellish your home with a DIY handmade photo wall hanging featuring a beautiful frame, vintage slate board and needlepoint. This project is simple, affordable, and will significantly impact you no matter where you hang it! Create a beautiful and personalized wall hanging with this DIY canvas photo frame. The frame comes pre-assembled using a wooden base so that you can get right to decorating. The printable fabric cover makes it easy to personalize the look by adding photos and embellishments.
Layered Fan Art Piece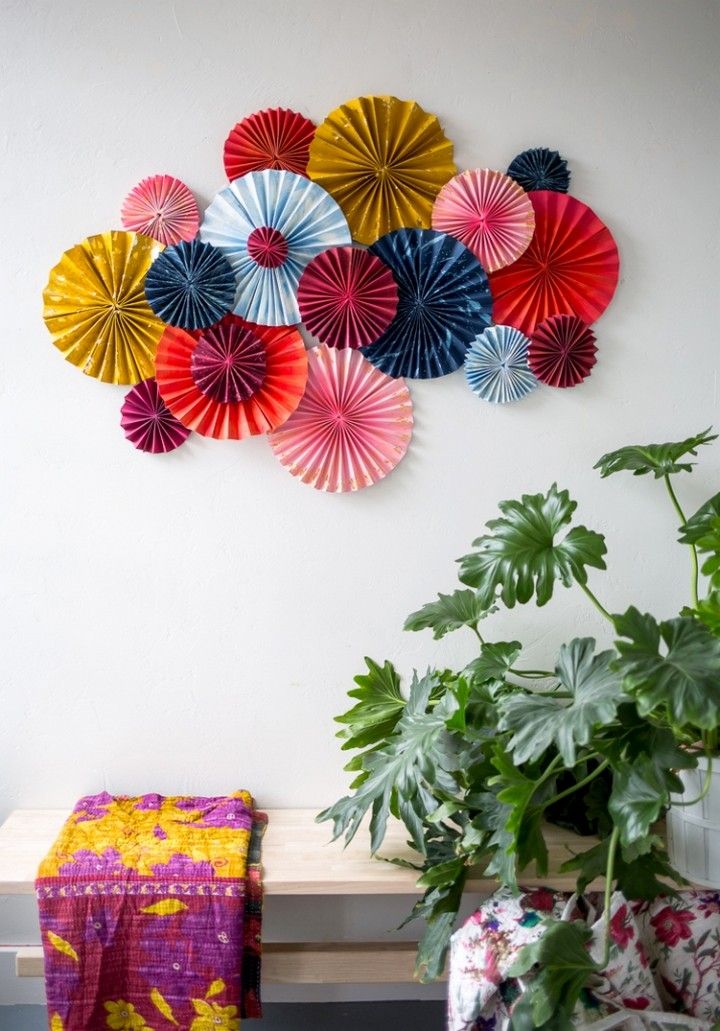 Get the look of a professional and creative artist in no time. This DIY piece features layers of fans that are easy to assemble with the included hanging hardware. Hanging is simple and takes very little time and effort, leaving you plenty of time to admire your beautiful work of art! Each fan is handcrafted and unique so that no two are alike. They make great gifts for friends, moms, sisters and girlfriends.
Make This Rainbow Clay Mobile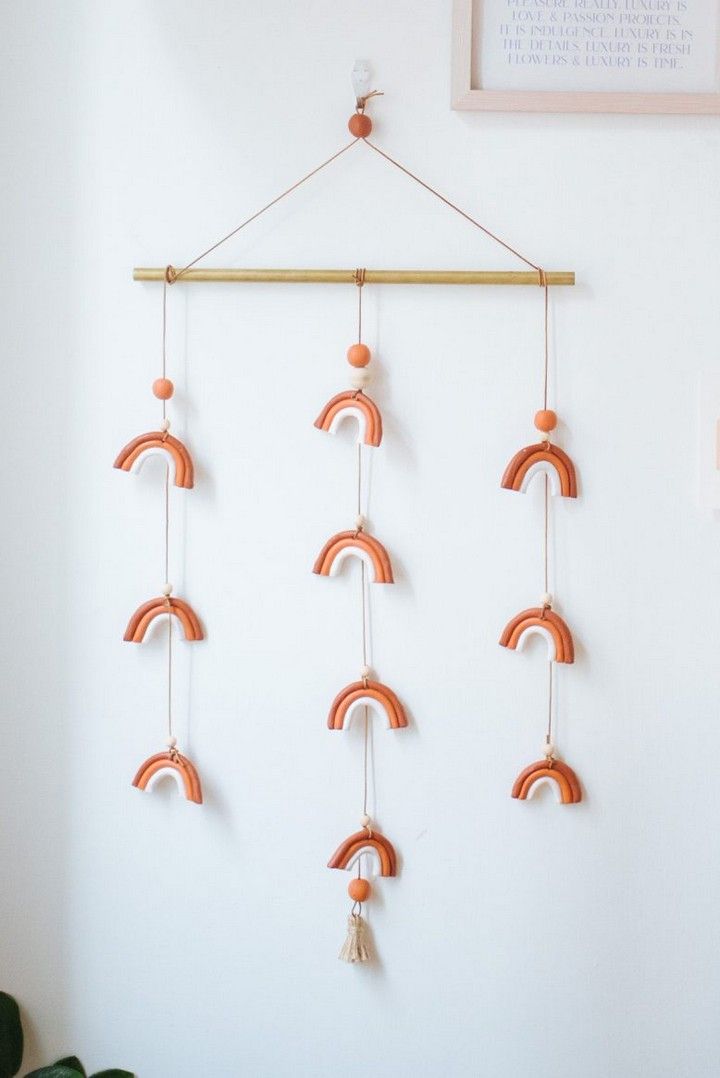 This DIY Rainbow Clay Mobile is the perfect way to add a little art to your home. This easy project is made of clay, so you can make it as long as you want and hang it over your door or window for a festive color explosion. Make a beautiful rainbow mobile with clay and twist ties. This DIY will make a festive holiday, birthday or anniversary gift that kids can help make. This DIY Rainbow Clay Mobile is so easy and fun to make you'll be surprised at how much you can enjoy it. The different types of clay give so many possibilities!
DIY Corkboard Wall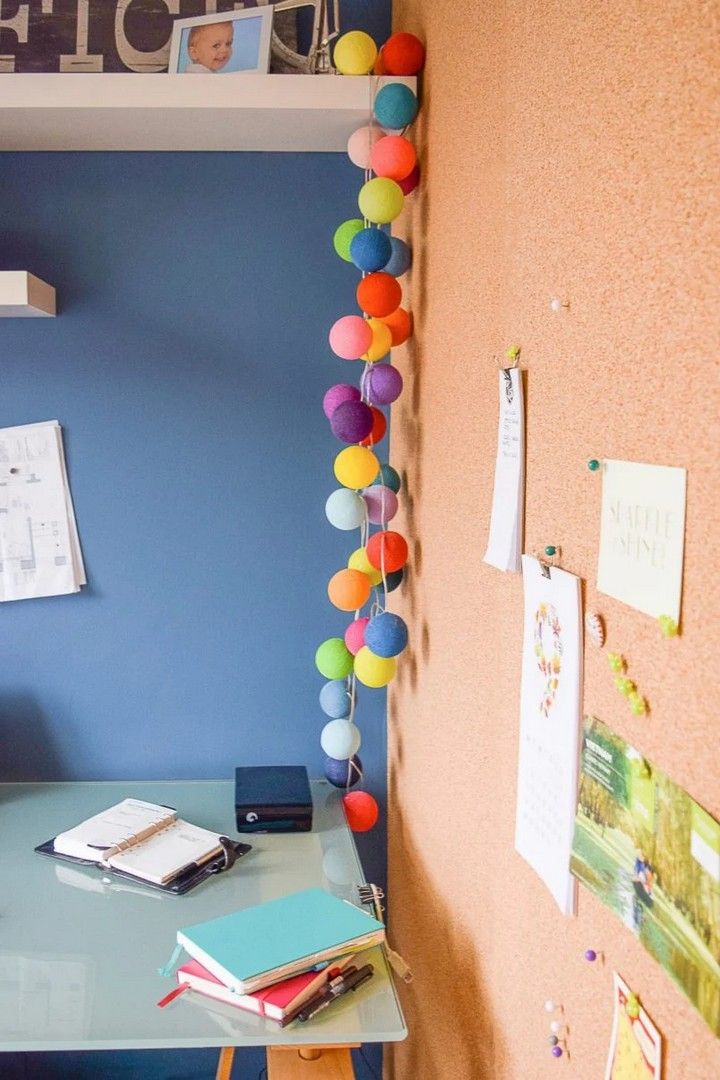 Tired of your corkboard slipping down off the wall? This one has a heat-resistant double-sided adhesive with a pressure-sensitive tape backing. The back is covered in a permanent adhesive, so you can stick it up and go. Upgrade the look of your living or office space with this stylish DIY corkboard wall hanging. This is an easy project to do with your kid, or if you're going solo, it's a fun weekend project.
Ombre Paper Chain Wall Hanging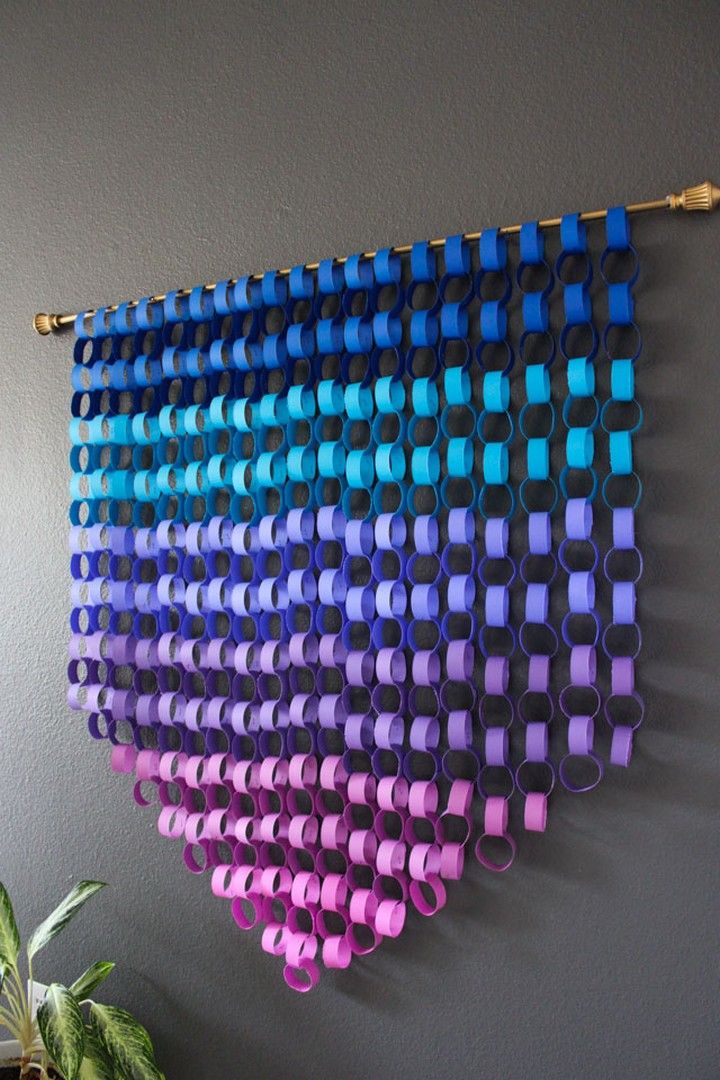 The paper chain is an excellent project for the whole family to work on together. It's easy to do, doesn't require special tools, and looks fantastic! Create a bold, statement wall hanging with this DIY Ombre Paper Chain Wall Hanging. Featuring a modern ombre effect, this DIY paper chain wall hanging will add stylish color and dimension to any room. This easy and fun DIY project is perfect for even basic craft skills. Get the step-by-step instructions here.
DIY Woven Wall Hanging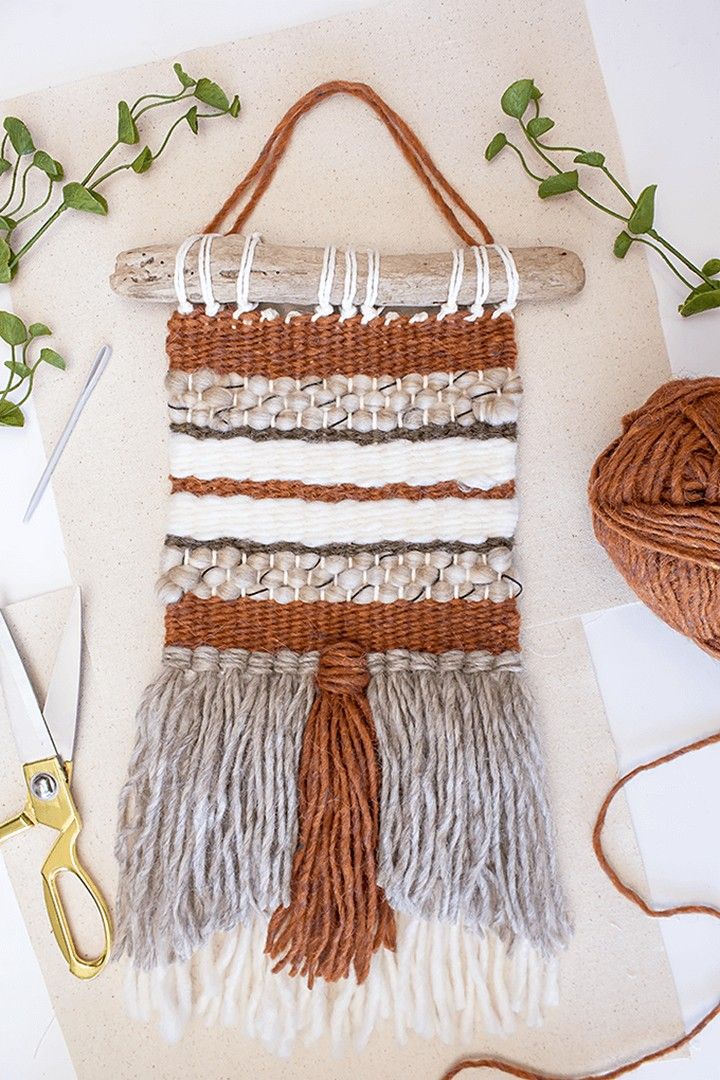 Whether you're looking for a craft project with the family or want a new way to decorate your home, this woven wall hanging is perfect. The starter kit includes everything you need to weave your wall hanging and instructions on making it even more beautiful. This hanging is perfect for adding a soft, textured accent to your home. The versatile design lures attention with its intricate weaving and vibrant color scheme.
Yarn Wall Hanging On A Budget In A Few Easy Steps
Are you looking for a beautiful yarn wall-hanging tutorial you can make yourself? This DIY Yarn Wall Hanging is a budget-friendly project that is easy to make and makes an impact. You can make this yarn wall hanging in a few simple steps with just a few items from your craft supply stash. If you're looking for a project to help you use up scraps from leftover yarn, or if you're starting your knitting journey, this is a great way to get started. Once you've made one, it will inspire you to make more!
Pom Pom Wall Hanging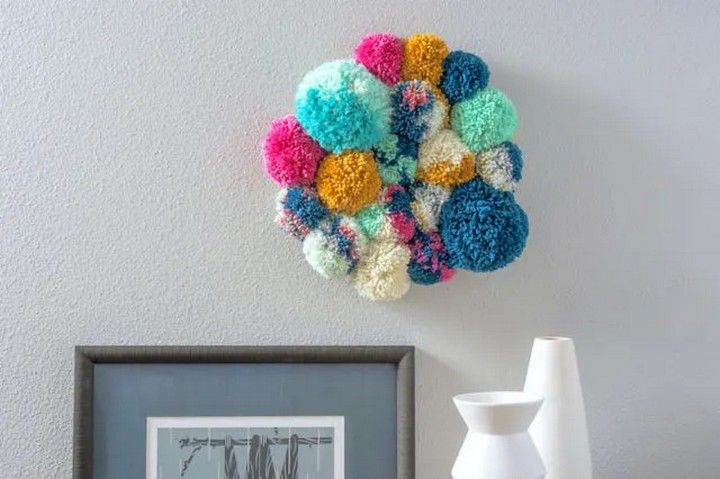 Forget dull walls and transform your home with this whimsical accent. Learn how to create this unique wall hanging using a few simple supplies you can find at your local craft store. It's the perfect addition to any room! Make a statement in your home with this gorgeous DIY pom pom wall hanging. Crafted with solid wood and inspired by vintage wall art, it's the perfect addition to any space. Herringbone pattern, gold foil details and dual color options allow you to customize this project to your tastes.
DIY Air Plant Wall Art From Scrap Wood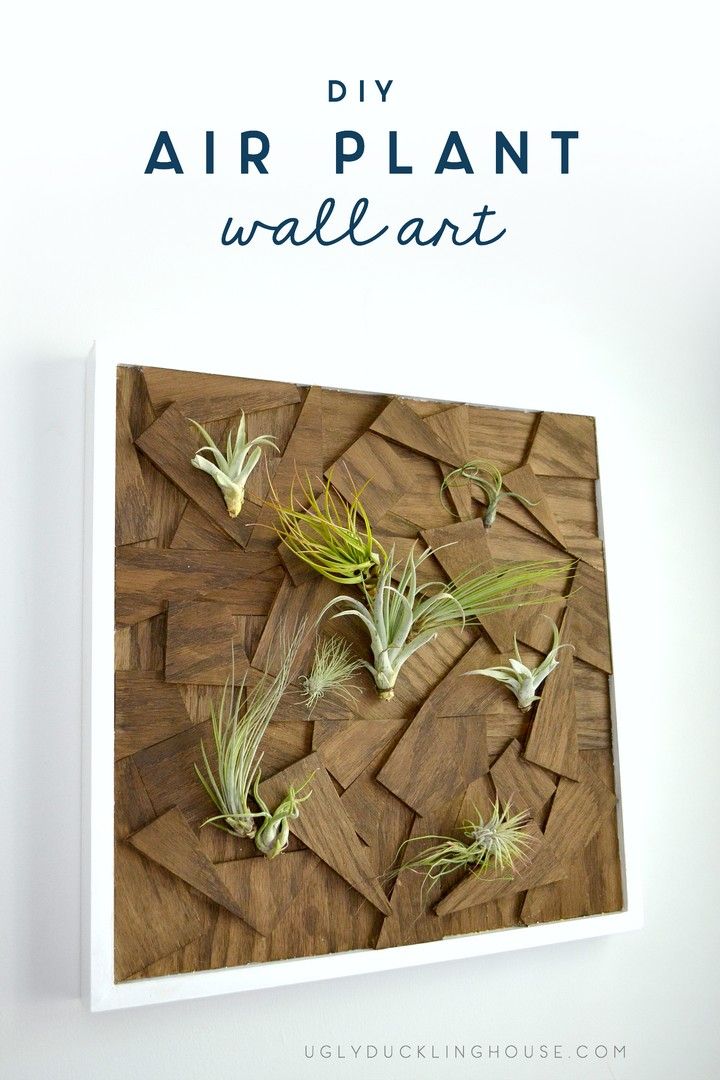 If you're looking for a creative way to fix your air plant, check out this easy tutorial that transforms some old wood into a statement piece. A lovely DIY wall hanging made from scrap wood, it features an air plant that allows you to display your plants almost anywhere. Give your empty wall a makeover with this simple, budget-friendly DIY project. All you need is a few scraps of wood and some air plants, and you'll be on your way to making a one-of-a-kind piece of wall art!
DIY Poster Hanger Is Easy & Budget Friendly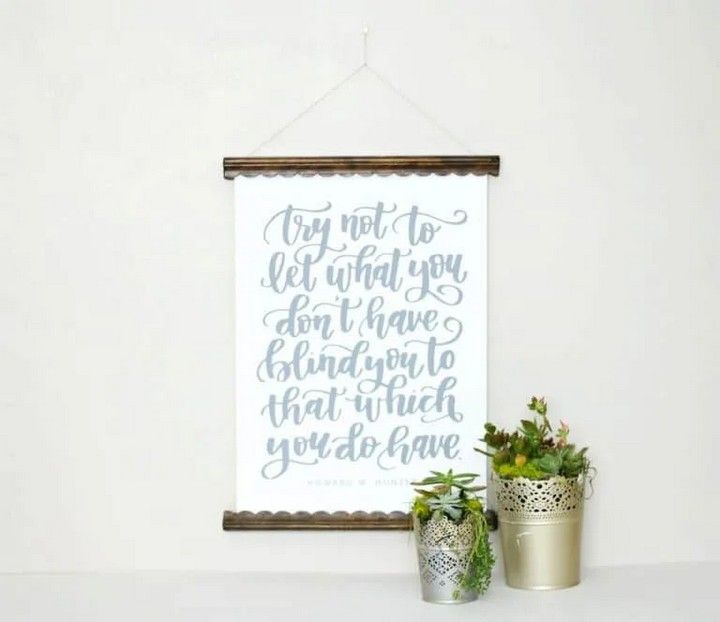 If you love arts, crafts and DIY projects, this wall hanging is for you! It's simple, easy to make and budget-friendly. You also can make your own color palette to match your favorite interior design style with this fabulous DIY poster hanger. DIY poster hangers are easy and budget-friendly. We have many ideas for creating hanging wall art that looks professional, elegant, and creative. The best part about hanging posters is adding your personal touch to every space.
Boho Flower Wall Hanging Made From Egg Cartons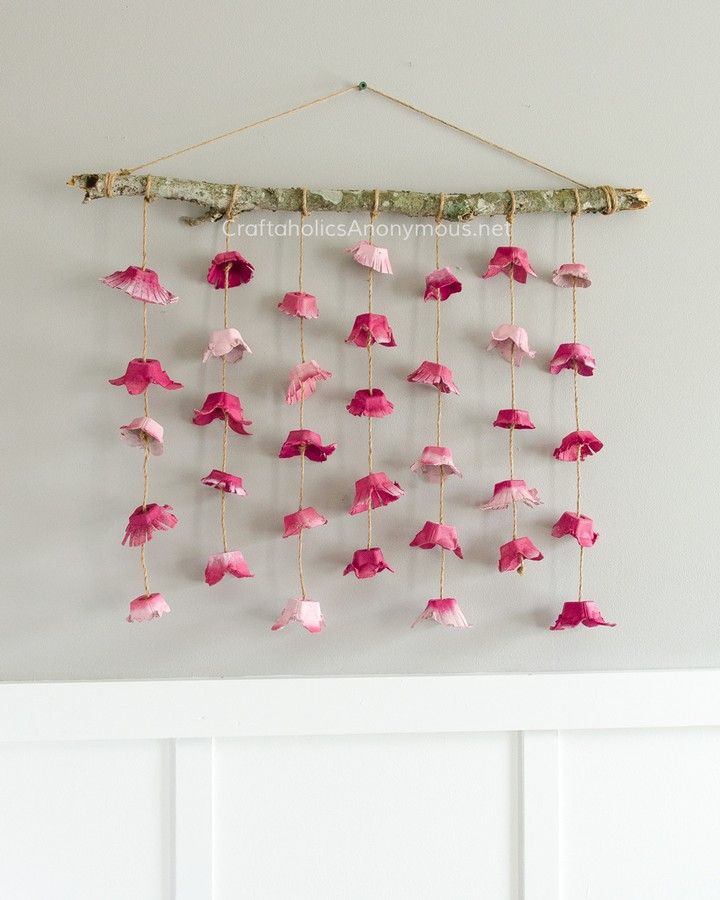 Egg cartons are a great alternative to those bulky baskets hanging on the wall. They're easy to remove and store, can be painted in a color of your choice, and are pretty! Egg cartons are the perfect material for making delicate, colorful wall hangings! Get a little crafty with this easy DIY tutorial and make a boho-inspired wall hanging. It's easy to make this Boho Flower Wall Hanging from recycled egg cartons. It makes an excellent craft for kids, who can easily match the bright pastel colors of Easter eggs.
DIY Spring Banner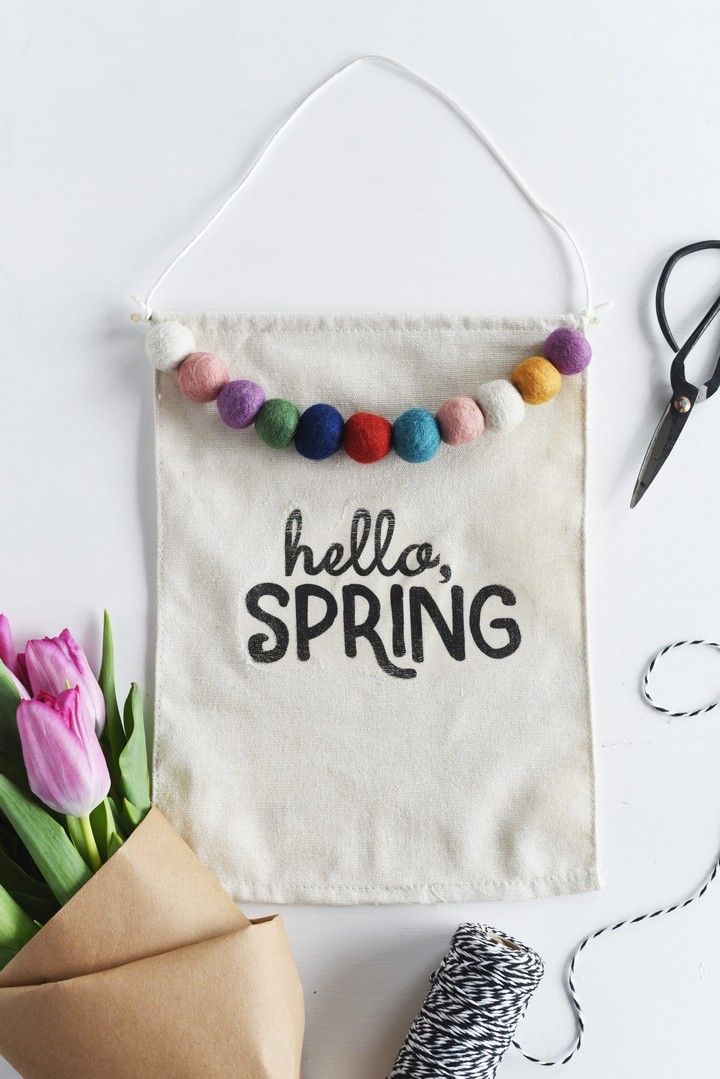 This DIY Spring Banner is a great way to keep that springtime mood flowing throughout your home. It's quick, easy and inexpensive, plus the materials you need for this project can be easily found around the house. The result is a bright and colorful banner that inspires happiness. This Spring banner is perfect for a fun and colorful entrance to your home. With these step-by-step instructions, you can quickly put your spin on this project!
How To Make This Ridiculously Adorable Pom-pom Tassel Wall Hanging
Turn a wall hanging into the focal point of the room with this DIY. It will take a couple of hours to complete, but the final result is worth it. This super cute DIY wall hanging is easy to make and the perfect addition to any room in your home. They can be personalized to match any decor and are so much fun! Have fun making one yourself! This is a simple but gorgeous DIY, and you'll love the results. Make one or make many!
Rainbow Macrame Wall Hanging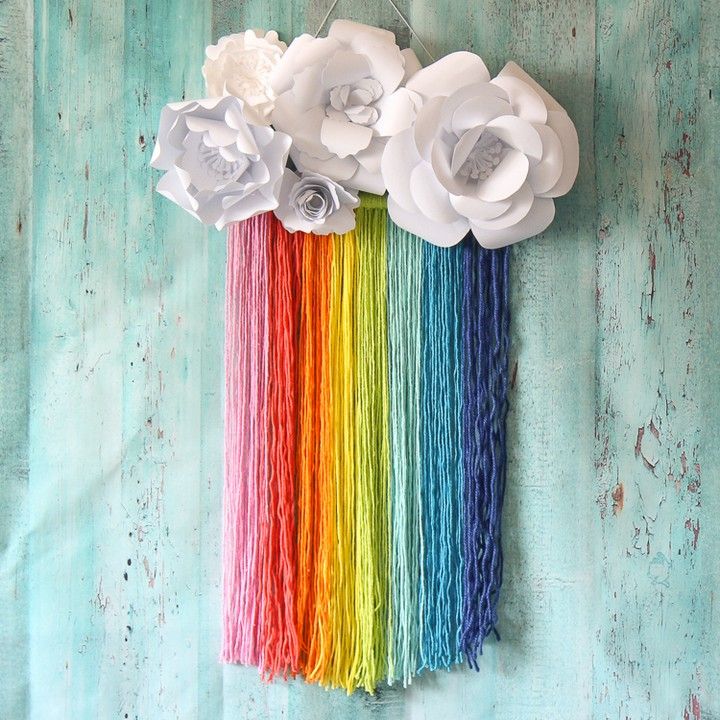 This easy DIY macrame wall hanging project is one of the perfect craft projects to display on your wall. Kids will have no problem following the instructions in our DIY Rainbow Macrame Wall Hanging project. This hanging decor can be hung up or as a table décor piece. Make this DIY Rainbow Macrame Wall Hanging for an instant burst of bright, happy color in your home. It's so easy to make and the perfect weekend project. You can even add some fringe for a fun twist.
Floral Pipe Cleaner Wall Hanging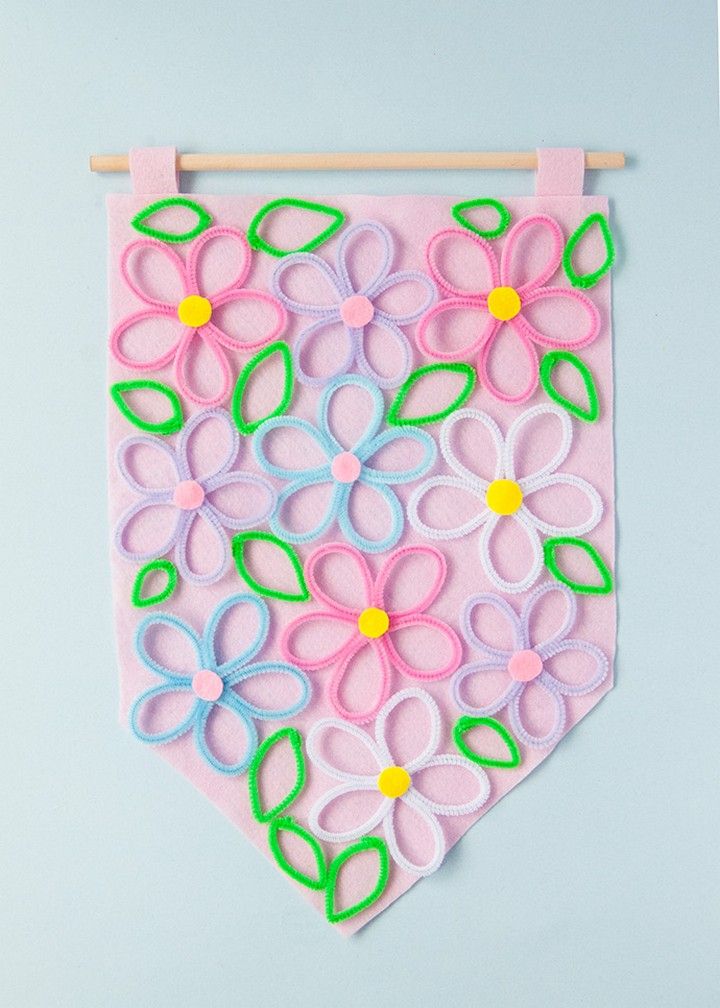 Bring a little greenery to your walls with this DIY wall hanging. It's so easy to make; it can be hung in minutes! This floral pipe cleaner wall hanging is a great way to add color to your room! You can also use it as a backdrop for photos, a fun jewelry holder, or even a great gift for friends and family. The possibilities are endless! The best part? You can use any colors and flowers, making them uniquely yours.
DIY Modern Tassel Wall Hanging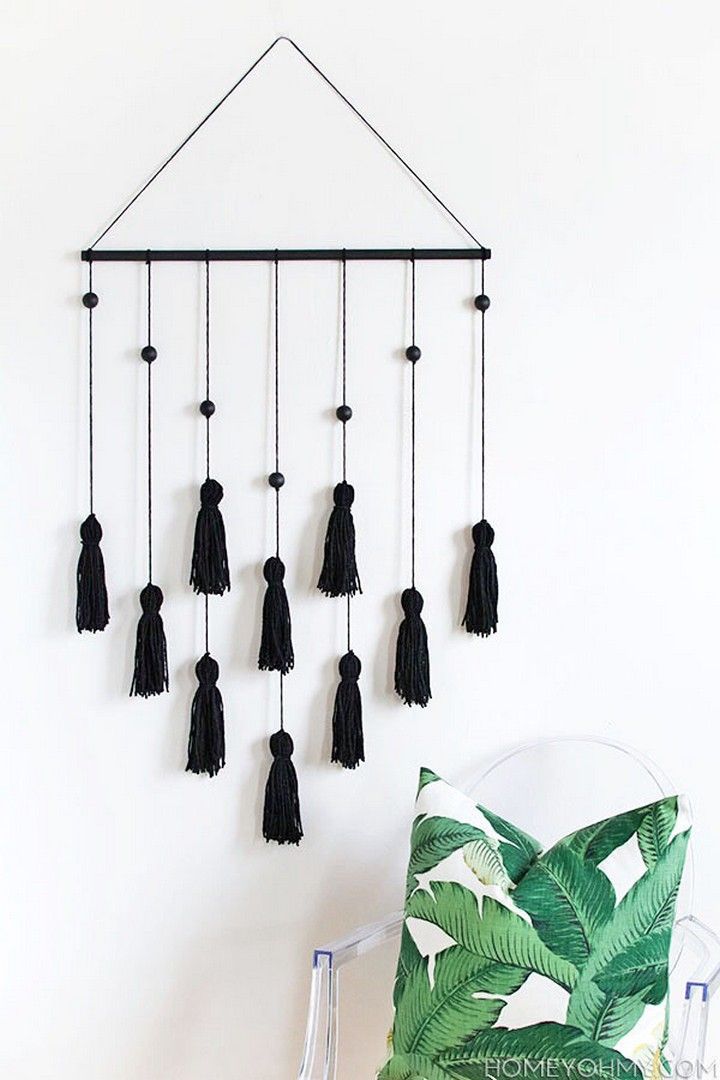 This DIY modern wall hanging is easy to make, using a few simple materials and following the steps in this tutorial. You can customize it for the season or occasion by changing the color of the tassels. This DIY Tassel Wall Hanging is a fun and inexpensive project that can be made with a few hours of your time. It's a great way to get rid of materials you might have laying around at home, such as leftover fabric strips or old rope!
How To Make An Interesting Art Piece Using Tree Branches
This DIY wall hanging is made using tree branches and leaves. You can even choose the color of paint you want to use. This is an easy craft that anyone can make! This DIY wall-hanging craft makes for a great weekend project or a rainy-day activity for the kids. You can use any tree or shrub and learn to find branches of the right size and shape. The final product is a beautiful piece of art with a rustic feel that enhances any room's decor!
DIY Paper Wall Art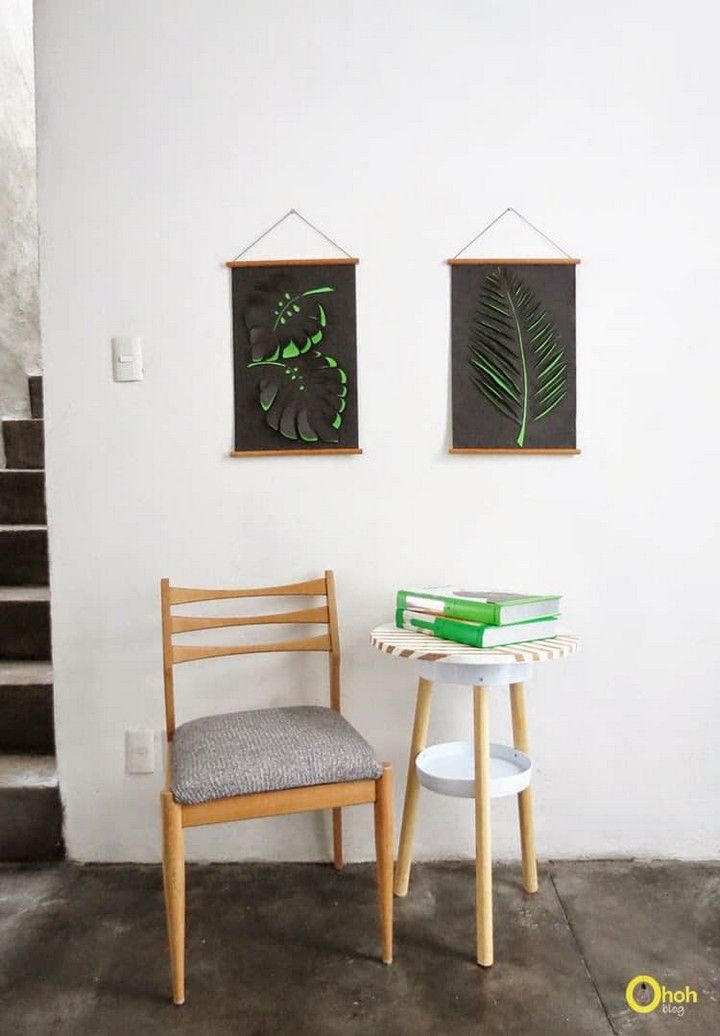 This DIY wall hanging is a fun and easy project to get started or continue your handmade art collection. You can use any scrapbook paper you like; the color scheme is entirely up to you! Create a beautiful, affordable wall hanging with paper! Learn to cut and fold paper into various shapes, including compound folds. You will be amazed by the transformation from a basic stripy rectangle to a three-dimensional shimmering creation for your walls.
DIY Floral Vase Wall Hanging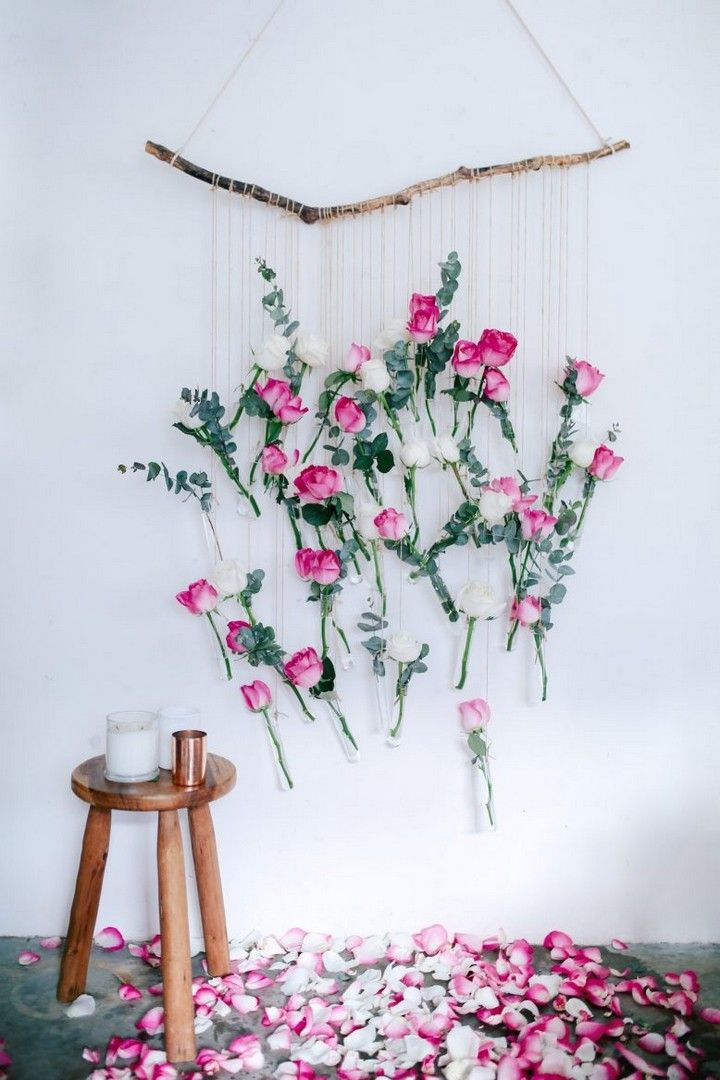 This easy DIY project uses a floral vase and a clothes hanger. Hang it in your kitchen, living room or entryway to add color and style to any space. Beautiful, unique and eye-catching DIY wall art to make for your home. This floral vase wall hanging is a stylish way to add color and life to any space. Hang it in the dining room, living room or bedroom - you can't go wrong with this versatile piece! Create this decorative piece for your home with basic materials. It's easy to do, so that you can make one for everyone!