If you need a gift for someone special, pamper one of your pals or loved ones with a handmade DIY keychain. These small projects are easy to make and leave plenty of room for personalization. There are many ways to personalize your keys, and they don't all have to involve a trip to the store. If you're looking for a creative way to add style, try making a keychain out of things you already have. You can use old jewelry or household items or make something from scratch. Your imagination only limits the possibilities!
You can always have a few keychains. They're a great way to personalize your keys and create fun new ways to hold them (not that they need much help, because they'll always be cool). They're also great gifts—people love getting something they can use and enjoy. The best part about keychains is how customizable they are. You can get a plain, simple keychain to match any outfit or a more themed one that represents your interests or personality. There are tons of materials you can use to make them (including ones you may not have thought of before) and many ways to personalize them. Here are 16 DIY keychain ideas to help inspire you!
Whether you need a gift for a crafty friend or want to make something for yourself, these 16 DIY keychain ideas are sure to inspire.
Benefits Of DIY Keychain Ideas
Cost-effective: Making your own keychain allows you to save money as compared to buying readymade ones.
Personal touch: DIY keychains can be personalized to suit your style and taste, making them a unique and special item.
Creativity: Engaging in a DIY project allows you to unleash your creativity and imagination.
Sense of accomplishment: The satisfaction and sense of pride that comes from making something with your own hands is unmatched.
Eco-friendly: Making keychains from recycled materials is an environmentally conscious choice.
Gift idea: DIY keychains make great gifts for friends and family, and the personal touch adds an extra special touch.
Fun activity: Making keychains can be enjoyable, especially with friends or family.
Skill building: Engaging in DIY projects can help build and refine your skills, such as hand-eye coordination, patience, and problem-solving abilities.

DIY Leather Loop Keychain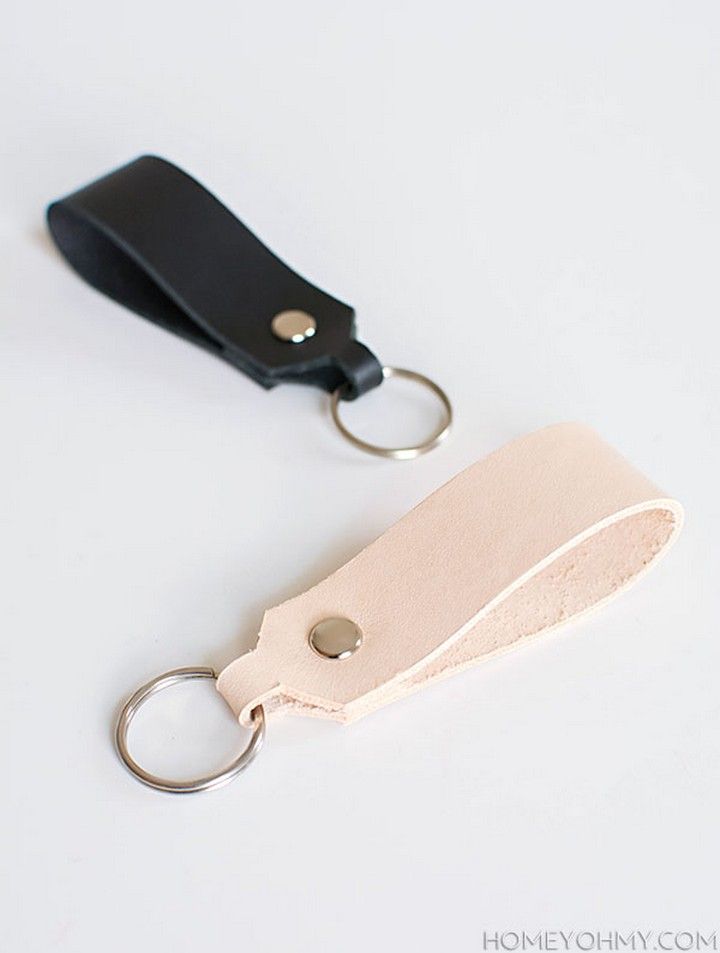 If you're looking for a stylish keychain that can also help keep you in check, this is it. The novel design of this DIY leather keychain allows it to hold keys and other essentials neatly in place. This simple and easy DIY keychain is a fun project for beginners who want to learn leathercraft. All you need are some basic supplies and a few minutes to gather that is cut, punched, dyed and hand-stitched will make this unique DIY leather key cut in a crowd. Choose leather colors of leather to create your own unique piece of art.
DIY Personalized Leather Keychain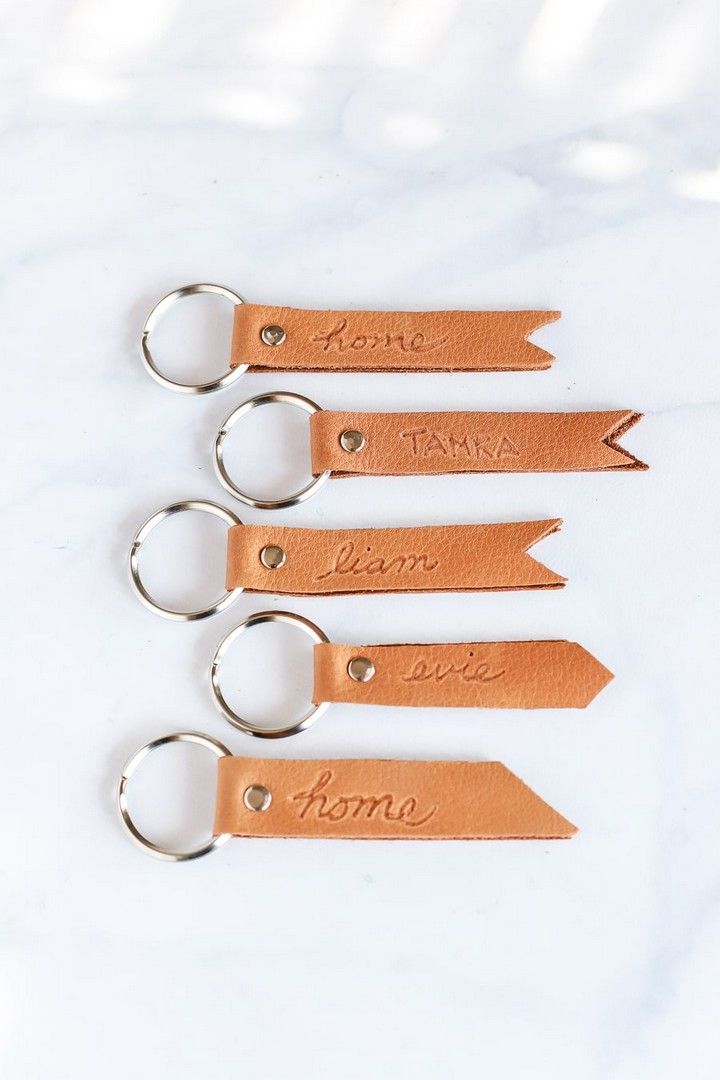 A personalized leather keychain can be used to attach your keys to your bag, belt loop and more. The leather wraps around the keychain, creating a customized look with a stylish design. Create a unique gift for your loved ones, or get one for yourself! Add your own personal touch with this DIY leather keychain. The process is easy: just cut the leather, punch holes and add hardware to create a one-of-a-kind keychain. A gift that's still useful.
Leather Tassel Keychain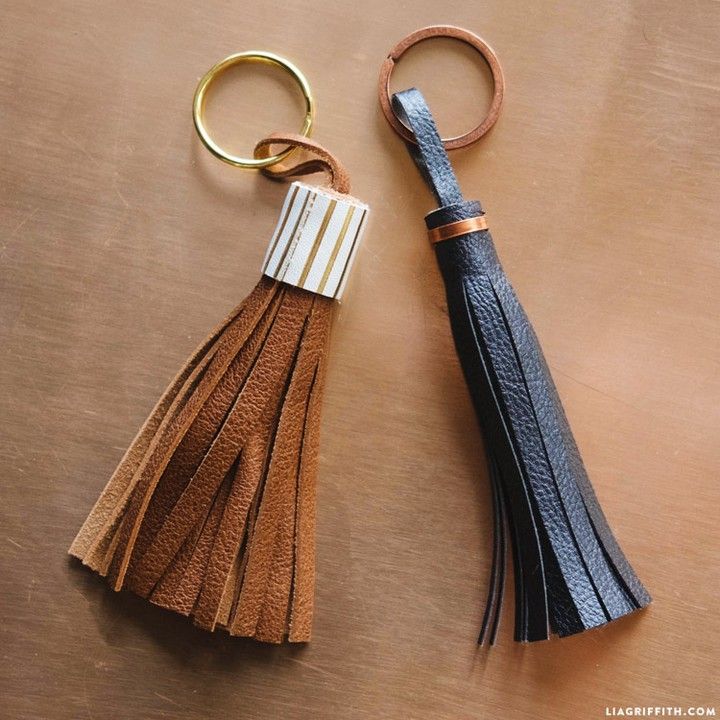 The DIY Leather Tassel Keychain will be an essential addition to your favorite bag or a special gift for someone you care about. The keychains are easy to assemble, and the leather tassels can be easily replaced by yourself if desired. This is the perfect DIY project to use up scrap leather. All you need is leather and some strong glue, to make this beautiful keychain that you can use every day or give as a gift.
How To Make A Monkey Fist Keychain With Paracord
The monkey fist keychain is excellent and not that difficult to make. So if you have some paracord, some time and a pair of clippers, you can make this as easy or complicated as you want! This DIY tutorial shows you how to create a monkey fist keychain with paracord in only a few simple steps. This project will save you money and leave you with something unique that no one else has. This monkey fist keychain is a great way to keep your keys organized, even when you're on the go. It's also a fun DIY project you can do with your family or friends!
Cherry Pom-pom Keychains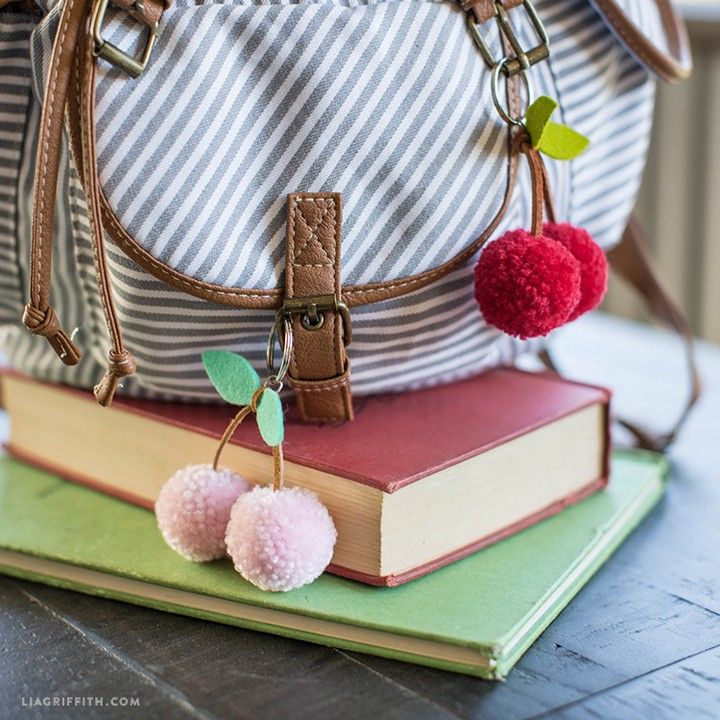 Crafting these cute keychains is an easy way to personalize any bag or wardrobe! Let your little one's personality shine through with a DIY pom-pom key chain that can be customized in any color and texture. With this DIY Cherry Pom-pom Keychain, you can make your keys stand out. It's the best way to use leftover yarn and makes a gift for knitting friends. Make your keys more colorful and fun with this cheery DIY keychain. Each kit includes a cherry pom-pom and coordinating colored embroidery floss, plus all the instructions you need to create your whimsical cherry keychain.
DIY Wooden Bead Keychain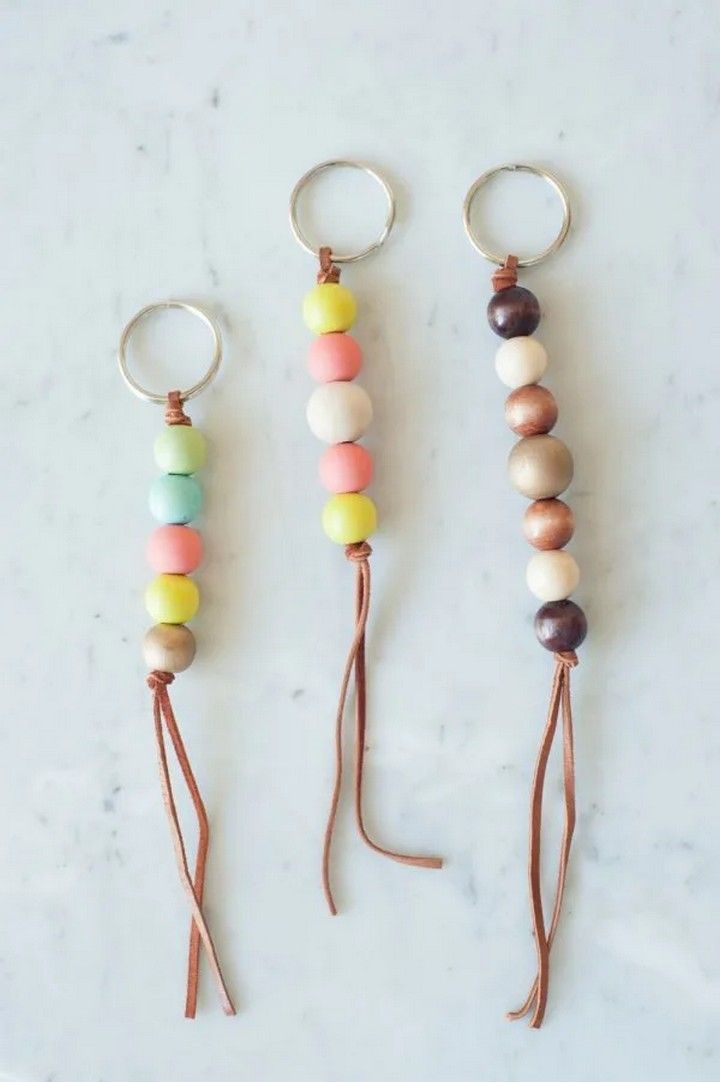 With this DIY wooden bead keychain, you can make a trendy leather-style keychain in your home and add your personal touch. It's quick, easy and fun! Add a fancy touch to your keys with this simple DIY keychain. It features wooden beads and is the perfect gift for your friend or family member who loves arts & crafts. This DIY wooden bead keychain is a fun and easy craft project to do with your family. Make one for yourself or give it as a gift.
DIY Fruits Keychain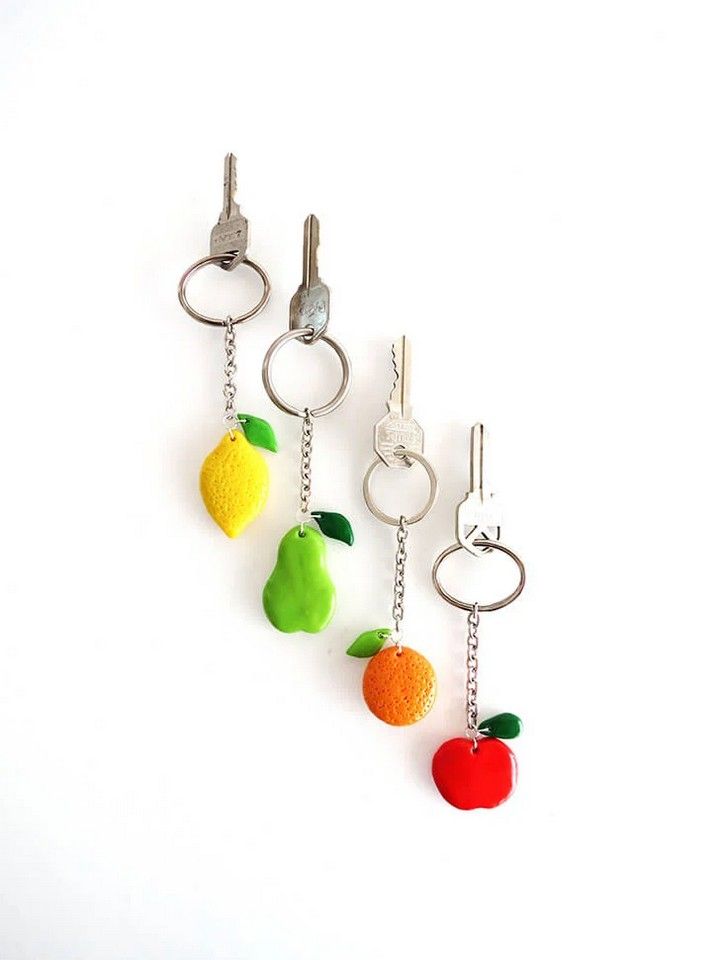 If you have a bag or purse with a key ring, it's not hard to install a keychain, but it cannot be easy to choose from all the various styles and colors. Smartly, someone has created this DIY fruit kit so you can make your own keyring yourself. This DIY Designs Fruits Keychain is the perfect DIY project for you to use your creativity and imagination. Use your favorite colors, photos and patterns to create this unique piece of jewelry that is ideal for any occasion. This keychain is made out of plastic which makes it lightweight and durable.
DIY Tassel Keychains 15-Minute Craft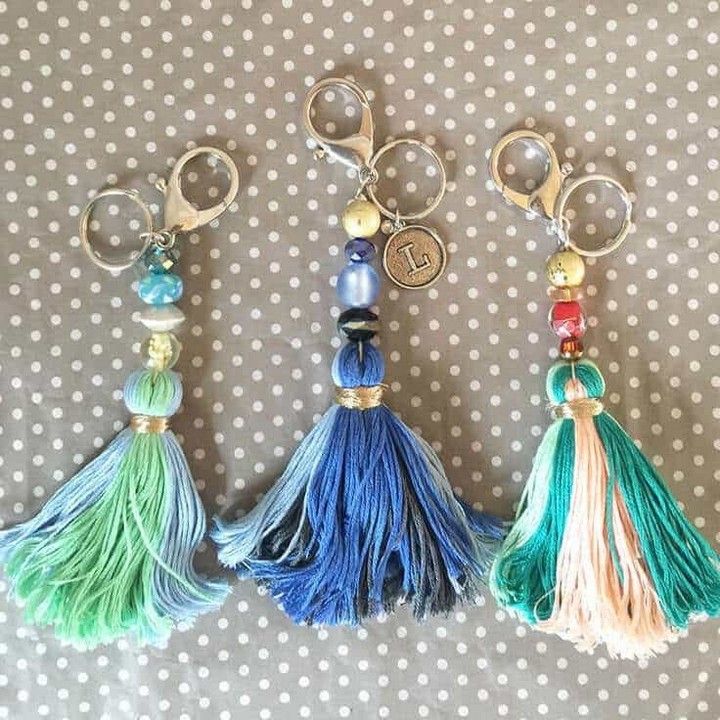 DIY Tassel Keychains are a quick craft you can make in just 15 minutes! If you're looking for an easy, cheap, meaningful DIY gift, then this is it. In this tutorial, you'll learn how to make these keychains step by step. You only need a few materials; they are super easy to make and the perfect gift for friends or yourself. This DIY project is easy and only takes ten minutes to complete. You'll just need some thread and a few beads. Make several sets of keychains, or let your daughters make their own!
How To Make DIY Tassel And Macramé Keychains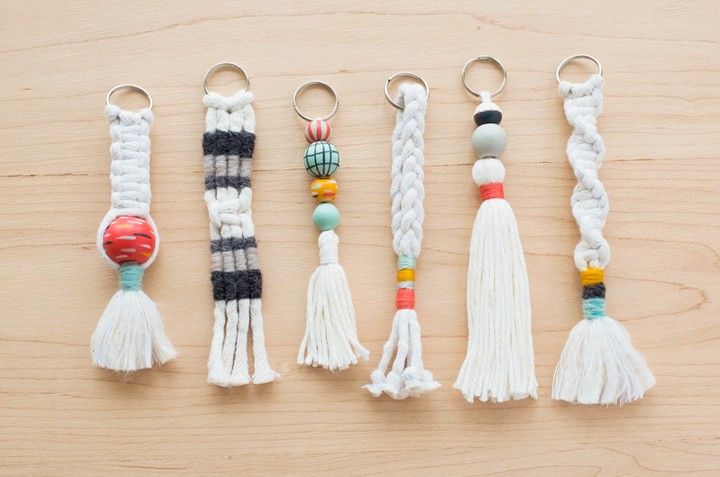 Learn how to make tassels and macramé keychains. See how to combine the two styles by using them together in one keychain or using both techniques in separate jewelry pieces. These DIY Tassel And Macramé Keychains are a great handmade gift for you and your friends. The duo of tassels and knots makes these keychains perfect for glamming up any bag or purse! You can even use these to create fun and sassy mobile phone straps. Simply add them over the end of your headphones, camera straps, or whatever else you have that could use a bit more pizazz!
DIY Felt Ball Ice Cream Cone Keychains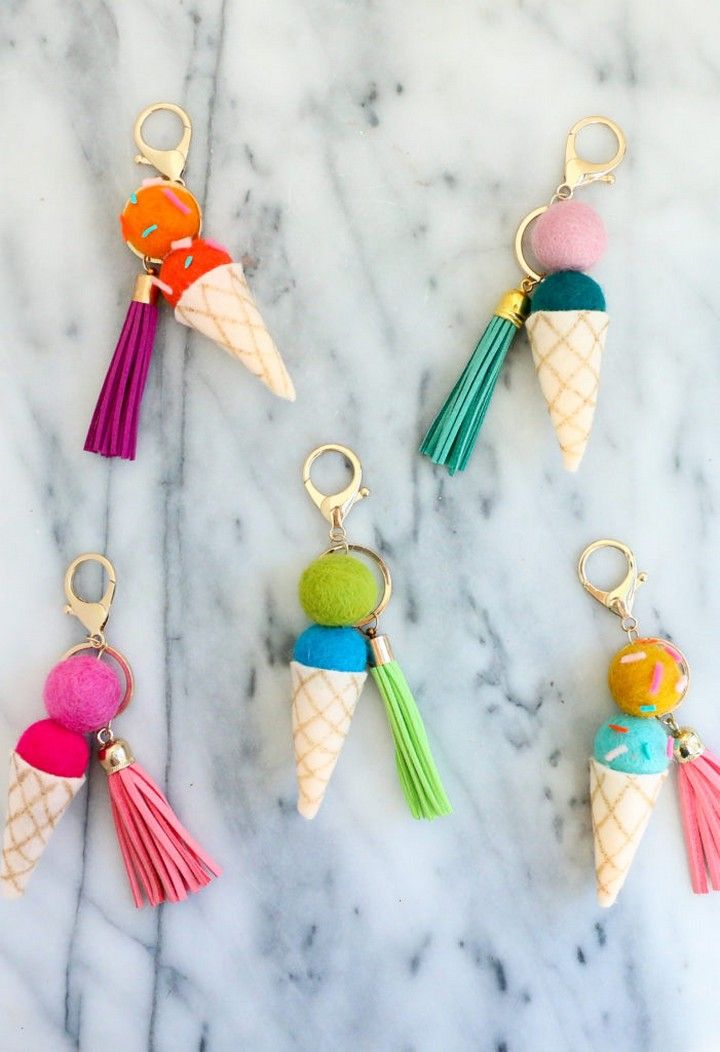 Create a fun, handmade gift with these DIY Felt Ball Ice Cream Cone Keychains! The pattern is easy to follow and turns out beautifully every time. Make one for yourself and your friends too! These DIY felt ball keychains are an artsy, colorful way to organize your keys. You can make them in various colors and even use fondant to personalize them! Cut out ice cream cone shapes, stuff them with felt balls, sew up the end and hang it on your bag or keys to make a fun accessory.
Seashell Keychains
These seashell keychains are easy to customize with your favorite colors and designs. You can make them for everyday use or as a thoughtful gift for your loved ones. These DIY Seashell Keychains are an excellent opportunity to bring home some of your favorite beach memories. In this project, you will learn how to make keychains from seashells by cutting them off and adding a leather cord. You can then use the keychain as a decoration anywhere in your home—or carry it with you on your adventures as a great reminder of your next trip!
DIY Personalized Acrylic Keychains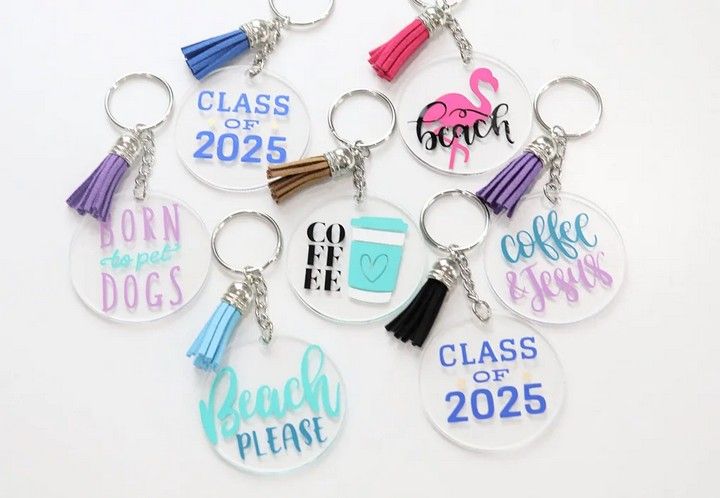 Personalized acrylic keychains are made of acrylic, making them durable and preventing them from breaking when you put a lot of pressure on the keychain. They come with a protective layer on top so that the keys don't scratch the surface of your personalization. You can choose from any number of colors for your personalized keychain to suit your style! Make sure your keys always have your name with these DIY Personalized Acrylic Keychains. Choose from several shapes and sizes, then add any name or text of your choice!
DIY Resin Keychains Make Great Handmade Gifts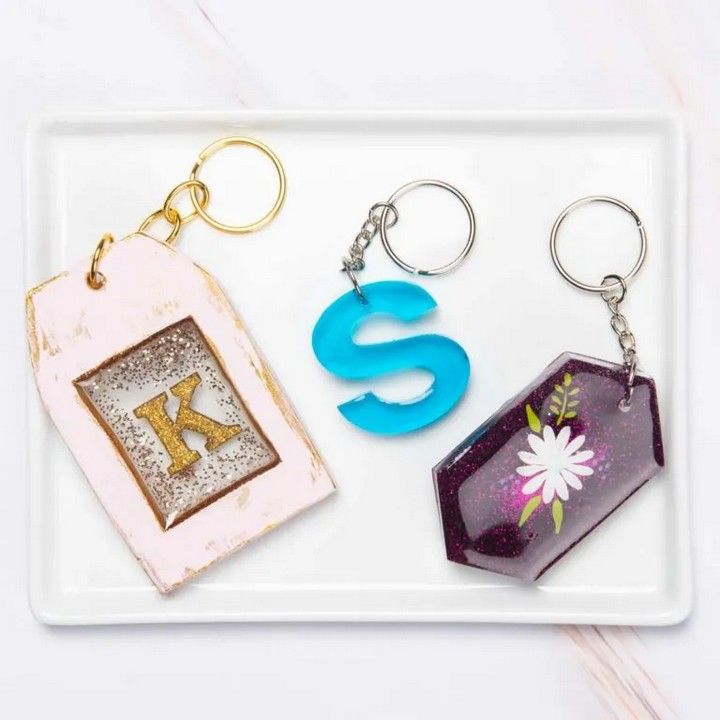 Keychains make great holiday gifts, especially if you make them yourself. These DIY Resin Keychains Make Great Handmade Gifts and are perfect for personalizing and adding your style. You can also choose from various shapes or select a photo or design to put on the keychain for an extra appeal! These adorable little keychains make great handmade gifts. They're super simple to make, so you don't have to be crafty or handy with tools to enjoy a new hobby of your design!
Personalized Wooden Keychains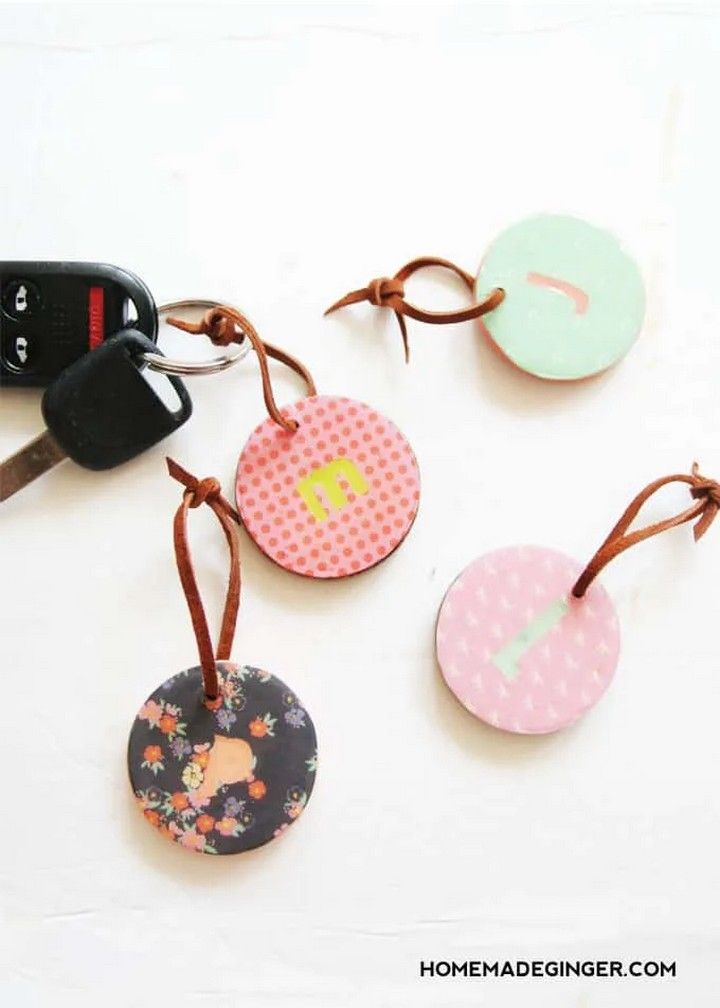 Wooden keychains make great homemade gifts, and they're easy to make! You can use any wood you like, but cedar works best as it's resistant to water and insects. Seal the wooden key fobs or gift tags in clear resin for a waterproof finish. Key chains are a great addition to any key ring and make great gifts. Use them to find your keys quickly, or hang them on your bag as decoration. The possibilities are endless! These beautiful wooden keychains are unique, fashionable and easy to make. You can customize them in all different ways, such as by adding charms or engraving designs.
DIY Clay Tassel Keychain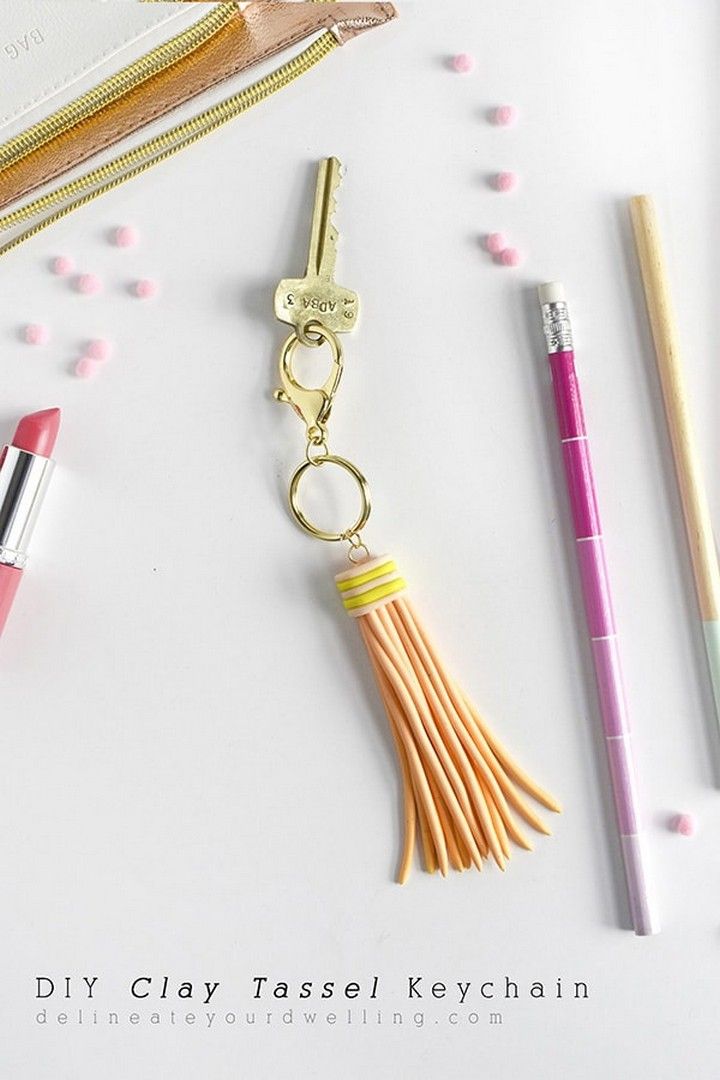 Turn your keys into an accessory with this customizable DIY clay tassel keychain! You can add your choice of beads and charms to create a piece of home decor that doubles as a key holder. Give your keys an update with a DIY clay tassel keychain. It's easy to make at home and a great way to learn how to create texture in clay. Use a few household materials to make your own clay tassel keychain in minutes. This project is fun for all ages and the perfect way to customize your keys.
DIY Leather Tassel Keychain Diffuser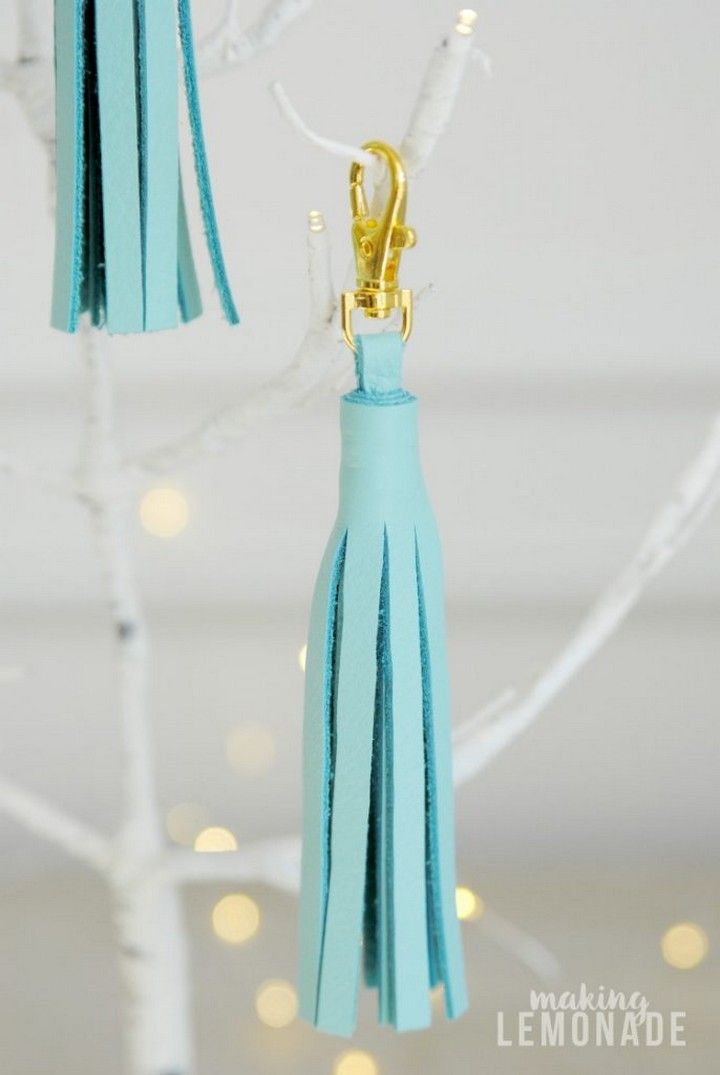 This keychain diffuser is the perfect gift or accessory to add a touch of style to your look. This DIY Leather Tassel Keychain Diffuser comes with a convenient snap enclosure, so you can easily slip it onto your keys or backpack and keep your favorite fragrance with you wherever life takes you. It's waterproof and perfect for travel, thanks to its lightweight and compact design. This keychain diffuser is a great way to add a touch of color and personality to your keys. Made from borosilicate glass, it's durable and sturdy, while the leather tassel adds just enough flair.