Crochet mandalas are a beautiful and intricate way to decorate your home or add a pop of colour to your wardrobe. A mandala is a geometric design that represents the universe in Hindu and Buddhist symbolism, and they are often used for meditation and as a source of inspiration. Whether you're an experienced crocheter or just starting, these free crochet mandala patterns will provide you with plenty of ideas and inspiration. These patterns range in difficulty, from beginner-friendly to more advanced, so there's something for everyone. Some popular patterns include the Sunburst Granny Mandala, the Hexagon Mandala, and the Lotus Mandala. These patterns can be used as coasters, wall hangings, or decorative elements in your home.
Crochet mandalas are the perfect project to crochet a little bit every day, and they're so versatile. They're great for beginners but also appeal to experienced crocheters because they let you use your creativity to turn them into beautiful pieces of art. You can make them as big or small as you want, and start from the centre, going outwards to make different shapes like flowers or animals. And once you finish crocheting one, all you have to do is hang it up on your wall for decoration! Crochet mandalas are easy to make and great for beginners looking to learn new skills or have fun with yarn.
Take the stress out of making your first Mandala with these 15 free crochet mandala patterns; from beginner to advanced, you'll find the just right pattern!
Benefits Of Crochet Mandala Patterns
Crochet mandalas offer many benefits, including:
Stress Relief: Crochet mandalas can be a relaxing and meditative activity, helping to reduce stress and anxiety.
Creativity: Crochet mandalas allow for creative expression and experimentation with colour and texture.
Improving Crochet Skills: Crochet mandalas can help improve your crochet skills, as they often incorporate a variety of stitches and techniques.
Decoration: Crochet mandalas can be used to decorate your home or wardrobe, adding a pop of colour and texture.
Gift-Giving: Crochet mandalas can be made into gifts for friends and family, such as coasters, wall hangings, or blankets.
Mindfulness: Creating a crochet mandala can be a mindfulness exercise, allowing you to focus on the present moment and improve your mental well-being.
Inexpensive: Crochet mandalas can be made with inexpensive materials, making it a cost-effective way to add beauty to your home or wardrobe.
Overall, crochet mandalas provide an enjoyable and creative hobby that offers a variety of benefits for both the mind and body.

Mandala Yarn Blanket
A crochet mandala yarn blanket is a great project to start if you are new to the art of Crochet. The complete crochet mandala pattern is included in the kit and contains detailed instructions on making your beautiful blanket. This is a blanket that accepts the challenge of being comfortable and beautiful at the same time. With this yarn, you can crochet a mandala-style blanket that is easy to make. The result is a great blanket you can use as a bedspread or something else.
Mandala Blanket
This is a straightforward crochet mandala pattern that makes a fun and colourful afghan to gift or keep. It would also work well as a fair craft item! The pattern uses only single Crochet, chain stitches, double Crochet and how to connect clusters so that beginners can complete it. This crochet mandala flower blanket pattern is addictive! It's a great way to use your stash and explore different shapes and sizes. Once you learn this basic technique, you can make any colour combination.
Mandala One
This crochet mandala pattern is easy to follow and works up quick! Crochet Mandala One is the first of a series of five crochet mandalas. Its design features a domelike base with concentric rings and spots decorated with different yarn colours for visual interest. It can be used as a cosy covering for fruit or vegetables, an interesting room decoration, and much more! This crocheted Mandala is perfect for beginners and intermediate crocheters looking to learn new stitches and techniques.
Mandala Wall Art
Let your imagination run wild with our unique and beautiful crochet mandala patterns. The crochet mandala is a fun, relaxing and colourful project you can make in no time. This DIY Mandala will brighten up any space and add colour to your home decor. It creates a beautiful and colourful hexagon you can hang as a tapestry in your home. The size is adjustable, so you can make this project any size you like or make several to create a larger wall hanging.
Mandala Placemats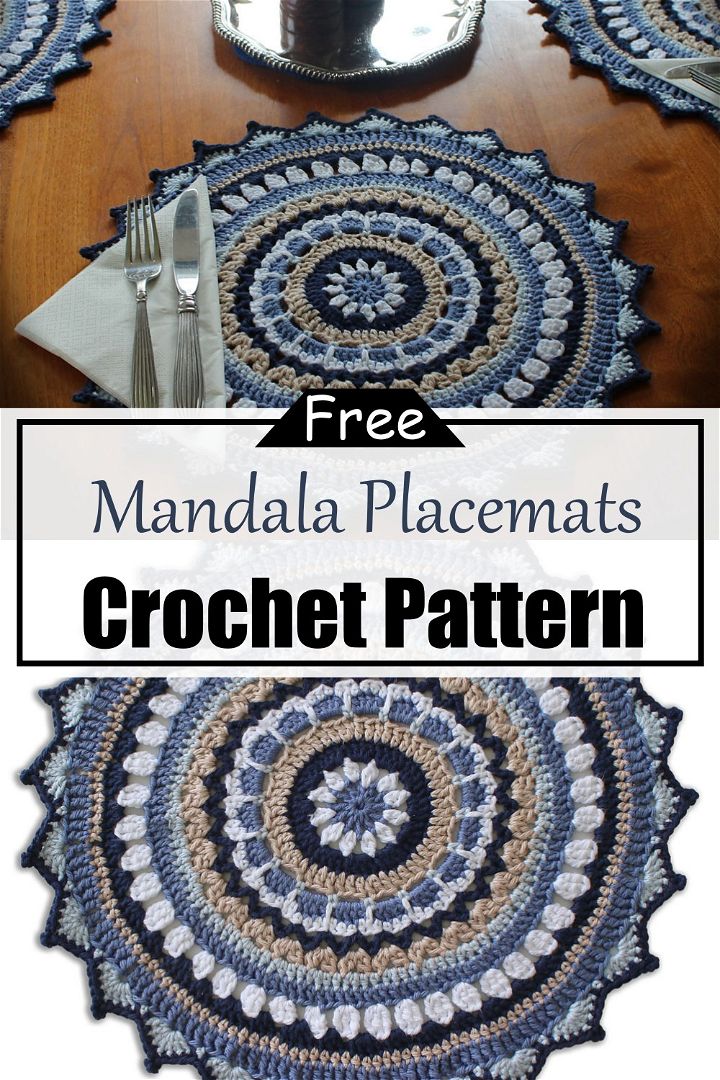 Are you looking to get into the crafty mood? Do you love to crochet? Then this Mandala placemat is perfect for you! Keep your tables safe from messes with this beautiful crochet mandala placemat! Place mats are the perfect size to fit on almost any surface and are easily washable so that you can use them again and again. Make it a gift for that special someone who loves home decor. Crochet Mandala Placemats are a fun way to add color to your table!
Mandala Coaster
This crochet mandala coaster is the perfect accessory for any table. The graphic pattern will add color and texture while keeping your table clean from condensation or water spills. It's also great for use outdoors at lawn parties or on the beach, where it can double as a handy place to rest your glass or beverage. You could even make a stack of them as a centrepiece! This pattern is easy and quick to make. You will have fun creating your own unique Mandala design. This ideal project for beginners will help you practice crocheting in rounds.
Mandala Madness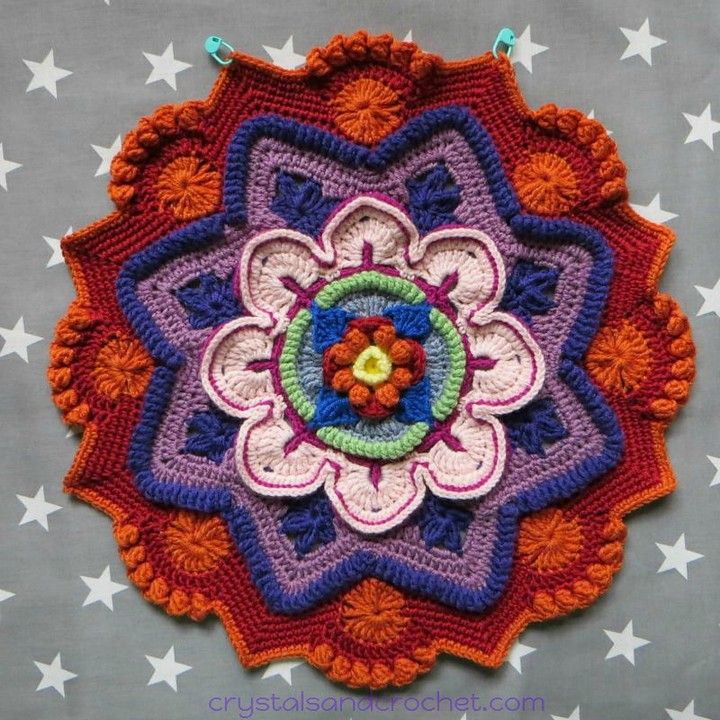 Are you ready for a new crochet pattern? This is an easy crochet mandala with a beautiful design and colour combination. You will learn how to create this beautiful Mandala, which can be displayed in your home or as a gift. Grab your hook and get ready to make your very own Mandala! Made from just one ball of yarn and a variety of basic stitches, you can easily crochet a beautiful piece of art.
Winter Dream Mandala
This beautiful crochet mandala is the perfect pattern to start a new crochet project. Its lightweight yarn works faster than most projects and can be used in many ways. Use it as a sewing project, make it into cute potholders, or even decorate it in the corner of your bed coverlet or blanket to make it pop! This unique crochet mandala design is a great way to start your winter season. Modern and stylish, it makes a lovely gift or a beautiful addition to any room in the house. Beginner? Try this pattern out and see how easy it is to crochet a mandala!
Tulip Mandala
Crochet Tulip MandalaCrochet mandala can be a great way to use up your yarn scraps. Mandala If you want to make a crochet mandala, this is your pattern. This lovely mandala pattern is ideal for beginners and advanced crocheters alike. Worked in the round, this cute crochet mandala is guaranteed to bring a smile to your face. It is fun to crochet, and the result is a stunning piece you'll want to make again and again! Great for beginners and experienced crocheters alike.
Fancy Nancy Mandala
This crochet mandala pattern is perfect for beginners, but it can also serve as a great plot twist for more experienced crocheters. It does not require a crochet hook to work the pattern with your fingers. This free pattern uses classic crochet stitches to create a beautiful mandala design that can be as simple or intricate as you want. You can add colour to the middle of the Mandala with lots of changing colours or keep it simple with just one solid colour. Either way, it's a great crafts project for summer!
Technicolor Dream Mandala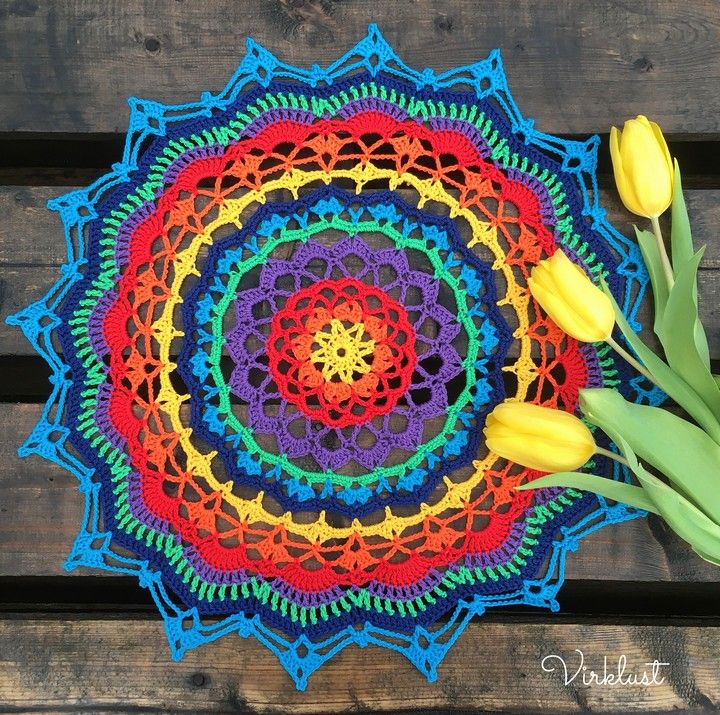 This is a bright and colorful crochet mandala pattern. It's perfect for anyone who wants to start working with colours and stitches in a fun way. You can easily create a beautiful Mandala with this pattern. The round object is worked in the round, starting with a magic ring and finishing with a picot edge. It can be used as an intermediate skill because it includes basic stitches of Crochet, but if you like to watch how to make this pattern step by step, this is an easy embroidery project.
Mandala Two
A lovely and soothing pattern suitable for beginners, you can make this Mandala in any colour combination you'd like. It works up quickly in basic stitches, and the lacy design is stunning when finished. This is a great Crochet Mandala pattern and a wonderful way to use your leftover yarn. This pattern can be worked in a round or with a circular needle, whichever you prefer. It's best to know how to Single Crochet before cropping this pattern.
All Colours Mandala
This Mandala is made in the most beautiful colours and is a perfect addition to your home. It is perfect for any room, so that you can crochet this beautiful Mandala any time of year. This beautiful Mandala is great for beginner crochet students. Use this template to cut out the different strips, pop them together in a zig-zag pattern, and you are done! Make this Mandala as small or large as you want. This is a simple, easy and fun pattern for you to learn how to crochet into a Colours Mandala with your preferred yarn and hook.
Extraordinary Mandala Hat
This Extraordinary Mandala Hat is an easy project for beginners and experienced crocheters alike. It is a beautiful design that you can use as a mandala pattern. Its lovely, bright and colourful patterns make it great for summer wear. This is an easy pattern for a basic crochet hat. It works quickly and is easily customizable for your size. You can add more rounds to make it longer or add a pom-pom on top! This beautiful mandala hat crochet pattern uses worsted weight yarns to create a modern look that's perfect for everyday wear.
Unseen Mandala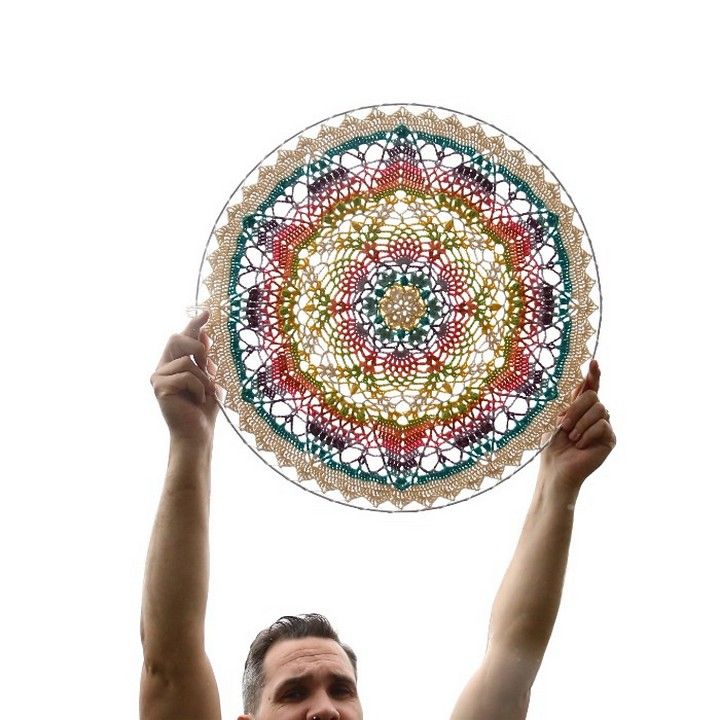 Make your own unique and beautiful Unseen Mandala with this easy-to-follow crochet pattern. Crochet a circle with single crochets, half double crochets, and double crochets, then join it all together at the end to create this colourful piece of art. This hand-crocheted Mandala is suitable for beginners and easy to understand and follow. A relaxing round of crochet fun, perfect for stress relief and meditation. It is fun and easy to make, the first round of this crochet mandala would be a bit complicated, but after that, it's easy.