DIY Harry Potter Crafts allow fans to show their love and appreciation for the wizarding world of Harry Potter. These projects are a fun and creative way to bring a touch of magic into your daily life and add a personal touch to your home décor. Many DIY Harry Potter projects are suitable for all skill levels and interests, from making your wands to creating Hogwarts house banners. Additionally, these projects often incorporate inexpensive materials and household items, making them a budget-friendly way to add a touch of magic to your life. With so many options available, DIY Harry Potter Crafts provide a fun and engaging way to bring the magic of Hogwarts into your home.
The DIY Harry Potter Crafts blog post showcases various creative projects inspired by the world of Harry Potter. The post highlights the benefits of making your own Harry Potter crafts, such as personalization and budget-friendliness. The post provides various project ideas, such as making wands, Hogwarts house banners, and more, suitable for all skill levels and interests. The blog post also highlights the use of inexpensive materials and household items to create a touch of magic in your daily life. The blog post showcases various DIY Harry Potter Craft projects and encourages readers to get creative and bring a touch of magic into their daily lives.
Are you looking for some DIY Harry Potter crafts to make? We've got 14 DIY Harry Potter Crafts that are perfect for making with kids or just for yourself!
Advantages of DIY Harry Potter Crafts
Advantages of DIY Harry Potter Crafts include:
Personalization: Create unique pieces that reflect your love for the wizarding world.

Cost-effective: Many projects can be made using inexpensive materials and household items.

Creativity and imagination: An opportunity to express your artistic side and bring magic into your life.

Fun and engaging: A fun and a relaxing project that allows you to immerse yourself in the world of Harry Potter.

Accessible for all skill levels: Simple projects for beginners and more challenging projects for experienced crafters.

Gift-giving: Perfect for making gifts for friends and family who love Harry Potter.

Sustainable: Repurpose and recycle materials to create something new and magical.

A tribute to the wizarding world: Show your love and appreciation for the world of Harry Potter by creating pieces inspired by the series.

Harry Potter Patronus Charm Pencil Set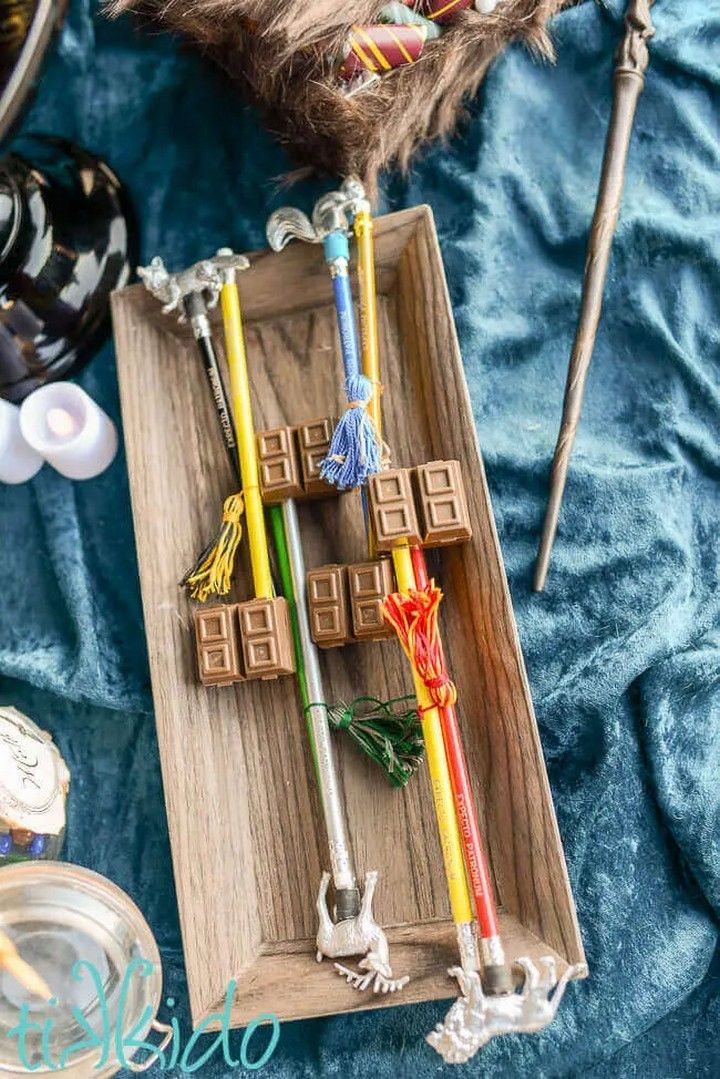 This DIY Harry Potter pencil set is for those who are more practical in their magic or for fans of the series who want to add a touch of Harry Potter flair to their day-to-day lives. A Patronus Charm is a spell that originated from the spell-casting device, the wand. The charm creates a guardian from an animal that reflects your personality and is used when facing dark wizards. This pencil set can be made by cutting a hole in regular pencils and topping them with themed animal figurines. With three pencils decorated like this, you'll be ready to face your Patronus Charm foes with style!
Harry Potter Monster Book Of Monsters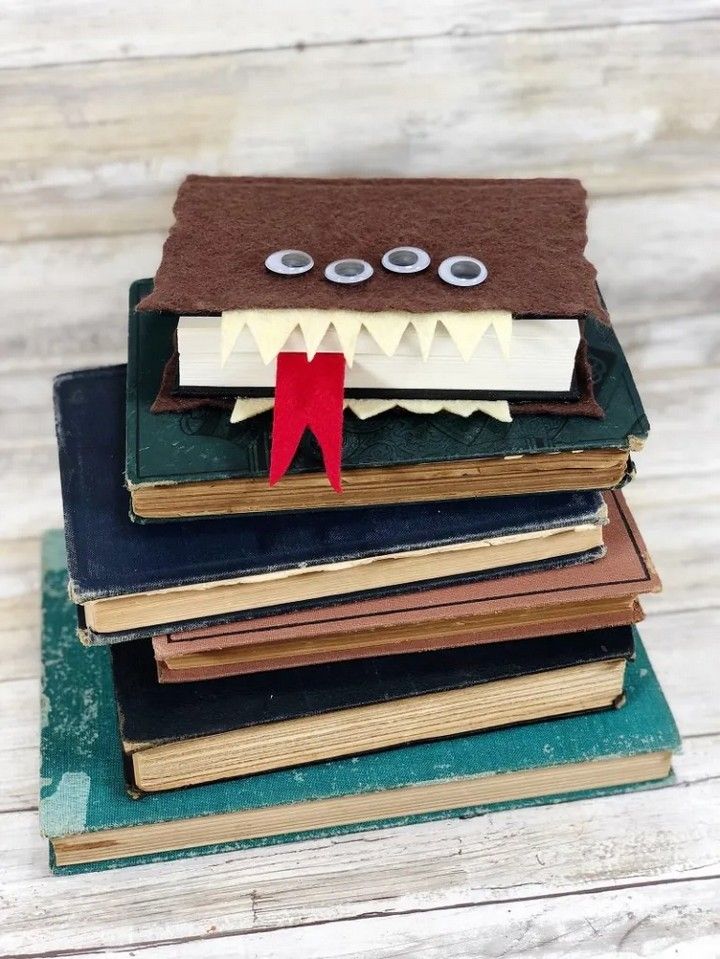 Crafting is a great way to express your creativity, and this DIY Monster Book of Monsters is sure to be a conversation starter for any Harry Potter fan. The Monster Book is one of the most iconic props from the Harry Potter series. With this project, you can make your own Monster Book in just a few hours! You can make your own Harry Potter Monster Book of Horrors with this fun DIY craft. This is the perfect Harry Potter-themed gift to give to any Potterhead, even if you're not an experienced crafter.
DIY Spell Book Perfect For Harry Potter Lovers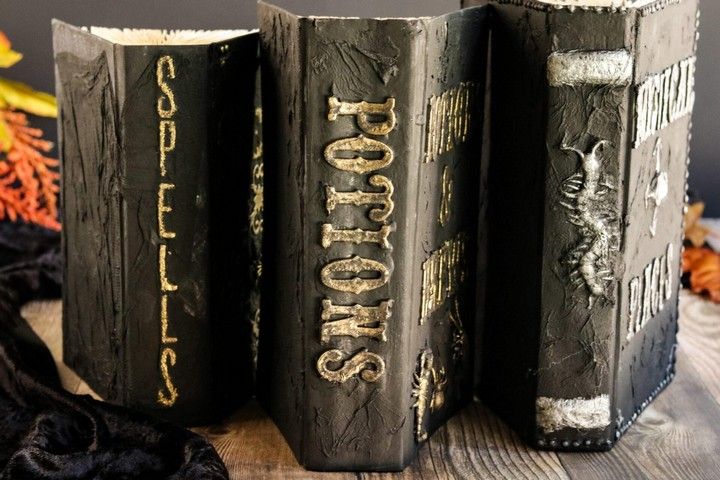 If you're a fan of Harry Potter, then this DIY Spell Book is perfect! You will need three hardcover books, foam, puffy or 3d letter stickers, a hot glue gun with extra glue sticks, embellishments of choice, Mod Podge, a paper towel, black paint, distressing ink, and ribbon. For an extra magical touch, add another quill to your supplies list. Your favorite spells from the Harry Potter book series are now inside this spell book! This DIY craft is perfect for any Harry Potter fan and looks great on a shelf or mantle.
Harry Potter Favor Box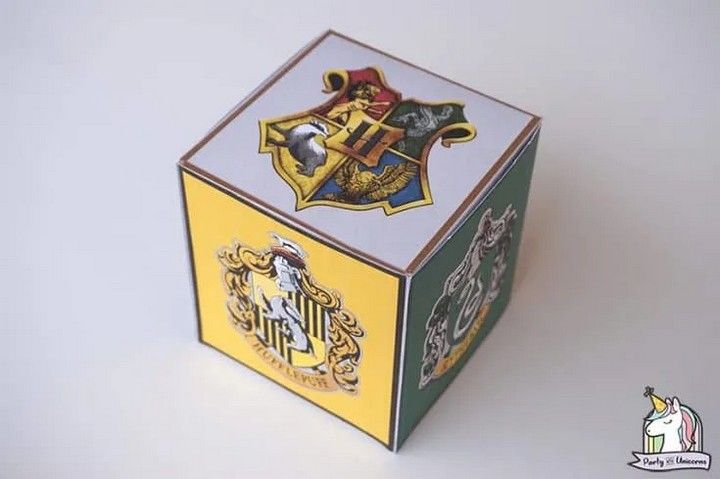 Crafting is a beautiful way to enjoy Harry Potter. You can make your favorite boxes and create special memories with your friends and family. Create this super-cute Harry Potter Favor Box in a few simple steps. You'll need to print out the template and then cut it out with a pair of scissors. Next, you'll use glue to adhere the edges of the box together. This is great for party favors or any birthday celebration!
Make These Hogwarts Houses Harry Potter Mason Jars In Minutes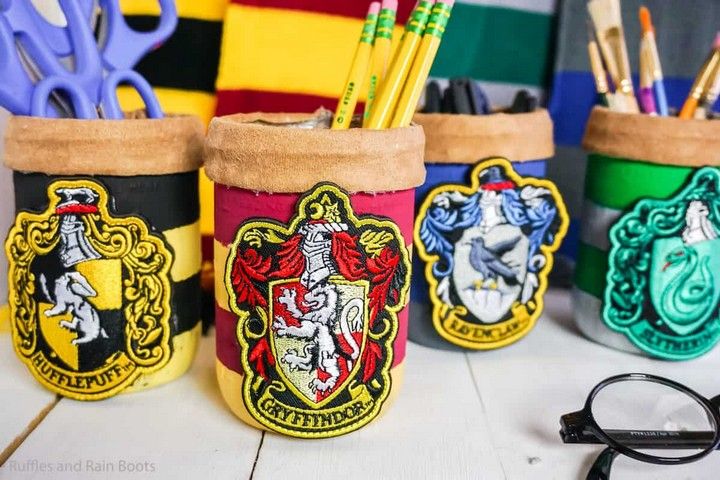 These Hogwarts house mason jars are easy to make, and you can use them for many things once you're done decorating them. This project is excellent for anyone who loves Harry Potter, but it's also enjoyable to make with friends and family. You'll love this DIY Harry Potter craft because it's so simple to do, and once you paint the jars, they look like they're straight out of the movies. You could finish these in time and make the whole set together.
DIY Harry Potter Felt Bookmark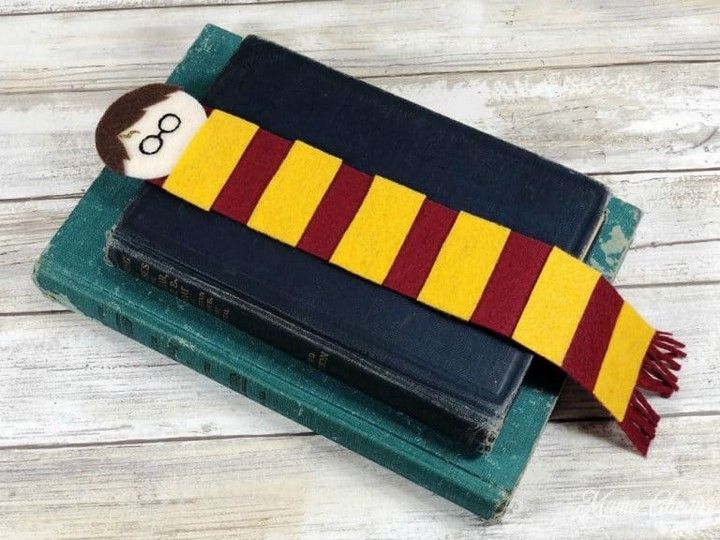 Harry Potter is one of the most popular books in children's literature, so why not make something special for your favorite little wizard? You can make a themed bookmark for every book your child wants to read! The felt bookmarks are easy to create and a great way to get kids started sewing. This Harry Potter bookmark will help you mark your place in the books and guide you to the next chapter. Crafted from felt, it features brown dragon scales, gold trim and a golden snitch for added detail.
Free Harry Potter Svg + Marathon Blanket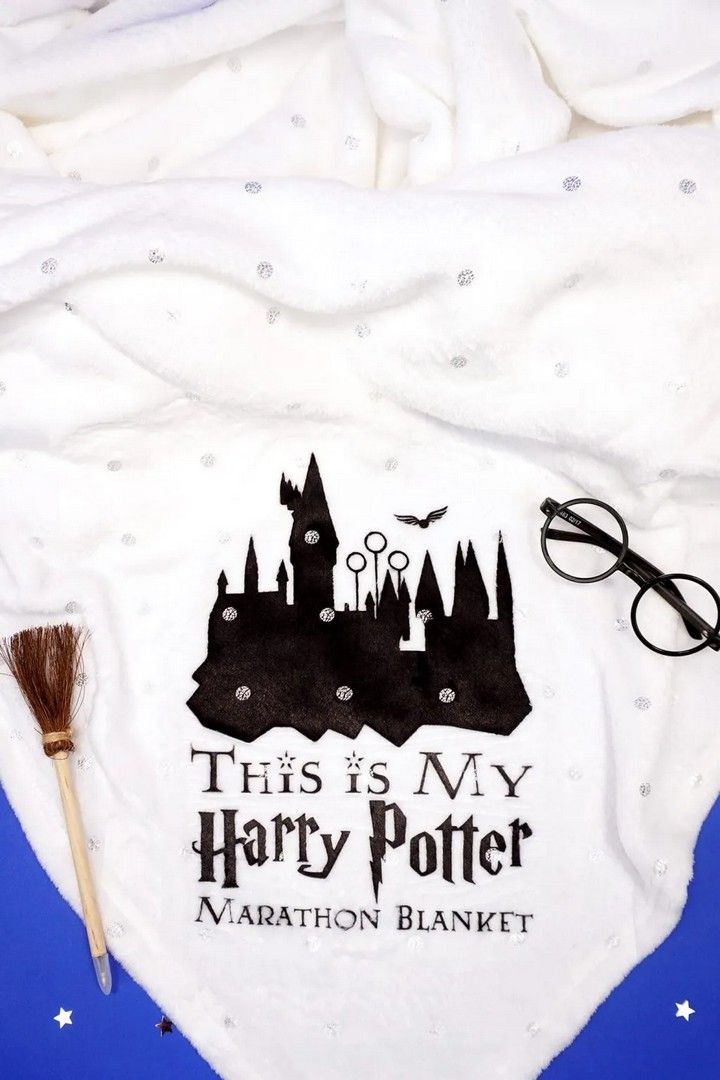 These Harry Potter Craft supplies are a great way to bring the magic of Harry Potter into your home. This weekend, create a DIY marathon blanket with this free Harry Potter svg. Use your Cricut Maker machine to cut the design and heat-press it onto a cotton fleece blanket to create your magical marathon blanket. Make a magical Harry Potter marathon blanket to decorate your space and keep you warm during winter. It's simple, easy, and a fun project for your next movie night or Halloween party
Easy No Sew Harry Potter Inspired House Scarves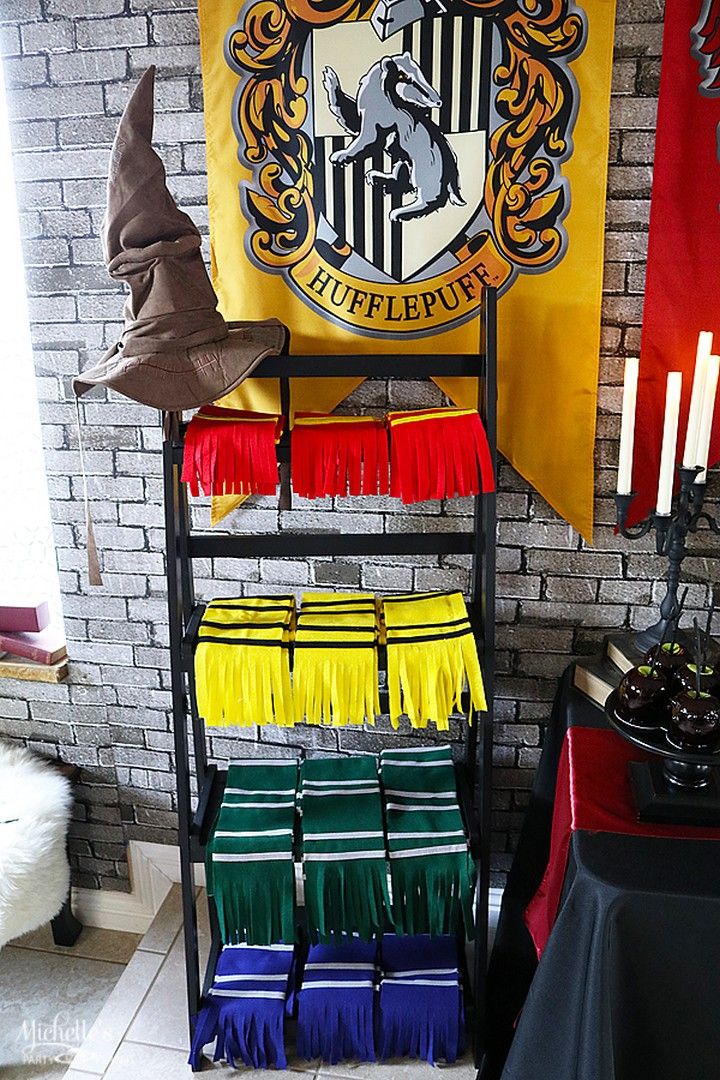 Have you ever wanted to put your thoughts into Harry Potter Craft? This DIY Harry Potter Craft is quick and easy but still looks stunning! Use these no-sew house scarves to show off your house colors! All you need is a pair of scissors, a hot glue gun and Extended Cutting Pads. Cut out a piece of felt and secure your favorite House color to the back of one side of the scarf. Then use a hot glue gun to attach additional felt pieces on each end of the scarf so it will wrap around the desired size! The Big Shot makes cutting your custom scarves fun, easy and efficient!
How To Make A Harry Potter Wand Craft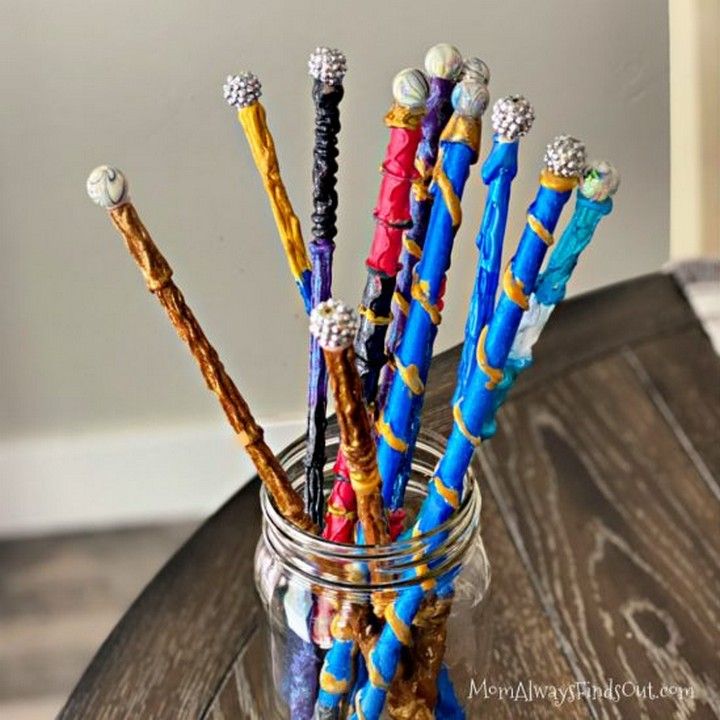 This Harry Potter wand craft is an easy and fun way to re-create your favorite character's magic. The best part of this project is that you can make one for each child in your family! Get ready to send a spell flying with Harry Potter Crafting! This fun tutorial will show you how to make the perfect Harry Potter wand craft, complete with felt letters. Using a simple hot glue gun, you can quickly assemble your masterpiece and add some paint for extra color.
DIY Harry Potter Paper Bows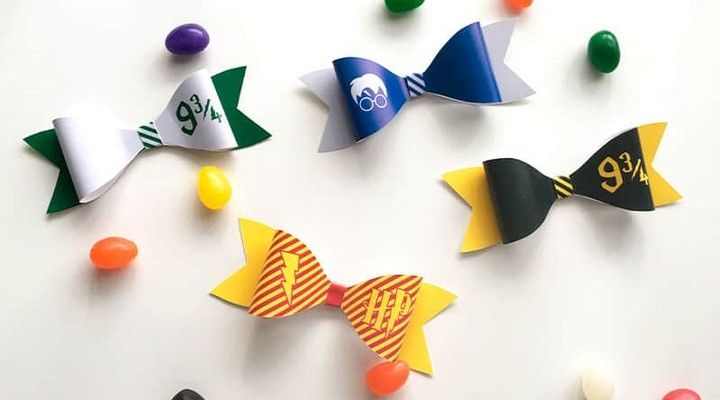 DIY Harry Potter Paper Bows is a fun and creative craft that makes your room feel like Hogwarts. These DIY paper bows are easy to make, but they look professional! You don't need to spend much cash on decorations for your Harry Potter-themed party. This craft is simple and requires little effort! ___Harry Potter Paper Bows would be outstanding as decorations for your next party. Complete with instructions, this project is suitable for any Harry Potter fan!
Easy Harry Potter Bookmarks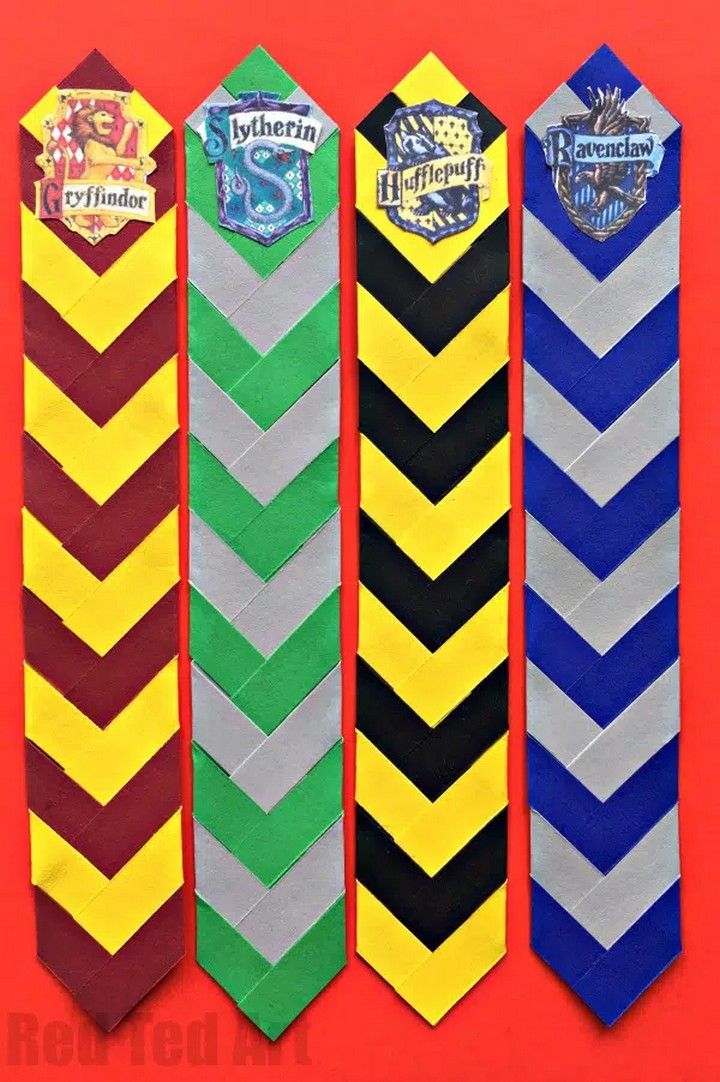 Learn how to make easy Harry Potter bookmarks right at home. You'll love these magic-inspired bookmarks in various house colors, perfect for reading and bookmarking your favorite books. A great and easy Harry Potter craft that kids will love to do. You can make these bookmarks in various colors and designs depending on which house you think you most like. Alternatively, it's easy to repurpose the leftover bits of paper from other projects. These are super easy and quick crafts, especially if you want to wow your friends and family with crafty magic!
DIY Harry Potter Wand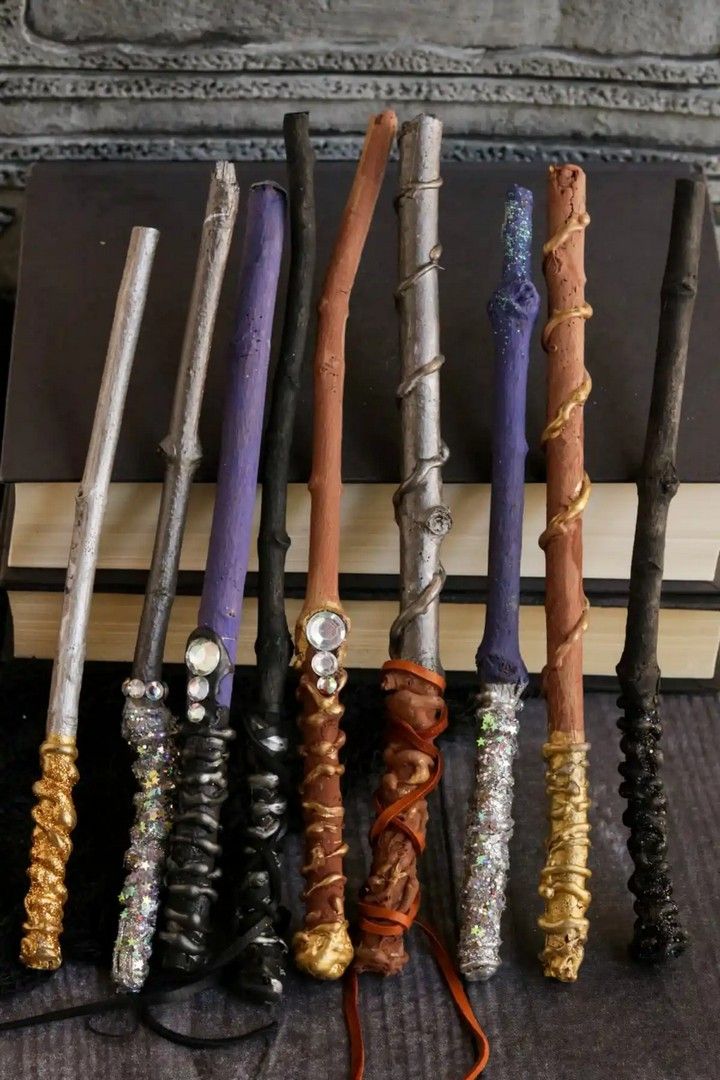 Take a trip back to Hogwarts and make your own DIY Harry Potter wand. This easy project is perfect for any beginner crafter and will only take about an hour to complete! Making your own DIY Harry Potter wand is a great way to craft and have fun at the same time. All you need to do is choose a wood stick, paint it a shade of your choosing, add in gemstones for added allure and then finish off with ribbons or ropes as desired. You can also advance this project by adding metal accents to make it look more realistic!
DIY Harry Potter Peg Dolls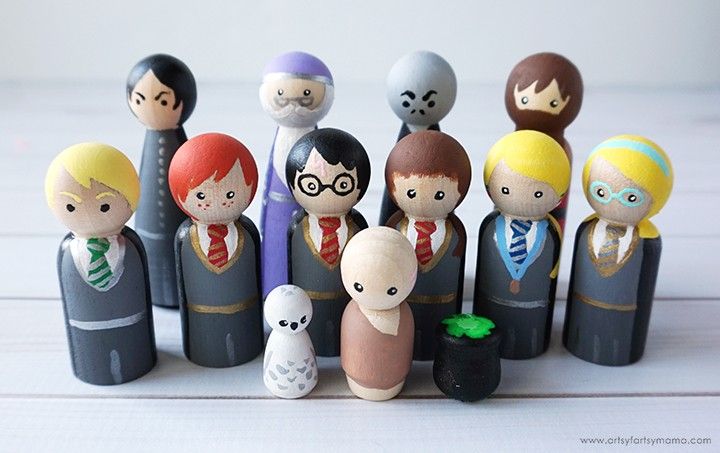 Harry Potter is a magical world, so it makes sense that we'd want to bring it "to life" in our homes. And what better way to do that than with Harry Potter peg dolls? You might think that finding the perfect peg doll — and all the materials to put together — would be a challenge, but we've done the work for you! Painting the faces of your wooden peg dolls with Harry Potter-inspired images will make them one-of-a-kind. You could paint them as characters from your favorite movie or make them as a set based on scenes from the books.
Harry Potter Potion Necklaces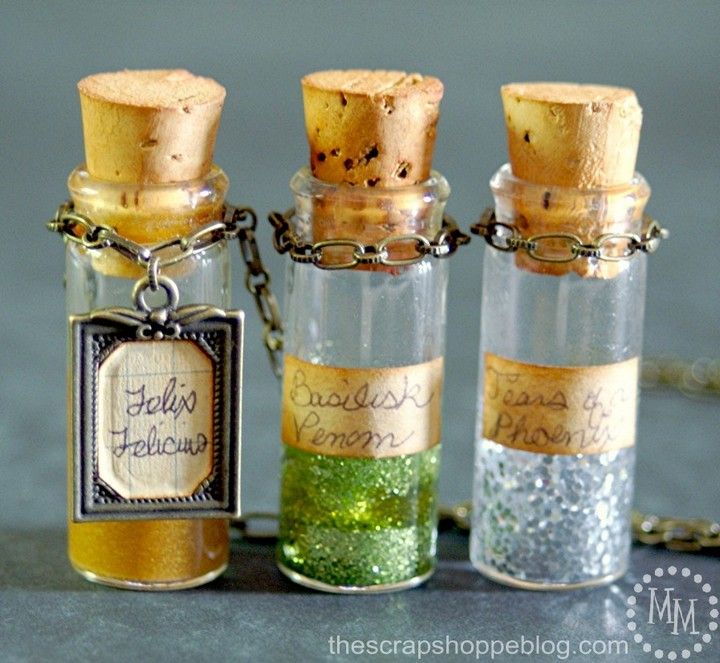 Celebrate the magic of Hogwarts with these DIY Harry Potter Potion Necklaces. If you like Harry Potter, you will love this DIY Harry Potter Potion Necklaces craft. They are a fun and easy way to commemorate your love for all things wizard, witch and magical! The tutorial shows you how to make all sorts of potions using little glass vials, necklaces, and various colored paints. These DIY Harry Potter Potion Necklaces make an excellent gift for the holidays or any time of year.