Trundle beds are a practical but stylish solution for kids who need a place to sleep when they're over at their grandparents' house. They're also a great way to add extra sleeping space in the master bedroom if you don't have room for a full-sized bed. As long as you have a place to store it out of the way when it's not in use, you can even make your own! We rounded up 15 creative DIY Trundle Bed ideas ranging from simple and sturdy to luxurious and romantic. Whether you already have a frame or are looking to build one, these projects will help you create the trundle bed of your dreams.
DIY Trundle Bed Plans

Trundle beds are a space-saving, multipurpose addition to any home. They can be pulled out for extra sleeping space when guests come to stay, or for the occasional sleepover, you might throw for your kids. If you're tired of your sofa acting as an impromptu bed, or if you want to have a place to crash on the floor without getting up, a trundle bed is just what you need. They're also great for storage—if your closet is overflowing with clothes and shoes, why not roll out your trundle bed and stash all your extra belongings? Plus, they're more affordable than most Murphy beds and offer more versatility than a futon.
Benefits Of DIY Trundle Beds Ideas
This is the best way to make your bed more comfortable. If you have a bad back or any other problem with your back, then this will be the best solution for you. You can also use this to make your bed more comfortable for kids, especially when they are sick or don't feel like sleeping on their beds.
You can use these DIY trundle beds as extra mattresses if guests or visitors come over at night and need a place to sleep. It is great for them because they can have their own space and privacy when needed but still be close to each other if they want to.
These are very easy to build yourself, saving you money because it only takes a few hours to make one at home with simple tools and materials, such as wood, paint etc...
They are also very easy to store away when not needed anymore, so they will only take up a little space in your house or room etc...
Kitty Twin Trundle Bed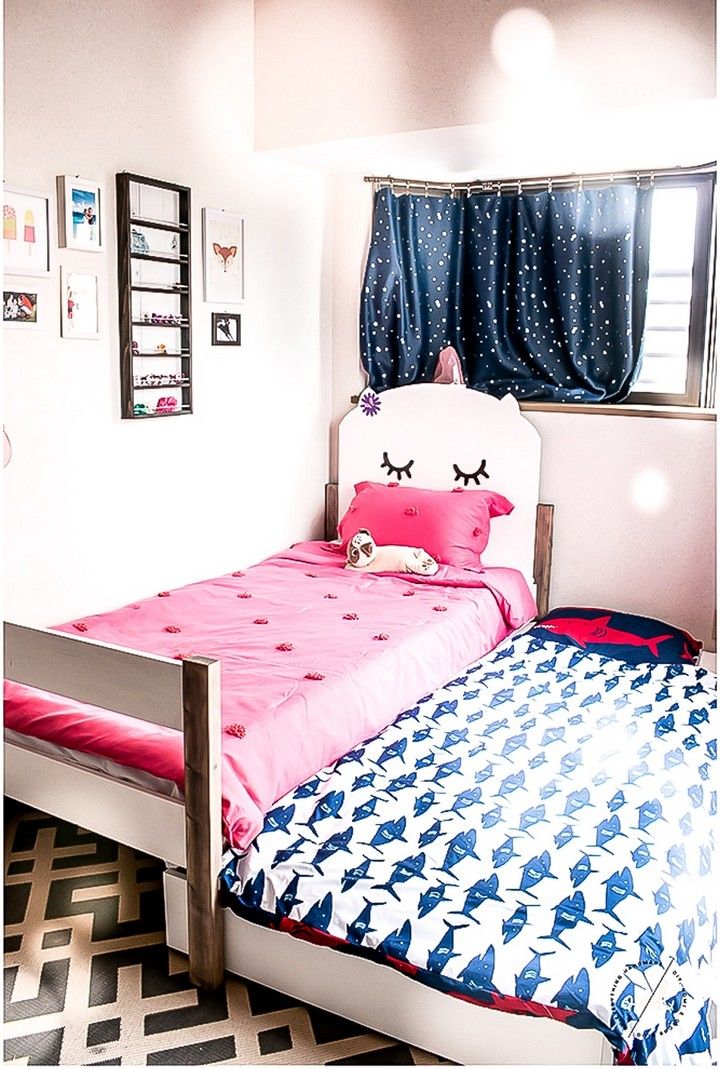 This DIY Kitty Twin Trundle Bed is a fun project for your kids, who will love the kitty-themed design. This twin-size bed is great for adult kids who may have put off setting up their bedrooms and need a place to sleep when they visit. Make your child's bedroom more fun and functional with a DIY Kitty Twin Trundle Bed. This bed gives ample space to store memories and clothes while offering a cozy place to rest. Once it's complete, paint it with your little ones' favorite colors, or keep it in neutral shades that can grow with her as she becomes more of an adult!
TeePee Trundle Bed DIY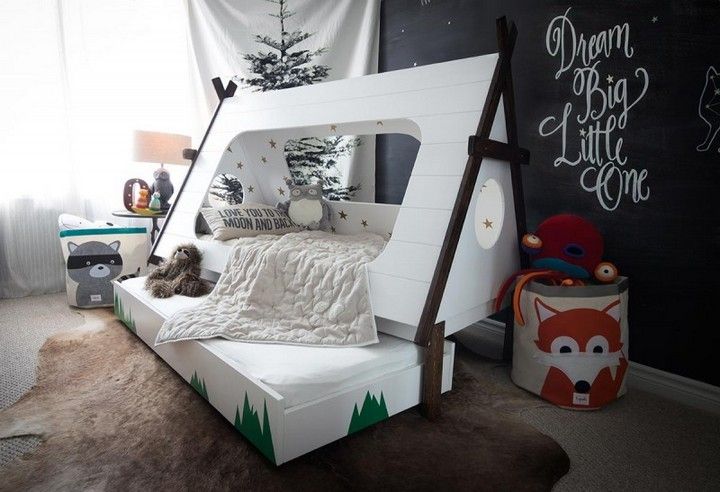 The TeePee bed is a traditional bed frame crafted from sustainable timbers. It features slats (instead of springs) and can be turned into a trundle bed using the included trolley system. This gorgeous combination of materials is finished with high-quality enamel paint in your choice of color. A great solution for smaller spaces. This DIY trundle bed will help create a cozy space for your child or guests. With some basic carpentry skills, you can have a bright and colorful bed frame ready in no time.
How To Make A Trundle Bed On Wheels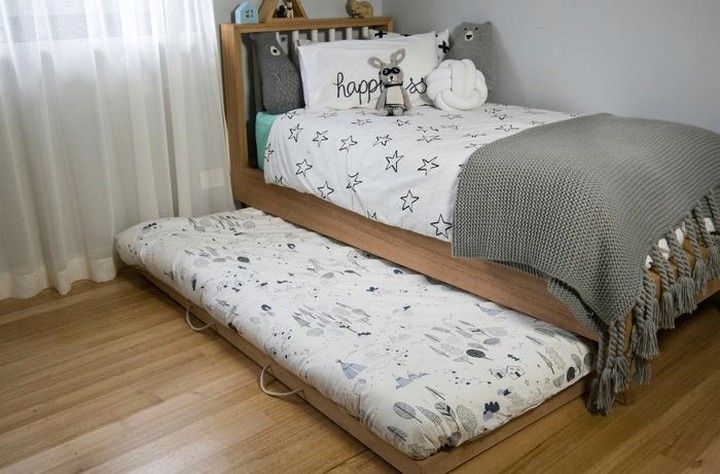 A DIY trundle bed can be the perfect space-saving solution for any home. Learn how to make a DIY trundle bed on wheels that you can use as a sofa during the day and a twin bed at night. It's easy to build with supplies from the hardware store and costs less than $200 to make! This easy DIY project transforms a standard twin bed into a trundle bed. With a sheet of plywood and simple tools, you can make your trundle beneath almost any size mattress, whether it's an old or new one. Build the plank platform and slide it beneath the mattress when needed.
You can also see: DIY Hanging Bed Ideas
How To Build A DIY Trundle Bed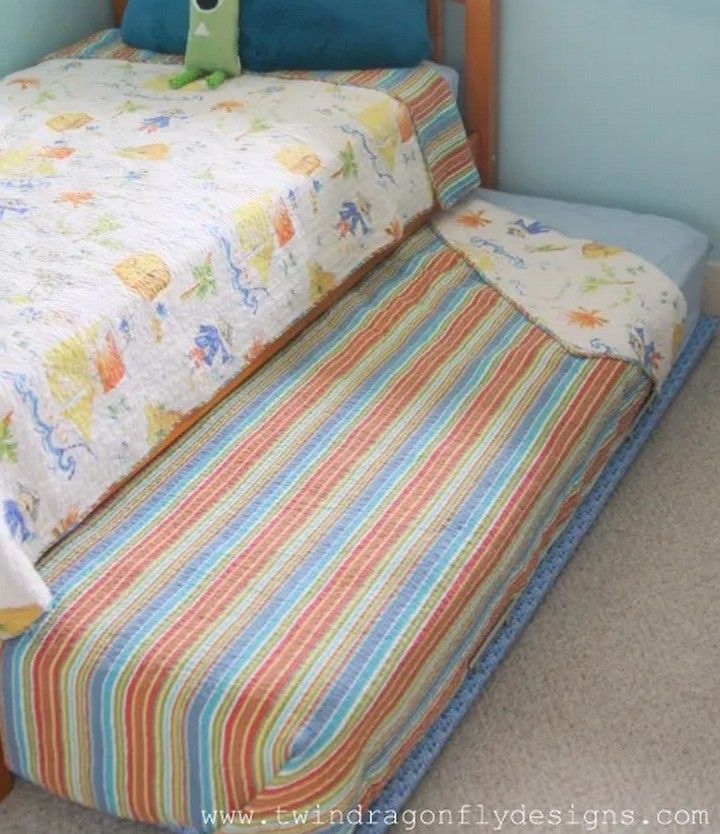 This easy DIY project was the perfect solution for our youngest child's bedroom. Now she can have her bed, with a little extra space underneath for a trundle. Make a DIY trundle bed when an extra sleeping space is needed in your home. This bed can be tucked away under your existing bed when not in use, making it the perfect solution for that occasional overnight guest or as a spare bed for houseguests.
Simple Twin Bed Trundle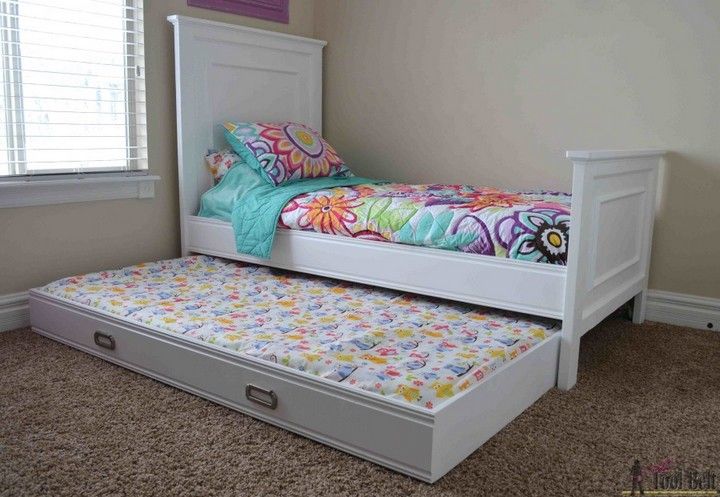 Are you looking to save money and make your bed? Do you want a trundle bed that easily converts from day-to-night, but doesn't require you to purchase a bed frame? Look no further than this easy DIY project for making a simple twin bed trundle with just a few pieces of wood. With this easy tutorial, anyone can learn how to make a better night's sleep. Transform your kids' room into a cool hangout with this DIY Twin Bed Trundle. This is an easy project that requires just a few tools and materials. The result? A comfy bed with a couch-like feel that can be used as extra sleeping space when needed.
Trundle For Bed Or Storage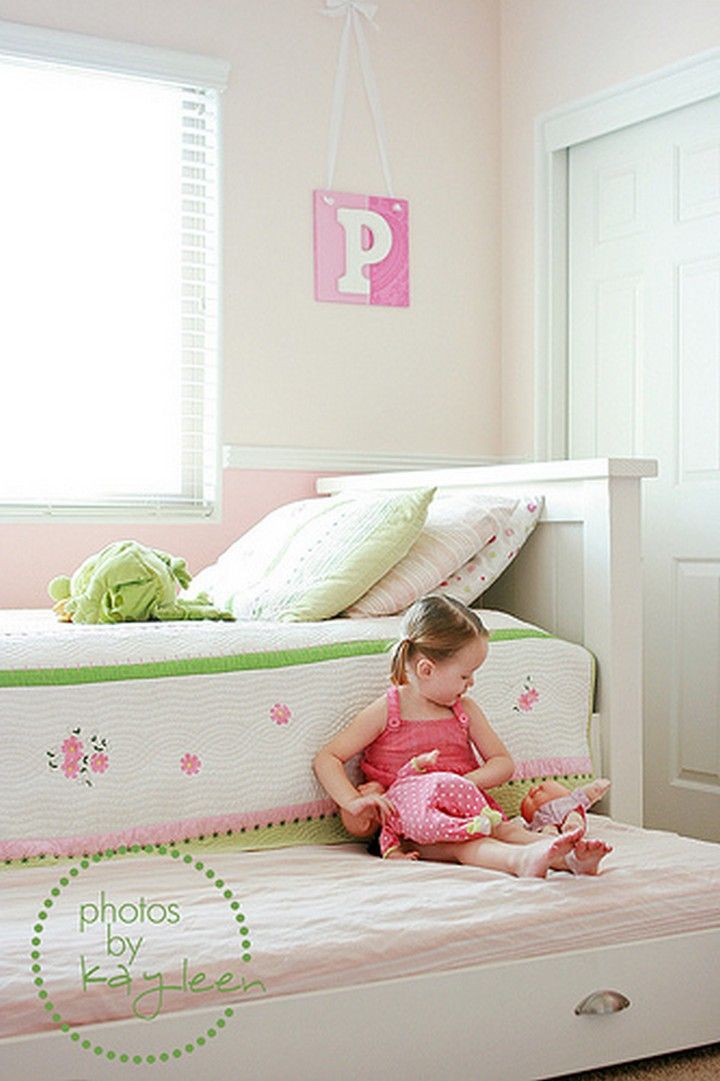 Need a unique addition to your child's room? This DIY trundle bed will be the perfect fit! It is inexpensive, simple, and easy to make. Not only that, but it can also double as extra storage! Make your bed more useful by building a DIY trundle bed. This multi-functional bed looks great as it rises from the floor and can be used as additional seating and a place to store items. The trundle is designed to slide out easily, making it simple to use as a spare sleeping space for guests.
DIY Rolling Trundle Bed Plan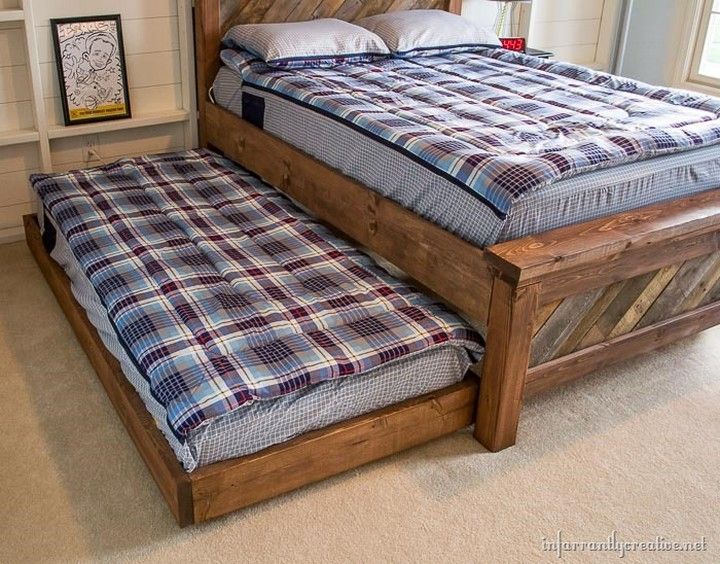 This DIY rolling trundle bed is a super-sleek and space-saving solution for those with limited space, and the best part? It's easy to make with this DIY plan. Simple and sturdy, this DIY rolling trundle bed plan is easy to build with basic tools. Each bed has a drawer for extra storage or for storing your extra quilts, sheets and pillows. Turn your spare room or den into a cozy, private space for your lovely little one with this DIY rolling trundle bed plan. After all, you'll never know when you might need to accommodate another guest—or two!
DIY 18″ Doll Trundle Bed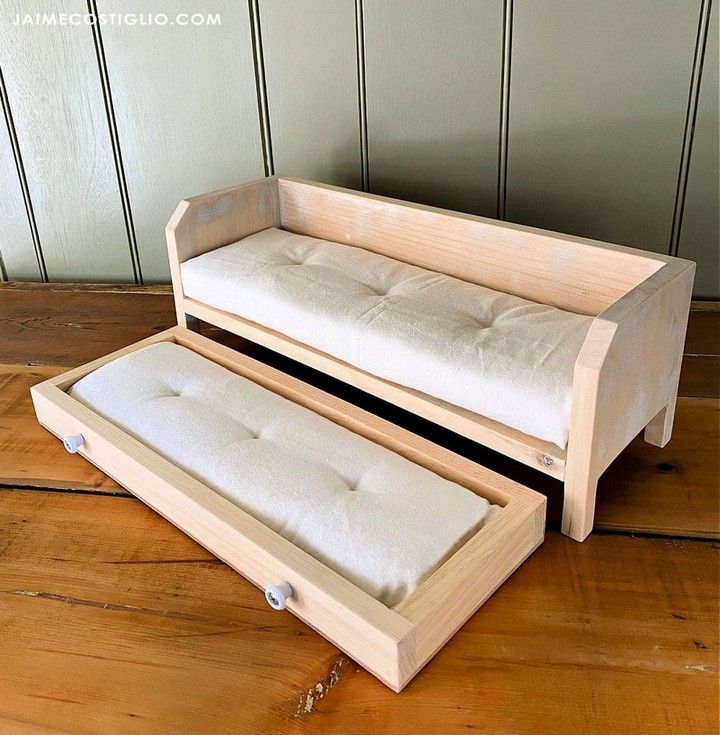 Create a DIY doll bed with your child that they can decorate and paint any way they'd like. The kit includes everything you need to make the bed, including nails and glue, or purchase the kit without nails and glue if you prefer to use a hammer drill or screwdriver to attach the boards. A trundle bed is a great space-saver for bedrooms with limited space. The bed works well for creating an extra bed for sleepovers and playdates or a guest room on your second floor!
How To Build A Trundle Bed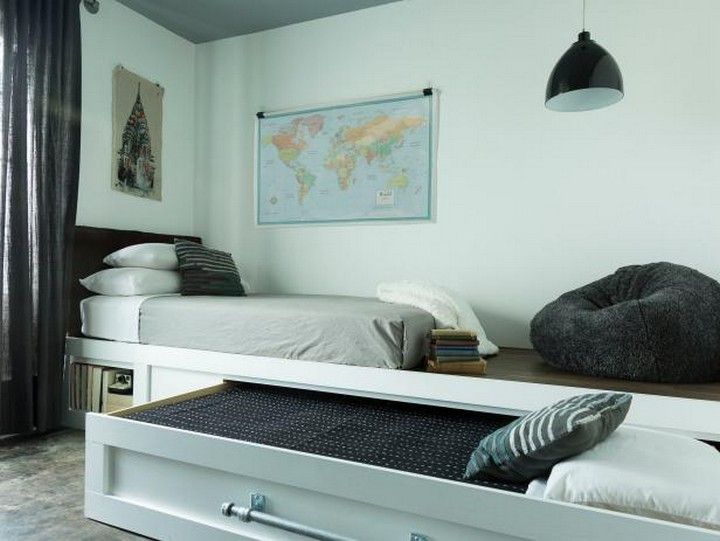 Build your trundle bed with these easy steps. It's a great way to save space and create an instant guest room. You can find all the necessary parts and materials at your local hardware store—no special skills are required! Trundle beds became popular again and are a great addition to any bedroom. You can build more space out of a smaller room with the right storage. This DIY wooden trundle bed is easy to make and requires little tools beyond a drill and screwdriver. Let's get started!
How A Daybed With Trundle Beautifully Saves Space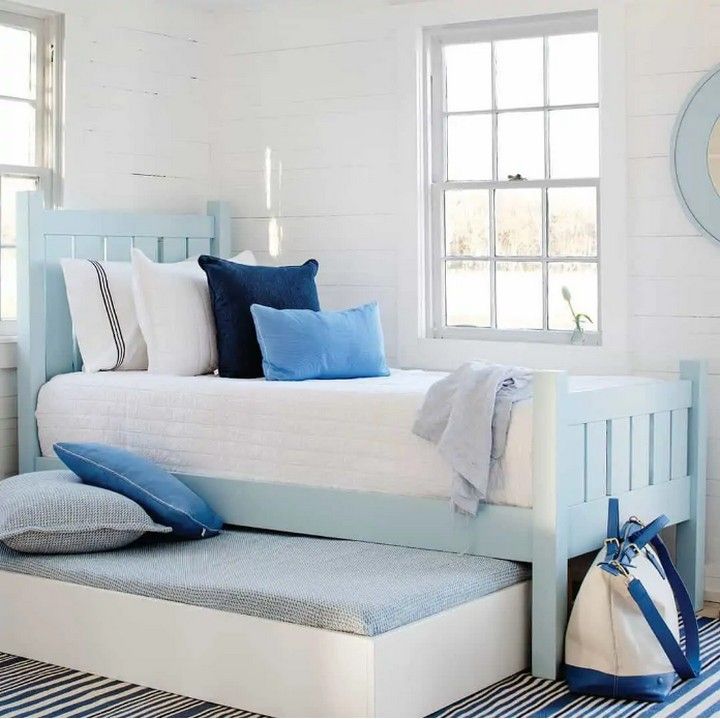 A daybed with a trundle is a clever space saver in a small bedroom, office or kindergarten playroom. The trundle bed shoved under the daybed becomes a true "utility" piece by adding extra sleeping space when needed. Now you can create an elegant and useful sofa for yourself, a friend or a family member to enjoy! The best thing about a daybed? It easily transforms from a cozy place to curl up with a good book to an extra bed for guests. It is made from solid wood and features a trundle that makes it easy to stow away when not in use. Left open on each side, the design creates an inviting modern aesthetic for any bedroom.
DIY Trundle Bed Anyone Can Make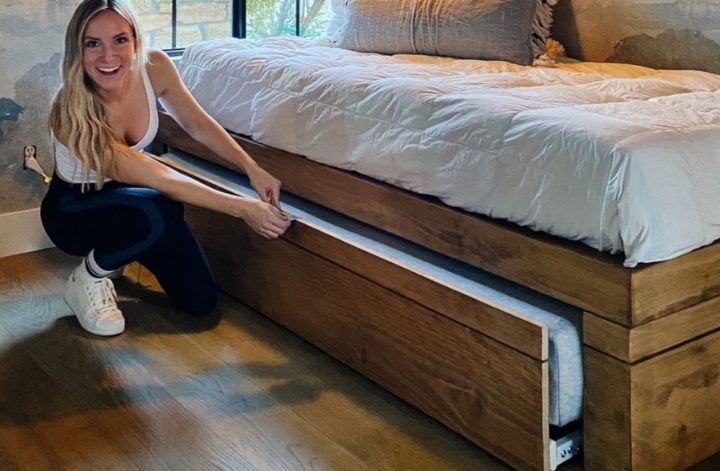 Do you need a simple, sturdy bed that can be made in just a day? Whether you do or not, this DIY trundle bed is exactly what you're looking for. Even beginner builders can tackle this project using inexpensive materials and basic woodworking skills. With the help of our handy guide and step-by-step instructions, building a trundle bed is a simple DIY project any person can complete. With just some basic carpentry skills and a few supplies, you can create a trundle bed with drawers that will work just as well in your child's room as in any room in your home.
You can also see: DIY Roman Shade Ideas
DIY Trundle Bed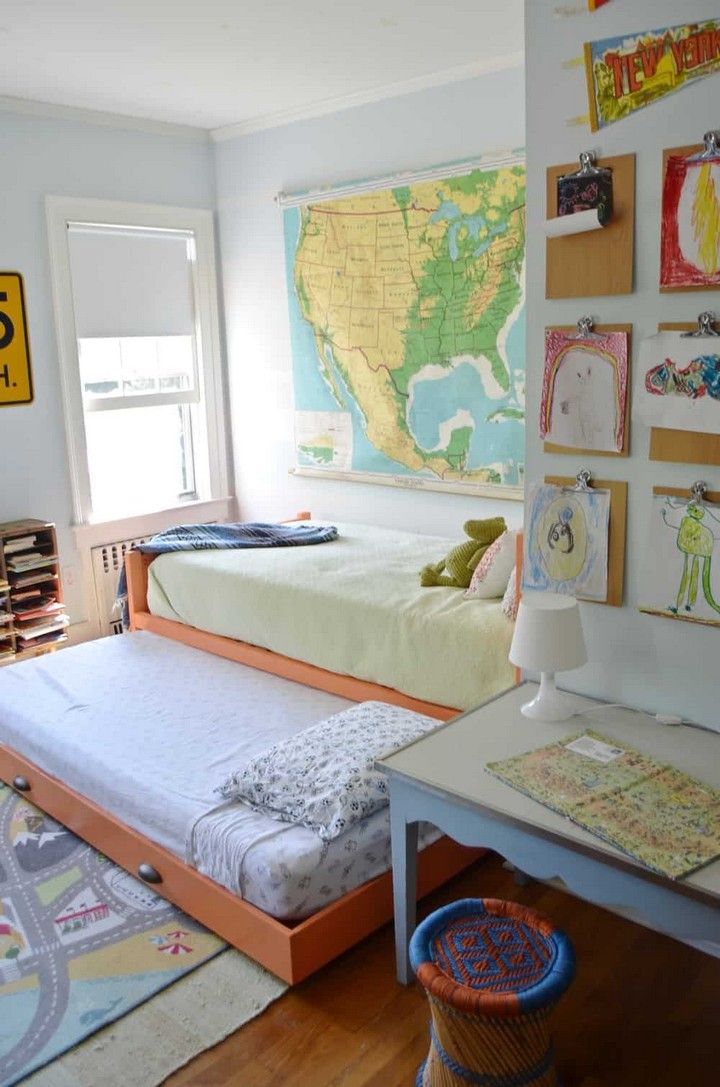 DIYers can create exactly what they need. If you've got a bed that needs extra storage, add a trundle bed - it's easy to make and doubles your space. A DIY trundle bed makes an excellent bed for kids, big and small. It can be used as a sofa during the day and a bed at night, which makes it a multi-functional piece for any room in your home. If you are on a tight budget and looking for the best option, here's how to build one yourself.
Twin Trundle Bed Plan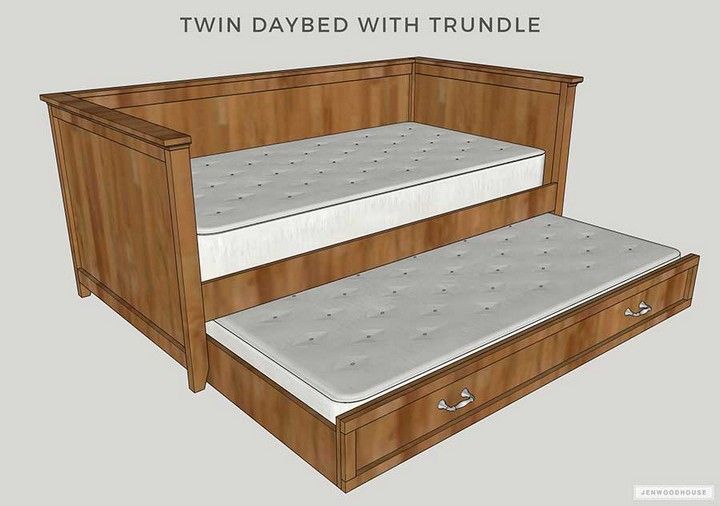 This DIY Twin Trundle Bed Plan will help you build a full-sized double bed for your kids. The design features the following: A hinged headboard, which allows you to convert it into a trundle bed anytime. Pull out a trundle bed that can be stored underneath the bed when not used. Safety rail on each side and center of the trundle mattress. Easy assembly without using any tools or complicated parts. This DIY plan is perfect for adding this bed to your home. Not only is the price extremely affordable and the cuts easy, but it also looks amazing when complete!
DIY Trundle Bed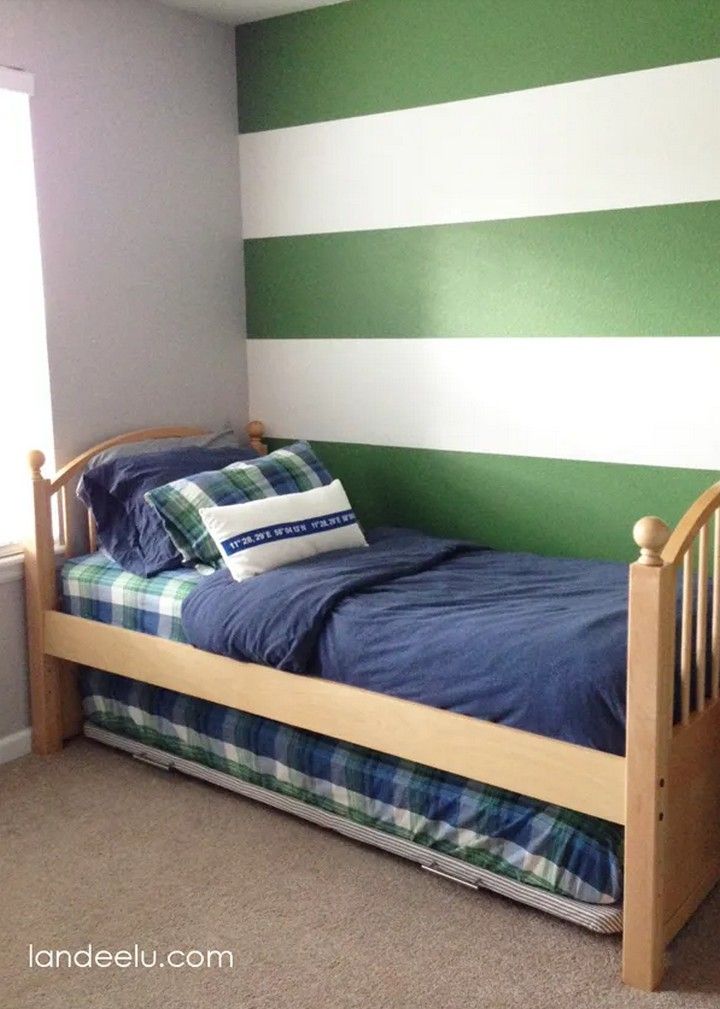 An affordable and easy-to-make DIY trundle bed! Perfect for storing linens, folded clothes and other items. This simple and functional design will help you save space in any small bedroom while maximizing your storage capabilities. It is a classic project you can do in your garage using simple materials. This project is perfect for bedrooms, dorms, or a fun kids' playroom. It offers a classic design and rich finish, so it will fit in with your bedroom decor for years to come. Be sure to check out the matching nightstand!
Trundle Beds The Space-saver Your Kid's Room Needs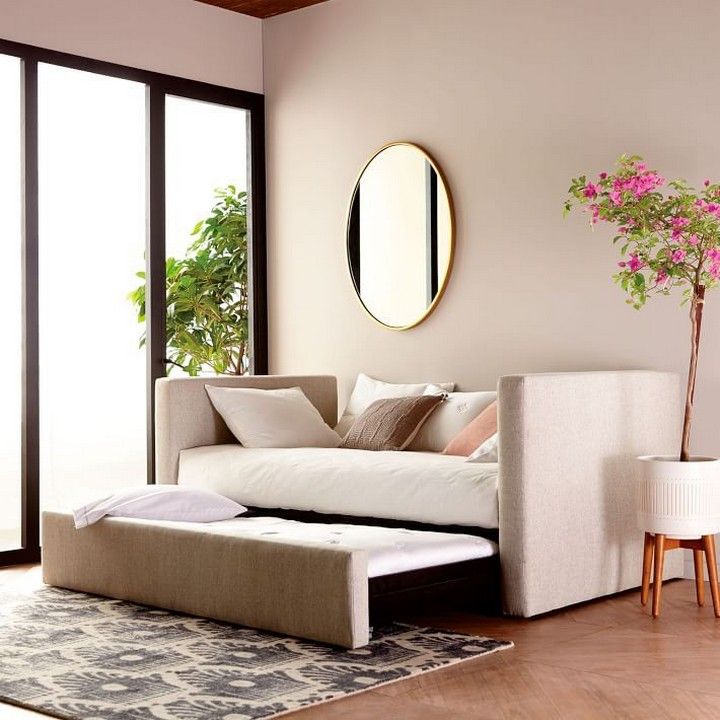 This DIY trundle bed is a space-saver your kid's room will thank you for. It's simple to build, inexpensive, and has a modern design that kids are sure to love. Let your kids sleep in their own space and save room with this DIY trundle bed. It's a perfect solution for growing kids, allowing them to have their own space while maximizing their sleep space. Get started on your DIY trundle today!