Mirrors are great for all sorts of things. They're a quick way to make your room look bigger, and they can be practical by reflecting light in a room with poor lighting. But the most common use of mirrors is as a decorative item, which can add personality to the space it's in—looking for some unique mirror ideas to spruce up your decor? Check out these DIY Mirror Frame Ideas that'll teach you how to frame up your mirrors however you like! You can learn how to give them a rustic feel or a sophisticated touch or even make them look cute or goth. The possibilities are endless!
DIY Mirror Frame Projects

Do you want an easy way to make your mirror look more interesting, different, and unique? Here's a DIY solution for you! These 30 Mirror Frame Ideas will help you transform boring mirrors and make your home look amazing. Mirror frames are great for sprucing your home with a little DIY flare. These ideas are easy, cheap, and a great way to use up some of the odds and ends you have lying around the house! They can be a great way to enhance your home decor and your overall living space.
How To Make A Large Mirror Frame
This Instructable shows you how to make a wooden picture frame for a large mirror or any size. You can easily create many of these frames using the same method at different times and on other projects. Making a wooden picture frame to fit any mirror size is easy! This video will guide you through the required materials, tools, and steps. In less than 10 minutes, you'll be on your way to having the perfect large mirror frame to fit the centerpiece of your home.
How To Build A Mirror Frame
If you love DIY, why not make your own mirror frame? It is relatively simple whether it's for a gift or your home. Although if you have never worked with wood before, always use safety precautions and have someone with experience help you with any projects. You can frame an old mirror and make it look new or paint it in your favorite color. Or, you can take an old frame and use it to hold a cheap mirror at a fraction of the cost. This comfortable furniture is a conversation starter and a unique accent piece.
DIY Custom Mirror Frame
Make a custom mirror frame for your industrial farmhouse-style home. This DIY project easily adds natural color, texture, and interest to any space. This is a quick and easy mirror frame project. This method works great for large or small mirrors. The steps are simple, but the result is impressive. Combining industrial style and rustic farmhouse style brings something special to any room.
How To Frame A Mirror
Use this DIY mirror frame tutorial to create an easy, lovely, beautiful frame for your large mirror. The DIY mirror frame tutorial will walk you through creating this gorgeous, ornate frame for your large picture. Use this simple project as inspiration to create your own unique and individual structures for any size of mirror you have on hand. The best part? You'll end up with a beautiful piece!
DIY Mirror Frame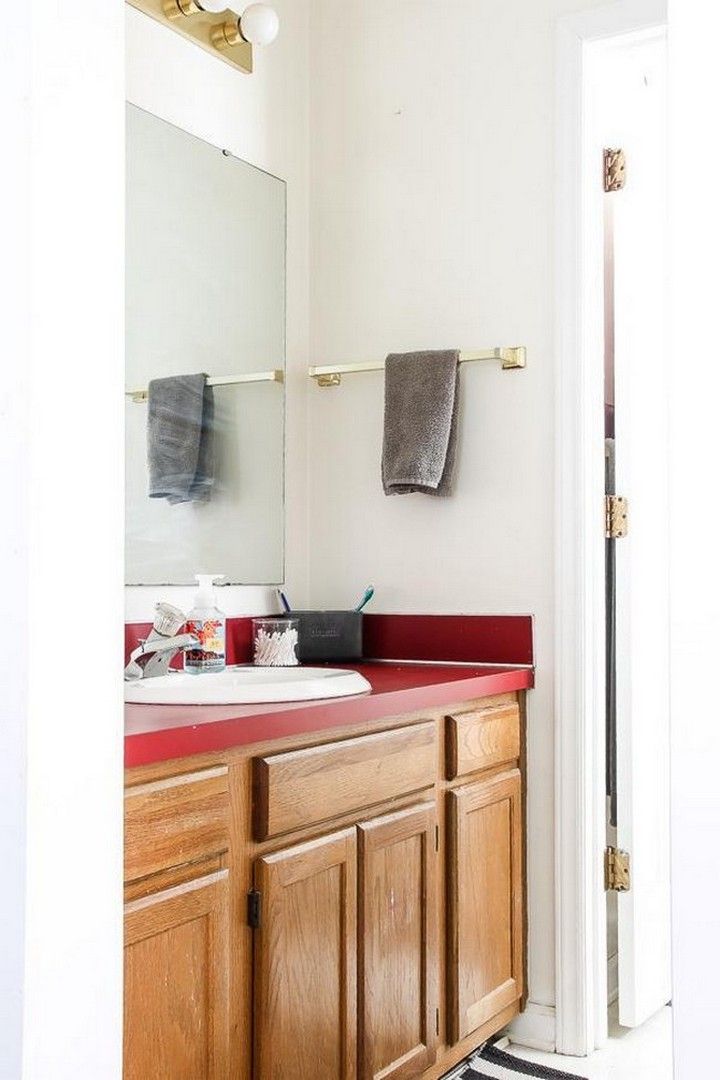 This project is one of our favorites! It's a quick and easy way to update your decor. This project uses a standard-sized mirror, but you can always customize it with different dimensions. There are few things more boring than a mirror. Aside from the obvious solution of hanging your wardrobe in front of it and changing outfits every five minutes, if you want that extra pop in your room, try adding a DIY mirror frame. By learning this simple technique, you'll have a luxurious and functional mirror within an hour.
DIY Stick On Mirror Frame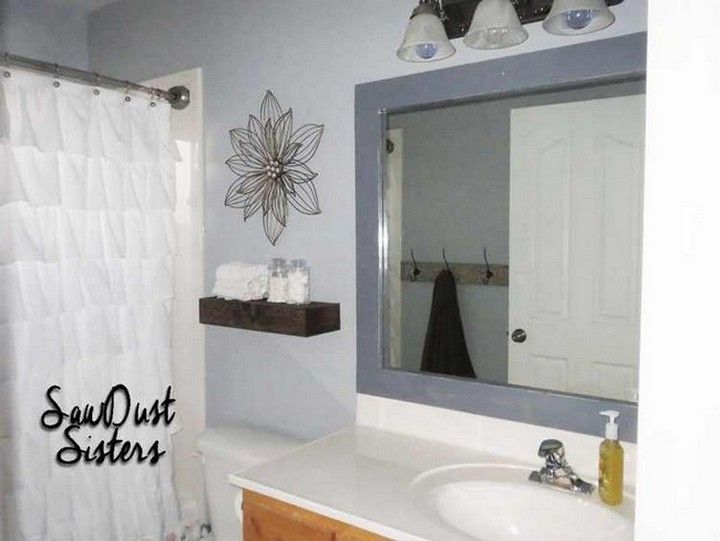 Everybody loves mirrors, and this stick-on mirror frame is one of the easiest ways to give your bathroom that wow factor. Give your mirror a lift using simple techniques and materials to create a beautiful and unique look that is as functional as it is on trend. This is a great way to update and personalize your space. It's also something that can be done quickly and easily, which makes it perfect if you don't have much time to devote to a home project.
PVC Pipe Mirror Frame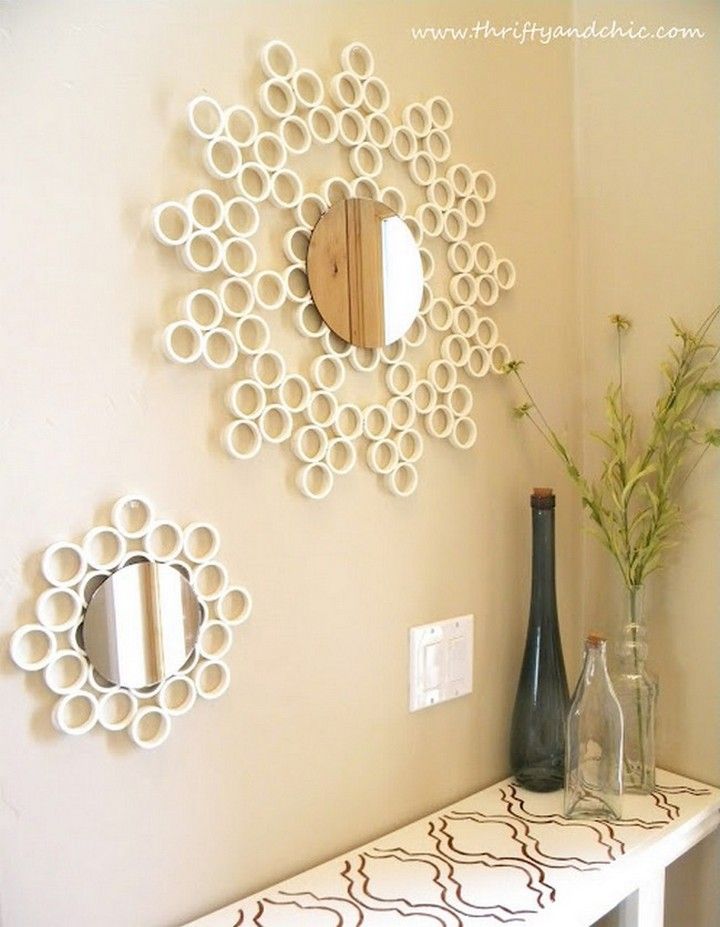 Attractive and affordable, this DIY mirror frame is a perfect addition to your bathroom. Made of PVC pipe and wood, this durable design works well with any decor. Add a pop of color to your bathroom with this great DIY PVC Pipe Mirror Frame. Use pvc pipes and a premade frame to build your unique mirror frame easily. This DIY mirror project is easy to assemble, and you can paint or stain the lines to match your style.
DIY Frame For Bathroom Mirror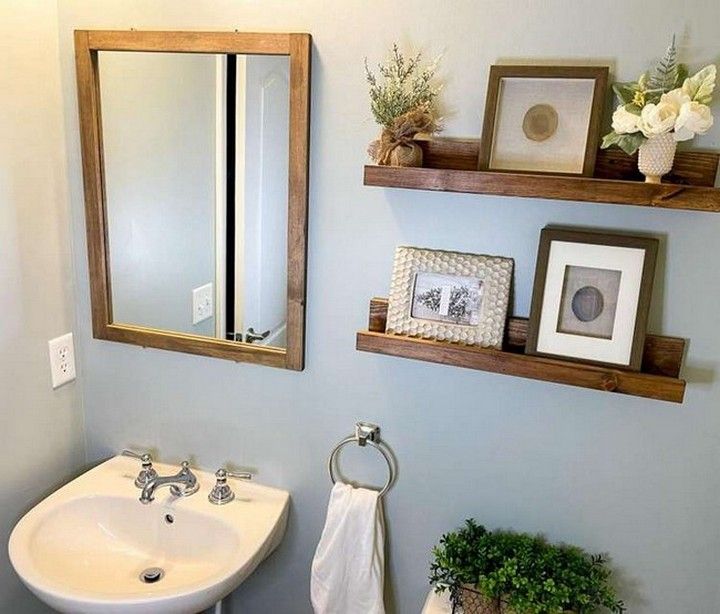 If you're tired of looking at that tired old mirror in your bathroom and are ready for a makeover, this is your lucky day. Framing a bathroom mirror is a quick and easy way to update your decor. With a few simple steps, you will be on your way to a beautiful new frame that makes your mirror 'pop' in your space! This DIY mirror frame is easy to build, looks great, and costs just pennies. You don't need to hire a professional to frame your mirror; with the right materials and techniques, you can make it happen independently.
DIY Modern Framed Floor Mirror
This is a cool way to build a simple frame for your mirror. It will be perfect for modern interior styles, easy to make, and inexpensive. You only need a few tools and pieces of wood to build this frame. Once it's assembled, mount your mirror and hang it on your wall. This is a much cheaper project than buying brand-new furniture, especially if you're looking for something more customized than what's offered at the big box home improvement store.
How To Build A Frame Mirror
Looking for a woodworking project that only takes a day or two? What if you could build a simple, rustic mirror frame that would cost less than $30? You can. This video will show how to construct the basic structure with minimal tools. You can get started with this how to build a framed mirror. This will walk you through how to make a rustic mirror frame. For this project, you will need your wood, table saw, miter saw, drill, and palm router.
DIY Wood Sunburst Mirror
Add the finishing touch to any room with this DIY sunburst mirror. This project is simple, with only four steps needed to make a gorgeous wooden frame. Sunburst mirror is a perfect way to add a touch of classic sophistication to any room. This is an easy and budget-friendly DIY wall decor crafts project that you can use to create your own sunburst mirror. It's very easy, versatile, and can be applied to various surfaces.
DIY Circle Mirror
You can create a beautiful circle mirror frame with this easy-to-follow project. The best part of the mirror frame is that it gives an antique look to your room. This DIY project is super easy and rewarding. You'll learn to measure, cut your mirror, and then build a wooden frame to fit your reflection. This mirror is perfect for creating a focal point in any room or house since it's so different from the norm—and it'll impress all your friends!
DIY Textured Mirror Frame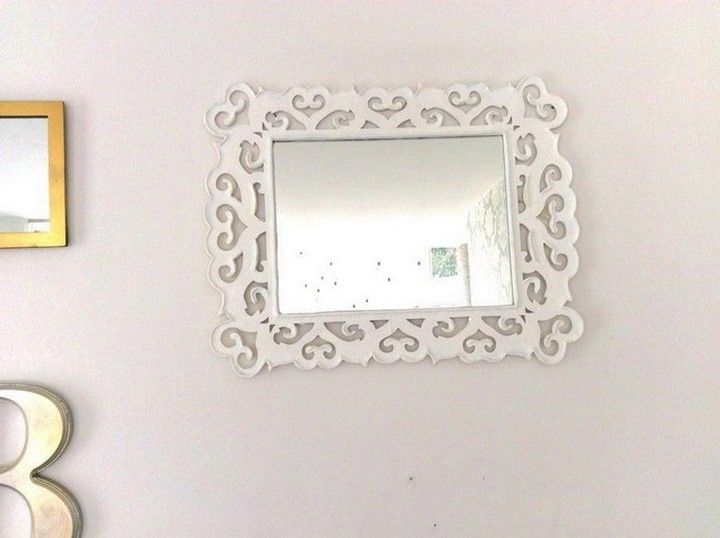 Transform your wall with a gorgeous, textured mirror frame — it's easy to DIY! All you need is some air-dried clay, white glue, and paint. Create a custom mirror with this DIY Textured Mirror Frame. The project is easy to do, and any first-time crafter would be able to make one. The finished product is beautiful and worth the little time it takes to create. You can paint the mirror or leave it as is, but add a protective coat of wax or polyurethane.
DIY Floating Mirror Frame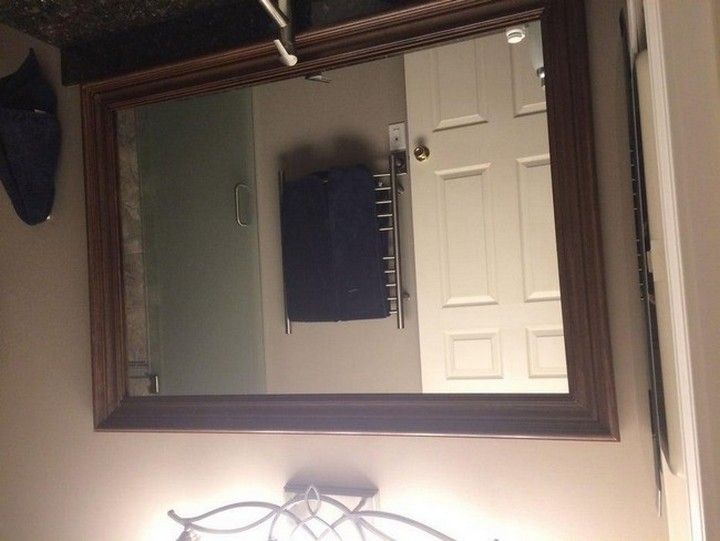 We have the perfect solution for you if you are considering framing up one or two of your floating mirrors. DIY floating mirror frames will help you achieve the look you want. Framing up mirrors doesn't have to be expensive or difficult; it can be surprisingly simple and affordable. What's more, you can make custom-sized frames for whatever size or shape of mirror you have. Some edges can even be made with wall space left over where you'd like to place a picture or other decorative items.
DIY Wood Mirror Frame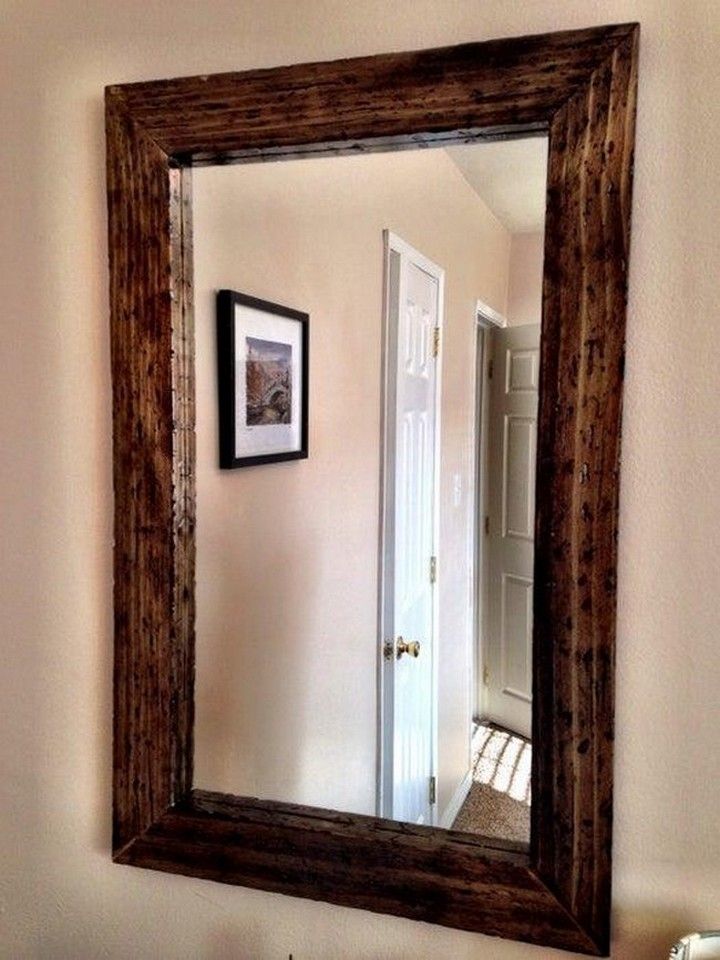 This easy DIY Mirror Frame project can be completed on the weekend. To achieve this project, you can use wood glue, stain, filler, and polyurethane. Staining the wood is an important step you should take. The staining process will bring out the grain of the wood and allow it to have that finished look you want. This project is perfect for beginner DIY enthusiasts and avid crafters alike. This project is ideal for beginners and small mirrored objects that don't need a heavy-duty frame.
DIY Log Mirror Frame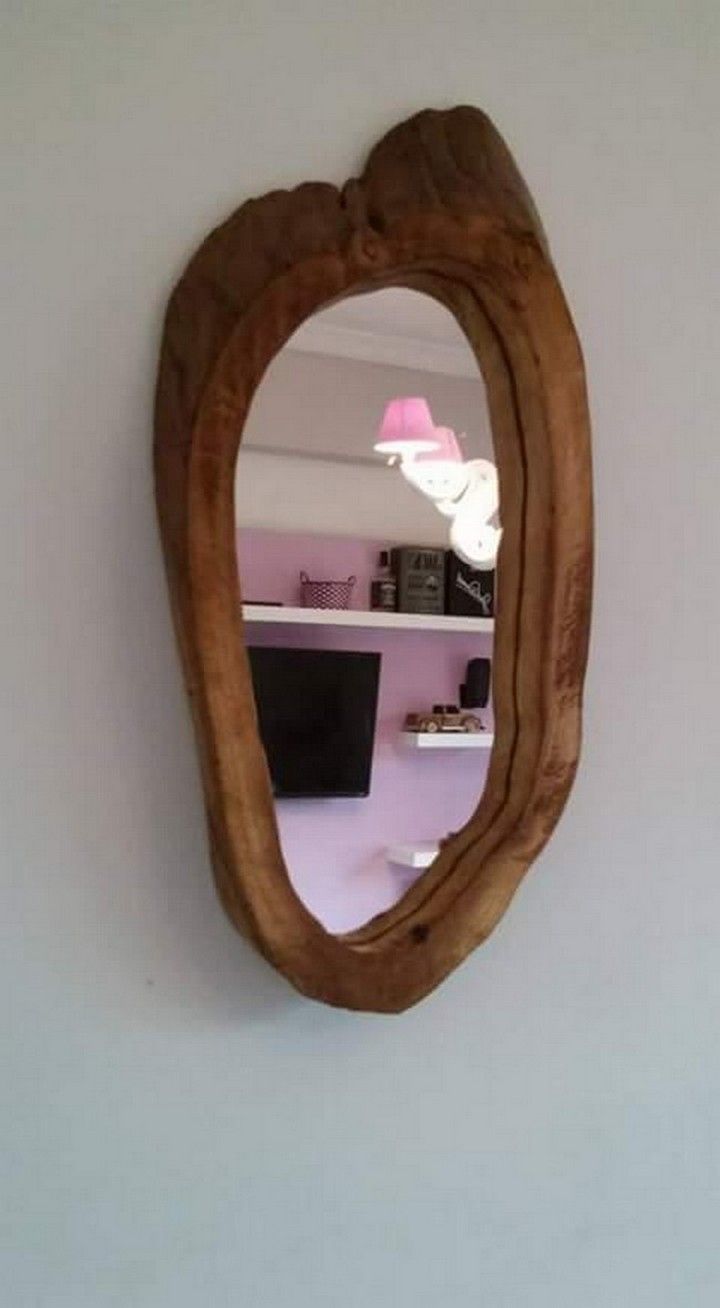 Having a mirror in your room is a great way to feel at ease and comfortable while making it look fancy. This DIY Log Mirror Frame is a perfect craft idea implemented by the crafter himself, where he used a log slice and created an amazing design that gave his room a modern, luxurious look. This is a simple project that anyone can do from start to finish. Whether looking for a quick and easy DIY project or adding a decorative accent to your home, this beautiful Walnut Log Slice Mirror is fun, affordable, and easy! Plus, it's eco-friendly!
DIY Mirror Frame Under $10
Enhance the look of your mirror with this DIY Mirror Frame. It's easy to assemble and doesn't require any tools or hardware. You can have this beautiful piece in place in minutes! Mirrors don't have to be boring. With this DIY, you can decorate your mirror with beautiful art, and it won't cost you much in materials or time. Check the video below on creating the frame yourself and making it look like it came right off a store shelf. All you need is basic framing supplies and a trip to the craft store.
DIY Ornate Mirror Frame
If you have a cracked old mirror and are looking for a classy way to frame it, this is the tutorial for you. This is an easy project that anyone can do in just a few hours with minimal expense. This DIY Ornate Mirror Frame project is a simple and easy-to-follow tutorial for the perfect addition to any space. The material list is short, but you'll be amazed by how much it can transform!
DIY Rustic Mirror Frame
If you are looking for a beautiful rustic mirror frame to go with your old-fashioned decor, this is the right project. Because you're a person who loves doing things on your own, you can make this DIY Rustic Mirror Frame. The process is easy and requires only a few simple supplies. This project is one of the easiest and fastest ways to update your space because not only does it look great, but it's also very inexpensive.
DIY Gold Frame Mirror Made Of Cardboard
Do you want to add glamour and elegance to your home without spending a lot of money? Then this DIY golden frame tutorial is exactly what you need. It's easy to make and will add a classy touch to your interior design. To make this DIY Gold Frame Mirror, you will need three corrugated cardboard pieces and some gold foil. This is a fairly simple project that requires only two steps. This exquisite DIY piece of art can be used as a poignant decoration or an item you want to look at whenever you want.
DIY Mirror Photo Frame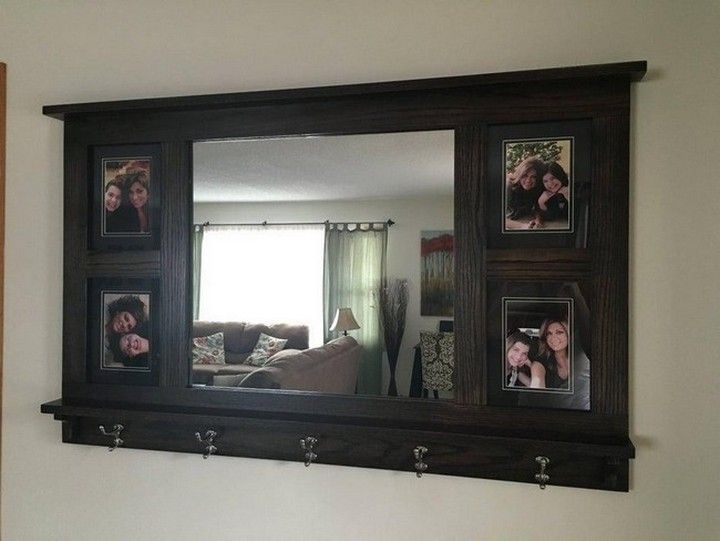 DIY Mirror Photo Frame is a great way to display your memories, photos, and favorite memories in your home. This DIY can be used as a mirror or photo frame. This project will be finished quickly and easily with simple joints and routed rabbet. This frame serves a dual purpose for your room: a picture frame and a mirror. If you like the look of this project and want to make one, use the plans here to build your own DIY Mirror Frame.
How To Add Wooden Frame To Bathroom Mirror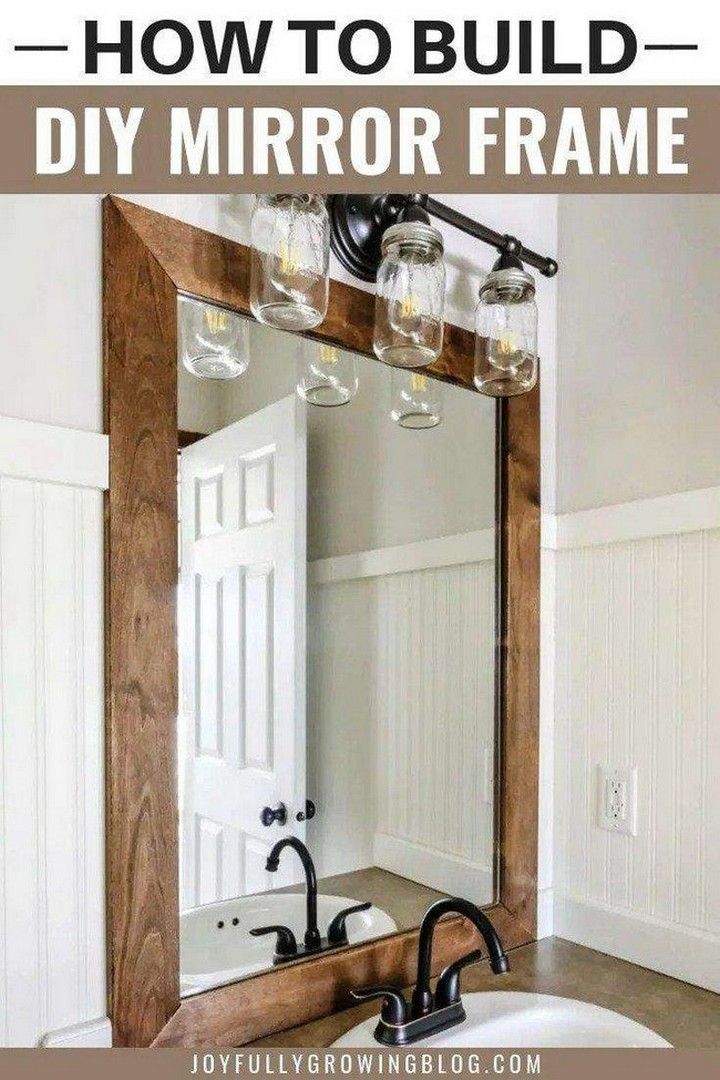 Do it yourself and save money by making a rustic-style wooden frame around your bathroom mirror. This is an easy project that anyone can do! Add rustic charm to your bathroom with an easy DIY wooden mirror frame. The best part is you can get everything you need at your local home improvement store. With a few basic tools and skills, you'll be able to make a beautiful DIY wooden bathroom mirror in no time.
DIY Farmhouse Wood Framed Mirror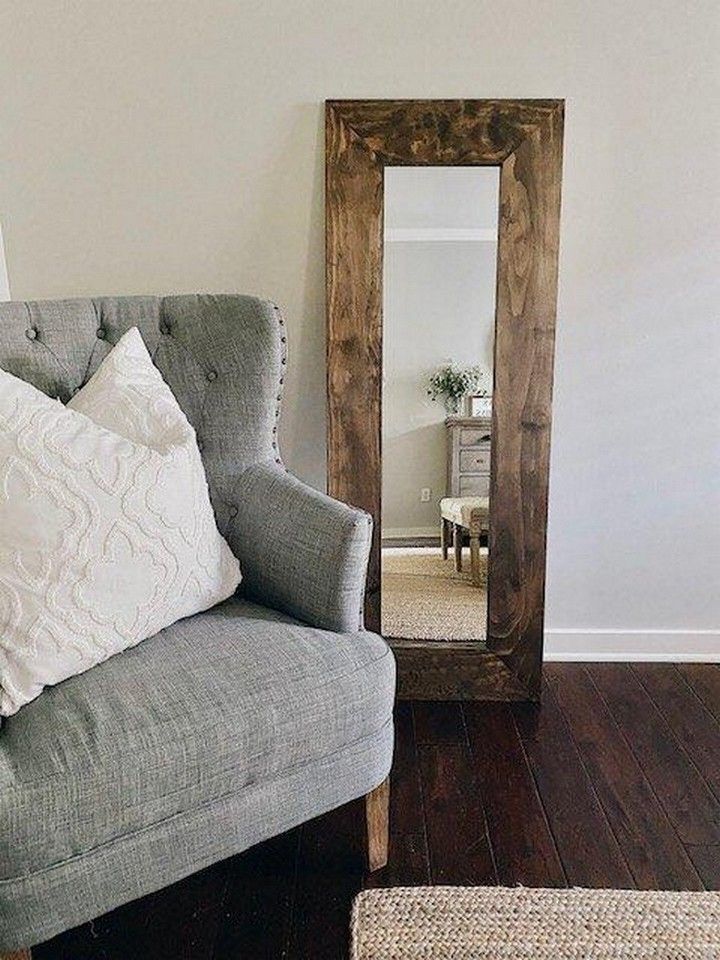 This DIY farmhouse wood-framed mirror is a great way to personalize your home while using some of what you have around the house. Creating a DIY mirror frame is easier than you think. All it takes is a little woodworking knowledge and the right tools. This tutorial shows you how to build a farmhouse-style, wooden-framed mirror by creating a sturdy frame out of wood planks and then decorating it with rope to create a beautiful rustic look. The entire process will take only two hours or so, depending on your supplies at hand.
DIY Easy Mirror With Frame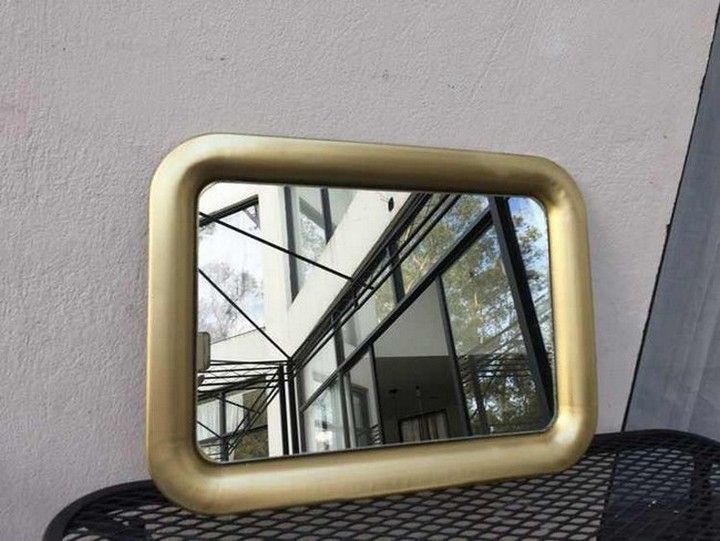 Want to create a unique mirror for your bathroom or living room? You can do that easily with this simple DIY project. This is an inexpensive way to add personality and character, and it goes perfectly with any decor style. It's very creative, economical, and easy to build. This frame is made out of an old tray. It will be a fun and quick project to add to your home. And yes, you can use this idea for many other mirrors too!
DIY Large Mirror With Frame
Learn how to make a large frame mirror while saving money and adding style to your home. This DIY project is quick and easy, requiring only a few tools and supplies found at most hardware stores. The result is a beautiful, sophisticated mirror frame customized on a budget. The measurement for this budget-friendly mirror is large enough to cover the wall space. You will love the way this DIY mirror frame looks on your walls. It is easy and quick to make, inexpensive and sophisticated.
Egg Carton Flower Frame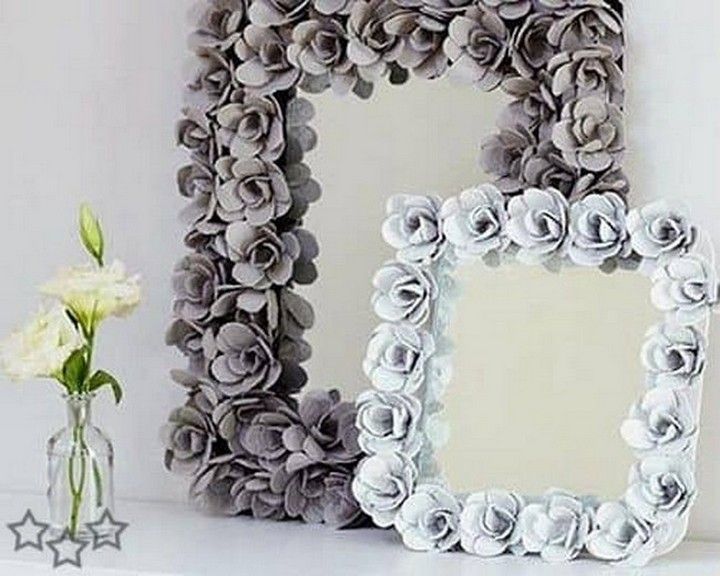 Take a tip from the pros! For this pretty egg carton flower frame, you need some crafty friends, spare cardboard, and imagination. When they see how easily this frame came together, they'll ask you to make another one — only bigger! Make a beautiful, one-of-a-kind mirror frame using egg carton flower "flowers". This quick and easy project will make a big impact in your space! This project is a great way to recycle, and it's really easy to make.
Wood Starburst Mirror Frame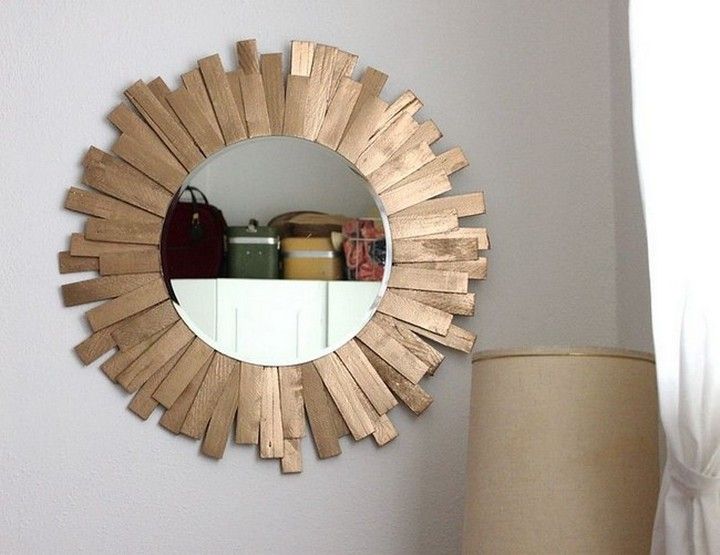 Create a beautiful mirror frame that reflects your home's style. Using spray paint and gold foil, you can make this DIY framing project super easy and fast! The DIY Wood Starburst Mirror Frame is easy to make and adds a light, modern touch to any room in your home. It's the perfect way to add personality to any wall without spending a fortune. It's super easy to make, inexpensive, and the result is gorgeous.
Multi-Facet Gilt Mirror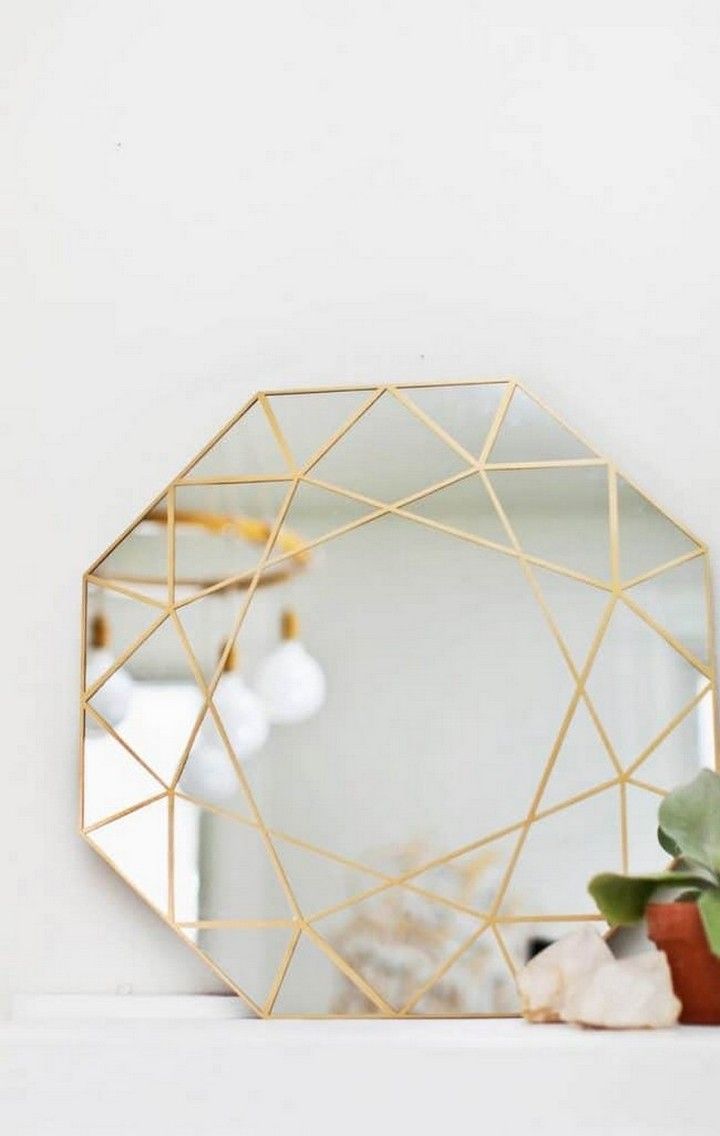 Terrifically modern and on-trend. If you love the look of a traditional gilt mirror but don't have the budget, here's a clever DIY way to achieve that glamorous effect. This project can be used as a standalone statement piece or combined with other mirrors to create a set. In addition to being easy to make, it's also a great project for any beginner woodworker eager to learn new skills. This DIY multi-facet gilt mirror is a great way to add glamour to your home.
You can also see: DIY Paper Towel Ideas 
Wood Slice Mirror Frame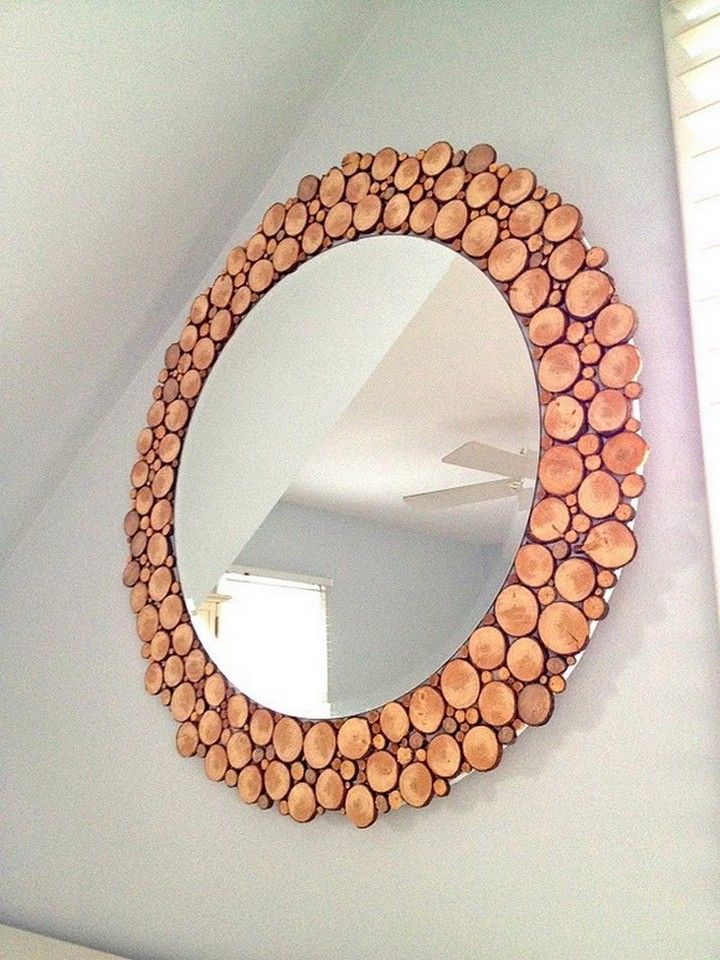 Whether you're looking to spruce up your bedroom, bathroom, or anywhere else, this DIY Wood Slice Mirror Frame will do the trick. It requires no tools and takes only minutes! This frame is simple, stylish, and easy to make. Create a custom mirror frame from wood, glass, or whatever material. It's easy to do, and the final result is sure to impress. It's easy to make, uses supplies you probably already have lying around your house, and they're inexpensive. Perfect for Mother's Day or use in your bathroom or bedroom.
Mosaic Color Wheel Mirror Frame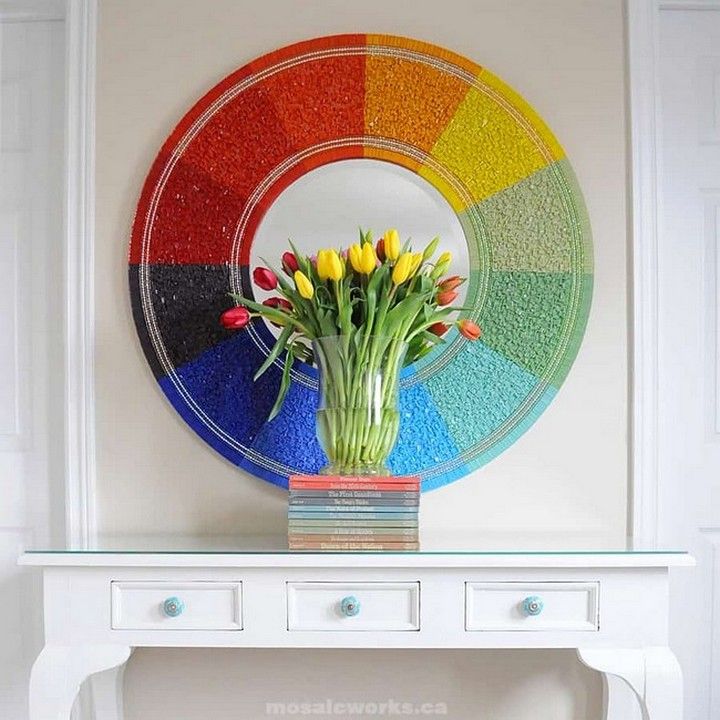 Set the tone of your room with this easy-to-make mosaic mirror frame. Get creative with this conveniently sized DIY Mosaic Color Wheel Mirror Frame—the perfect year-round decoration for any room or occasion. This frame has all the supplies you need to create your custom mosaic masterpiece. It's a fun and creative way to showcase a photo or art while adding color and depth to any space.