As the weather gets colder, many people burn incense to bring warmth and coziness into their homes. The problem is that most incense holders are bulky and ugly—not something you want cluttering up the nooks and crannies of your home. So, in this blog post, we'll show you some unique DIY Incense Holder Ideas that are easy to make and fit right into any home decor style. You can use these as a starting point to create something even more personalized. Any of these ideas would be an excellent gift for the incense lover or help you get creative with your own space!
Easy DIY Incense Holder

Incense is a beautiful way to create a peaceful, relaxing mood without using electronics. It's also a great alternative to candles if you're worried about fire hazards or have pets that may knock the candle over. You can find all kinds of gorgeous incense holders online, but if you want something unique, why not make your own? This post has collected some of our favorite DIY incense holder ideas. Some are made with things around the house, while others are more elaborate and require supplies from craft stores or online retailers. The best part? They'll all look gorgeous on display with their accompanying incense sticks.
Benefits Of Simple DIY Incense Holder Ideas
Incense holders are a great way to display your favorite incense sticks or cones. They also offer many benefits over regular holders, such as customizing them to match decor and style.
Some of the benefits of DIY incense holder ideas include:
You can make one in any size, color, and shape, so there's no limit to your creativity!
You can choose a material that fits with your décor.
You can make it yourself with home items or purchase inexpensive materials from craft stores.
They are easy to clean and maintain.
DIY Incense Holders Using Cute Little Dishes and Big, Beautiful Beads
These stylish, cost-effective DIY incense holders are made with small dishes and large beads. They are a great way to decorate your home while creating an ambiance that you can customize depending on the Time of day or season of the year. You'll love these easy, beautiful DIY incense holders; they are a great way to use your creativity and have fun! These easy DIY incense holders will bring warmth and charm to your home. The best part is that these projects are cheap and quickly put together.
DIY Incense Holder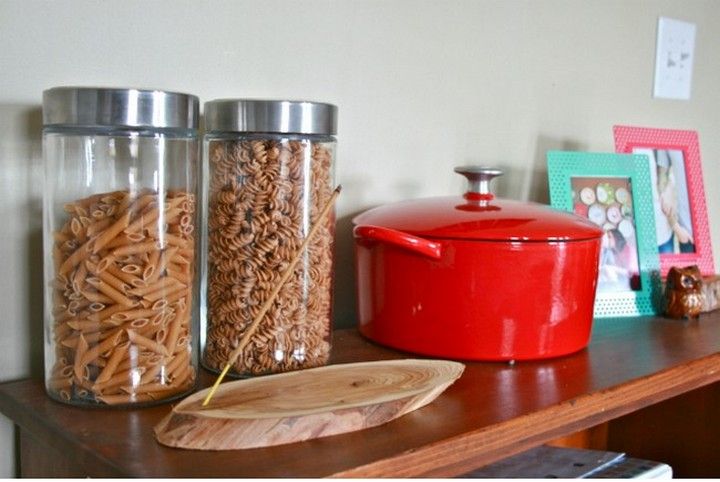 Do you love to craft? Then this is the perfect project for you. This DIY Incense Holder is a quick and easy craft project. Constructed of simple wood, this simple incense holder will add color to your home. It will only take 30 minutes to complete, and the parts you need are inexpensive and can be found at any local craft store. The finished product is perfect for use in any room in the home and makes one of the best gifts around!
DIY Concrete Incense Holders
This easy DIY concrete incense holder adds a rustic touch to your home. You can even mix in some of your fun embellishments by painting on the concrete after it has been poured or by putting in charms and small pebbles from your garden. Concrete is simple to work with, and this project allows you to customize it to fit perfectly with any room's decor. This easy DIY project is perfect for beginners, and the result is a stylish piece that will look great in practically any room.
DIY Incense Holders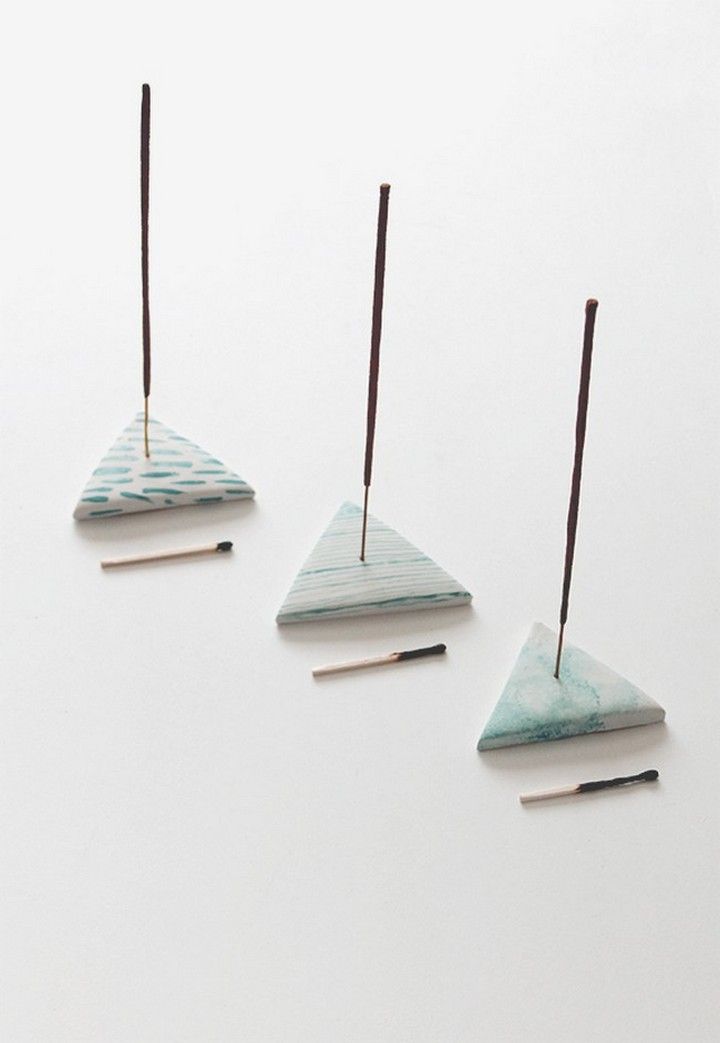 These DIY incense holders are a quick, easy and affordable way to add style to your home decor. They make one of the best gifts for someone you love, and they are also stylish little items that will sit on your windowsill or mantlepiece all year round, adding a touch of color whenever you need it. It's a great way to bring a natural look into your home without the mess or smoke of traditional incense.
DIY Incense Holders
Make your incense holders. You can make these fun and decorative incense holders for your home with a little effort. These pretty DIYs will look great in your home and on display at trade shows, craft fairs, and other events. This is a great craft project; you can customize the design to fit your needs. The great thing about this project is that it can be as straightforward or as complicated as you want to make it. Learn how to make your incense holders in this video guide.
DIY Polymer Clay Incense Holder
This DIY polymer clay incense holder is super simple and great for practicing your craft skills. The best part? This project is lightweight and easy to transport, making it perfect for your next DIY party! This Polymer Clay Incense Holder is a great DIY project for beginners! You might not even need an hour, and it's a great activity with the kids. Use this tutorial to make your mini incense holder with a pretty design.
DIY Incense Holder Using Little Dishes
Crafting is a fun and creative hobby, especially when creating something for your home. Incense is an essential part of life because sometimes we need to relax. Making your incense holder can be as easy as using little dishes that you may have collecting dust in the cupboard! It is a great gift idea for a housewarming, wedding or anniversary. Make the day special by giving this handmade incense holder as a present.
DIY Incense And Candle Holder
Enhance your home decor with this beautiful DIY Incense And Candle Holder. This fun and easy project adds a classic touch to any room and can be created in any color scheme you like! This DIY incense and candle holder will surely add a cozy ambiance to your home. With a few supplies and tools, you can make one for yourself! It's cheap and easy to make with items you probably already have around the house.
Incense Holder DIY
This incense holder is easy to make and can be used as a small decorative piece in your home or office. You will need simple materials to complete this project, such as a small bowl, clay, super glue, and a Craft knife. This will save you lots of money, and creating this on your own is fun. With this easy tutorial, you'll have a beautiful and unique centerpiece in no time. It's perfect for springtime, Mother's Day, or any occasion!
DIY Terrazzo Style Clay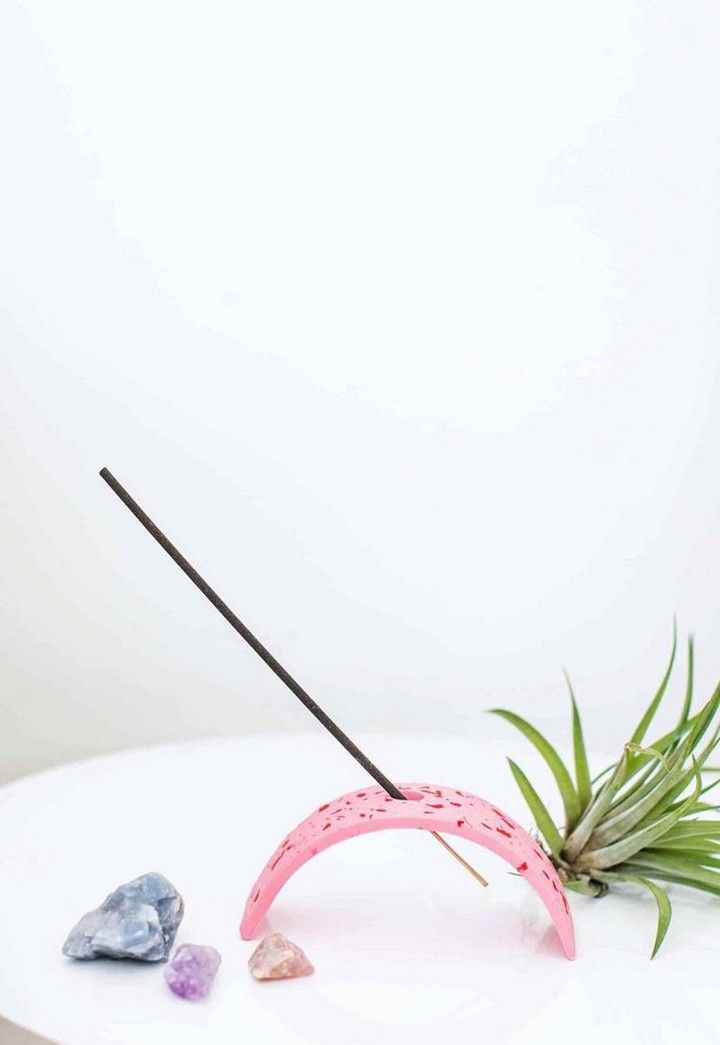 This easy-to-make clay incense holder brings the look of terrazzo to your home decor. Designed to be an unexpected accent on your desk, mantel or dining table, this oven-bake clay project is a fun weekend project that will create a unique statement piece. This terrazzo-style clay incense holder is a quick and easy way to keep even your most miniature home accessories looking good as they sit on your desktop! This clay adds a vintage flare to any space by giving it a casual, handcrafted look. It's sure to hold up through lots of use and make your friends envious.
How To Make Your Own Incense Holder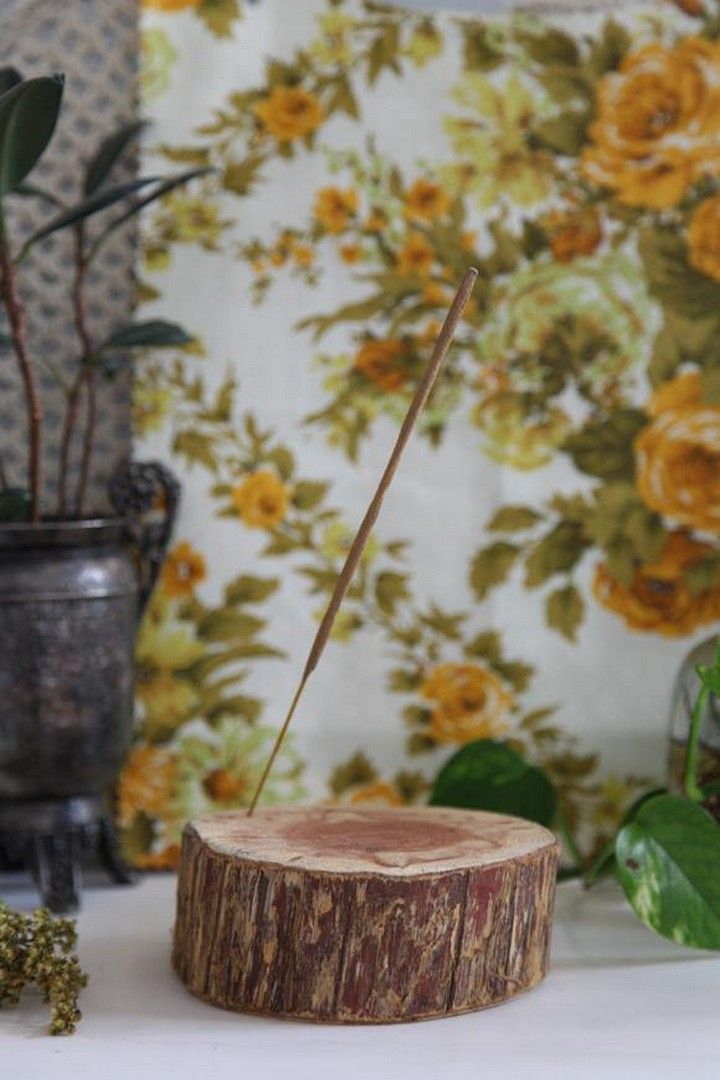 Learn how to make your incense holder with this easy, inexpensive project. This craft is simple, and you can do it in a few minutes. All you need is a wooden slab, nail and incense stick. Drill a hole into the slab using your nail, remove the pin from the pit and place your incense inside. Once done, light it up and enjoy. This simple craft also includes instructions on how to burn incense, which is perfect for relaxation and meditation.
DIY Clay Hand Incense Holder
What a perfect project for the weekend, this DIY clay hand incense holder is so easy to make and sure to attract a lot of attention! When it comes to unique home decor, there's no other option like this one. This handmade incense holder will make any room feel warm and welcoming. Follow this simple how-to clay mould technique to create a lovely, unique holder that stands out!
DIY Incense Holder
Looking for a simple yet elegant way to burn incense? This DIY incense holder is a great way to add nature to any room. This is a great way to have fun and get your hands busy simultaneously. You'll make your home smell incredible and feel relaxed in no time. You can do this easy project in a few minutes, giving your home a lovely feel. It's also perfect for gifting.
How To Make A Clay Splatter-Painted Incense Holder
This is a simple and easy tutorial on how to make your custom incense holder. Clay is readily available in most art stores, and you can create your own customized sculpture to add a little extra touch to your room or even as a gift for someone else. You don't even have to be an artist! This tutorial will show you how to make a clay incense holder. The steps are simple and easy, so it's excellent for beginners. A few inexpensive items are all that you need to do this project.
DIY Incense Holder
If you love the scent of incense but don't have the space to burn it inside your house, this is a great alternative. It's super easy to make, and all you need is a bottle and a key ring holder. Watch the video below for instructions. You can use a decorative key ring to hold the stick securely or mount it with masking or scotch tape - whatever you like. It's easy to do and makes your home smell good.
How To Make A DIY Incense Holder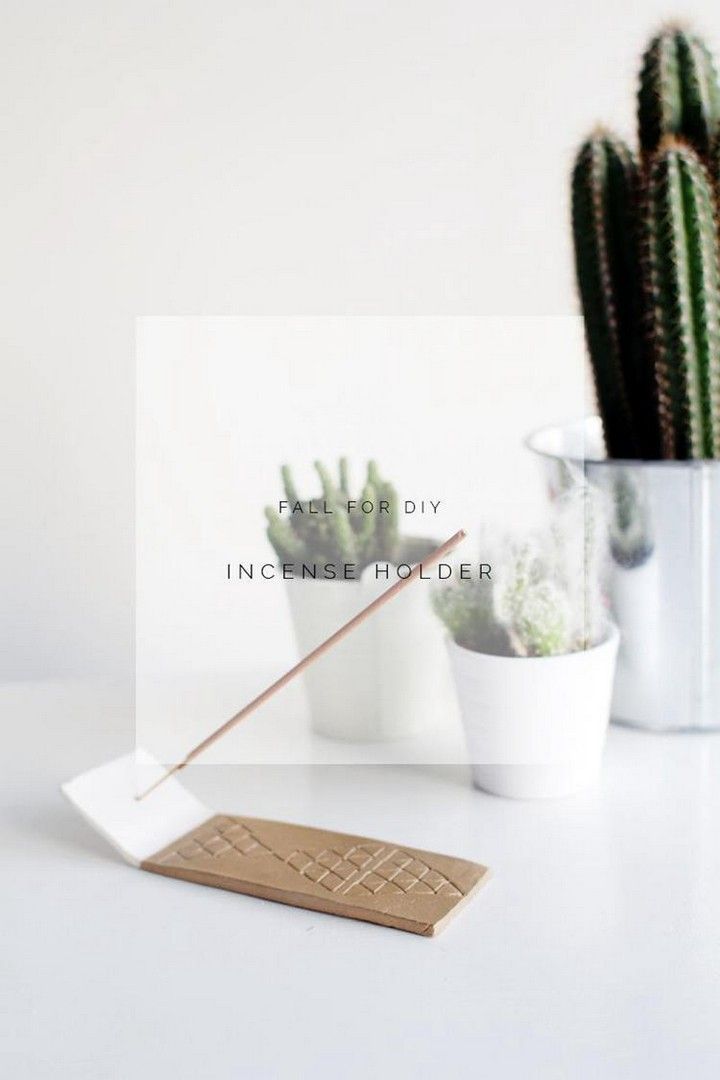 Looking for ways to make your home smell good without creating a mess? This DIY incense holder is the perfect solution. Not only is it easy to make, but it only requires a few inexpensive supplies. Once you have a few of these around your house, you'll be able to light your incense anywhere! This DIY incense holder will help keep your incense ash in place, preventing messes and making it easy to set up and remove without damaging surfaces around the house.
DIY Clay Incense Holder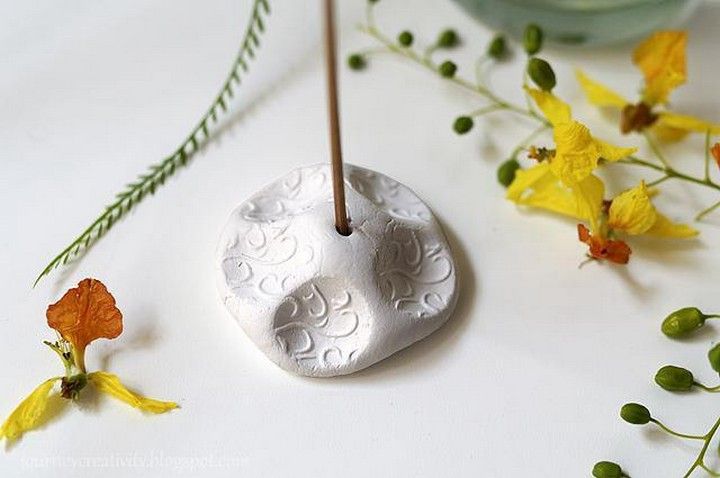 This easy DIY project can be made in just a few minutes and makes a great gift idea. The clay holds your incense in place, helps keep flies away from burning sticks, and provides a decorative piece for your home or garden. It's perfect for use in any house room and makes a great gift! The guide below will show you the step-by-step instructions and follow-up steps!
DIY Incense Holder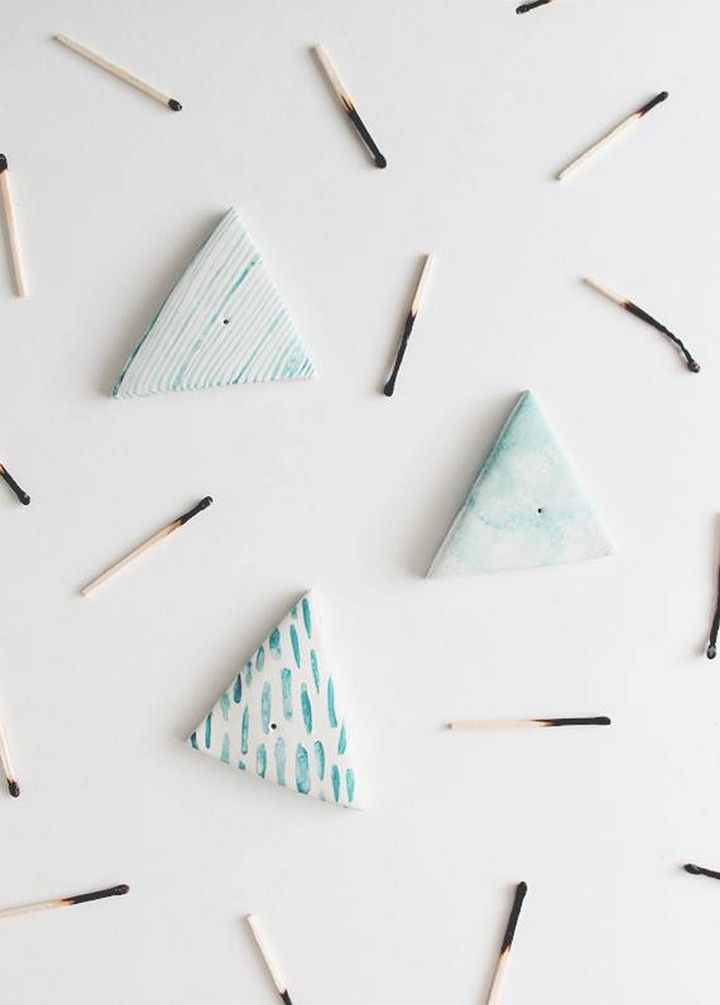 This DIY incense holder is the perfect way to bring a little touch of magic into your life. Create a small, lightweight piece of art with just a few simple ingredients. This craft project is perfect for those who love bright colors and the smell of incense. This little container can be decorated with whatever kind of theme you want, as long as it's in your favorite colors! It's a seamless process, and with this DIY tutorial, you're all set.
Easy Incense Holder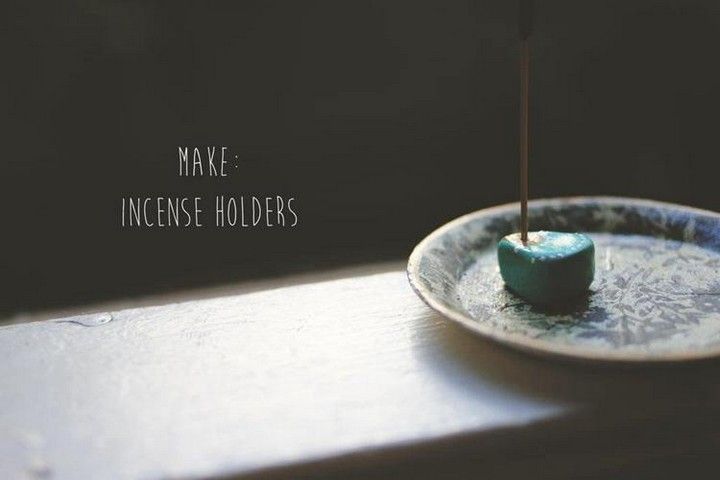 Vintage incense holders are difficult to find and ever-so-expensive. But this is the perfect project for you if you want something with a little more style! It will let you create easy and cute home decor that's sure to be a conversation starter. This unique and easy-to-make incense holder is a great way to make your space smell wonderful. Make this project yourself and show it off at home, or even make them as gifts.
DIY Incense Holder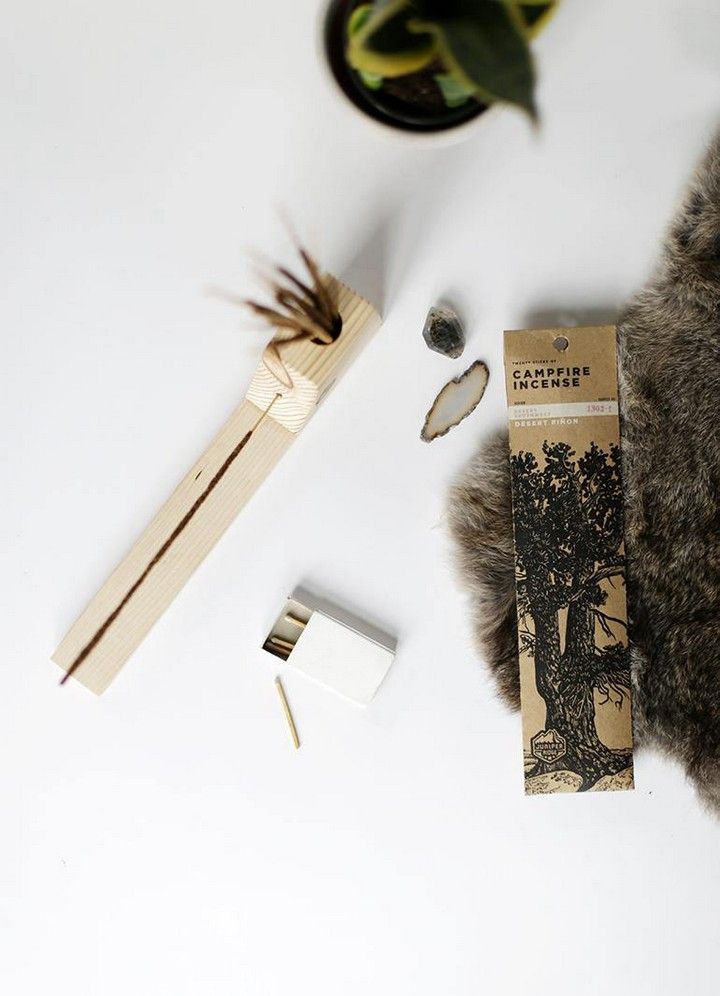 Looking for a fun crafting project? This incense holder is simple and addicting to make. With a wood bandsaw, wood glue, belt sander, or drill press and sandpaper, this project is perfect for beginners. So, it's Time to take your incense holder game to the next level. This simple DIY project makes a pretty and sophisticated holder for your incense sticks or other aromatics. Go through this guide that will show you the complete procedure!
Incense Burner Made From Wine Bottle
Here is an easy and inexpensive idea for making a unique incense burner from a wine bottle! With this incense burner, you can fill the bottle with sand, place your favorite scented incense inside, or use it as a weight for a taper candle. This project is easy to make and will look great on any table or shelf in your home. So, Discover how you can create this beautiful piece of art that will add beauty to your home.
How To Make An Incense Holder Cottage
There's nothing better than getting your hands into some clay. In this video, you will learn how to create a beautiful handmade incense holder that smells amazing and looks like a little cottage out of clay. Then you'll be able to burn your favorite incense without worrying about catching fire. You could finish this project in about an hour, depending on your skill level and the clay's drying Time.
DIY Candle And Incense Holder
Are you looking for a luxurious and magical corner? You can try making your scented stick stand. With an elegant design and simple construction, this is an opportunity to dive into a crafting. If you have a special place in your home where you like to burn incense sticks and candles, you can quickly build it yourself. Decorate it with your favorite decorations and use it as a mood-setting object or part of your interior design.
DIY Incense Stick Holder With Leaf
There are different ways to make your home feel welcoming and fresh. One of them is to have an incense aroma in your house. This DIY Incense Stick Holder With Leaf gives the feeling that the air is fresher and the place smells good. Also, it adds a touch of nature that isn't just by nature but can also be artfully made with clay-molding techniques. This leaf-shaped incense holder is a simple but creative craft to make.
DIY Clay Incense Holder
Bring a minor nature into your space by making a clay incense holder! This simple craft project is easy to follow and can be completed in minutes. Experiment with different colors to customize yours. A fun way for kids to get creative as well! So, what are you looking for? Create this stunning piece with this DIY Clay Incense Holder. You can make an artful accent with simple supplies that will impress you.
3D Printed Incense Stick Holder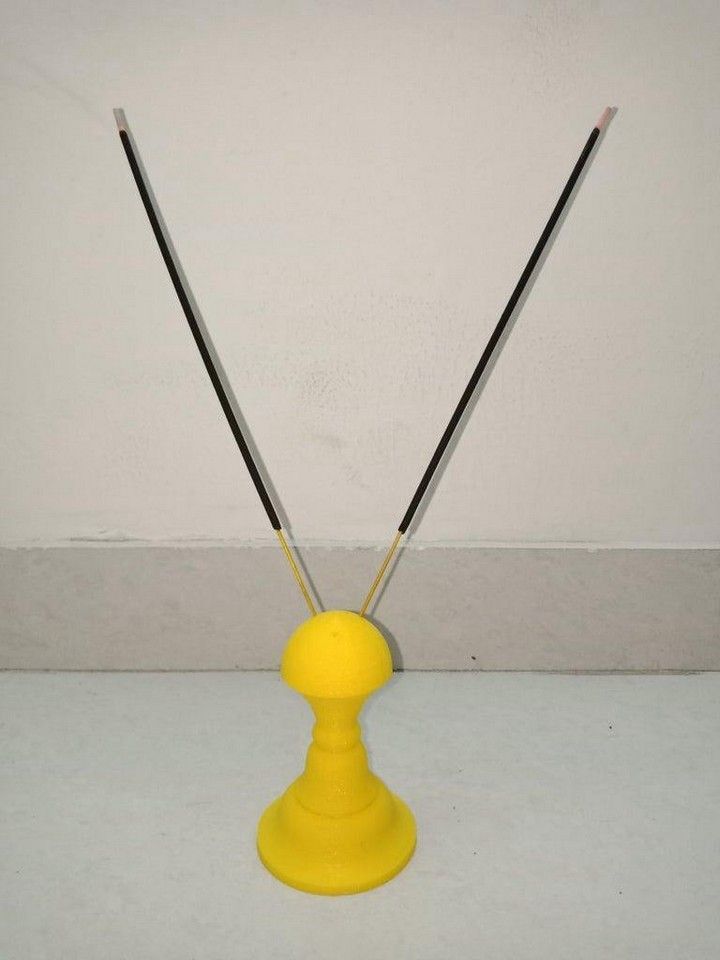 Get a more stylish and classy incense holder for your daily life. This 3d printed incense stick holder, made from polylactic acid, is pretty and durable. The Incense stick holder is the perfect gift for any incense or candle lover. Keep it on your desk or end table, and choose the right color to match any decor. OR use it as a decorative piece, regardless of your setting!
Tin Foil Incense Holder DIY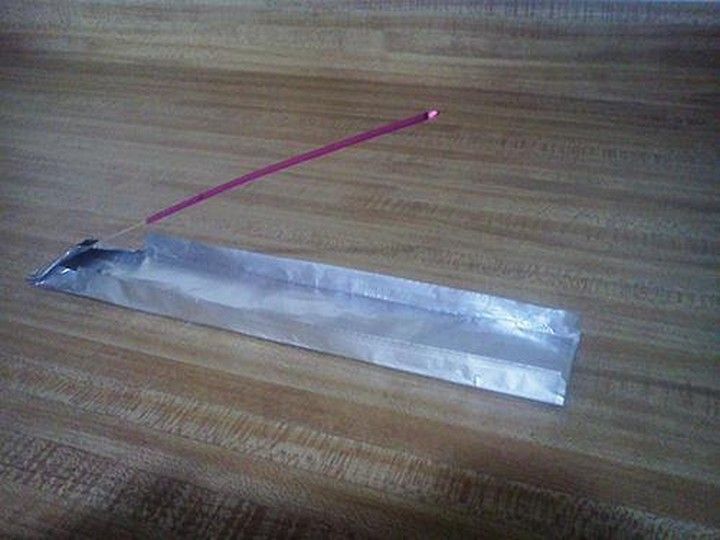 This is the easiest way to make a tin foil incense holder. Get yourself tin foil and some string; you are good to go. You don't need any special tools or equipment either. You can use it for everyday use, meditation sessions, or both. The guide will help you build it in 10 minutes and give you great tips on making one yourself at home, in your office, or in school.
You can also see: DIY Pencil Holder Ideas
DIY Incense Holder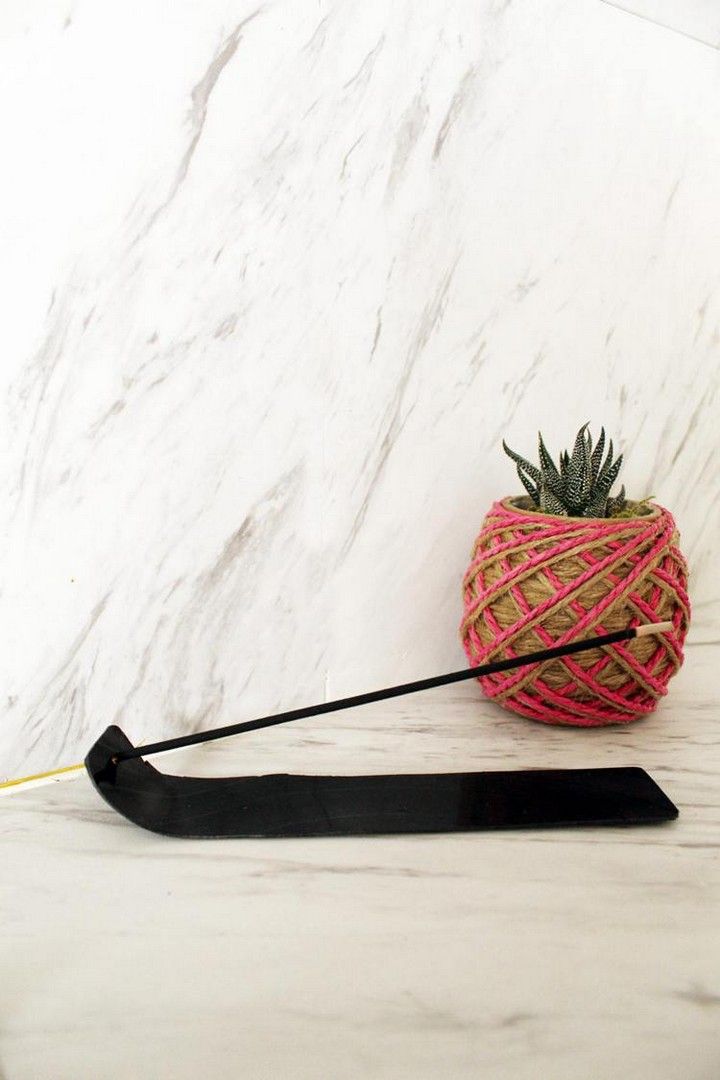 Incense holders are the perfect way to light your incense while creating a beautiful, smoky display. But they can also be expensive and only sometimes available. If you have vinyl records lying around at home or know someone who collects them, this is a fun project you can make yourself! It's a terrific way to add some old-school style to your home while still being functional and a great conversation piece. The cool thing about this incense holder is that it doesn't require you to get too involved. Having just the right tools, these steps will help you make your own.