One of the best ways to make your dog happy is by providing them with an excellent place to sleep. A dog house is a way to protect them from the elements and an excellent means of encouraging them to keep their space tidy and dry. Making your own dog house is much more helpful than buying one from the market. If you have ever wondered how to build your own, this post will show you some unique DIY Dog House Ideas that are easy for anyone to follow and sure to satisfy even the fussiest of pets. These incredible designs are made from mainly wood and plastic. Creating these DIY houses ensures your beloved pup won't face the elements or other dangers lurking around the neighborhood. These rustic, modern, and fun houses will keep your pup cool, dry, and comfy—and they look great indoors too!
Creative DIY Dog House Ideas

Want to build a dog house that is big enough for your puppy? Here are some DIY Dog House Ideas for you, with step-by-step instructions and photos to guide you through the process. This will help make sure you do not miss any essential steps along the way. Make sure you take proper measurements while building the dog house and that it's big enough to accommodate your puppy inside. Our DIY Dog House Ideas will help you build a place where your dog can rest comfortably. If you're looking for DIY dog house ideas, check out these projects to have your pup sleeping snugly in style.
Features And Scope:
Here are just a few great DIY Dog House Ideas features when building a house for your canine companion. A dog feels safe and secures when it feels like its home is its territory. Safe dogs generally stay in one place and won't wander off as much as those who aren't comfortable in their home environment. Having their own home lets the dog relax while they sleep because they know it's theirs so that no other dog can take it from them. Having a place to retreat when there are too many people or other dogs around can result in less barking, more quiet behavior, and more time for human interaction with your furry friend.
How To Build A Dog House
Building a dog house is an extremely rewarding experience that your pet will appreciate for the rest of its life. Not only can you make one that suits the look and feel of your yard, but it's also useful in providing shelter when dogs are outdoors at night. Best of all, it's relatively cheap. This video guide will walk through the basics of building a dog house, which types of materials to use, what you'll need to complete such an activity, and tips and techniques to make sure that you get the most out of your project.
How I Built This Big Dog House
Are you looking for a house that will give your dog everything they need and want? Then you've found the right pattern! A spacious floor plan allows your pup to stretch out on their private couch and snuggle in bed. There are even perches and other features to keep them busy, as well as an open window to bask in natural light and breeze. Finally, you can add a ramp to make it easy for them to go outside and potty in the yard. This is a great project for beginners, too!
Simple Large Dog House Build DIY
Are you looking for a perfect project to build your dog house? Or maybe you're an animal lover looking for a way to help shelter animals. Then this is the place for you! In this video, we will show you how to build a dog house that is both easy and cheap. This completed dog house will meet all your requirements. All the parts are strong and sturdy so that they can protect from the elements. The roof is well insulated to protect your dog against rain or snow and has an extra door on one side for easy access.
The Modern Dog House
Please make your own dog house and save money on every purchase by making it yourself. This DIY Modern Dog House will provide a cozy and comfortable home for your best friend while being eco-friendly and cost-effective. Whether you have a large dog, like our model, or a small one, this project is easy to build and inexpensive. Measure your pup, cut the wood based on those dimensions, paint them and pair them together using simple bolts and nuts. Then fasten the legs onto the bottom of the house using screws, taking care not to create any sharp edges where they won't be comfortable for your pet.
We'll Leave the Light On" Dog House
Keep your dog safe and secure with our We'll Leave the Light On" Dog House. Fits small and medium-sized dogs; this house is perfect for a yard or garden and will help your pet feel more at home outside. This modern-looking dog house features an easy-open door, a skylight, and a window that can be opened for ventilation and airflow. The raised base will keep your furry friend off the cold ground, while its lighted interior ensures that your dog will always have its cozy room no matter what time of year it is.
DIY Doghouse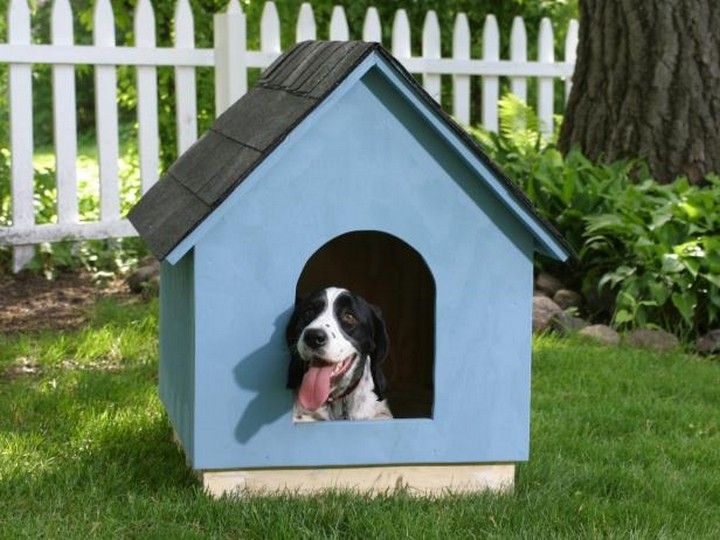 Build your pet the perfect home with this easy-to-build doghouse. The DIY instructions make it easy for anyone to create without requiring any prior woodworking experience. This DIY Doghouse is the perfect place for your dog to curl up and stay warm on cold nights. The roof slopes downward, so rain will not collect, and it's large enough that even your largest pet can stretch out comfortably. This doghouse has basic hand tools required to put it together. It is constructed from wood, making it sturdy, long-lasting, and easy to clean.
DIY Modern Dog House For Oscar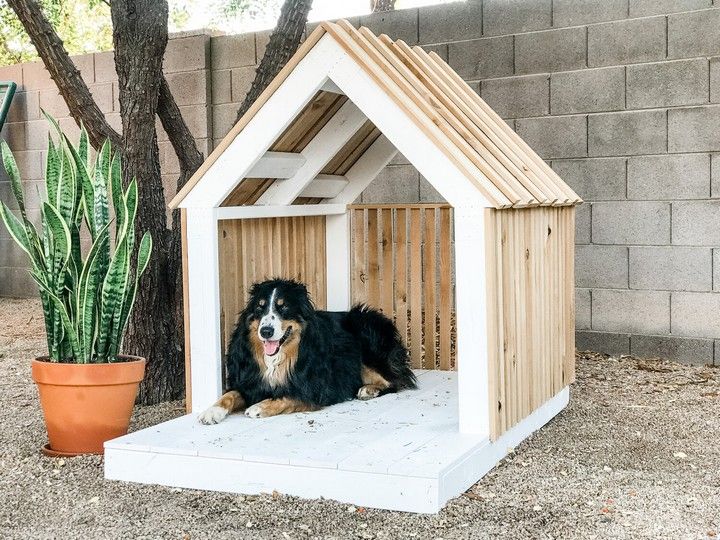 Have you always wanted to create a unique place for your dog but were baffled by the common materials like wood or metal? That's why this DIY modern dog house is an excellent choice. It allows you to create a one-of-a-kind piece of art that you can proudly present to your furry friend. If you want something truly original, this project is exactly what you need. It can fit into any room of your house without taking up too much space, and it allows your pets to have their private place away from any other pets or guests coming over.
Doghouse With Deck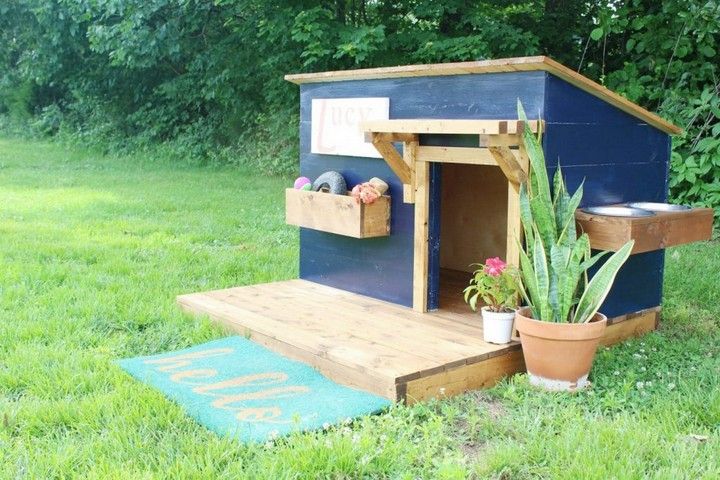 Give your dog a place to play that's just as comfortable as they are. The doghouse with deck has a cozy material inside and a raised platform to give your dog an elevated view of its surroundings. A doorway-style entrance of the doghouse allows for plenty of ventilation and comfort for your pet. It also has a soft, plush pad in the sleeping area for extra comfort or uses as a lounger. With the addition of our Dog House With Deck, your dog will have everything he needs to be happy!
DIY Doghouse Gazebo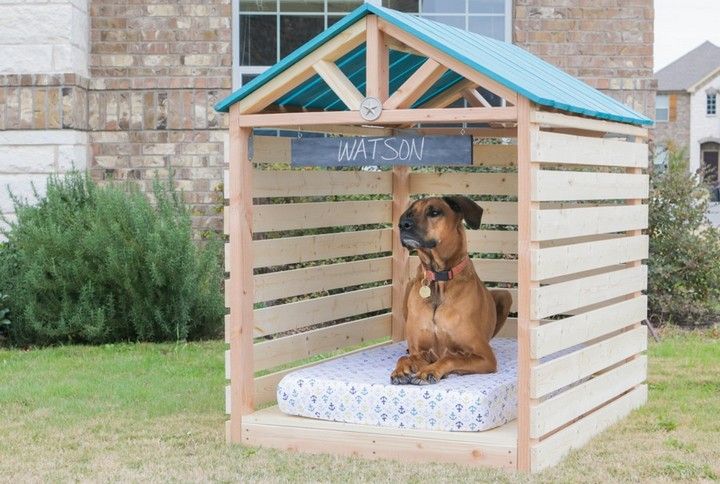 What best way to keep your dog safe, secure, and comfortable at home? By building her a doghouse gazebo! The doghouse can be placed anywhere on your property or even indoors if you have space. The gazebo top protects from rain and snow, so your pup will never be left outside in the cold again. Thanks to the decorative design, your pup won't even realize it's not part of your house. Plus, it'll make a fantastic summer house. It is an easy solution for those who love their pets but don't have space for a large doghouse.
DIY Wooden Doghouse Tutorial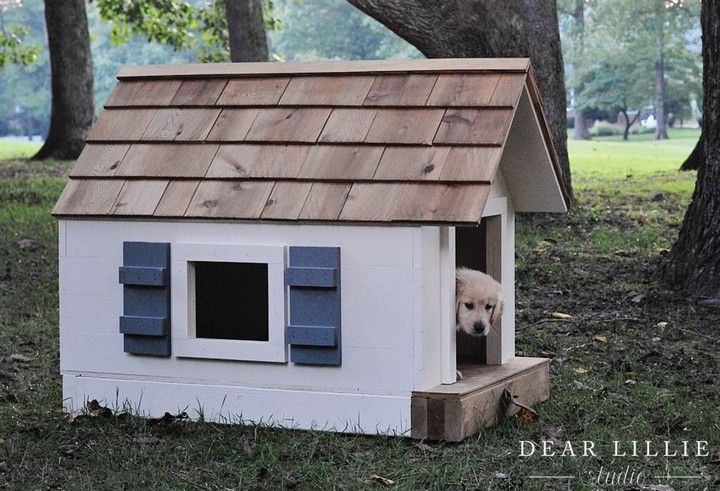 This DIY wooden doghouse tutorial shows you how to build a classic doghouse or poodle house. You can make this project using only a handful of tools, including a circular saw and a Kreg jig. We will walk you through all the steps required to cut out the right pieces, build your template, and assemble them. The result is a great-looking symmetrical doghouse that will look good in any yard. Your dog will have a place where it can get away from the weather and stay warm and dry!
DIY Insulated Dog House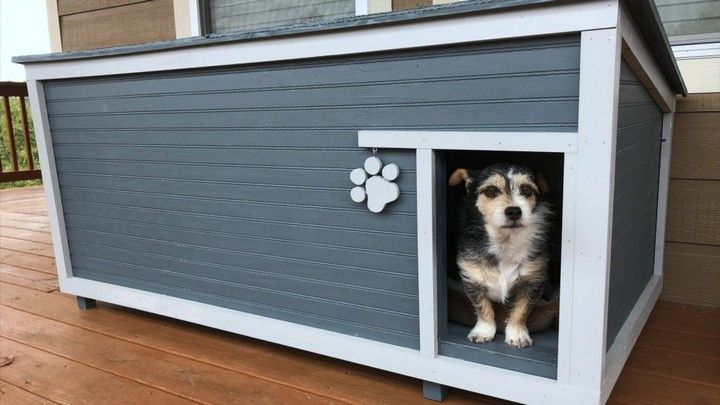 A cozy, insulated dog house will keep your furry friend warm and dry during winter. All you need is construction supplies, woodworking tools, and screws to assemble this quick and affordable solution for your dog's home. This cool little pup house is easy to make and will keep your pet safe and warm as you head out for an overnight camping or hunting trip with other family members. Check out these instructions by clicking below, and they're easy to follow!
DIY Double Door Dog House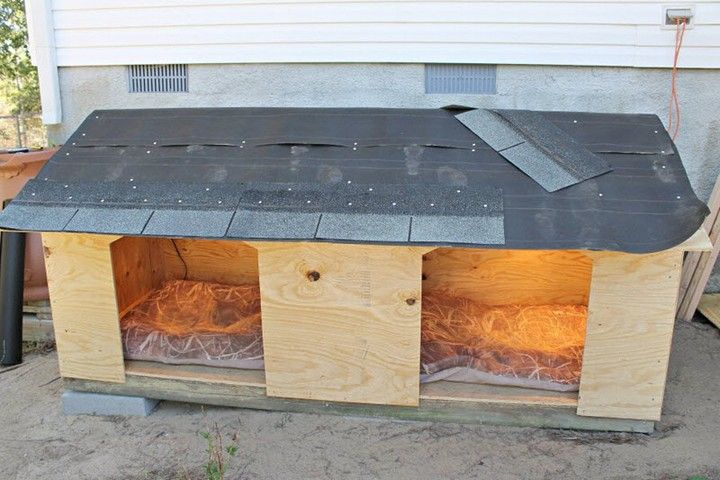 Build your own DIY Dog House with this step-by-step guide. It's easy to build a dog house from scratch and much cheaper than buying one from a pet store. Whether you want to add an extra dog house to your yard or are just looking for a fun weekend project, this double-door DIY dog house is simple to build and only requires a few supplies that can be picked up at your local hardware store. With a few basic hand tools, you can create this great-looking dog house on the weekend.
Mid-Century Modern DIY Dog House Build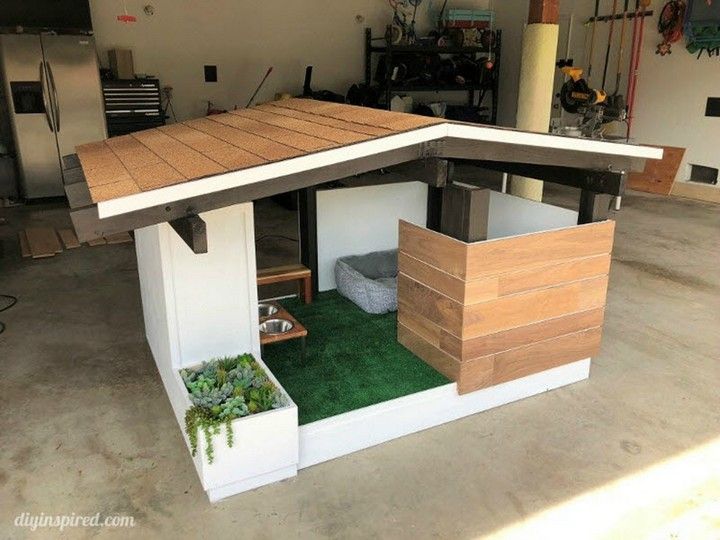 Build the mid-century modern dog house you've always wanted. Learn about building a dog house for your pup in this step-by-step tutorial. You'll learn which tools you need, how to choose a design and materials, and how to frame and finish your project. This fun project involves using reclaimed wood to build the window frame of the dog house. The plan features a floor plan, materials list, and step-by-step instructions so you can easily build this stylish design.
How To Build A Dog House Cheap From A Barrel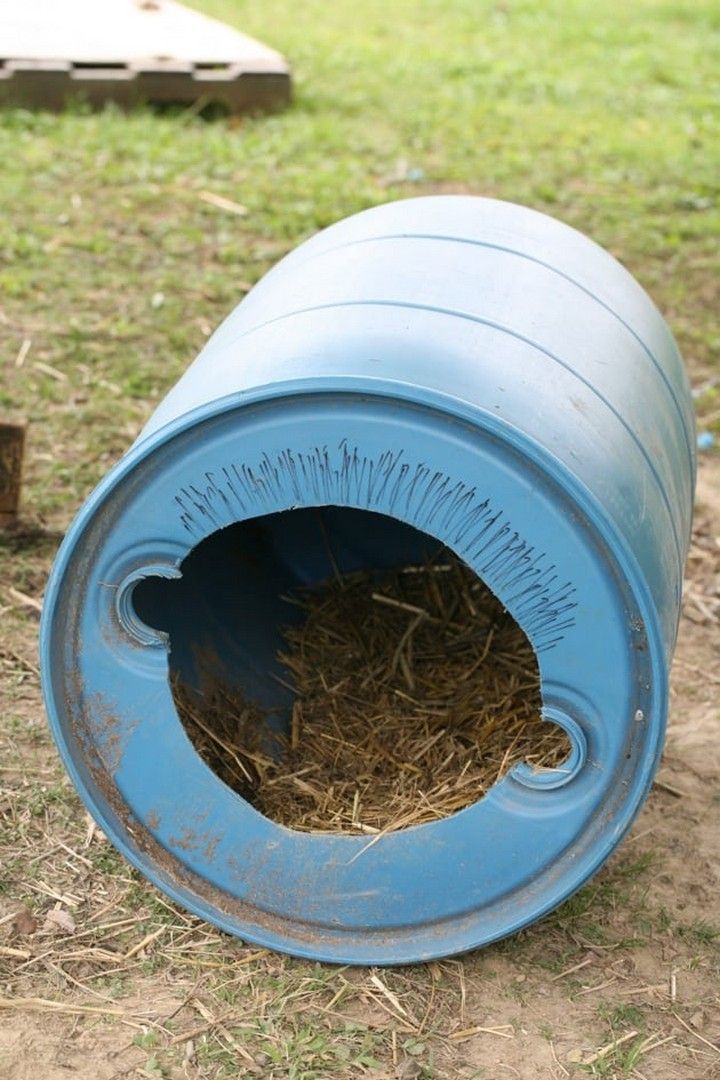 Are you on the hunt for a DIY dog house? How about one that's built from a barrel? Believe it or not, you can have a great-looking home for your pet built with minimal effort and cost. This DIY dog house looks great and is sturdy and secure for your furry friends. All you need is a barrel and some supplies. We'll show you how to do it with step-by-step instructions. Follow these steps, and you'll have your new dog house.
You can also see: DIY Hoop House Ideas 
How To Build A Doghouse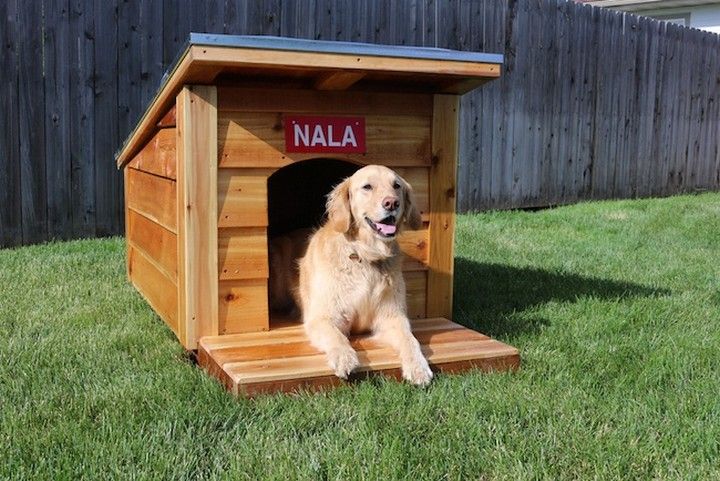 Building a dog house from scratch is something any homeowner can do on weekends. The type of wood and the number of steps you use will depend on what kind of finish you want to achieve with the project. Open or closed sides are standard, but it's up to you how roomy or cozy your canine friend's new place will be. This how-to guide is meant for someone with some basic carpentry knowledge or even someone new to the trade. It will take a few days of hard work with some dirty hands, but think about how happy your dog will be when he realizes his place.
Building A Custom Doghouse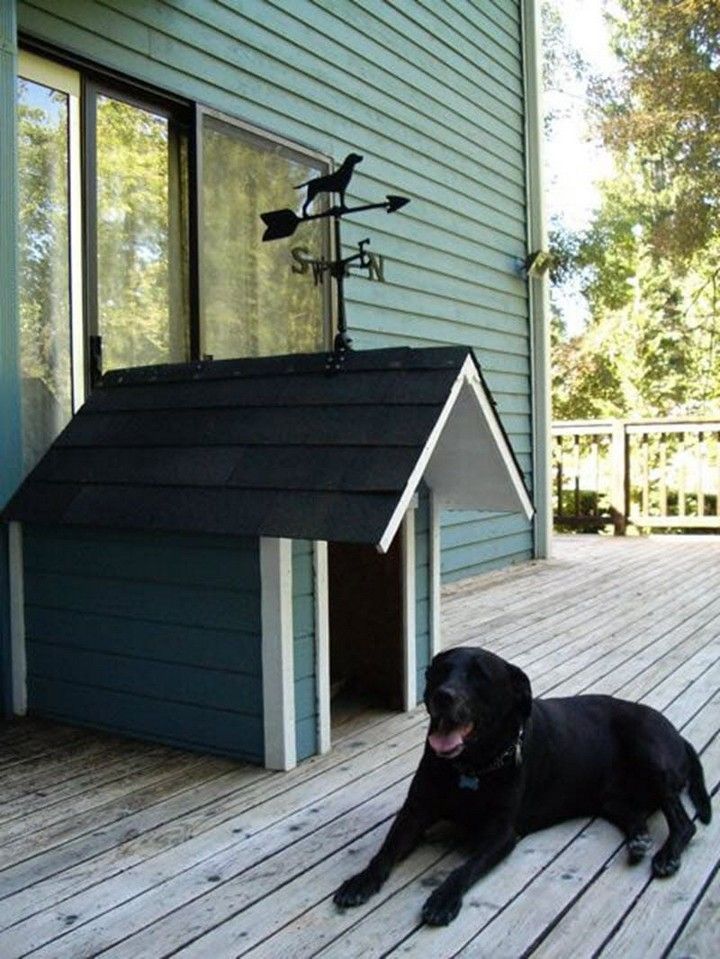 A backyard is an excellent place for your pet to stretch his legs and run with the kids, but it's also a great spot to build a custom doghouse. You're not only providing shelter for your best friend, but you can make the entrance into something they'll love. This guide has all the information you need to build your awesome doghouse. You can build your own dog house using simple tools and materials readily available or use old materials instead of buying new ones.
DIY Dog House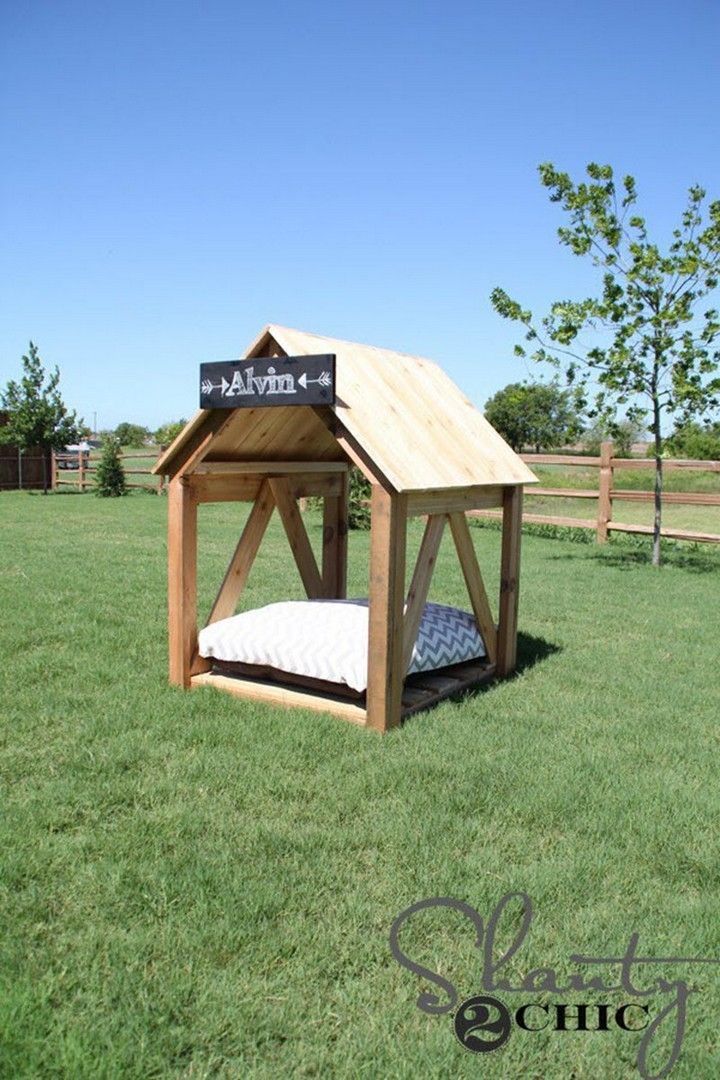 Your dog is a part of your family, which makes them deserve to have their own space. This house is the perfect place for your pup to relax and nap after a long day of playing outside. It has a cozy, plush bed and shade to keep him cool on hot summer days. A sign with his name will let everyone know he's the best (and cutest) dog around. This conversation starter is the perfect addition to your yard, whether it's the house or apartment!
You can also see: Creative DIY Dog Bed Ideas
Tropical Dog House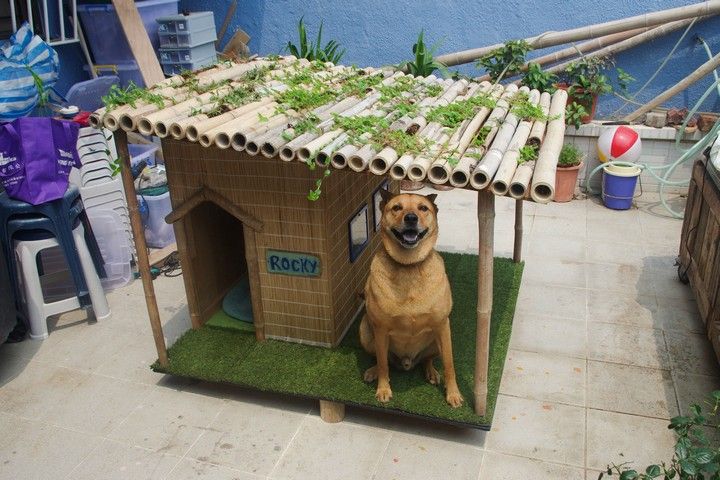 Make your pup feel right at home with a custom tropical dog house. In this DIY project, learn how to make an insulated dog house with a quaint roof design and open windows so you can check in on your pet anytime. It's easy to build and will last for years. The DIY Tropical Dog House can be used indoors or outdoors, according to preference. It's easy to assemble and needs no tools for assembly. This tutorial provides you with step-by-step instructions and detailed photographs of each component.
Hercules' House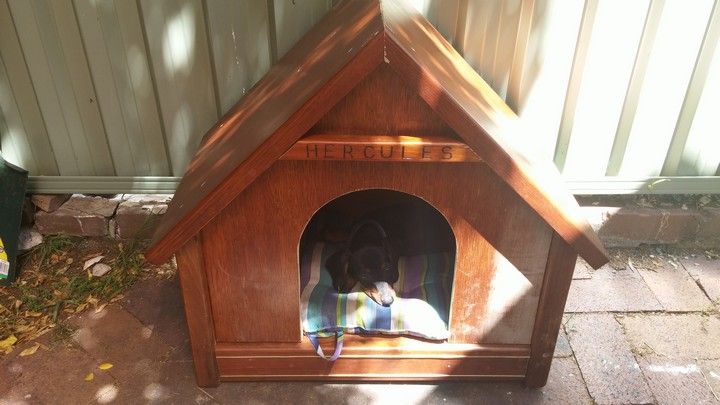 Build your own Hercules dog house by following our step-by-step instructions. If you want to go the extra mile, you can add a skylight for maximum sunshine (don't forget to put a shade over it to keep warm air inside during cold weather). This cozy dog house will make any dog proud of his/her design and is weather-resistant. You can't go wrong with this dog house – even people who don't own dogs will love your creation. With just a few supplies and a little work, you can have a new toybox or dog house in no time!
DIY Dog House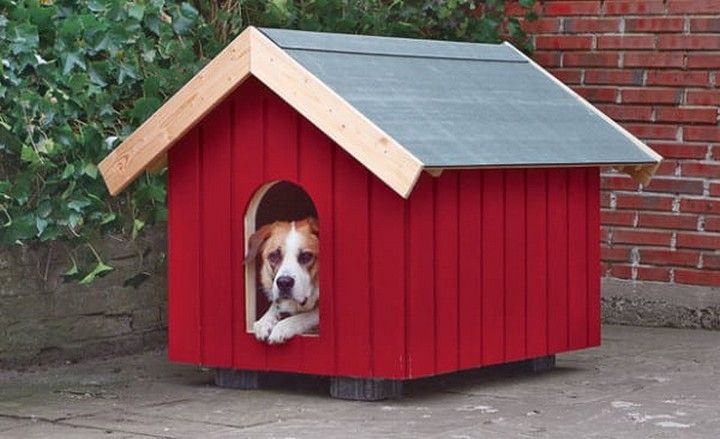 This DIY dog house is a project you can build in just a few hours. It's a perfect project for a homeowner who wants to take on the challenge of building something with their own hands but doesn't have the skills or desire to build an entire home from scratch. The materials are inexpensive and easy to find in virtually any hardware store, which makes this an affordable project for most families. Use this step-by-step guide to learn how to build a dog house in a few simple steps!