Bike racks are a necessary part of any functional bike storage system. Whether you own a car or not, parking your bike can be crucial to keeping it safe and out of the way. Fortunately, there are many different types of bike racks you can make yourself without breaking the bank. In this article, we'll go over some unique DIY bike rack ideas that range from very simple to advanced. The great thing about these bike racks is that each can be customized to fit the personality and style of the homeowner. So, have a look at the ideas below!
Cheap DIY Bike Rack Ideas

Bike racks are a convenient way to store bikes without dismantling the entire cycle. It's common for people to leave their bikes outside, which may be unsafe. Furthermore, a bike rack can be used for other purposes like hanging strollers or gardening tools. Many bike rack designs are available on the market, but some still choose to build their own. These DIY bike racks are an excellent way to express creativity and have unique designs. This article has collected amazing DIY bike rack ideas for you and your family. Have a look and enjoy!
Benefits Of Having DIY Bike Racks Ideas
DIY bike racks are a great way to save money and create something unique. Plus, it's fun to say, "I made this myself." Here are some benefits of DIY bike racks:
Save money. It is cheaper than buying a bike rack. You can also make multiple racks if you want more than one.
Get creative. You can use whatever material you want for your DIY bike rack and make it simple or complex. You can also make it match your decor or have fun with it!
Have fun. Building something yourself will always be more fun than buying something new at the store!
The BEST Pivoting Wooden Bike Rack
Bikes are an essential part of your daily life. They allow you to get from one place to another and enjoy exercise. The BEST Pivoting Wooden Bike Rack is a simple, elegant, efficient solution for safely storing your bikes. This rack has two pivot arms that easily hold your bikes, taking the weight off your wall and providing a fantastic alternative to ordinary bike hooks. So, Keep your bike where you want it. This pivoting wood rack is just what you need to organize your garage and yard.
DIY Bike Rack Made of Wood
Outdoor Bike Racks are one of the most popular ways to store many bikes in a bit of space. This simple DIY bike rack provides a sturdy place to store your bikes outside. Use it to store multiple bikes on your patio or deck, or place it near a self-service locker as part of a convenient bike-sharing system. This DIY wooden rack works well for mid-sized frames like road and mountain bikes and holds three cycles in a compact shape that won't take up too much room.
How To Build A Wall-Mounted Bike Rack
A wall-mounted bike rack is an efficient and clean way to store your bikes. This design can be adjusted to fit tall or short frames, and it's easy to mount on brick or wooden studs. Make this simple wall-mounted bike rack out of leftover pine from another project. It's quick to build and a great way to display your favorite two or three bikes. Watch this video tutorial that will teach you the whole making process.
Vertical Bike Rack From 2x4s
Use a couple of 2x4s and a little elbow grease to create a vertical bike rack. The rack is adjustable at different heights and can be used indoors or outside. This project is perfect for anyone who uses their bike as part of their commute but doesn't want it to take up all the garage's space. Use it for hanging bikes vertically, and easily attach this rack to your wall using L brackets.
DIY Simple Bike Rack In The Garage
If you're tired of bikes and bike parts lying all over the garage, you need to check out this simple DIY bike rack. It's easy to build, requires nothing more than some lumber, and keeps everything off the ground. This is an excellent project for beginners who want to try their hand at carpentry, but it's also useful for anyone with limited space in the garage. You will need a flat work area, a drill, various-sized bolts and screws, a few pieces of wood, and paint. This project will take you less than a day to complete.
Simple Pallet Bike Rack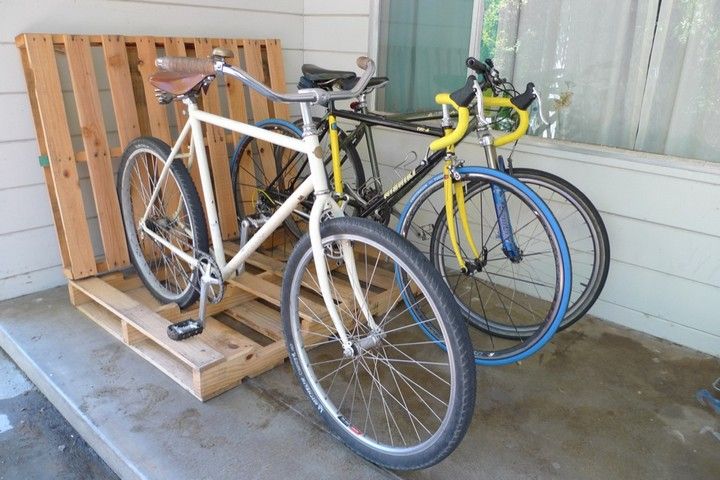 This project gives you a very frank and straightforward way to get your bikes off the ground and on display. It's easy to build, but it has a lot of styles and can add personality to your garage or outside area. This project is perfect for someone who wants to try out something new or maybe wants to make their bike rack without having to spend money on one at a store.
Easy DIY Wooden Wall Mount Bike Rack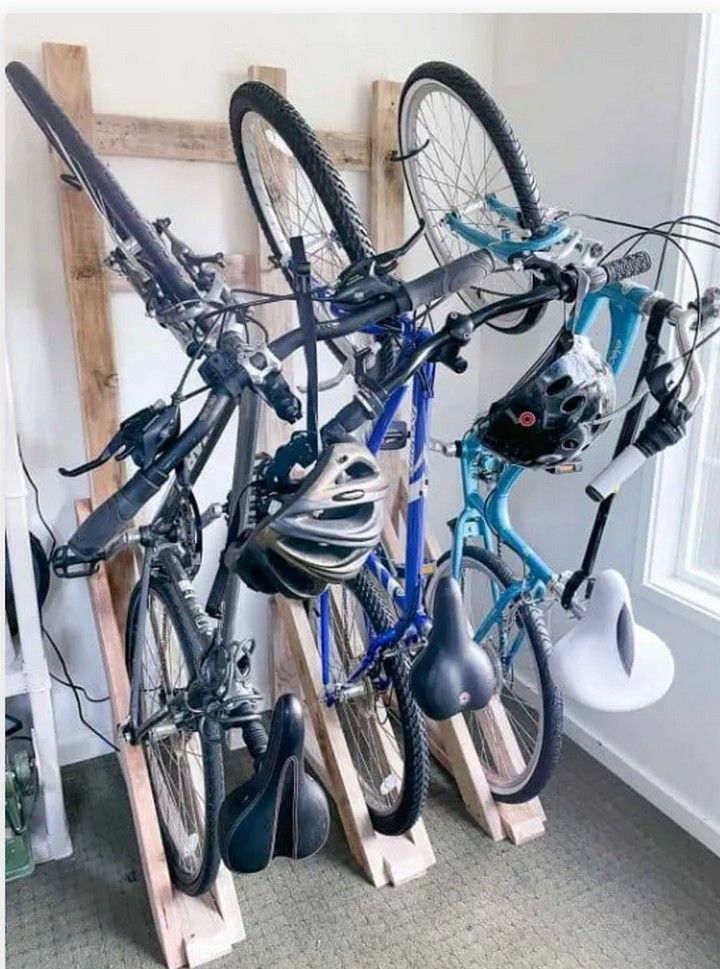 Make your own DIY Bike Rack. It's an easy project to add an extra bike rack to your garage and free up some space. This simple design can be constructed in just a few minutes and won't cost you much if you're looking for a way to store bikes in your garage; look no further than this simple design. This easy DIY rack is light and compact, with hooks that can be moved up and down to fit your bike. It's also flexible, so you can hang it on a garage wall, fence, or shed.
Easy DIY Bike Rack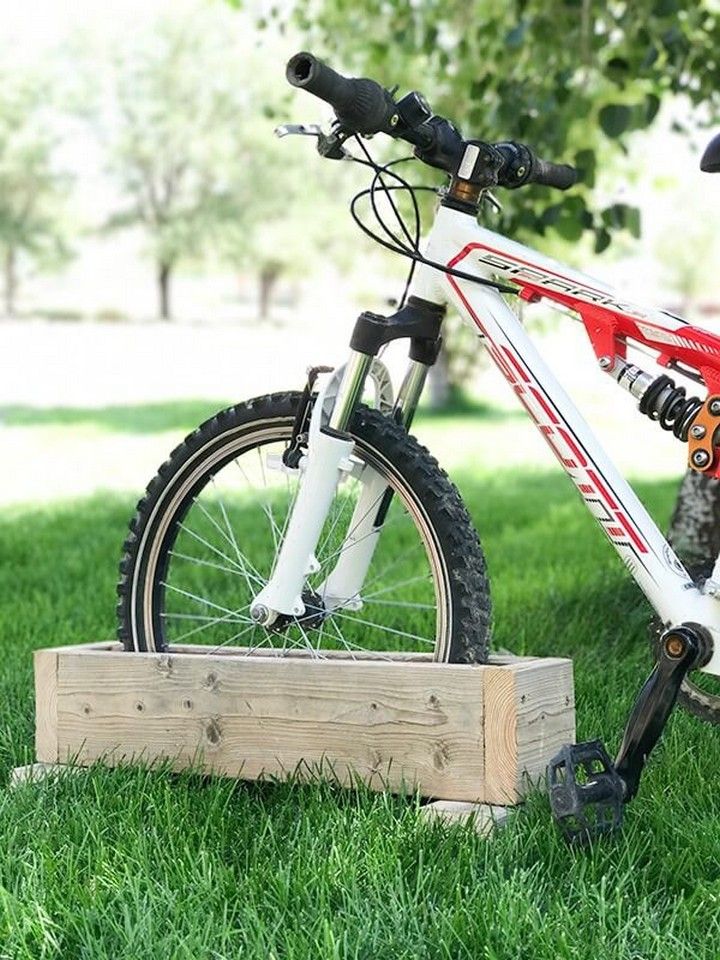 Installing your own Easy DIY Bike Rack is easy and requires only a few simple tools. It's designed to fit most bike styles and sizes, so you can use it for as long as you own your bike. The rack also has a universal hitch that attaches to almost any vehicle, allowing you to transport multiple cycles at once effortlessly. This rack can be built out of any wood scraps you might have to lie around and will hold any standard-sized bike by the tire.
DIY Bicycle Rack Built For Two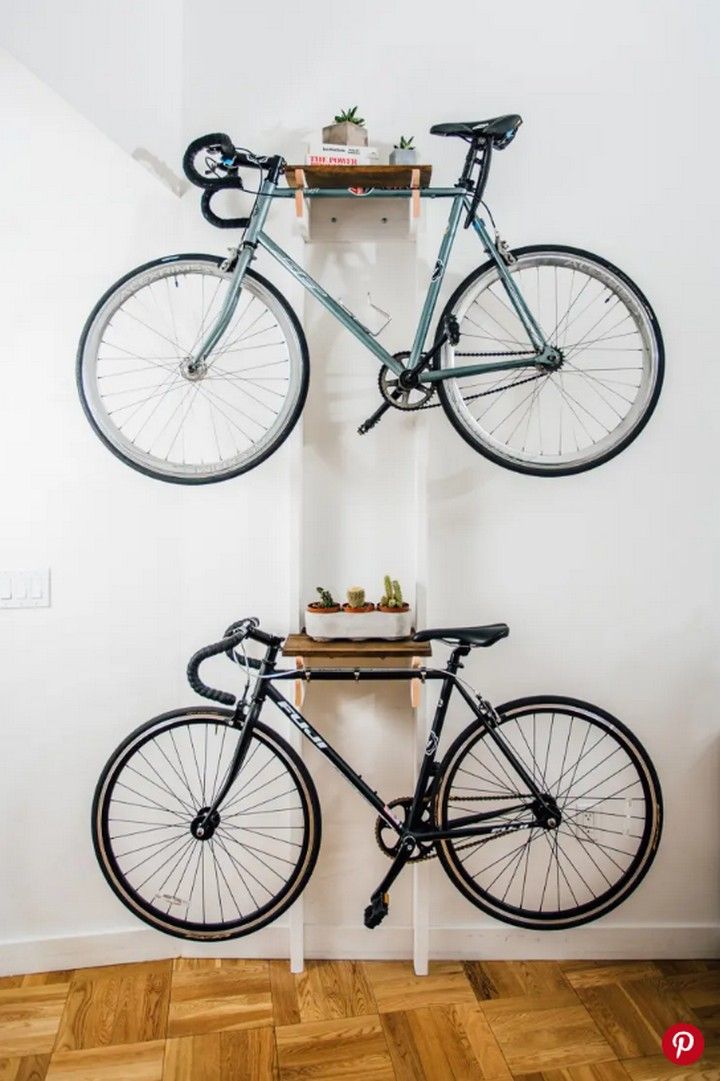 This DIY Bicycle Rack is a simple design that uses the least amount of materials to create the most useful, space-saving bicycle rack for two. The design is easy to cut out using a jigsaw or other cutting tool with a large blade, then can be assembled in a few minutes. Why not make this rack for those two bikes if you have space? This DIY bike rack is so easy to make that it can be done within a few hours. You'll be cycling with your partner with just a few supplies and the right tools in no time.
Modern Bike Rack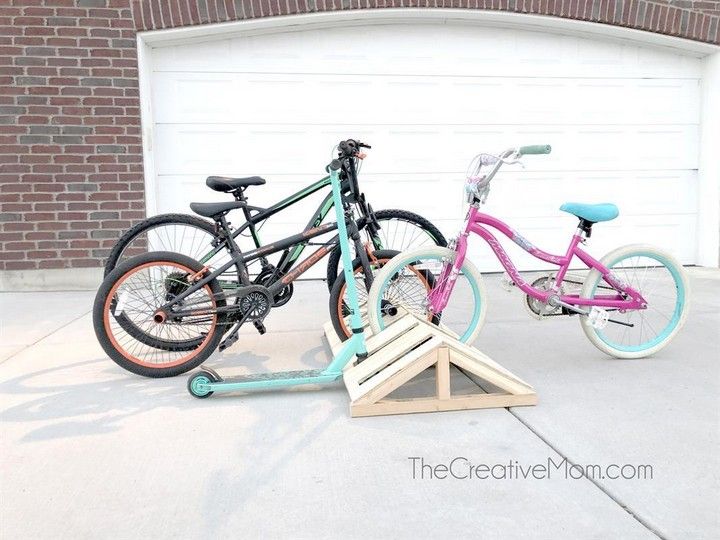 Are you looking for a bike rack that won't obstruct the look of your home? This DIY Modern Bike Rack is perfect! It is easy to build and install and will make your garage or storage space look much better. This sleek wall-mounted bike rack is a stylish and functional addition to your home. This trendy DIY Modern Bike Rack project is an affordable alternative to more complicated, expensive bike racks, and it can be constructed in one afternoon. No special skills or tools are needed!
Simple DIY Kid's Bicycle Rack with Helmet Storage
This DIY bike rack is a project your child can do with you! The rack is sturdy and can hold up to 4 bicycles. Its simple, clean lines add a modern feel to the outside of your home or garage. It includes a hook for helmets, so you don't have to hang them on the handlebar or fuss with keeping track of where you last put it! This easy DIY project is a great way to let your kids store their helmets when they aren't using them. The kids will love riding with their friends and showing off their favorite helmet designs!
You can also see: DIY Shoe Rack Ideas
DIY PVC Bicycle Show Stand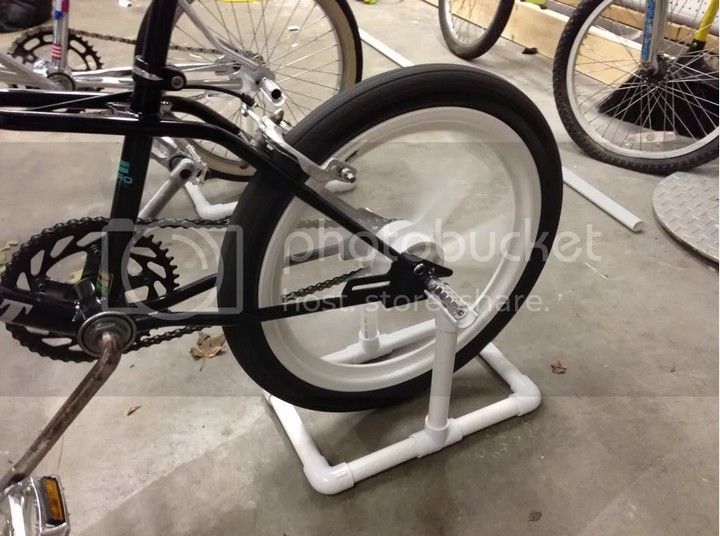 Need a way to display your bicycle at a show or in a shop? Build this PVC pipe stand that is easy, cheap to put together, and sturdy enough for any bike. With this DIY PVC Bicycle Show Stand, you can create and display your bikes innovatively. Whether you are saying one cycle or many, this PVC pipe show stand is easy to assemble, sturdy and lightweight. This guide shows you the complete step-by-step instructions and follow-up steps.
DIY Bike And Scooter Rack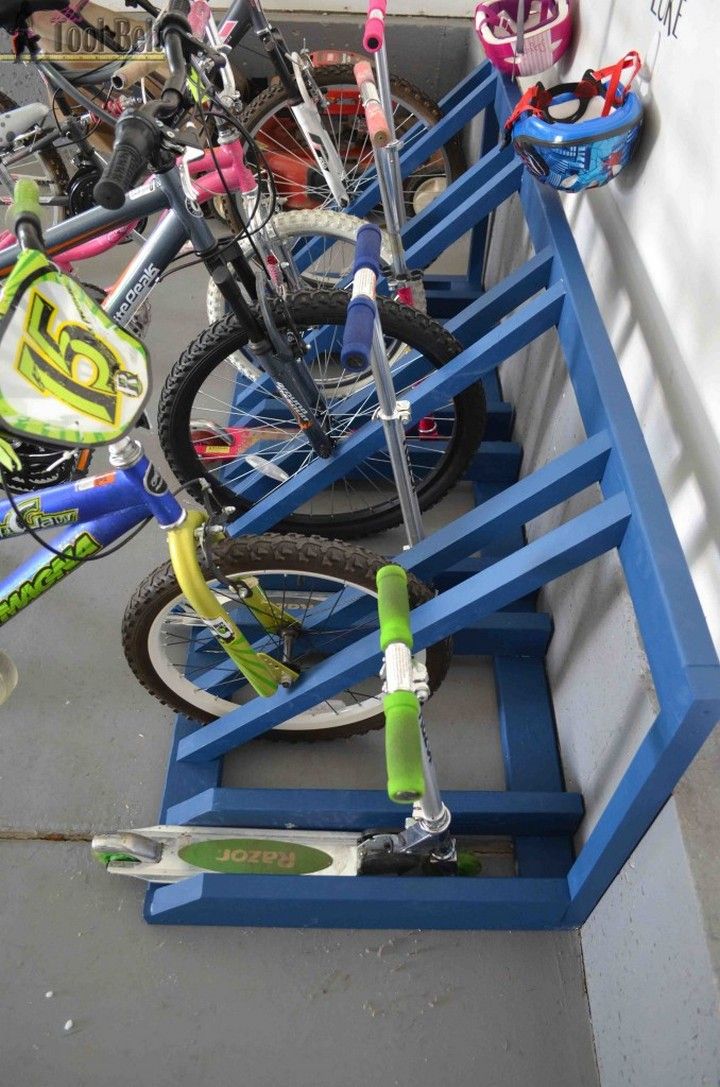 Make your wall-mounted bike rack with this simple design. It's perfect for storing a couple of bikes or scooters! Use the shape to customize your mounting solution so you can fit it into any space in your home. Add hooks on the sides if you've got more than two items to store. After following these steps, you can quickly and inexpensively build your bike rack for 1 or 5 bikes.
DIY Modern Wall-Mounted Bike Rack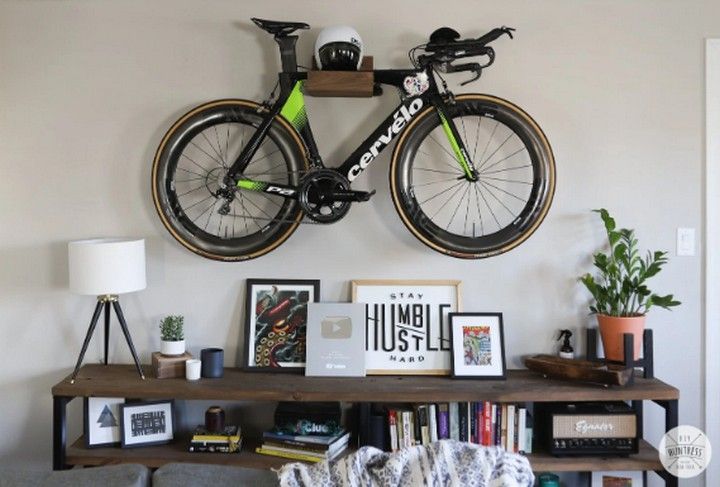 Create a unique and chic bike rack by recycling your old pallets. This modern wall-mounted bike rack is easy to install, looks great in any home or office, and is an attractive way to display your bikes. For this project, you'll need two wooden pallets, wood glue, sandpaper and a saw. Create a simple yet modern bike rack with just these few simple materials. This DIY project is perfect for the handyman who wants to build something on their own time and without hiring a professional!
DIY Bike Rack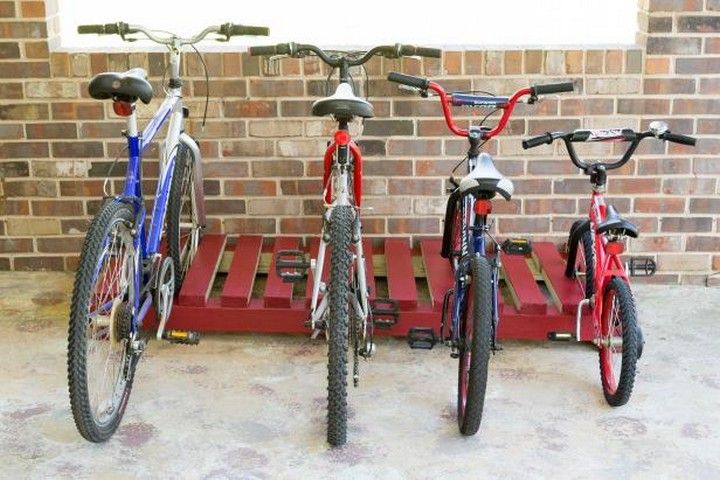 Bike racks are a great way to provide guests with an attractive and safe place to park their bikes. This DIY bike rack is designed to be easy to make and requires simple tools to build it conveniently in your home. This project requires basic carpentry skills and patience, but the final product is worth it! This DIY bike rack is easy to build, inexpensive, and can hold up to four bikes. This guide shows you the complete procedure.
DIY Bike Rack for $20 / Bike Storage Stand & Cabinet for Garage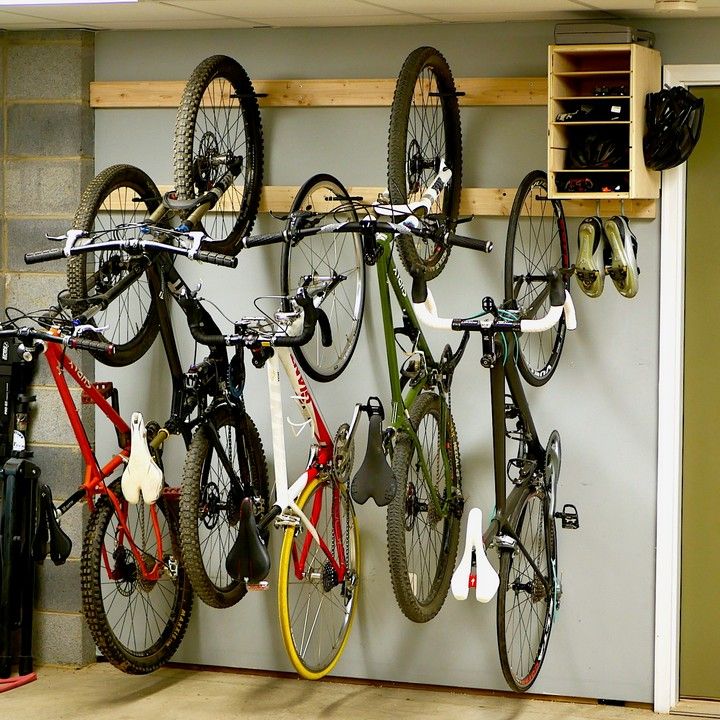 This DIY bike storage stand makes it easy to store your bikes and maximize the space in your garage. It's made of inexpensive materials and is designed to easily add extra storage if you have more than two bikes. It's a simple design that can be built in under an hour and requires only essential tools. This wooden rack will hold up to 5 bikes and attaches directly to studs on the wall or ceiling of your garage.